Dinner At The Black Boy Inn, Heage
---
Published On Saturday 6 Aug 2016 by Sticky Beak
See Recent Dining Out Reviews | See All Recent Reviews


Abandoned yet again by The Chick, The Man Bird and I decided to make the most of it and put feelers out amongst our lovely readers for ideas as to where to go for a quick bite to eat. The response was fantastic and you've given us lots of places to consider for the future, but the one we settled on for this particular evening, due to me being out until 8pm, was The Black Boy Inn at Heage. It isn't too far for us to travel, seemed to have a good menu and we have been told it's nice by several people, so off we toddled to investigate.
It was a pleasant summer evening, and as we pulled up to the car park there was a good group of bikers making the most of the weather to enjoy a cheeky pint and catch up with each other. We soon got served at the bar by a very friendly young lady and said that we'd booked in at the restaurant; she directed us to the restaurant area and we took a seat at one of the tables in the lower area.

There were still several tables occupied by other diners, even at 8.30 pm, so there was a nice gentle hum of chatter to give a bit of atmosphere to the surroundings. The lower level of the restaurant has a lovely homely feel to it, almost as if you were sat in your conservatory at home and the space has been kept nice and neutral with just a few mirrors and pieces of foliage artfully placed to please the eye.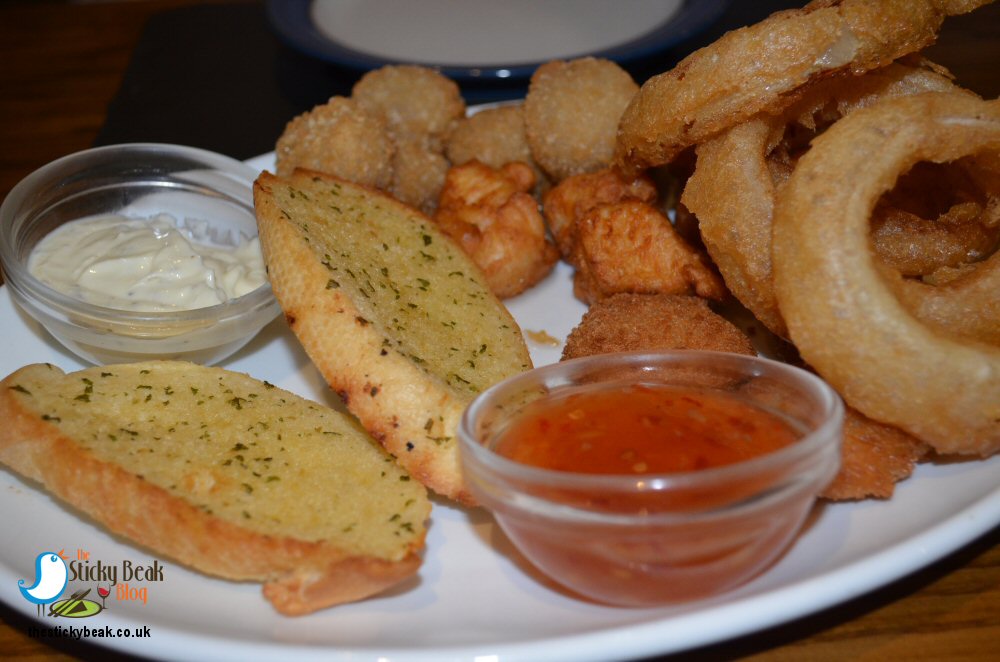 A lovely young lady came to take our food order; we chose the sharing platter to start, then a burger for me and Sausage and Mash for His Nibs. Before long our platter was being brought to us and a real treat for the eyes it was too; Chicken bites, Garlic bread slices, beer battered Onion rings, Garlic Mushrooms, and Cod bites served with a sweet Chilli dip and Garlic and herb Mayonnaise.

The Boy Wonder dived straight into an Onion ring and loved the light crispy batter on it; it wasn't oily or greasy at all and the onion rings were proper homemade ones, not out-of-the-freezer imposters. My first morsel was a Garlic Mushroom; it was a good size and had a nice crisp outer to it, and a dollop of the Mayo went very nicely with it as it disappeared into my tummy.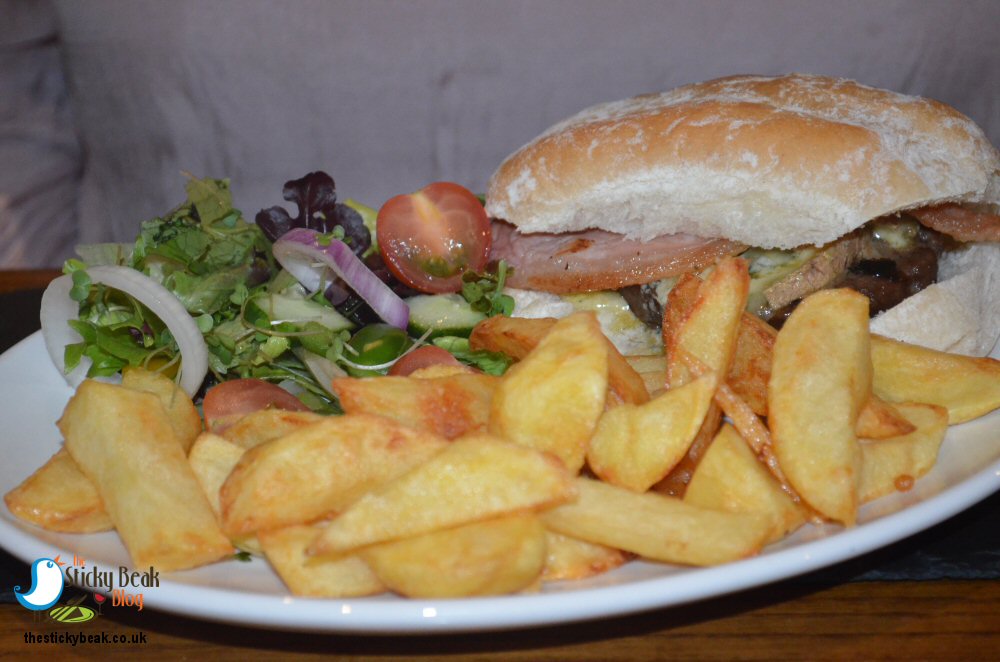 We both said how nice the Chicken bites were, they were a great size and the breast meat was lovely and juicy; the crumb coating wasn't too thick that it overpowered the meat, which can sometimes be the case. The Cod bites were equally delicious and, again, a good size, and the Garlic bread had been done so it had a nice crispy edge and top as you bit into it. We were very happy with our starter choice and were very much looking forward to our main courses.
The Man Birds Pork and Leek Sausages had a gorgeous taste to them, and he was really tucking into the creamy mashed potato too. I dipped one of my chips into the Redcurrant gravy, just to see what it was like (very, very nice I must say), as yet another forkful of sausage, mash and garden peas was bound for his mouth. My burger was a great 6oz affair and I topped it with Stilton cheese and bacon, but you can have cheddar cheese and Bacon if you prefer, and this comes with hand cut chips and salad.




The burger itself was really moist and juicy and bursting with flavour, and there was good amount of Stilton melting on top of it. What I really liked was the fact that the slice of Bacon was thick enough to be noticed when you bit into the burger, sometimes when you have a good burger and cheese the bacon can get lost if it isn't a thick enough slice. The Black Boy version manages to balance all the components really well so that you experience them all equally on your palate. I thought the chips were very nice too; they weren't out of a packet, and had been cooked fresh so they weren't greasy or soggy when they got to me.

My salad comprised mixed leaves, red and white onion, cucumber, cherry tomatoes and red and yellow Peppers and a bit of Cress on top, so there was good variety of tastes and textures as I tucked into it.
I have to confess that we declined pudding as we were both too full to have enjoyed it properly; I think a combination of very good portion sizes and a later than usual time of eating contributed to our unusual omission of dessert. I did spot a couple of ladies who were dining across the restaurant from us tucking into their puddings and asked what they were like, and they said that the desserts were delicious.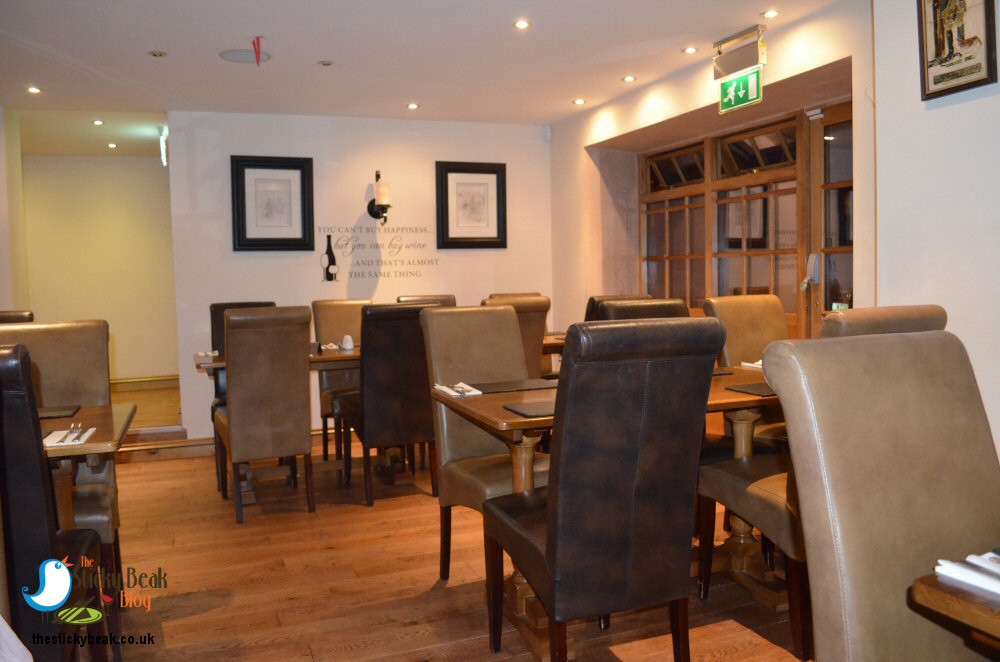 Fancy pants' dining it isn't, and neither does it try to be, but honest good pub grub it most certainly is. We enjoyed every single morsel; it was cooked fresh, cooked well and was a great value for money portion, and I can say that I would be more than happy to recommend it to you all.

The Black Boy Inn serves food all day from 11.30am until 9pm Monday – Saturday and 11.30am until 8pm on Sunday. I noticed that they do a lunchtime special too which, excluding Bank Holidays, is available from 11.30am until 4pm and costs £5.75 for a single course, £8.25 for two courses or £10.25 for three courses.

There is also a separate kids menu priced at £3.50 and a rather cute baby bowl for £2, so there is something literally for all the family. Hot Wings are definitely heading over to The Black Boy Inns Restaurant and its talented team, and we'll be back at some point in the near future to sample pudding!
No incentive was provided to visit this venue
read more