Pre-Cinema Dinner At Zizzi, INTU, Derby
---
Published On Sunday 5 Jun 2016 by Sticky Beak
See Recent Dining Out Reviews | See All Recent Reviews


It was one of those rare occasions in the half term break where The Man Bird and I weren't abandoned by The Chick, so we grabbed the opportunity for a family evening together. We agreed on a film we all wanted to see and booked the tickets at Cinema De Lux and reserved a table at Zizzi to have dinner before the film.
We were shown to our table and told that Lia, our server, would be with us shortly to take our drinks order. Sure enough, the lovely Lia appeared within a few seconds and we ordered our drinks and looked through the menu.

For starters Chickadee had the Mushroom Brindisi, I had the Bruschetta and His Nibs had the Arancini. The Mushroom Brindisi is creamy mushrooms and smoked mozzarella oven baked on Zizzi's dough and garnished with parsley, grated riserva, crispy sage and smoked garlic oil; my Chick said it was very tasty indeed and judging by the clean plate I think it got a thumbs up.




The Man Bird was tucking into his risotto balls with his usual enthusiasm and with the mozzarella, peas and rice coated in breadcrumbs done to perfection it was easy to see why he loved them so much. The chunky tomato pepperonata dip was superb as well; it gave a great flavour to the dish.

My own Bruschetta was crammed full of fresh flavours thanks to the confit baby plum tomatoes, garlic brushed bread, riserva cheese, smoked garlic oil and fresh basil. All the starters were a nice size portion that sated the initial appetite but left you with room for the main courses.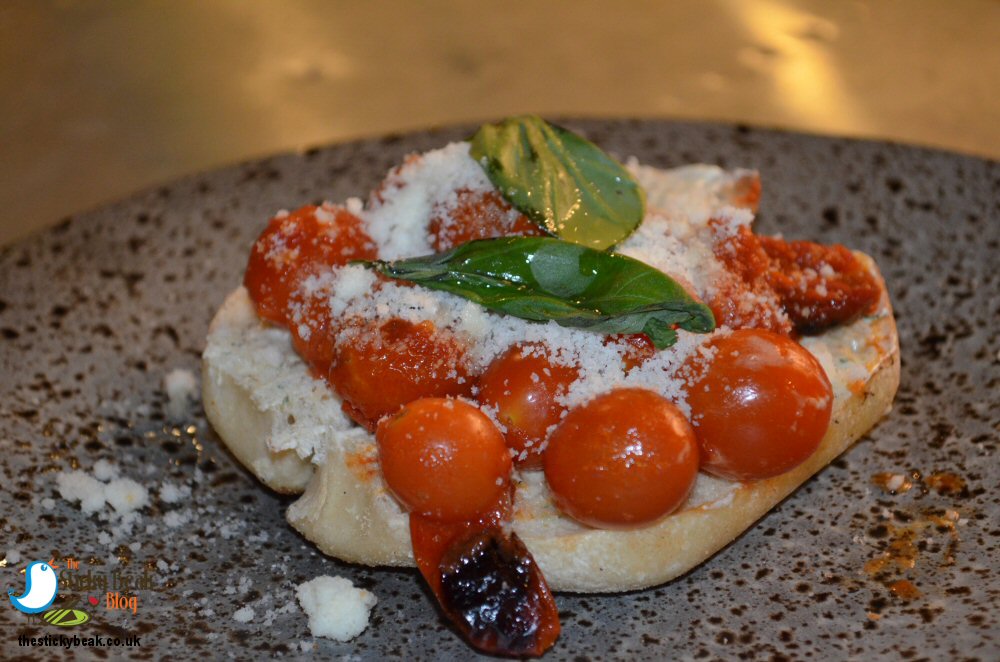 For my main I had a classic pizza (also available on a gluten free pizza base) called Zucca; this has a creamy pesto base with mozzarella, roasted butternut squash slices, caramelised balsamic onions and spinach which once it's been baked is topped with crumbled goats cheese, pine nuts and rosemary.

The flavours were nice and subtle and I loved the fact that the squash still had its natural firm texture, it hadn't gone mushy as sometimes happens and the pine nuts provided some lovely crunch in the mouth.




The Boy Wonder had a Pizza rustica; stretched a bit more to make a crispier, larger base (for more toppingsJ), called Sofia. The Sofia has spicy chicken, pepperoni, spicy sausage, mozzarella, green chillies and rosemary on it, and it wasn't too spicy either (unless you bit directly into a chilli!) so it would appeal to most taste buds. As was stated, the base was light and crispy and he really enjoyed his choice.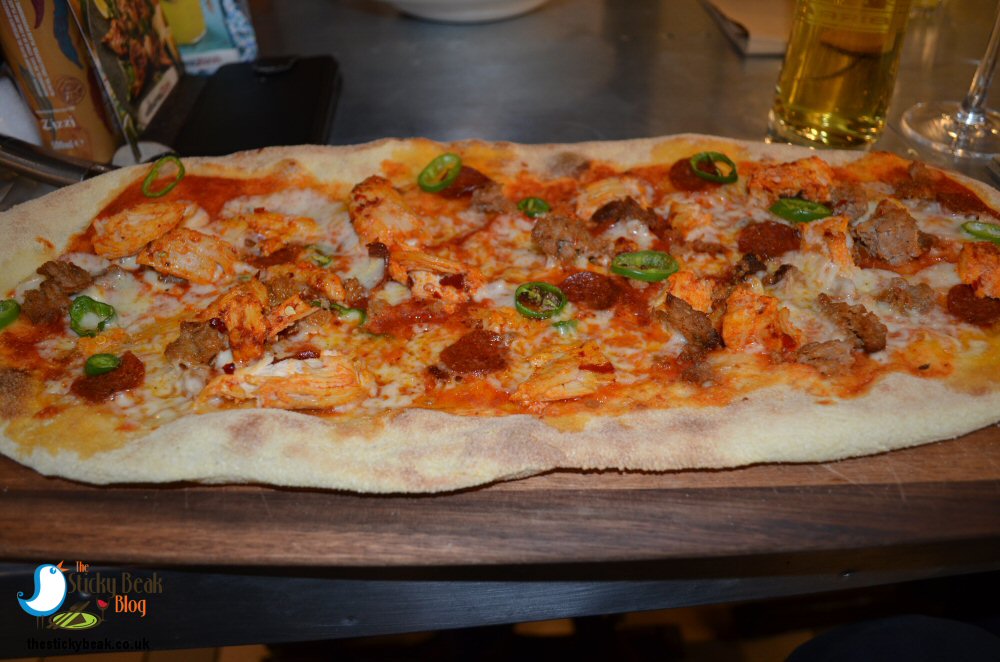 The Chick tried one of Zizzis pasta dishes, the King Prawn Linguine which is King Prawns and Courgette ribbons in a hot roquito chilli, tomato, white wine and lobster sauce. There was pleasing amount of Prawns in the dish, much to The Chicks delight, and she said that the sauce wasn't too spicy but still had a nice kick to it.


We would gladly have had dessert, but unfortunately we were perhaps going to be pressed for time if we did indulge. Still, it's a good excuse to go back next time and have the full Zizzi experience. If you haven't been to Zizzi before, next time you're in Derby Intu pop in, you won't be disappointed.
No incentive was provided to visit this venue
read more