Dinner At The Carnarvon Country Pub, Teversal
---
Published On Thursday 5 May 2016 by Sticky Beak
See Recent Dining Out Reviews | See All Recent Reviews


Having spent the entire Bank Holiday Weekend being busy little birds we decided that the Holiday Monday would be the perfect time to be lazy and let someone else do the cooking. One of our lovely blog followers had recommended this venue to us a while back so we decided to book a table and take Chickadee out with us for a family dinner.
We never realised how close The Carnarvon was to us and were very pleasantly surprised at how soon we were there and parking our car in the ample car park. The bar area is nice and spacious and this leads into a very nice large dining area with its wood floor and light, neutral furniture. The dining chairs are lovely high backed affairs and were very comfy to perch on, and I noticed a couple of fresh succulent plants dotted around too.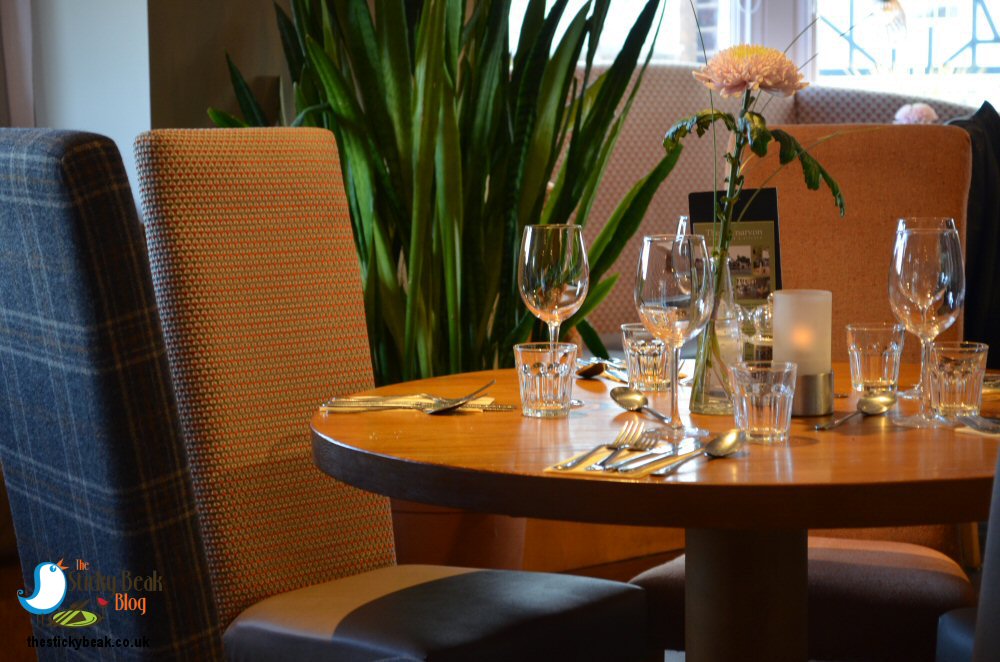 A lovely lady came and took our drinks orders and left us to have a look at the menu. Now, as is always the case, best laid plans never run smoothly and we were only going to have main courses as we'd had a large breakfast; but it won't shock you to know that we ended up going for starters.

I had Spicy White Crab cakes, The Man Bird had Loaded Potato skins with Pulled Pork and our Chick had the Seeded Jack Sprats. All three starters were beautifully presented and had a lovely fresh side salad with them; my own trio of Fishcakes had a great flavour thanks to the Mustard, Celery and Cayenne in them and the Coriander seasoned breadcrumb coating was lovely and crispy.

His Nibs was impressed with his Potato skins as they were a very generous size and the Pork was really tasty. Our little Chick made it a Hat trick of approval as she happily tucked into her Sprat fillets with their deep fried seeded breadcrumb coating; she said they weren't at all greasy and that the portion size was just right.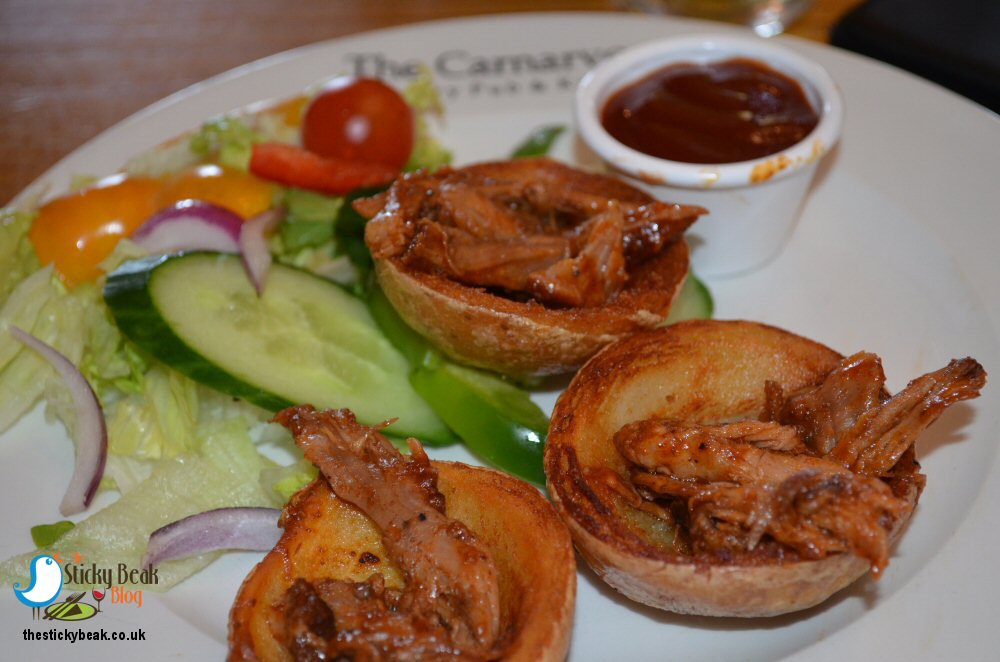 The restaurant was very busy as you would expect on a Bank Holiday, and there were family groups with kids of all ages in, as well as couples, but the staff were really on the ball with their customer service and checked back that we were enjoying our food.
For our mains The Man and I both chose a burger, he had the beef patty whilst I opted for the chicken breast fillet, and our Girl had the Greek Chicken with its creamy Garlic, Tomato and Onion sauce. To top our burgers I chose the Grilled Chilli Halloumi, fresh Pineapple and I also added Sun blush Tomatoes as an extra and His Nibs had Crispy Onion rings and Cream cheese Jalapenos.

The Burgers come with Crispy salad, mini pot of coleslaw, Gherkins, Ketchup and Mayonnaise, and Chickadees Chicken came with Chips, Broccoli, Carrot Batons and Green Beans. Both the Fries and vegetables come in separate bowls and are replenished free of charge if you require any extra, which I thought was a great touch.
My burger was lovely; the chicken was nice and moist, the fresh Pineapple was nice and firm to give texture to the dish and I loved the mini Gherkins (especially since The Man doesn't like them so I got his pot too!).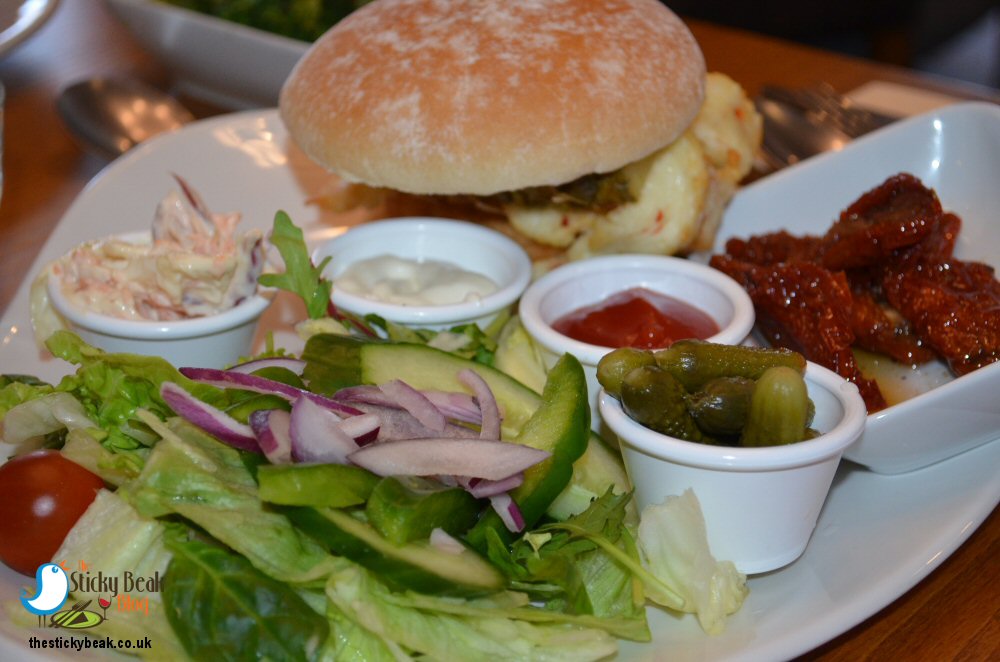 The Boy Wonder was happily munching at his burger and said the beef patty was seasoned really nicely and had a great flavour, and the jalapenos gave his meal just the right kick without being overpowering. Our chick was loving her Chicken, and the sauce was having chips dipped in it left-right-and-centre J The Vegetables were all nicely cooked too, especially the Green Beans - they had managed to retain a lovely crunch to them. Again our lovely server checked that we were enjoying our food and asked if we needed anything else that she could help us with.
After a short while another, equally lovely, server came to ask if we would like Pudding. We all just looked at each other with a "well, we've had starter and main, might as well go the whole hog" look and replied with a hearty "yes please".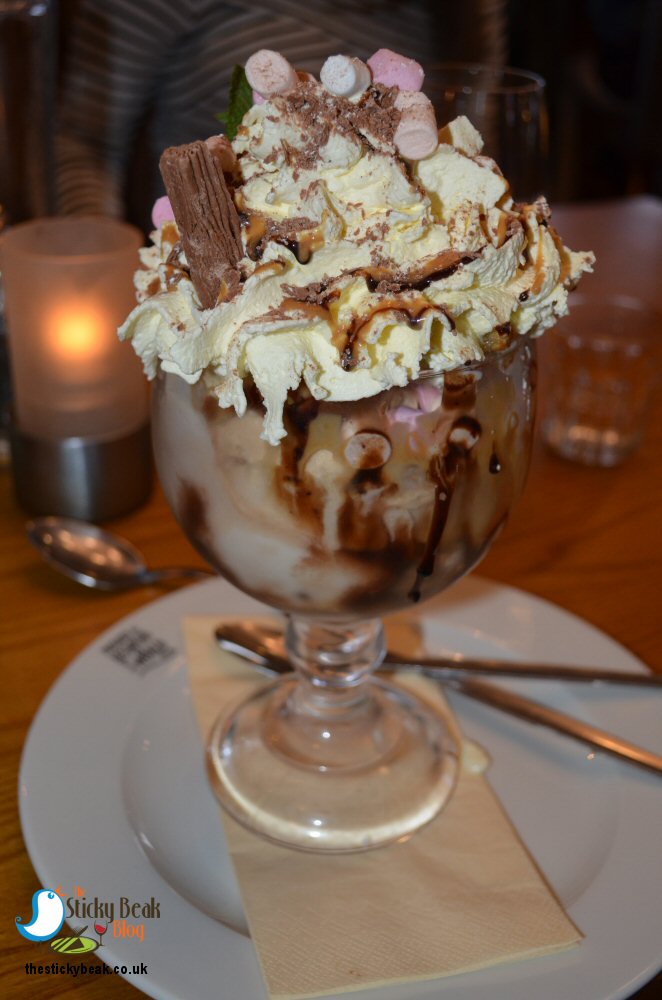 My Girl had the deluxe melted Chocolate fudge Cake with fresh Cream and The Man and I had the Millionaires Chocolate Sundae Sharer; this monster has Caramel Toffee Fudge ice cream, Chocolate and Toffee sauces, Salted Caramel Profiteroles, Malteaser, Waffle pieces, Marshmallows and Vanilla ice cream in it which is then topped with Freshly whipped Cream and two Cadbury Flakes. It tasted as amazing as it sounds, although our Chick broke the land speed record with the speed she reached over to pilfer one of the Cadbury Flakes, little monkey!

Both desserts were agreed to be fantastic, and we were so stuffed none of us could even manage a hot drink to finish the meal. My little Flock had a lovely time at the Carnarvon in Teversal, so if you haven't been before I can thoroughly recommend it to you. I would ring and book if you want to eat at a certain time just to be on the safe side.
No incentive was provided to visit this venue
read more