A Flock Visit To Yassou Greek Kitchen In Little Eaton
---
Published On Tuesday 3 Oct 2023 by Sticky Beak
See Recent Dining Out Reviews | See All Recent Reviews


I'm going to blame my off-kilter hormones for the fact that I forgot about Yassou Greek Kitchen until the other month when we passed it on our way to breakfast at a nearby venue. If I don't blame the hormones then I'll just look thick, which, if you know me IRL, would probably be your first conclusion anyway!!
In a rare 'synchronised diaries' moment, Fledge and Mummy Bird were available too, so the four of us jumped in the jalopy - luckily, The Man Bird had reserved a table, cos when we rocked up, it was rammed! There're probably only around 30 covers, so it isn't a big venue by any stretch of the imagination, so I'd certainly book ahead to avoid disappointment.




Yassou has that wonderful homely feel to it that characterises a lot of restaurants back in Greece or on the Greek Islands, and proudly displays several of its flags around the space. It isn't fancy, so don't expect glitz and glamour, but it was lovely and clean, and the staff are super friendly.




Our server got us sorted with drinks and then asked if we'd been before, explaining the set-up when we said we hadn't. Basically, it's like Tapas/Meze: when the dishes are ready, they come out to your table – there's no holding them back to serve together. We all like this casual style of dining, so we weren't phased in the least; all that remained was to decide what dishes to have from the multitude of scrummy options!




We opted to have the Mixed Dips Platter (£13.95) from the Cold Mezze section of the menu, and chose Tzatziki, Houmous and Melitzanosalata (Aubergine dip) as our 3 dips, which come with Pitta bread to dunk into them. Colourful bowls housed each dip and we hungrily tucked in in our typical 'looks like a rugby scrum, except it's with food, style'. I really loved the Aubergine dip, though I do wish that the flesh was a prettier colour – Mother Nature didn't think that one through, did she? Classic Houmous is a proper crowd-pleaser, and the one served at Yassou Greek Kitchen is beautifully seasoned; you just get a tingle of Garlic at the periphery of your palate, and a whiff of Lemon that sharpens your appetite nicely. Despite it containing Cucumber (which is green, which means it's healthy and therefore the work of the devil!), His Nibs enjoys the cooling creaminess of Tzatziki and this one had a good amount of Garlic in, so you got more of a punch from it coming through in the mouth. This was a delicious start to the meal, and got us all fired up for mains.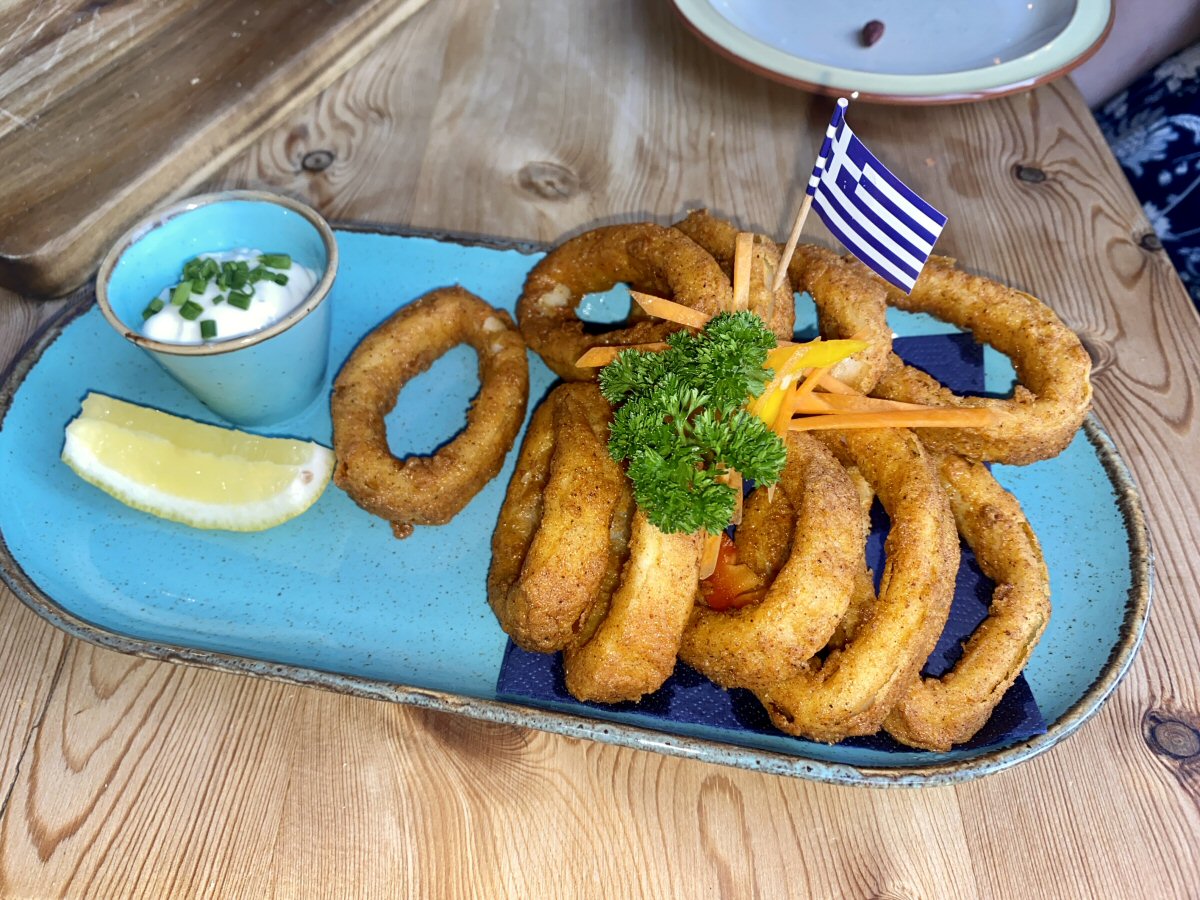 For the main course we chose to have a portion of the Kalamari: Cajun dusted, fried Crispy Squid served with Garlic Mayo Dip (£8) and the Hercules Pikilia Platter: Lamb Souvlaki, Chicken Souvlaki, Greek Sausages, and Feta-topped Meatballs, served with Salad, Flatbread, and Cajun Dip (£35).

Fledge is like her Daddy in that she loves Kalamari, so she wasted no time at all in popping the first piece into her mouth! The Cajun batter was gently spicy so that you could tell it wasn't 'plain', but not enough to tax the taste buds in any capacity. We all got a bit of the tender seafood, and agreed that this was done really nicely.




Both Souvlaki's had plenty of chunky pieces of meat on them, and the Lamb in particular had a superb depth of flavour to it. Peppers, Onion, and even New Potato were all chopped and interspersed with the Lamb and Chicken, and a light char from the grill added a pop of smokiness to the flavour mix. These were wonderfully satiating, and I could've eaten more of them; I wasn't fussed about the Sausage though, it had a 'repeat factor' that I can't tolerate. The others merely shrugged their shoulders and divvied up my portion between themselves – they're all heart my lot, aren't they?! When Meatballs are done properly, they're dense, flavoursome and very filling, and the ones at Yassou Greek Kitchen hit all the right spots.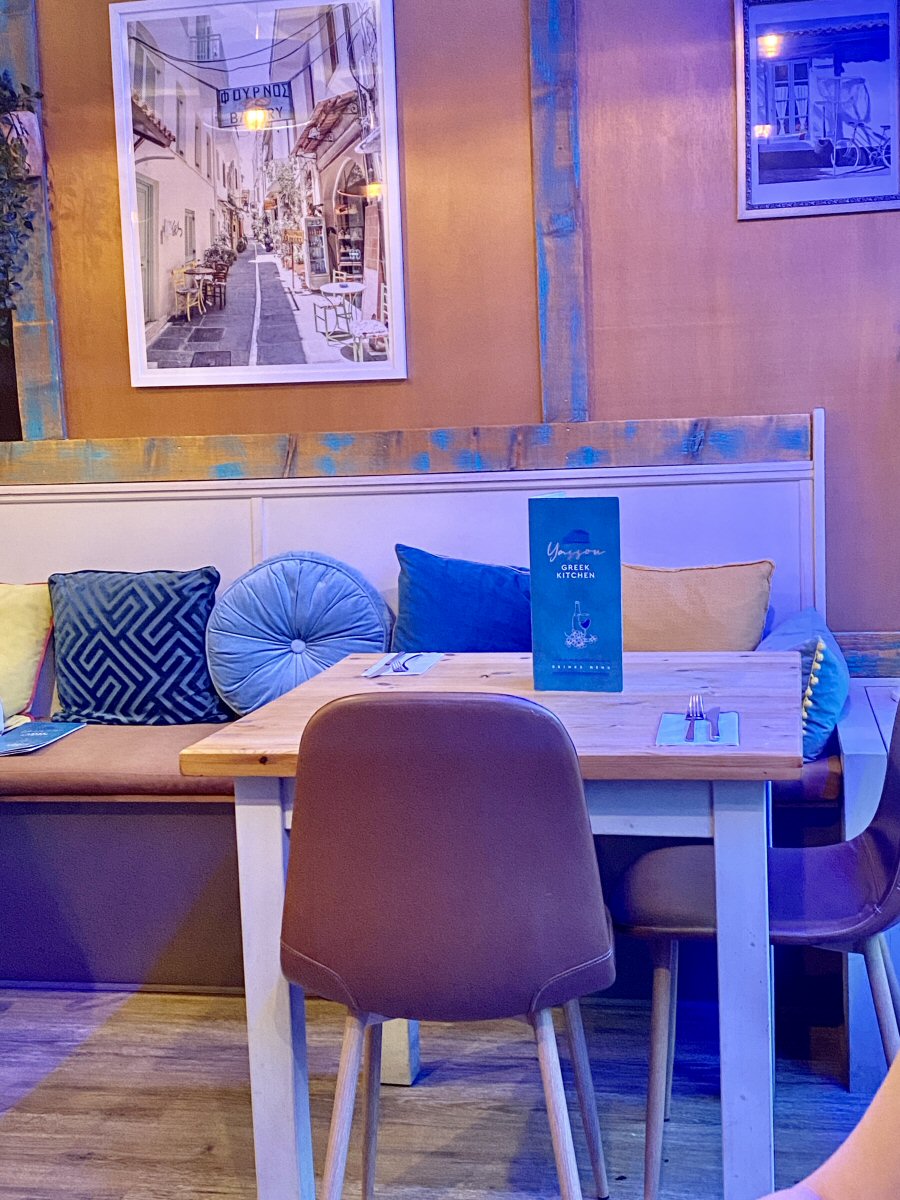 I like how the Flatbread was wrapped in warm greaseproof paper and rolled; it kept it soft and supple, which made it easier to tear-and-share: it's the little things that make all the difference to a dining experience. The salad was nicely dressed and with more colours in it than the rainbow, so you can imagine how appealing it was; better still, it was cool and crisp, which contrasted well with the warm elements of the meal.

Our server had been pleased when she's cleared our clean starter platter away, but was smiling even more when she saw that we'd polished off every last scrap on the Hercules platter, too. Mind you, it wouldn't have come as a shock to her; when she asked if we were enjoying the food, we all replied "it's amazing" in unison!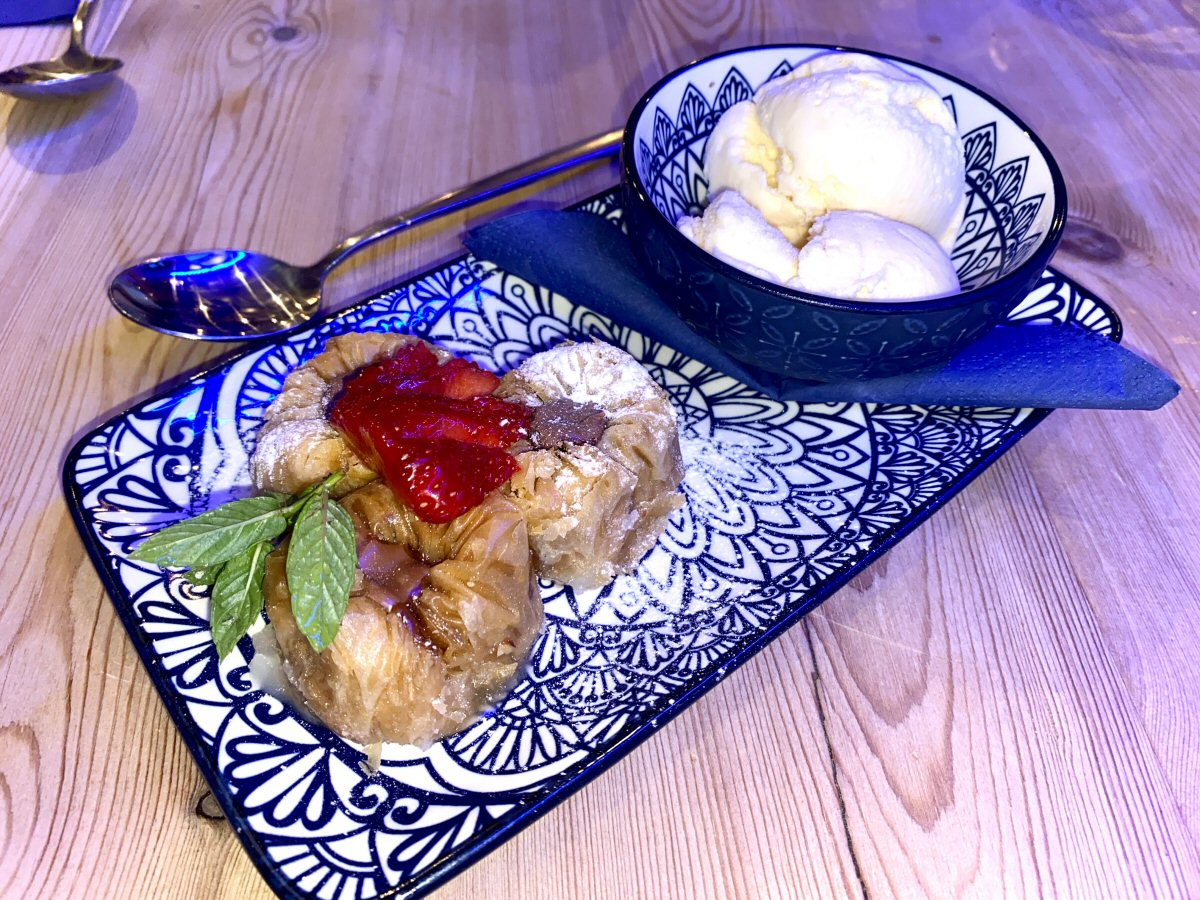 It doesn't happen very often, but I skipped dessert (as did Mummy Bird), leaving Fledge and His Nibs to soldier on and have a third course. The Man opted for Folitses (Honey soaked, Praline filled, Filo Pastry 'birds nests' - £7.50), whilst Fledge had the Chocolate Orange Cake (£6.95) – which I would've put money on The Man Bird having!

The desserts were a bit like David and Goliath, in terms of size, but what the Folitses lacked in stature, they made up for in taste! These minxes were the epitome of the phrase 'small but mighty'. Buttery Filo was lavished with more Honey than you'd think feasibly possible, and then fashioned into rounds which held decadent Praline in their centres. You couldn't eat many of these morsels, they were simply too rich, but by gum they were superb – well, I had to try one didn't I, purely for blog purposes!




When Fledge's Chocolate Orange Cake came, you could see His Nibs desperately wanting to ask for a bit! From the year 'dot', my little Chickadee has hated folks wanting a piece of her food, and you could see that she really didn't want to pass her spoon over for The Man to try. However, she also has a very kind heart (and a soft spot for her Daddy!), so she relented and passed over a bit of the moreishly moist sponge over. Light, airy and beautifully moist, this sponge was certainly benefitting from the distinct flavour of Orange but, combined with a thick layer of Chocolate Fudge topping, it was simply stunning in the mouth. We all said that we'd have this next time!

Black coffees rounded the meal off nicely and the total bill came to just over £95 for the four of us, which we thought was good value. Hot Wings given to this fab Little Eaton venue. To book your table ring 07368 483725; there's also a Facebook page, Yassou – Greek Kitchen that you can view their scrummy dishes on, too.
No incentive was provided to visit this venue
read more
Read Some Of Our Recent Reviews
---

Afternoon Tea at Bourne's Coffee Shop At Denby Pottery Village What's better than celebrating your wedding anniversary once? Yup, that's right, celebrating it twice! The 40th anniversary of Denby Pottery Village being open Read The Article

---

Out For Dinner At Marco Pierre White's Steakhouse in Nottingham It's been a while since His Nibs and I were last at the Marco Pierre White Steakhouse in Nottingham's Alea Casino, so it was lovely to receive an invite from new manager Read The Article

---

A Visit To The Tickled Trout In Barlow For Dinner Life's a funny old lady, ain't she? One minute we were returning to a venue we'd not visited for 6 years and muttering our disappointment at it, the next we were revisiting another place that Read The Article

---

Sunday Lunch At The Coach At Horsley In our flock, Sunday means one thing: rooooaaaassssst dinner!! Yet again, His Nibs and I had been grafting over at Mummy Birds gaff, so we were absolutely Hank Marvin (starving) by the time it was time to Read The Article

---

Sunday Lunch At The White Horse Inn, Woolley Moor Fine weather meant one thing at the weekend for me and The Man: 48 hours full of gardening, field mowing and general maintenance at Mummy Birds gaff! We ploughed ahead, fuelled Read The Article

---

Dinner In The Wild Boar Lounge at the Sitwell Arms Hotel, Renishaw It hasn't been that long since Mummy, His Nibs and me were at the beautiful building that is The Sitwell Arms Hotel and Restaurant in the village of Renishaw, but The Man Read The Article

---

A Visit To The Farmhouse, Mackworth For The Soft Launch Of Their New Menu It's been a good old while since His Nibs and I last visited The Farmhouse at Mackworth, certainly pre-pandemic, and as we pulled into the ample car park for the Read The Article

---

Lunch in Paris at La Marmite Restaurant Our first attempt at a sight-seeing tour around Paris by coach had ended in disaster, thanks to King Charles and Camillas visit; the entire city, so it seemed, had ground to a halt and we (and our Read The Article

---

Sampling The Momma Bains Range at The Brewhouse in Melbourne Hall Courtyard #Mommabains Another day, another adventure for The Man Bird and I! This time, we were winging our way over to the beautiful setting Read The Article

---

Lunch at the Trocadero, Paris at Le Wilson Restaurant Mummy Bird, His Nibs and myself had gone for a short break to Paris, in the same week that King Charles and Camilla decided to visit the French capital; great minds think alike, Read The Article

---