East Lodge Wine Maker's Dinner By Coghlans Food and Wine Experience, Rowsley
---
Published On Monday 28 Aug 2023 by Sticky Beak
See Recent Experience Reviews | See All Recent Reviews


You all know that I love my food (else there'd be no point doing the blog really, would there?!), but I also like wine; imagine my joy, then, at receiving the phone call from Lisa at Coghlans Derbyshire Wine and Food Experience Centre to invite His Nibs and I to the 'Wine Makers Dinner' at East Lodge. Things were about to get better, too: a couple of last-minute places became available and two of our friends joined us on what promised to be a rather special evening.
I've never been to East Lodge before, so I was a bit excited as Fledge - our chauffeur for the evening - swung up the sweeping driveway to the large parking area. The house is your typically impressive large country residence, complete with immaculately manicured lawns, perfect for summer evenings' drinks or beautiful wedding photos; you can get wed there, just in case you didn't know.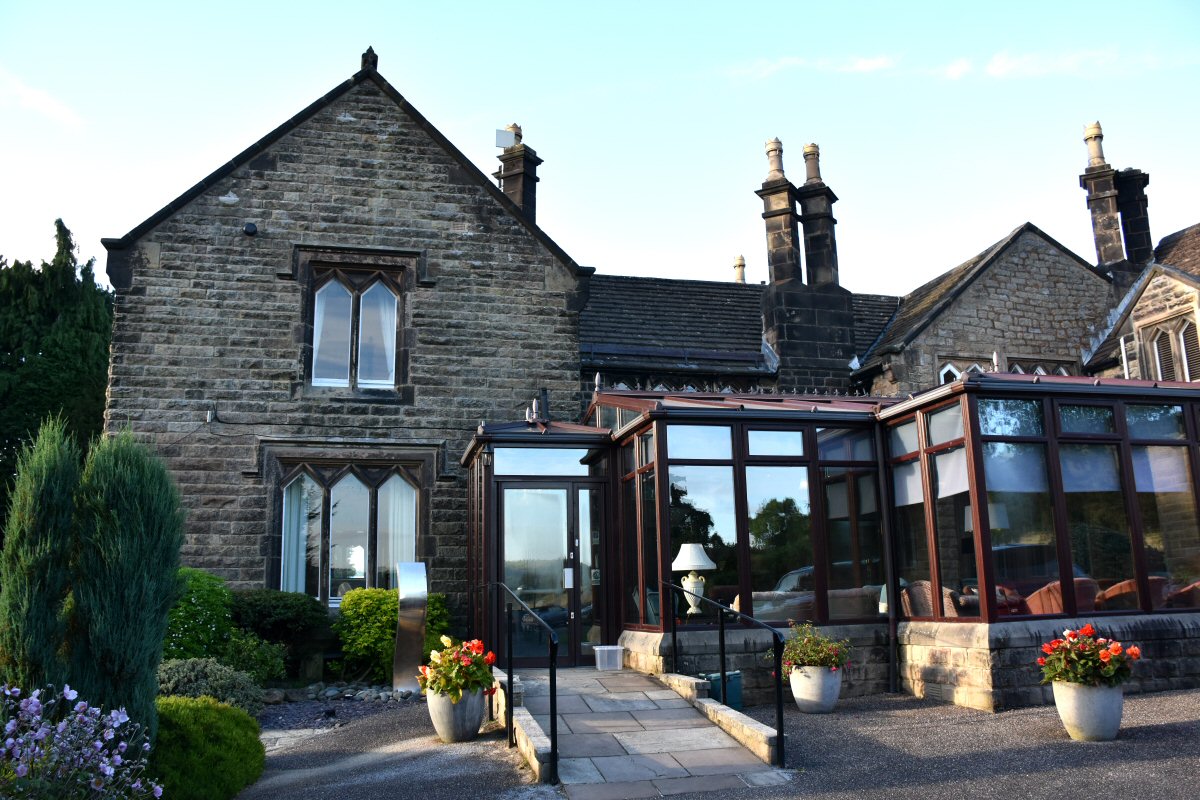 We all trooped up to the house and through into the light, spacious reception area where our wine expert, Mr Andrew Coghlan himself, was waiting to greet arriving guests. Exchanging pleasantries and making introductions, we then followed Andrew through to the dining room, took our seats at our allocated table and then Andrew placed the linen napkins in our laps for us. Several tables were already seated and there was a mixture of couples and groups of friends, like ourselves, all eagerly awaiting the start of the dinner.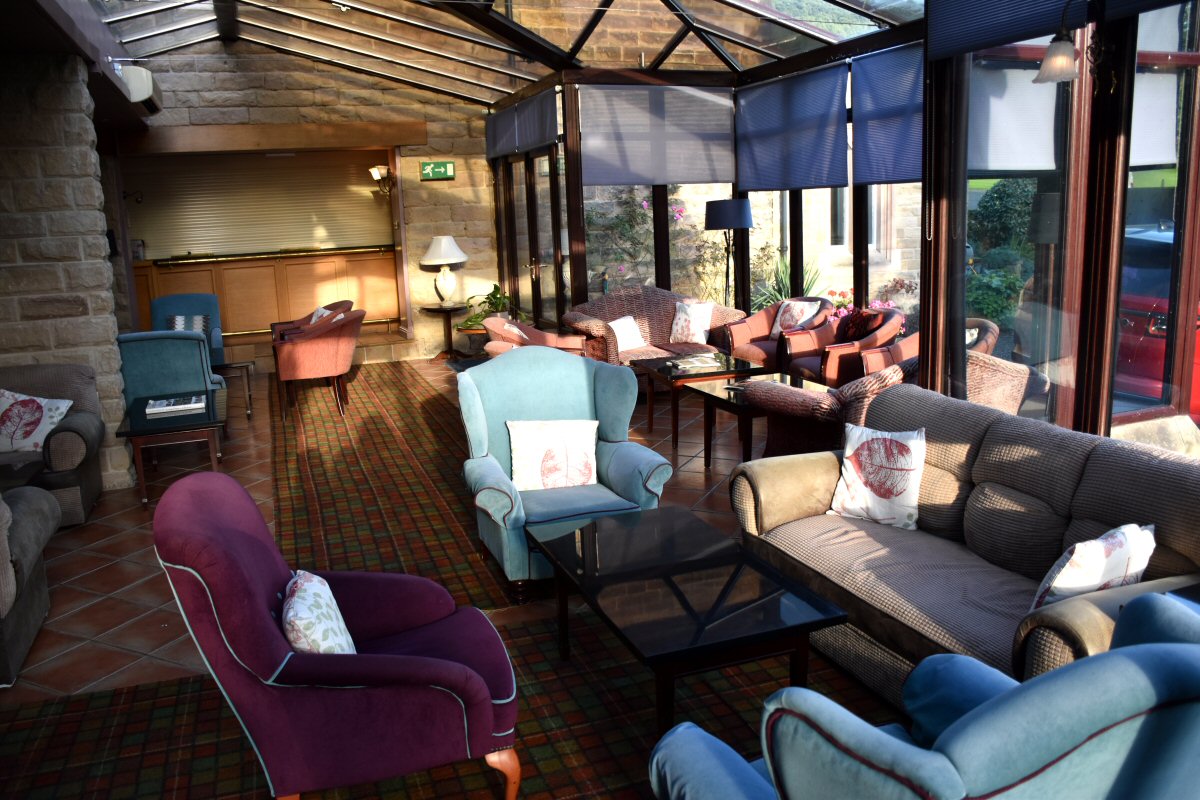 Each of the five courses was to have a wine paired with it, but Andrew came around with a 'bonus' glass of white wine for us all, and oooh, it was delicious! By now everyone had arrived and been seated, so Andrew then dropped the bombshell by telling us that this tipple (that we'd all fallen in love with – even my non-wine drinking pal!) was actually a non-alcoholic Sauvignon Blanc from the Marlborough region of New Zealand's South Island! Honestly, you'd never guess, it was that good; better still, it's a mere £5 a bottle (2-4-£8) at Coghlans premises at The Peak Village in Rowsley. So, if you're heading out to Chatsworth for the day, or further afield, then pick up a bottle and the driver can have a drink as well whilst having a nice day out safely.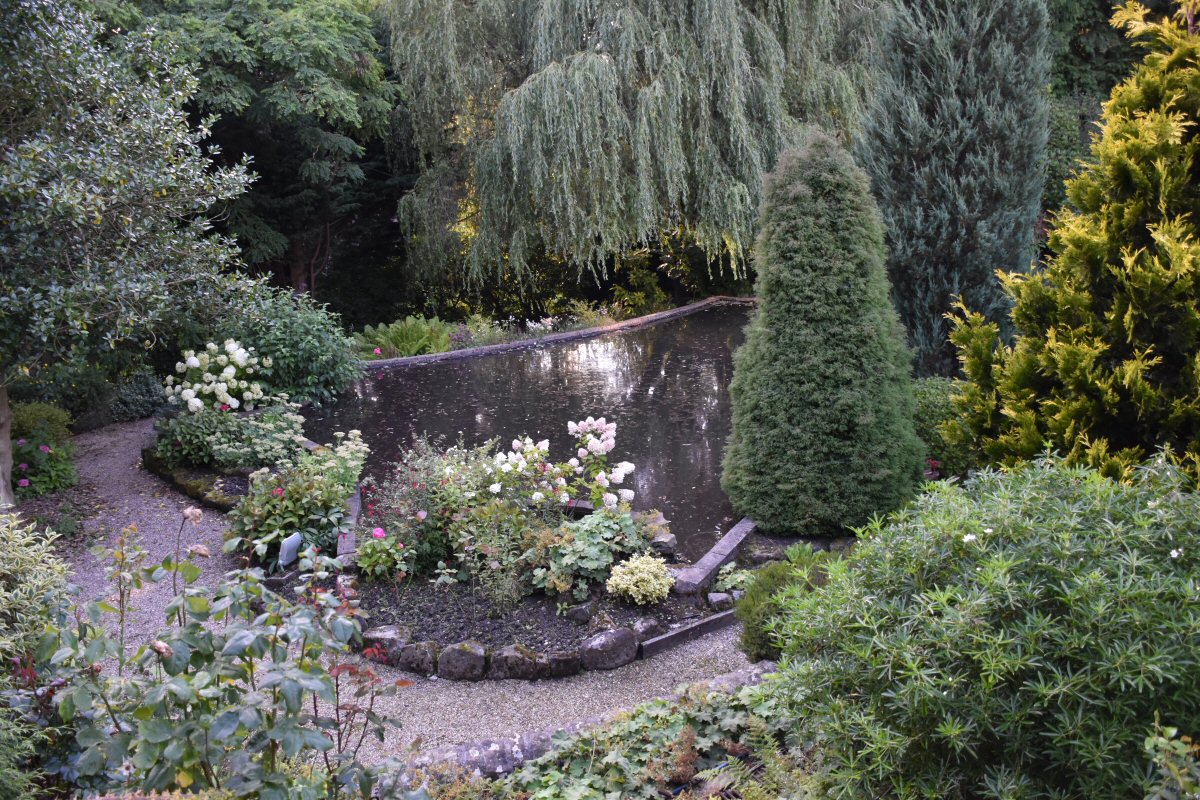 Andrew did a brief overview of how the evening would run and a general speech about the climate and geography of New Zealand's South Island, where all the wines we were sampling were produced.

When he'd finished speaking, the serving team came round with the Amuse Bouche(s) that Chef Meg had made for us: Salmon Sashimi Bites in Harusame Dressing with Caviar décor, served on a Sushi Rice pillow (the rice having been cooked with the Sauvignon Blanc paired with this course), Butternut Squash Rosettes with Fresh Sage, served on Sun-dried Tomato and Rosemary Crème, and Prawn Mousse. 'Hole in the Wall' Sauvignon Blanc by Konrad Wine Producers was the wine Andrew had selected for this entrée course, and I have to say that I was bowled over by it; crisp, clean, citrus; it certainly gets your palate's attention, and when Andrew said it was quite Sancerre-y, I knew why I liked it so much!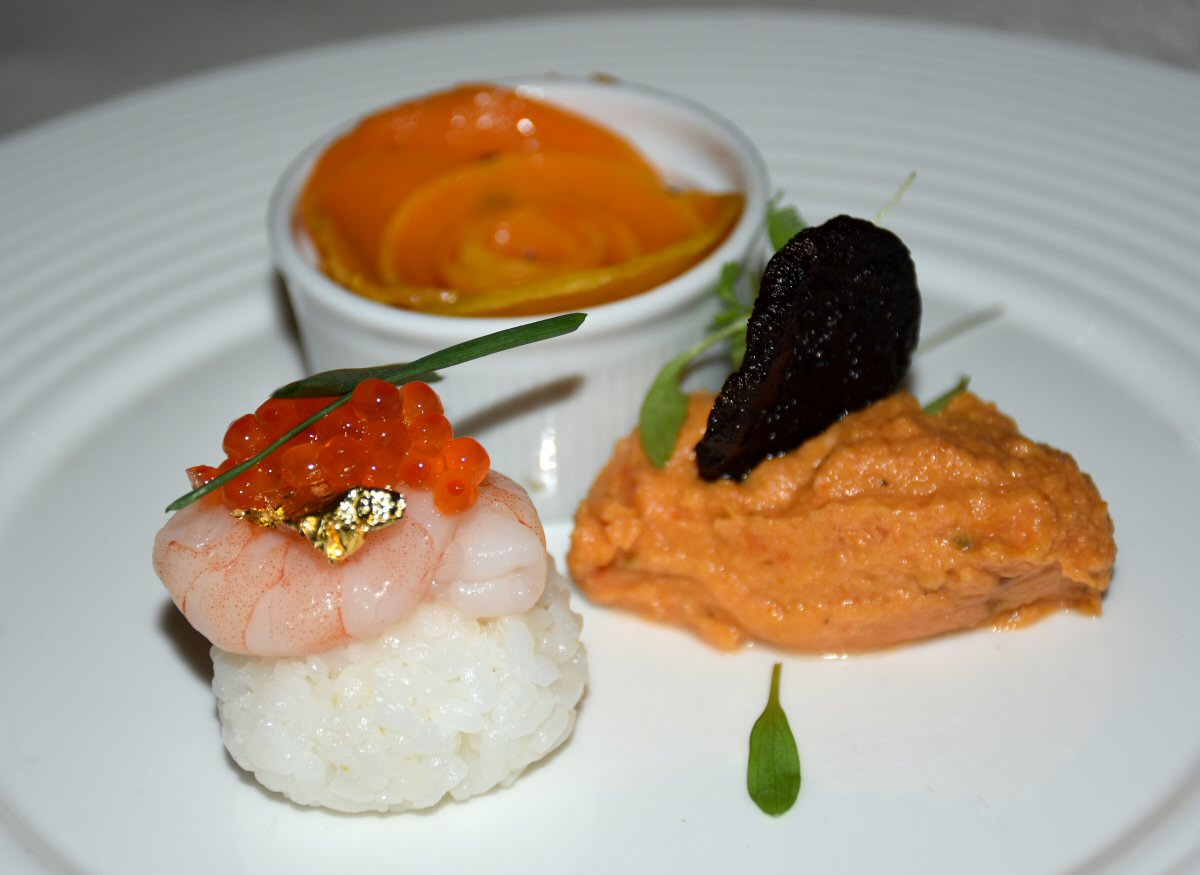 Our first course 'proper' was Tian of Smoked Trout, Crème Fraiche and Herbs, served with pickled Cucumber, freshly made dinner rolls and a delicious Parsley and Rock Salt Focaccia. Coghlans have recently made the decision to source their ingredients (where possible) to within a 10-mile radius of their premises', not only to cut down on food miles, but also to support other local businesses; their meats, for example, come from E.W.Coates butchers in Darley Dale.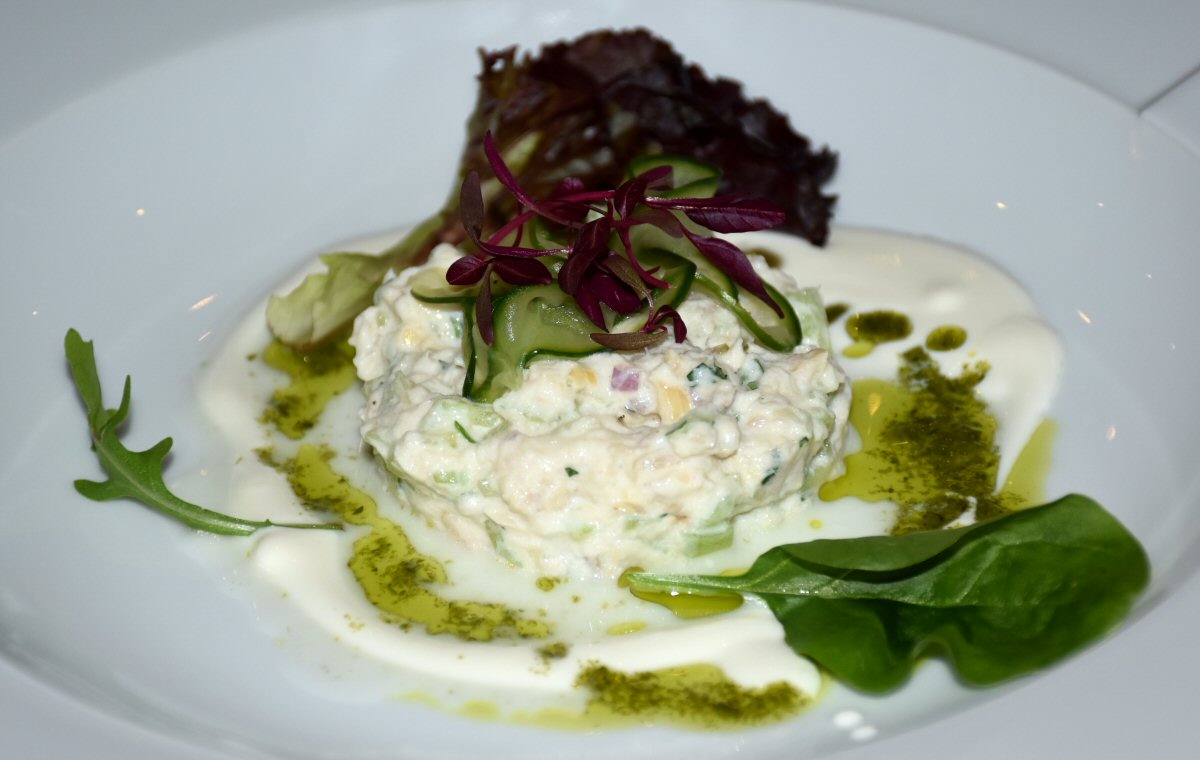 The Tian was superb: the flakes of Smoked Trout were subtle in the mouth and Meg had judiciously used herbs to complement their taste, and crème fraiche to add a hint of sharpness and bulk to the dish. None of us wasted a single scrap, using the bread to mop up any remaining traces that lingered on our plates! Another Sauvignon Blanc had been chosen to accompany this light fish-based dish, this time from Satellite wine makers in the so-called 'Spy Valley' thanks to the Waihopai 'listening post' Station nearby! I found this Sauvignon Blanc to be 'deeper' than the Hole in the Wall offering, still getting citrus tones, but with added Apple and Pear hints. This minx had a longer finish to it, too, so it certainly demands to be noticed.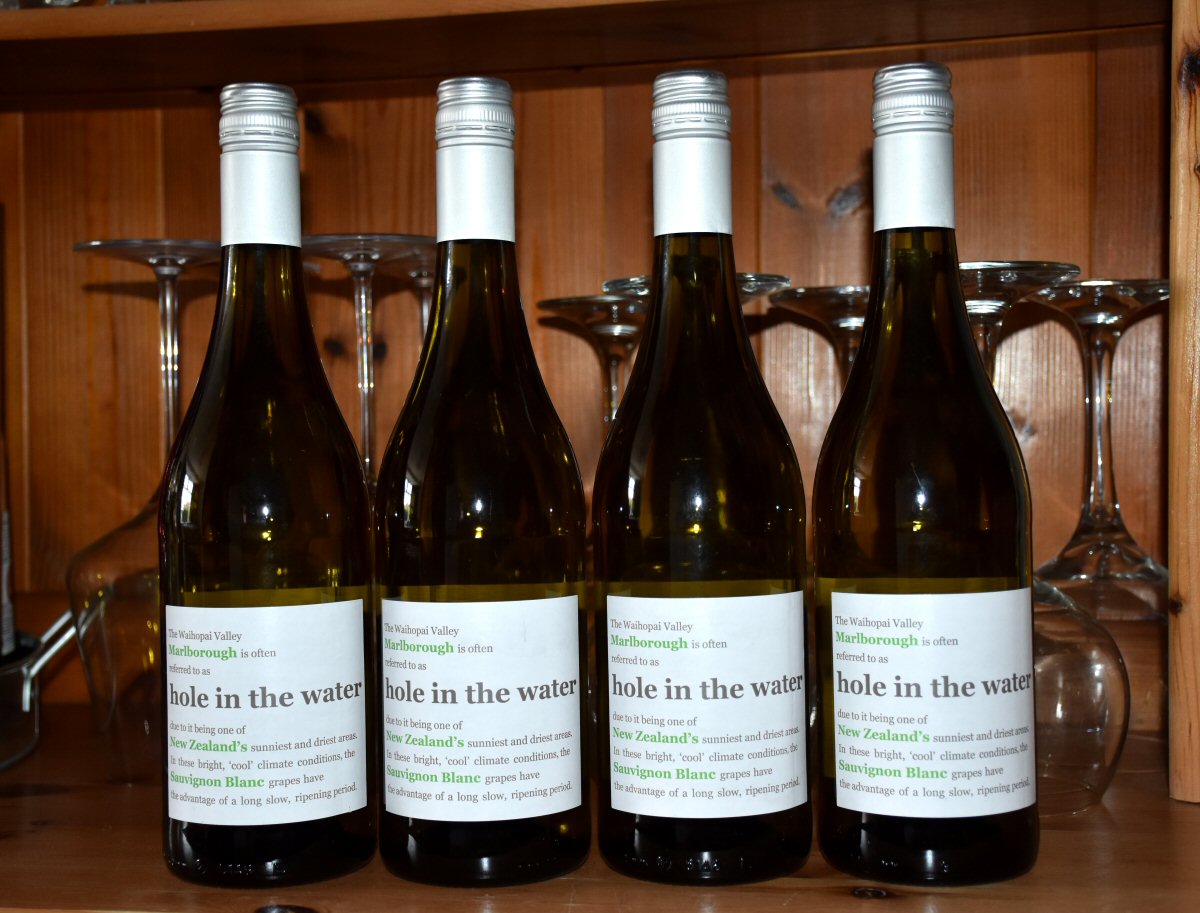 Giving us a little time to digest our starter, Andrew poured out the next wine, another beauty from the satellite stable, but a Pinot Noir this time, coming in at 13% ABV. As with the previous wines, we all eagerly swirled the liquid in our glasses, admiring the 'legs' that formed that indicate alcohol and/or residual sugar levels. This wine was fruity and heavy with red berry fruit tastes that parried with spice notes, and a nice level of Tannins to provide a dryness that would cut through the richness of the Bacon-wrapped Chicken Breast that was stuffed with Summer-Herb Mousse, partnered with Fondant Potato and Summer Vegetables and served with a Cream and Herb Sauce.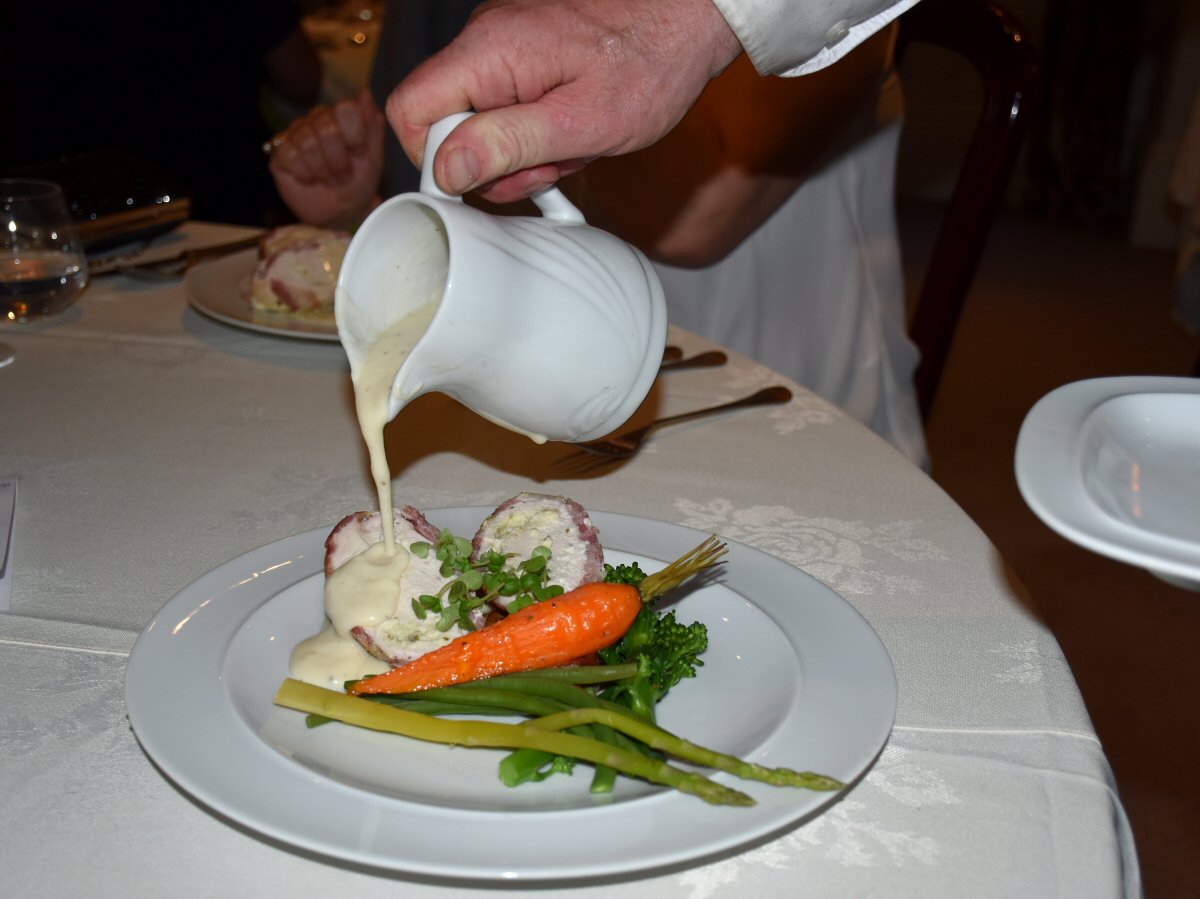 Chef had cooked the Chicken Breast to utter perfection, and its juicy flesh just melted on the tongue. The fragrant herb mousse lifted things wonderfully, with Bacon ensuring that a layer of 'oomph' stayed in the mouth. A colourful medley of Tenderstem Broccoli, whole Baby Heritage Carrots, Fine Green Beans and Asparagus spears were cooked to perfection and arranged precisely on the plates; Meg certainly has an eye for attention to detail! On the outside, the Fondant Potato had been cooked to a rich golden bronze with a smidge of crunch to its surface that revealed comfortingly soft inners when cut into. Andrew came round with a sauce boat, offering extra sauce, which I gladly accepted.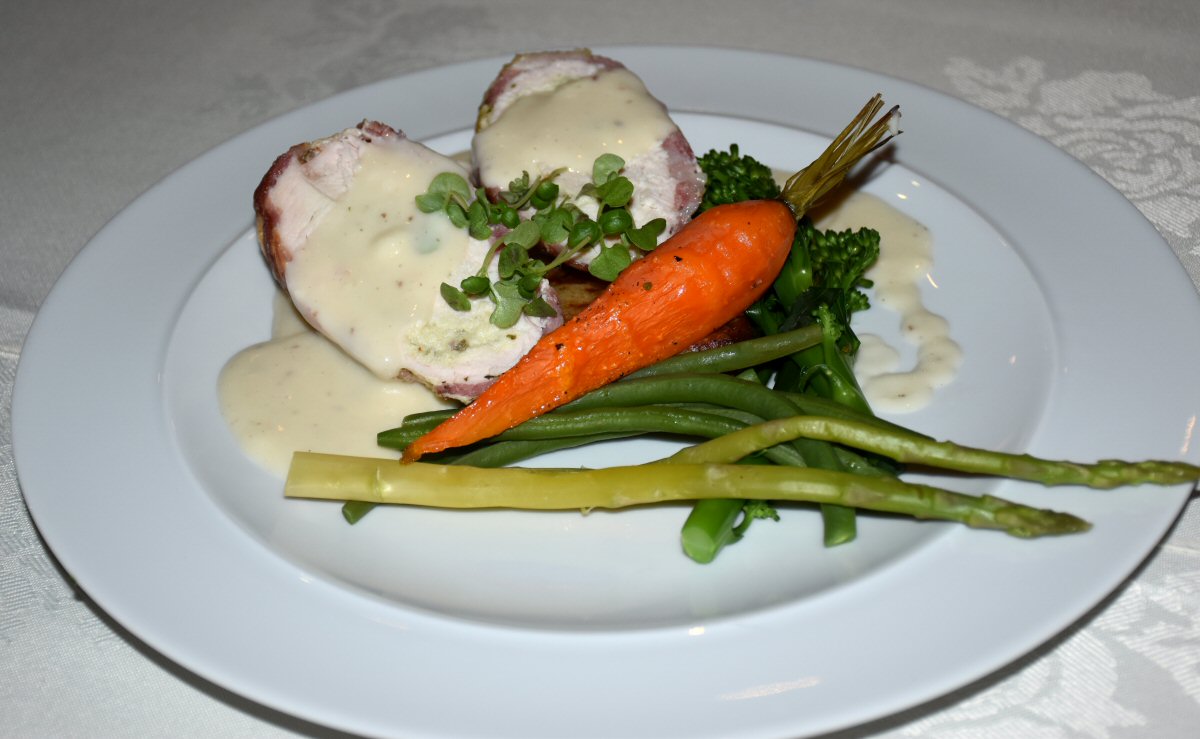 Although we'd got a swooningly good sounding dessert to come next, Andrew poured out the Spy Valley Pinot Noir that he'd selected to accompany our final course, the tasting platter of Cheese. Apparently, this particular wine needs time to aerate and develop if you're to fully appreciate its charms, which we definitely all wanted to do!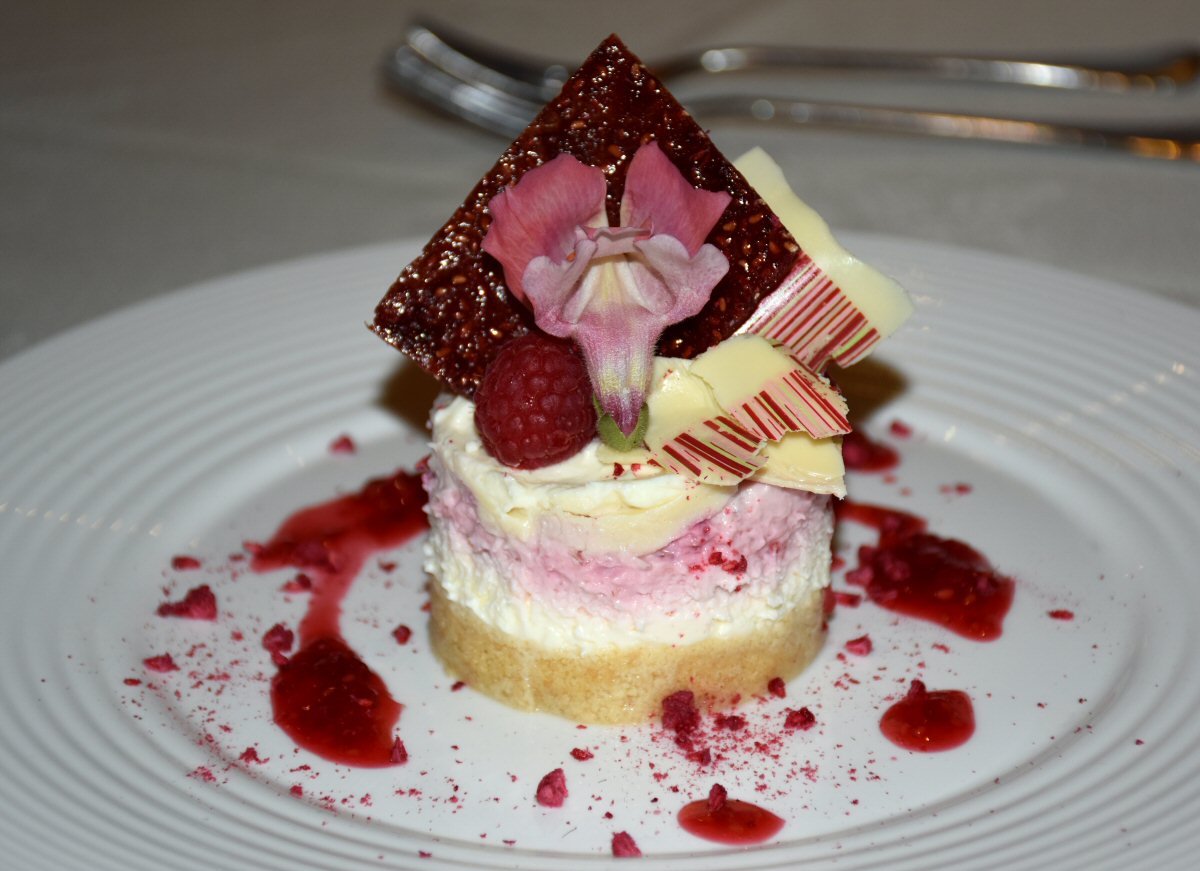 In the meantime, the team were coming round with the White Chocolate and Raspberry Cheesecake, served with Raspberry leather, Chocolate Artistry and textures of Chocolate and Raspberry. It's no exaggeration when I say that these Cheesecakes were almost too pretty to eat! Each portion had been decorated with fancy pieces of Chocolate art and edible flowers: I had a peach-toned Snap Dragon, and our companions had a vivid blue Cornflower and sunset- toned, baby Nasturtium. The Cheesecake body was light and airy, with an intense, rich creaminess from the White Chocolate, and it sat on the perfect buttery base that cut easily. Everywhere you looked, people were grinning with joy as this treasure caressed their taste buds; bravo, Meg!!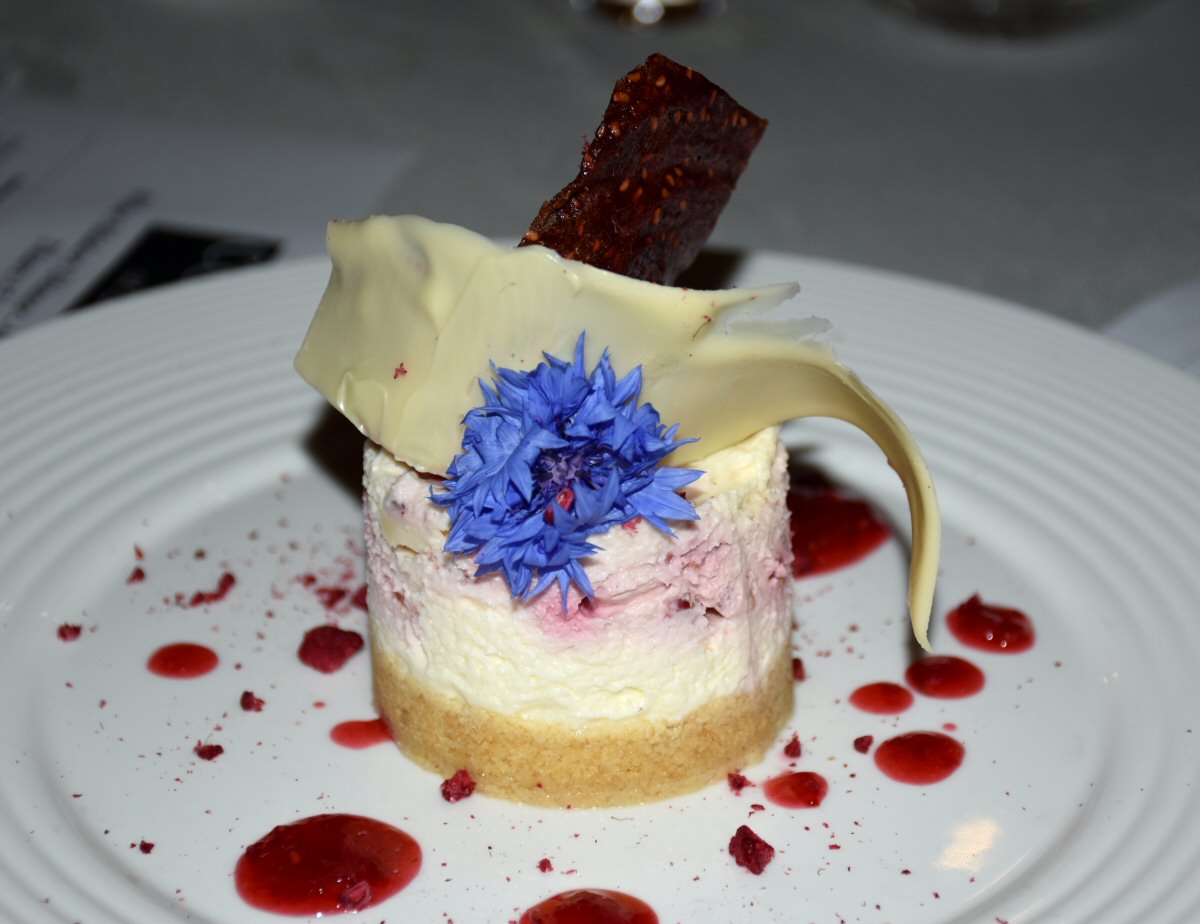 For this course, Andrew had chosen a dessert wine, Sigrun Noble Two, made by Konrad Wines in 2007. I have previously mentioned 'Noble Rot', a Fungus (Botrytis Cinerea) that attacks the grapes' skin, causing water loss that results in intense tasting, sweet wines. The process for this type of wine is labour-intense, with the vineyard workers 'weeding out' the lesser infected grape bunches so that only the best ones are left to extract the juice from that ultimately produces the (smaller yield) wine. Anyway, what you all really want to know is whether it went well with the Cheesecake, and, yes, it did, especially with the face-scrunchingly intense fruitiness of the Raspberry fruit leather.

As the team were expertly serving/collecting plates and bowls they were discreetly keeping an eye on the water jugs on each table, re-filling them if necessary. I also liked the fact that they would take time to have chats with you whenever they were near so that, although was a swish event, it wasn't uptight or stuffy.




Our final course on this Winer Makers Dinner was a tasting platter of Cheese, and we had an unpasteurised Sheep's milk cheese, a Wensleydale and a Yorkshire Blue to savour. Each piece was carefully arranged and partnered with an assortment of cheese biscuits and fine slices of sweet, crisp Apple. Each cheese had its own characteristics, and Andrew had brilliantly showcased them all with his choice of Spy Valley Pinot Noir, that had been expanding nicely in the ambient room temperature. This wine was a sultrily dark colour, and its robust red fruit notes certainly were impactful on the palate! The fine-grained Tannins ensure that this tipple is smooth and velvety whilst still cutting through the fat of the cheeses and giving a good, long finish in the mouth that will satisfy any red wine lover.
As with all Coghlans events and experiences, the wines were available at a discounted price for the next seven days in the Peak Village premises; needless to say, a few bottles of Sauv Blanc were bought by us!! On our journey home, I'm sure that Andrew, Meg and the rest of the teams' ears were burning – we didn't shut up about what a marvellous time we'd had! When I rang up to speak to the lovely Lisa (I love that woman, which I may have mentioned before!) the next day, I was still waxing lyrical about the evening: both the food and wine, but also the level of service and professionalism from everyone.

The price for this Wine Makers Dinner was £57.50 per person, though we were kindly #gifted ours. Check out the Coghlans website www.cookingexpert.co.uk for details of other up-coming dinners, and don't forget about the huge range of full-or half-day classes, too! Give Lisa or Donna (equally lovely) a buzz on 01246 453131 to book your place or pop in to Coghlans Derbyshire Wine and Food Experience Centre at the Peak village in Rowsley to do it in person…you could always treat yourself to some scrummy morsels and tipples whilst you're there, too.
Some form of incentive was provided to visit this venue
read more
Read Some Of Our Recent Reviews
---

Demo & Dine Event at Coghlans Food and Wine Experience, Rowsley They say you can't keep a good thing down, don't they? Well, Coghlans Derbyshire Wine and Food Experience Centre had a bit of a shake-up recently when Chef Simon left Read The Article

---

Mongolian BBQ Class With Chef Meg at Coghlans Food and Wine Experience, Rowsley What an absolutely ruddy brilliant afternoon that was!!! I love all the classes at Coghlans Derbyshire Wine and Food Experience Centre at Read The Article

---

The New Sushi Course With Chef Meg at Coghlans Food and Wine Experience, Rowsley I love doing the cooking classes at Coghlans Derbyshire Wine and Food Experience Centre, you all know that, but I have to say that the Sushi class Read The Article

---

Indian Cooking Class With Chef Meg at Coghlans Food and Wine Experience, Rowsley I love being at Coghlans Food and Wine Experience Centre; it's my happy place. I'm not the world's best cook (my eating skills are second-to-none, but Read The Article

---

Moroccan Cooking Class With Chef Will at Coghlans Food and Wine Experience, Rowsley Well, didn't I feel like the new kid in the playground? Why, you ask? because there was a new Chef at the helm at Coghlans Derbyshire Wine and Read The Article

---

Chef Simon's Farewell Class At Coghlans Wine And Food Experience Centre All good things must come to an end, they say, don't they? Well, at Coghlans Derbyshire Wine and Food Experience Centre at the Peak Village in Rowsley, Chef Read The Article

---

Wine Tasting and Cheese Pairing Event At Coghlans Wine and Food Experience Centre Bank Holidays are already fabulous, aren't they? But one thing guaranteed to make them extra special is to be doing a 'Wine and Cheese Pairing' Read The Article

---

Wine Tasting and Chocolate Pairing Event At Coghlans Wine and Food Experience Centre Over the years I've had some pretty awesome Easter Bank Holiday Weekends, but I can't recall one better than the one just gone (2023)! Read The Article

---

Bread Making at Coghlans Food and Wine Experience For The Real Bread Campaign For those of you who didn't know, it was 'Real Bread Week' 18th-26th February 2023 and someone who has a real passion for Read The Article

---