Breakfast At Marsh Green Farm Shop & Cafe, Kelstedge
---
Published On Thursday 23 Jun 2022 by Sticky Beak
See Recent Dining Out Reviews | See All Recent Reviews


Ah, you've gotta love a Bank Holiday curve-ball, haven't you? His Nibs and I headed over to Mummy Birds' gaff with the intention of having a leisurely couple of hours at the Sunday Tansley Car Boot and Market; off we set, all excited, and then we could see cars and vans turning around down the lane where the market is and our hearts sank. Yup, the market had been cancelled: all posted up on Facebook etc. for the world to see, except us dozy plonkers didn't read any social media posts before we set off, doh!! #epicfail
Not to be thwarted (we're out, so we're bloody well doing something!) we had a quick brain-storming session and decided to see if Marsh Green Farm Shop and Cafe were open; they do a ruddy good breakfast here, so at least we'd be in a happy mood after filling our bellies if we ended up doing nothing else! Thankfully they were open, so The Man booked us a table for opening time (9am) and we headed off to Kelstedge, which to be fair wasn't a massive detour from Tansley.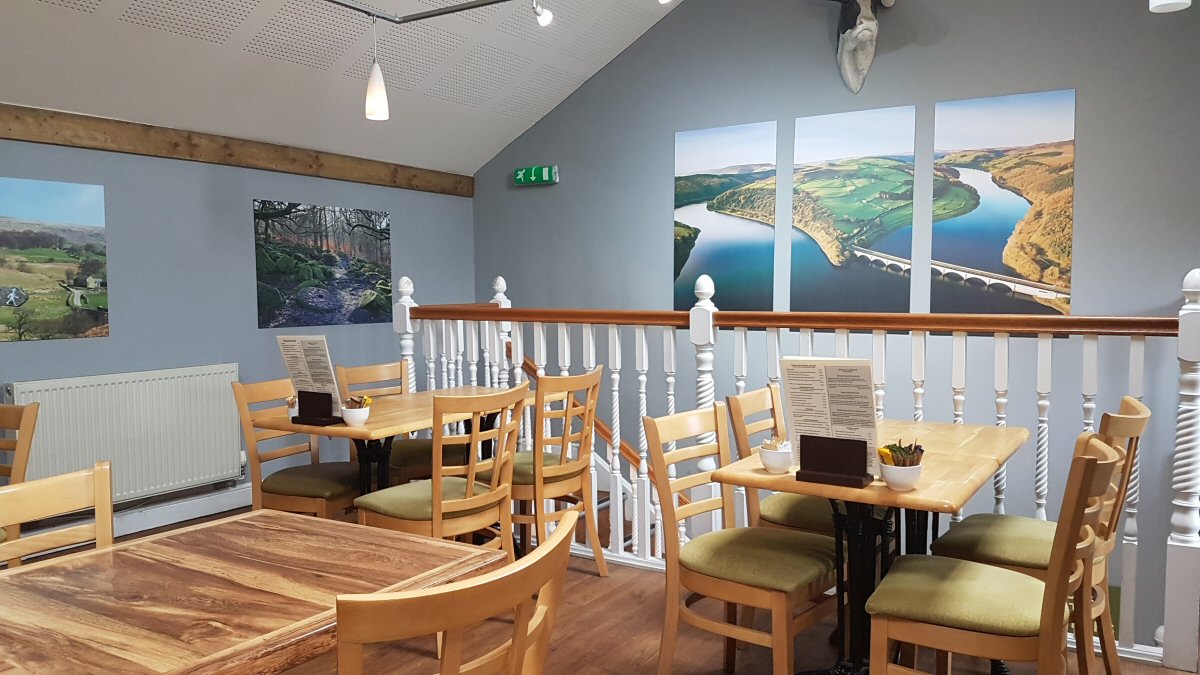 Mummy Bird hasn't been to Marsh Green before so she was loving the whole 'smell of the countryside' and farmyard thing. To get to the cafe you have to walk through the farm shop itself and the shelves are laden with all manner of fantastic, quirky gifts, confectionary and other generally great stuff to tempt you. Having gone down the short set of steps we reached the deli counter and were greeted very warmly by a lovely young lass who said our table was upstairs and that we could head straight up.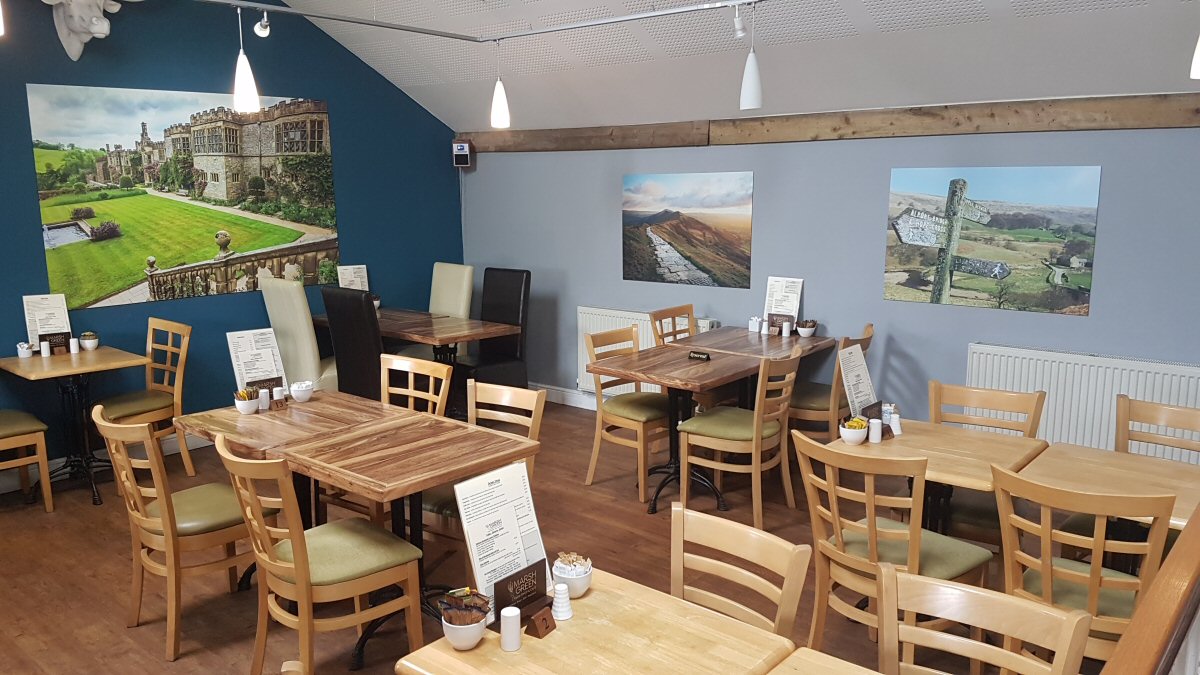 The cafe area is just what you would want in a rural venue if you lived in a town and had a specific idea in your head about 'the countryside'. Think airy barn feel, complete with ceiling beams and lots of pictures on the wall of local landmarks and farm animals. Personally, I just love the relaxed charm and feel of Marsh Green; you can't help but chill out – plus the smells that waft up from the kitchen and the Deli counter help you to get all Zen.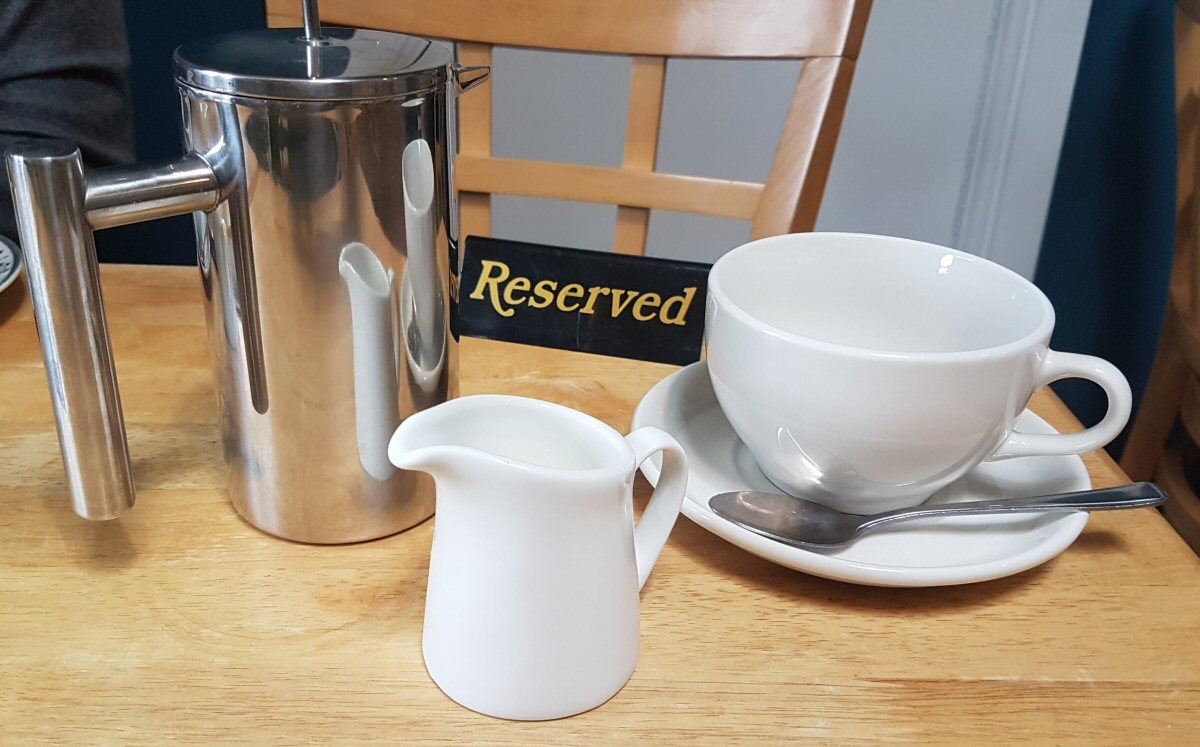 After a quick shufty through the menu we all knew what we were having: a Cafetiere of Blue Mountain Blend coffee (£2.95 per person) and a Full English (£7.50) for The Man, a pot of Earl Grey tea (£2.50 per pot per person) and a Full English for Mummy Bird, and a pot of Darjeeling and the Avocado Smash (£7.95) for moi. If you really do enjoy a cuppa then you'll appreciate the fact that all the teas at Marsh Green are loose leaf affairs.




It's a good job we a) booked and b) rocked up early, because there was a sudden flurry of activity and loads of folks joined us upstairs, all with the same mission in mind: refuel. Everything is cooked fresh to order so there were great clouds of steam billowing from the two plates that bore our Full English scrummy's, their tantalising aroma snaking through the café as the lovely young server brought them over. I could see a few noses twitching at other tables in acknowledgement of their appeal, so no doubt a few more were going to get ordered!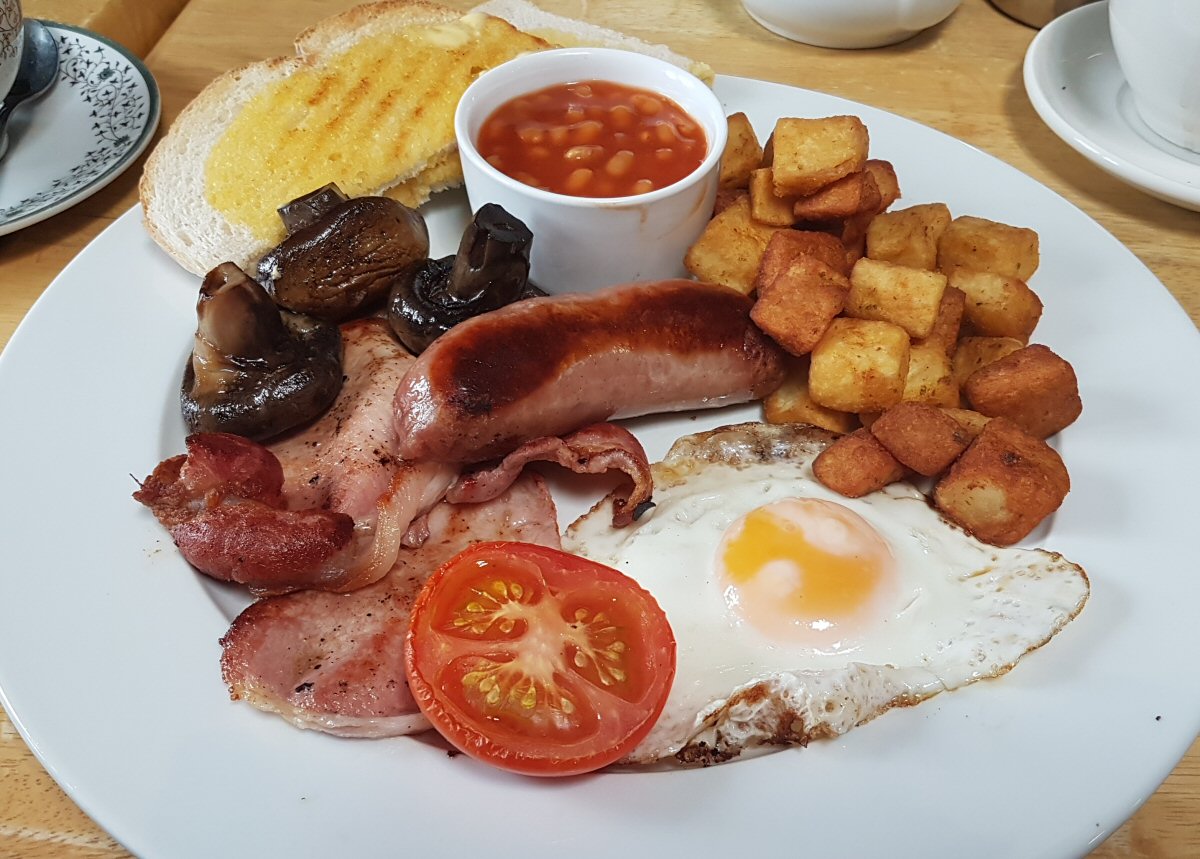 Various sauces in sachets were ripped open, their contents smeared on the periphery of the plates, and then the serious business of eating commenced. As you would expect from a farm café, the rashers of back Bacon were both hearty and flavour-packed - you certainly weren't going to be served with shrunken water injected cheats here!! Ditto the huge Sausages with their dense texture and lovely seasoning, and the sublimely sunny, fried free range eggs whose whites were nice and firm and yolks satisfyingly rich tasting. Those who don't like their 'wet' items (tinned Tomatoes and Beans, for example) touching the other elements of their fry-ups will be happy; at Marsh Green the Beans are securely housed in a little pot to prevent any such incidents. Whole field Mushrooms added a nice earthiness to the palate with the bounce of grilled fresh Tomato halves complimenting it. You can't beat a slice of freshly buttered toast with a fried breakfast and Mummy Bird used hers to extend her breakfast enjoyment by making a sub-meal of Beans on Toast! The piece-de-resistance for His Nibs were the breakfast Potatoes; dinky cubes of spud fried to golden, crisp perfection and Mummy Bird generously passed some of hers over to him as thanks for his quick-thinking that brought her here.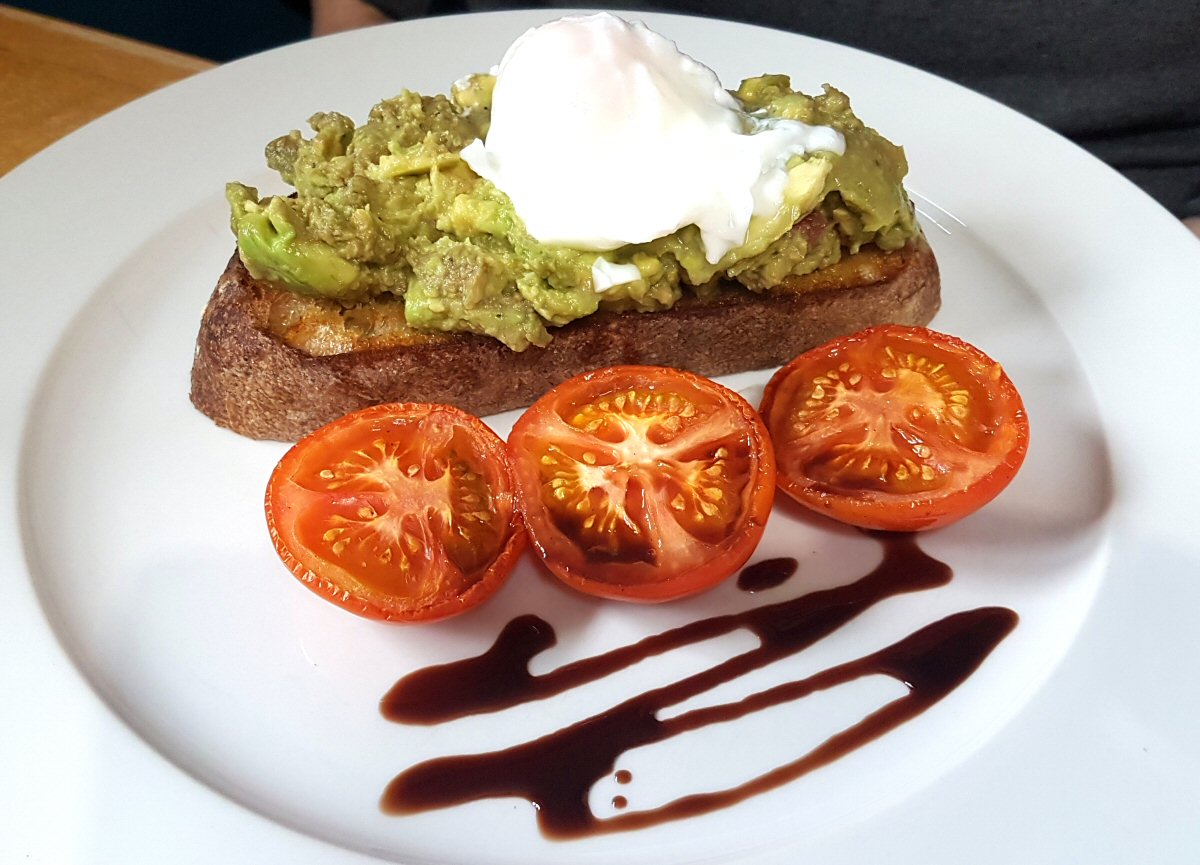 My large slice of Sourdough toast (that had an impossibly good, thick crust to its outer, by the way) was laden with a smashed Avocado concoction, the rosy-cheeked charm of roasted Tomato and a softly poached egg to crown it all. I love the creaminess of Avo; both in its comforting texture and its delicate yet rich flavour. At Marsh Green Farm Shop and Cafe, the team make their sourdough topper into a gorgeous Guac, combining the pale Avocado with diced fresh Tomato, zesty Lime juice and seasonings. My taste buds were dancing in ecstasy at the plethora of tastes that were enveloping them and my belly was equally happy at the amount there was to savour.




The joy didn't end when we'd cleared our breakfast plates of their load though; oh no, we then headed back downstairs to pick up some treats whilst we settled the bill. I bagged myself a huge slice of Baileys Pretzel cake, The Man went for classic Black Forest cake and a Homity Pie for us to share for supper that night, and Mummy Bird fancied a Broccoli and Stilton Quiche for lunch the next day.

Hot Wings happily awarded to this fab team! We'll be back in the not-too-distant future; Mummy fancies a lunch with you, and who are we to argue?!
No incentive was provided to visit this venue
read more
Read Some Of Our Recent Reviews
---

Afternoon Tea at Bourne's Coffee Shop and Bistro, Denby Pottery Village You all know that The Man Bird and I do like an Afternoon Tea; I mean, who doesn't?! Just a few miles down the road from the nest is Denby, home to the world-renowned Read The Article

---

All You Can Eat At The River Garden Cantonese Restaurant In Belper As is the seemingly never-ending pattern of our weekends at the moment, The Man Bird and I had been busy gardening/re-seeding/pruning/digging, so when it came to sorting Read The Article

---

Back For Dinner At The Bulls Head In Repton As far as greetings go, perhaps the best one we've received came on our visit to The Bulls Head at Repton. As I stepped out of the jalopy I heard a familiar sound; a Robin chirruping away merrily Read The Article

---

A Visit To The Recently Opened Ranch Gourmet Burgers In Ripley The Man Bird and I do like a good burger, so we were gutted to hear that one of our fave hangouts in Derby was closing its doors and (in true glutton fashion) decided to Read The Article

---

A Post Shopping Lunch At Qoozies, Chesterfield We were on a mission over the Bank Holiday Weekend: Operation 'Get New Curtains for Mummy Bird' was go, go, go!! It turned into Operation 'New Curtains, New Towels, and New Bedding', so Read The Article

---

Dinner At The Devonshire Arms In Beeley We seem to have visited a few other sites on the Chatsworth Estate, so it was lovely to receive an invite to dine at The Devonshire Arms at Beeley; it's been a while since we were last here. As soon as Read The Article

---

Burgers With A Side Order Of Sass At Karens Diner, Sheffield 'Freaky Friday' feeling, anyone? I felt a bit like the Fresh Prince of Bel Air, except instead of 'my life got flipped, turned upside down' it was a case of 'my dining experience got flipped Read The Article

---

Dinner At Cocina Restaurant At Casa Hotel, Chesterfield Regular readers of the blog will know that The Man and I recently visited the Peak Edge Hotel for dinner, a venue owned by Chesterfield business man Steve Perez. Our latest outing saw Read The Article

---

Sharing A 40oz Tomahawk At The Galleon Steakhouse, Chesterfield We Brits are used to Bank Holidays being a let-down usually when it comes to the weather, so when the forecast was for (mainly) fine conditions it was a case of Read The Article

---