Burgers With A Side Order Of Sass At Karens Diner, Sheffield
---
Published On Tuesday 24 May 2022 by Sticky Beak
See Recent Dining Out Reviews | See All Recent Reviews


'Freaky Friday' feeling, anyone? I felt a bit like the Fresh Prince of Bel Air, except instead of 'my life got flipped, turned upside down' it was a case of 'my dining experience got flipped, turned upside down'!!! Let me explain folks....
Before I go any further, please read this:

THERE IS STRONG LANGUAGE, BAD LANGUAGE, SWEARING (WHATEVER YOU WANT TO CALL IT!!), POLITICAL INCORRECTNESS AND CRUDE TURNS-OF-PHRASE IN THIS REVIEW
(in keeping with the theme of the Diner)...

SO IF YOU'RE SENSITIVE OR EASILY OFFENDED PLEASE DO NOT READ. YOU HAVE BEEN WARNED!!!

Scroll Down To Read The Review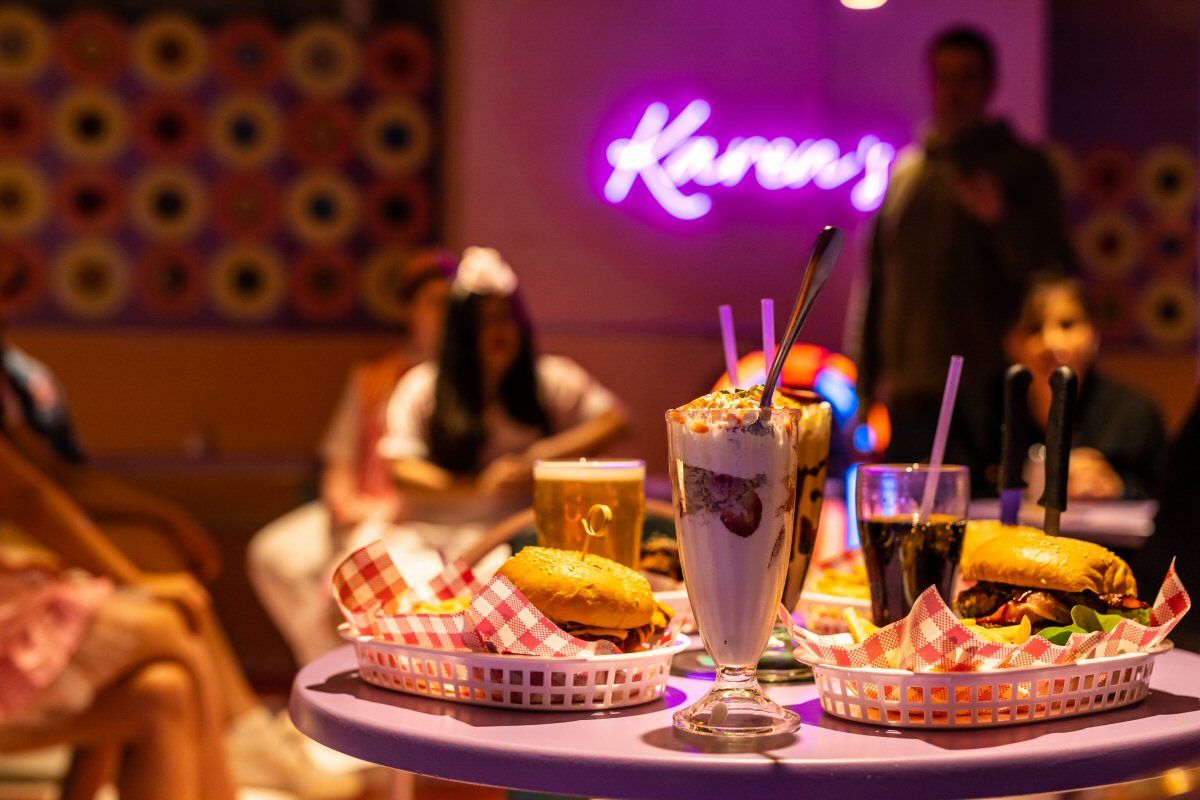 Those of you who are familiar with the concept of Karen's Diner you will get the tongue-in-cheek/faux insulting/shock jock theme of this review from the get-go; those of you who don't know what the hell I'm on about, go fucking Google it!!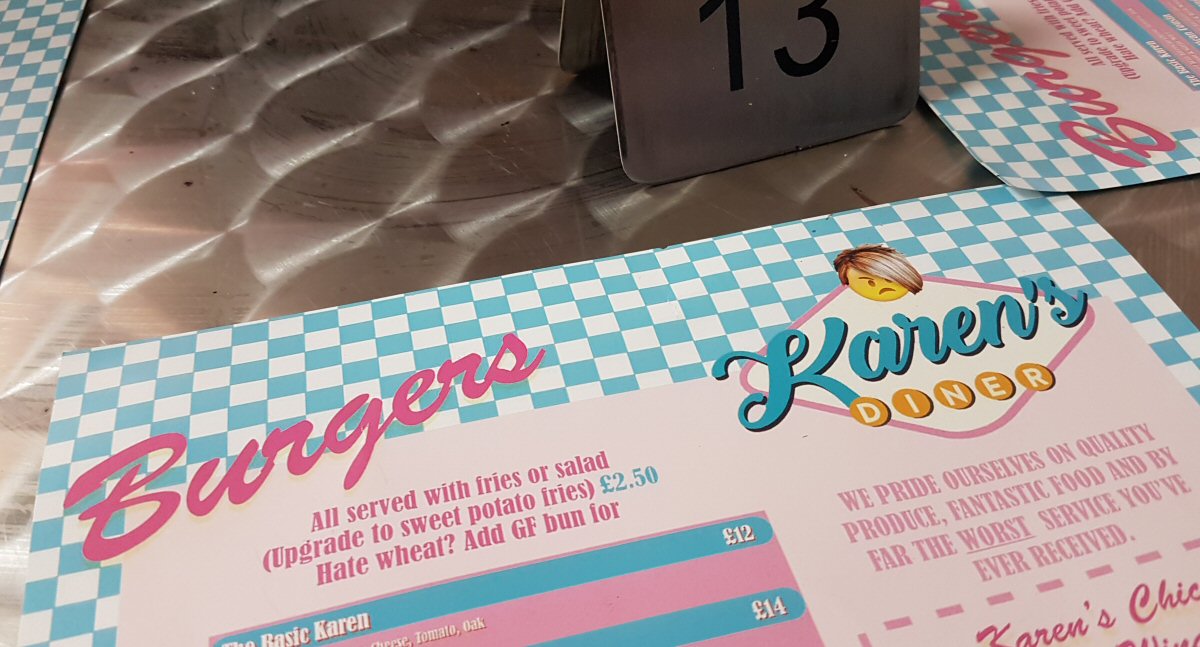 You know you're in for an alt-fun evening when you approach the restaurant and are greeted with "Fucking get inside then, instead of standing there like a dickhead, blocking the pavement. For Fucks' Sake!" The second sentence uttered to us (after we said we'd got a reservation) was "Do I look like I fucking care?" His Nibs and I had booked the table before Karen's officially opened, to be sure of snagging one, and we also took Fledge and Boyf Bird, and bless him, BB didn't know about Karen's Diner. He soon got the gist of it though, trust me!




Our server had got a face like a smacked arse; actually no, scrap that, that's unfair to smacked arses because she made them look like Little Miss Fucking Sunshine. Turns out that she was really nice IRL, and she played the part to perfection, but in the spirit of this review she was an absolute Bitch; a proper ball breaker! Even though we had gone to Karen's with our eyes wide open, The Man Bird and I were still a bit stunned by the full frontal assault, so you can imagine what 'the kids' were like – rabbits in headlights was the phrase that came to mind. The more they giggled nervously, the more the insults came hurtling their way.




There was a strange bloke mooching around, who reminded me of a (skip diving) Billy Bob Thornton, if I'm being honest; turns out he was the manager! On any other occasion this would've made me nervous but in this instance it made perfect sense. We'd been given a heads up not to ask for tap water, but some other unfortunates - a table of three chaps - weren't so clued in and faster than Usain Bolt, Smacked Arse hollered (and I mean bloody BELLOWED!) "Fuck you, cheapskates" whilst simultaneously flipping them the bird. Next thing you know we were all, and I mean the entire restaurant, joining in the "Fuck You, Cheapskate" chorus; how quickly we'd turned feral!




It wasn't long before our drinks, Oreo thickshakes for Fledge and BB, The Cancun Karen cocktail for me and a bottle of Estrella for His Nibs, arrived. Putting my serious face on for a moment, the service was slick the whole evening, thanks to the team working seamlessly to rile up all the diners and keep things entertaining whilst keeping the food and drinks coming.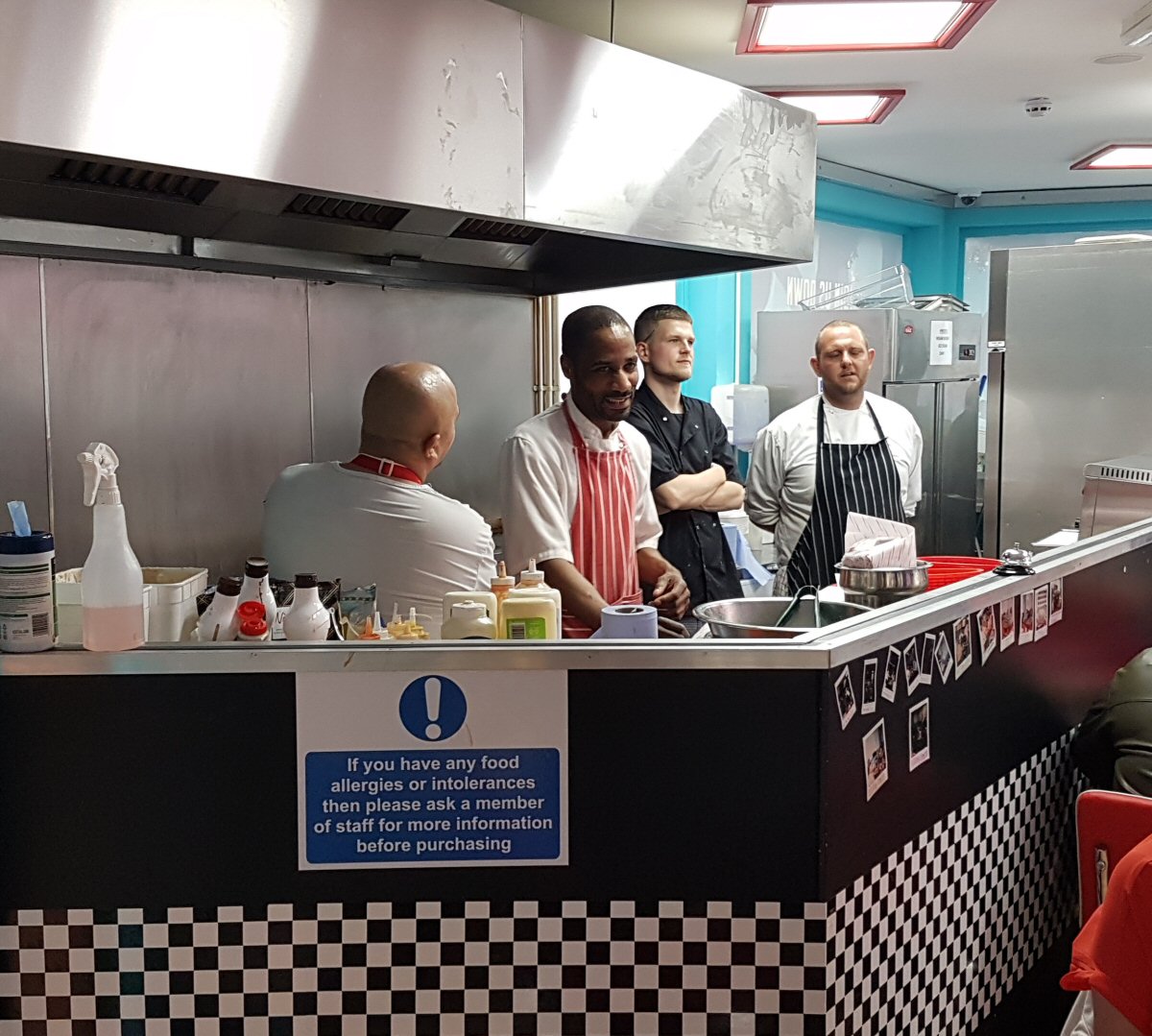 We'd all noticed the spinner ( the Wheel of Doom as I came to call it) at the front of the diner and clearly The Man Bird had his card marked because, as soon as the drinks had arrived and our food order taken, he was dragged up to take his chances on the wheel! Charades was the segment he landed on, so off he trotted to act out what the male server (who I named Snarky Mark) whispered in his ear: 'Peaky Blinders'. Safe to say that His Nibs won't be winning any acting awards any time soon, but mercifully someone out there got what he was trying to convey and he was released from his purgatory to rejoin us. Whilst all this was going on a Hen Party was having a go on a fairground strength machine; y'know, the ones where you have to swing a mallet and make the bell ding if it hits the top - one thing Karen's Diner isn't short of is action!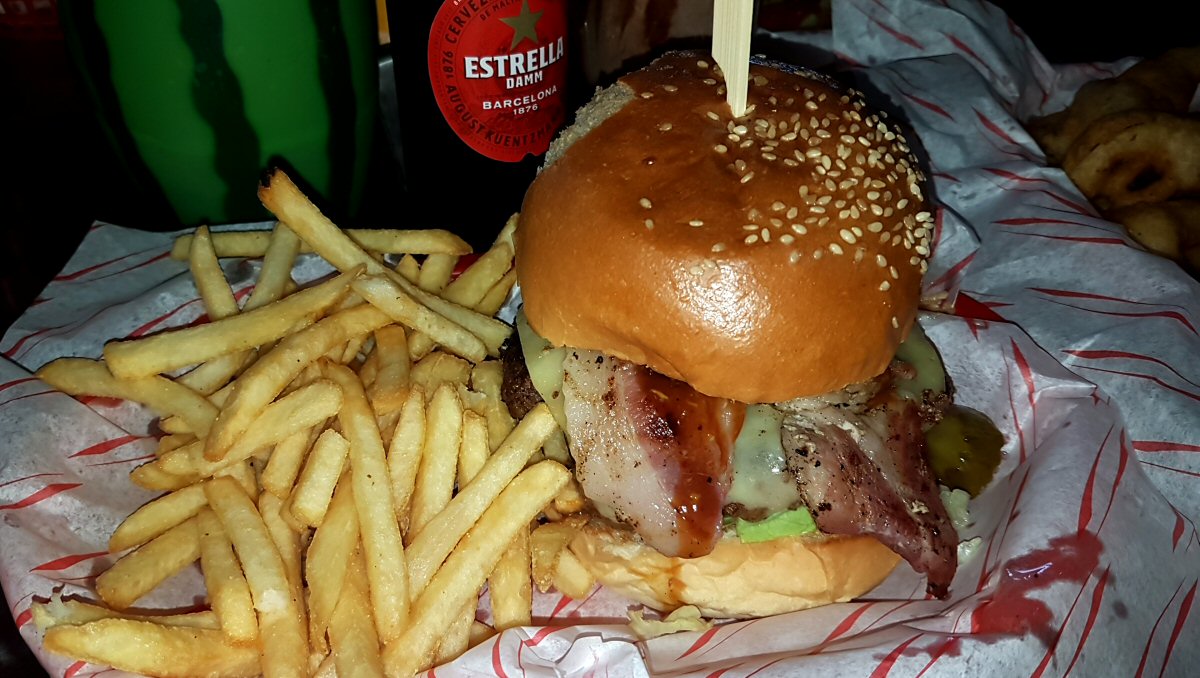 The Chefs and bar staff were constantly calling 'service' and the servers were bustling about taking plates and glasses out whilst meals were hot and drinks fresh. The menu is basic: Burgers, Fries, Shakes, Loaded Fries, and there's no starters or desserts, so Karen's isn't a stay-all-evening kinda place; it's a case of 'get in, sit down, eat, and then fuck off cos we're sick of seeing your ugly mushes'! However, (serious moment again) all the food is very tasty, hot, and plentiful.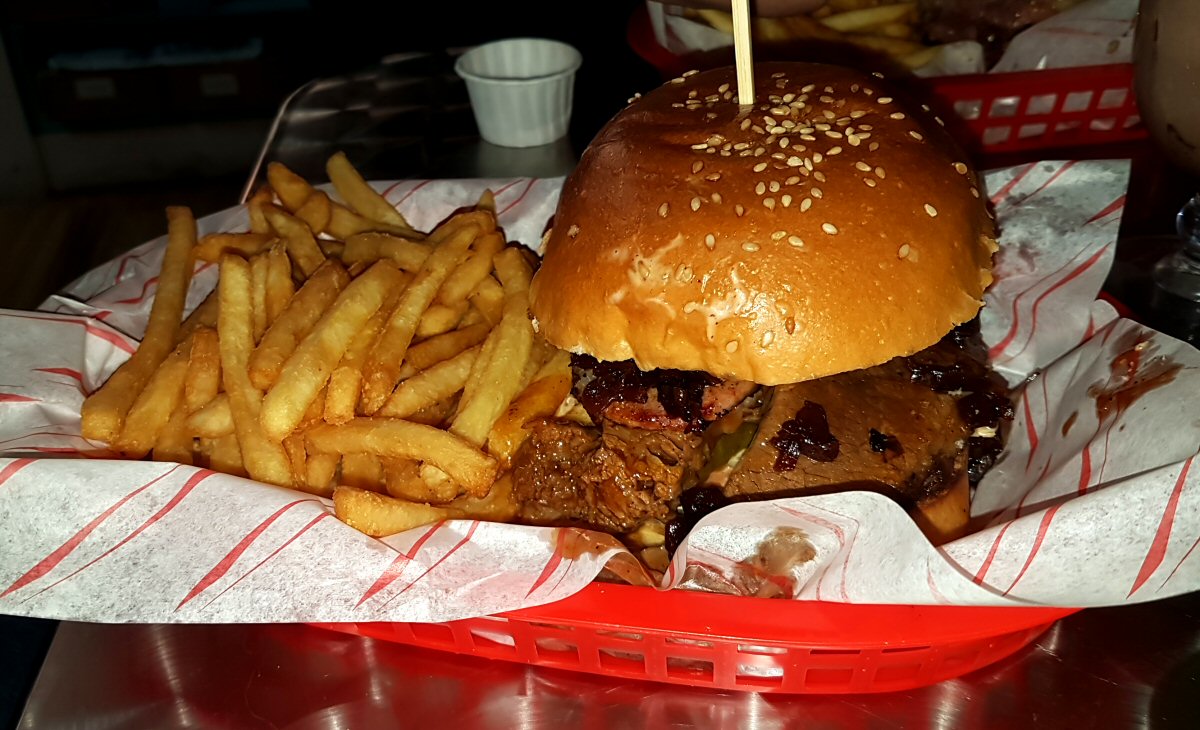 The Man and BB had both ordered the 'I want to see the manager, Karen' burger (£15) which is 2 Wagyu Beef patties, 2 Manager Cheese slices, Bacon, Lettuce, Pickles and Manager BBQ Mustard sauce. You may have gathered by now that what you don't do is ask for stuff to be omitted else shit is gonna hit the fan quicker than all hell! BB clearly didn't get the memo and asked for no pickles and no lettuce and, faster than a horny teen shooting his load, Smacked Arse fixed him with that 'ooooooh, I'm going to enjoy taking this fuckwit down' stare and gave him both barrels. By this time, BB had got the gist of Karen's and was playing the role perfectly, so when he wanted another drink he shouted "waiter" and waited for a response. The rest of us sat there thinking "Christ on a bike, his balls have finally dropped", with smirks on our faces. Perversely, once you relax and go with the flow it's funny, which let's face it, it's got to be else no-one would go there would they? Folks can be daft but not that chuffing dip-shit stupid!




I'd chosen the 'Karen's Got Real Beef' burger (£14) and Fledge fancied the 'Royale Karen' (£9). My choice was overnight slow-cooked Smoky BBQ Beef Brisket, Bacon, Coleslaw, Caramelised Onion and Honey glazed BBQ sauce and I have to say that the Brisket was incredibly tender; so much so that it was literally melting on my tongue. There were plenty of tastes and textures to keep my taste buds occupied and it was beautifully hot, temperature-wise. Fledge's chicken breast was lovely and juicy, partnered well by creamy Avocado, crisp Iceberg Lettuce, zingy Red Onion slices, a Tomato and Herb Mayo and Karen's relish.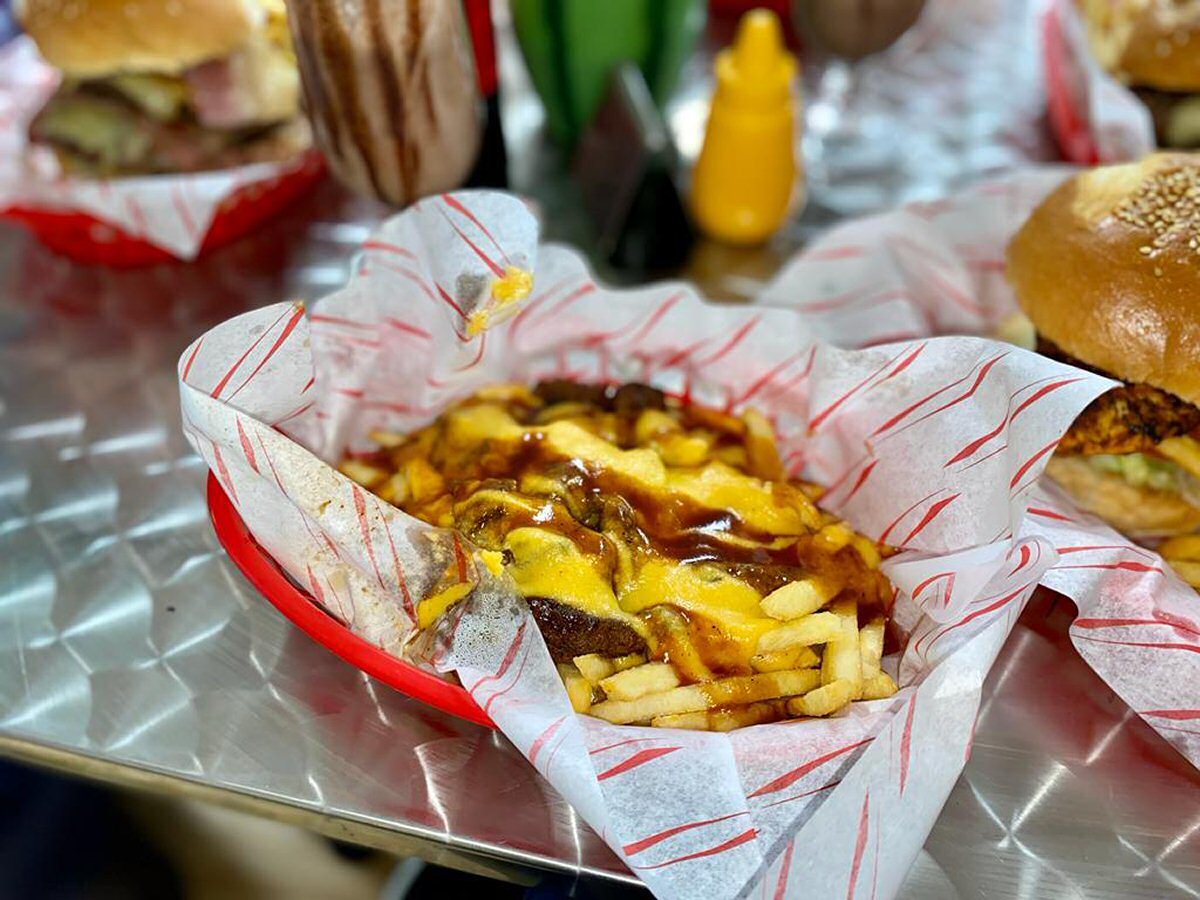 All the burgers at Karen's Diner come with potato fries or salad as standard, though you can upgrade to Sweet Potato fries for an additional £2.50. Those intolerant to Gluten can also request a GF bun. Because we're greedy bastards we also ordered some additional Loaded Cheesy Beef Brisket Fries (£7) and Onion Rings (£2), so Chef cracked on and got those fuckers cooked pronto Tonto!!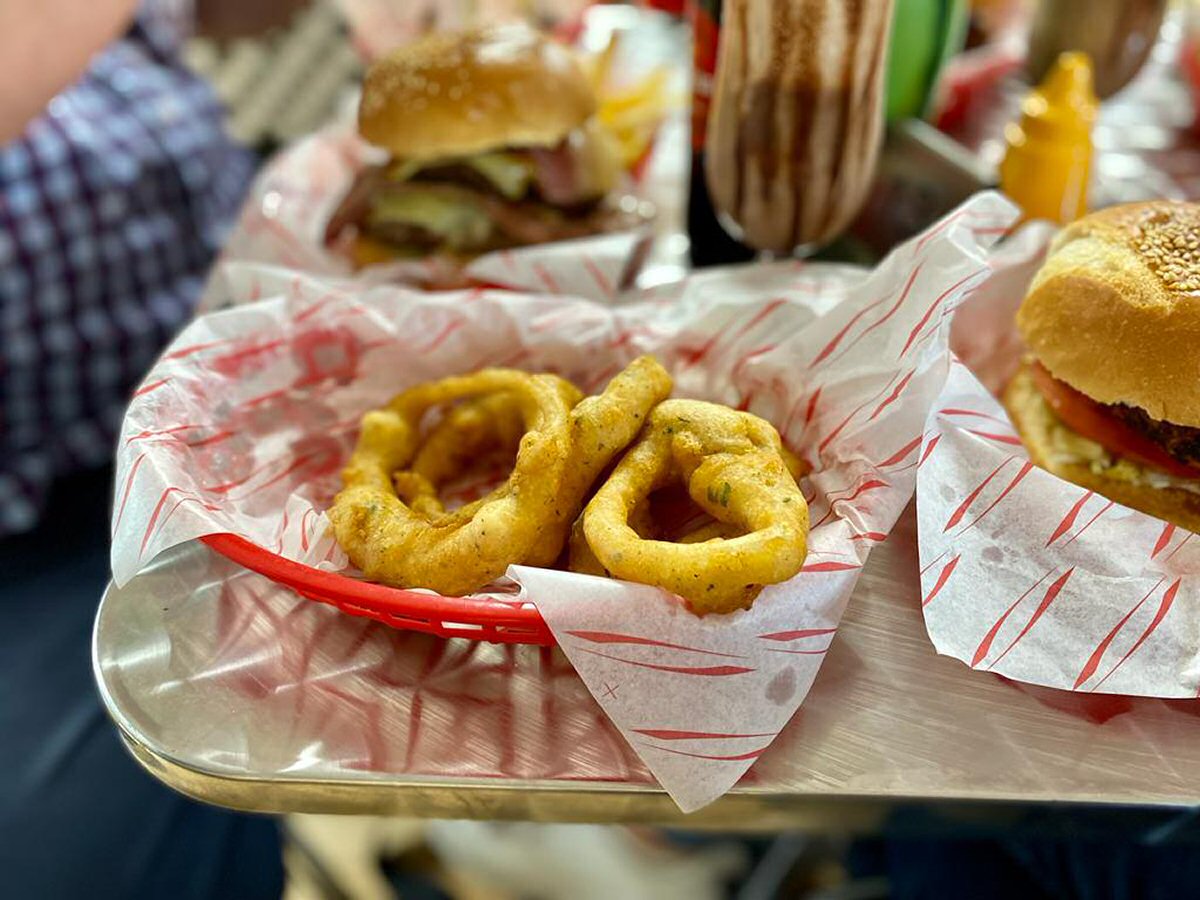 I'd been a fairly considerate Karen I thought smugly, confident that I'd escape any attention from Snarky Mark and The Twunty Bunch; those of a certain age will get the Mark Wahlberg reference. I swear to god that the millisecond I'd taken the final bite of my food there was a 'twat signal' that fired from the single neurone the servers shared and I was called up to spin the wheel of doom! No such luck that I got Charades; nope, I got 'Acapoke' (who the hell ever thought of that title needs cattle prodding where the sun don't shine!) where I had to think of a song and use mouth hum it and my fellow unfortunates guess what the song was. Now, back to reality and seriousness, those who know me know that there is more chance of the Pope NOT being Catholic than me being able to sing in tune, never mind hum!! Never let it be said that I'm not a game old bird, and god knows that I've never possessed any sanity (or dignity!), so up I stepped and began to fill the diner with the hypnotic strains of that classic song, 'Agadoo'. Yep, in my one chance to shine and get signed by an international record label mogul, the only 'song' my startled brain could remember was THAT earworm. I did mention my lack of dignity, didn't I? And what did my 'I-think-I'm-dead-funny' bastard of a husband do? Only went and filmed the whole thing for the socials! Cheers fella, that's you getting reacquainted with your hand for the foreseeable.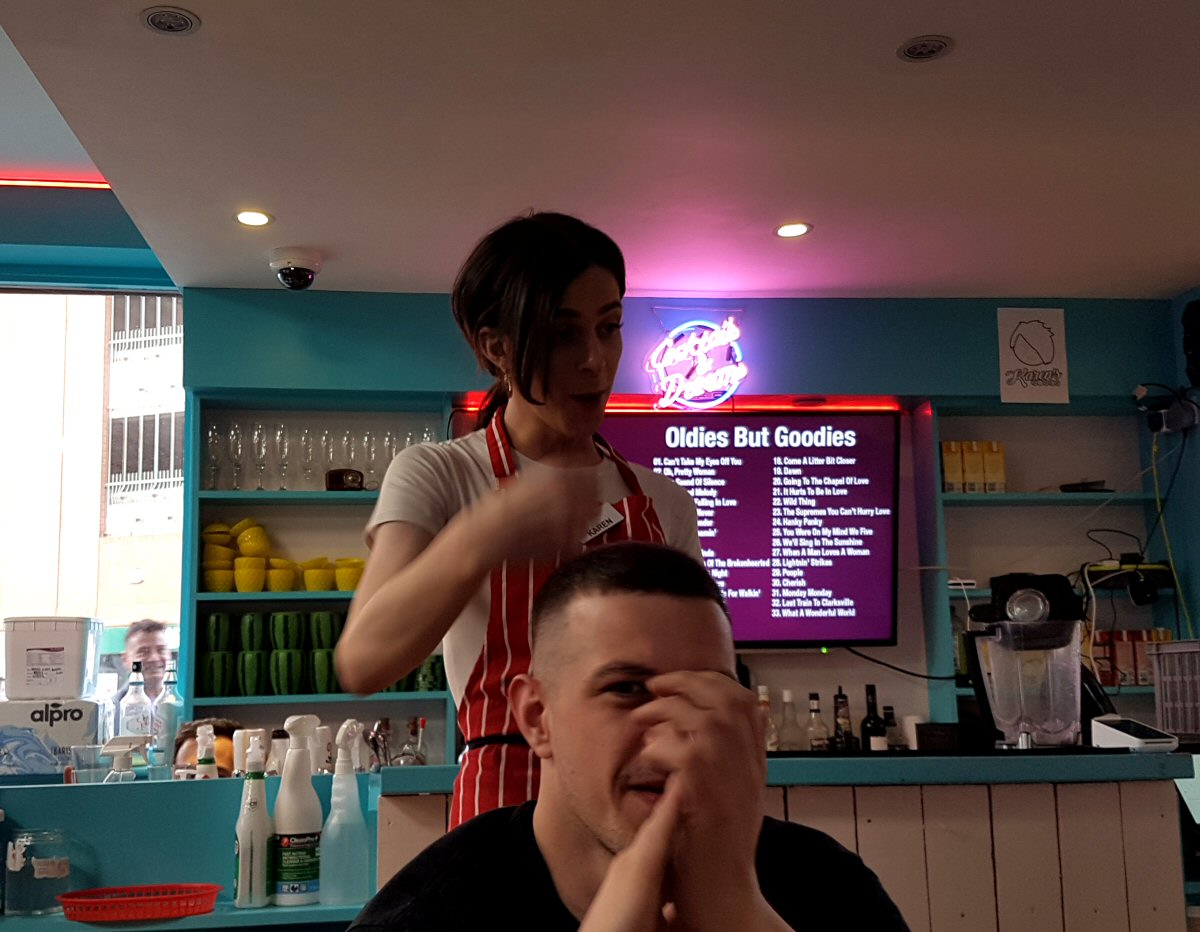 You may have realised that the only member of our group I haven't really mentioned is our Fledge; rest easy, dickheads, she's not getting off scot-free. Those who know my lass know that she is blessed with a wonderful 'resting bitch face' – I'm not being mean, she'll tell you the same - and the fact had not gone unappreciated by Smacked Arse; after all, she should fucking know a face that can curdle milk from 10 metres, if anyone does, right? Secretly, I think Smacked Arse had got a thing for Fledge, as she mentioned her lack of mirth several times; jog on love, she doesn't bat for that team, but top marks for effort. Top marks too, for perseverance (told you Smacked Ass Lass was good at her job, didn't I?) as eventually our Fledgy Frosty Knickers thawed and laughed at the gestures being done behind BB's totally oblivious back!

Snarky Mark and Smacked Arse had got together and tag-teamed Fledge over to the Fairground 'ding' machine; no, I can't come up with a better name for it, get rodded, Mr-and-Mrs Perfect. Anyway, to cut a long story short, Fledge didn't ding the bell at all, not even once. #EpicFail She comes back to the table as miserable as a hooker that's not got paid and says "I should've used both hands to swing the mallet, perhaps I would've done better then". Duh, you fucking think, genius?! Give that girl a medal for razor-sharp insight! I blame the genes from her fathers' side of the fam; they're Geordies.




Smacked Arse (and I am so sorry I didn't get your 'real' name) took the weight off her feet and sat with us for a few minutes (lazy cow!) as we all watched some other bell-end that had arrived at the Diner get walked around and around the tables as he was being seated - daft twat didn't twig on until about the third trot round us all! It was nice to see that the staff can behave 'normally' too; you can have too much of a shit thing, after all, and they do want you to enjoy the experience and come back and spend even more dosh with them. They also want you to tell your friends to visit them too; get bolloxed, Billy Bob, why on earth would I recommend you bunch of clowns to people I like?!!

Actually screw you, Billy Bob; I'm the real Karen here, so you're having Hot Wings awarded to your team whether you fucking want them or not! Back to reality for the last sentence of this review; we had a very entertaining time at Karen's Diner in Sheffield and I hope that it becomes a permanent fixture in the city rather than just a pop-up.

P.S For regular readers of our blog, normal service will resume with the next review - I pinky promise.
No incentive was provided to visit this venue
read more
Read Some Of Our Recent Reviews
---

Breakfast At Marsh Green Farm Shop & Cafe, Kelstedge Ah, you've gotta love a Bank Holiday curve-ball, haven't you? His Nibs and I headed over to Mummy Birds' gaff with the intention of having a leisurely couple of hours at the Sunday Read The Article

---

Afternoon Tea at Bourne's Coffee Shop and Bistro, Denby Pottery Village You all know that The Man Bird and I do like an Afternoon Tea; I mean, who doesn't?! Just a few miles down the road from the nest is Denby, home to the world-renowned Read The Article

---

All You Can Eat At The River Garden Cantonese Restaurant In Belper As is the seemingly never-ending pattern of our weekends at the moment, The Man Bird and I had been busy gardening/re-seeding/pruning/digging, so when it came to sorting Read The Article

---

Back For Dinner At The Bulls Head In Repton As far as greetings go, perhaps the best one we've received came on our visit to The Bulls Head at Repton. As I stepped out of the jalopy I heard a familiar sound; a Robin chirruping away merrily Read The Article

---

A Visit To The Recently Opened Ranch Gourmet Burgers In Ripley The Man Bird and I do like a good burger, so we were gutted to hear that one of our fave hangouts in Derby was closing its doors and (in true glutton fashion) decided to Read The Article

---

A Post Shopping Lunch At Qoozies, Chesterfield We were on a mission over the Bank Holiday Weekend: Operation 'Get New Curtains for Mummy Bird' was go, go, go!! It turned into Operation 'New Curtains, New Towels, and New Bedding', so Read The Article

---

Dinner At The Devonshire Arms In Beeley We seem to have visited a few other sites on the Chatsworth Estate, so it was lovely to receive an invite to dine at The Devonshire Arms at Beeley; it's been a while since we were last here. As soon as Read The Article

---

Dinner At Cocina Restaurant At Casa Hotel, Chesterfield Regular readers of the blog will know that The Man and I recently visited the Peak Edge Hotel for dinner, a venue owned by Chesterfield business man Steve Perez. Our latest outing saw Read The Article

---

Sharing A 40oz Tomahawk At The Galleon Steakhouse, Chesterfield We Brits are used to Bank Holidays being a let-down usually when it comes to the weather, so when the forecast was for (mainly) fine conditions it was a case of Read The Article

---