Sharing A 40oz Tomahawk At The Galleon Steakhouse, Chesterfield
---
Published On Thursday 19 May 2022 by Sticky Beak
See Recent Dining Out Reviews | See All Recent Reviews


We Brits are used to Bank Holidays being a let-down usually when it comes to the weather, so when the forecast was for (mainly) fine conditions it was a case of all hands on deck at Mummy Bird's to get some weeding and grass-seeding done! By the end of our efforts, The Man and I were ravenous but, mindful of the fact that Mummy Bird had been feeding and watering us all weekend (and probably wanting some peace and quiet!), we booked a table at The Galleon Steakhouse in Chesterfield for their Bank Holiday special, a 40oz Tomahawk steak for two and drink for £40.
The Galleon is one of those places we've been meaning to visit for ages, but because it's fairly local we've said "next week, next month" etc. etc. and never got round to actually going! Thankfully that situation has now been rectified, and our tummies are glad for it. Inside, The Galleon Steakhouse is very sleek and stylish, with shiny, modern lighting and a colour palate that a certain Mr Grey would very much approve of! The team are lovely too, greeting us warmly and being thoroughly nice all the way through our visit; the first thing they did was get our drinks sorted - a glass of house red for me and a pint of Carling for The Man (both included in the Bank Holiday Steak deal).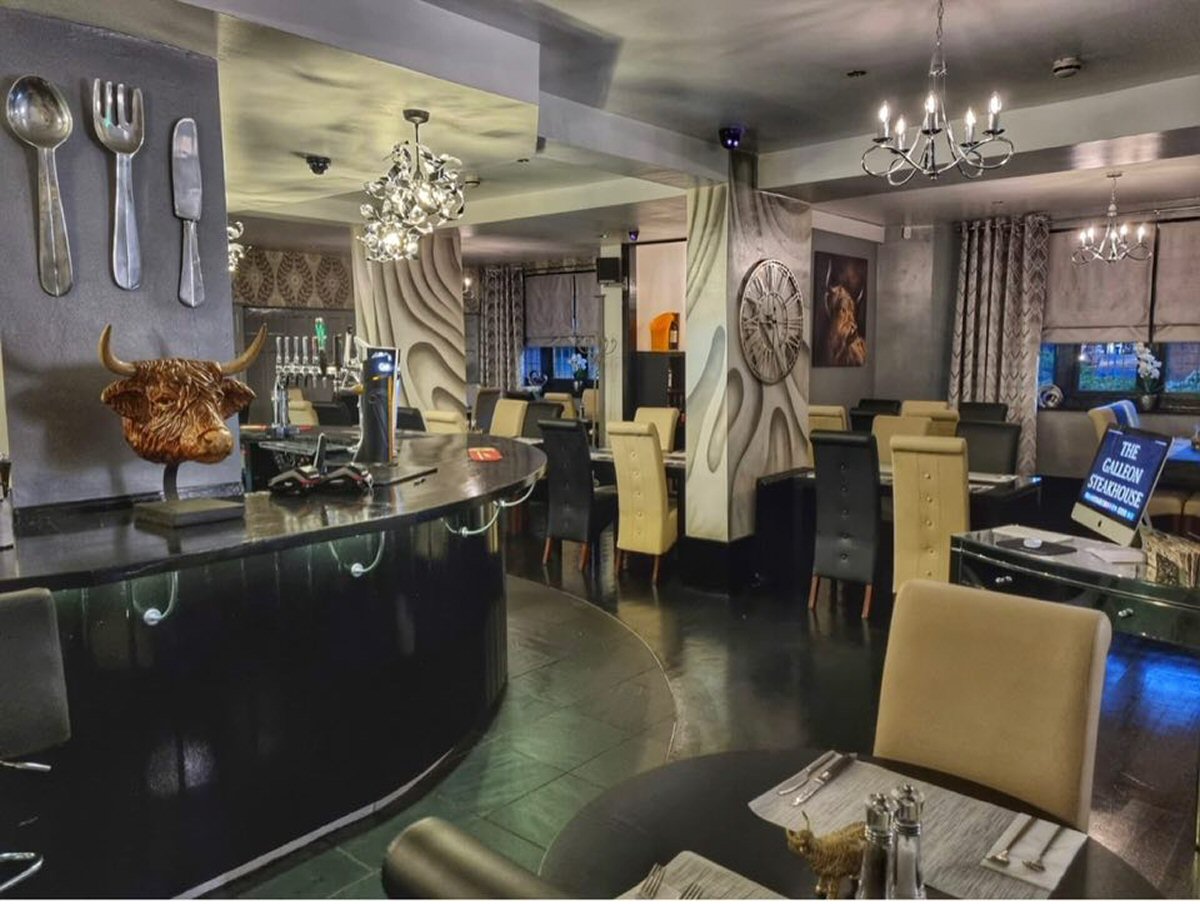 There were plenty of other diners already tucking in when we arrived, a nice mix of couples, groups of friends and two families celebrating birthdays; The Galleon clearly has a local reputation of being a relaxed venue where good times and good food can be relied upon. We snagged a table near to the open kitchen so that we could watch all the action from Chef Jake and the team...as well as get the aromas fresh-from-the-pan, so to speak.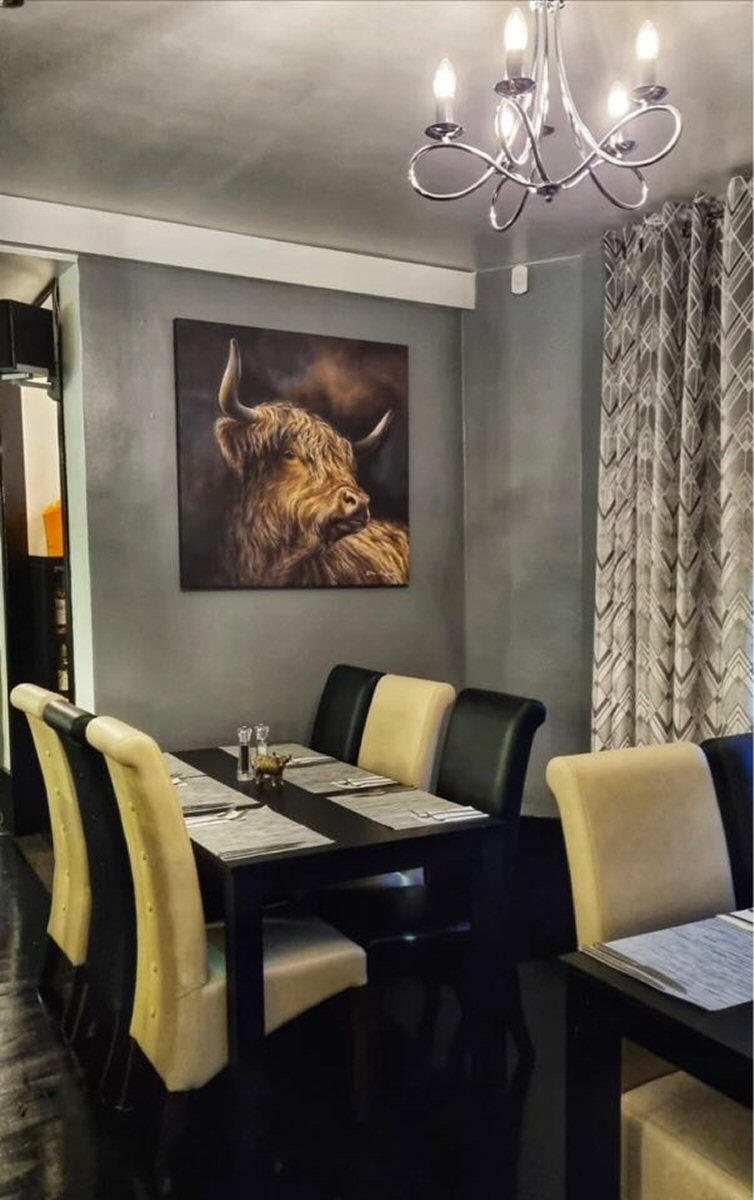 His Nibs' and my gluttony is well documented - all the reviews over the years are testament to that! – but we thought better of ordering a starter seeing as we were about to have a 40oz steak for mains. Our lovely server asked if we'd like to upgrade our fries and have sauces (all of which we did, costing £3.50, £2.95 and £2.95 respectively); I went for a Stilton sauce and The Man had his perennial favourite, Peppercorn. We also added a side of Onion Rings to the meal for £3.75 – well, you can't have a steak without them, can you?! Playing nicely, we asked for the steak to be cooked medium-rare so that I got the pinker bits and His Nibs could enjoy the bloodless cuts; I have to say that Chef got it spot-on, which is no mean feat when dealing with such a substantial amount of meat!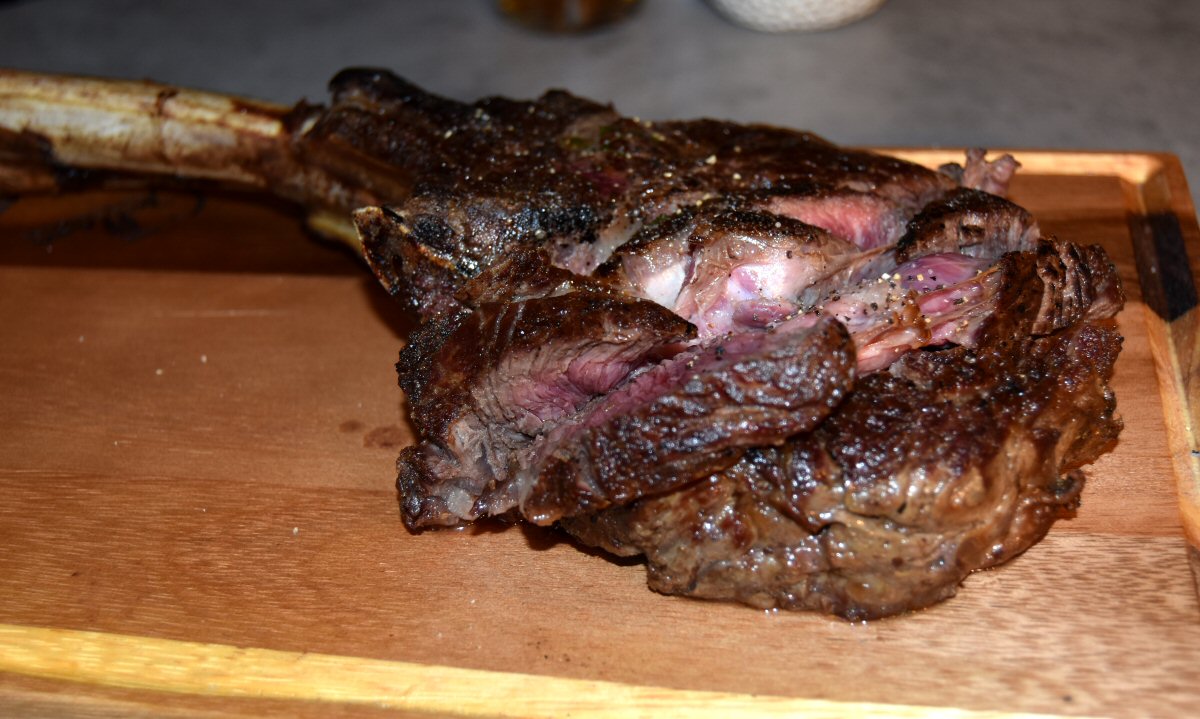 I'm happy to report that the steak (sourced from TTS in Macclesfield) was every bit as juicy and tasty as it looked, the flesh melting on our tongues. Seeing fat on a steak never bothers me; contrary to popular belief, fat is good – especially during cooking, because it retains that desirable succulence as well as adding an extra element of taste. We did cut some of the outer fat off but ate the small intrinsic amounts, and it did give some 'oomph' to the meats' natural flavour. Just as good were the two sauces we'd selected; both packed a punch of the flavour they were supposed to be and were pleasingly thick enough that they didn't drip stingily off the food when dunked into.




A nice touch was the coating of bright, punchy Pesto that adorned the flat surface of each grilled Tomato half; not only did this compliment the natural sweetness of the Tomato beautifully, it added a pleasant visual appeal to the dish too. I got all His Nibs' mushrooms, so I was very happy – honestly, I love Mushrooms so much, I think I could eat a whole pound of them at a time!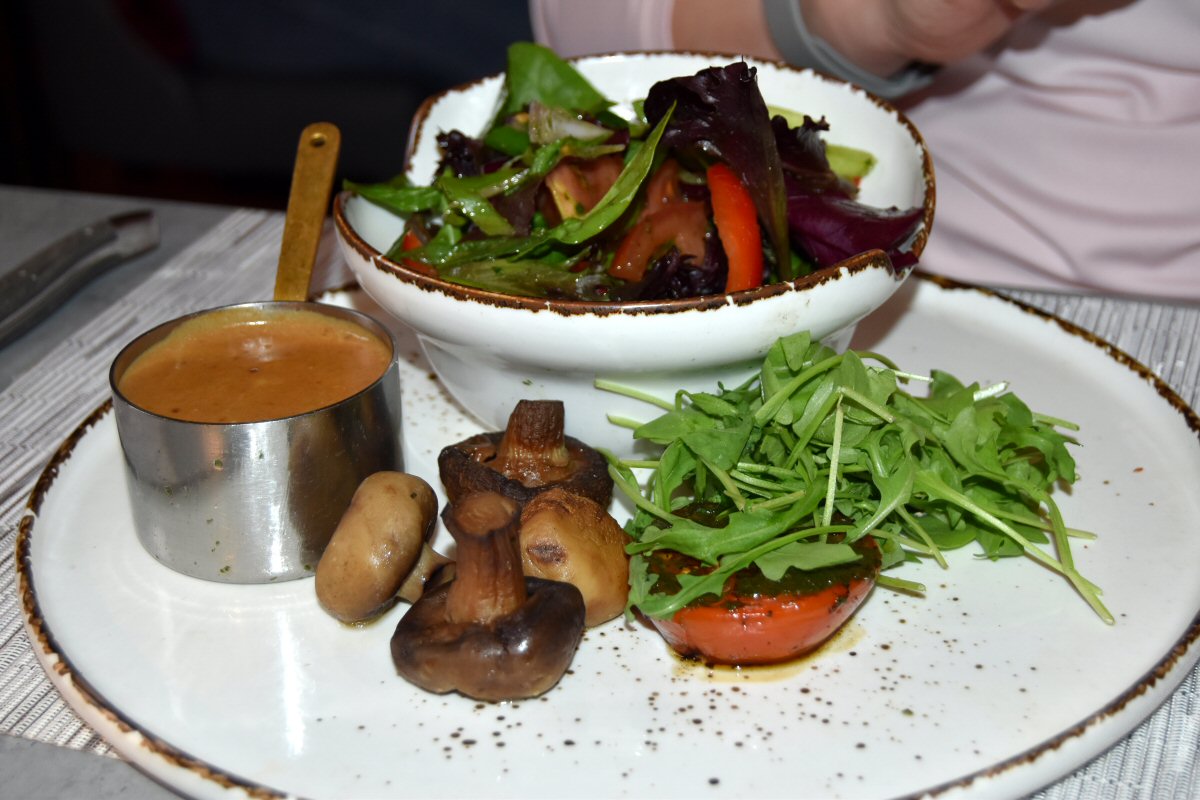 The Sweet Potato fries were plentiful and not at all greasy and they were served in a little wire mesh frying basket; I love quirky touches like this, and, yes, I know that you can buy them to have at home, but it's not the same as seeing them when you're dining out. I'm not the world's most ardent spud lover and, given the amount of protein my body was going to be contending with digestion-wise, thought it best to swap out fries for a lighter side salad option (which Chef kindly did for me). The salad was lightly dressed to give the mixed leaves, spring onion, red pepper, Tomato and Cucumber a bit of glossy glamour and zhuzh, and it was all super-fresh, cool and crisp – perfect.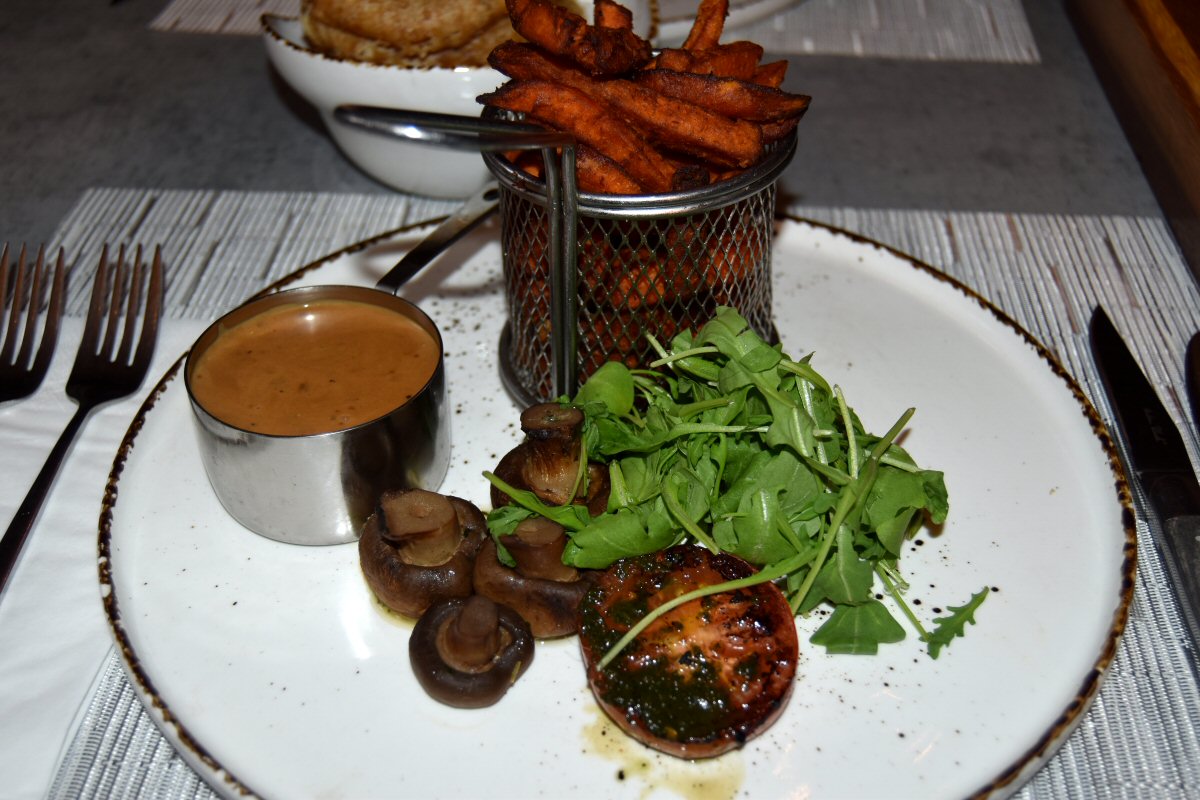 One thing that really stood out was the fact that Chef came out when we were about halfway through our meal and asked if we would like him to give the steak a quick flash to warm it back up – how thoughtful was that?! To be honest, the massive Tomahawk beast was still tasty as it was cooling down, but we took him up on his kind offer and savoured that delicious warm-meat feeling on our tongues again.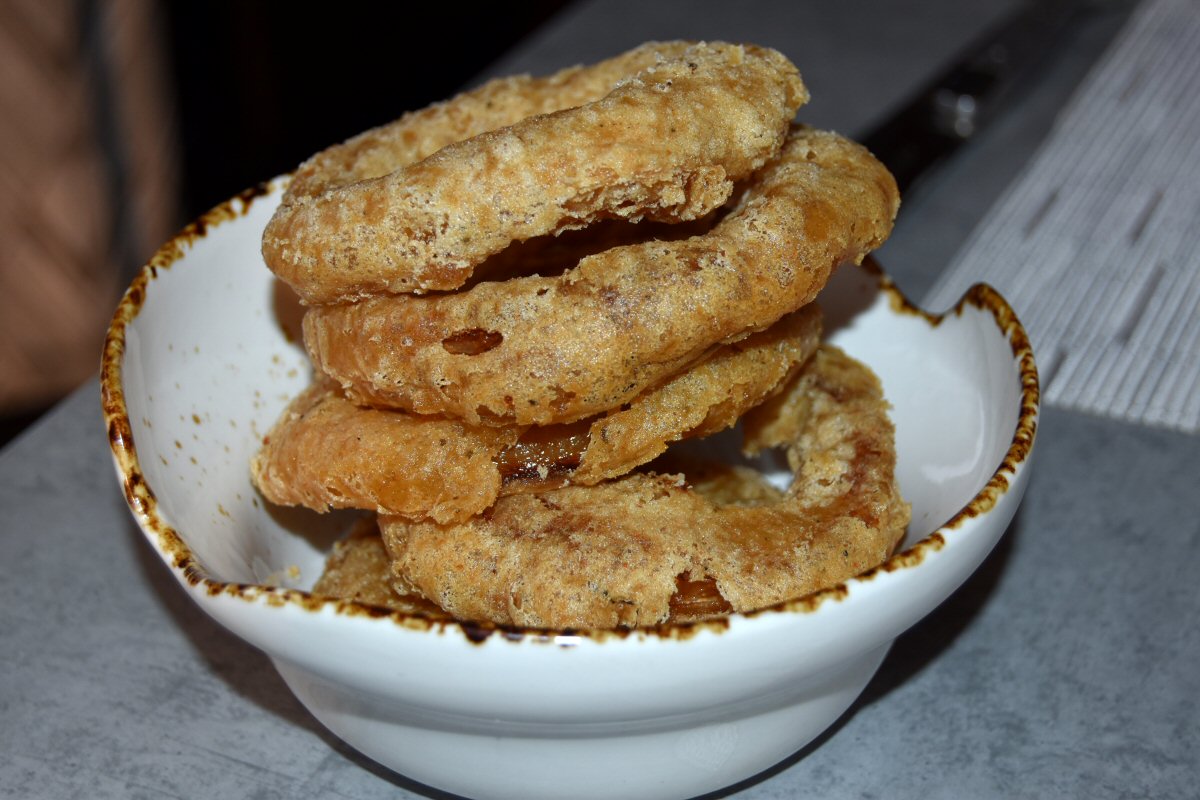 Originally we planned on just having the Tomahawk Steak, but the puds sounded too scrummy to pass up, so I ordered the choc-fest that is The Galleon Chocolate Wreck (£6.25), whist The Man opted for the Mango Panna Cotta with Raspberry Sorbet (also £6.25).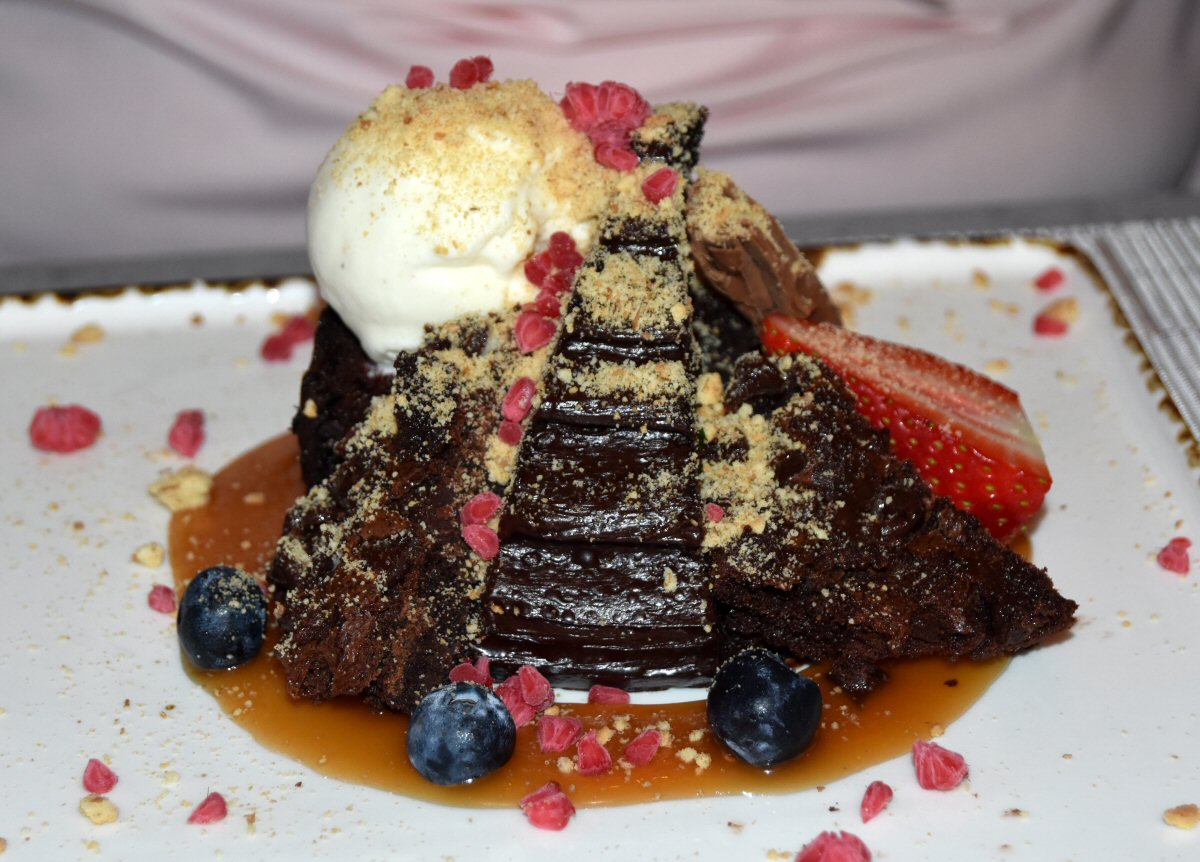 My Cocoa craving palate wasn't disappointed by the vision of beauty that appeared before me; as soon as I took that first bite of Brownie the chocolate washed over my tongue, and I sighed happily. The Brownie was exactly as it should be: a light crust outside that protects a wickedly soft, moreish inner, and this partnered well with a sumptuously moist Fudge Cake that clung passionately to the inside of my cheeks as I surrendered to its charm. More cocoa indulgence came via a Cadbury's Flake and then generous swirls of unctuous Caramel sauce danced with its chocolate entourage. Pieces of fresh Fruit lightened up the flavour profile of this dessert, preventing it from being one-dimensional, as well as adding some texture.




The Man Bird was immersing himself in his fruity carnival, cheekily giving his Panna Cotta a wobble to 'make it shake its booty' – honestly, I can't take him anywhere! In between the murmurs of satisfaction he did come up for air long enough to say that the Mango note in the Panna Cotta was just right: not too vibrant as to overwhelm, but not too gentle as to be insipid. There's something irresistibly optimistic about the joyous combination of Mango and Raspberry, and the Raspberry certainly lived up to its out-going reputation here in a cool Sorbet guise. The Man Bird found himself scraping his spoon around his bowl in desperation, determined to get every last morsel in his greedy tummy!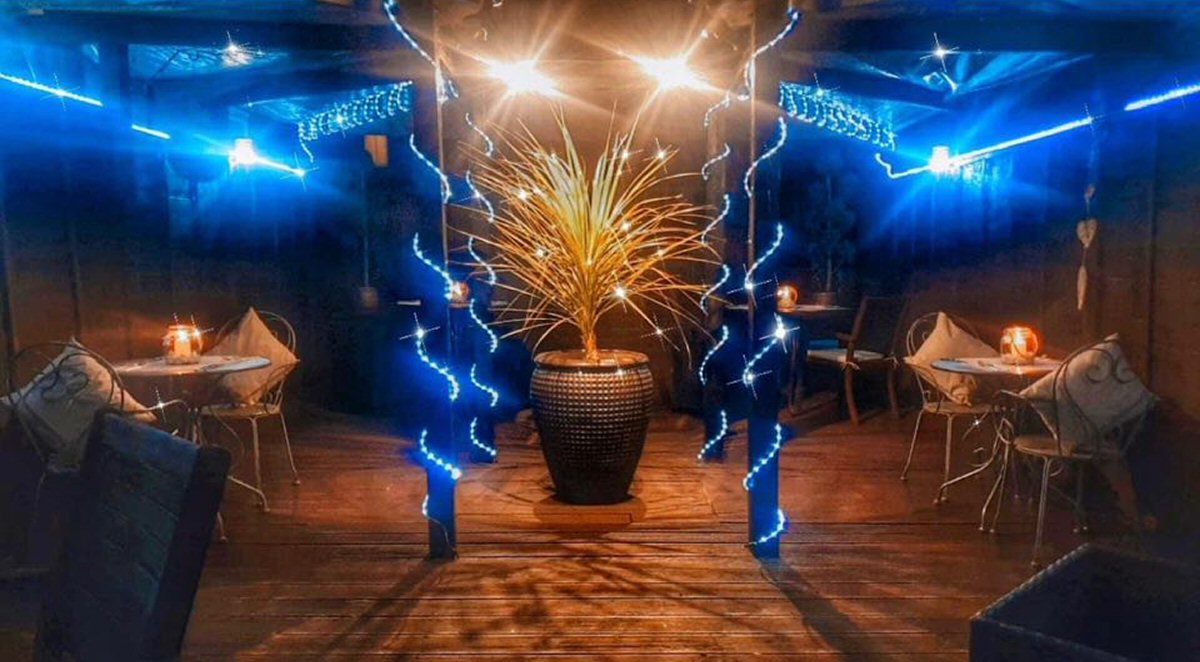 To say this had been a Bank Holiday 'Ooooh, that's a good special' last minute visit, we were feeling quite smug with ourselves for visiting The Galleon Steakhouse in Chesterfield. The 'standard' menu looks pretty good and there were lots of dishes that we could quite happily have eaten, so we're planning a return visit in the very near future. Hot Wings happily awarded here. To book your table, ring 01246 559065.

The Galleon Steakhouse have a different offer this coming bank holiday, on Thursday 2nd June and Friday 3rd June they will be offering fillet steak, lobster and a glass of prosecco for £25. Keep an eye on their Facebook page where full details will be posted soon.
No incentive was provided to visit this venue
read more
Read Some Of Our Recent Reviews
---

Breakfast At Marsh Green Farm Shop & Cafe, Kelstedge Ah, you've gotta love a Bank Holiday curve-ball, haven't you? His Nibs and I headed over to Mummy Birds' gaff with the intention of having a leisurely couple of hours at the Sunday Read The Article

---

Afternoon Tea at Bourne's Coffee Shop and Bistro, Denby Pottery Village You all know that The Man Bird and I do like an Afternoon Tea; I mean, who doesn't?! Just a few miles down the road from the nest is Denby, home to the world-renowned Read The Article

---

All You Can Eat At The River Garden Cantonese Restaurant In Belper As is the seemingly never-ending pattern of our weekends at the moment, The Man Bird and I had been busy gardening/re-seeding/pruning/digging, so when it came to sorting Read The Article

---

Back For Dinner At The Bulls Head In Repton As far as greetings go, perhaps the best one we've received came on our visit to The Bulls Head at Repton. As I stepped out of the jalopy I heard a familiar sound; a Robin chirruping away merrily Read The Article

---

A Visit To The Recently Opened Ranch Gourmet Burgers In Ripley The Man Bird and I do like a good burger, so we were gutted to hear that one of our fave hangouts in Derby was closing its doors and (in true glutton fashion) decided to Read The Article

---

A Post Shopping Lunch At Qoozies, Chesterfield We were on a mission over the Bank Holiday Weekend: Operation 'Get New Curtains for Mummy Bird' was go, go, go!! It turned into Operation 'New Curtains, New Towels, and New Bedding', so Read The Article

---

Dinner At The Devonshire Arms In Beeley We seem to have visited a few other sites on the Chatsworth Estate, so it was lovely to receive an invite to dine at The Devonshire Arms at Beeley; it's been a while since we were last here. As soon as Read The Article

---

Burgers With A Side Order Of Sass At Karens Diner, Sheffield 'Freaky Friday' feeling, anyone? I felt a bit like the Fresh Prince of Bel Air, except instead of 'my life got flipped, turned upside down' it was a case of 'my dining experience got flipped Read The Article

---

Dinner At Cocina Restaurant At Casa Hotel, Chesterfield Regular readers of the blog will know that The Man and I recently visited the Peak Edge Hotel for dinner, a venue owned by Chesterfield business man Steve Perez. Our latest outing saw Read The Article

---