A Family Dinner At Thai Thai Restaurant In Chesterfield
---
Published On Tuesday 17 May 2022 by Sticky Beak
See Recent Dining Out Reviews | See All Recent Reviews


Thanks to the weather being kind, it had been all hands on deck at Mummy Birds' gaff and so we hadn't quite got around to organising Sunday Lunch! There was no way in hell that we weren't ending the week with some good grub so we booked a table for us all at Thai Thai in Chesterfield; we have visited the venue a few years ago (pre-Covid) under its previous owners, so now was the perfect opportunity to revisit.
Like many town centre premises, Thai Thai doesn't have its own parking, but there are plenty of nearby car parks so it isn't an issue. When you step inside you are met by the eye-poppingly bright artwork of cartoon characters, typically chaotic in style, but you find yourself smiling at its optimistic tone. Carrying on up the stairs sees the art mellow somewhat and become more traditional murals of Koi Carp and Water Lillies, and then there are the artificial Orchids that drape above the doorway that you walk through on your way to the restaurant. For those not familiar with the history of the building, let me enlighten you; many moons ago there used to be a bustling bowling alley housed here, so there are large spaces and several areas to walk through before you reach Thai Thai 'proper'.




You'll know when you've reached your gastro-destination because the decor suddenly becomes all gilded and ornate, with a more formal dining feel to it. We were greeted warmly and shown to our table in the seated section of the restaurant; I emphasise the 'seated' because there is also a more traditional, kneeling section with low tables and cushions available too.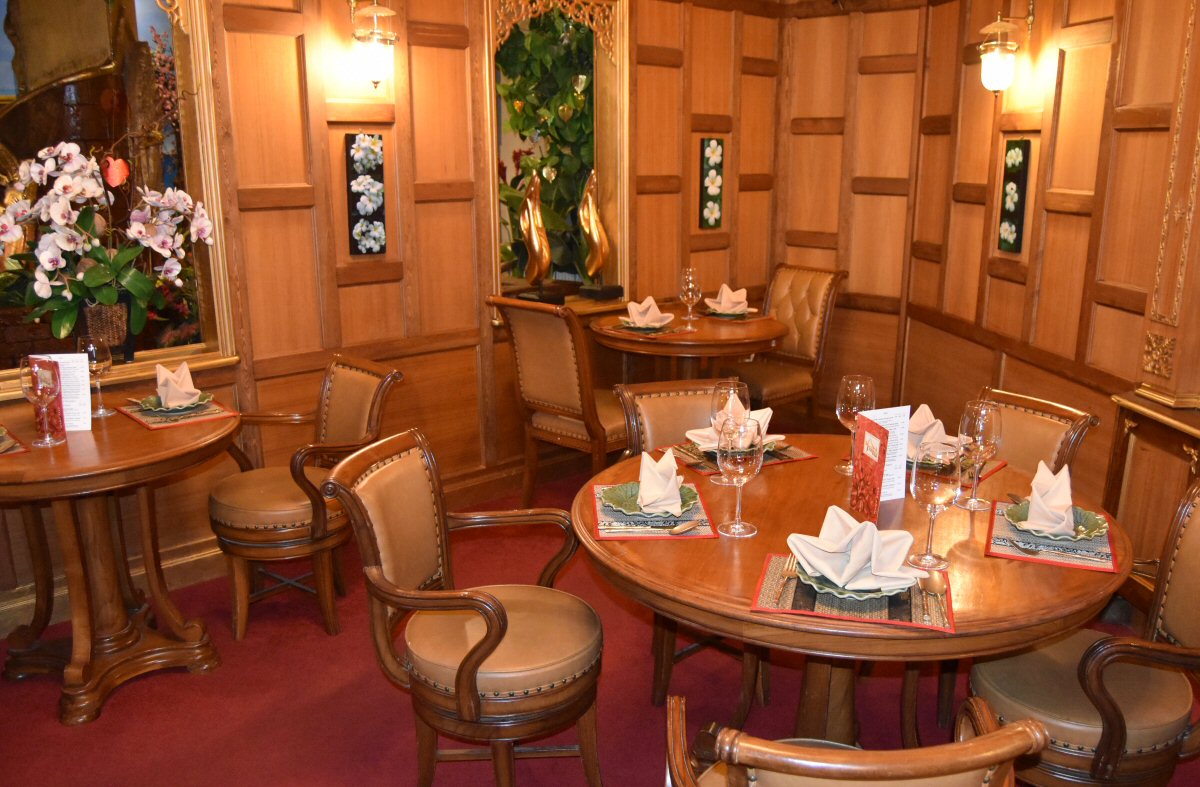 Thai Thai's new owner, Chairat (who many people will already know from his previous management of the venue) gave us a few minutes after receiving our drinks before he came over to take our orders. Mummy Bird opted out of having a starter, having staved off her initial hunger with the plentiful Thai Crackers and dips, but I ordered the Spicy Grilled Beef Salad (£9.95), The Man selected Charcoal grilled Marinated Chicken with Peanut Sauce and Carrot and Cucumber Pickle (£6.25) and Fledge had her favourite King Prawns, deep fried and wrapped in Spring Roll pastry with Plum sauce (£6.25).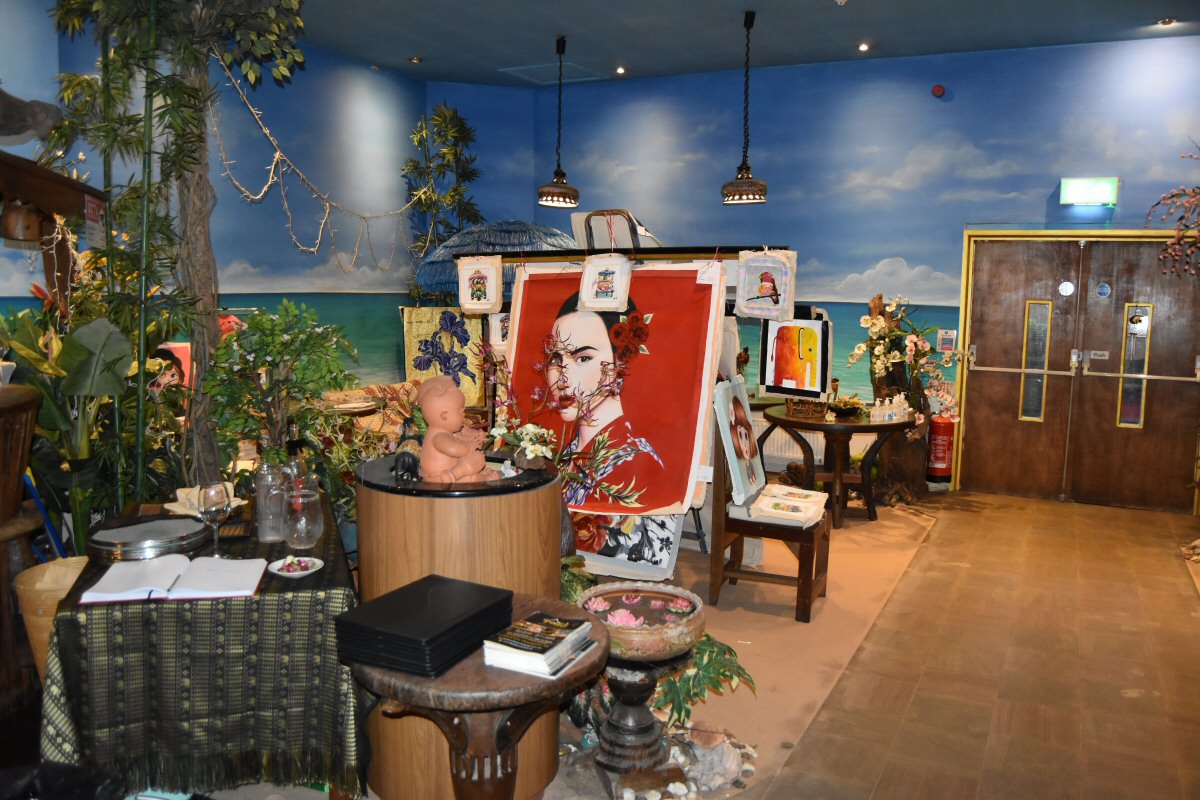 Our starters were all fantastically presented; if you could taste the presentation, it would be Michelin-starred! His Nibs' Chicken came in a boat shaped platter, nestled in the main middle section, with the sauce and pickles at each end in separate little sections. Both Chickadee and I had fancy vegetable flowers adorning our plates, though she got the fancy leaf-shaped platter for her Prawns!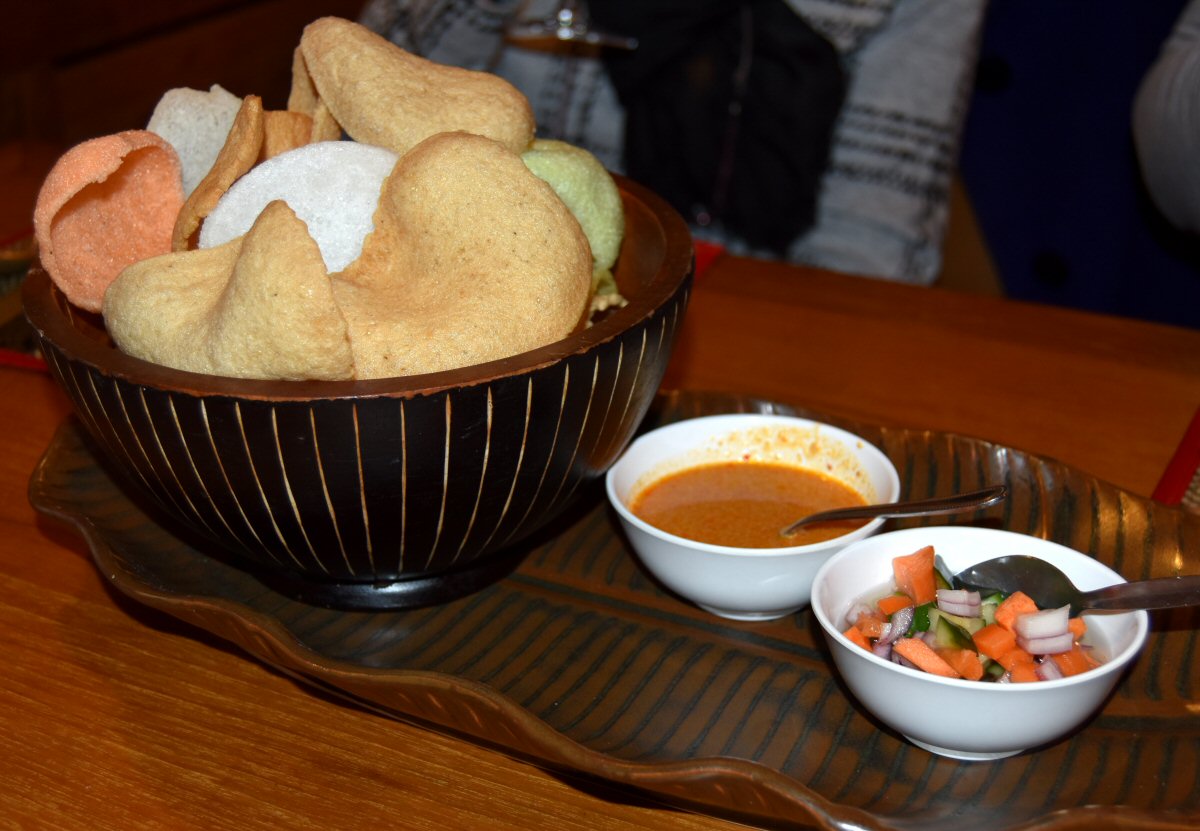 The Man Bird loved the succulence of his poultry breast, and even more so the fact that the flesh had absorbed the flavours of its marinade. For those who like a bit of kick to their food, the peanut/Satay sauce will be your new best friend; there's just a nice, playful spice to it that makes the taste buds sit up and take notice, without being too powerful – that came courtesy of my dish!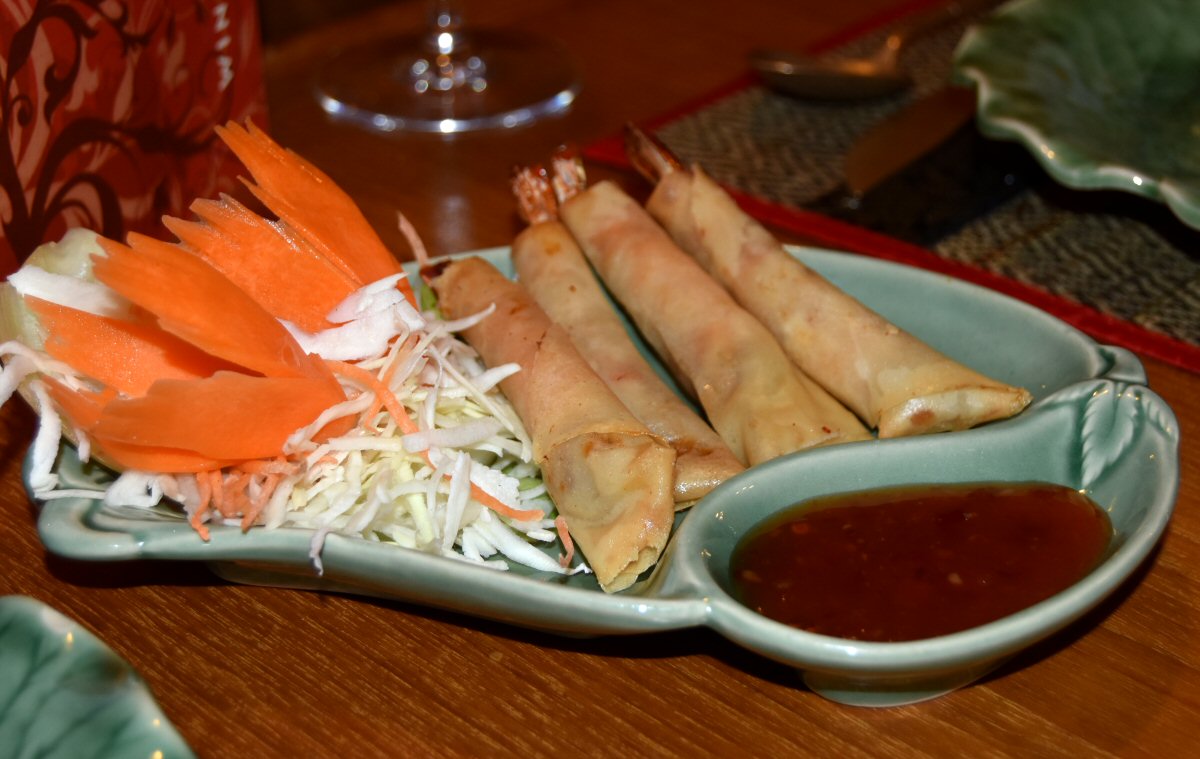 Spicy by name, and certainly spicy by nature, my beef salad had a full-on spice belt to it that soon had my lips and tongue tingling. Ding, ding, the spice bell had well and truly been rung! The Beef itself was sliced thinly and was beautifully tender with citrus notes coming through in my mouth (as well as the chilli fire). Fresh Tomatoes, Celery and Cucumber provided a welcome cooling effect as well as some sweetness on the palate. I really enjoyed this and was glad that I'd gone for something different to start my meal with on this occasion.




Fledge was impressed by the size of her King Prawns, snuggly wrapped in their fried-golden pastry duvets and commented on the (welcome) lack of greasiness they had – this allowed the gentle seafood fragrance to be appreciated fully and also let the subtle Plum sauce to be savoured.




It didn't take us long to clear our plates of food and the lovely lady swiftly removed the used cutlery and crockery from our table, whilst also checking we were ok for drinks.

Mummy Bird doesn't mind a bit of spice but a sneaky dib of my punchy sauce had dispelled any notion of her going for a more robust dish on this occasion (!), so she opted for the mild creaminess of a Thai Yellow Curry with Chicken (£10.95) for her main dish. I followed the Thai curry theme, but went for the Green type with King Prawns paired with Aubergine and Bamboo shoots in Coconut milk (£18.95). The Chick had King Prawns too, but in Oyster sauce with Broccoli, Mushrooms, Baby Sweetcorn and Carrots (£18.95), and The Man chose Lamb Shank in Massaman Curry sauce (£16.95). We had a mixture of Sticky Rice (£4.25) and Steamed Thai Fragrant Rice (£3.25) to go with our meals.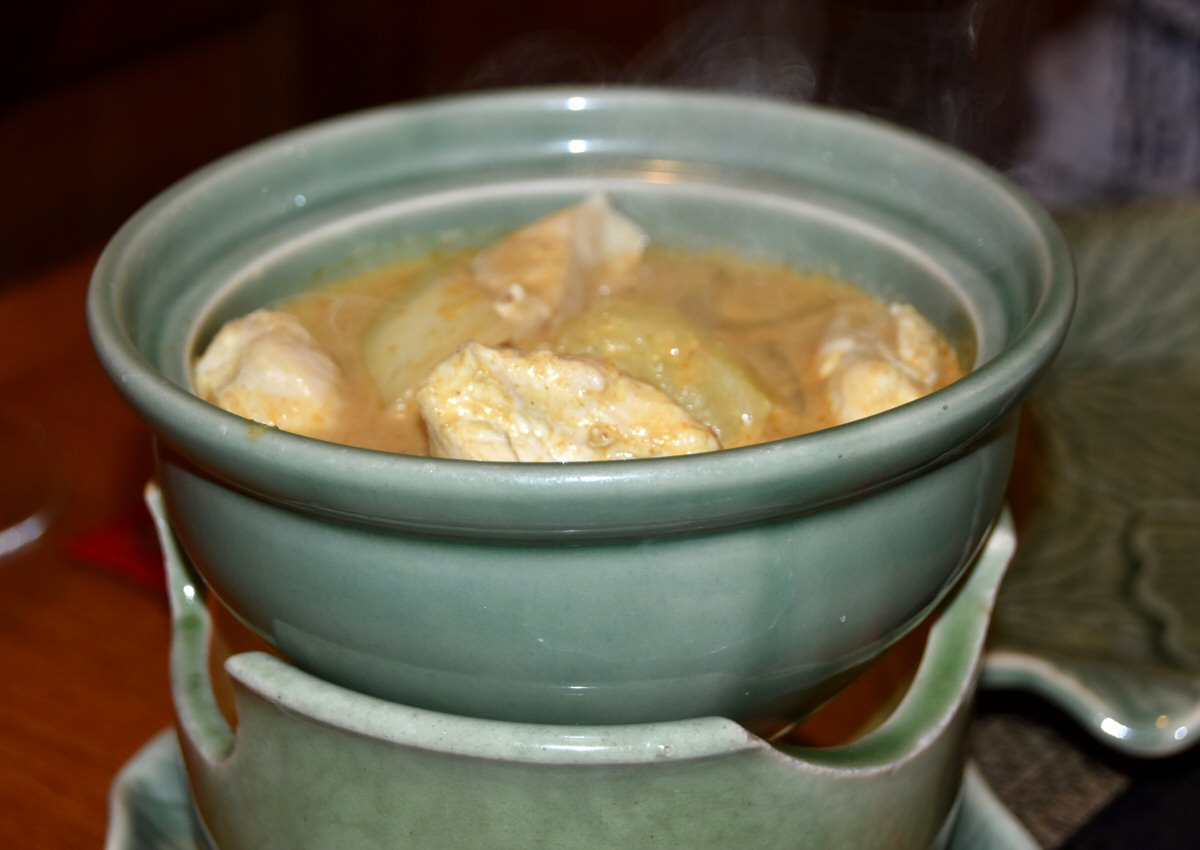 As with the starters, our mains came out beautifully presented and the aromas were divine! When the obligatory food-porn piccies were done, we all ploughed into our respective bowls and spooned our choices out onto our plates with typical enthusiasm. The Man Bird's Lamb Shank just fell apart from the bone and he sighed contentedly as the first morsel hit his lips, the spices cocooning his palate. Chunks of Potato and whole Peanuts, characteristic of this style of curry, had absorbed the liquid in which they simmered and tasted amazing as well as adding a hit of substance to the dish. Warming Cloves and Cinnamon paired well with the Coconut milk base of the sauce to make this a truly delightful dish to eat.




Mummy Bird was very happy with her gentler, creamier Yellow Curry and was happy to report that mild didn't mean boring; there were several layers of flavour to enjoy and appreciate. Chef doesn't skimp on the amount of meat he puts into his dishes either, so you can rest assured that your appetite will be well and truly satisfied at Thai Thai. Chickadee was crunching away merrily on the assortment of vegetables in her choice and I was content with the fact that she was well on her way to 5-a-day! I think that King Prawns (and seafood in general, really) are vastly under-appreciated in many types of cuisine; they have an amazing ability to soak up any flavours and spices that they're cooked with, as well as adding a meaty texture to that dish.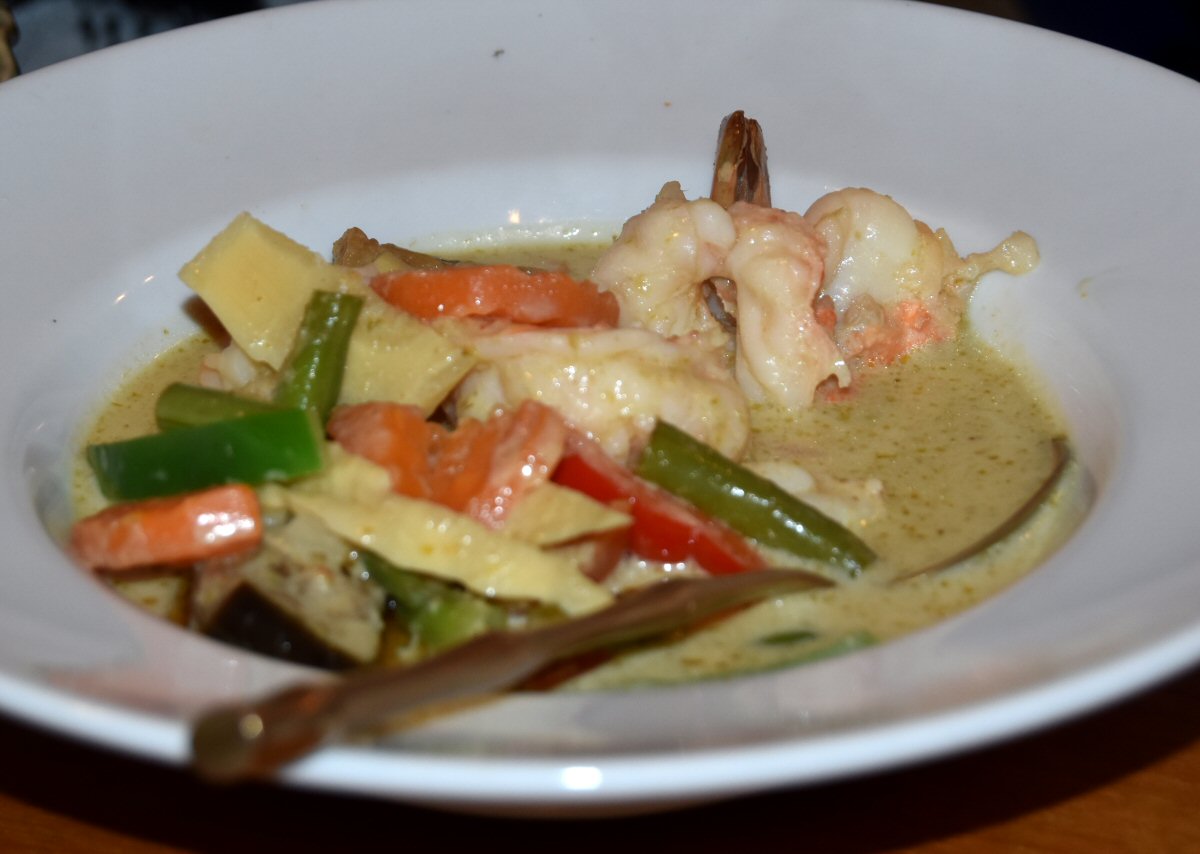 My Green curry was superb; this curry tends to also be on the milder end of the spice spectrum, relying on Shallots, Coriander and Garlic to ramp up its taste, which was certainly the case here. I steadily made my way through all the King Prawns in my dish, crunching happily on Bamboo Shoots as I did so. Softer pieces of Aubergine had assimilated the myriad spices and tastes in the sauce and their own fragrance paired well with its neighbours. Eager not to waste a single millilitre of the incredibly moreish curry liquid, I used the rice grains to soak it up and then scoop it onto my fork.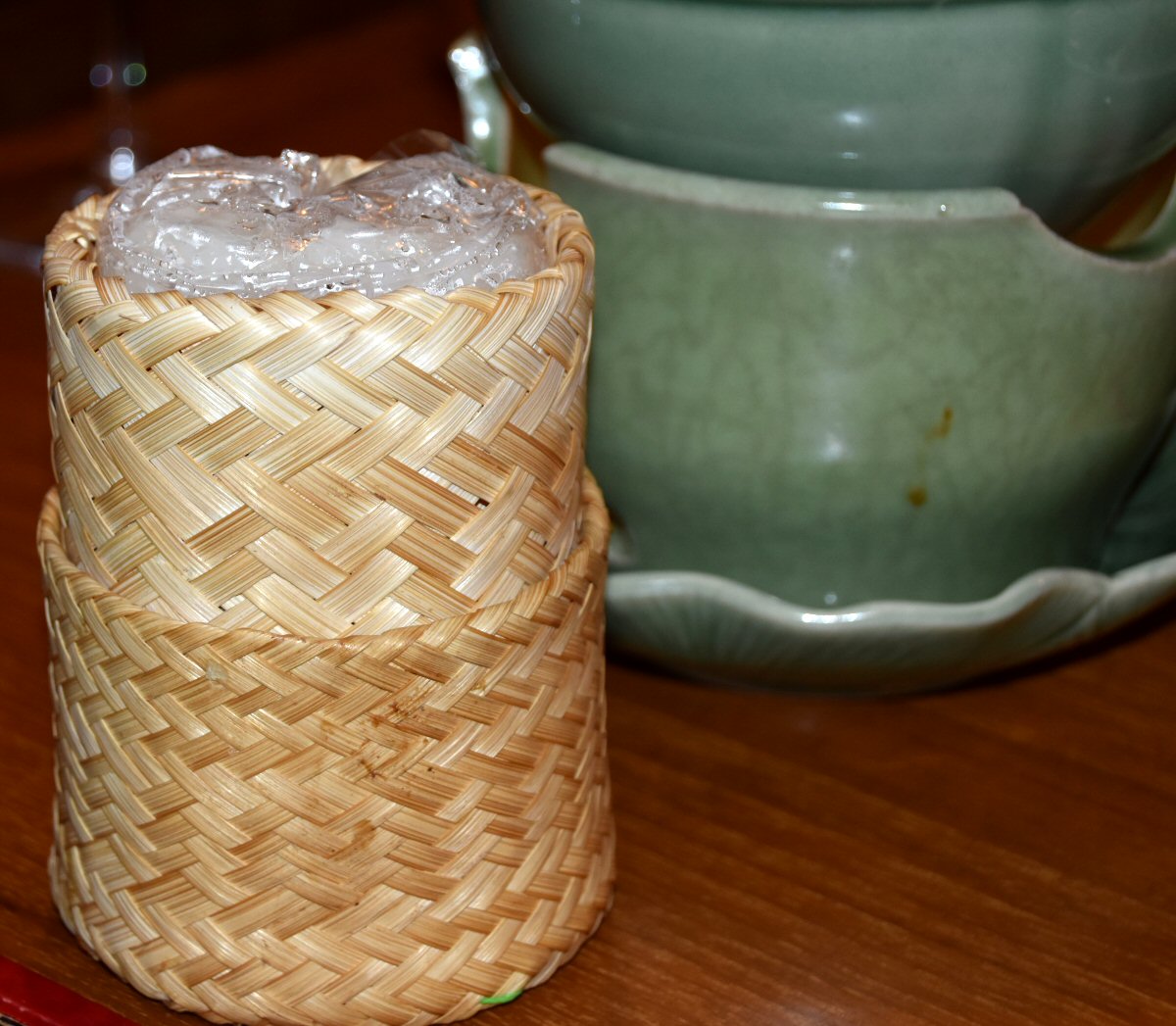 Chairat and his team had regularly come around to check we were enjoying our meals and to check that we had enough to drink, so they spotted when we'd finished eating and soon cleared the plates away. There was only The Man Bird and I in the market for dessert, although we did all order black coffees.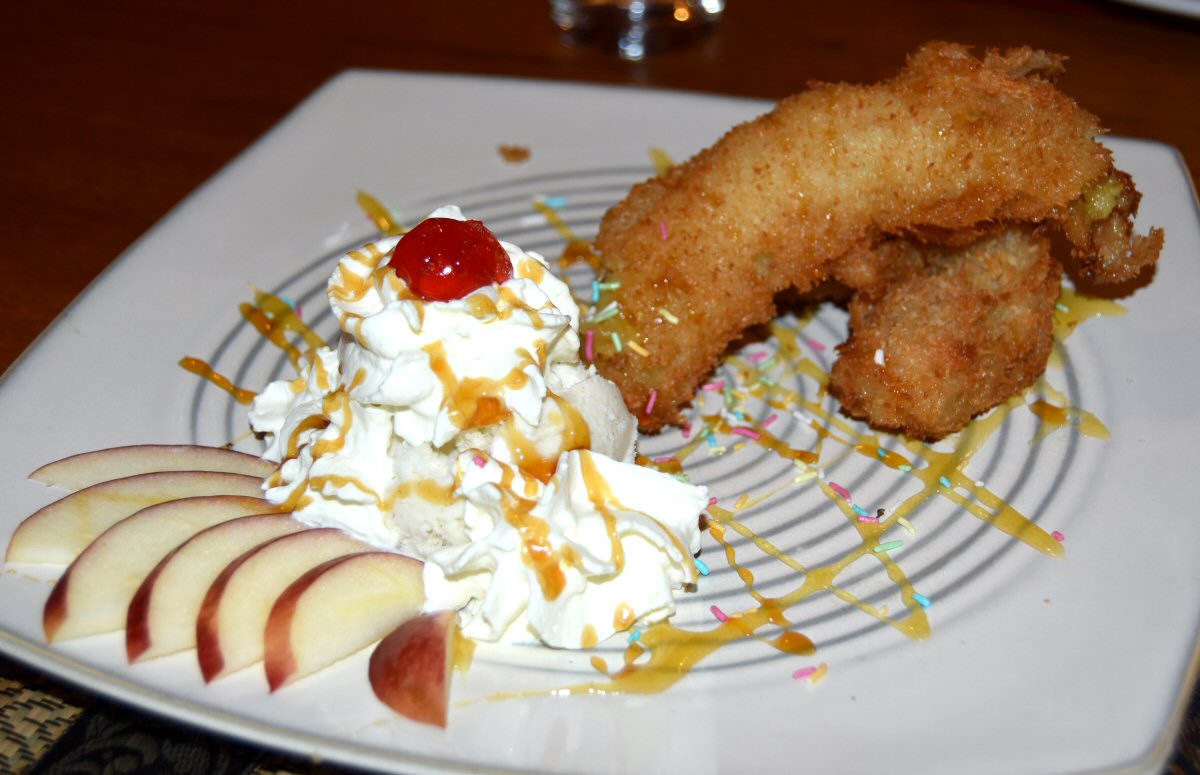 His Nibs had the Banana Fritter (surprise, surprise!) and I had the Coconut Pancake Roll, both priced £4.95. Several halves of Banana had been deep-fried to a golden brown tone then coated in syrup to make them supermodel glossy, before being paired with a scoop of whipped cream-covered Vanilla Ice Cream and a glace cherry. I find Banana Fritters too sweet – they make my teeth chatter, but The Man has no such trouble with them! Needless to say this (very) sweet treat soon disappeared into his greedy tummy.




My dessert was also sweet, but in a different way; this relied on the gentler sweetness of Coconut being enhanced by the caramel-esque notes of Palm Sugar. This beautifully subtle filling had been encased in a fairly close-textured, verdant pancake that was flavoured with Pandan Leaves to give it a hint of Vanilla. The warm pancake roll contrasted well against the cool Ice Cream and I ate every last scrap of this delicious Thai pudding.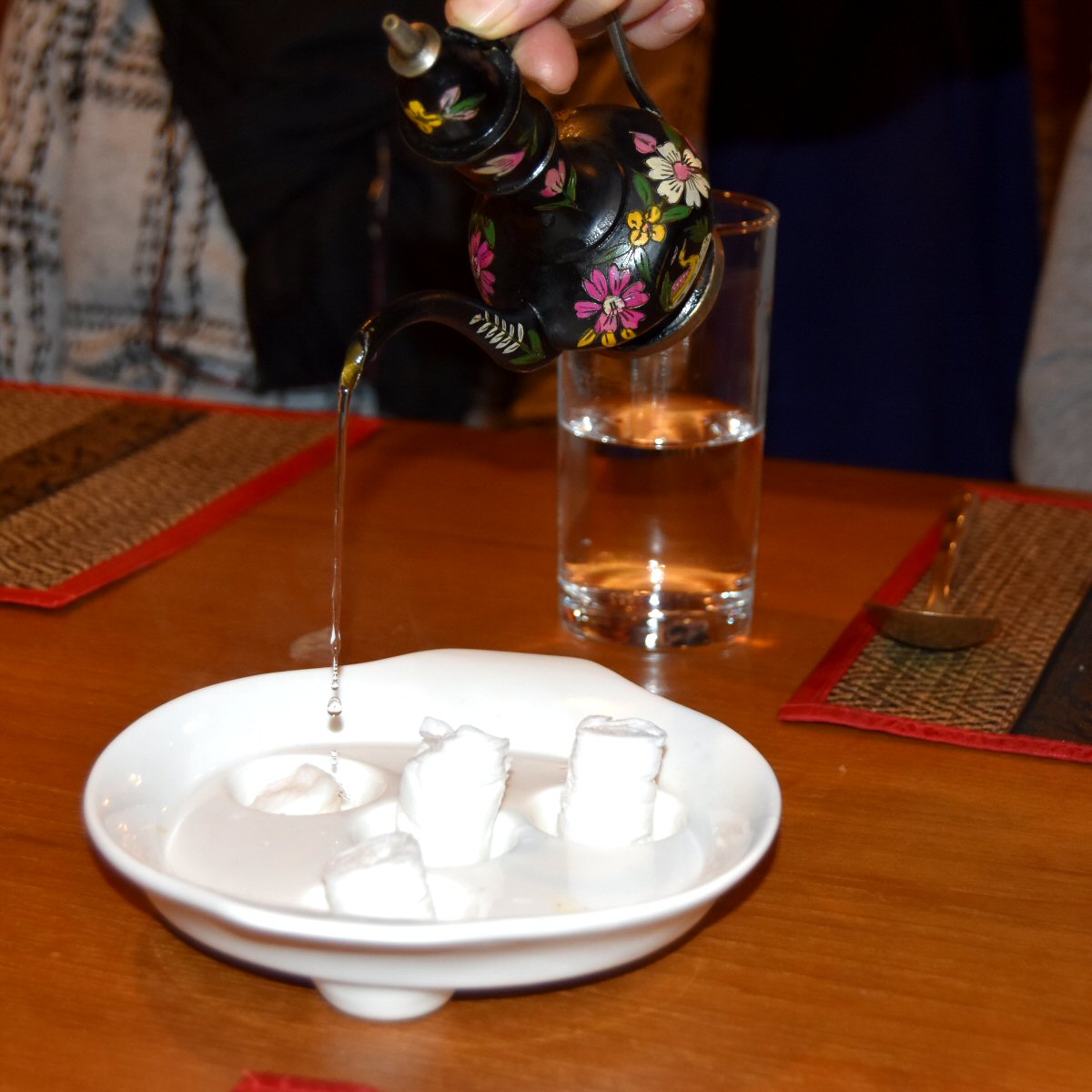 We all sipped our coffees and chatted about what a lovely meal we'd had, smiling when our server poured hot water over fab lemon-scented towelettes that we then used to wipe our hands and fingers. It might have been a while since our last visit to this great venue, but Chairat has ensured that it won't be our last; Hot Wings happily awarded here.




To book a table, give them a ring on 01246 271998.
No incentive was provided to visit this venue
read more
Read Some Of Our Recent Reviews
---

Breakfast At Marsh Green Farm Shop & Cafe, Kelstedge Ah, you've gotta love a Bank Holiday curve-ball, haven't you? His Nibs and I headed over to Mummy Birds' gaff with the intention of having a leisurely couple of hours at the Sunday Read The Article

---

Afternoon Tea at Bourne's Coffee Shop and Bistro, Denby Pottery Village You all know that The Man Bird and I do like an Afternoon Tea; I mean, who doesn't?! Just a few miles down the road from the nest is Denby, home to the world-renowned Read The Article

---

All You Can Eat At The River Garden Cantonese Restaurant In Belper As is the seemingly never-ending pattern of our weekends at the moment, The Man Bird and I had been busy gardening/re-seeding/pruning/digging, so when it came to sorting Read The Article

---

Back For Dinner At The Bulls Head In Repton As far as greetings go, perhaps the best one we've received came on our visit to The Bulls Head at Repton. As I stepped out of the jalopy I heard a familiar sound; a Robin chirruping away merrily Read The Article

---

A Visit To The Recently Opened Ranch Gourmet Burgers In Ripley The Man Bird and I do like a good burger, so we were gutted to hear that one of our fave hangouts in Derby was closing its doors and (in true glutton fashion) decided to Read The Article

---

A Post Shopping Lunch At Qoozies, Chesterfield We were on a mission over the Bank Holiday Weekend: Operation 'Get New Curtains for Mummy Bird' was go, go, go!! It turned into Operation 'New Curtains, New Towels, and New Bedding', so Read The Article

---

Dinner At The Devonshire Arms In Beeley We seem to have visited a few other sites on the Chatsworth Estate, so it was lovely to receive an invite to dine at The Devonshire Arms at Beeley; it's been a while since we were last here. As soon as Read The Article

---

Burgers With A Side Order Of Sass At Karens Diner, Sheffield 'Freaky Friday' feeling, anyone? I felt a bit like the Fresh Prince of Bel Air, except instead of 'my life got flipped, turned upside down' it was a case of 'my dining experience got flipped Read The Article

---

Dinner At Cocina Restaurant At Casa Hotel, Chesterfield Regular readers of the blog will know that The Man and I recently visited the Peak Edge Hotel for dinner, a venue owned by Chesterfield business man Steve Perez. Our latest outing saw Read The Article

---

Sharing A 40oz Tomahawk At The Galleon Steakhouse, Chesterfield We Brits are used to Bank Holidays being a let-down usually when it comes to the weather, so when the forecast was for (mainly) fine conditions it was a case of Read The Article

---