Burger and Beer Mondays At The Railway Inn, Shottle
---
Published On Sunday 15 May 2022 by Sticky Beak
See Recent Dining Out Reviews | See All Recent Reviews


It wasn't long ago that we had a Flock outing for Sunday lunch at The Railway Inn at Shottle (and really enjoyed it – check out the review here) so when we were invited to try out their newest offering, Burger and Beer Monday, His Nibs and I jumped at the chance.
With the nights being a bit lighter and the weather nicer, I got a proper look at the proportion of the outdoor spaces; there are two nice areas for al fresco dining and a decent sized children's play area, as well as plenty of parking. The old fashioned train and freight carriage planters were gorgeously stocked with colourful Marigolds, making up for the pair of miniature firs at either side of the entrance that are currently 'naked'.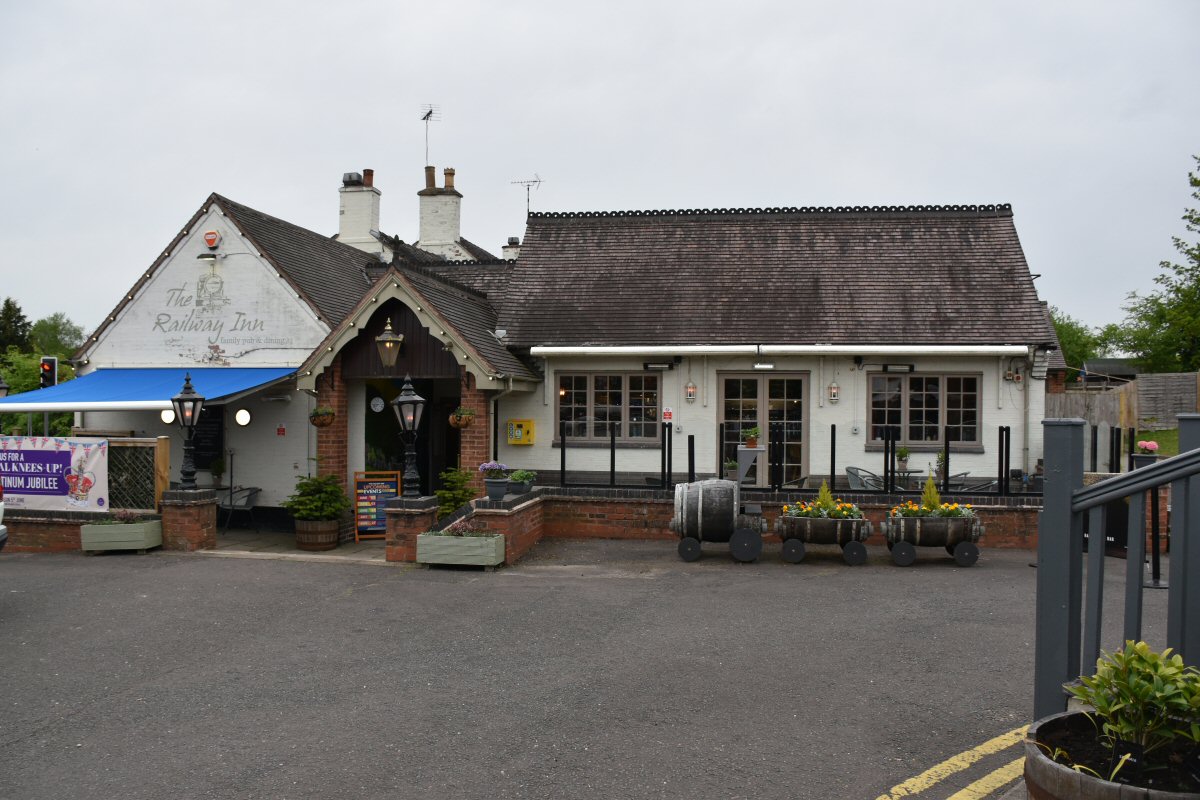 Gareth (The Inn's Manager) welcomed us warmly and handed us over to our server for the evening, Jade, who took us over to our table – the same one we'd sat at for Sunday lunch, funnily enough! I love the fact that, despite the Railway Inn being a large open plan space, there is visual interest thanks to the split-level dining areas and feature wall with its striking paper. As you would expect from a traditional country pub, there is a warm, relaxed feel to the Railway Inn and this is clearly why the team have recently won Marsden's 'Rising Star' award; congratulations to you all!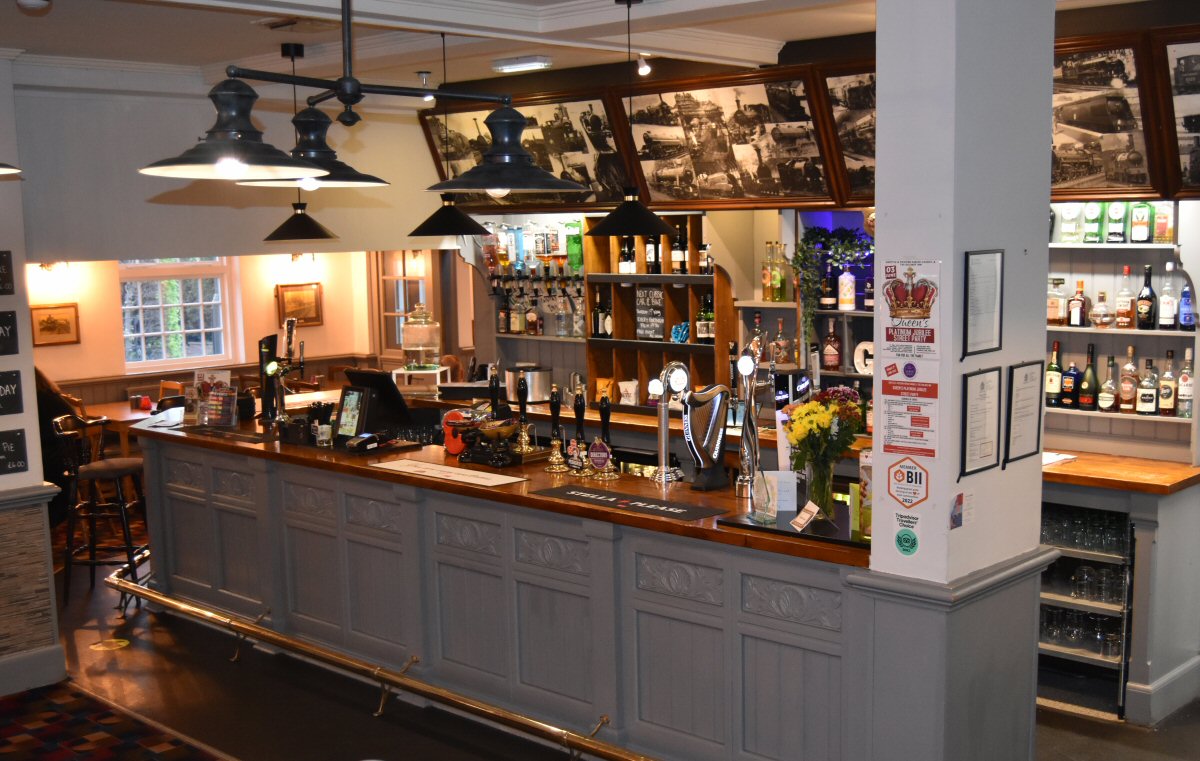 Although the offer is titled Burger and Beer, you aren't limited to this as your drinks option; there is real ale, Carling lager, Thatcher's Gold Cider, 175ml House Wine, Pepsi or Diet Pepsi and Lemonade to choose from. I had the house red (a cheeky Shiraz, which was lovely) and The Man opted for a pint of Carling, which Jade soon brought over to us.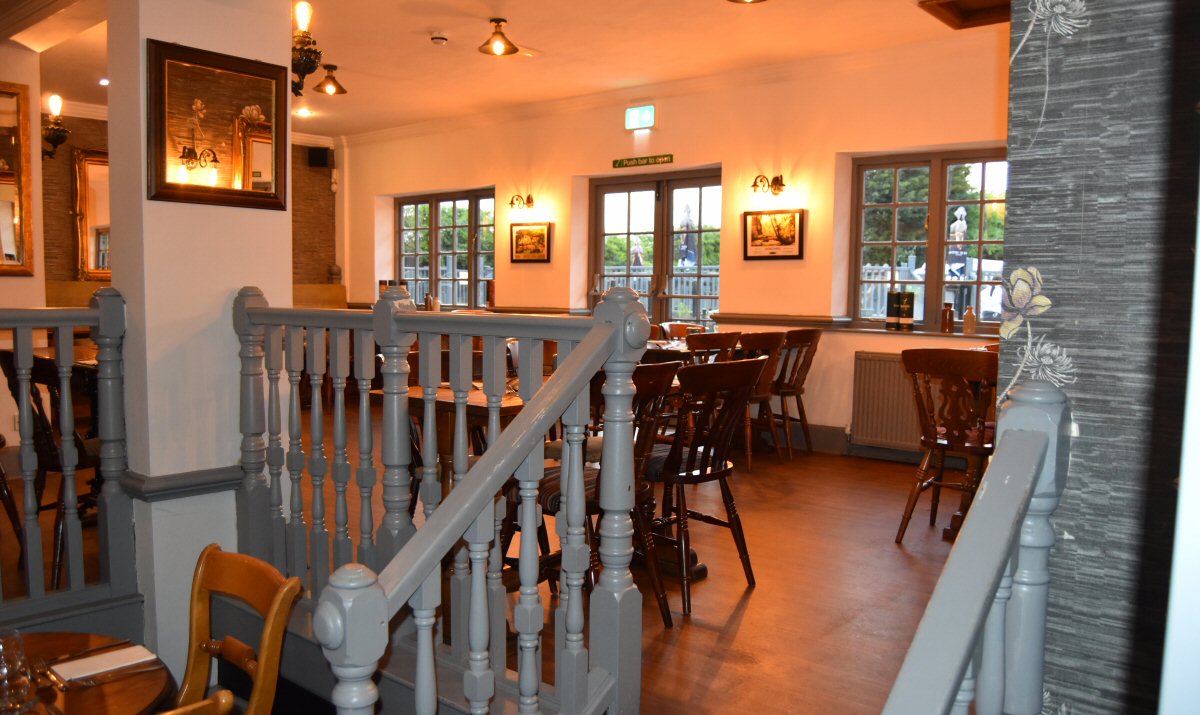 With drinks sorted, we turned our attention to deciding which of the 10 burger options on offer we fancied. There is a definite meat-free burger available and I suspect that the Bangkok Bad Boy, described as a 'Spicy Oriental Vegetable Patty topped with Asian 'slaw' is suitable for vegetarians too. Those keeping an eye on their calorie intake (or don't do bread) are catered for with 'The Slenderman', any burger from the menu sans bun. After a bit of deliberation I went for the Minted Lamb morsel which tops the patty with Cucumber ribbons and cooling Minted Yoghurt and The Man Bird opted for The Pit Master, a Beef patty crowned with Kansas City BBQ Beef, Crispy Onions, Jalapenos and Coleslaw.




Chef Llwyd got to work and before long a pair of mouth-watering burgers was carefully being placed before us by Jade and we wasted no time in getting stuck in! I'm pleased to say that the price of £12.50 per person includes Fries with the burger as well – nothing frustrates me more than having to pay extra for fries with a burger; they should always be included, in my opinion. Anyhow, the fries (bought in, not prepared onsite) were very nice, the potatoes themselves having a particularly good flavour; they weren't at all greasy and had beautifully crisp outers that crunched when bitten into.

My Minted Lamb burger was delicious and I was more than satisfied with the size of the patty as I took bite after bite of it. The pleasingly dense texture soon had that first desperate hunger quelled and I relaxed a little and took more time to chew and savour its gorgeous taste, noting the gentle note of Mint at its edge. Crunchy, cool ribbons of Cucumber added a fab texture to this beautiful burger and the Minty Yoghurt added just the right amount of moisture to the meal.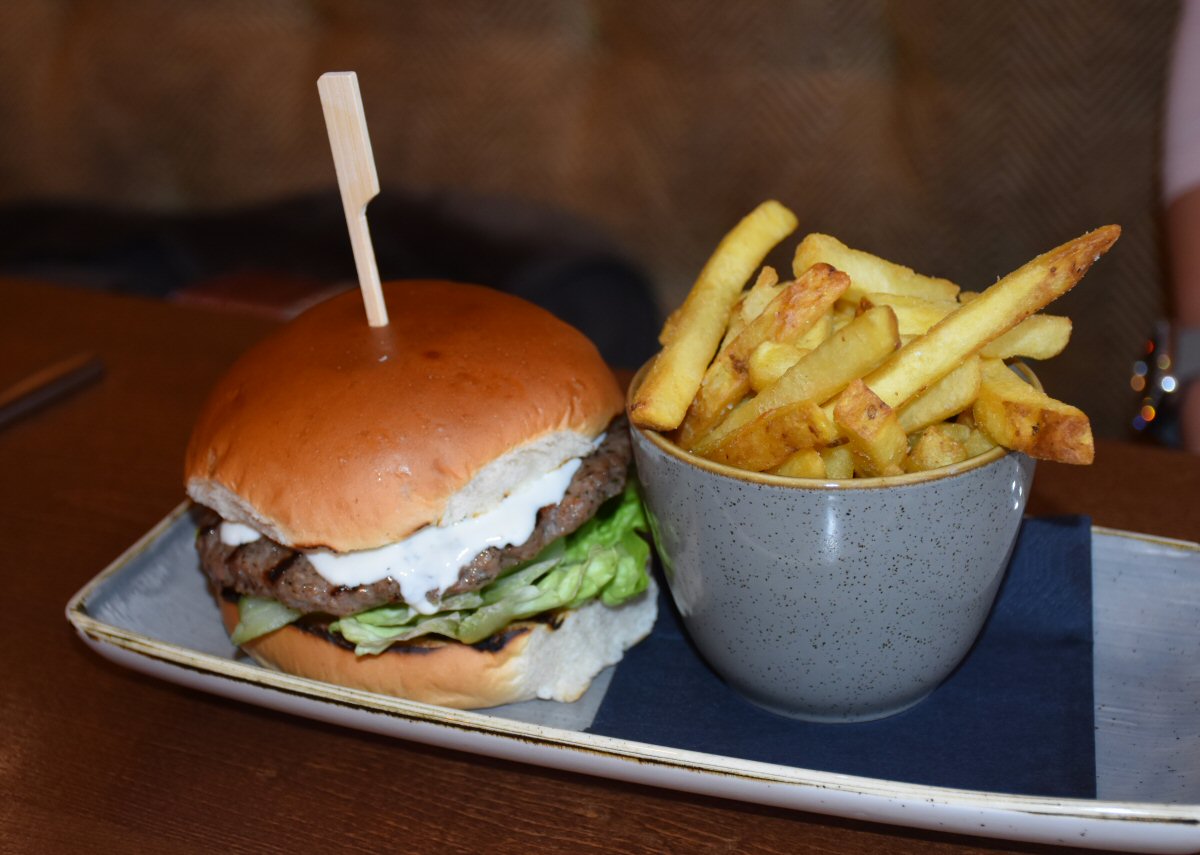 His Nibs' Pit Master was, frankly, huge! As well as the Beef patty itself there was a massive amount of juicy pulled Beef that was smothered in smoky, sweet Kansas City BBQ sauce, so even His Nibs keen appetite was satiated. Texture was very much in evidence thanks to the crunchy vegetables in the creamy Coleslaw, the green Jalapenos, and the fried, thinly sliced crispy Onions. There was a great partnership and balance of flavours in this meal: sweet and smoky tones from the BBQ sauce, the sharp tang of the Jalapenos and creaminess from the coleslaw's mayonnaise.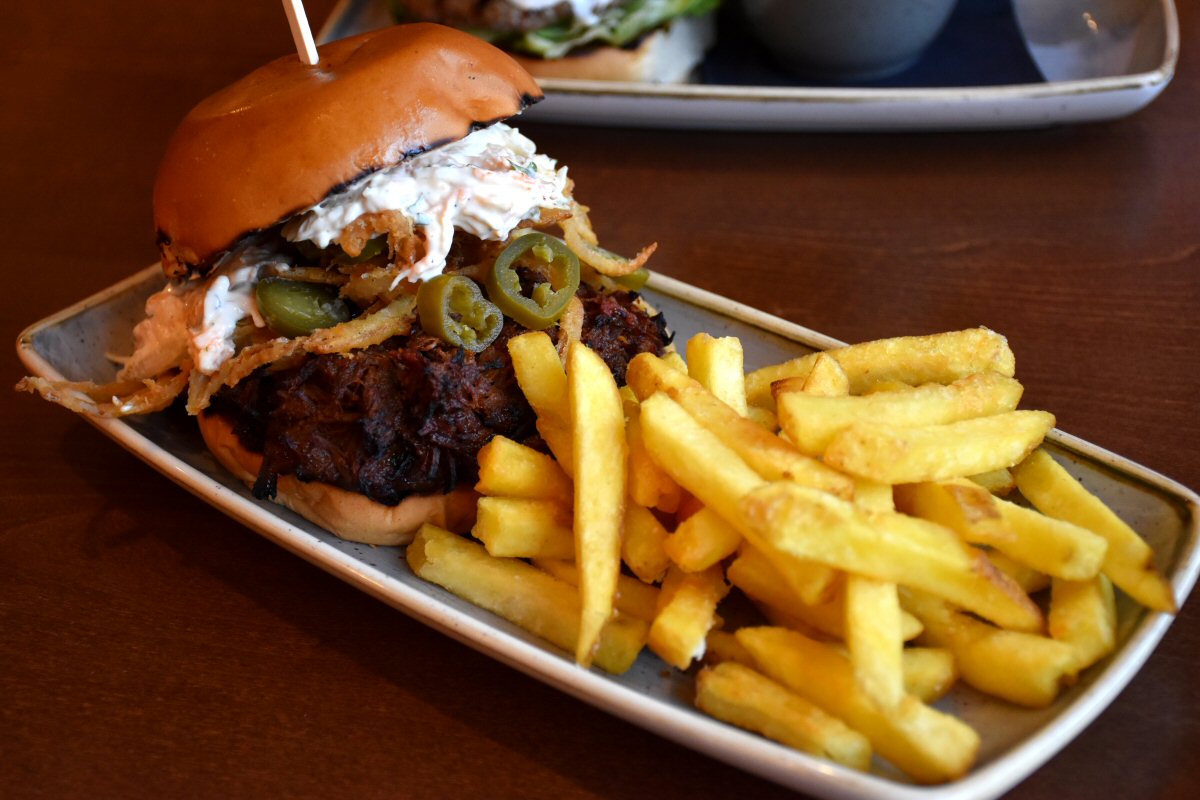 Jade had come to check that we were enjoying our burgers and when she returned a short while later, smiled at the clean plates as she scooped them up to take back to the kitchen. Whilst we'd been munching merrily away, Jade had also brought out some water for the table – honestly, nothing was too much trouble for her. We made Jade smile again with our very enthusiastic response to her question "would you like to see the dessert menu?" – heck yes!

All the desserts are priced at £6, other than the Ice Cream and Sorbets, they're £5. I spotted the Rhubarb and Custard Crème Brulee with Stem Ginger Shortbread, and you all know what a sucker I am for this wonderful fruit, so it was a foregone conclusion that this was going to be my choice. I had thought that one of the days' specials (the homemade Lemon Meringue Pie) might've tempted The Man Bird, but no, he went for the Raspberry and White Chocolate Cheesecake with Lemon Curd and Raspberry Ripple Ice Cream.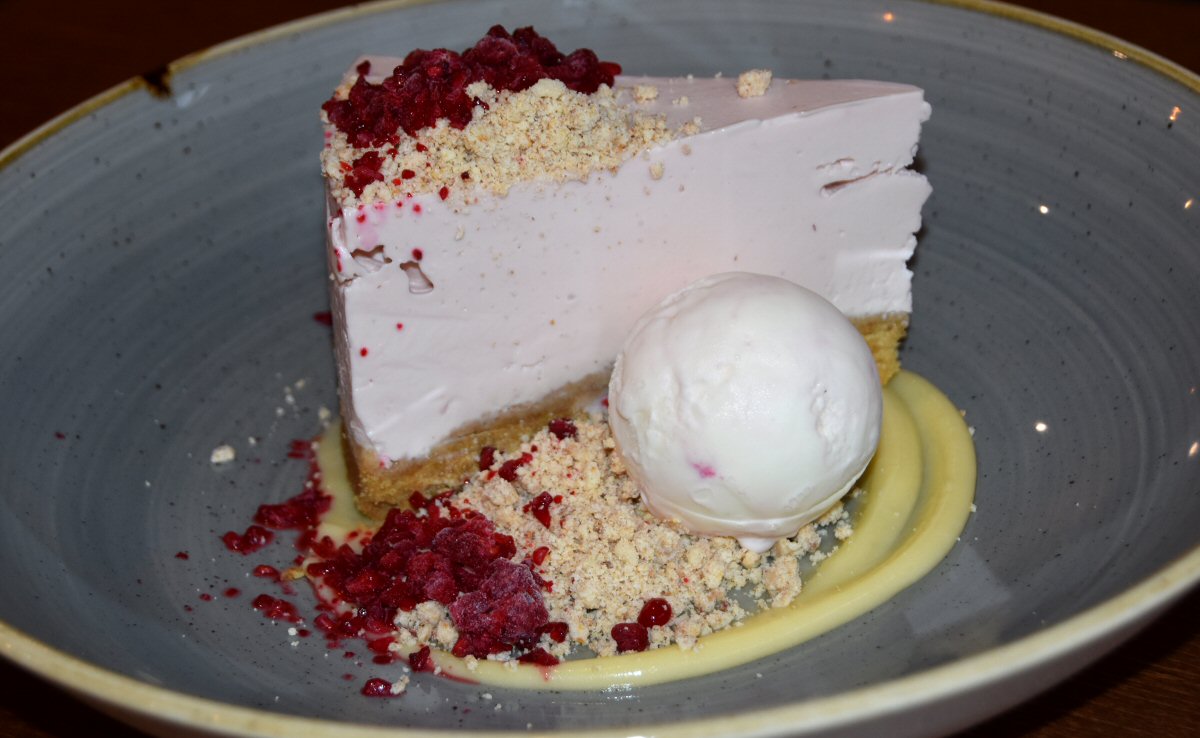 Fans of Cheesecakes will squeal with joy at the proportions of the variety served at The Railway Inn – the body of it was 2" deep!! A buttery base had been compressed to make it firm, but not rock hard so that you couldn't cut into it fairly easily, and then the wickedly dense, rich creamy White Chocolate body topped it. This was the epitome of luxury in a dessert and it could easily have been too much, but the clever inclusion of pieces of freeze-dried Raspberry added a fantastic, face-scrunchingly tart element that pulled it back from the brink of sickliness. The fruit theme was carried on by the fruity Raspberry Ripple Ice Cream and the superbly zingy Lemon Curd that swirled around the plate. Needless to say, The Man was buzzing with happiness as he finished his dessert.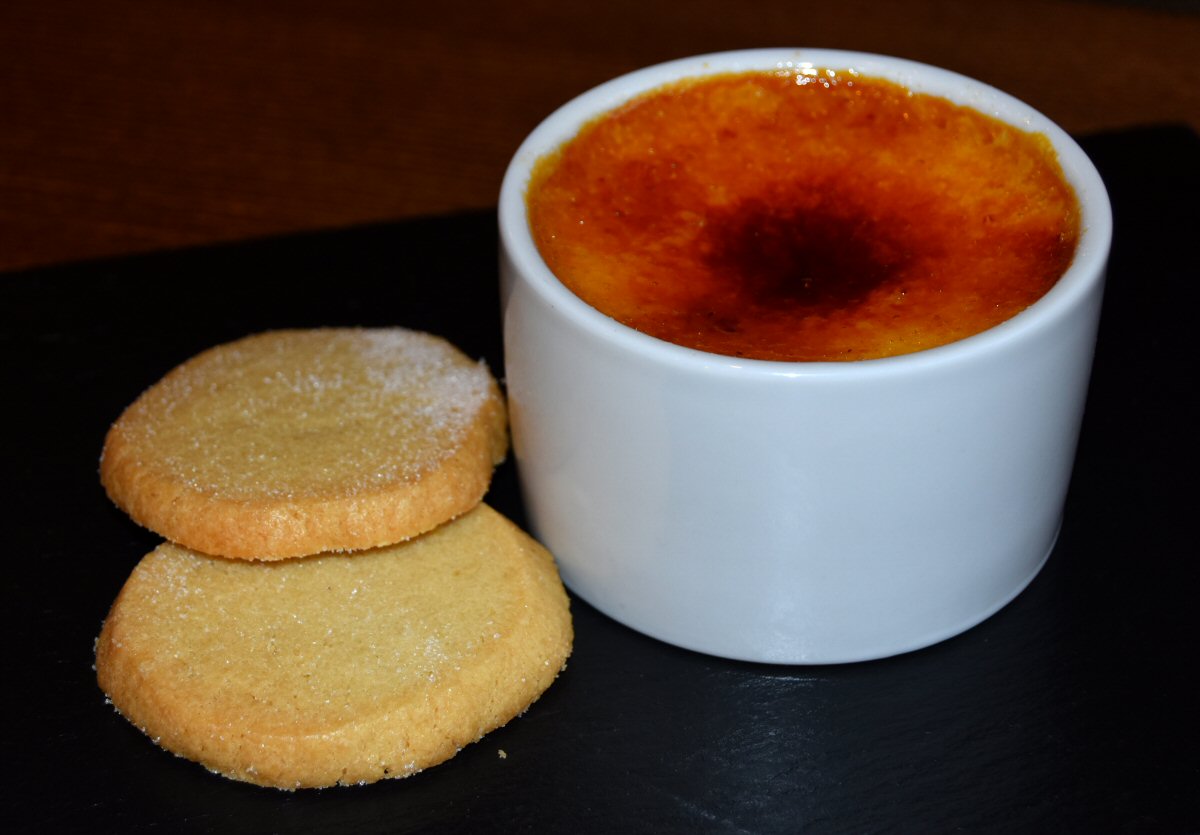 I could smell the Ginger from the Shortbread rounds as soon as Jade placed the dish in front of me, so I knew these were going be moreish even before I bit into them! I love Ginger; it manages to be warming without making the lips and tongue tingle, but is bursting with taste. I managed to resist the temptation to eat all the shortbread, saving some for later to scoop up the Crème Brulee with.

Ah yes, what can I say about this little minx? Absolutely ruddy stunning, that's what I can say. The brulee crust was divinely thick, eliciting a very audible cracking sound as I smacked it with my spoon – one of my favourite sounds in the world – and it tasted just like the toffee on the outer of a toffee apple; yum!! The crème was just oh-my-god-good; indulgent, flavoursome, thick and silky in the mouth – just everything you could ever want, really. Whilst the shortbread wasn't the 'shortest' I've had, on this occasion it was all the better for not instantly crumbling because it allowed me to use it as an edible spoon to scrape the last bits of crème out of the ramekin dish. At the very bottom of the dish was a layer of sweet, sharp Rhubarb; its rose pink flesh winked at me invitingly and that was all the encouragement I needed to spoon it greedily into my mouth! This had been a superb example of perfectly balanced tastes and textures within a dessert: nice work, Chef Llwyd.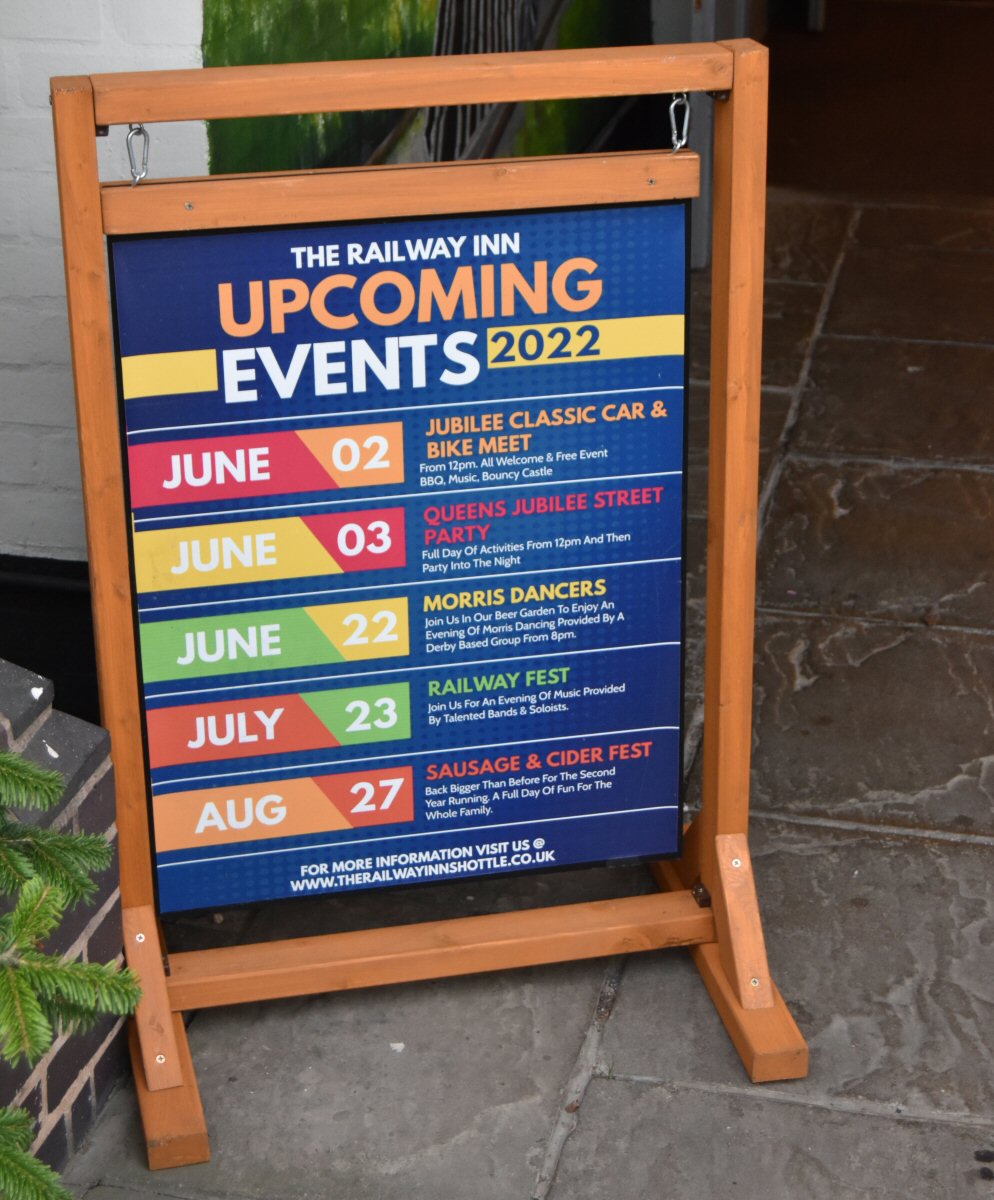 All too soon it was time for us to bid Gareth and his wonderful team goodbye and return to the nest; The Railway Inn at Shottle is one of those cosy places where you could while away the time with a drink quite easily and given the quality of this experience, we shall certainly be returning. Hot Wings happily awarded here again.
Some form of incentive was provided to visit this venue
read more
Read Some Of Our Recent Reviews
---

Breakfast At Marsh Green Farm Shop & Cafe, Kelstedge Ah, you've gotta love a Bank Holiday curve-ball, haven't you? His Nibs and I headed over to Mummy Birds' gaff with the intention of having a leisurely couple of hours at the Sunday Read The Article

---

Afternoon Tea at Bourne's Coffee Shop and Bistro, Denby Pottery Village You all know that The Man Bird and I do like an Afternoon Tea; I mean, who doesn't?! Just a few miles down the road from the nest is Denby, home to the world-renowned Read The Article

---

All You Can Eat At The River Garden Cantonese Restaurant In Belper As is the seemingly never-ending pattern of our weekends at the moment, The Man Bird and I had been busy gardening/re-seeding/pruning/digging, so when it came to sorting Read The Article

---

Back For Dinner At The Bulls Head In Repton As far as greetings go, perhaps the best one we've received came on our visit to The Bulls Head at Repton. As I stepped out of the jalopy I heard a familiar sound; a Robin chirruping away merrily Read The Article

---

A Visit To The Recently Opened Ranch Gourmet Burgers In Ripley The Man Bird and I do like a good burger, so we were gutted to hear that one of our fave hangouts in Derby was closing its doors and (in true glutton fashion) decided to Read The Article

---

A Post Shopping Lunch At Qoozies, Chesterfield We were on a mission over the Bank Holiday Weekend: Operation 'Get New Curtains for Mummy Bird' was go, go, go!! It turned into Operation 'New Curtains, New Towels, and New Bedding', so Read The Article

---

Dinner At The Devonshire Arms In Beeley We seem to have visited a few other sites on the Chatsworth Estate, so it was lovely to receive an invite to dine at The Devonshire Arms at Beeley; it's been a while since we were last here. As soon as Read The Article

---

Burgers With A Side Order Of Sass At Karens Diner, Sheffield 'Freaky Friday' feeling, anyone? I felt a bit like the Fresh Prince of Bel Air, except instead of 'my life got flipped, turned upside down' it was a case of 'my dining experience got flipped Read The Article

---

Dinner At Cocina Restaurant At Casa Hotel, Chesterfield Regular readers of the blog will know that The Man and I recently visited the Peak Edge Hotel for dinner, a venue owned by Chesterfield business man Steve Perez. Our latest outing saw Read The Article

---

Sharing A 40oz Tomahawk At The Galleon Steakhouse, Chesterfield We Brits are used to Bank Holidays being a let-down usually when it comes to the weather, so when the forecast was for (mainly) fine conditions it was a case of Read The Article

---