Sunday Lunch At The Railway Inn, Shottle
---
Published On Thursday 16 Sep 2021 by Sticky Beak
See Recent Dining Out Reviews | See All Recent Reviews


Slowly, slowly, catches monkey goes the saying, and trust me, project redecoration at Mummy Birds' nest is trundling along slowly! Each weekend we all roll up our shirt sleeves and tackle the latest project; we probably could do it quicker if we did evenings too, but we've all said that we'd rather 'savour' the experience and take our time. Anyhow, we'd broken the back of another room (ceiling done and 2 out of 3 coats of emulsion on the walls) so figured we'd earned Sunday dinner. Fledge wasn't joining us (she hadn't done any of the graft either!) so it was just the three of us.
We put the feelers out on the page and, as always, you gorgeous bunch came up with some fab suggestions – thank you. We contacted one venue but didn't hear back (later found out that our message had gone into their spam folder – got to love technology, don't ya?!) so went for the next suggestion down: The Railway Inn at Shottle.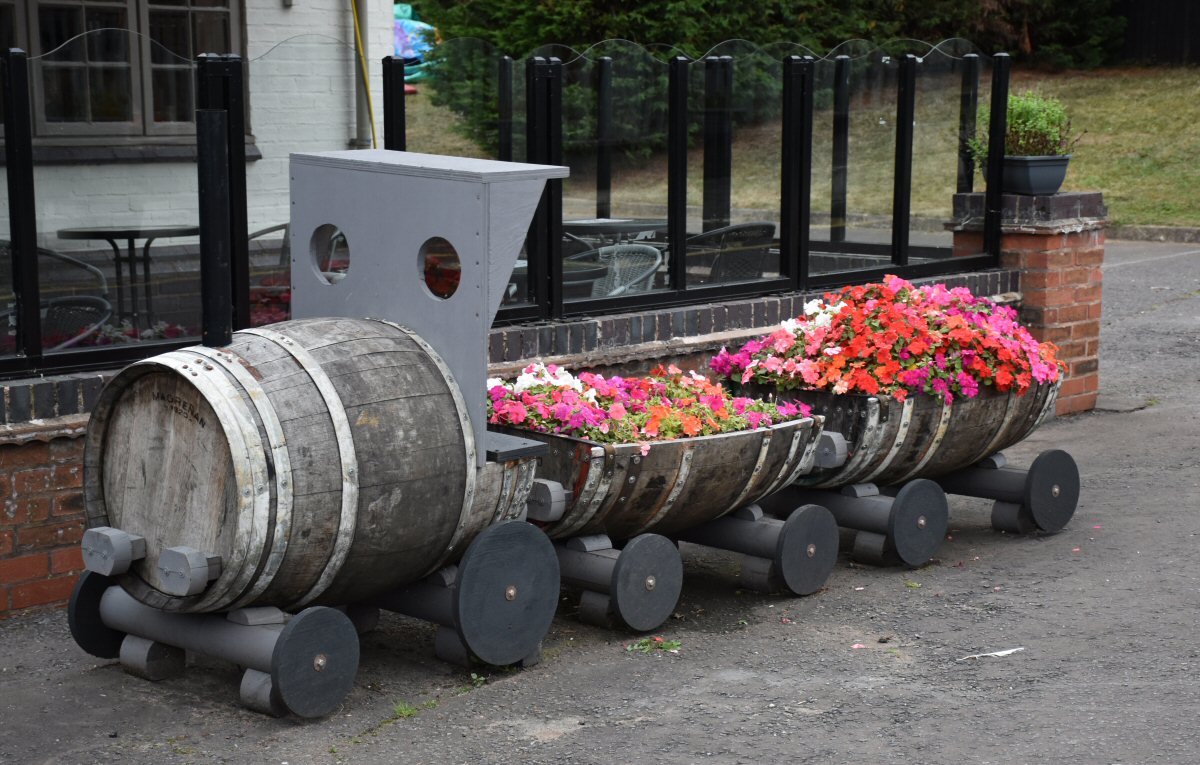 The Railway Inn at Shottle has lots of parking available, so His Nibs swung the jalopy into one of the free spaces and we ambled across to the venue itself, taking in the lovely kids play area and outside seating terrace as we did so. Mummy Bird spied the brilliant flower planters in the shape of a train and carriages near the entrance and commented what a great idea it was, as well as being a nod to The Railway Inn's name.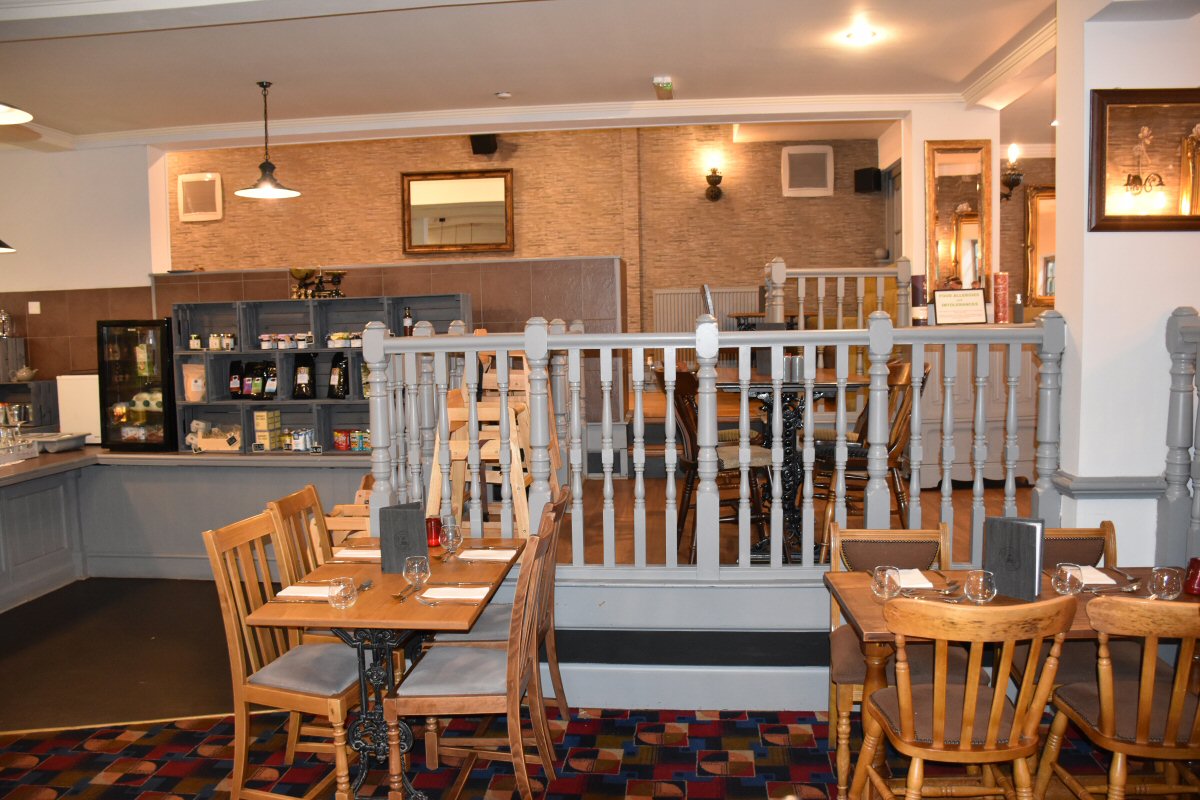 Stepping inside, we took in the large open-plan space and the split-level seating areas, before being greeted warmly and shown to our table. White walls are accented by grey painted rails and skirting boards and each end of the area where we were had feature papered walls; one had a large floral design, the other was textured lines of grey shades. Having settled in, we ordered drinks from the extensive selection and our lovely server, Jade, went to get them as she left us to peruse the menu.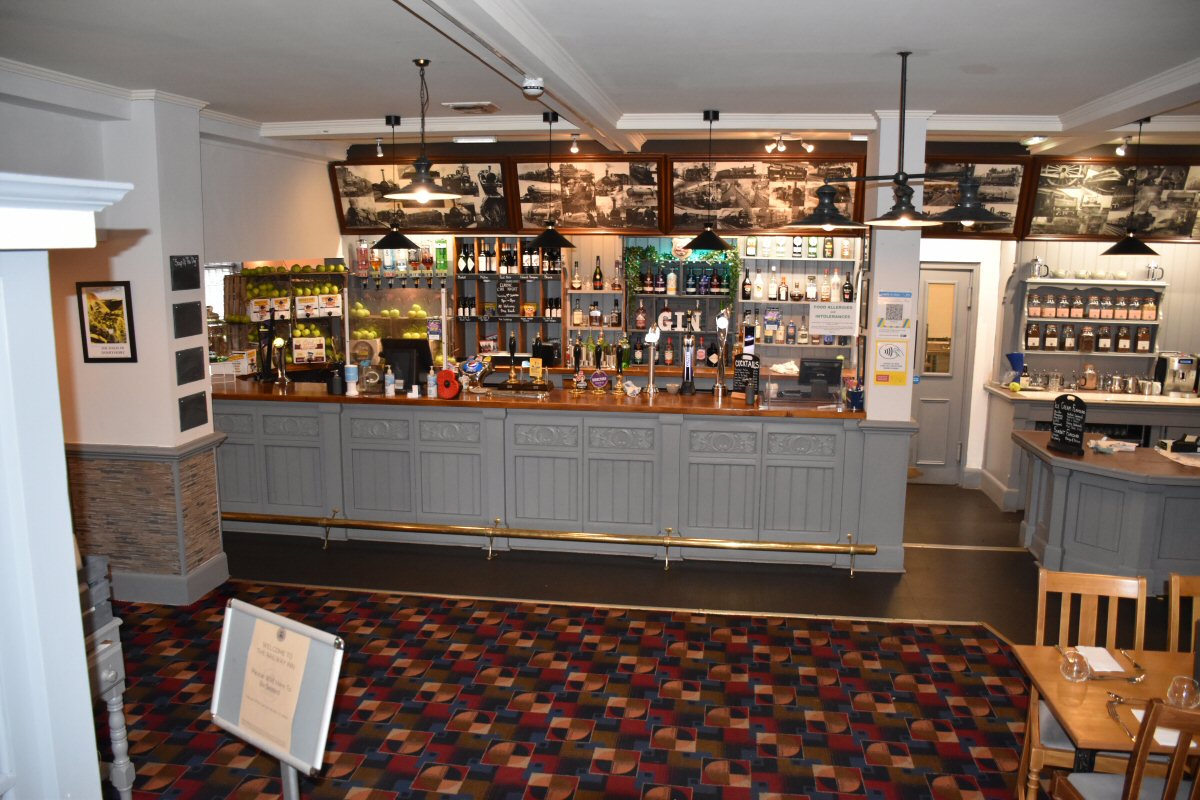 The Railway inn is a family run business and in the short time that the new owners have been running it (since October 2020) they have certainly spread a friendly, welcoming vibe through the whole team. All of the staff members were working well together and even if you weren't their 'table' they smiled at you whenever they caught your eye and asked if you needed anything when they passed by.

Sunday lunch can be a single course or two or three courses if you fancy something a bit fancier, priced at £12.95, £17.45 and £21.45 respectively. There is a substantial 50% discount for children having the roast, too. Whilst we were there we noticed plenty of family groups in, which was nice to see, and parents of fur-kids can take their dogs into the bar area or the beer garden and dine there.

Personally, I would've liked to see more variety on the starter course: Soup of the day, Ham Hock Terrine, and Sun-dried Tomato Hummus weren't really taking my fancy and Mummy Bird and His Nibs agreed with me. The desserts, however, had grabbed our attention, with all of us resolving to 'save space' for pud! More of that later though...




As well as the choice of Beef, Pork or Lamb, there was a quartet of pies and a couple of vegetarian options (Nut roast with Cranberries or Mushroom Wellington) to select from, all of which come with roasties, mash, Yorkie Pud, red Cabbage, roasted root veg, seasonal vegetables, Cauli cheese and extra gravy for the table. I cannot tell you how happy I was to see Cauli cheese coming as standard with our roasts!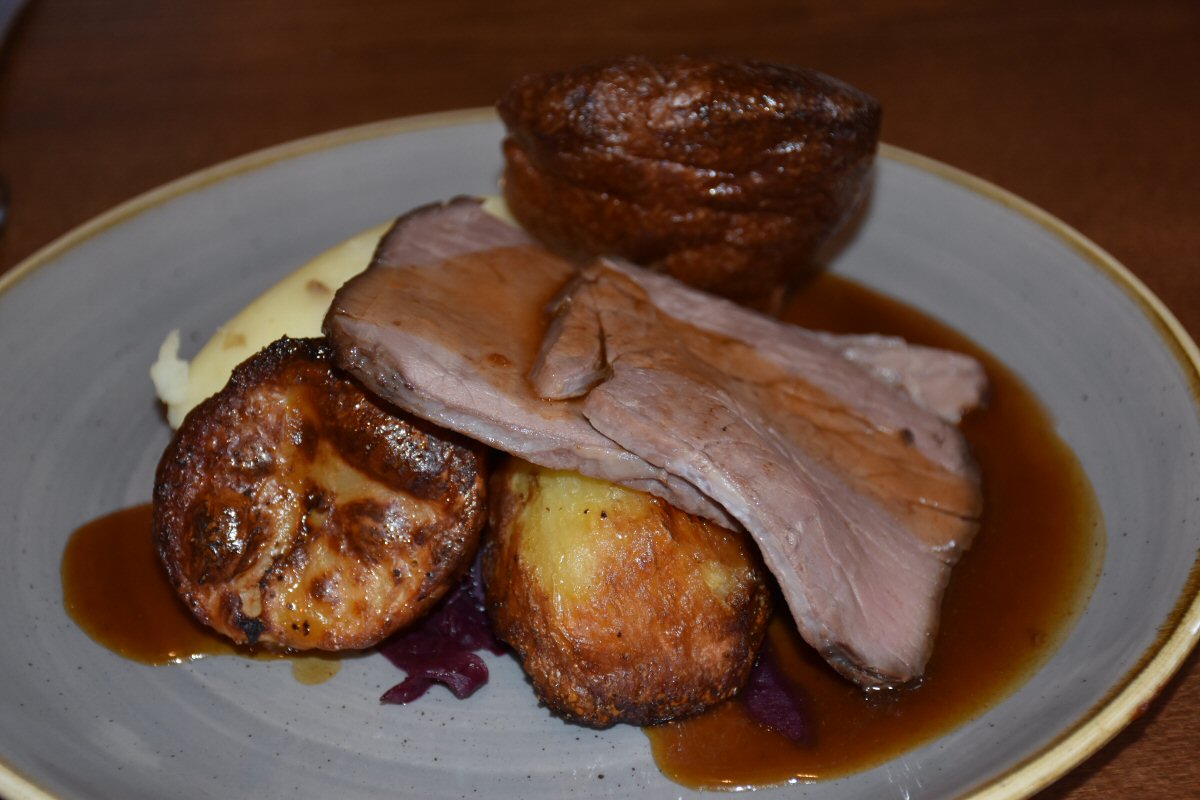 Mummy and I both chose Lamb and The Man went for Beef and all our plates had a pair of large, thick-cut slices of meat on them; the mash, roasties, red cabbage, and Yorkshire puddings were also on the plate, as well as a bit of gravy. Jade and her co-worker made short work of serving our food to us; the meats were quickly followed by several dishes that housed the roasted roots, Cauliflower Cheese, mixed Greens and the separate pot of piping hot gravy.




The meats were every bit as good to taste as they looked; tender, juicy and bursting with flavour! We all 'oohed' and 'aahed' in appreciation as we took that first bite and our smiles didn't leave our faces at all whilst we chomped and chewed our way through the generous amount of accompaniments. The mashed potatoes were beautifully seasoned and smooth as silk and all of the vegetables, without exception, were cooked perfectly to retain some firmness and release all of their gorgeous taste. I loved the lightly buttered greens, and thought the mix of cabbage and baby Leeks worked superbly. Nothing compared to the swoon-inducing aroma coming from the Cauli cheese though and, oh my days, this was a belter of a side – actually, you could eat this as a main, it's that good! The Cauliflower was still nicely firm and thickly coated with a molten mix of cheese that had been cooked until they had a golden, lightly crispy crust on top. Utter perfection. Jade brought over the mint sauce and horseradish sauce we'd requested, and left us to it, checking back after about 5 minutes to make sure it was all to our liking; she also got me another glass of Malbec – just a small one this time, else I'd be rolling home!




True to our word, we'd all got room for dessert; even Mummy, although it was a close call. The siren call of Passionfruit Crème Brulee with Pineapple and Shortbread was too strong for her to resist and I did promise to help out if she couldn't finish it all. His Nibs had opted for his perennial favourite, Double Chocolate Brownie with Chocolate Salted Caramel and Caramel Ice Cream and I chose Blackcurrant Cheesecake with Honey and Lemon.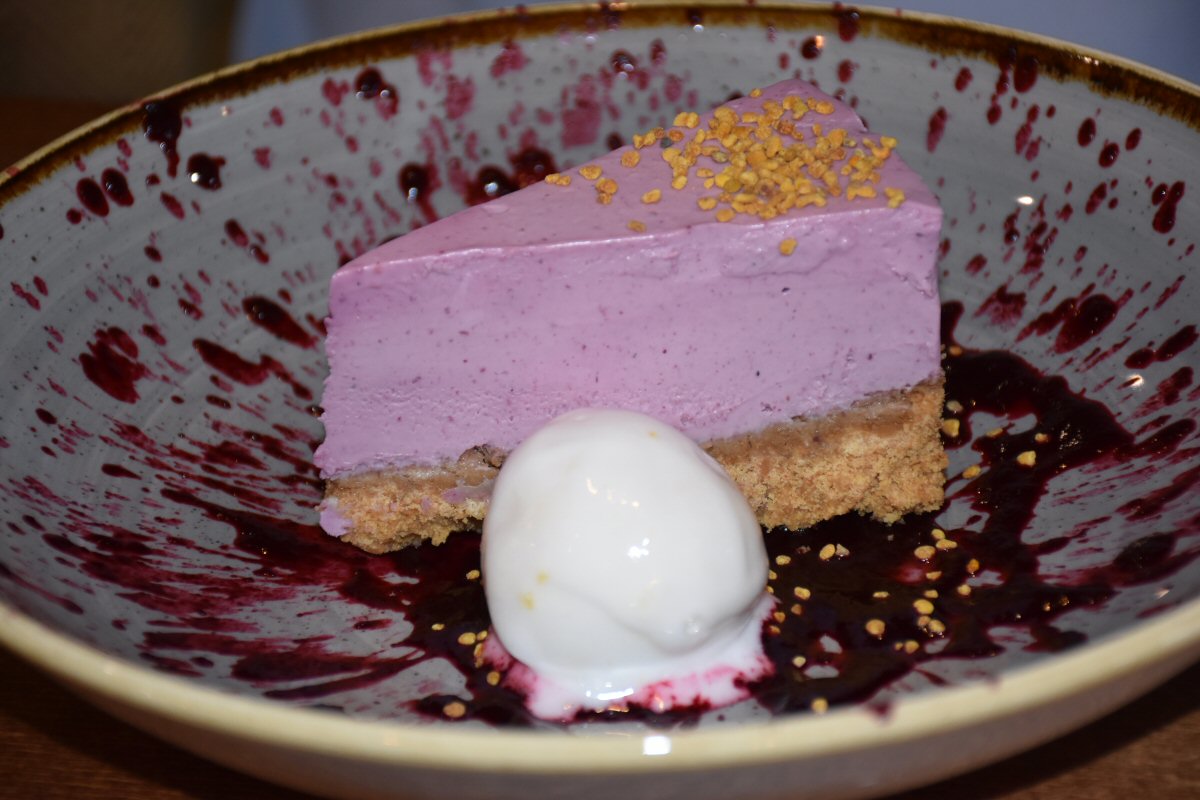 My cheesecake had that gorgeous purple tone to it, indicating that plenty of Blackcurrant zing and zip awaited my taste buds – and they weren't at all disappointed! The fruity twang rested right on the border of face-scrunching tartness and summery exuberance and I couldn't help but smile in satisfaction at my sweet choice. More punch came from the citrus notes of the Lemon sorbet, with a sweet, buttery biscuit base and small pellets of concentrated Honey swooping in to mellow it all out. This really was sublime dessert; well balanced and perfectly executed.




Next to me, Mummy Bird was determinedly making her way through the Crème Brulee; I managed to pilfer a few pieces of the Pineapple garnish and a tiny spoonful of the fragrant crème (which was delicious!), but I had been too tardy to snag any of the caramelised sugar, Brulee top. All of us heard it crack though as Mummy smacked it with her spoon. Rich, crumbly shortbread rounds were soon being snapped in half and dunked into the velvety crème as Mummy Bird endeavoured to get every last vestige of it into her mouth; when that failed she resorted to the tried-and-trusted 'get your finger in and run it around the bowl' method! Having satisfied herself that she had indeed got every scrap of yumminess out, Mummy sat back in her seat; she sighed, relaxed and happy in her efforts.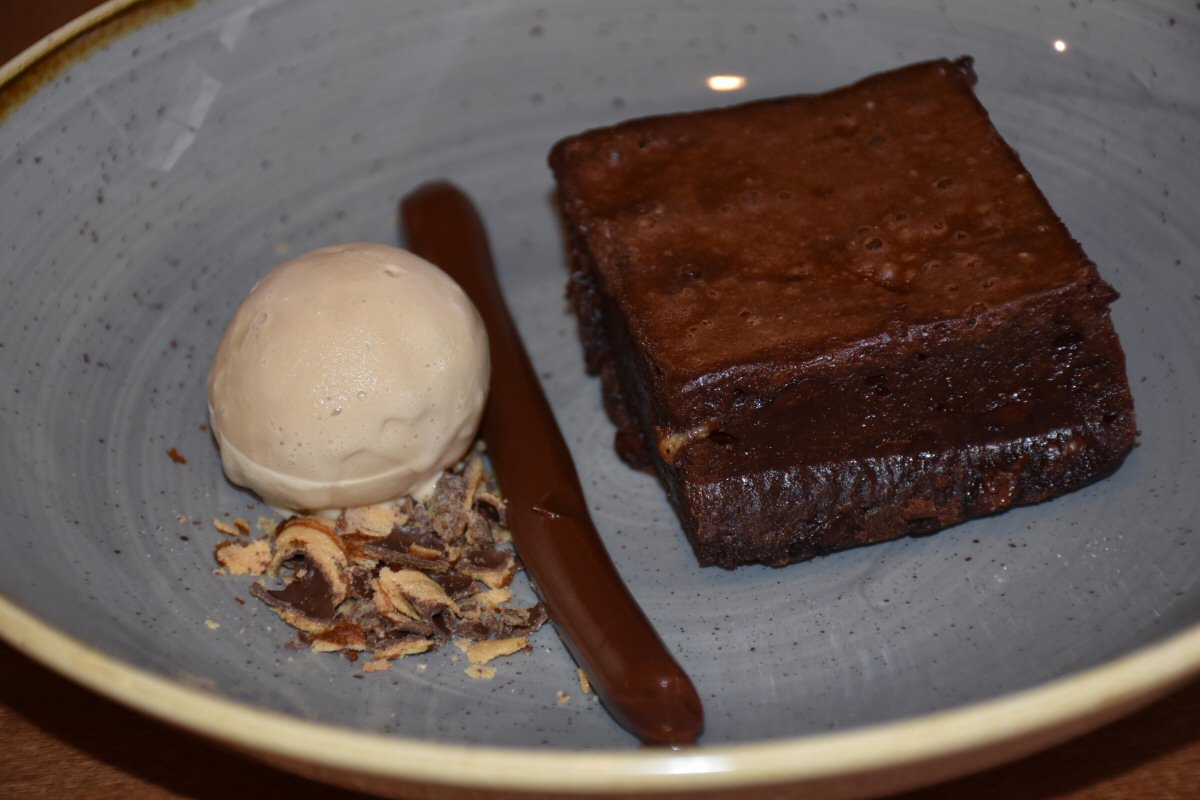 The Man Bird was lost in the pleasure he was experiencing: Chocolate, Caramel and Salted Caramel assaulted his senses, trapping him in a gourmet delight that he didn't want saving from. A slim cylinder of piped Salted Caramel turned into liquid silk as it met with the heat of His Nibs' tongue and cheeks, inviting him to let it linger a while longer and be fully savoured. The warm, gooey double chocolate brownie was equally sensuous in the mouth, its cocoa-rich taste caressing the palate gently like a lover would. Rousing the senses back to the real world was the coolness of the Caramel Ice Cream; this too was superb: silky, creamy, and laced with sweet caramel notes.

Jade had checked we were happy with our puds (clearly, we were) and when she came back to clear our dessert platters away we fully appraised her of our happiness, expanding on our praise. No surprise, then, when she told us that Chef had a pastry background; a bias towards sweeter treats was certainly detectable!!

This had definitely been one of the best Sunday roasts we'd had, even without factoring in the genius of the desserts! I have absolutely no hesitation in awarding The Railway Inn at Shottle 'Hot Wings' and will certainly be back here soon.
No incentive was provided to visit this venue
read more