Dinner At The Red Lion At The Peak Edge Hotel
---
Published On Sunday 8 May 2022 by Sticky Beak
See Recent Dining Out Reviews | See All Recent Reviews


Sometimes you visit somewhere that is already wonderful but, when you know that there is more to come, gives you that shiver of excitement up and down your spine. This is exactly the feeling that His Nibs and I got when we turned into the car park at The Peak Edge Hotel. Steve Perez, who also owns Chesterfield's 4-star Casa Hotel, is the proud owner of the Peak Edge hotel and it's a bit like coming home to roost for him because his family used to own this venue some years ago!
Having met Steve previously, I think he won't mind me describing him as a force of nature in everything he does! Ambitions for The Peak Edge Hotel include getting it to 5-star status (luxury ahoy, then!) and getting a third AA Rosette for the Red Lion Restaurant, something that Head Chef Carl Riley is all over. The key to success is hard work and gathering a like-minded team around you, and joining Steve and Carl is the very dapper Adrian who we met at The Prince of Wales at Baslow, but he also worked at the acclaimed Fischers, so he knows his craft too. With this ambitious male trifecta at the helm, you can see why The Man and I got those chills when we stepped over the threshold!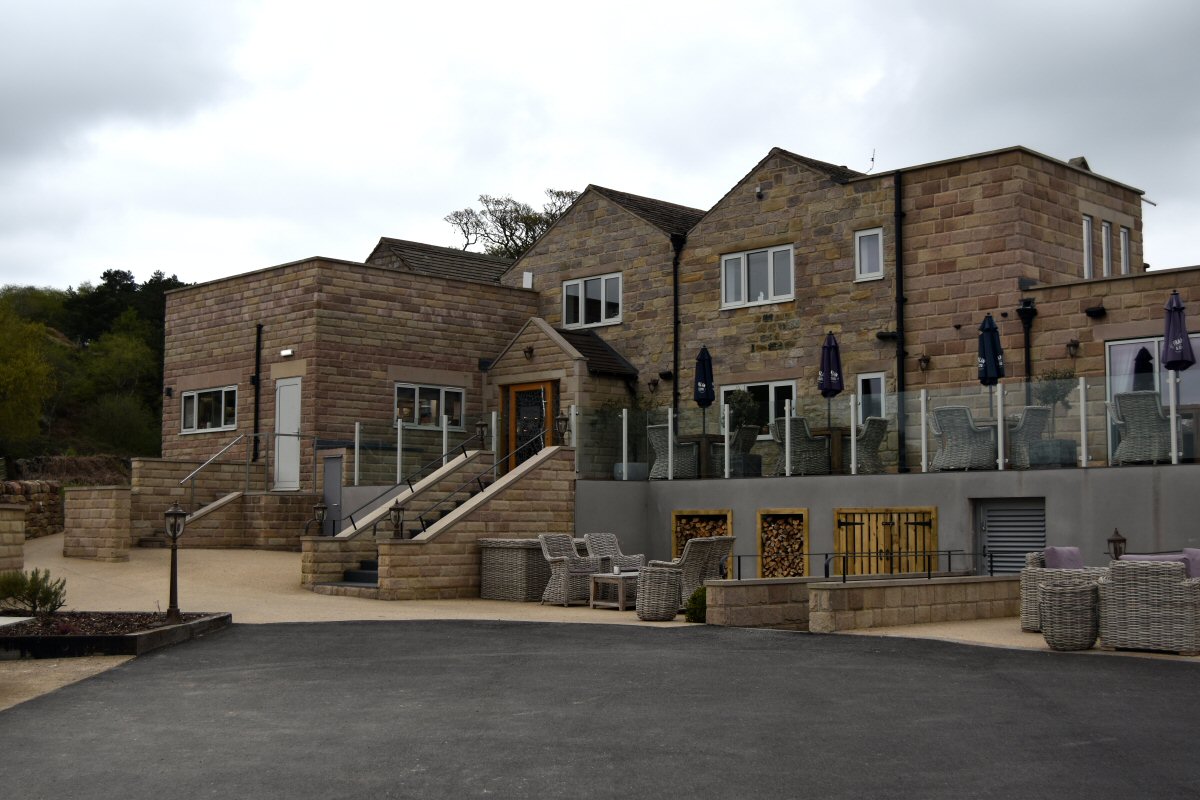 Having parked the jalopy in one of the newly landscaped car parks we took in the absolutely stunning outside terrace area as we walked to the main entrance; this is a superb space from which to enjoy al fresco dining or drinks, and it also provides the ramp access for disabled patrons. Inside, there is a spectacular bar (stocked with every tipple known to man) that then opens up into a spacious lounge area complete with squishy sofas and check-upholstered tub- and wing backed- chairs. At the far end of this lounge is a stone fireplace that commands your attention, as does the impressive Stag sculpture on its mantel. Cosy lighting creates a comforting ambience; perfect to unwind in before dining or allowing yourself to relax post prandially.




There has a been a clear direction for each space within the Peak Edge Hotel and we walked from the womb-like serenity of the lounge into the much brighter, sleek setting of the Red Lion Restaurant. Here, there are pale stone walls, a central, peaked skylight and a faux Oak Tree (with hanging lights adorning its branches) in the middle, around which were a quartet of curved seating and table arrangements. We were seated at one of these central tables so we had a perfect position from which to view the space; something I took full advantage of, looking at the covered booth tables on the far side as well as the many freestanding tables and chairs. The colour palate is in classic tones of claret, blue and cream that bounce nicely against the pale walls, without being too bright or jarring; think sleek and classic rather than outré or avant-garde.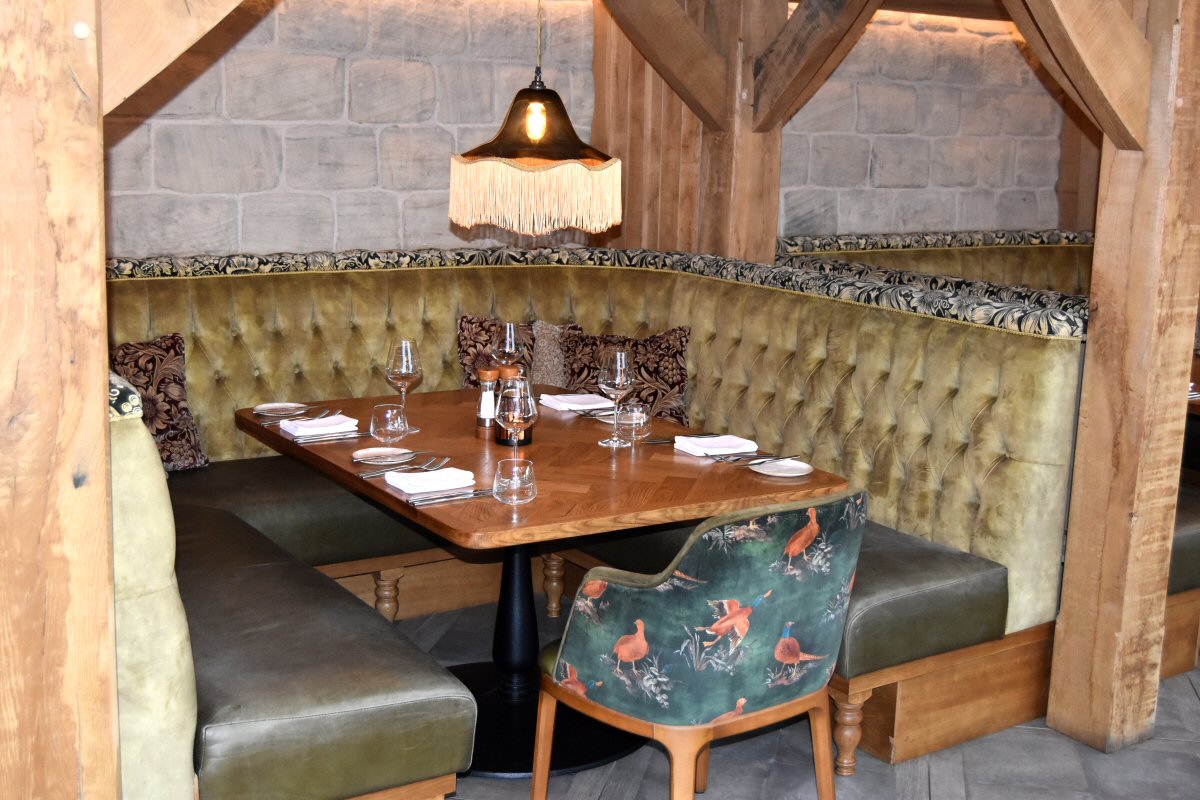 The team of servers in the restaurant are a well-oiled machine, and there are plenty of them, so water and Chef's fresh-baked bread and Confit Beef butter with Parmesan were slickly placed on our table with minimal intrusion. As you might expect, there was a hint of meatiness to the creamy butters flavour, and this paired really nicely with the distinct twang of Parmesan. The bread had a great thick crust that gave it a satisfying chew time, as well as a deliciously soft, airy centre whose openness contrasted well with the richness of the butter.




With our appetites sharpened we sat back and waited for our starters to arrive: Scallop Ceviche with Radish, Herring Roe and Japanese Dressing (£14, his choice) and Fillet Steak Tartare with Asparagus and Confit Egg Yolk (£12, my pick).Before long, two plates laden with exquisitely presented food were being carefully placed in front of us and we both took a moment to appreciate their good looks. The myriad colours had the eyes excited, igniting our sense of expectation further, and we grinned at each other before tucking in in earnest.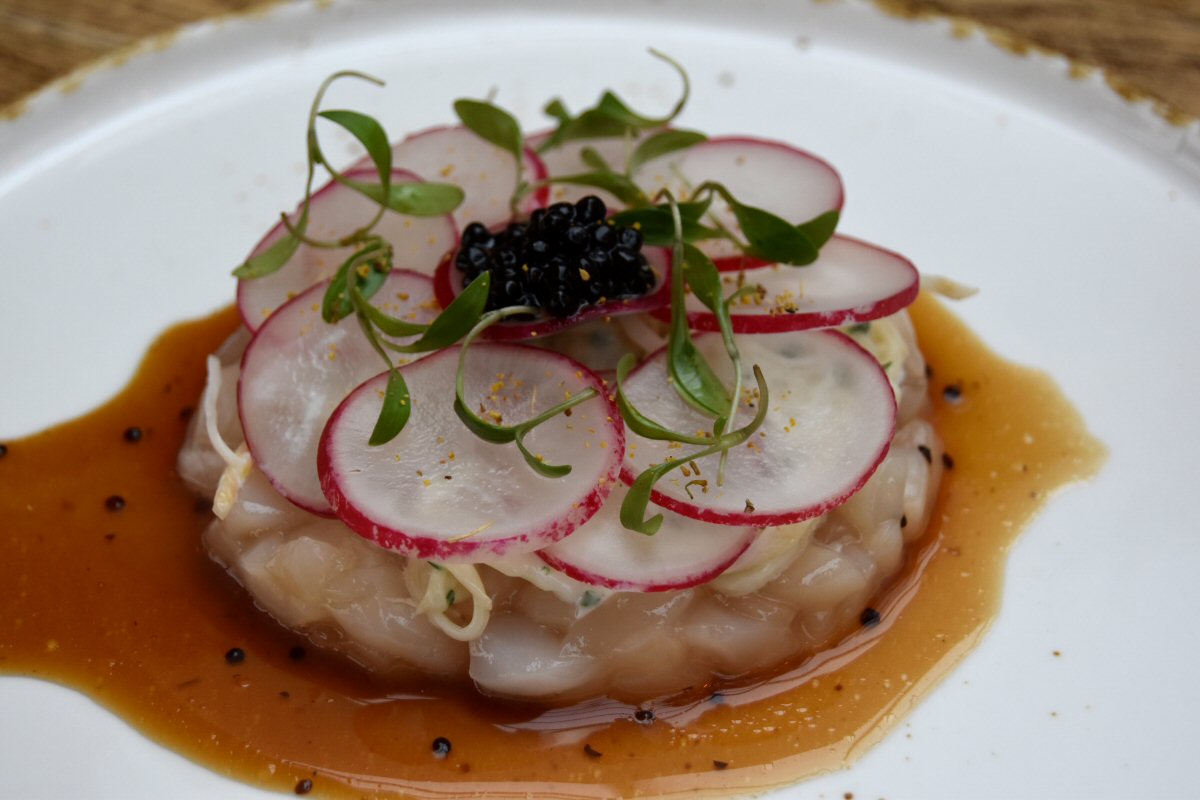 Chef Riley uses Hand-dived Cornish Scallops on his menu and, because they are citrus cured (rather than cooked), are served chilled; something new for His Nibs to experience. The Man Bird really loved the clean taste of this dish, especially the citrus element, saying it paired fantastically with the seafood morsels.

Contrasting with the opalescent flesh of the Scallops were the tiny ebony spheres of Caviar and The Man passed me a bit over (not voluntarily; I had pestered him for some!) and I took great delight in popping them against my teeth, my mouth revelling in the briny note. A further umami flavour came from the Japanese glaze, with Radish adding its weight to the savoury party, and a more serene, docile aspect came from the delicate Celeriac 'coleslaw', which kept a perfect balance of tastes on the palate. This was a superb starter.




I have had Steak Tartare before, and you really do have to use the freshest produce and skilful execution is essential; there is nowhere to hide in this relatively simple/low ingredient dish. Chef Riley has skills to burn and obviously Fillet is the best cut of Beef in terms of delicate taste and tenderness, so this was a tantalisingly good starter for me. I loved its 'finely coarse' texture, and the herbs and seasoning were perfect, lifting the flavour profile beautifully in the mouth. Whisker-thin Radish and al dente Asparagus provided a lovely veil of crunch to this otherwise soft dish and a sunshine yellow egg Yolk (that had been confit'd to give it a 'just thicker than runny' texture) was rich and creamy enough to stand alongside the steak's taste.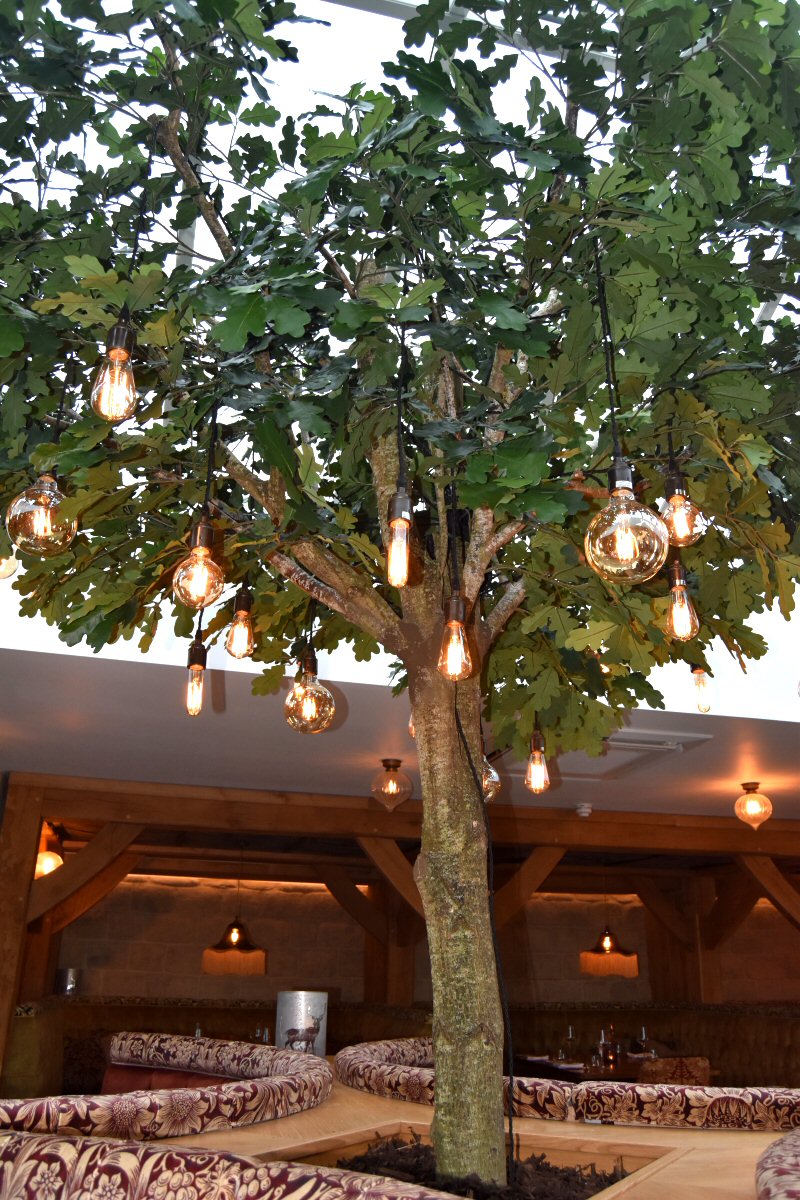 An initial check-back was made to see that we were happy with our food, and then several members of staff kept a discreet eye on our progress before one came to clear away our empty plates with a smile. All the team glided around the restaurant as if in stealth mode, magically appearing just as glasses needed replenishing or plates needed clearing and I guess it's this level of talent that distinguishes the calibre of venue you're dining at. None of the team linger or hover noticeably but your needs are just met seamlessly; I always acknowledge any effort that is made for me at the table, but I caught myself a couple of times nearly missing what had happened, so slick is the service.




For mains we'd chosen Spring Rack of Lamb, Shoulder and Shank Shepherd's Pie, Morels and Asparagus (£34, for The Man) and Pan Fried Turbot with Salmon Fishcake, Brown Shrimp, Capers and Samphire (£36, my selection), adding extra sides of Seasonal Greens (£6) and Mixed Leaf Salad (£5).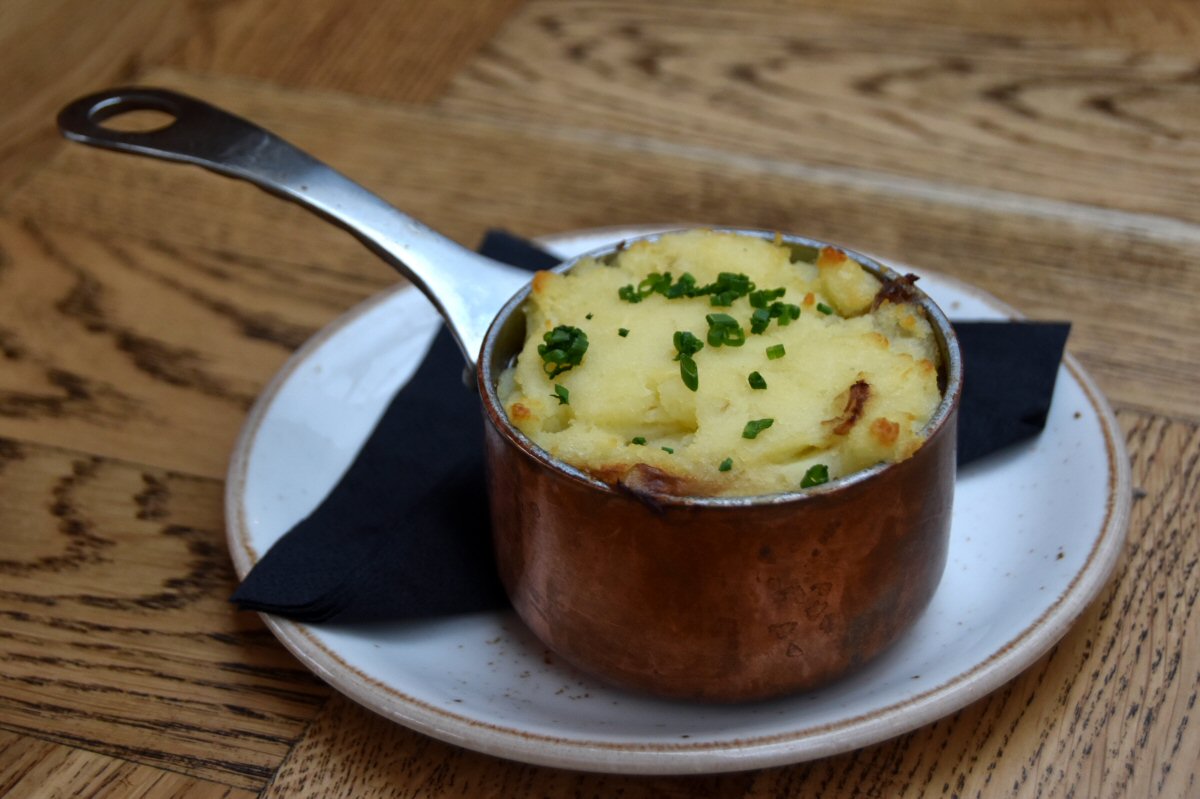 Again, the presentation was just faultless - as you'd expect from a Chef of Carl Riley's calibre – and the portion size of both our protein choices was certainly generous. The Man Birds' Lamb Rack was served pink, its flesh gloriously sweet and wickedly soft to the bite; the couple of fresh Anchovies that dared to 'sully' (his words, not mine!) the dish swiftly found themselves on my plate. Don't worry, my beauties, I appreciated your delicious flavour! As delicate as the taste of the Walton Lodge Lamb Rack had been, so the deep richness of the Shoulder and Shank shone against it from their confines in the Shepherd's Pie. Under a pale cocoon of creamy mashed Potato was the abundance of meat that made this morsel into a real chunky monkey, keeping His Nibs' taste buds occupied nicely. Wild Garlic, both leaves and in Pesto form, added a mellow roundedness that its domesticated cousin lacks and a hint of smokiness and nutty taste came from the Morels, bringing multiple layers of flavour to this remarkable dish.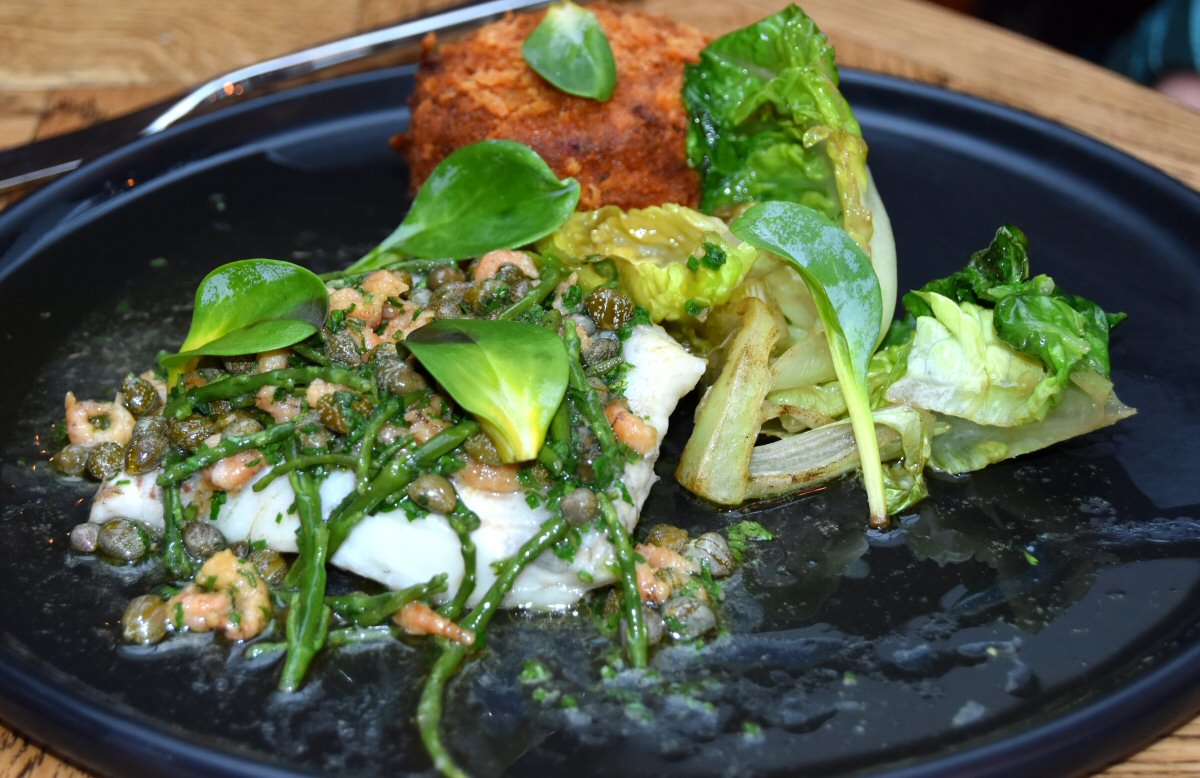 Other than a single bone (which I encountered in my very last mouthful!), I have nothing but the highest praise for my Turbot. The firm, dense textured flesh was cooked perfectly and was incredibly moist, with its (more pronounced than Halibut) 'fishiness' needing no extravagant szhuzhing to bring out its natural taste. Chef had cleverly added Brown Shrimp and Capers to this dish, the acidity of the flower bud/vegetable/fruit complimenting the tiny seafood's' umami character superbly. I smiled happily as I experienced the sensation of Samphire's crunchiness against my teeth, and my joy furthered as I savoured its clean, salty tang. Talking of crunch, if you like good, thick coatings on your fishcakes then you need this gem of a Salmon version in your life! A generous Panko outer had been fried to golden perfection and elicited a distinctly audible crack as I cut into it with my knife, revealing a pink-flecked, feather textured inner of combined mash and Salmon that got my taste buds swooning with delight.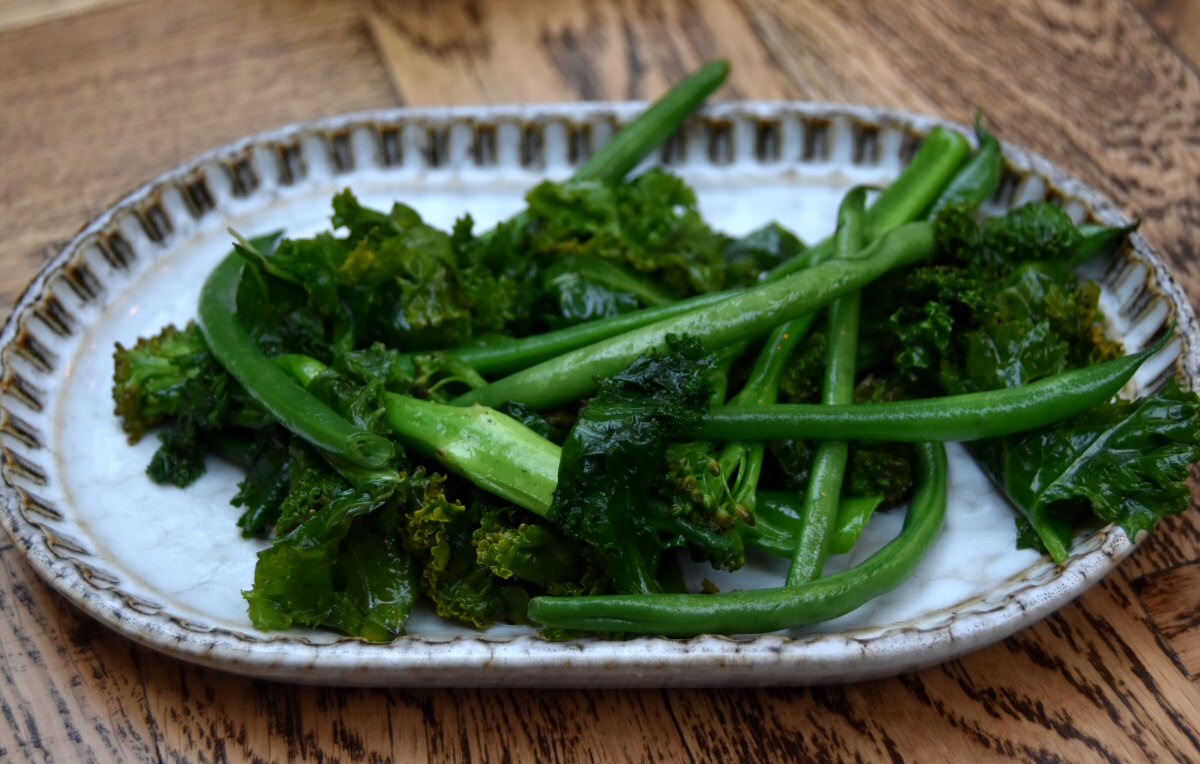 We'd both been helping ourselves to the combination of Kale, Tenderstem Broccoli and fine Green Beans and the cool, crisp Little Gem, Radish slices and pickled Cucumber rounds, and found nothing wanting with either side dish. Care had been taken to enhance these support acts as well: a light gloss for the vegetables, a scatter of black seeds over the salad. Seriously, Chef Riley left no stone unturned on his pass.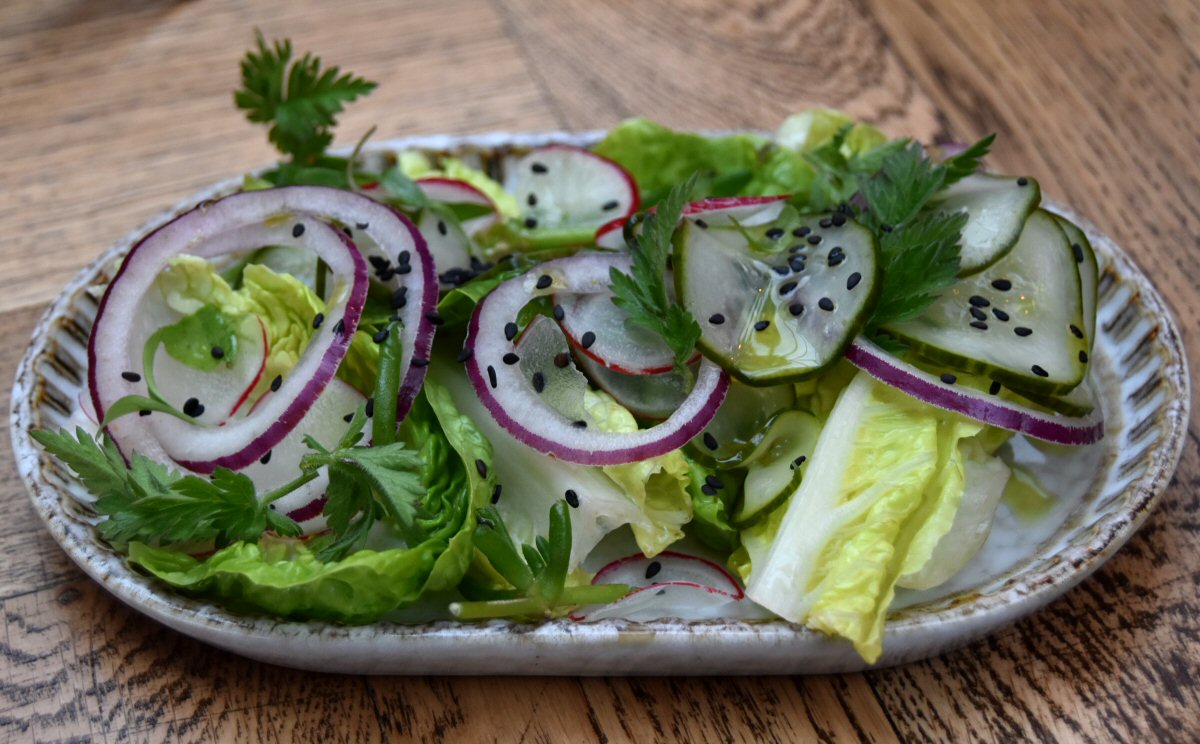 Unsurprisingly, we were both in the market for pudding having been whole-heartedly won over by our previous two courses! I fancied the Rhubarb Soufflé with set Custard, Granola and Sorbet, whilst His Nibs heard the siren call of the White Chocolate Delice, Strawberry Textures and Apple Mint (both £9).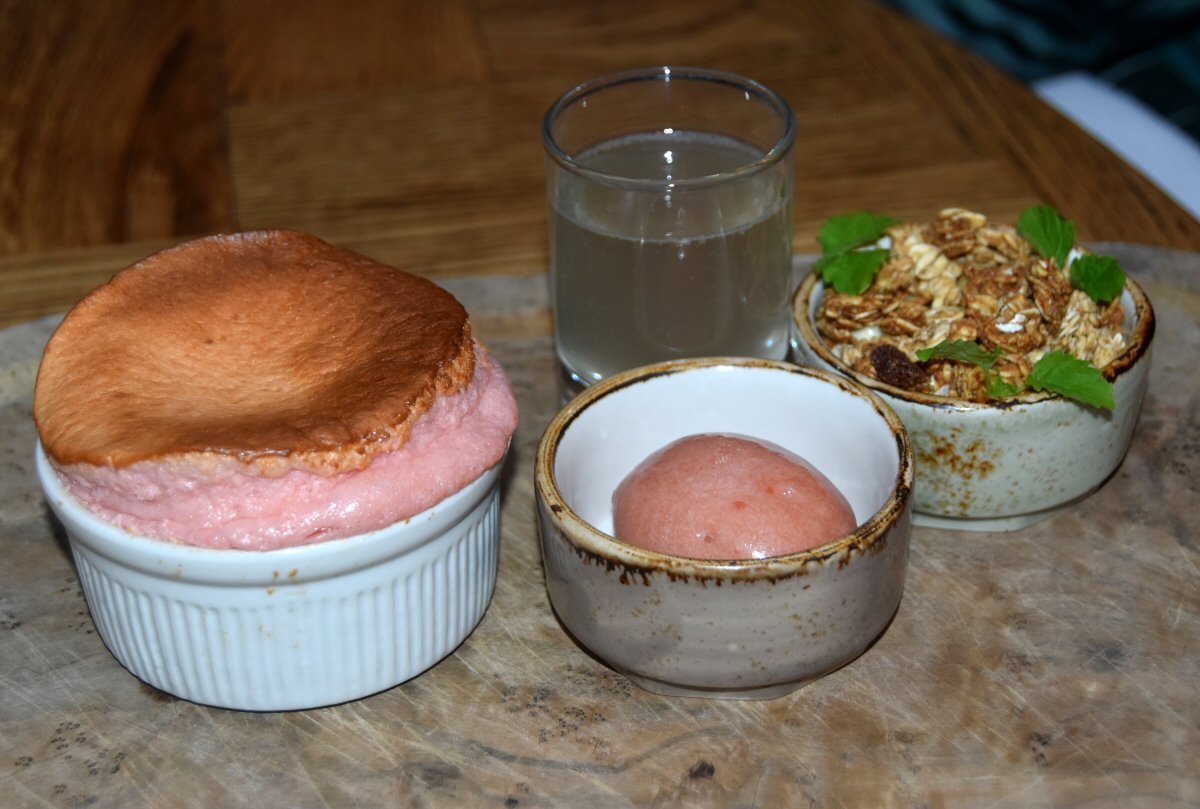 For as long as I can remember I've loved Rhubarb; as a nipper I used to impatiently wait until Mummy Bird said the Rhubarb was ready to pick and eat, scurrying down the garden with a bowl of sugar and unashamedly breaking off the fruit stalks and dipping them in it. I will still eat this beautiful treat raw or cooked, or in a totally girlie pink hued Soufflé (as on this occasion). The delicate colour of this amazing dessert would lull unsuspecting diners into a false sense of security, but I was ready for the distinctive clean, sharpness as it washed over my tongue – utterly glorious. Complimenting the soufflé was the equally joyous Sorbet and its giddy vibrancy had me oohing and aahing in contentment. Always mindful of parity, Chef had included the calming roundedness of a Vanilla set custard within this pudding choice, also providing a textural element via the crunchy Granola that decorated its top.




The Man Bird was also cooing quietly with satisfaction at the mesmerising quality of the indulgent, ultra-creamy White Chocolate Delice as he savoured mouthful after mouthful of its thick silkiness. It would've been easy to just let diners indulge in the luxury of this dense mousse, but ever mindful of sensory stimulation Chef Carl Riley added in Strawberry pieces and an intensely fruity set gel that was face-scrunching in its ardour. Uplifting tones of Apple Mint lifted things yet again on the palate and provided a gorgeously refreshing element to this final course of His Nibs' meal.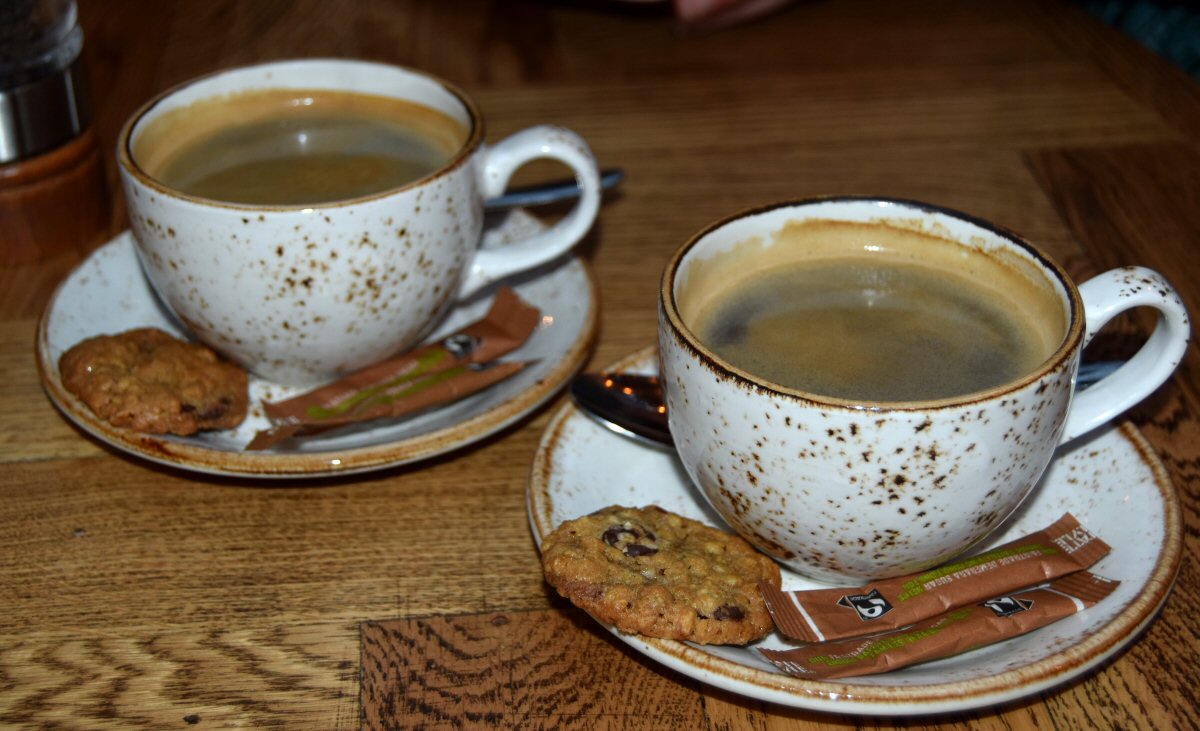 We rounded things off with our customary black coffees, accompanied by a homemade chocolate biscuit/cookie hybrid. When we'd finished Carl and Adrian kindly took us on a tour of the venue, both inside and out into the grounds, telling us of future plans for the Peak Edge Hotel. Weddings are already catered for here, but there are plans for an extension to the accommodation capacity and a Spa facility too. Several areas lend themselves to smaller intimate dining opportunities and Carl has a couple of things he would love to bring to guests at the restaurant, so watch this space folks!!




It hardly needs saying but in the name of custom and tradition on this blog, Hot Wings very happily awarded to this boundary pushing, dynamic team. Thank for inviting us to share the phenomenal experience you offer at The Red Lion Restaurant at The Peak Edge Hotel at Stone Edge, Chesterfield. To book a table at the restaurant or a stay at the hotel ring 01246 566142.
Some form of incentive was provided to visit this venue
read more
Read Some Of Our Recent Reviews
---

A Family Dinner At Thai Thai Restaurant In Chesterfield Thanks to the weather being kind, it had been all hands on deck at Mummy Birds gaff and so we hadn't quite got around to organising Sunday Lunch! There was no way in hell Read The Article

---

Burger and Beer Mondays At The Railway Inn, Shottle It wasn't long ago that we had a Flock outing for Sunday lunch at The Railway Inn at Shottle (and really enjoyed it) so when we were invited to try out their newest offering Read The Article

---

A Visit To The Seafood And Champagne Terrace At The Cavendish Hotel, Baslow I know The Man and I must seem calm and collected to a lot of you, so let me shatter that bubble right now by describing what happened when a certain invite Read The Article

---

A Tasty Lunch At The Vegan Revelation Cafe, Belper Vegans, you have got an absolute bobby dazzler of a cafe here; non-vegans prepare to have your taste buds bowled over and have your 'no meat' notions over-turned - and I do include myself Read The Article

---

Dinner At The Recently Refurbished Bay Leaf Indian Restaurant, Heanor Can you believe we were out again with Mummy Bird; she's becoming quite the social Tribal Elder! The last time she'd seen Faz was at his previous restaurant (Nirvana) Read The Article

---

Dinner At The George At Hathersage You can't fail to be impressed by The George at Hathersage when you first clap eyes on it; the huge stone building commands your attention with its imposing beauty. It has its own car park too Read The Article

---

Dinner At The Seafood Cave and Grill, Matlock Bath I love seafood (yes, even cockles and winkles!) so I was beyond excited to receive an invite from the owner of The Seafood Cave and Grill in Matlock Bath, Ian McGhie, to sample the food Read The Article

---

Sunday Lunch At The Spanker, Nether Heage As many of you lovely peeps are aware, we recently did a poll on the blogs Facebook page asking for your favourite venues to have Sunday Roasts at. Well, you all certainly got involved, voting for Read The Article

---

Burgers And Loaded Fries At Cravings Street Food Bistro, Sutton-in-Ashfield Boyf Birds' parents had been to a local eaterie recently that they felt would be right up our street (food), so we decided to pay said venue - Cravings Street Food Read The Article

---