A Tasty Lunch At The Vegan Revelation Cafe, Belper
---
Published On Thursday 5 May 2022 by Sticky Beak
See Recent Dining Out Reviews | See All Recent Reviews


Vegans, you have got an absolute bobby dazzler of a cafe here; non-vegans prepare to have your taste buds bowled over and have your 'no meat' notions over-turned – and I do include myself in this category! Chef Carl Stanley kindly invited us over to try his creations and so we trundled off in the trusty jalopy to Belper.
Vegan Revelation is located at the side of De Bradelei Mill centre so it's easy to find, and also easy to get parked nearby; one thing about Belper is that there are loads of car parks scattered around near its centre. When we rocked up, owner Leise bounded over like an excited puppy and for a moment I felt like a minor celeb...until I realised that this is her default mode. By nature, Leise is a natural optimist with an unrivalled lust for life that is stealthily catching; not a bad thing, I'm sure you'll agree!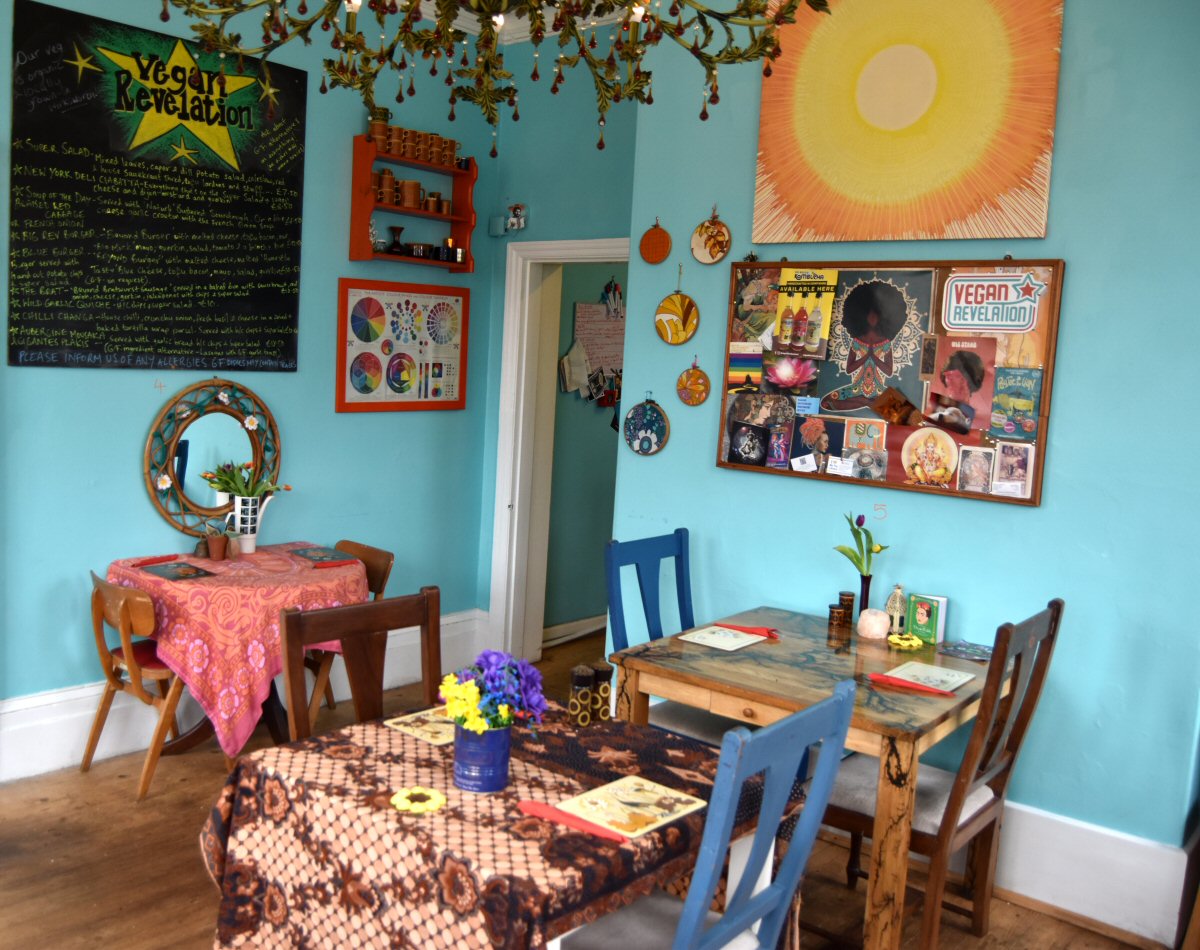 After showing us to our table Leise had a quick chat with us and Carl popped his head around the corner to say "Hi" before getting back to his checks that other diners had got him cooking. During lockdown 1.0 Vegan Revelation survived as a Takeaway and Deli, opening for seated service in its outside space when legislation allowed and has now reopened as an indoor cafe once again. Open Tuesday-Saturday 11am-2pm, Vegan Revelation fits in perfectly with Leise's family circumstances and this is one big thing that the pandemic brought sharply into focus: work/life balance. There are plans to do pop-up evenings on occasion, too, so keep your eyes peeled for details on these.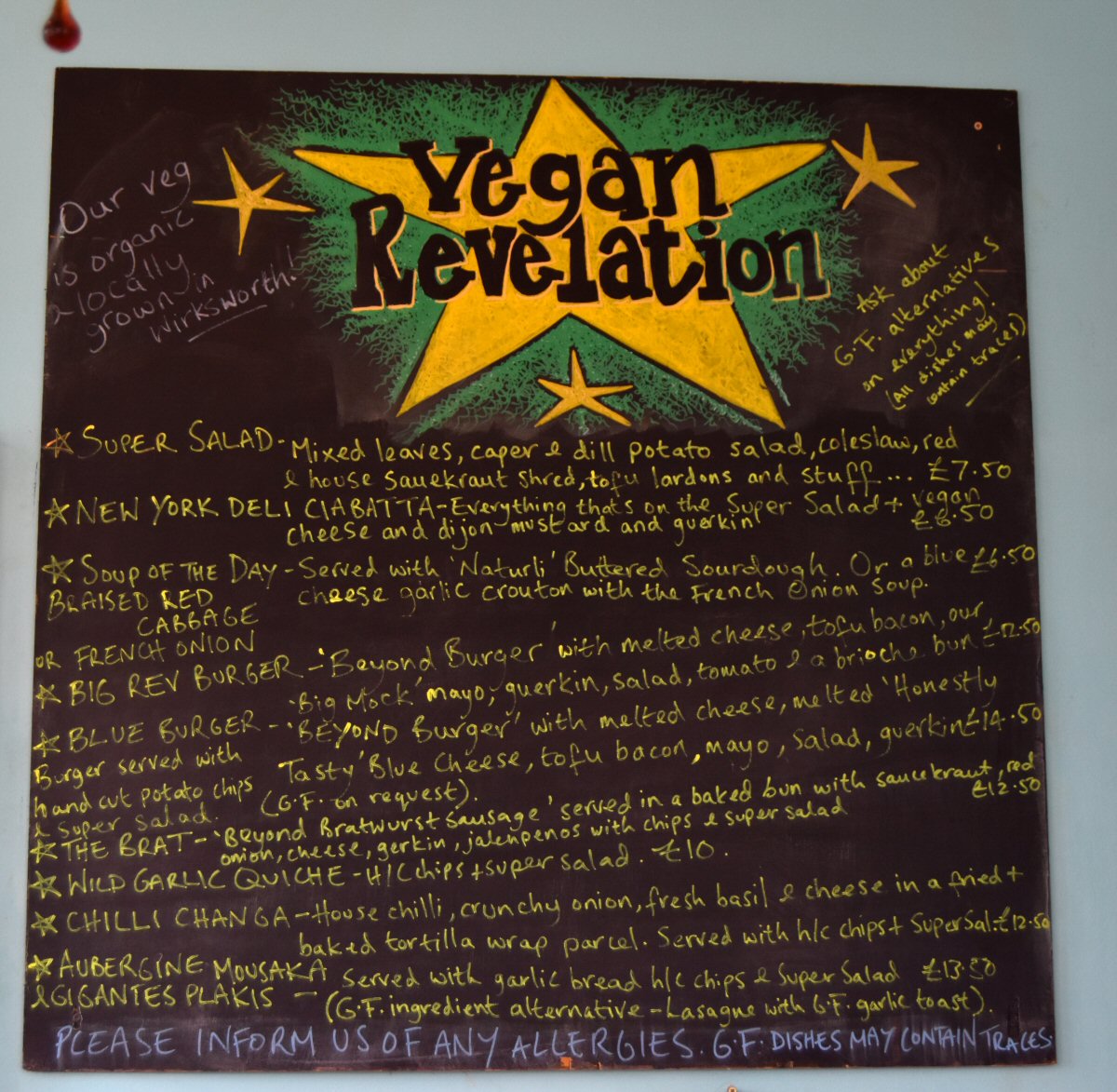 Leise supports other local businesses too; Vegan Revelation's vegetables are all organic and grown by Pingle Produce in Wirksworth, ingredients come from Earth Harmony (located next door to the café) and NattyRoots makes a range of organic juices just upstairs. The Man Bird was intrigued by the sound of NattyRoots' Tamarind and Ginger juice (£4.50), so he had that to drink and I opted for spiced Chai Milk (£3) whilst we perused the menu board.




A couple of Leise's regulars/ friends (everyone is regarded as a friend that steps over the cafe threshold!) stopped by for lunch and were greeted with unbridled joy too. Over the course of our meal there was plenty of banter between the staff, several impromptu sing-a-longs with the upbeat music in the background and generally much merriment all round. Happy, contained chaos abounded, with everything seeming to somehow get done – even when accompanied by a little jig and dance! Leise's sing-song voice bounced around the space and it called to mind that well-known phrase from the Alice tales: "we're all slightly mad here!".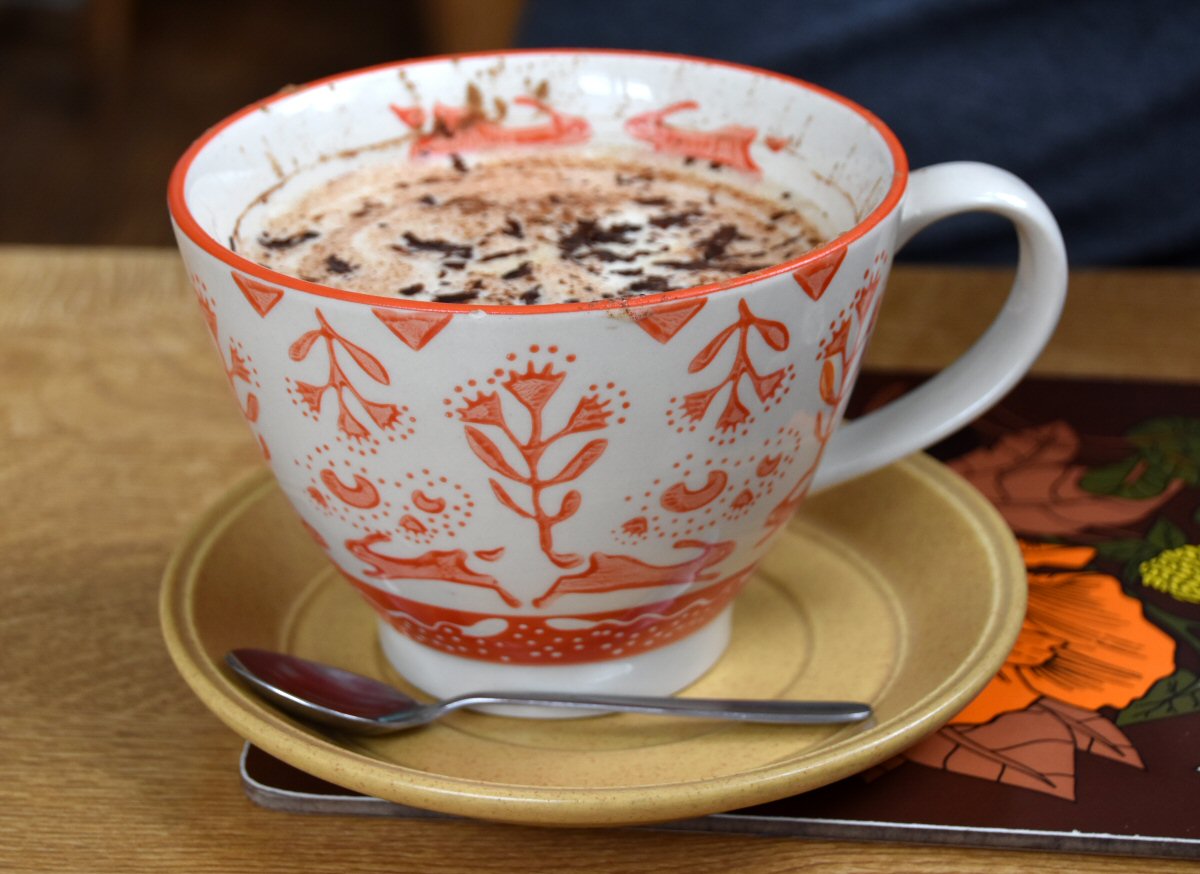 Pretty much all the menu choices come with the super salad (which you can also order as a separate entity as a main course for £7.50), so I was feeling smug that my 5-a-day goal was going to be smashed out of the park with minimal effort from myself – always a bonus! I chose the Aubergine Moussaka with Garlic Bread, hand cut chips and the super salad for £13.50 and His Nibs fancied the Big Rev Burger: a 'Beyond Burger' with melted Cheese, Tofu Bacon, 'Big Mock' Mayo, Gherkin slices, Salad and Tomato, all housed in a Brioche bun (£12.50).

We'd noticed the mouth-watering smells from the kitchen as soon as we'd stepped inside, but knowing that our meals were being cooked seemed to amplify the aromas coming from Chef Carl's territory. Thankfully we didn't have long to wait; I don't think everyone wanted to listen to my 'tuneful' tummy as it rumbled grouchily!




Leise had prepared us for the feast by saying that the team are feeders, but even so, our eyes still popped out on stalks at the sheer volume of food placed before us! If you're a fan of colour then trust me, you aren't going to be disappointed at Vegan Revelation; every colour of the rainbow was on our plates courtesy of mixed leaves, Caper and Dill Potato Salad, Coleslaw, Red and House Sauerkraut Shred, Sweetcorn and Tomato Salad, Tofu Lardons (which were actually very nice, and this coming from someone who really dislikes Tofu usually!). Everything was bouncing (even more so than Leise!) with exuberant spring tastes, but my personal fave was the Caper and Dill Potato Salad – this was incredibly moreish.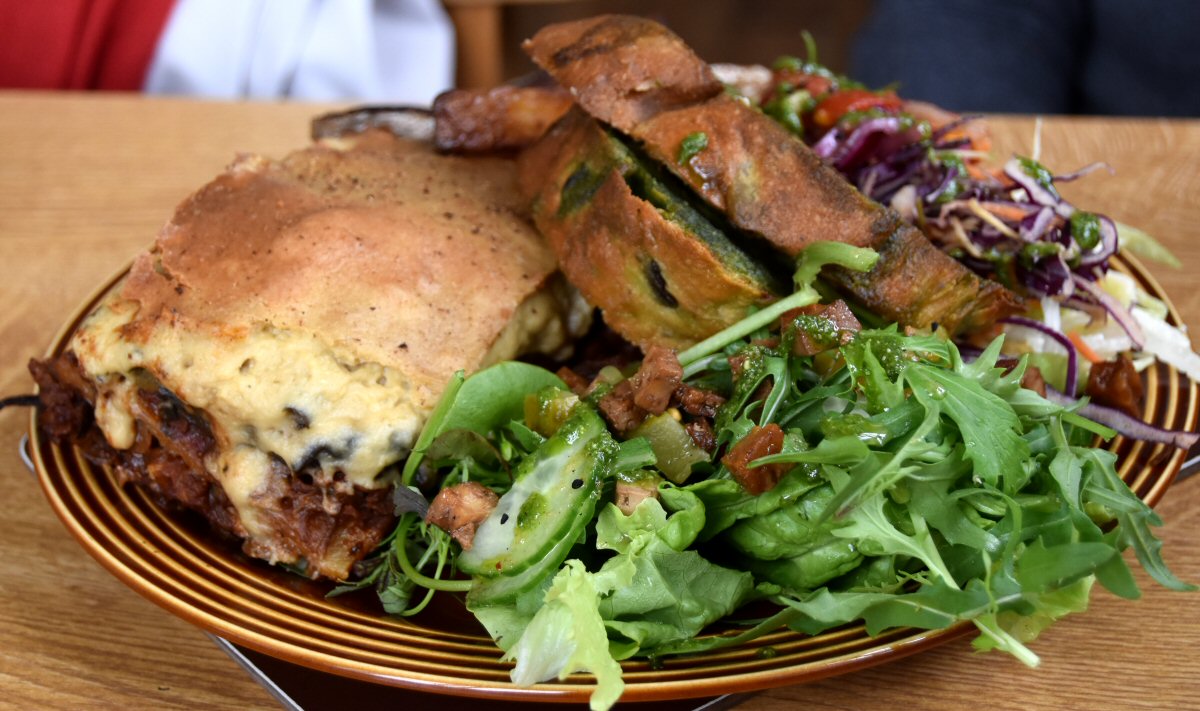 My Aubergine Moussaka was beyond my wildest expectations, it truly was. The sliced veg was beautifully soft and cosseting in my mouth, layered with divinely spiced and seasoned lentils and pulses that were most satiating, and topped with a ridiculously tasty, addictive Cashew Béchamel sauce that had a fab golden crust to its outer. Yum Yum. Leise had foraged some Wild Garlic locally and had made some Garlic Bread (as well as another main course choice, Quiche) with it; the verdant leaves had coloured the topping of the beautifully crusty baguette slices as well as imparting a mesmerisingly soft, rounded flavour on the palate.

The home cut chips had been cooked to almost char them in places which served to enhance their crunchiness on the outside, with those soul-satisfying camp fire-soft inners making you sigh with joy as you savoured them. I'm assuming my vegan-scepticism must've been known to Leise as she brought over some Mayonnaise for us to dunk our chips in as well, and this was mind-blowingly good I have to say. Yup, this was shaping up to be a successful visit, that's for sure.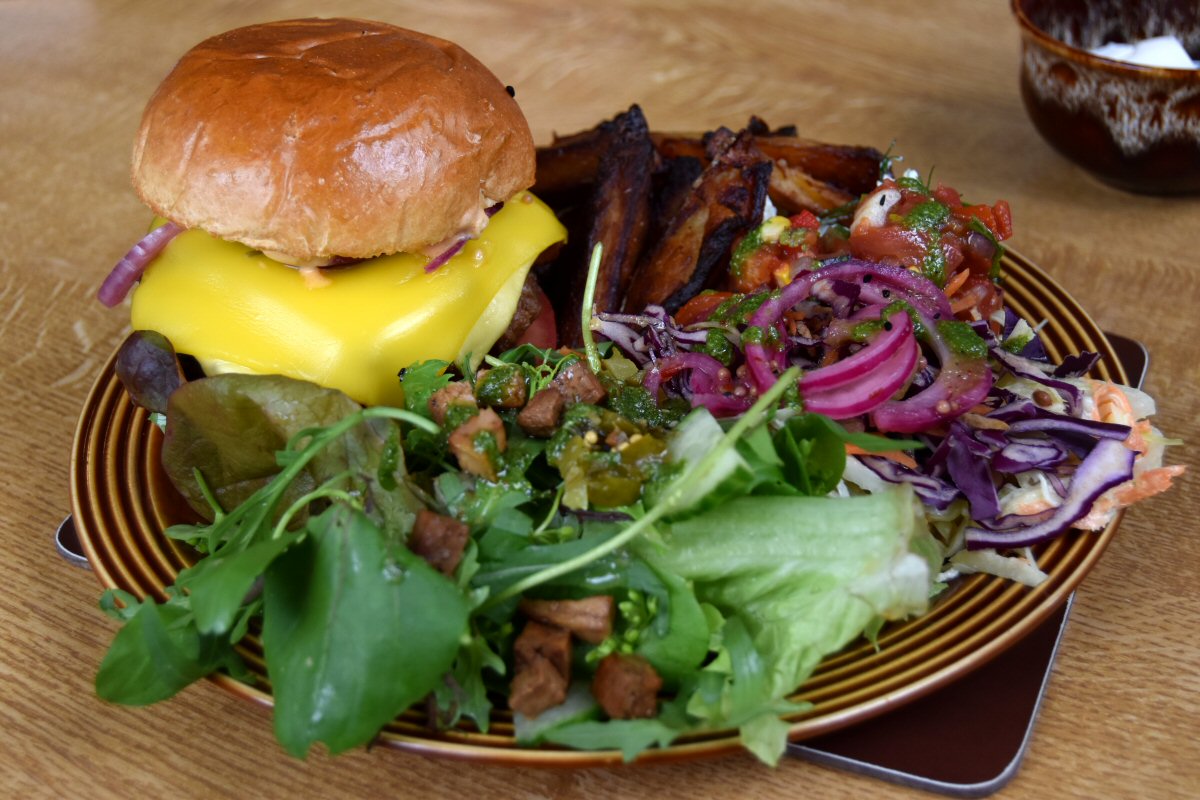 His Nibs tried to grasp the food mountain that was his Big Rev Burger between his hands but just couldn't manage it and eventually admitted defeat and resorted to using cutlery! Having had a less-than-stellar experience with vegan cheese recently I wanted to know if the visually spot-on cheese here was better, so I dabbed my finger in and scooped up a load to try. I'm happy to say that not all vegan cheeses are created equal; the one here at Vegan Revelation is a beauty with plenty of colour and, more importantly, taste to it – Wallace and Gromit themselves would approve.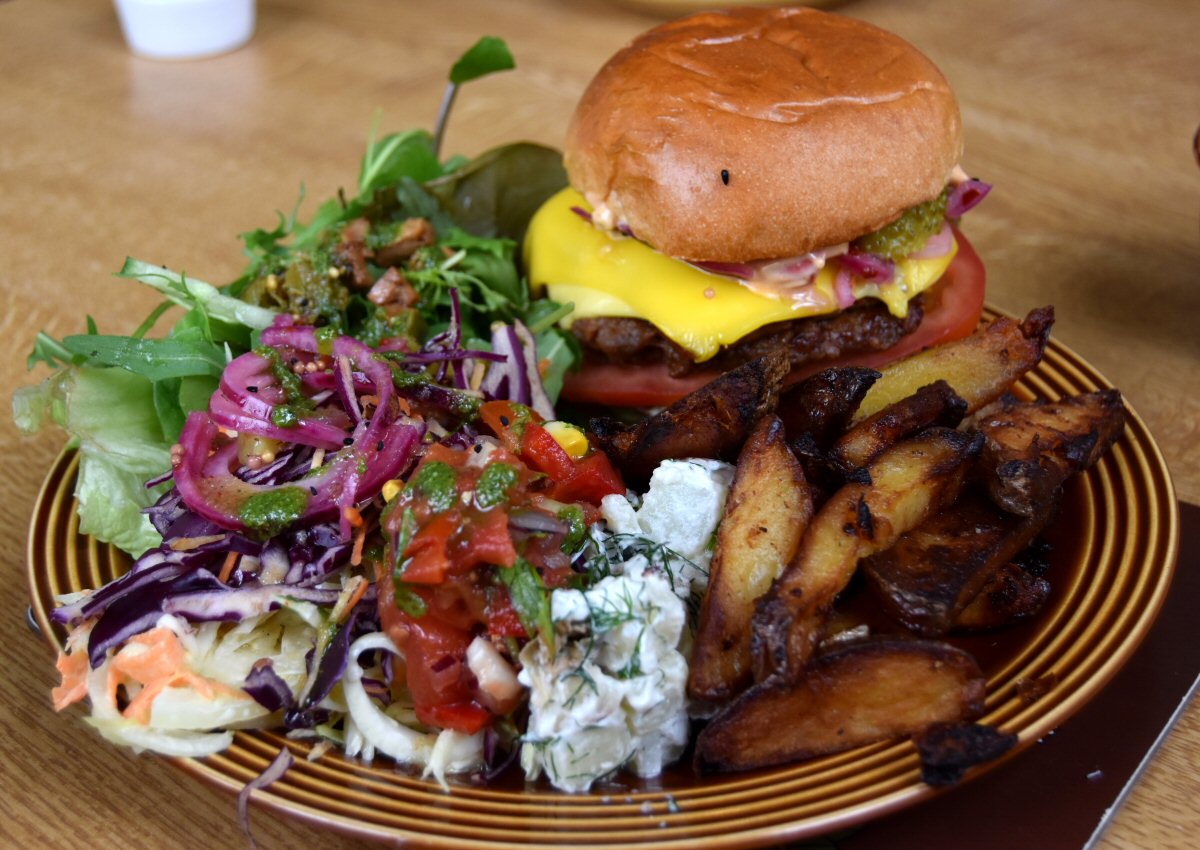 In terms of flavour, the Beyond Burger morsel has the flavour of a milder tasting meat, gaining a lot of its punch from the seasoning used, and has the texture of a loose-pressed burger patty rather than being a denser number that traditional meat ones tend to be. The Tofu Bacon was also a win in terms of its texture, and the smoky flavour came through nicely in His Nibs' mouth (he will always prefer bona fide Bacon though!). I got passed the Gherkin slices and the fresh Beef Tomatoes and if I'd known that he wasn't going to finish the mixed leaf salad, I'd have had that too, bloody salad dodger that he is!

Leise had brought over some tap water for us as we'd been chowing happily away, and was very happy to see (mostly) clean plates a short while later. Homemade cakes are always on offer at Vegan Revelation and on this particular day there was a choice of Lemon Cream or Triple Chocolate to choose from. Feeling generous for once(!) I let The Man have first dibs and he went for the heavenly looking Chocolate minx, so I had the Lemon morsel.

As with the savoury options, Leise doesn't skimp on the portion of cake she serves, and the plates were just about obscured by the wedges of sweet treats on them. The Triple Chocolate cake was tantalising with its incredible moistness and decadent Cocoa intensity that ignited the neurons in the brains' pleasure centre! His Nibs was grinning like the proverbial cat, dabbing crumbs from the corners of his mouth in his determination not to waste a single one. Giant Buttons decorated one edge of this dark beauty and my Man Bird used one to scoop up some of the gooey fudge ganache before passing it to me; I knew he was a keeper! I did repay the favour by cutting him a piece of my pastel hued Lemon cake – we're a good team.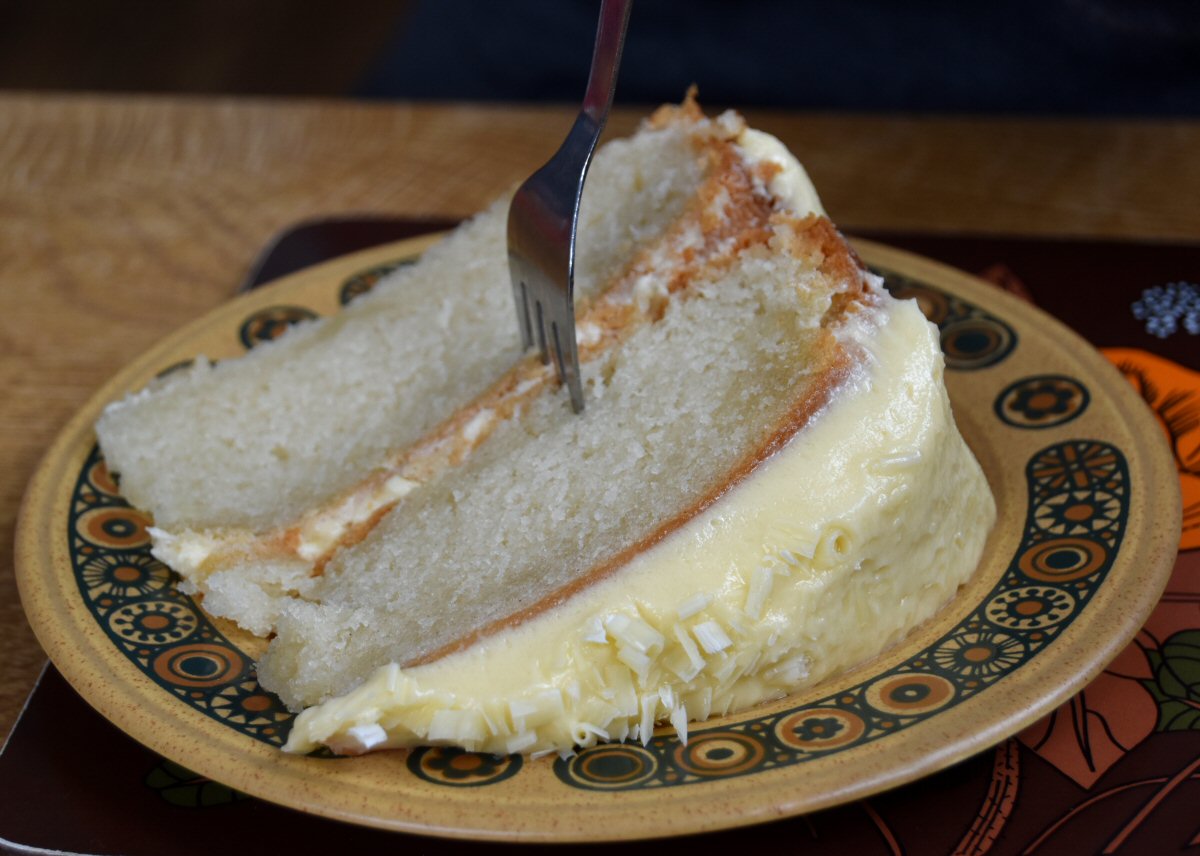 My Lemon Cream cake was utterly divine with an insanely light texture to its sponge body, pimped with the bright note of citrus that my palate seized upon eagerly. Between the two layers was a delicate creamy filling that was replicated on the top; this gave a fabulous moistness in the mouth, as well as giving this treasure that 'special occasion' indulgence feel. Both cakes put many 'conventional' ones to shame, let me tell you, with their taste and texture - and that's seriously no exaggeration on my part, either.




This had been one of those memorable occasions and I could happily have stayed and eaten each and every item on the menu, well I could in my head, in reality I would've popped!! No doubt in an ideal world for Leise, she would convert all non-vegans to this way of eating and living; I think though, that she'll be happy having convinced this meat-eater that good vegan dishes are every bit as good as their carnivorous cousins. I said to The Man on the way home that we really should commit to going sans meat at least once a week, maybe even dipping our toes into vegan meals too. Now, Leise, I think you can pat yourself on the pat (and you too, Chef Carl Stanley!) that it's been a successful mission if we feel that way!!

Hot Wings happily awarded to this gleeful Belper cafe; yes, Leise, we enjoyed the show. Given the compact size and limited opening times of Vegan Revelation, I would definitely ring ahead to book a table on 07341 896921.
Some form of incentive was provided to visit this venue
read more
Read Some Of Our Recent Reviews
---

A Family Dinner At Thai Thai Restaurant In Chesterfield Thanks to the weather being kind, it had been all hands on deck at Mummy Birds gaff and so we hadn't quite got around to organising Sunday Lunch! There was no way in hell Read The Article

---

Burger and Beer Mondays At The Railway Inn, Shottle It wasn't long ago that we had a Flock outing for Sunday lunch at The Railway Inn at Shottle (and really enjoyed it) so when we were invited to try out their newest offering Read The Article

---

A Visit To The Seafood And Champagne Terrace At The Cavendish Hotel, Baslow I know The Man and I must seem calm and collected to a lot of you, so let me shatter that bubble right now by describing what happened when a certain invite Read The Article

---

Dinner At The Red Lion At The Peak Edge Hotel Sometimes you visit somewhere that is already wonderful but, when you know that there is more to come, gives you that shiver of excitement up and down your spine. This is exactly the feeling Read The Article

---

Dinner At The Recently Refurbished Bay Leaf Indian Restaurant, Heanor Can you believe we were out again with Mummy Bird; she's becoming quite the social Tribal Elder! The last time she'd seen Faz was at his previous restaurant (Nirvana) Read The Article

---

Dinner At The George At Hathersage You can't fail to be impressed by The George at Hathersage when you first clap eyes on it; the huge stone building commands your attention with its imposing beauty. It has its own car park too Read The Article

---

Dinner At The Seafood Cave and Grill, Matlock Bath I love seafood (yes, even cockles and winkles!) so I was beyond excited to receive an invite from the owner of The Seafood Cave and Grill in Matlock Bath, Ian McGhie, to sample the food Read The Article

---

Sunday Lunch At The Spanker, Nether Heage As many of you lovely peeps are aware, we recently did a poll on the blogs Facebook page asking for your favourite venues to have Sunday Roasts at. Well, you all certainly got involved, voting for Read The Article

---

Burgers And Loaded Fries At Cravings Street Food Bistro, Sutton-in-Ashfield Boyf Birds' parents had been to a local eaterie recently that they felt would be right up our street (food), so we decided to pay said venue - Cravings Street Food Read The Article

---