Burgers And Loaded Fries At Cravings Street Food Bistro, Sutton-in-Ashfield
---
Published On Tuesday 12 Apr 2022 by Sticky Beak
See Recent Dining Out Reviews | See All Recent Reviews


Boyf Birds' parents had been to a local eaterie recently that they felt would be right up our street (food), so we decided to pay said venue - Cravings Street Food Bistro in Sutton-In-Ashfield – a visit and see what it was like. There is plenty of on-road parking on the main road after 6pm (it's limited to one hour before this time) and we managed to find a spot dead easily.
Walking through the door into the dog-friendly front bar area (where you can also eat) you are instantly hit by the vivid yellow and grey colour scheme – subtle it ain't!!! This team aren't averse to a bit of self-promotion either as 'Cravings' is stencilled in bold, big font on each wall; can't say that I blame them, if you're confident in what you do, why not shout about it? We grabbed a comfy booth table at the side of the space, though I did like the free standing tables and canary yellow chairs that are in the middle of the venue.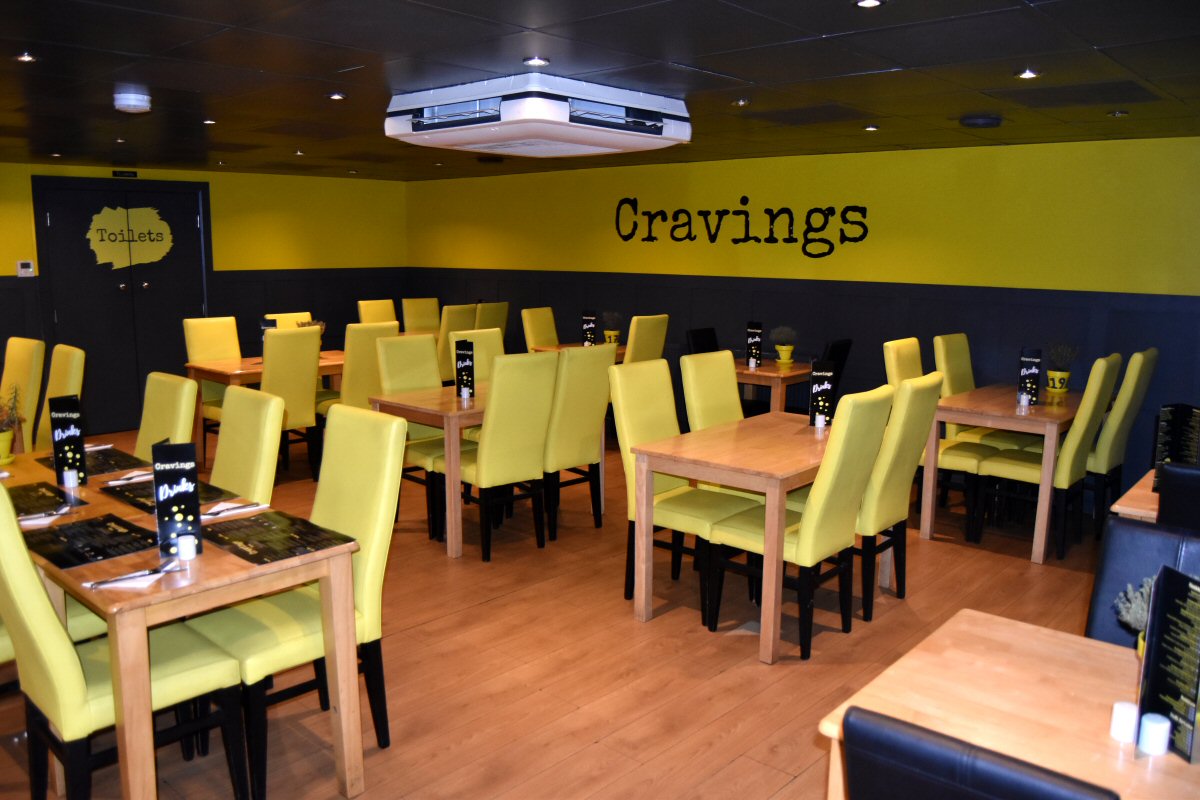 Cravings offer a fab range of drinks and I was sorely tempted to have one of their cocktails, before reminding myself that I was trying to be good during the week and ordering a soda water instead. His Nibs spied Mahou lager on the menu and ordered himself a pint of that to go with his 'Pig Out' burger (£14.95). I fancied the 'Tandoori' burger (£13.95) which comes with standard, seasoned fries in the price – a really nice touch - with a side of Corn on the Cob (sans butter, £3.95) and also asked if Chef would whip me up a side salad of chopped Tomatoes and Gherkins – don't judge me! - which he kindly did. The Man Bird decided to upgrade his fries to loaded ones for an extra £4, opting for the scrummy sounding Salt and Pepper Chicken ones (soy sauce, Chinese 5 spice, garlic, onion, peppers, fresh chillies and crispy chicken pieces).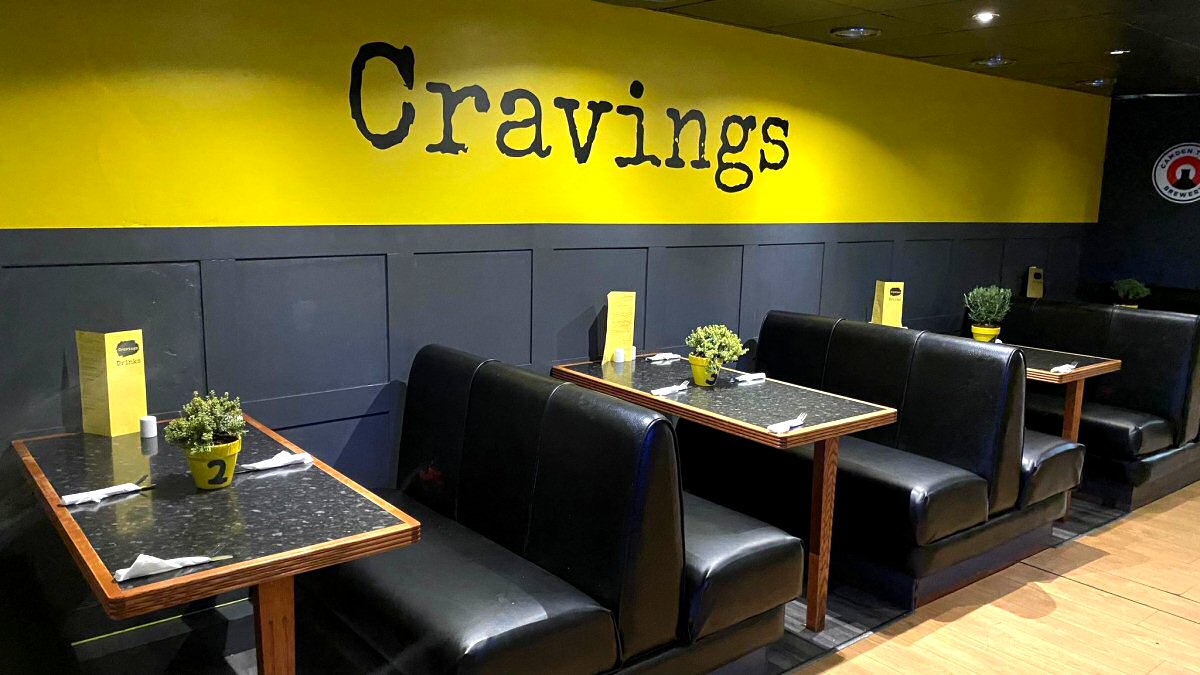 I have to say that from the moment we walked in, the team were all super-friendly and nothing was too much trouble, and before you all ask; no they didn't know who we were! There were plenty of other tables chowing down on the street food offerings from Cravings and everyone was getting some banter from their server. Thanks to its relaxed, diner vibe this is the perfect place for groups of friends and families to enjoy some time together and tuck into simple, flavoursome food. A happy-but-chilled ambience is created by the chart music playing in the background at a level to be appreciated without impacting on conversation.

Channelling its street food ethos, the food came served on plastic trays with logo embossed liners to contain the sauces that ooze out from the burgers and loaded fries. Although we both opted for burgers, there are also small plates to choose from (perfect for those who can't decide on one thing!), sharer platters, pizzas, loaded fries and sides. Little people/kids also have their own menu priced at £5.50 for one course or £7.50 for two courses.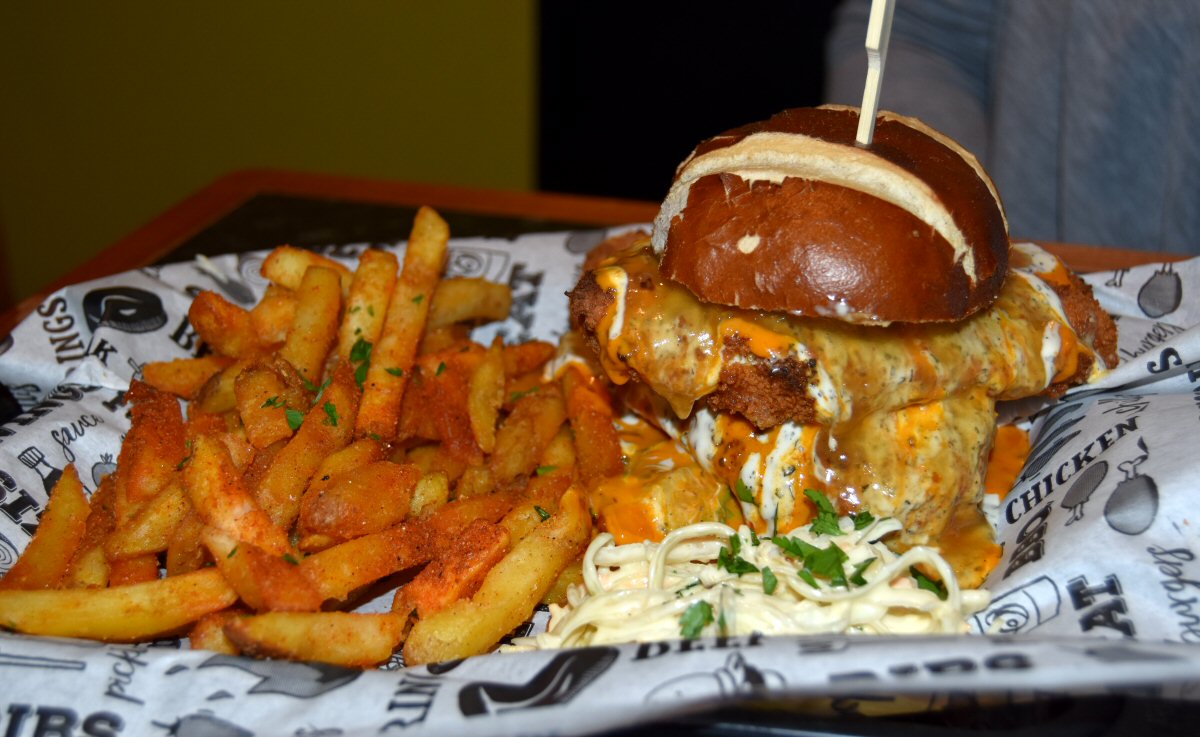 My Tandoori burger comprised a pair of crispy coated chicken breasts smothered in curry sauce, mango chutney and minted yoghurt, all snuggly housed in a pretzel bun with classic garnish of lettuce and tomato. Usually I pick up my burgers, squash it down with my hands and chow down like I've not eaten in a year, but the amount of sauce meant that there was no way I could do this without dousing my clothes in its delights too; cutlery it was then! The chicken was beautifully moist and, combined with all the other flavours going on, my taste buds were in a complete tizzy, not knowing which flavour to focus on first. All the layers of flavour worked harmoniously together to give me a very enjoyable experience, mouthful after mouthful.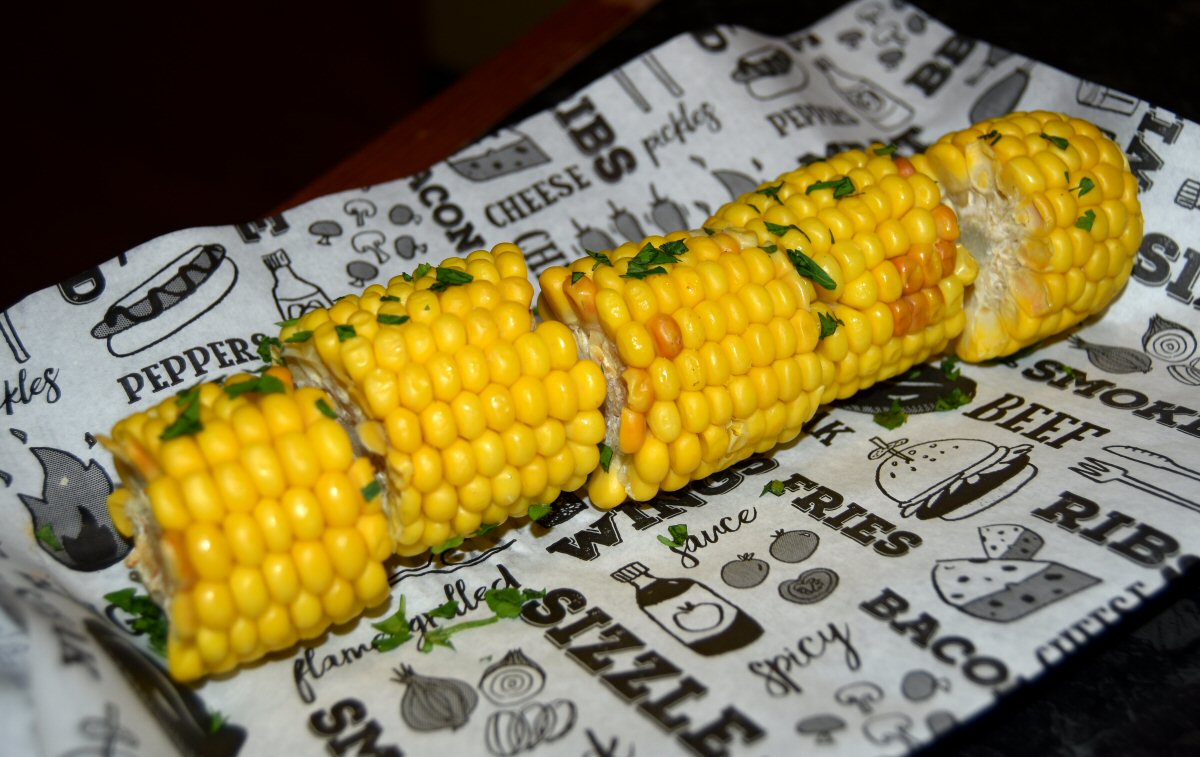 The seasoned fries were liberally dusted with a flavoursome spice mix, whose zing wasn't interrupted by any hint of oil or greasiness from their frying. Even the humble Corn-on-the-Cob was given some care and attention; cutting it into 5 sections made it an absolute doddle to pick up and nibble at, and it had been given a gentle kiss of fresh parsley to ramp up its visual appeal. I was a jolly happy birdie as I relished the contrasting sweet Tomato and sour tanginess of the Gherkins, thanking the amazing customer service at Cravings which allowed me to indulge in this little kink – they hadn't even batted an eyelid at this request!




The Man Bird had had a challenging day at work; his poor little brain was frazzled and had used a ridiculous amount of energy, which obviously needed replenishing, a job that the pair of 4oz beef patties in the 'Pig Out' burger were more than up to. As if the juicy beef twins weren't enough, they were joined in the protein party by loads of succulent pulled pork that was slathered in a fab smoky BBQ sauce; yum, yum! Now in this morsels description its says 'cheese' but this is perhaps the biggest understatement in the cosmos: there was so much molten cheese it formed a lake over the entire serving platter, not that this fromage-o-phile was complaining. As with my burger, there was no way His Nibs was going to be able to man-handle this minx so he also resorted to using cutlery to dismember each component and greedily snaffle it down.




All too often the humble fries play second fiddle to the burger, but at Cravings Street Food Bistro in Sutton the Chef elevates these beauties into something worthy of the limelight. The Man Bird had gone for Chinese inspired salt n pepper ones and you certainly get plenty of bang for your buck; there were masses of soy and 5-spice pimped fries topped with bite-size pieces of crispy chicken breast, sliced peppers and onions, all topped with colourful slices of fresh red and green chillies. All aboard the spice train to heat central it was, then!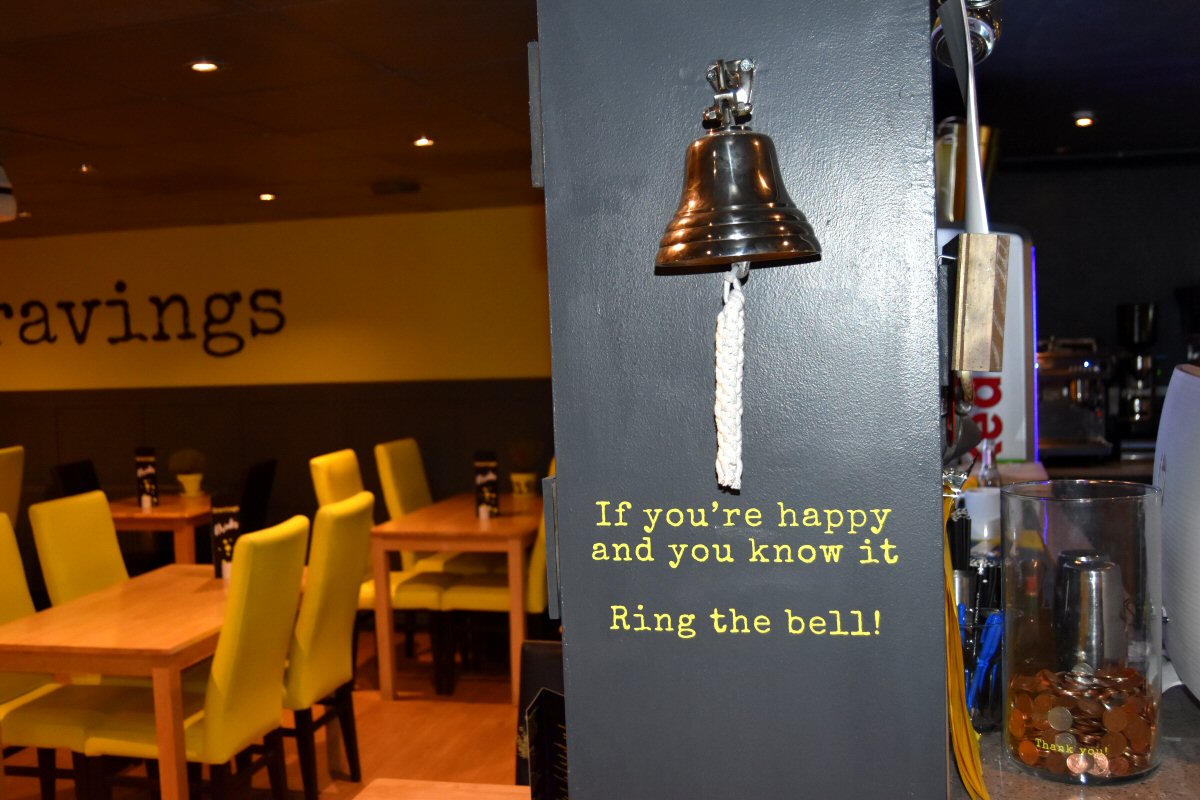 Whilst we'd been stuffing ourselves stupid the Cravings team members had come over to check we were happy with the food, as well as checking if we needed more drinks. Everything was done with a smile and they took time to have a natter, which was nice. When they'd cleared away our mains they asked if we fancied a dessert and, even though we really knew we hadn't got room, we tortured ourselves with a look at the scrumptious offerings that included sweet pizzas, loaded pancakes and waffles topped with all manner of things to tempt and tantalise. We did admit defeat and declined on this occasion, but it's a good excuse to visit Cravings again.

Hot Wings happily awarded to this down-to-earth, modern street food eaterie. Best of all there is a whopping 20% discount on food Monday-Thursday that is available indefinitely until further notice – perfect for school holiday treats!! To book a table ring 01623 406452.
No incentive was provided to visit this venue
read more
Read Some Of Our Recent Reviews
---

A Family Dinner At Thai Thai Restaurant In Chesterfield Thanks to the weather being kind, it had been all hands on deck at Mummy Birds gaff and so we hadn't quite got around to organising Sunday Lunch! There was no way in hell Read The Article

---

Burger and Beer Mondays At The Railway Inn, Shottle It wasn't long ago that we had a Flock outing for Sunday lunch at The Railway Inn at Shottle (and really enjoyed it) so when we were invited to try out their newest offering Read The Article

---

A Visit To The Seafood And Champagne Terrace At The Cavendish Hotel, Baslow I know The Man and I must seem calm and collected to a lot of you, so let me shatter that bubble right now by describing what happened when a certain invite Read The Article

---

Dinner At The Red Lion At The Peak Edge Hotel Sometimes you visit somewhere that is already wonderful but, when you know that there is more to come, gives you that shiver of excitement up and down your spine. This is exactly the feeling Read The Article

---

A Tasty Lunch At The Vegan Revelation Cafe, Belper Vegans, you have got an absolute bobby dazzler of a cafe here; non-vegans prepare to have your taste buds bowled over and have your 'no meat' notions over-turned - and I do include myself Read The Article

---

Dinner At The Recently Refurbished Bay Leaf Indian Restaurant, Heanor Can you believe we were out again with Mummy Bird; she's becoming quite the social Tribal Elder! The last time she'd seen Faz was at his previous restaurant (Nirvana) Read The Article

---

Dinner At The George At Hathersage You can't fail to be impressed by The George at Hathersage when you first clap eyes on it; the huge stone building commands your attention with its imposing beauty. It has its own car park too Read The Article

---

Dinner At The Seafood Cave and Grill, Matlock Bath I love seafood (yes, even cockles and winkles!) so I was beyond excited to receive an invite from the owner of The Seafood Cave and Grill in Matlock Bath, Ian McGhie, to sample the food Read The Article

---

Sunday Lunch At The Spanker, Nether Heage As many of you lovely peeps are aware, we recently did a poll on the blogs Facebook page asking for your favourite venues to have Sunday Roasts at. Well, you all certainly got involved, voting for Read The Article

---