Steak Night At The Kedleston Country House
---
Published On Sunday 10 Apr 2022 by Sticky Beak
See Recent Dining Out Reviews | See All Recent Reviews


The Man Bird has recently had surgery so we haven't been able to travel far, but his patience has paid off and recovery has reached a stage where longer journeys are possible. One of the owners of The Kedleston Country House, Helen, invited us along to try out the Tuesday evening 'Steak Night', so off we trotted in the trusty jalopy, eager to return to this gorgeous venue.
On this particular evening a wedding fair was also being held, so we were dining in the restaurant itself rather than the Orangery where we dined on our last visit. This is one of the brilliant things about The Kedleston Country House; its versatility allows multiple events to happen side-by-side with neither impacting on the other. Anyhow, one of the lovely team escorted us through to the dining room, taking our coats to be hung up as she did so (a very nice touch), before handing us over to one of the restaurant members.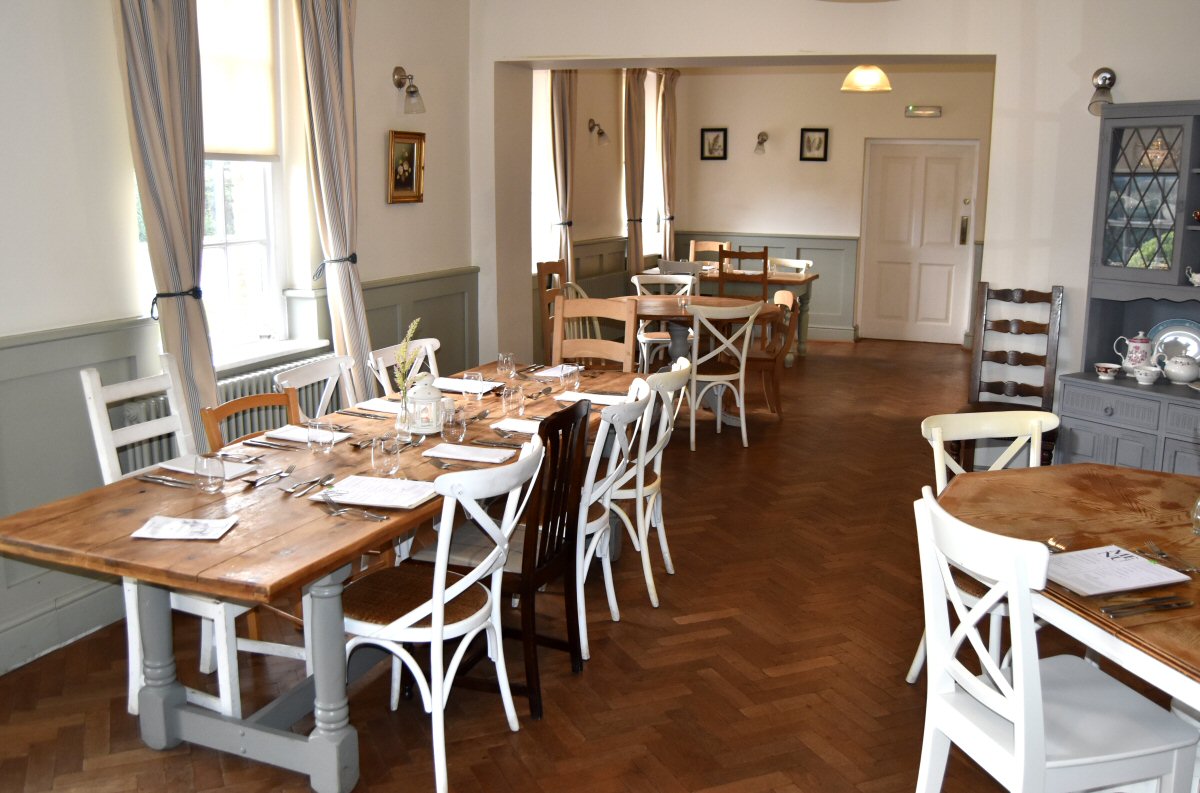 The parquet flooring looked as beautiful as ever, its honeyed tones and wood grain enhanced by a subtle lacquer and the cream, nougat and moody greyish blues of the decor created a calm, relaxed ambience. Chalk paint gives the chunky wood tables a bit of zhuzh, channelling a chic, continental aesthetic, mirrored by the mis-matched, mid-back chairs that pair with them. It only took moments for me to leave the cares of the world behind and hunker down into the tranquillity that the restaurant exudes.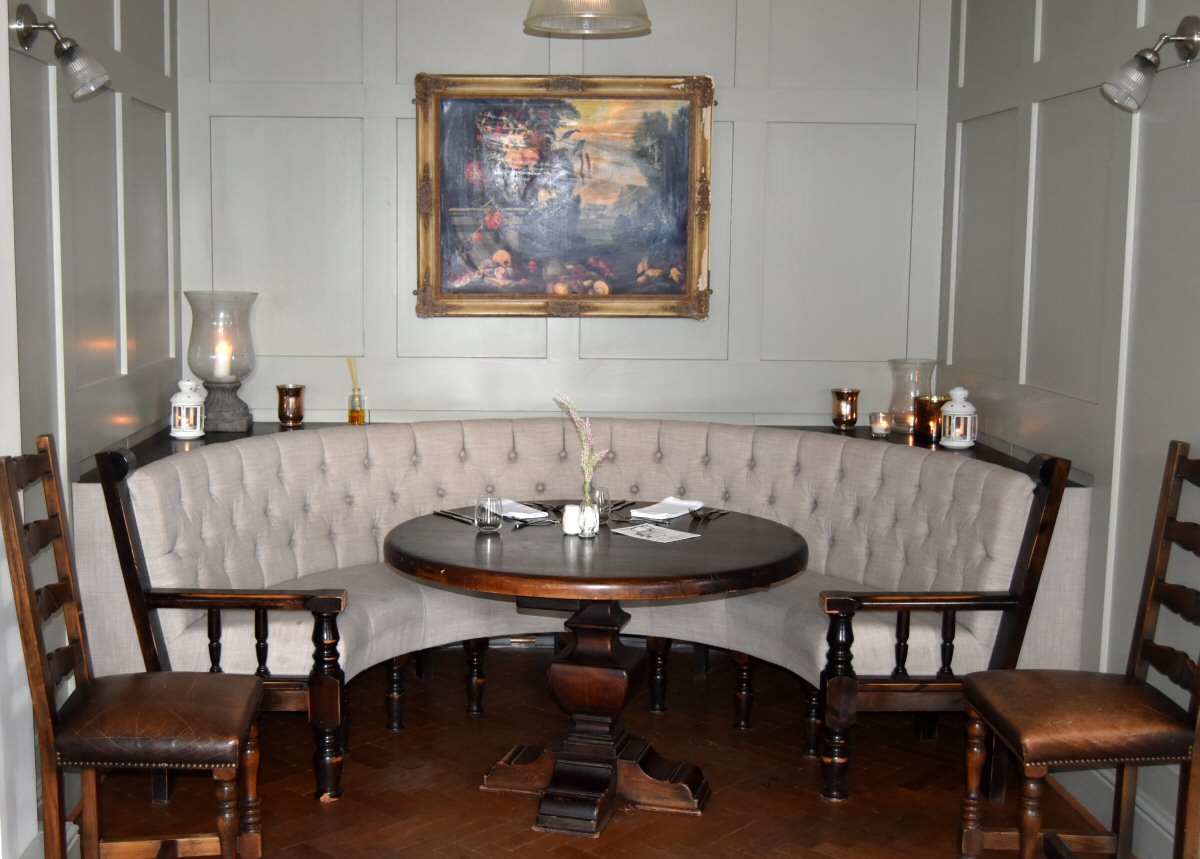 The Kedleston Country House has a great selection of drinks (both alcoholic and alcohol free), featuring cocktails, wines, and draught beers from Thornbridge Brewery. Gin lovers are particularly well catered for, but there are plenty of other spirits available too. I opted for a glass of Malbec and The Man had a pint of Poretti, and with the drinks taken care of it was time to focus on the food.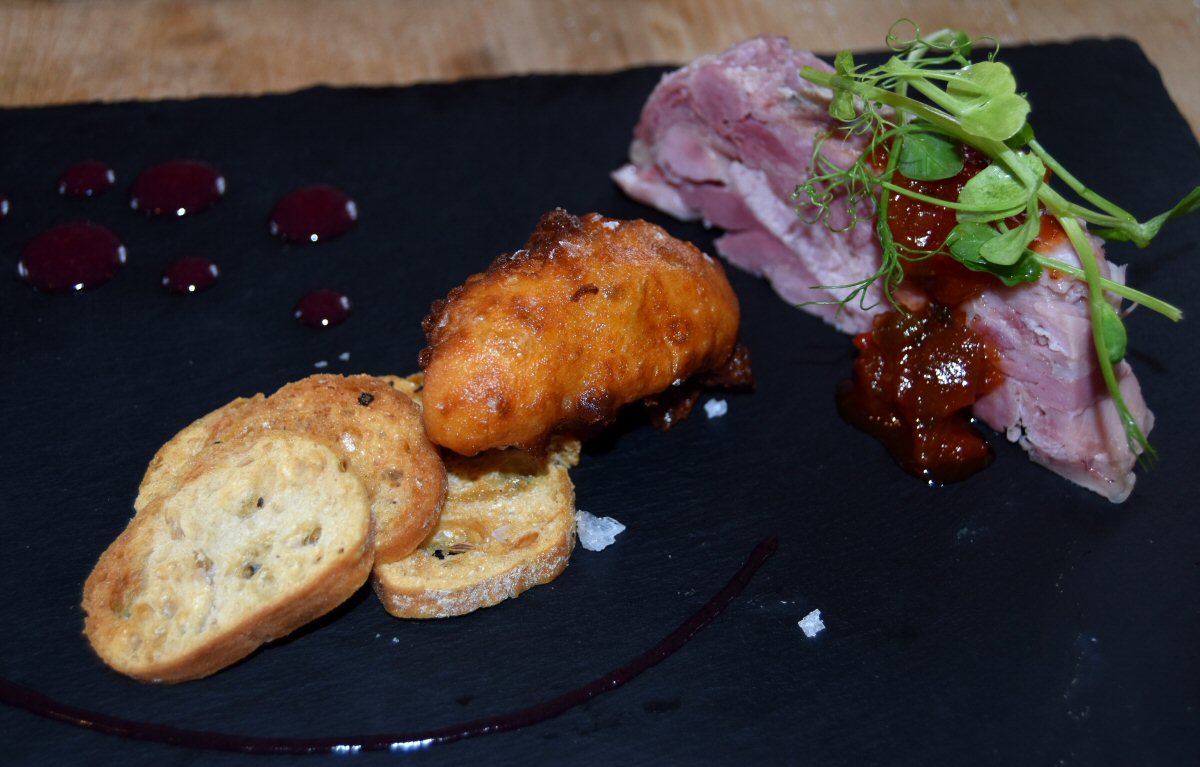 To begin our meal we chose the Homemade Ham Hock Terrine with Sweet Chilli Sauce, Chorizo Beignet and Cranberry Purée (£8.50, His Nibs' choice) and the Chicken and Wild Mushroom Parfait with Crostini breads and Red Onion Marmalade (£6.25, my selection). We didn't have long to wait before our starters were delicately placed before us, their colours really standing out against the dark slates they sat on.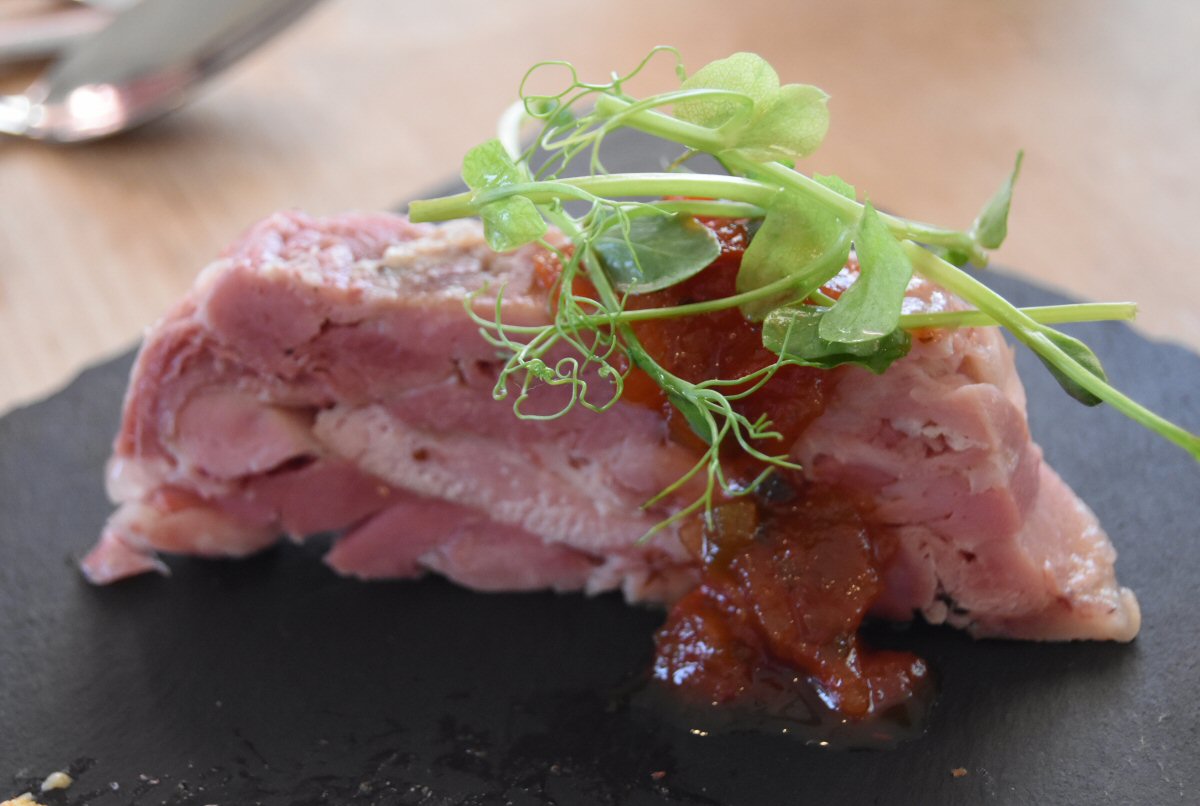 Standing proudly on one slate was the embodiment of a 'boosted' terrine, and by that I mean that this morsel was the Tom Hardy/Channing Tatum/Insert hunk of choice of the terrine world! If you wanted something that could sate your appetite with a simple look at it, this bad boy had got your back! Happily, it tasted every bit as good as it looked, as The Man Bird was all-too-pleased to tell me whilst I looked longingly at his plate (to no avail, I might add!). I was given a piece of the Chorizo Beignet to try though, and this was delicious with the sweet and smoky character of the Chorizo at its heart coming through clearly on my palate. The golden outer of the Beignet was gorgeously crisp and crunchy too when cut into – and it wasn't at all greasy either, despite being fried. A pleasant warmth was provided by the Sweet Chilli Sauce which was punctuated with a sharp tartness from the Cranberry Purée, and both of these elements kept the taste buds busy.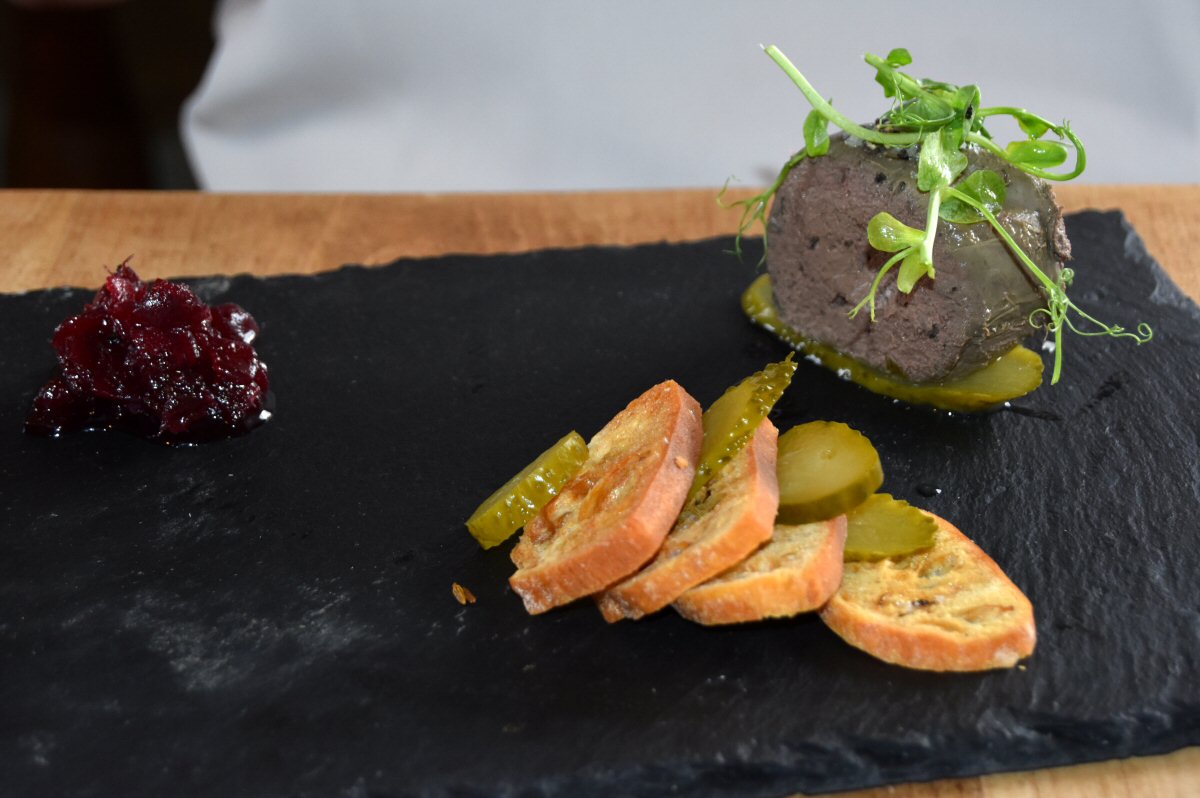 My own choice of starter, the Chicken and Wild Mushroom Parfait, might not have had the same instant visual appeal of the 'Tom Hardy Terrine' but my goodness, it sparkled in terms of flavour! Silky smooth and indulgently rich, this minx sizzled over my tongue seductively and lingered there, eager to delight my senses – which it did in spades! Skilful seasoning enhanced the flavours of the poultry, bringing out its sweet and creamy notes and emphasising the earthiness of the wild mushrooms. As soft and smooth that the parfait was, so was the crunchiness of the thin Crostini slices that added a great textural element to this dish. Thin slices of pickled Gherkin added a superb zing that, faced with so much creaminess, my palate really appreciated; the sharp, ozonic tang prevented this decadent starter from sliding into cloying territory.

Several members of the team had come to check we were enjoying our starters and happily cleared away two squeakily clean slates. In the lull between courses I did my usual trick of having a (not-so-subtle!) gleg around the room at what was happening, spying a quartet of children on a table further down the room. I can't recall seeing smaller folk at The Kedleston Country House before, so it was lovely to see that this venue promotes inclusive family dining; I strongly feel that children should experience more formal dining from an early age – not only to learn manners and etiquette, but also to expand their palates.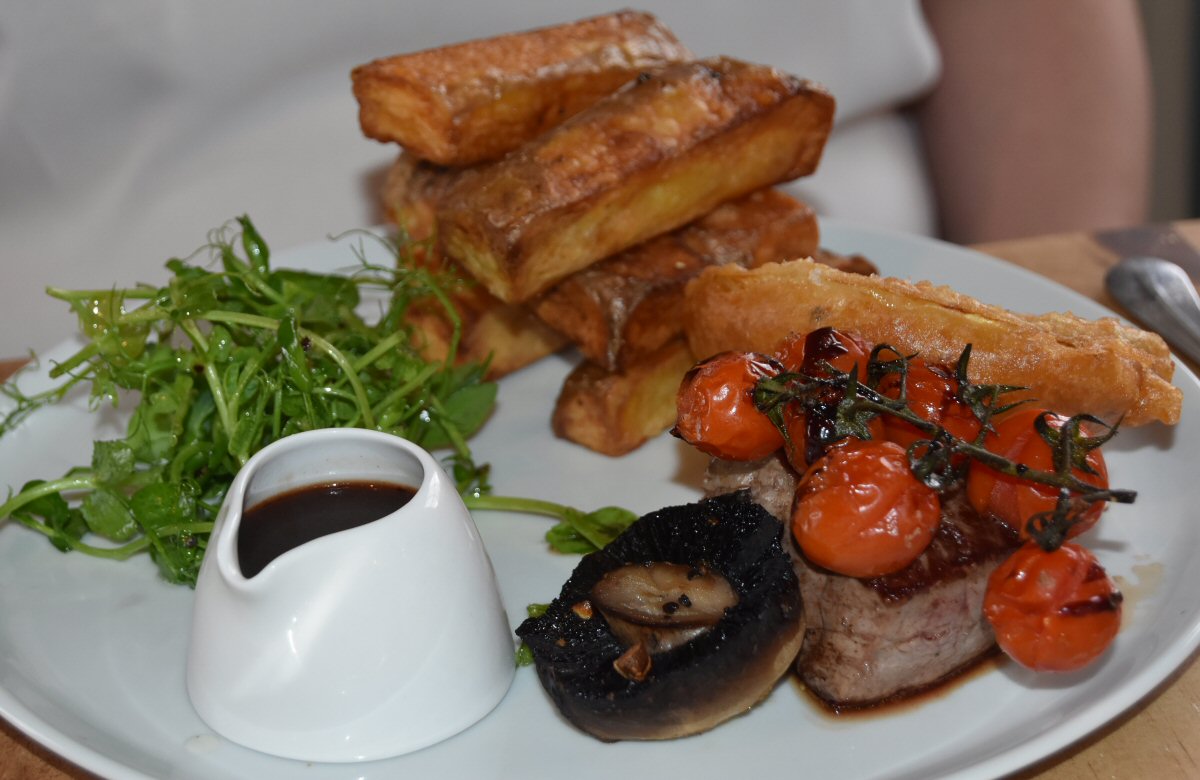 I'm going to mention the feature of The Kedleston Country House's Steak Menu that I really, really liked: the Fillet and Ribeye Steaks both came with a choice of weights; 4 or 8oz (£17.50/£35) and 5 or 10oz (£12/£24.50) respectively. Now, it might seem like a small thing, but for those keen to manage their portion sizes (for whatever reason) this is a god-send!

I opted to have the smaller, 4oz Fillet steak and His Nibs went for the larger, 10oz Ribeye morsel. There was also a 5oz Rump and 16oz Chateaubriand for two available on the menu and all the steaks come from the award winning butchers Owen Taylor and Sons. Pleasingly, each steak is served with full garnish of Balsamic Cherry Tomatoes, Garlic Roasted Mushrooms, Jenga Chips and a sauce of your choice from Béarnaise, Red Wine Jus or Peppercorn. I also added a side of pan seared Asparagus with Beetroot Purée (£6.50).




As with our starters, the presentation was exquisite; the Jenga Chips really were set up as if preparing for an edible bout of this iconic game, the Tomatoes were still on the vine and lined up like soldiers being presented to their commandant and the Mushroom glistened seductively with garlicky butter. With the obligatory photos taken, we dived in eagerly.




My Fillet was addictively soft and moist, perfectly rested to maximise its natural juiciness and its beautiful sweetness caressed my taste buds. For a moment I bitterly regretted not ordering the larger version, but in truth I couldn't have finished it – you certainly get a generous plateful of yumminess at The Kedleston Country Houses' steak night. I had gone for a simple Red Wine Jus to partner the beef and it was delectably rich in flavour. The Man Bird was just as smitten with his juicy Ribeye, smiling happily as he popped each slice into his greedy mouth. There had been a ridge of fat along the edge of the Ribeye that retained all the succulence of the beef as it was cooked, as well as imparting a sweet yet deep element to the steaks' flavour profile in the mouth. Sometimes Peppercorn sauce can dominate and overwhelm, which when you've got a quality steak is the last thing you want! Thankfully Chef produces one that is thick, creamy and has just enough heat to tantalise without smothering the other flavours.




If it is possible to fall in love with chips then The Man and I would be slugging it out for the attentions of these mighty Jenga boys (bet you're all inadvertently humming a certain party tune now, aren't you?!). With their seasoned, super-crisp outers, firm, nutty tasting inners and generous proportions there was nothing about these spuds that didn't have us singing their praises. Humble, under-rated Asparagus was also given the VIP treatment, its clean optimistic flavour enhanced with a drizzle of Olive Oil, punchy Parmesan shavings and earthy, sweet Beetroot purée. And then of course there were the small-but-mighty Cherry Tomatoes whose naturally exuberant taste was intensified during roasting and by the addition of a sticky Balsamic glaze. Yep, this had been a truly memorable steak meal!

Chef James Farrell changes the dessert selection (all homemade, by the way) on a daily basis and has a seasonal slant on his kitchen's offerings to ensure that each component is at its prime, flavour-wise. Him Indoors called dibs on the Lime and Lemon Cheesecake pretty much immediately, but I couldn't decide between the Vanilla Panna Cotta with Rhubarb Compote, White Chocolate sauce and Shortbread or the Cassis Poached Pear with Chantilly Cream. It turns out that the restaurant manager had heard my dilemma and arranged for both sweet treats to be brought out.




This was clearly an evening for stupendous food as the Cheesecake was quickly declared to be one of the nicest His Nibs had ever had, and having tried a mouthful I certainly agree; the texture was wonderfully light, despite being insanely rich! A gentle breeze of citrus wove through the creamy, mousse-like body, wafting its delightful freshness over the palate and a deep base of shortbread crumb just elevated this onto another level.




My Vanilla Panna Cotta had a glorious texture and warm, rounded Vanilla Bean taste which would've stood quite happily alone as a dessert, but the addition of sharp, bright Rhubarb and velvety White Chocolate had me in raptures. A simple (it was anything but!) round of buttery, crumbly Shortbread completed this dessert, melting instantly like rice paper on the warmth of my tongue. There literally aren't enough superlatives to do this dessert justice! Chef himself would've deserved praise for this, but it turns out it was done by a member of his kitchen team called Tim, so 'Big up for the man like Tim!'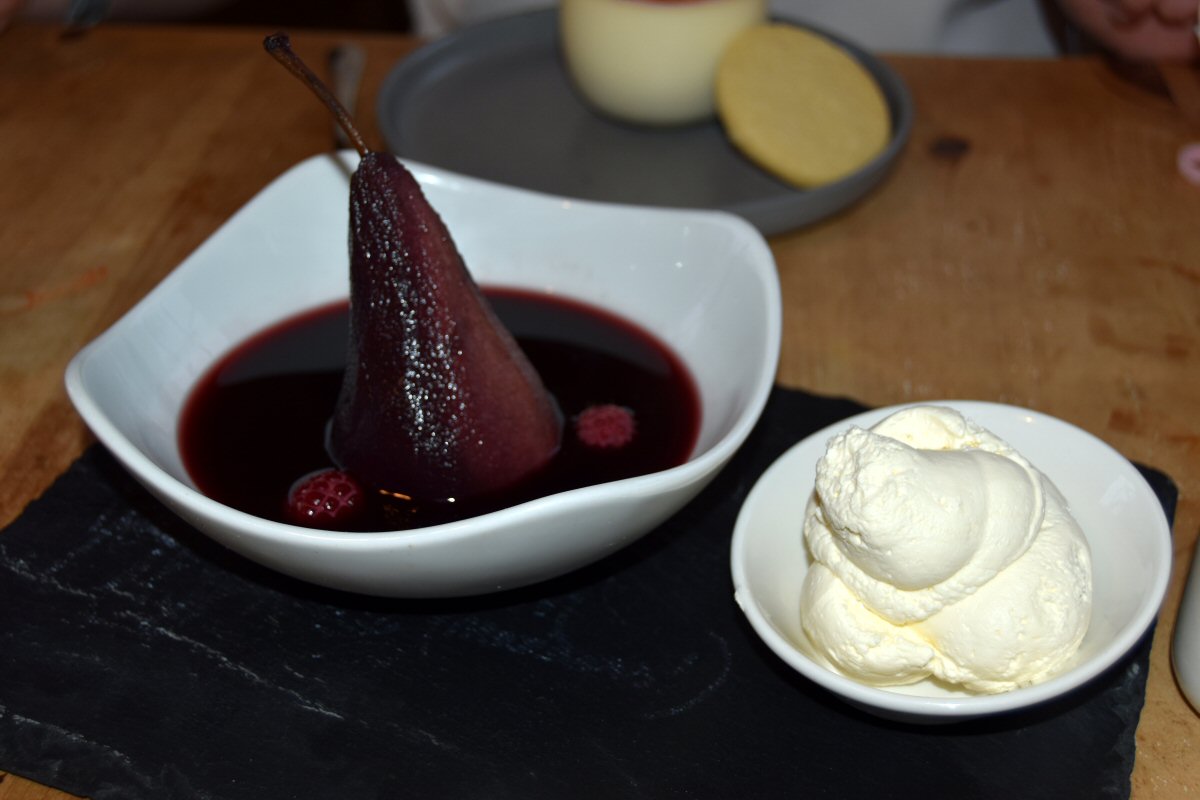 I do like a poached Pear to conclude a meal sometimes; it's simple and uncomplicated, yet very satisfying if done well and not faffed with too much. Chef James and his team pulled yet another one out of the bag here, so to speak. The poached-to-perfection fruits' own natural, delicately fragrant taste was scrummy, but the poaching liquor added another grade of flavour – and what a flavour! With its Cassis base already pimping this liquid up, the addition of spices and other fruits then turned this poaching liquor into something immense: fruity, intense, bold and certainly the most magnificent specimen I've come across!

I was so determined to hold on to this intoxicating taste that I didn't even have a post-prandial coffee! Not that I think we could've managed a coffee anyway because our tummies were literally full to the brim. I think by now you've all gathered the quality of the meal, service and surroundings, so I hardly need say this (though I will anyway), but Hot Wings thoroughly deserved at The Kedleston Country House. Thank you Helen for your kind invitation, we had a marvellous experience thanks to your team.
Some form of incentive was provided to visit this venue
read more
Read Some Of Our Recent Reviews
---

A Family Dinner At Thai Thai Restaurant In Chesterfield Thanks to the weather being kind, it had been all hands on deck at Mummy Birds gaff and so we hadn't quite got around to organising Sunday Lunch! There was no way in hell Read The Article

---

Burger and Beer Mondays At The Railway Inn, Shottle It wasn't long ago that we had a Flock outing for Sunday lunch at The Railway Inn at Shottle (and really enjoyed it) so when we were invited to try out their newest offering Read The Article

---

A Visit To The Seafood And Champagne Terrace At The Cavendish Hotel, Baslow I know The Man and I must seem calm and collected to a lot of you, so let me shatter that bubble right now by describing what happened when a certain invite Read The Article

---

Dinner At The Red Lion At The Peak Edge Hotel Sometimes you visit somewhere that is already wonderful but, when you know that there is more to come, gives you that shiver of excitement up and down your spine. This is exactly the feeling Read The Article

---

A Tasty Lunch At The Vegan Revelation Cafe, Belper Vegans, you have got an absolute bobby dazzler of a cafe here; non-vegans prepare to have your taste buds bowled over and have your 'no meat' notions over-turned - and I do include myself Read The Article

---

Dinner At The Recently Refurbished Bay Leaf Indian Restaurant, Heanor Can you believe we were out again with Mummy Bird; she's becoming quite the social Tribal Elder! The last time she'd seen Faz was at his previous restaurant (Nirvana) Read The Article

---

Dinner At The George At Hathersage You can't fail to be impressed by The George at Hathersage when you first clap eyes on it; the huge stone building commands your attention with its imposing beauty. It has its own car park too Read The Article

---

Dinner At The Seafood Cave and Grill, Matlock Bath I love seafood (yes, even cockles and winkles!) so I was beyond excited to receive an invite from the owner of The Seafood Cave and Grill in Matlock Bath, Ian McGhie, to sample the food Read The Article

---

Sunday Lunch At The Spanker, Nether Heage As many of you lovely peeps are aware, we recently did a poll on the blogs Facebook page asking for your favourite venues to have Sunday Roasts at. Well, you all certainly got involved, voting for Read The Article

---

Burgers And Loaded Fries At Cravings Street Food Bistro, Sutton-in-Ashfield Boyf Birds' parents had been to a local eaterie recently that they felt would be right up our street (food), so we decided to pay said venue - Cravings Street Food Read The Article

---