A Flock Sunday Lunch At The George, Clay Cross
---
Published On Sunday 3 Apr 2022 by Sticky Beak
See Recent Dining Out Reviews | See All Recent Reviews


We - Mummy Bird, The Man and me - finally made it to The George Country Pub and Dining in Clay Cross, which is the sister venue to The Three Horseshoes in the town, for Sunday Lunch. Craig and his team have done a lovely job, thus far (it's an on-going process), of refurbishing the premises and I had a serious case of carpet envy when I spied the checked beauty in our section of the pub! The George has a fairly standard colour palate, with slate coloured paint on some walls and a burgundy tone on others (which partners the burgundy banquette seating well), but some of the original, warm sand-toned stone walls have been kept, which is lovely. It isn't all predictable though; the lighting is distinctly modern with an industrial feel to it, and the bar has beautiful copper accents to it which bring it bang up-to-date.
Like a lot of pubs in town locations, parking is at a premium; I think there's maybe about a dozen spaces on-site, but there is off-road parking on the road – just don't park too close to the junction, it's a busy one! Oh and remember to put your hand-brake on as well, because you're on a hill! The weather was bloody awful, so we hurried inside and were shown to our table which was adjacent to the bar in the smaller, rear portion of the pub.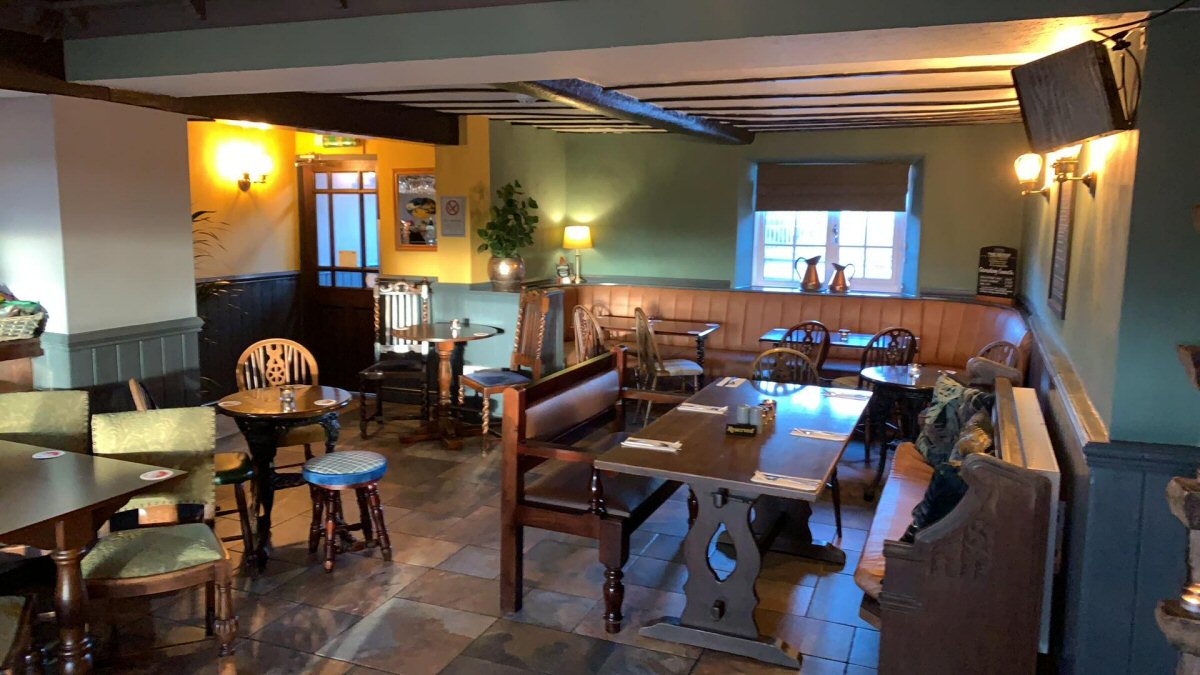 Craig came over with some menus and took our drinks orders, then left us alone for a bit to decide what we fancied. Mummy Bird had chosen a cracking bottle of Pinot Grigio for us to share and The Man had a pint of Estrella, so we toasted our continued good health and then turned our attention to the food selection. All three of us decided to skip starters in favour of having pudding after our mains if we'd still got room, although the starters were very tempting.




The Man Bird and I both opted for the Beef, £14 (served pink as standard, but you can request it to be cooked more) and Mummy Bird ordered the Chicken Supreme, £13, though she was seriously tempted by the Fish Pie with Seasonal Vegetables, £16. Once our order had been taken it wasn't long before a couple of members of the team were placing them before us and asking if we wanted any sauces etc. I requested Horseradish to go with my Beef and a little disposable pot soon came my way.




Chef certainly doesn't skimp on his portions at The George; both His Nibs and I commented on how large the two slices of Beef were before we eagerly tucked in, and Mummy had a huge piece of Chicken to savour. The Beef was gorgeously soft in the mouth, with a beautiful depth of flavour to its tender fibres that lingered nicely on the taste buds and had The Man and I both smiling contentedly. Mummy Bird was equally happy with her Chicken Supreme; the breast meat was creamy in taste and wonderfully moist still rather than dried out and withered – Chef obviously knows his craft.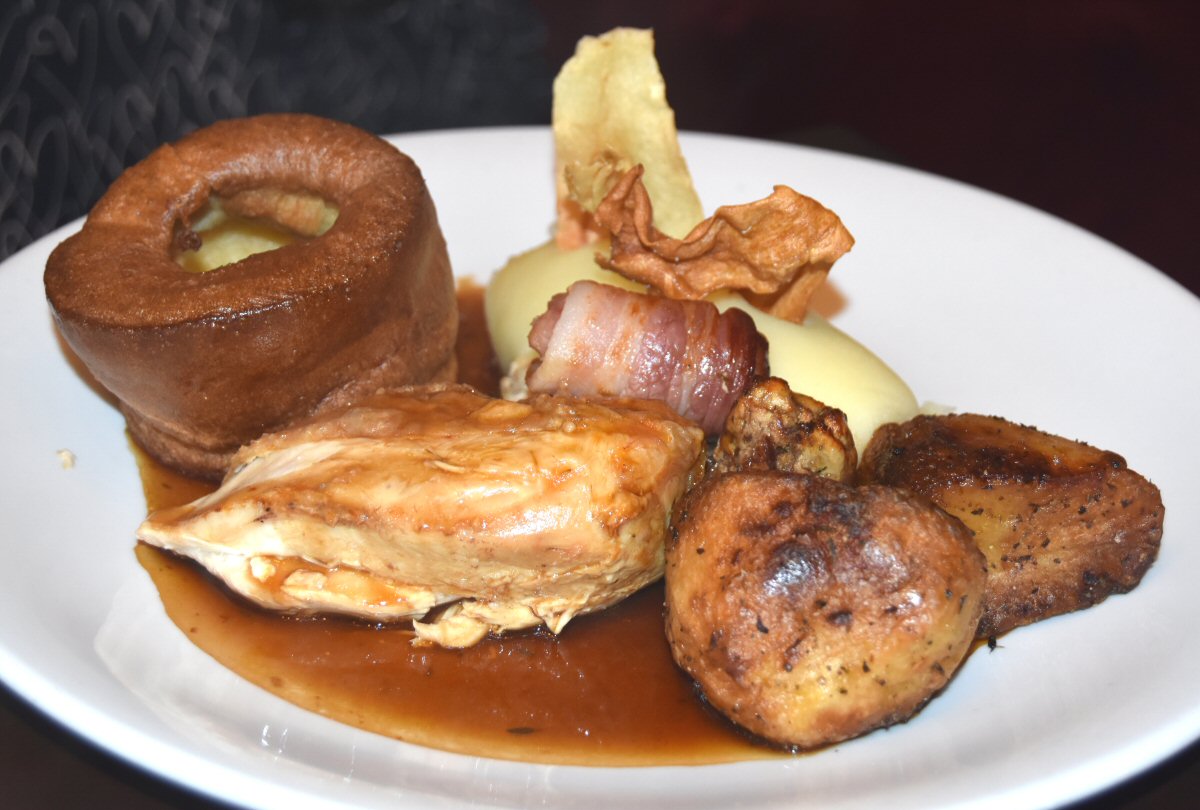 Accompanying the meats on the plate were crispy roasties of a superb David Dickinson brown shade, contrasting with the mound of pale, creamy mashed potato that had been garnished with ultra thin, roast Parsnip Crisps. Craig serves proper Sausage meat stuffing with his roasts and it tasted magnificent; beautifully deep in taste and a nice texture to it.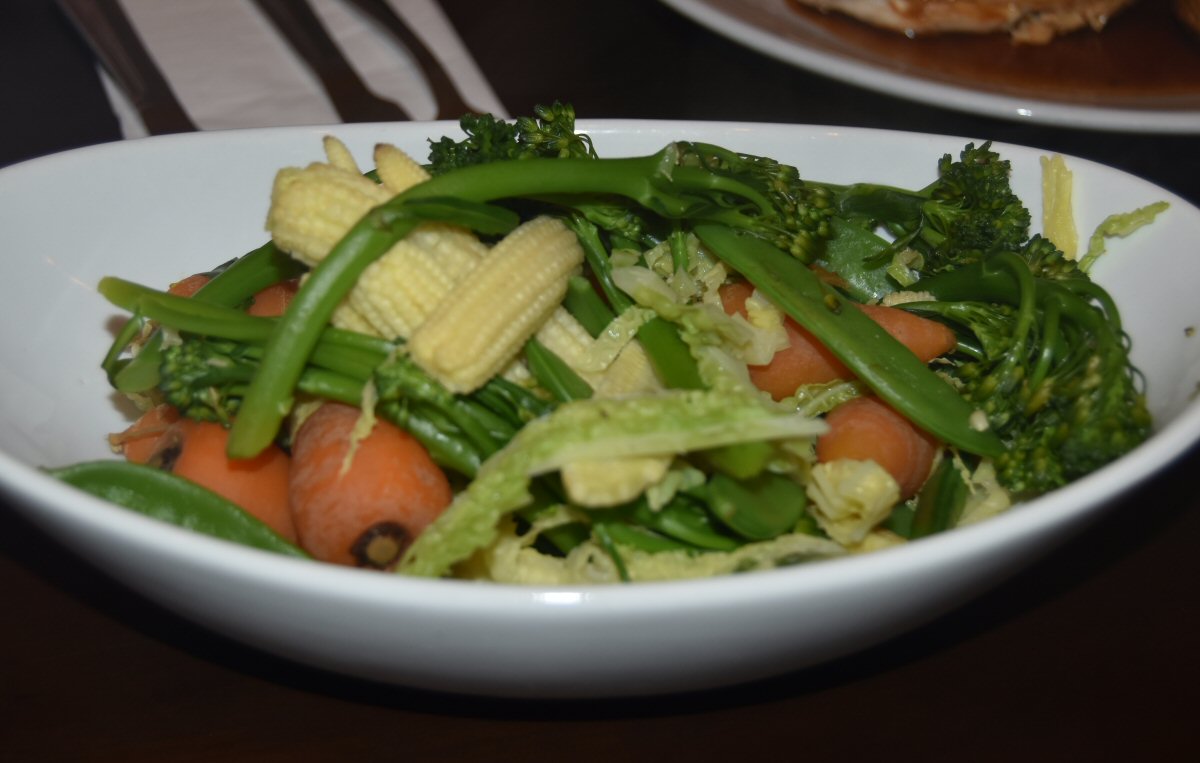 A large bowl of vegetables and a chunky gravy boat filled to the brim with extra meat-juice gravy were also set before us. I played 'Mum' and served everyone with Baby Sweetcorn, Mange Tout, shredded Cabbage and whole baby Carrots from the bowl, whilst The Man poured on some extra gravy (not that you need it, there is more than enough already served on to your plate!). All the vegetables were cooked spot-on, so they were still nicely firm and bouncing with flavour. The next minutes were spent quietly as we all dedicated ourselves to filling up our tummies and, working steadily and diligently, we soon had a trio of spotless plates in front of us.

In all honesty, we were pretty full at this point, but we had already mentally committed to pudding and no-one likes a piker, do they? Mummy Bird got dibs on the Sticky Toffee Pudding with Smith's Creamland Ices Vanilla Ice cream (£6.95) because His Nibs was dithering about, so he opted for the Homemade Cheesecake of the Day (£6.95) - Malteser, on this occasion - with Smith's Ice Cream, and I had the Chocolate Ganache with Passion Fruit Curd and Blood Orange Sorbet (£7.50).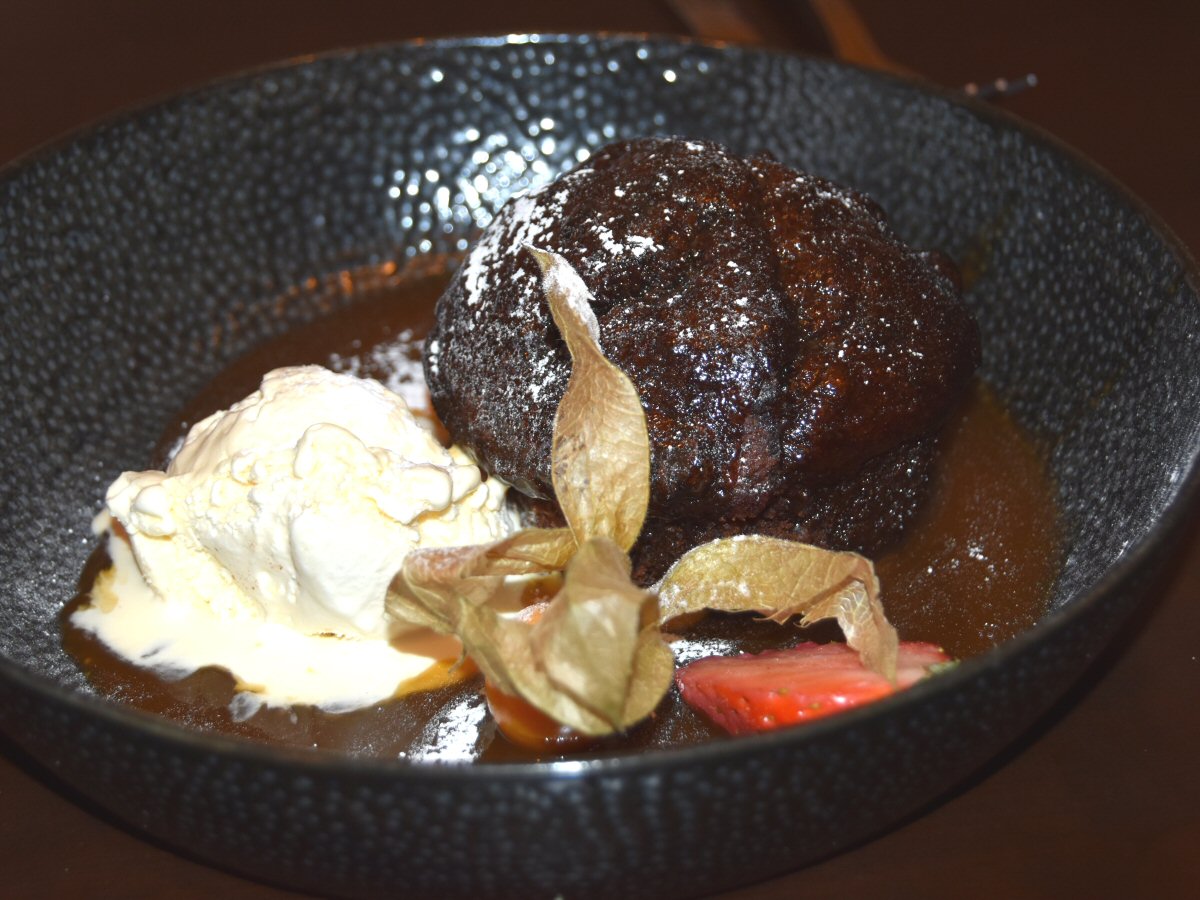 At The George, the Sticky Toffee Pudding is a dinky, individual number that looks like it was made in a muffin tin. Mummy Bird said that it was delicious, with a superbly rich taste and pleasing texture and that the Ice Cream was just as rich and really creamy in her mouth. A simple garnish of Physallis and Strawberries prettied things up nicely for presentation purposes (as well as tasting scrummy!).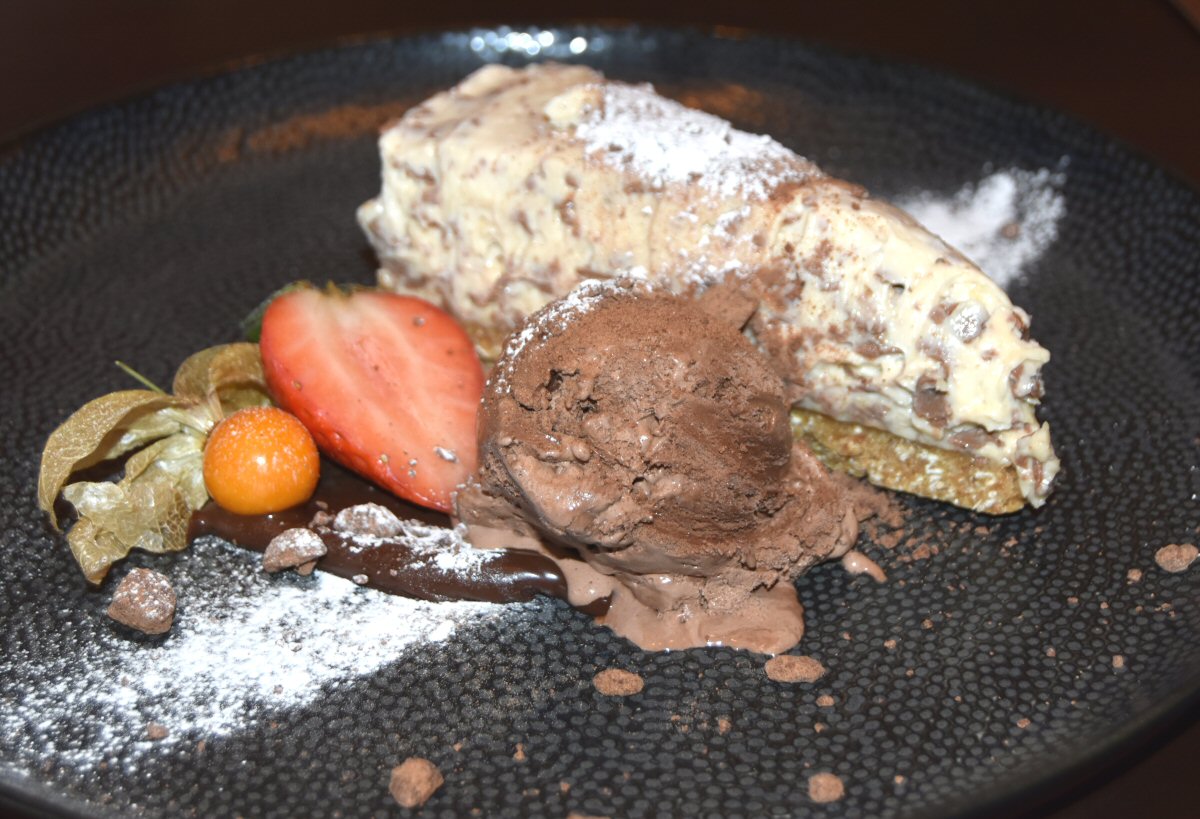 The Man Bird was extremely happy with the large wodge of Malteser-flecked Cheesecake placed before him, and I was passed over a bit to try. I loved the faintly malty flavour it had running through it all, rather than just getting this note when I bit into a Malteser; it seemed to marry the base and body together better this way, too. To enhance the visual appeal of this fairly simple dessert, Chef had again used fresh fruits and it worked nicely here as well.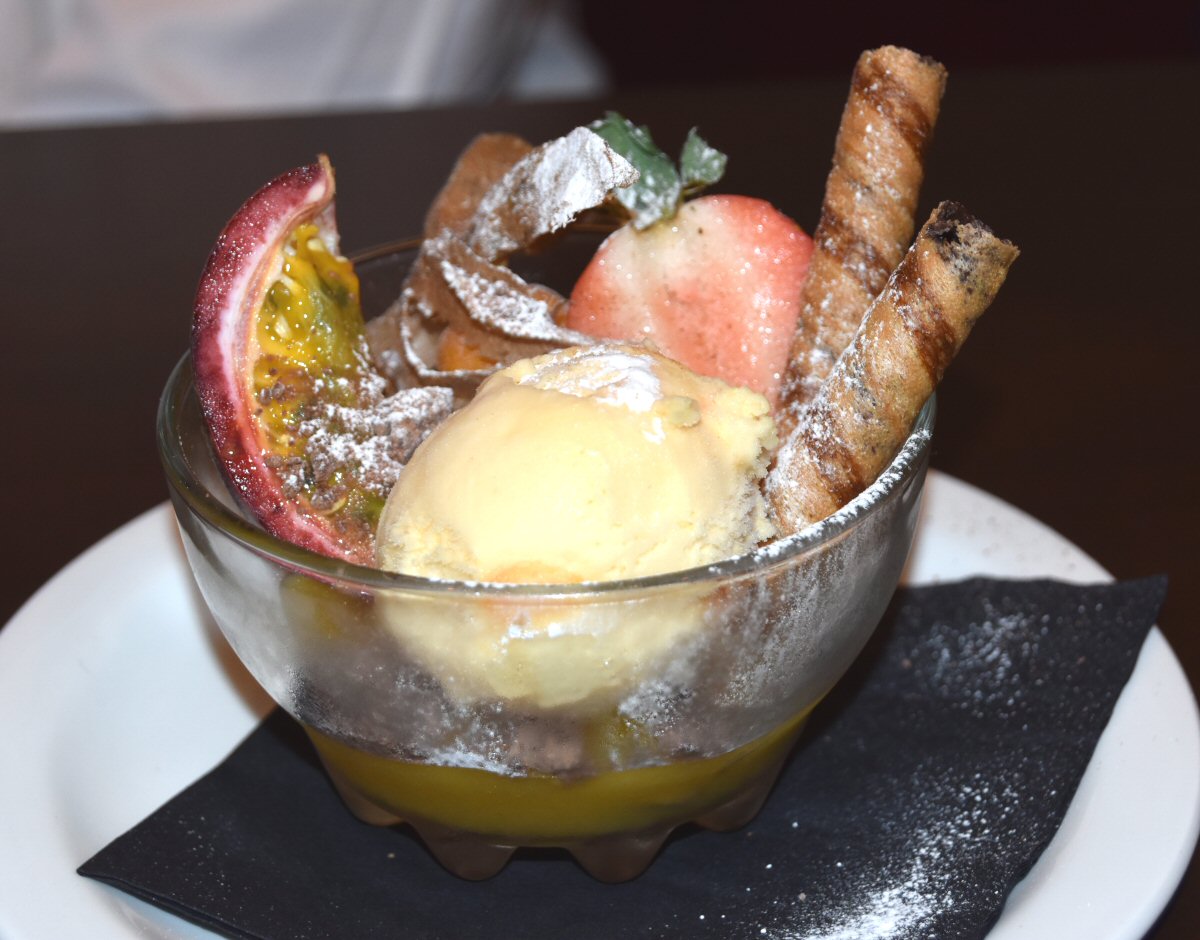 Now, we all know that the Chocolate Ganache was going to be incredibly rich and indulgent (and therefore you would want less of it), but I was a little disappointed in the amount of this morsel I got, if I'm being perfectly honest. Despite its clear luxury factor, it did get a bit 'lost' in the fruity notes of the Blood Orange Sorbet and intense taste of the Passion Fruit Curd (of which there was quite a lot!). With it being the most expensive dessert, other than the cheese board, I think I perhaps noticed its lesser quantity even more – well, we're all hyper-aware of things costing more at the moment, aren't we? That's not to detract from the deliciousness of this dessert though; it was very moreish.

Throughout our time at The George, the service from the team had been bang on the mark; check backs had been done at each course, drinks refreshed etc. , and all done with politeness and a smile, so you can't ask for more than that, can you? Hot Wings awarded to this brilliant new eaterie; Clay Cross, you've got a Bobby Dazzler here and that's for sure!
No incentive was provided to visit this venue
read more
Read Some Of Our Recent Reviews
---

A Family Dinner At Thai Thai Restaurant In Chesterfield Thanks to the weather being kind, it had been all hands on deck at Mummy Birds gaff and so we hadn't quite got around to organising Sunday Lunch! There was no way in hell Read The Article

---

Burger and Beer Mondays At The Railway Inn, Shottle It wasn't long ago that we had a Flock outing for Sunday lunch at The Railway Inn at Shottle (and really enjoyed it) so when we were invited to try out their newest offering Read The Article

---

A Visit To The Seafood And Champagne Terrace At The Cavendish Hotel, Baslow I know The Man and I must seem calm and collected to a lot of you, so let me shatter that bubble right now by describing what happened when a certain invite Read The Article

---

Dinner At The Red Lion At The Peak Edge Hotel Sometimes you visit somewhere that is already wonderful but, when you know that there is more to come, gives you that shiver of excitement up and down your spine. This is exactly the feeling Read The Article

---

A Tasty Lunch At The Vegan Revelation Cafe, Belper Vegans, you have got an absolute bobby dazzler of a cafe here; non-vegans prepare to have your taste buds bowled over and have your 'no meat' notions over-turned - and I do include myself Read The Article

---

Dinner At The Recently Refurbished Bay Leaf Indian Restaurant, Heanor Can you believe we were out again with Mummy Bird; she's becoming quite the social Tribal Elder! The last time she'd seen Faz was at his previous restaurant (Nirvana) Read The Article

---

Dinner At The George At Hathersage You can't fail to be impressed by The George at Hathersage when you first clap eyes on it; the huge stone building commands your attention with its imposing beauty. It has its own car park too Read The Article

---

Dinner At The Seafood Cave and Grill, Matlock Bath I love seafood (yes, even cockles and winkles!) so I was beyond excited to receive an invite from the owner of The Seafood Cave and Grill in Matlock Bath, Ian McGhie, to sample the food Read The Article

---

Sunday Lunch At The Spanker, Nether Heage As many of you lovely peeps are aware, we recently did a poll on the blogs Facebook page asking for your favourite venues to have Sunday Roasts at. Well, you all certainly got involved, voting for Read The Article

---

Burgers And Loaded Fries At Cravings Street Food Bistro, Sutton-in-Ashfield Boyf Birds' parents had been to a local eaterie recently that they felt would be right up our street (food), so we decided to pay said venue - Cravings Street Food Read The Article

---