Dinner At The Rose And Crown In Barlborough
---
Published On Saturday 22 Jan 2022 by Sticky Beak
See Recent Dining Out Reviews | See All Recent Reviews


Sometimes Lady Luck shines down, and she happened to do it on my birthday eve. The team at The Rose and Crown in Barlborough had invited us along to sample their food and the date we agreed on was the day before my special day, which made me very happy as it meant that I didn't have to do any cooking!
The Rose and Crown is what I would describe as a 'proper' pub, located in the heart of the village and with lots of stunning features such as the restaurants' stone archways and gorgeous wooden beams at the bar. Like many business owners, this team spent lockdown carrying out a full refurbishment and getting things just how they had envisioned them to be! Thanks to lockdown restrictions, The Rose and Crown opened outdoors only in April 2021, but opened its doors to indoor drinking and dining as soon as it was permitted.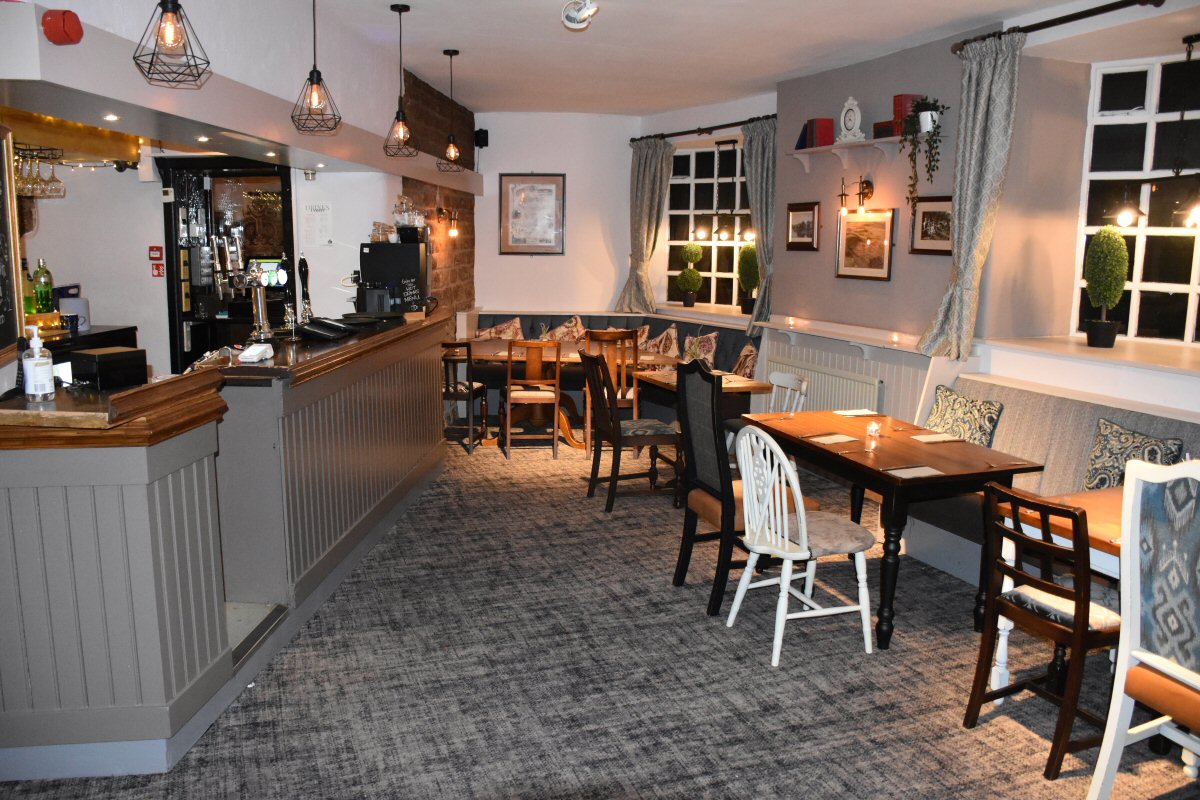 As we made our way through the open plan space and around to one of the nooks that housed our table, we were able to get a really good look around. The decor is neutral tones that provide a relaxed feel for guests and the banquette seats are deeply padded, which makes them very comfortable to sit on. I noticed that the mid-back, free standing chairs also have the same generous padding to them, so you don't get 'numb bum' at all whilst you're enjoying your meal. There's also a very striking feature wall covered in paper patterned in a 'photo gallery' style, and this certainly catches your attention.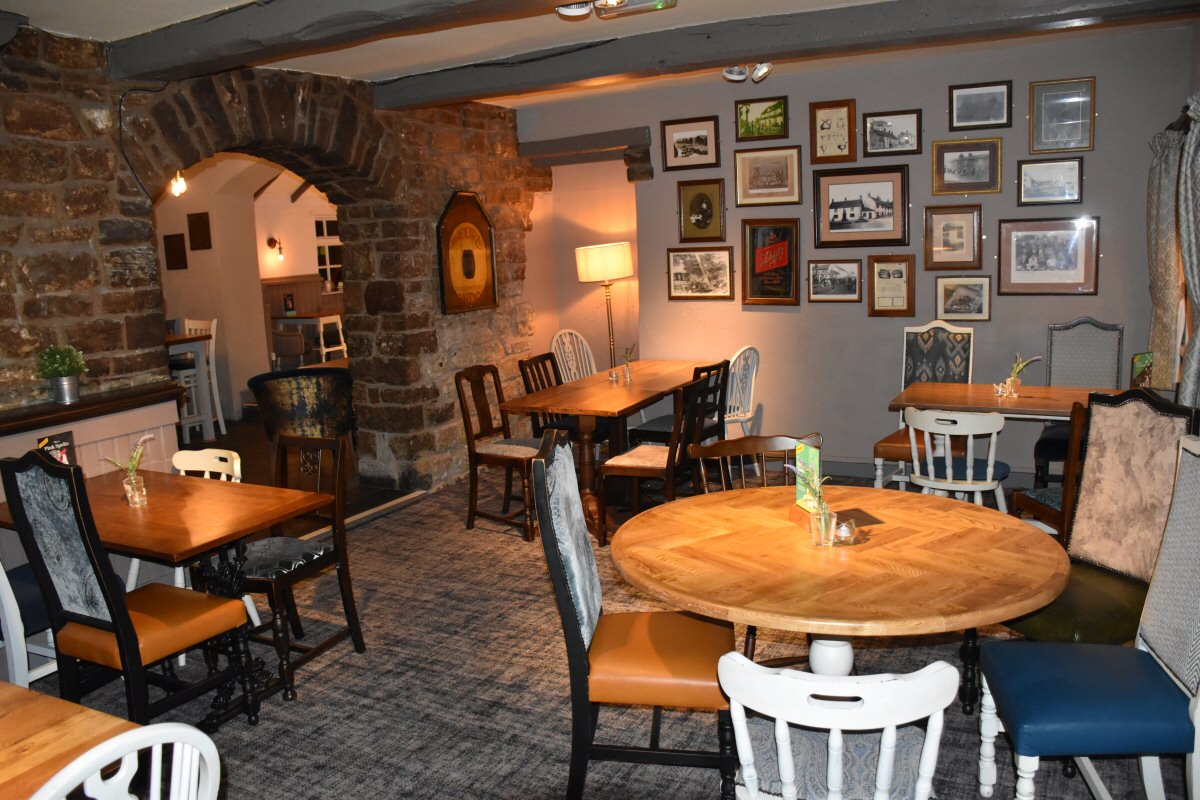 Whatever your tipple, the team at The Rose and Crown have got you covered at their well-stocked bar; from Cask Ales and Draught Lagers, to delicious cocktails, flavoured Gins and quaffable wines there is something for every palate. A large selection of non alcoholic drinks has teetotallers and designated drivers alike catered for too.




One of the lovely team brought over a menu for us to look at and gave us a few minutes to decide what we fancied. For starters we chose Chicken Liver Pâté with Red Onion Chutney, Toasted Ciabatta and Salted Butter (£5.95) and Whitby Bubble Bobble Red Shrimp with Chip Shop Curry Mayo and Rocket (£6), followed by The Rose and Crown Pit Plate (£12.95) and Duo of Lamb (£15.95) for mains.

It wasn't long before our server was coming over with our starters and we tucked in eagerly. His Nibs was impressed with his thick slab of Chicken Liver Pâté; it had a silky smooth texture that belied its deep flavour, and partnered with crunchy Ciabatta it made for a beautiful beginning to a meal. Ribbons of sharp-yet-sweet Balsamic glaze added a superb extra dimension to the dish, as well as marrying perfectly with the sweet, smoky notes of the tangy Red Onion Chutney. One thing that had The Man grinning happily was the fact that there was plenty of Ciabatta available to slather the Pâté on to; there's nothing worse than running out of bread when you have a Pâté starter, is there?! Another nice touch was the fact that the butter came in a separate pot so that you could add as much or as little as you wanted; personally, I'm in the 'no butter at all with Pâté' camp.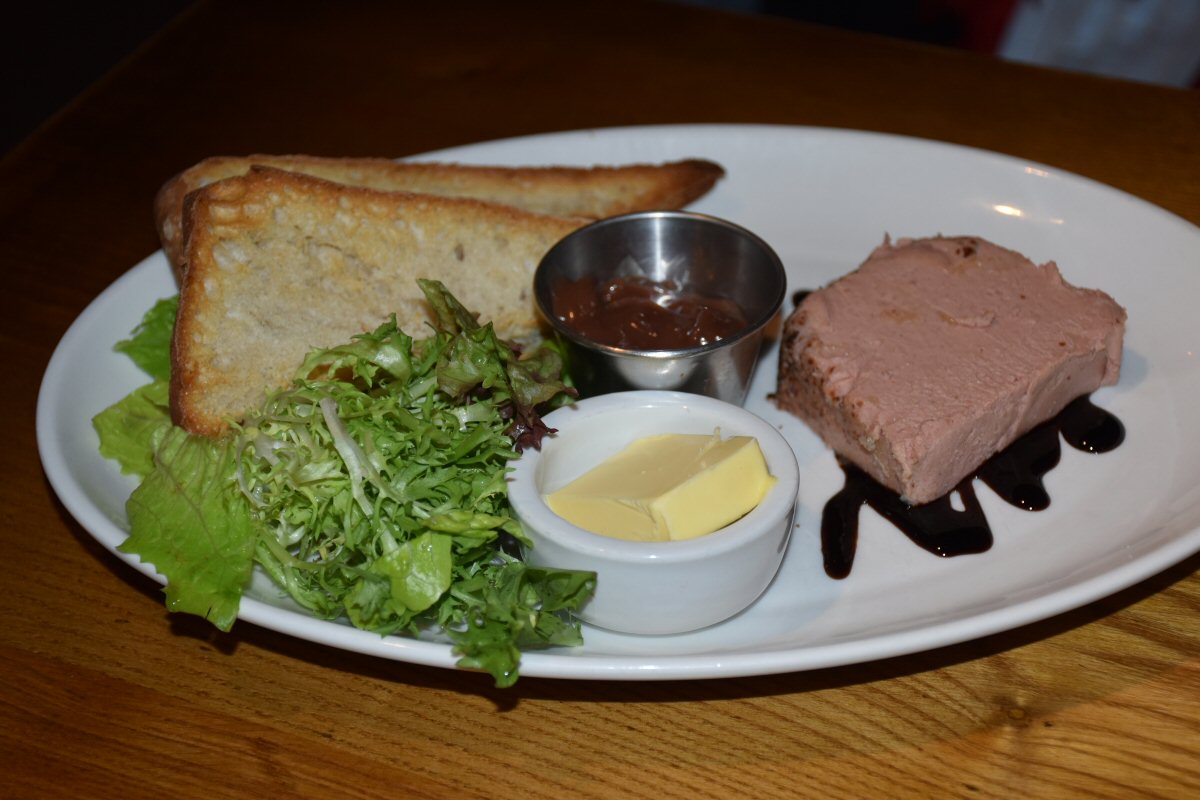 When I ordered my starter, I'll admit that I had no clue as to what it was going to be (other than seafood containing), so I was very happy to see a trio of large Shrimp on the plate: not that they looked anything like Shrimp, in their ultra bobbly, Panko-esque fried coats! To be honest, the batter resembled golden Rice Crispies, and it was the incredibly joyous crunch that they yielded when bitten into that won me over – that and the fact that there was absolutely no greasy taste or oiliness on the plate in evidence. The Curried Mayo was absolutely bang-on, giving a pleasant warmth and gentle creaminess on the palate. I'm a big fan of the peppery flavour of fresh Rocket anyway, so I chowed down merrily on the high pile that lay in front of me, squeezing the wedge of fresh Lemon over the verdant leaves for even more zhuzh in my mouth.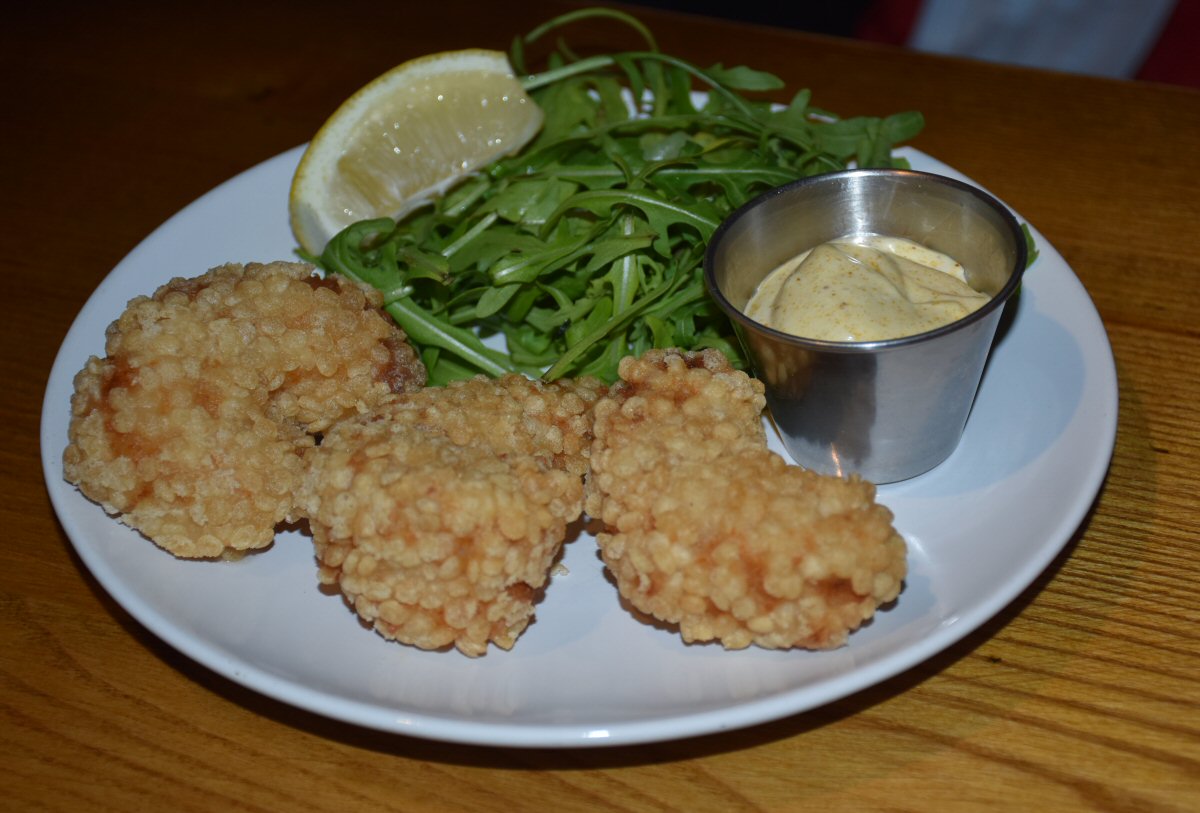 His Nibs was a bit taken aback by the amount of food in his 'Pit Platter': meaty Chicken Wings, a pile of Pulled BBQ Pork and possibly the largest Cumberland Sausage ring known to man (!!) took centre stage on the plate, accompanied by a sizeable portion of Old Bay Fries, a pot of 'slaw and a pot of smoky beans. I'm a bit fussy when it comes to sausage as you know, but The Man said that the Cumberland sausage wasn't overly seasoned and herbed; nonetheless, I declined to try it. I did, however, try one of the wings and it was beautifully moist and tasty, covered in a gloriously spiced, thick glaze that clung to the insides of our cheeks superbly. The pulled Pork was equally yummy with its juicy ribbons melting in the mouth and the smoky, sweet BBQ sauce lingering on the tongue. For The Man, the stars of the vegetable show were the fries; these minxes had a full-on, fiery kick to them that popped against the contrasting cool creaminess of the coleslaw. Soft, comforting beans had been given a bit of attention and sassed up with a pleasantly smoky sauce that blended in seamlessly with the dish's other elements.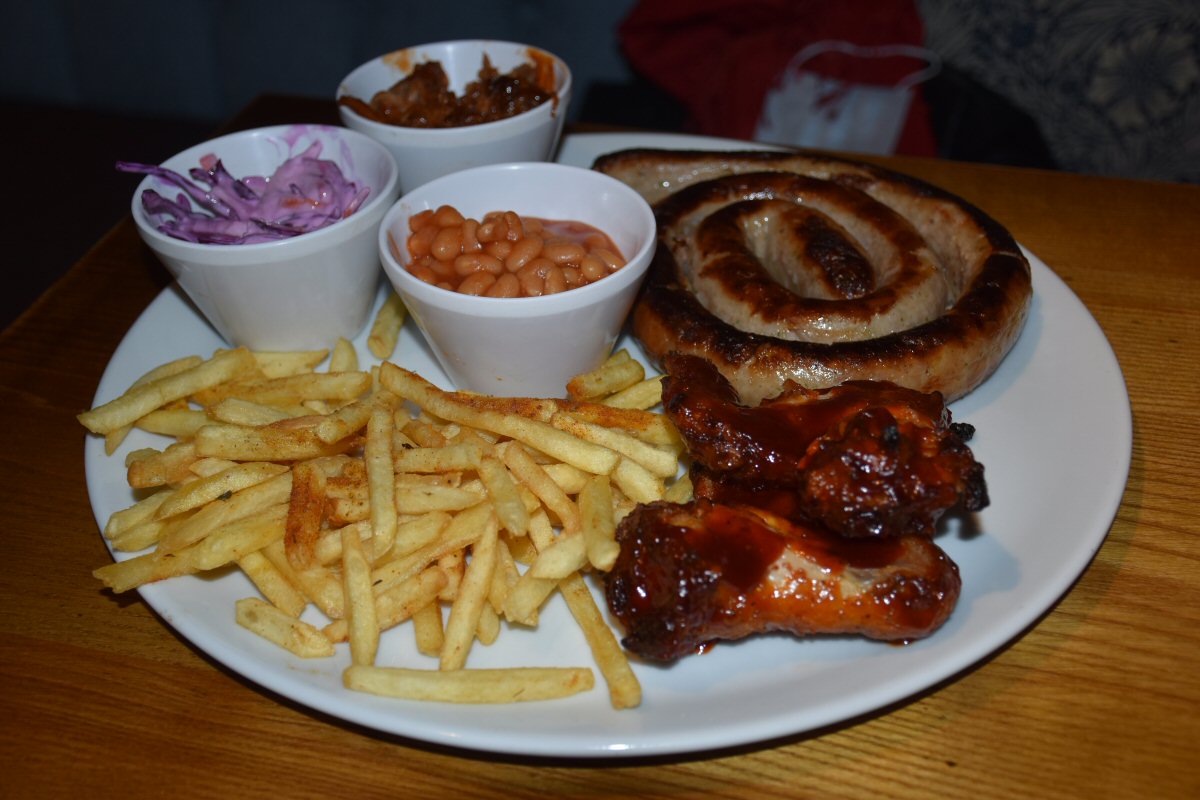 I had nearly gone for the Wild Mushroom Stroganoff from the 'Pub Classics' section of the menu (all of which are £9.95 in January!), but it was the Duo of Lamb that caught my eye in the end and, as I took my first mouthful, I was glad it had done. The Mini Shepherds Pie was utterly beguiling with its rich meatiness and skilful seasoning; Chef had really excelled with this dish! At first glance, I had thought that it was a bit too 'mini' in proportion, but the dish seemed to go on and on – not that I was complaining. The mashed potato top was glass-smooth and had been ridged to give it a nice golden tone in places and a super crunchiness, and as I dug underneath it,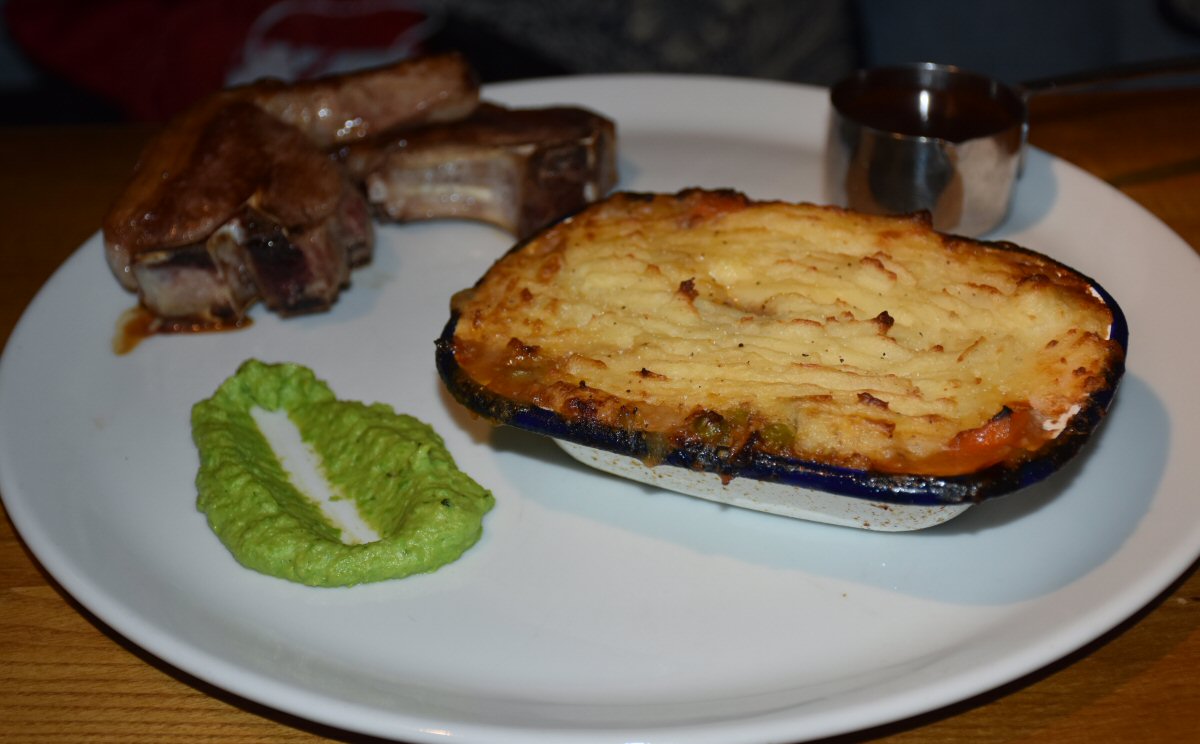 I was rewarded with plumes of steam that indicated the pie was piping hot and fresh out of the oven. A pair of Lamb Cutlets was served pink (just as they should be!) and the amount of meat on each one was very generous. Flavour-wise, you really couldn't wish for more: deep, sweet meat with a gorgeous tenderness to it and a nicely satisfying 'chew time'. When meat is of such good quality, it needs only the simplest of partners; in this case, a bouncy Pea Purée and a pot of thick, Red Wine jus (which I dunked my extra order of Truffle and Parmesan fries into). I could eat this dish again and again and again, it was superb; not fancy in any way, just good honest grub that soothes the soul.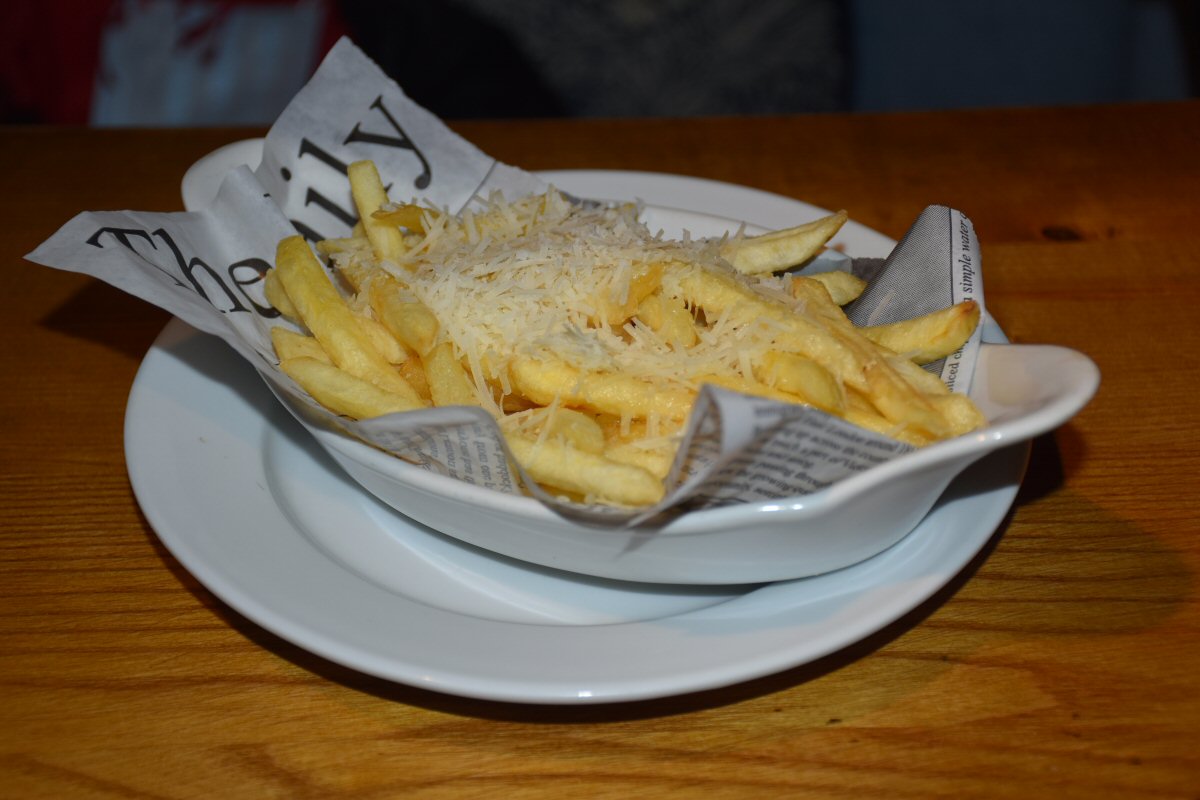 Throughout our meal, the members of the Rose and Crown team took turns to check that we were happy with our food and had enough to drink; it was nice to see that they were all working as a team and just checking on guests as they passed the tables rather than sticking rigidly to their 'area'. Nothing was too much trouble and everything was done with a smile, sometimes even with a bit of banter if time allowed. When it came to ordering dessert, we were informed of the fact that they were homemade and given personal recommendations, which I always think is a nice touch.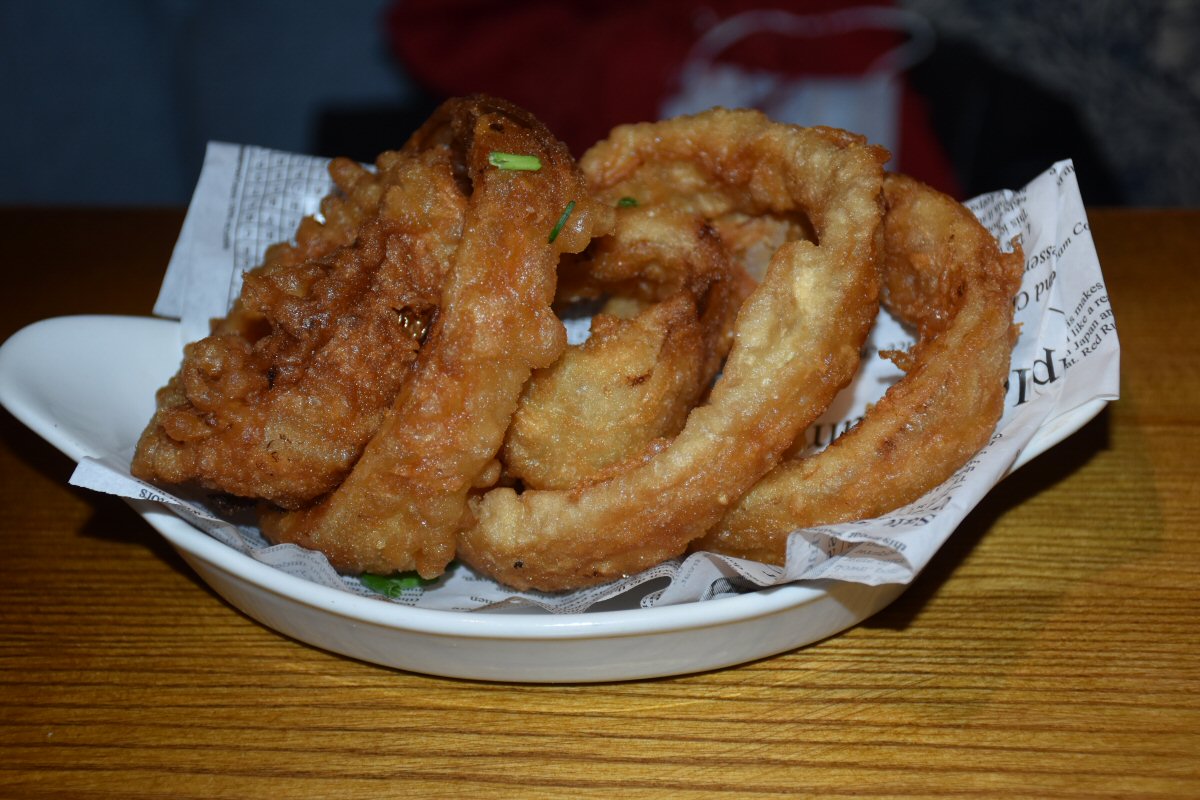 I was taken by the sound of the Blueberry and Lime Cheesecake with fresh Strawberries and Champagne Sorbet (£5.50) and His Nibs - surprise, surprise! – opted for the Triple Chocolate Brownie with Vanilla Ice Cream (£6.95). Both desserts came beautifully presented and mine especially was very pretty with its colours; I do think that visual appeal is sometimes overlooked, but for me, I always seem to enjoy a dish more if it has been carefully laid out.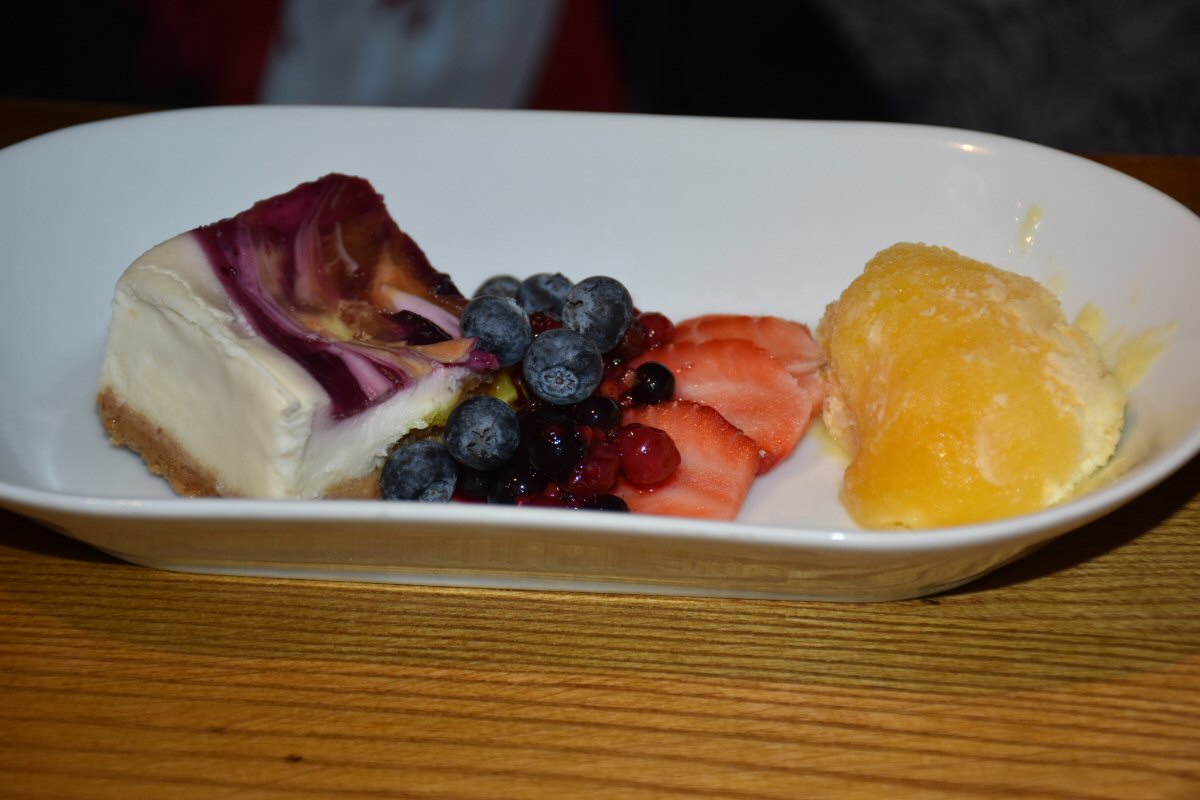 My creamy toned cheesecake had a thin layer of fruit coulis on the top that I will admit to thinking was a bit sparse, but wowsers it was so intense that a little really did go a long way in the taste sensation stakes. Chef clearly knows his craft; if it had been left to me, I would've put more fruit on the cheesecake, the result of which would be a dominant fruit element that totally overpowered the delicate tang of the cheesecake body. This is why I go out to eat rather than cook for myself!! A rainbow of fruits provided the colour on my plate; not only were there slices of fresh Strawberry, there were Blackcurrants, Redcurrants and Blueberries too – yum, yum, yum. The Champagne Sorbet was a delicate straw hue and its sweetness paired beautifully with the sharper notes of the fruits. This was a superb dessert, make no mistake.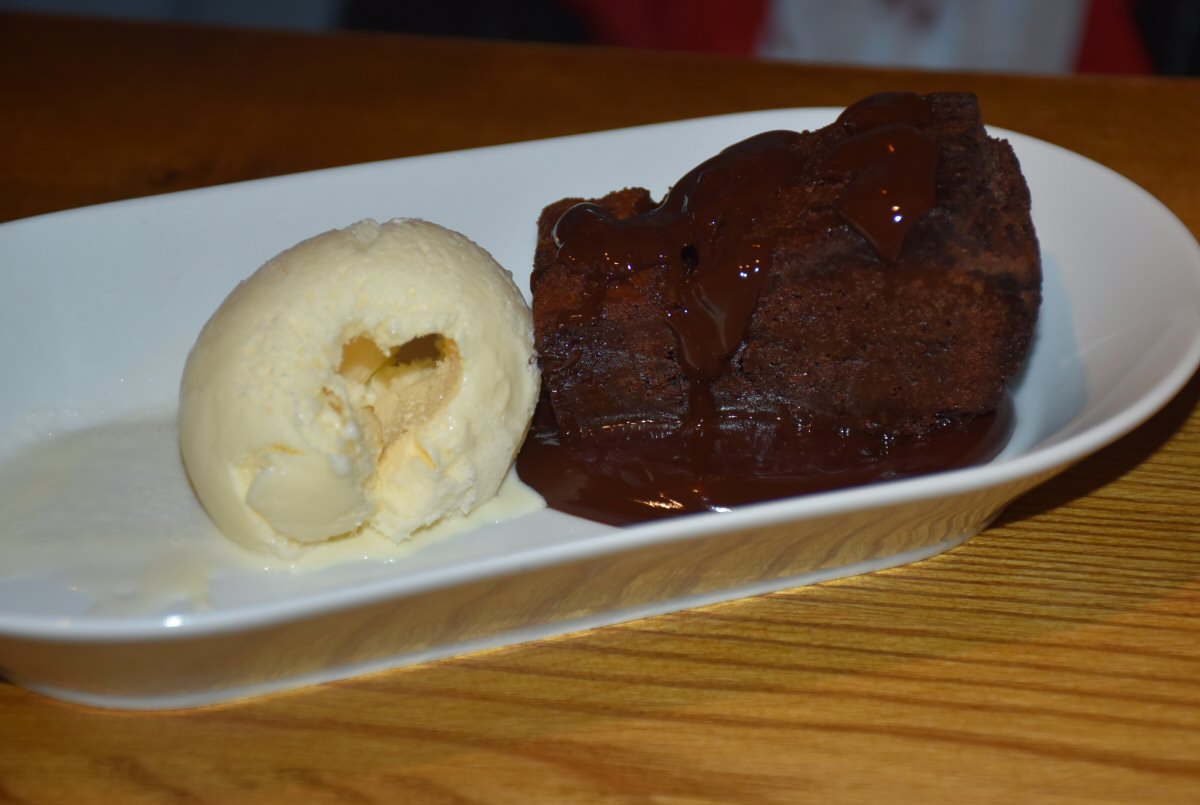 Across from me, His Nibs was smashing the Triple Chocolate Brownie unapologetically – the sheer joy was clear to see on his mush. This was a display of happiness from a seasoned chocoholic in his natural habitat, fuelled by the pleasure centre in his brain being well and truly activated by Chef's mad dessert skills! The thin crust gave a gentle crunch when bitten into and then the centre was that mesmerizingly gooey texture; you know, the one that clings seductively to your cheeks and tongue and every other surface that it touches? Yup, you're all salivating now aren't you, as you visualise what I mean! Trust me, the Man Bird was positively drooling as he savoured bit after bit of this decadent, cocoa-rich minx. The good quality Vanilla Ice Cream had a warm, rounded character to its taste and slowly melted in the warmth of the Brownie beneath it, leaving creamy streams across the desserts' surface as it did so.

A couple of Black Coffees brought our beautiful meal to a close and we said goodbye to this great Barlborough team. There is a weekly Grill night at The Rose and Crown, held on Thursday, where you can bag yourselves 2 grill dishes (the Sirloin Steak carries an additional supplement) and a bottle of house wine for £30; His Nibs and I may well be back to take advantage of this deal in the near future. This isn't the only offer on the table, there's also the extended Pizza menu which offers 2 pizzas for £16 every day, and littlies dine for a measly £2.99 Weds-Fri 3-5pm. For quiz enthusiasts, there's a weekly quiz on Wednesday nights so grab some mates and pit your knowledge against other brainiacs!

The Rose and Crown is closed on Monday and Tuesday, but is open the rest of the week from Midday – 10pm. Last food sitting is at 9pm Weds-Sat, and 7pm on Sunday. To book your table at this great eaterie call 01246 810951 or book online at roseandcrownpub.co.uk. Hot Wings happily awarded here.
Some form of incentive was provided to visit this venue
read more
Read Some Of Our Recent Reviews
---

A Family Dinner At Thai Thai Restaurant In Chesterfield Thanks to the weather being kind, it had been all hands on deck at Mummy Birds gaff and so we hadn't quite got around to organising Sunday Lunch! There was no way in hell Read The Article

---

Burger and Beer Mondays At The Railway Inn, Shottle It wasn't long ago that we had a Flock outing for Sunday lunch at The Railway Inn at Shottle (and really enjoyed it) so when we were invited to try out their newest offering Read The Article

---

A Visit To The Seafood And Champagne Terrace At The Cavendish Hotel, Baslow I know The Man and I must seem calm and collected to a lot of you, so let me shatter that bubble right now by describing what happened when a certain invite Read The Article

---

Dinner At The Red Lion At The Peak Edge Hotel Sometimes you visit somewhere that is already wonderful but, when you know that there is more to come, gives you that shiver of excitement up and down your spine. This is exactly the feeling Read The Article

---

A Tasty Lunch At The Vegan Revelation Cafe, Belper Vegans, you have got an absolute bobby dazzler of a cafe here; non-vegans prepare to have your taste buds bowled over and have your 'no meat' notions over-turned - and I do include myself Read The Article

---

Dinner At The Recently Refurbished Bay Leaf Indian Restaurant, Heanor Can you believe we were out again with Mummy Bird; she's becoming quite the social Tribal Elder! The last time she'd seen Faz was at his previous restaurant (Nirvana) Read The Article

---

Dinner At The George At Hathersage You can't fail to be impressed by The George at Hathersage when you first clap eyes on it; the huge stone building commands your attention with its imposing beauty. It has its own car park too Read The Article

---

Dinner At The Seafood Cave and Grill, Matlock Bath I love seafood (yes, even cockles and winkles!) so I was beyond excited to receive an invite from the owner of The Seafood Cave and Grill in Matlock Bath, Ian McGhie, to sample the food Read The Article

---

Sunday Lunch At The Spanker, Nether Heage As many of you lovely peeps are aware, we recently did a poll on the blogs Facebook page asking for your favourite venues to have Sunday Roasts at. Well, you all certainly got involved, voting for Read The Article

---

Burgers And Loaded Fries At Cravings Street Food Bistro, Sutton-in-Ashfield Boyf Birds' parents had been to a local eaterie recently that they felt would be right up our street (food), so we decided to pay said venue - Cravings Street Food Read The Article

---