Dinner With Friends At The Devonshire In Belper
---
Published On Thursday 20 Jan 2022 by Sticky Beak
See Recent Dining Out Reviews | See All Recent Reviews


Not that I ever need an excuse to eat out, but when the Bestie and TBW (The Bolton Wanderer) came for the weekend it was the perfect opportunity to go out for dinner! For ages, The Man and I have been meaning to visit The Devonshire in Belper; you know what it's like though when something's on your doorstep, you figure you'll go next week, which turns into a month, which turns into 3 months...ad infinitum.
One of the reasons we chose this venue was for the range of craft lagers and beers it offers; TBW is a real fan of this type of beverage, so we thought we'd show off a bit about the fab eateries we have in the 'shire. We were given a lovely warm welcome and shown to our table and, whilst Bestie and I looked at the food menu, the chaps went and inspected the 'refreshment selection' at the bar in a little more detail. Having got the drinks all sorted (cocktails for us ladies, lager for the gents) we decided that we would have the Korean fried Chicken Wings as a four-person starter; individually this is priced at £6.95, £6.45 per person as a starter for 2, or £5.95 per person as a starter for 4.




We didn't have long to wait until the hefty platter was placed in the middle of the table, and boy did it look (and smell!) superb! The deep-red of the sticky glaze contrasted beautifully with the verdant tones of the Spring Onion and lush scattering of fresh Coriander that covered them - if you're not a fan of Coriander (you weirdo) then you can just brush it aside; easy peasy, no drama required.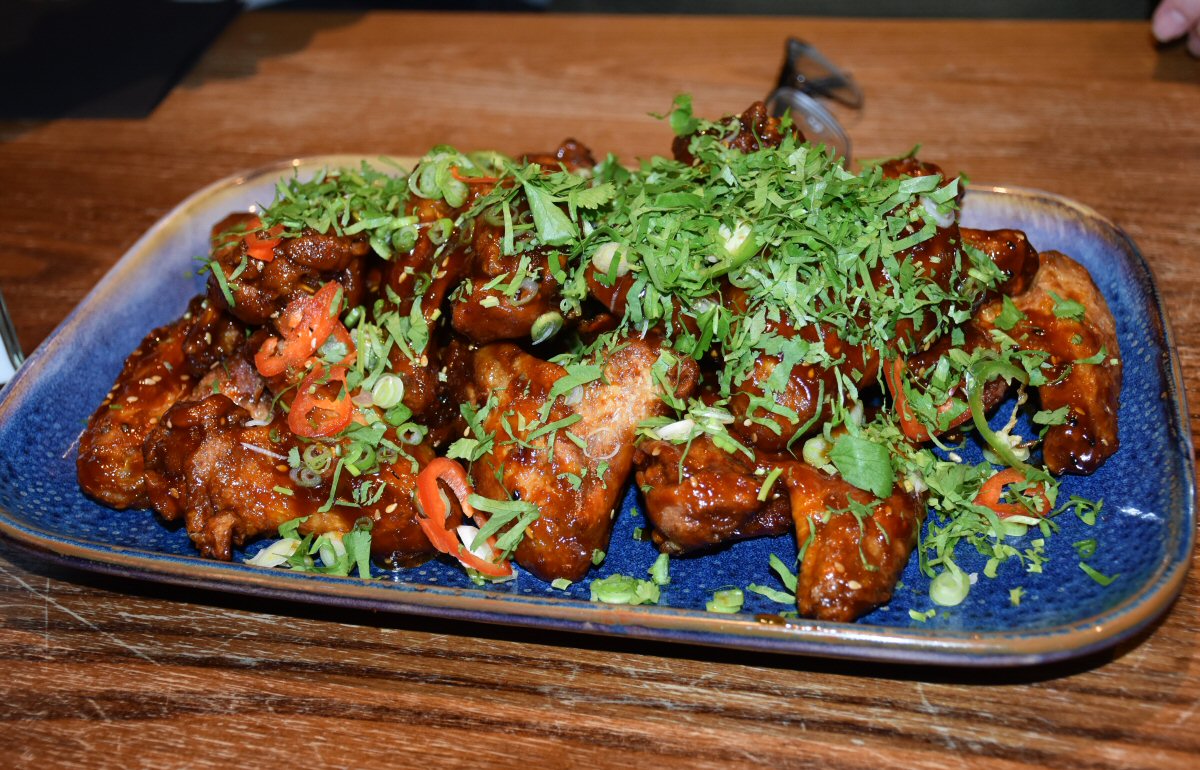 With no elegance whatsoever, we all dived in and chomped eagerly into the crispy flesh of the poultry. The skin was gorgeously crisped without being tough, and each wing had a light dusting of sesame seeds that added a delicious nuttiness in the mouth. As well as the glaze being wickedly fiery, there was more heat provided by the plentiful sliced fresh Red Chillies and our lips and tongues were soon tingling merrily. Each wing was pleasantly large and meat-yielding; one thing that used to put me off chicken wings was the thought that it would be a case of 'lots of effort, with minimal yield', so I'm more than happy to say that The Devonshire kitchens produce generous ones. With morsels as scrummy as these wings, they didn't hang around for long and we all sat back, licking our fingers greedily to get every last scrap of glaze off them.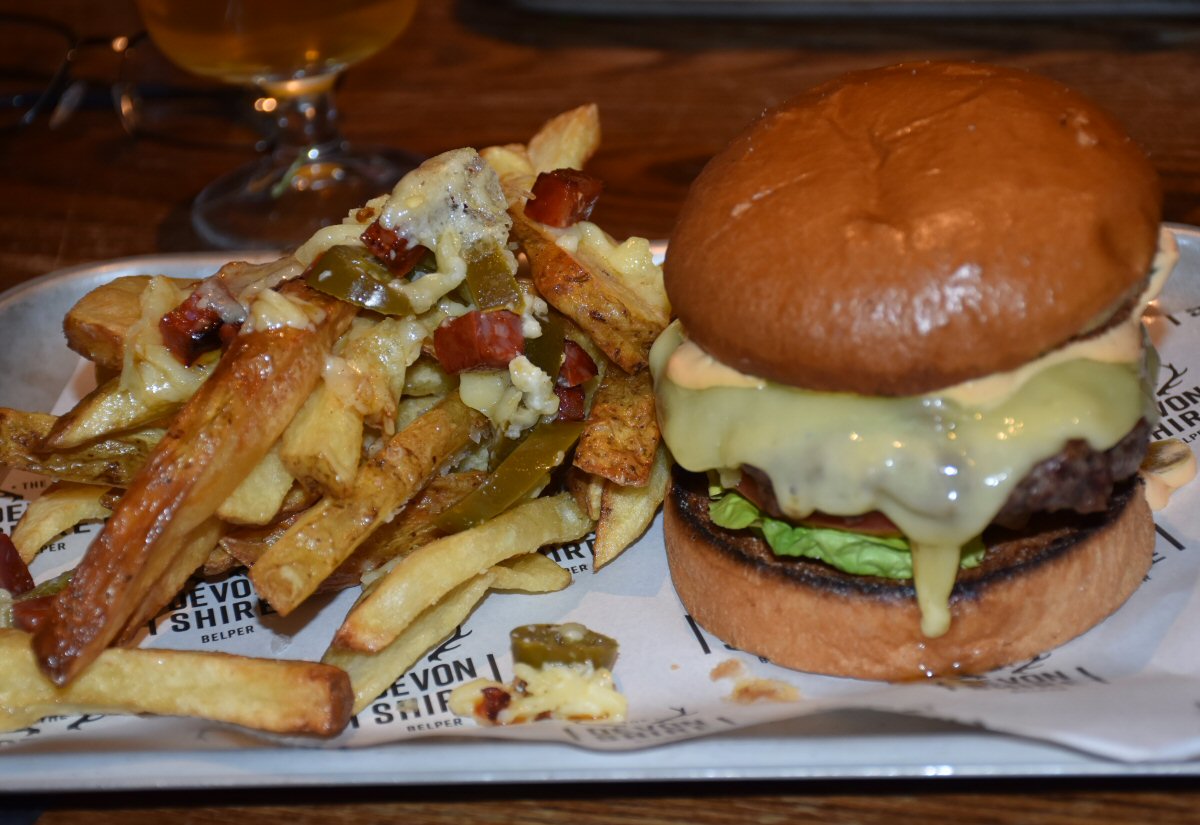 For mains, the fellas had opted for the Viking burger, a meaty Beef patty with 'Red Neck' Mayo, Chorizo, Jalapenos, Monterey Jack cheese, Tomato and Baby Gem lettuce; they upgraded their fries from hand cut Chips to Fire Bucket and Hunters ones instead, for a charge of £1.75 each. Bestie fancied the 'Deep South' Smoky Pork Crock-pot (£14.95); a slow braised Pork Shoulder with Chorizo, Lardons, Boston Beans, Green Peppers, crunchy 'Corn and smoky Chipotle one-pot stunner that is served with Louisiana seasoned Fries. I had the Hommity Pie with Salad and Chips (£12.95); this dish is on the veggie and plant food section of the menu, but I just fancied the sound of it: a deep filled Potato, Garlic, mature Cheddar and baby Spinach pie.




All four mains were served at the same time, so there was no hanging around waiting for everyone to get their food. The burgers were juicy and succulent with a great depth of flavour to them, with plenty of melted cheese covering them. Our heat-loving freaks of husbands relished the punch of the Chorizo and Jalapenos; Bestie and I braced ourselves for a breezy night, if you know what I mean! The loaded fries were going down a treat, the potatoes generously slathered with cheese and all manner of meaty treats such as Chorizo, Bacon and Shredded Chicken.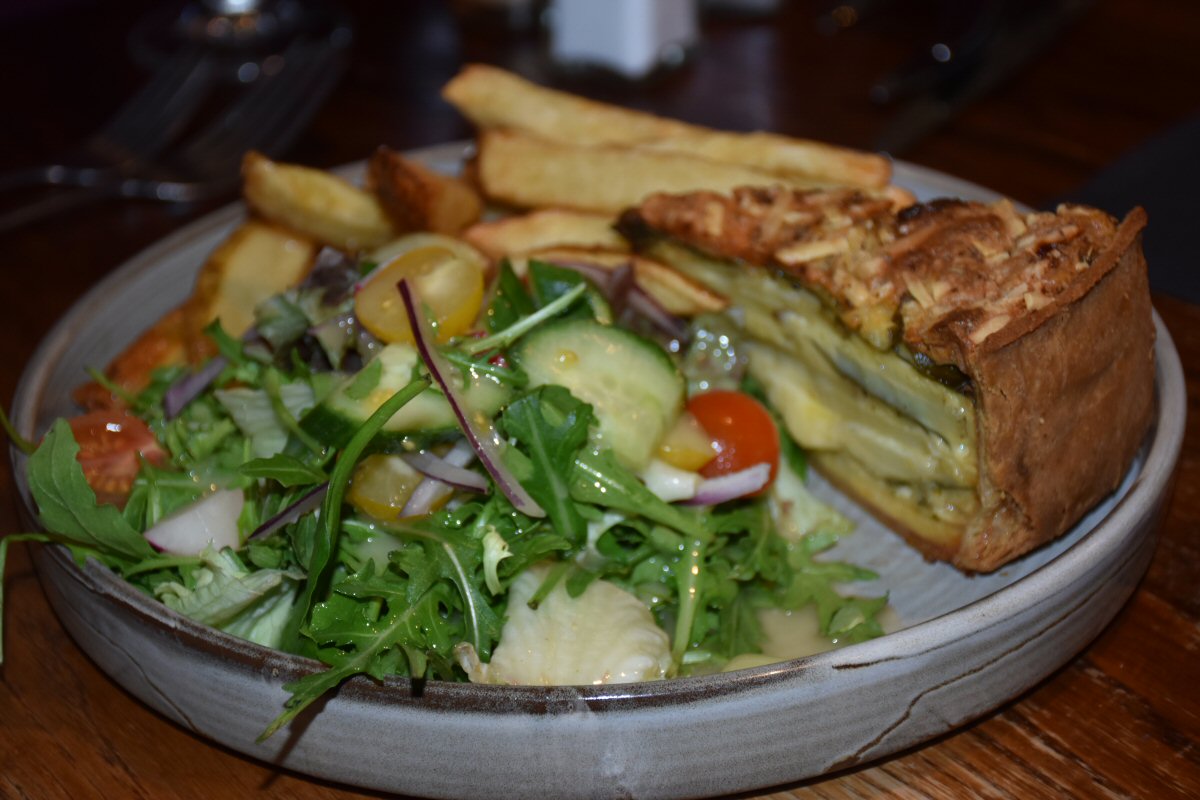 My Hommity Pie was a proper deep slab of tastiness! The pastry base was nice and short which gave it that rich buttery character, and it melted pleasingly in my mouth's heat. I was impressed by just how filling this vegetable based meal was and even happier that, given its carbohydrate load, it wasn't stodgy or lay heavy or my tummy afterwards. The mature Cheddar gave it a good flavour factor and judicious seasoning enhanced this even further. This dish comes with a large salad which was beautifully crisp and fresh with plenty of variety and colour within it, and the other accompaniment (chips) was nice and crisp.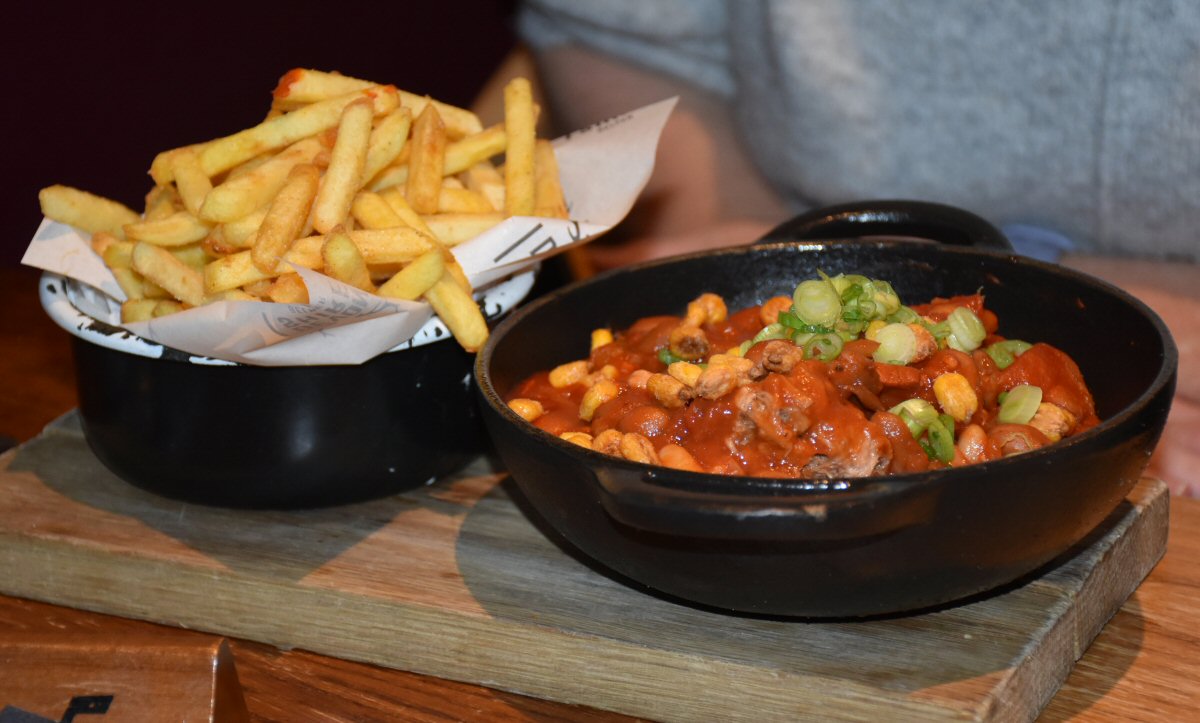 Bestie Bird was equally satisfied with her choice of Smoky Pork crock-pot and, to be fair, we did all enviously look over at it when it was first set down. The aroma emanating from the dish was exquisite too, which added insult to injury for our gluttonous eyes and bellies! If you have a hearty appetite then this is the meal choice for you; there is plenty of meat to tuck into and the beans, peppers and corn will fill you up with their fibre content. Flavour fans will revel in the smoky, sweet and spicy elements of this deep-south inspired dish and there's a carb-fix to enjoy too, courtesy of the fries. This dish really does have it all.




We were planning on a film-fest back at the nest so we skipped desserts, but the gents couldn't resist grabbing a couple more cans of IPA to bring back with them -especially His Nibs, who was the designated driver for the evening and had had to limit himself to one can.
Throughout our visit to The Devonshire, we couldn't have faulted a single thing from the moment we stepped over its threshold to the moment we departed! Hot Wings very happily awarded to this lovely Belper team.
No incentive was provided to visit this venue
read more
Read Some Of Our Recent Reviews
---

A Family Dinner At Thai Thai Restaurant In Chesterfield Thanks to the weather being kind, it had been all hands on deck at Mummy Birds gaff and so we hadn't quite got around to organising Sunday Lunch! There was no way in hell Read The Article

---

Burger and Beer Mondays At The Railway Inn, Shottle It wasn't long ago that we had a Flock outing for Sunday lunch at The Railway Inn at Shottle (and really enjoyed it) so when we were invited to try out their newest offering Read The Article

---

A Visit To The Seafood And Champagne Terrace At The Cavendish Hotel, Baslow I know The Man and I must seem calm and collected to a lot of you, so let me shatter that bubble right now by describing what happened when a certain invite Read The Article

---

Dinner At The Red Lion At The Peak Edge Hotel Sometimes you visit somewhere that is already wonderful but, when you know that there is more to come, gives you that shiver of excitement up and down your spine. This is exactly the feeling Read The Article

---

A Tasty Lunch At The Vegan Revelation Cafe, Belper Vegans, you have got an absolute bobby dazzler of a cafe here; non-vegans prepare to have your taste buds bowled over and have your 'no meat' notions over-turned - and I do include myself Read The Article

---

Dinner At The Recently Refurbished Bay Leaf Indian Restaurant, Heanor Can you believe we were out again with Mummy Bird; she's becoming quite the social Tribal Elder! The last time she'd seen Faz was at his previous restaurant (Nirvana) Read The Article

---

Dinner At The George At Hathersage You can't fail to be impressed by The George at Hathersage when you first clap eyes on it; the huge stone building commands your attention with its imposing beauty. It has its own car park too Read The Article

---

Dinner At The Seafood Cave and Grill, Matlock Bath I love seafood (yes, even cockles and winkles!) so I was beyond excited to receive an invite from the owner of The Seafood Cave and Grill in Matlock Bath, Ian McGhie, to sample the food Read The Article

---

Sunday Lunch At The Spanker, Nether Heage As many of you lovely peeps are aware, we recently did a poll on the blogs Facebook page asking for your favourite venues to have Sunday Roasts at. Well, you all certainly got involved, voting for Read The Article

---

Burgers And Loaded Fries At Cravings Street Food Bistro, Sutton-in-Ashfield Boyf Birds' parents had been to a local eaterie recently that they felt would be right up our street (food), so we decided to pay said venue - Cravings Street Food Read The Article

---