Starting Our Weekend Break With Lunch At Barringtons, Darley Dale
---
Published On Tuesday 28 Dec 2021 by Sticky Beak
See Recent Dining Out Reviews | See All Recent Reviews


It's long been a tradition in our flock that a holiday starts the moment you close the front door at home behind you. With that in mind, His Nibs and I felt absolutely no guilt whatsoever as we pulled into the car park at Barringtons at Darley Dale for a cheeky lunch on our way to a short break away with friends. Fledge was meeting us all there later, as she'd got some University work to do before her weekend fun could begin – unlucky kiddo, I'll have an extra glass of wine for you though!
In common with a lot of businesses in the food and beverage industry, Barringtons has had a bit of a refurb during the various pandemic lockdowns. The decor itself hasn't changed wildly (although it did look different thanks to the beautiful Christmas decorations all around), but the space had definitely altered! Instead of the dedicated dining space being the smaller room and the combined bar/dining area being bigger, the team had re-configured the layout so that the bar was now in the smaller area - still with seating in there for more casual dining - and the exclusive dining room was the dominant space. In my opinion it flows so much better and makes more sense to have it laid out this way, so it gets top marks from me. I still love the feature wall with its striking monochrome paper, and the high-back chairs are every bit as comfy as I remembered them from our previous visit!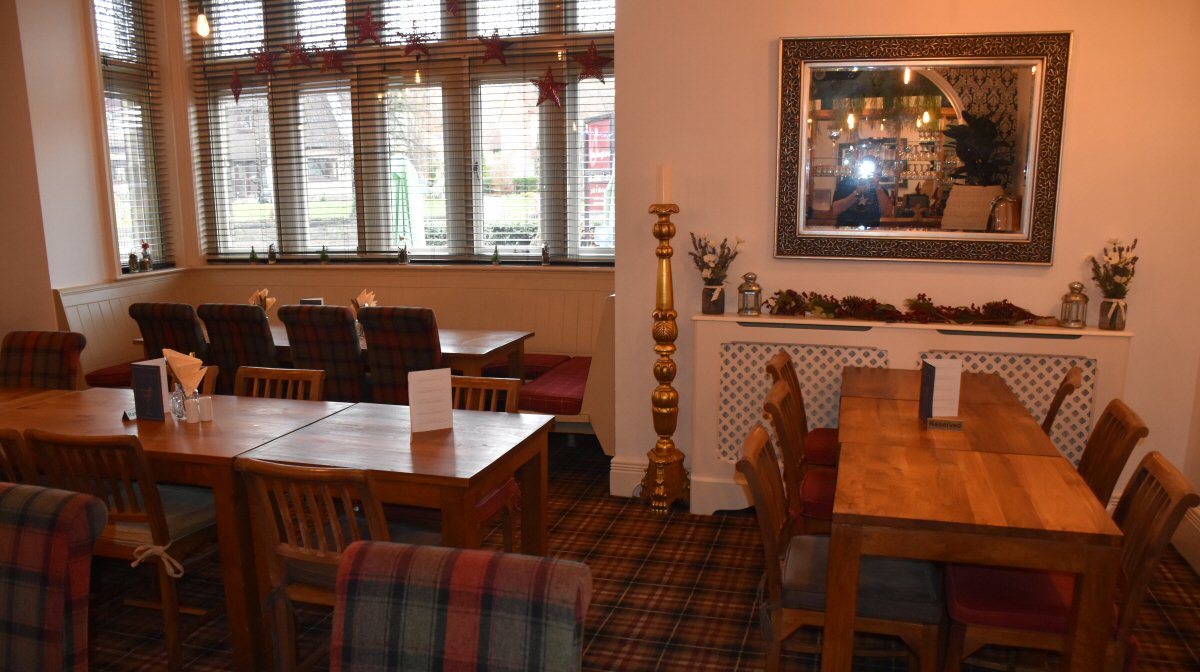 We were soon sipping our drinks; red wine for me (no spillage this time!) and a pint for The Man. Barringtons serve lunch from Noon-2pm on Thursday, Friday and Saturday, with the menu simply priced: all mains are £8.95, jacket potatoes range from £5.50-£7 and come with French dressed salad, coleslaw and butter, and sandwiches are priced between £7 and £8 and again come with a French dressed salad and coleslaw, but also have chips.




Just as we'd finished ordering our meals, Beef lasagne with mixed leaf salad and chips for The Man Bird and Bacon, Brie and Pear Chutney sandwich for me, a large group of friends came in. The dining room was already pretty lively, so this additional group saw only a couple of tables spare – not bad for a weekday! One thing we noticed last time we visited Barringtons was the friendliness of the staff and the speed of service, and on this occasion too it was the same standard.
It wasn't overly long before our meals were being placed before us and the tendrils of steam rising from His Nibs' Lasagne carried the mouth-watering aroma of the dish up to our nostrils; if it tasted as good as it smelled, he was in for a real treat! My Ciabatta was just as tempting though with thick slices of proper, farmhouse Bacon peeking out from under their creamy, melty Brie blanket.




Both of us grinned at each other as we took that first, much anticipated first bite, and we weren't disappointed; my Ciabatta sandwich was superb and His Nibs' Lasagne delivered, too. When it's cool outside you need something hearty and this homemade dish certainly was substantial, with its plentiful layers of pasta and meat ragu. Sometimes you tuck into a lasagne and feel that deflated sensation as you see a sea of pale pasta sheets but not much else; thankfully Chef at Barringtons makes sure that the lasagne is balanced with just as much meat. The Man Bird commented on how incredibly rich and flavoursome the beef ragu was, between mouthfuls, and said that the cheese top was lovely and crunchy too. There is a knack to getting the perfect 'wetness' when any pasta and sauce is involved: too dry, and it seems to need chewing forever; too wet, and it drips sulkily off your cutlery. Again, Chef got it just right; so if you like your lasagne, you could do worse than head to Barringtons to sample some. The light mixed leaf salad added some texture and a change of temperature in the mouth and the chips were magnificent with their super-crunchy outers and soft inners; the presentation was good as well, with everything placed carefully on the plate and the chips housed snuggly in a miniature frying basket.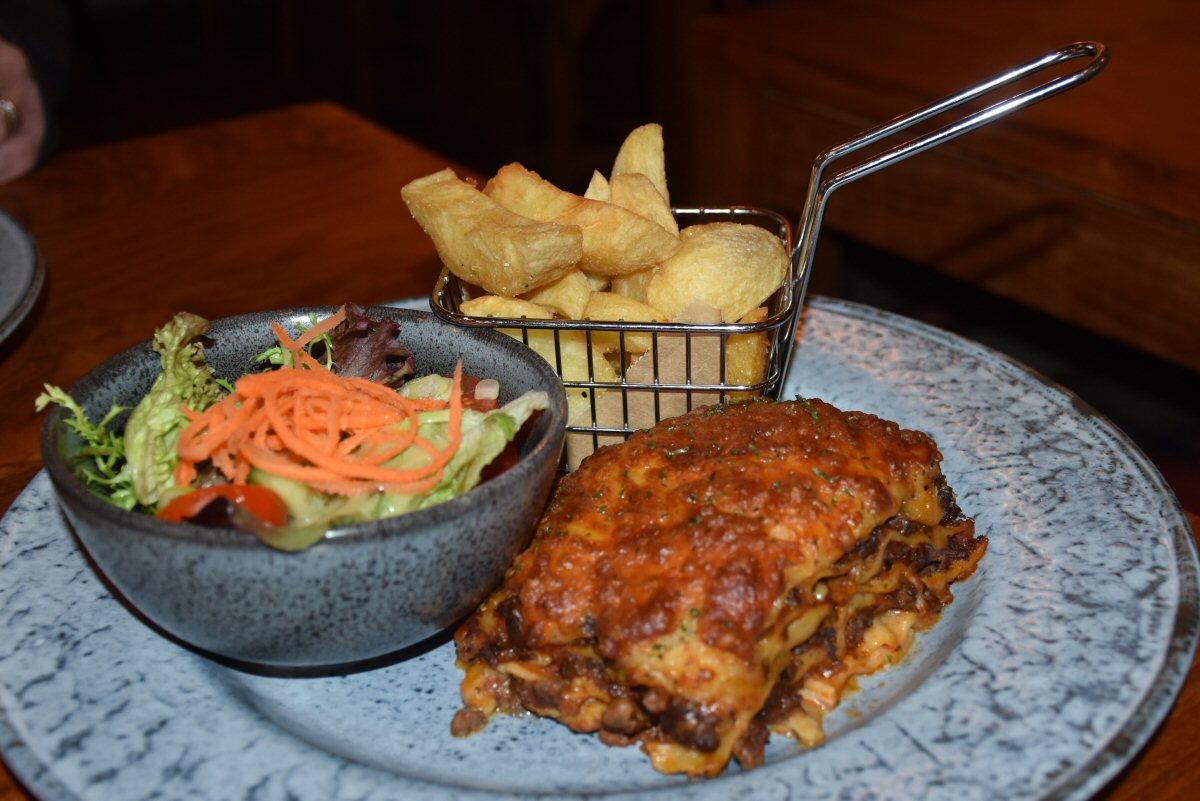 Visually, my Ciabatta sandwich had already won me over; as I said earlier, the Bacon was nicely covered in melted Brie and the smell was heavenly for a cheese-o-phile like me. The combination of crunchy Ciabatta, soft brie, pear chutney, and meaty bacon meant that I had to take my time to chew it properly, and the flavours poured over my palate with abandon. I liked the fruity element that came from the pear chutney; it lifted things nicely on the taste buds in contrast to the richness of the meat and cheese. My salad of mixed leaves, cucumber, cherry tomatoes, red pepper and spring onions came dressed with a tangy French dressing that further lifted the overall experience in my mouth, as well as providing a colourful beauty for the eye to behold. I do like creamy coleslaw (but not an overly wet one!) and the one served at Barringtons is superb; better still, it comes in a separate pot so it can be devoured at will –or even popped into the sandwich itself if that's your bag! As with His Nibs' meal, my chips were moreish and I smiled happily as I got that gentle crunch when I bit into one.




Throughout our main course we had several check backs, not only to see that we liked our meals but also to see if we wanted more drinks; I took the opportunity to have another glass of wine...well, I was on holiday! We hadn't planned to indulge in pudding because we'd loaded the jalopy up with snacks for the evenings with our friends, but the Sticky Toffee Pudding (£5.50) and Praline Chocolate Brownie (£5) snared us in the headlights and we surrendered like proverbial rabbits. Both desserts usually come with Ice cream, but we asked if we could possibly swap this for warm Custard instead; a request that was kindly granted, thank you.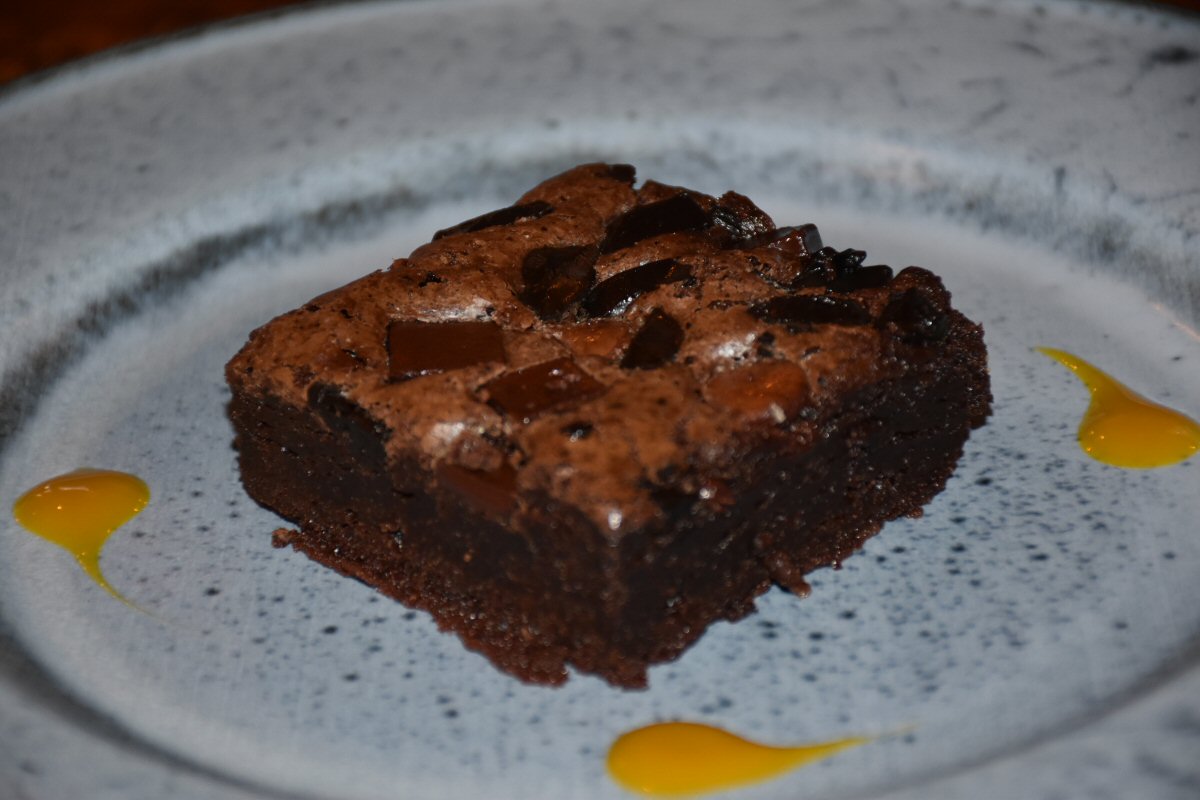 My brownie was beautifully gooey and wickedly cocoa rich – that pleasure centre in my brain was well and truly stimulated, let me tell you! There were chunks of white and dark chocolate studded throughout the milk chocolate square of yumminess and these had softened in the warming process so that they lazed on my tongue, allowing me to fully appreciate their charms. Chef serves a wonderfully creamy custard, paler in colour than many, but the paleness contrasted perfectly against the darker tones of the brownie. What I really liked though, was the consistency of the custard; it was satisfyingly thick, and clung to the insides of my cheeks, determined that I should applaud it – which I did.




The Man Bird does like his Sticky Toffee puddings, as you all know, and this one met the standard to get approval. Although it was lighter in colour than many he's sampled, and not as rich in taste, Chef had got an ace up his sleeve: his toffee sauce! This sauce was indulgently thick in consistency and had the most delightful rich, smoky flavour that deepened the taste experience in the mouth. There was also a good amount of the Toffee sauce to savour, so The Man Bird was exceptionally happy.

What a lunch this had been, far better than I was expecting, if I'm being honest! Not that I wasn't expecting something good (the food had been lovely on our previous visit), but lunchtime menus aren't renowned for setting the world on fire usually, are they? I have to say though, that I'd head to Barringtons at lunch if I was in the area again, without hesitation. Hot Wings awarded again to this super-friendly team. To book a table, call 01629 733111.
No incentive was provided to visit this venue
read more
Read Some Of Our Recent Reviews
---

A Family Dinner At Thai Thai Restaurant In Chesterfield Thanks to the weather being kind, it had been all hands on deck at Mummy Birds gaff and so we hadn't quite got around to organising Sunday Lunch! There was no way in hell Read The Article

---

Burger and Beer Mondays At The Railway Inn, Shottle It wasn't long ago that we had a Flock outing for Sunday lunch at The Railway Inn at Shottle (and really enjoyed it) so when we were invited to try out their newest offering Read The Article

---

A Visit To The Seafood And Champagne Terrace At The Cavendish Hotel, Baslow I know The Man and I must seem calm and collected to a lot of you, so let me shatter that bubble right now by describing what happened when a certain invite Read The Article

---

Dinner At The Red Lion At The Peak Edge Hotel Sometimes you visit somewhere that is already wonderful but, when you know that there is more to come, gives you that shiver of excitement up and down your spine. This is exactly the feeling Read The Article

---

A Tasty Lunch At The Vegan Revelation Cafe, Belper Vegans, you have got an absolute bobby dazzler of a cafe here; non-vegans prepare to have your taste buds bowled over and have your 'no meat' notions over-turned - and I do include myself Read The Article

---

Dinner At The Recently Refurbished Bay Leaf Indian Restaurant, Heanor Can you believe we were out again with Mummy Bird; she's becoming quite the social Tribal Elder! The last time she'd seen Faz was at his previous restaurant (Nirvana) Read The Article

---

Dinner At The George At Hathersage You can't fail to be impressed by The George at Hathersage when you first clap eyes on it; the huge stone building commands your attention with its imposing beauty. It has its own car park too Read The Article

---

Dinner At The Seafood Cave and Grill, Matlock Bath I love seafood (yes, even cockles and winkles!) so I was beyond excited to receive an invite from the owner of The Seafood Cave and Grill in Matlock Bath, Ian McGhie, to sample the food Read The Article

---

Sunday Lunch At The Spanker, Nether Heage As many of you lovely peeps are aware, we recently did a poll on the blogs Facebook page asking for your favourite venues to have Sunday Roasts at. Well, you all certainly got involved, voting for Read The Article

---

Burgers And Loaded Fries At Cravings Street Food Bistro, Sutton-in-Ashfield Boyf Birds' parents had been to a local eaterie recently that they felt would be right up our street (food), so we decided to pay said venue - Cravings Street Food Read The Article

---