Dinner At Il Lupo Ristorante Italiano in Baslow
---
Published On Sunday 19 Dec 2021 by Sticky Beak
See Recent Dining Out Reviews | See All Recent Reviews


Mummy Bird, me and The Man had had a wonderful 2 day break in Chester and weren't quite ready to relinquish that chilled state of mind, so there was only one answer: find somewhere on the way home to have dinner! We've been meaning to visit Il Lupo at Baslow for a while, so this was the perfect excuse – not that we need an excuse to eat Italian food.
Il Lupo is located in a lovely old building, full of charm and quirky features, and the team have decorated it beautifully to accentuate its rustic charms. Mummy Bird loved the wine bottle and glass art on the wall, fashioned from wire and allowed to 'wear' naturally. We were greeted warmly and shown to our table, where the lovely gent handed us the menu and wine list and gave us a few minutes to look over them.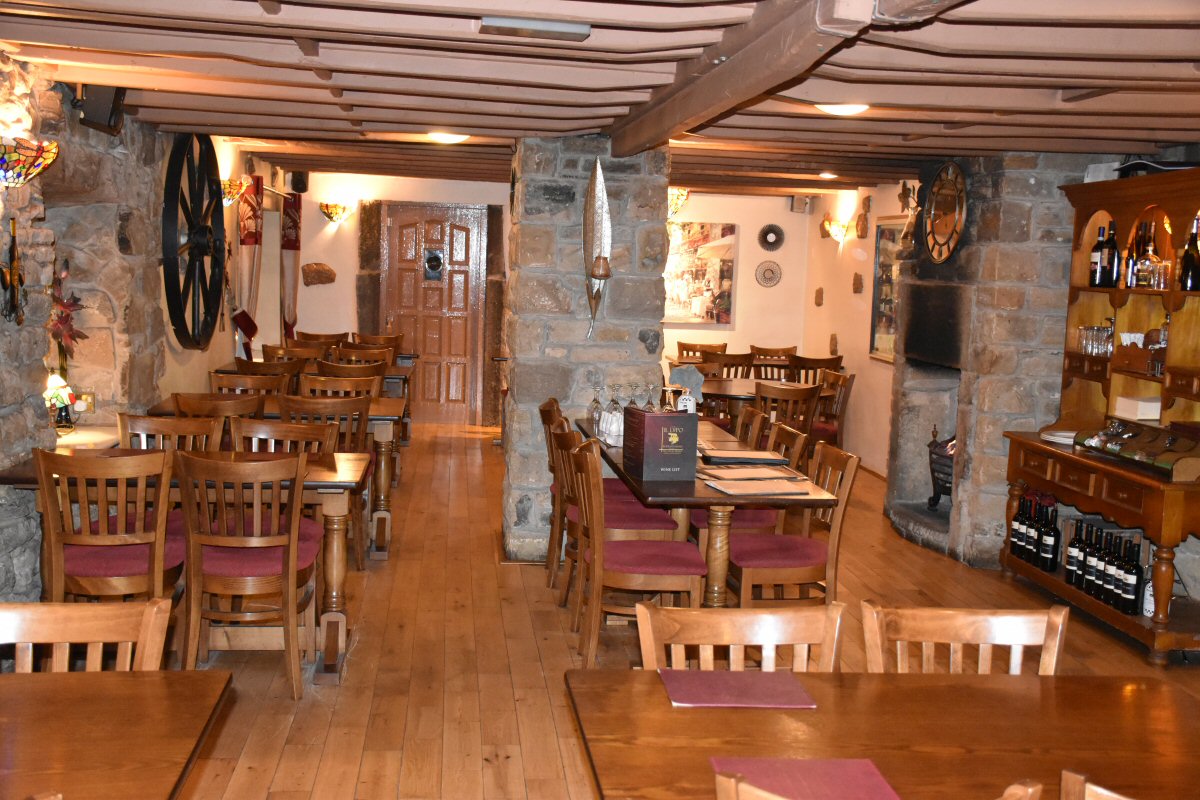 We decided to order a bottle of Pinot Grigio; it's Mummys fave and His Nibs fancied joining us for a glass, so we ordered that and some water for the table whilst we inspected the food offerings further before finalising our choices. Having stuffed ourselves the evening before at Chez Jules in Chester, we weren't in the market for a full-on 3 course dinner so skipped the starters.

Il Lupo do a great range of pizzas and al forno dishes, but it was the good old pasta varieties that won the race for us: I ordered Black Squid Ink Ravioli (£15.95), his Nibs opted for Penne (£13.50) and Mummy Bird had Tagliatelle (£13.95). As you would expect, there was a little wait whilst our food was being cooked freshly for us, but we didn't have too long to go until the steaming dishes were being placed in front of us. Both Mummy Bird and The Man had grated Parmesan sprinkled over their choices at the table, but the gentleman advised that my dish might get overwhelmed by the cheese's pungency so I took his advice and abstained.




All of us commented on the generous portion size of our dishes as we eagerly tucked into them, unleashing further tendrils of steam as we did so. My inky toned Ravioli were nicely filled with a Scallop and Chive mixture that was lovely and soft to the bite, with a curiously sweet, gently oniony taste to it. I really enjoyed the accompanying sauce; there was a pleasant sharpness to it courtesy of Garlic and White wine, balanced by sweet Cherry Tomatoes and fruity extra virgin Olive oil. Masses of plump, juicy King Prawns kept the party going, ably assisted by baby Octopus and shell-on Cockles and Mussels. This was a wonderfully tasty dish, full of texture and layers of flavour and the Ravioli parcels were cooked perfectly.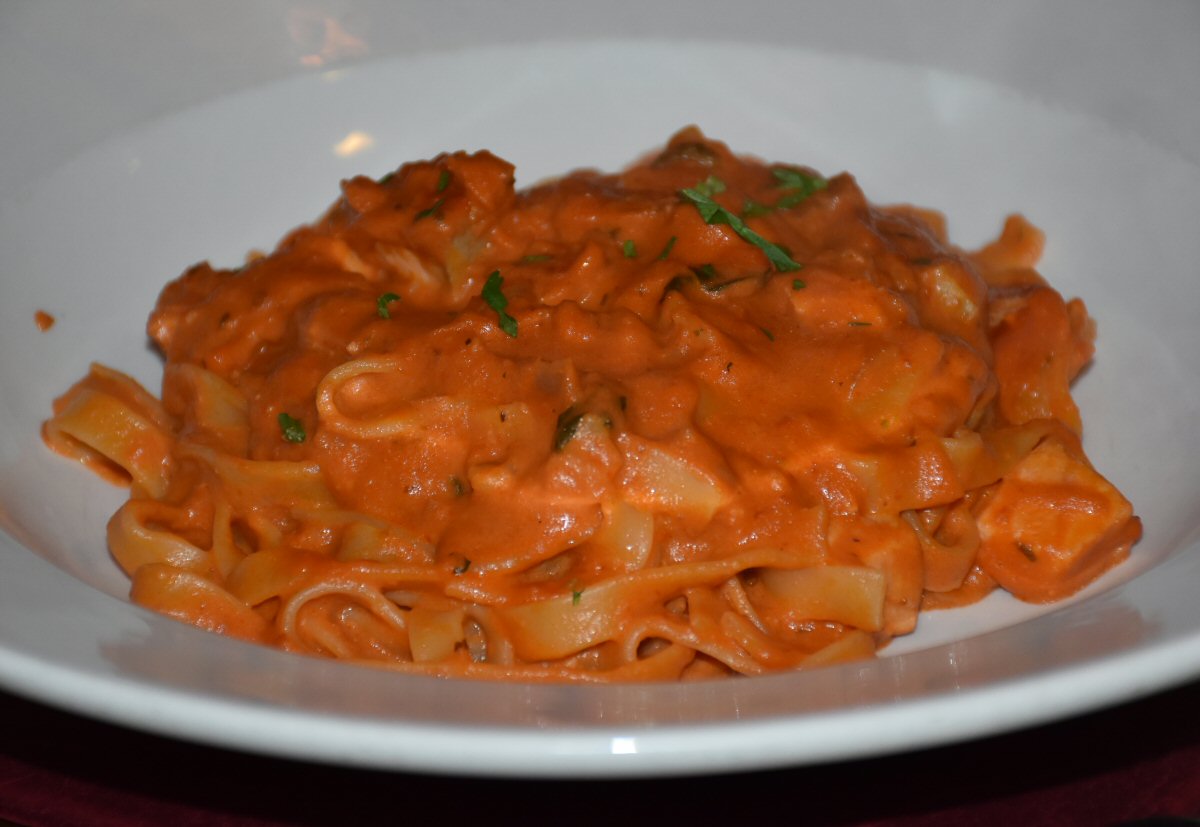 Next to me, Mummy Bird was busy twirling the strands of Tagliatelle onto her fork, stabbing pieces of Salmon as she did so. The colour of her sauce was delicate blush pink, the result of Tomatoes, Parmesan and Cream being combined together and then enhanced by the addition of Garlic, Onion and the bright, Basil-laden tones of Pesto. Some dishes just take you to the sunnier climes of the Med, don't they?; well this was one of them. Given the portion size, I half expected Mummy to struggle, but she stepped up to the plate and finished every single morsel on her plate!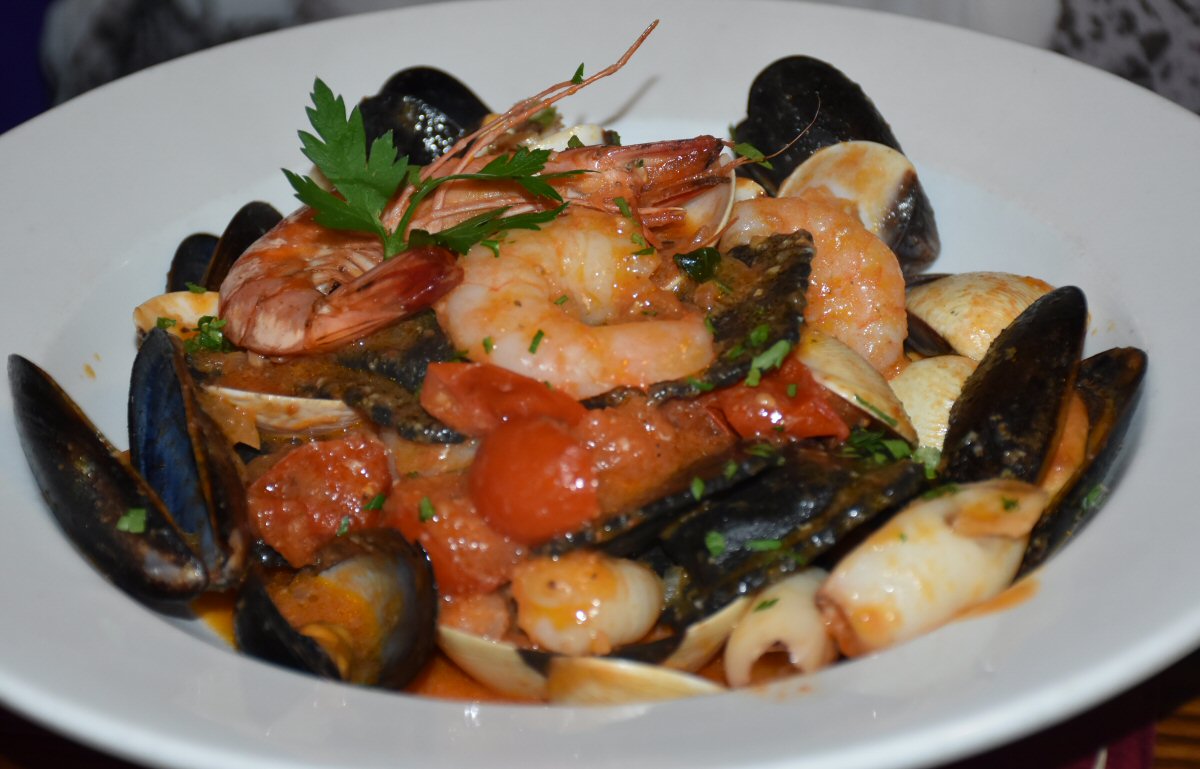 His Nibs often cheats with longer-length pasta such as Tagliatelle and Spaghetti, cutting them into much smaller sizes, so it didn't come as a shock when he chose Penne instead. These ribbed tubes are the perfect size for stabbing with a fork and popping into your mouth whole; they are also superb for letting sauces cling to them because of their uneven surface. Given how tasty the sauce was in this dish, this talent of the Penne was greatly appreciated by Mr Greedy Guts! A robust sauce of Onion, Garlic, Chilli, Pesto, tomato and Basil was certainly keeping His Nibs' palate on high alert with the chunky pieces of Nduja Salami, Italian Sausage, Chicken and Chorizo joining in the flavour fiesta, as well as satisfying the appetite.

All the dishes had had nicely textural sauces to go with the smoother, softer pasta which gave a beautiful balance of stimulation for the senses; Chef clearly knows his craft at Il Lupo. Nothing had gone to waste at our table and the server smiled happily as he took a trio of clean plates back to the kitchen.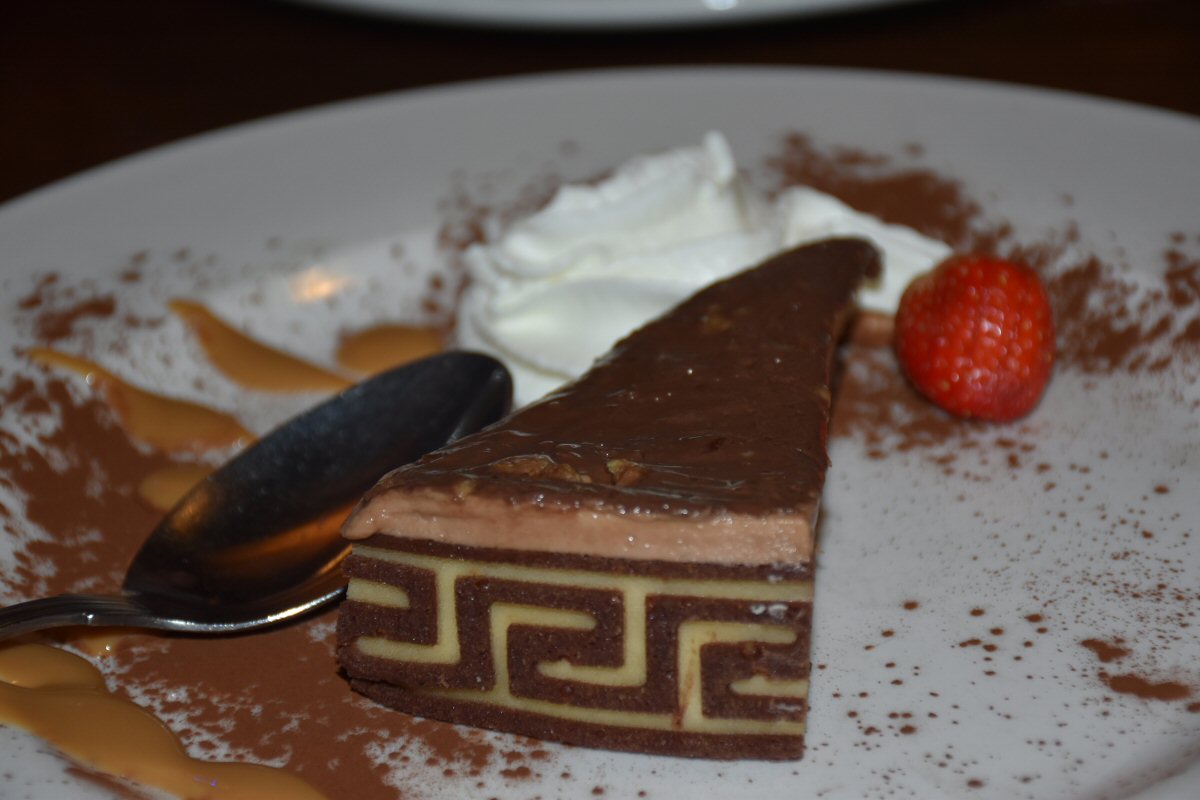 Mummy Bird was stuffed to the brim, but The Man and I were up for having dessert; as Meatloaf once sang, "two out of three ain't bad"! Torta Rocher (£6.50) was the pick of The Man Bird, a mouth-watering minx of Chocolate, Vanilla and Praline mousse that is covered in a Gianduja topping for maximum moreishness. Indulgent isn't the word; this goes way beyond that description! His Nibs was doing a pretty good 'Sally' impression; those of a certain age will get it, younger ones, go Google "THAT scene in 'When Harry Met Sally' film. All I can say is foodgasm a go-go!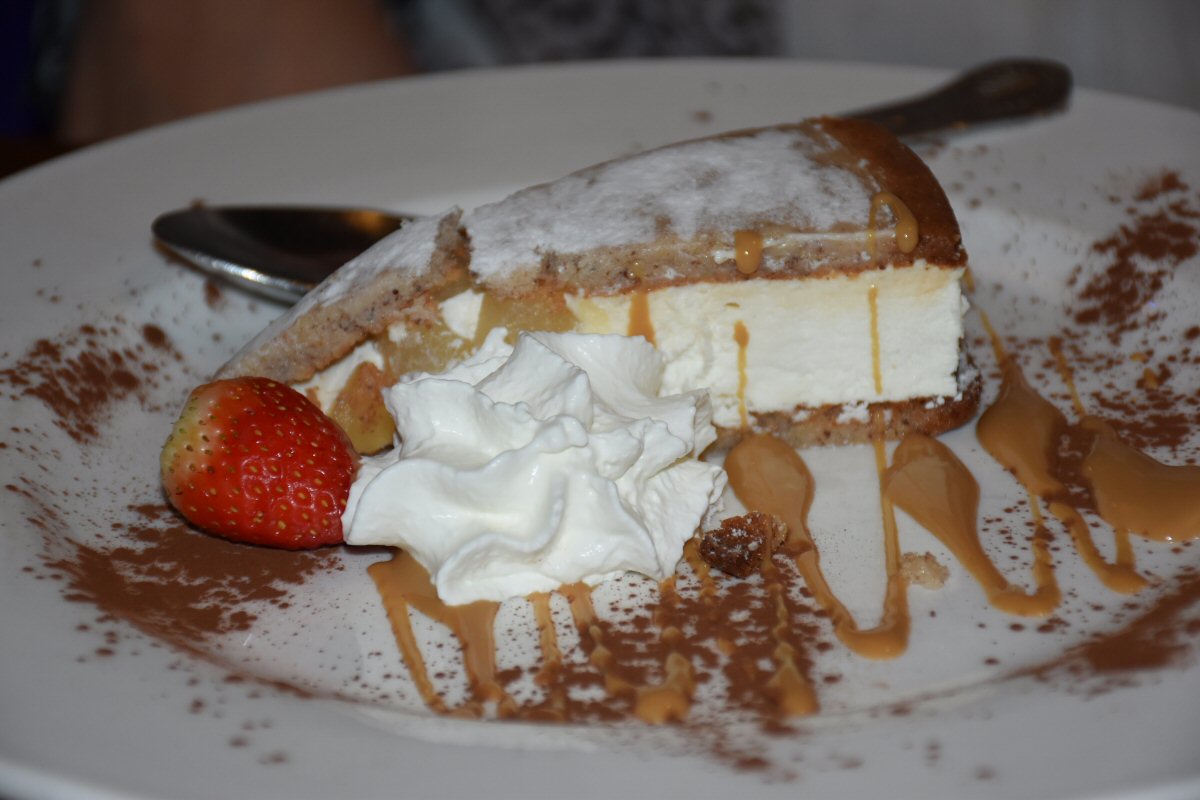 I couldn't decide between Torta Della Nonna (grandma's custard pie, £6.50) and Torta Ricotta e Pera, also £6.50, an Italian cake originating in the Amalfi region. In the end I asked for some assistance from the lovely gentleman, not that it was particularly helpful as he said that they were both delicious. After a bit more deliberation I selected the Torta Ricotta e Pera, which was utterly sublime. The moist Hazelnut sponge cosseted a deep, creamy Ricotta filling (akin to a cheesecake) that itself contained a soft, succulent Pear compote whose fragrance was amazing in the mouth. For such an indulgent dessert, it was surprisingly light on the tummy; I'm sure it's not going to be so forgiving on the waistline though, so best I get to the gym – Karen Hussey a.k.a Dominate Your Fitness, be kind, please! Karen also does nutrition, so she's fab for tweaking foods and doesn't believe in cutting anything out – even treats.

With our tummies as full as the boot of the jalopy with shopping bags, we paid the bill and headed back to Mummy's nest to drop her off and then went back to our lovely nest. What a great few days we'd had, the finale of which was a very scrummy meal back in the 'Shire. Hot Wings awarded to this super Baslow team.
No incentive was provided to visit this venue
read more
Read Some Of Our Recent Reviews
---

A Family Dinner At Thai Thai Restaurant In Chesterfield Thanks to the weather being kind, it had been all hands on deck at Mummy Birds gaff and so we hadn't quite got around to organising Sunday Lunch! There was no way in hell Read The Article

---

Burger and Beer Mondays At The Railway Inn, Shottle It wasn't long ago that we had a Flock outing for Sunday lunch at The Railway Inn at Shottle (and really enjoyed it) so when we were invited to try out their newest offering Read The Article

---

A Visit To The Seafood And Champagne Terrace At The Cavendish Hotel, Baslow I know The Man and I must seem calm and collected to a lot of you, so let me shatter that bubble right now by describing what happened when a certain invite Read The Article

---

Dinner At The Red Lion At The Peak Edge Hotel Sometimes you visit somewhere that is already wonderful but, when you know that there is more to come, gives you that shiver of excitement up and down your spine. This is exactly the feeling Read The Article

---

A Tasty Lunch At The Vegan Revelation Cafe, Belper Vegans, you have got an absolute bobby dazzler of a cafe here; non-vegans prepare to have your taste buds bowled over and have your 'no meat' notions over-turned - and I do include myself Read The Article

---

Dinner At The Recently Refurbished Bay Leaf Indian Restaurant, Heanor Can you believe we were out again with Mummy Bird; she's becoming quite the social Tribal Elder! The last time she'd seen Faz was at his previous restaurant (Nirvana) Read The Article

---

Dinner At The George At Hathersage You can't fail to be impressed by The George at Hathersage when you first clap eyes on it; the huge stone building commands your attention with its imposing beauty. It has its own car park too Read The Article

---

Dinner At The Seafood Cave and Grill, Matlock Bath I love seafood (yes, even cockles and winkles!) so I was beyond excited to receive an invite from the owner of The Seafood Cave and Grill in Matlock Bath, Ian McGhie, to sample the food Read The Article

---

Sunday Lunch At The Spanker, Nether Heage As many of you lovely peeps are aware, we recently did a poll on the blogs Facebook page asking for your favourite venues to have Sunday Roasts at. Well, you all certainly got involved, voting for Read The Article

---

Burgers And Loaded Fries At Cravings Street Food Bistro, Sutton-in-Ashfield Boyf Birds' parents had been to a local eaterie recently that they felt would be right up our street (food), so we decided to pay said venue - Cravings Street Food Read The Article

---