Sunday Lunch At Lumb Farm Country Club
---
Published On Thursday 18 Nov 2021 by Sticky Beak
See Recent Dining Out Reviews | See All Recent Reviews


It's been a fair old while since the Flock went to Lumb Farm and Country Club; not since it was Chickadees Prom, which is way, way too long! This time it was just Mummy Bird, His Nibs and me that were dining; we'd been hard at it decorating and when The Man spied an offer of 'buy a main course and get either your starter or dessert free', available that day only, it was too good to pass up.
Nothing has changed on the jaunt up the long driveway and despite there being a wedding fair on, we got parked up nice and easily enough thanks to there being a substantial amount of parking available.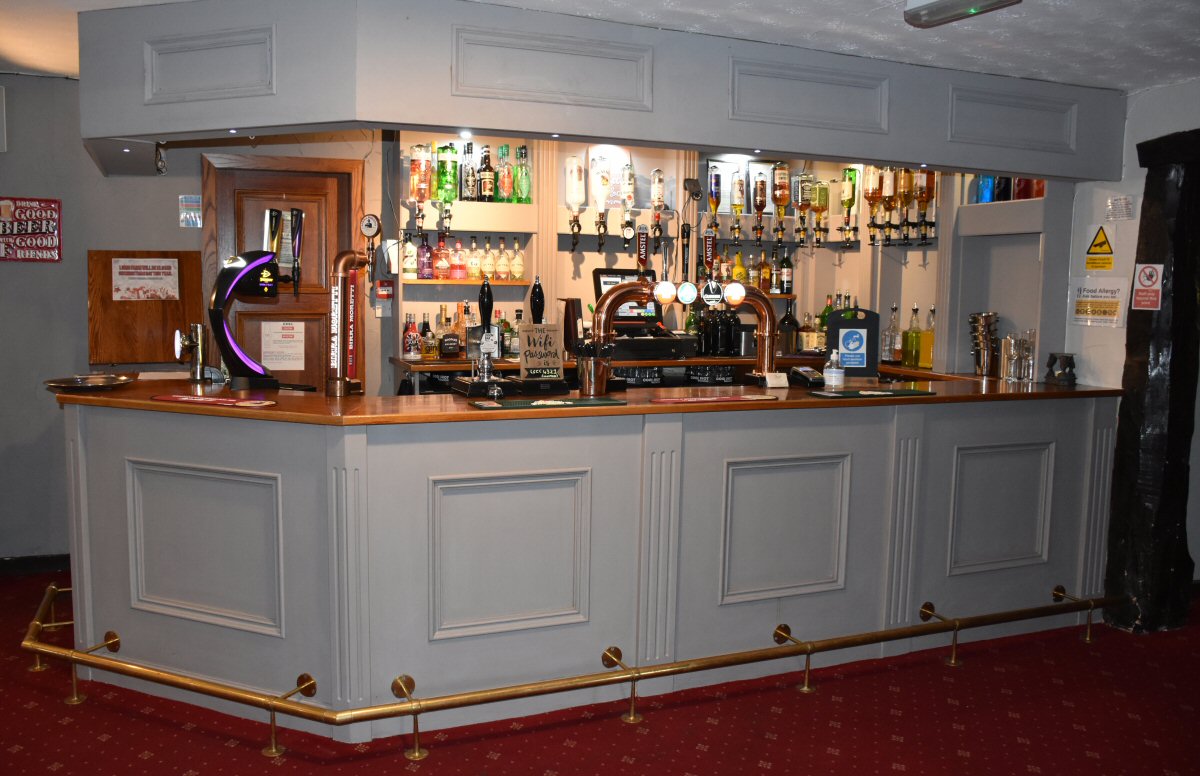 As you go through the main door there is hand sanitiser on the table for you use before you reach the bar area. We announced our arrival to the lovely young lady and ordered drinks, which we carried ourselves to the table that had been reserved for us. It's a huge dining area and has been decorated very nicely with a mix of modern and comfy styles. I loved all the mirrors on the walls and the trio of dramatic black chandeliers in the middle of the room that provided the light, whilst Mummy Bird was rather smitten with the pale grey, cream and blue checked curtains.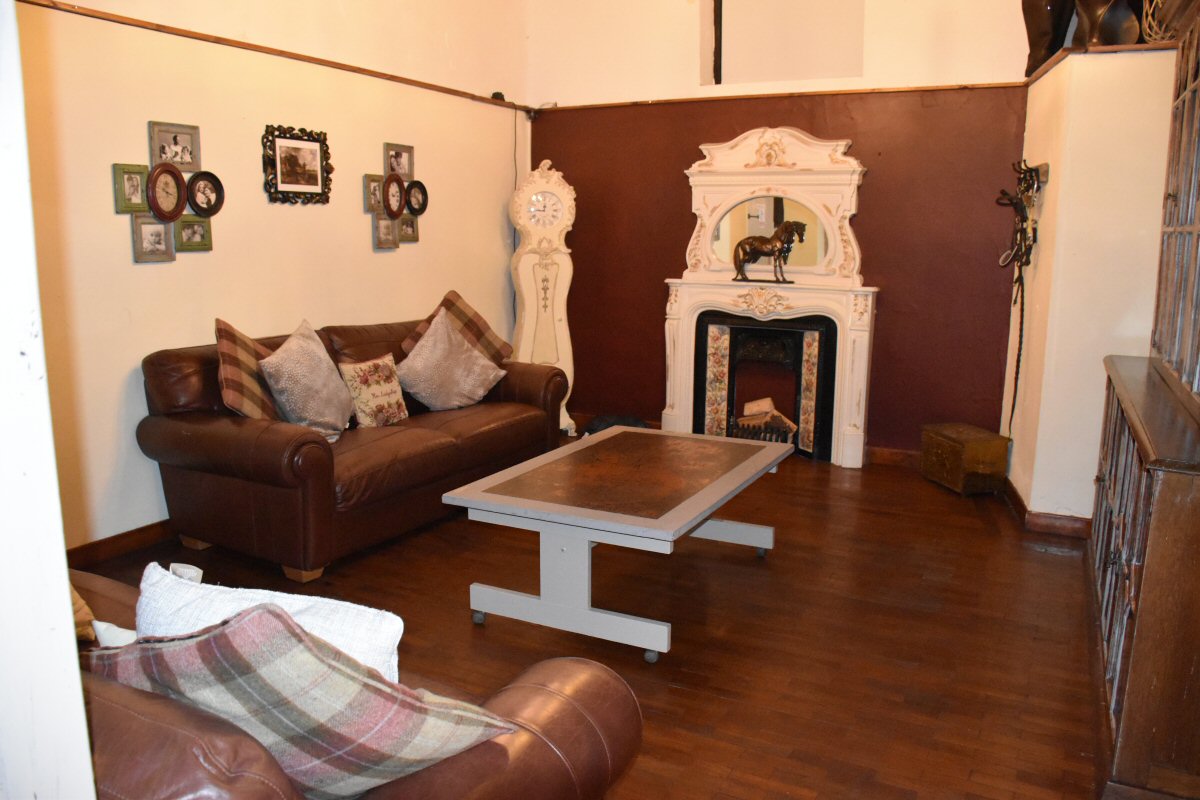 One of the team brought a jug of iced water over for us, some glasses and slices of fresh Lemon (complete with tongs) if we wanted them. After a short interlude, she came back to take our order; now, whilst the starters were tempting, we all decided to go for pudding as our second course, so she took the main course order at this time.




I fancied the Roast Chicken Supreme with Homemade stuffing, The Man went for Roast Silverside of Beef and homemade Yorkshire Pudding, and Mummy Bird opted for the Slow-Roasted Lamb Shank in Minted Gravy. All the mains come with creamy Mash, Roast Potatoes and a selection of seasonal Vegetables. Usually a single course is £12.95, 2 courses £16.95 and 3 courses for £21.95 per person, which we thought was a fair price; turned out it was a blindingly good deal!

We remembered from our previous visit that the portion sizes at Lumb Farm are generous, but my god, nothing prepared us for the gargantuan size of the Sunday Roasts; all I can say is "starve yourselves for at least a day". Seriously though, I think someone needs to order larger serving plates because just with the meat, Mash, Parsnip, trio of Roasties, Yorkie, and Stuffing Ball there was literally no room for the vegetables!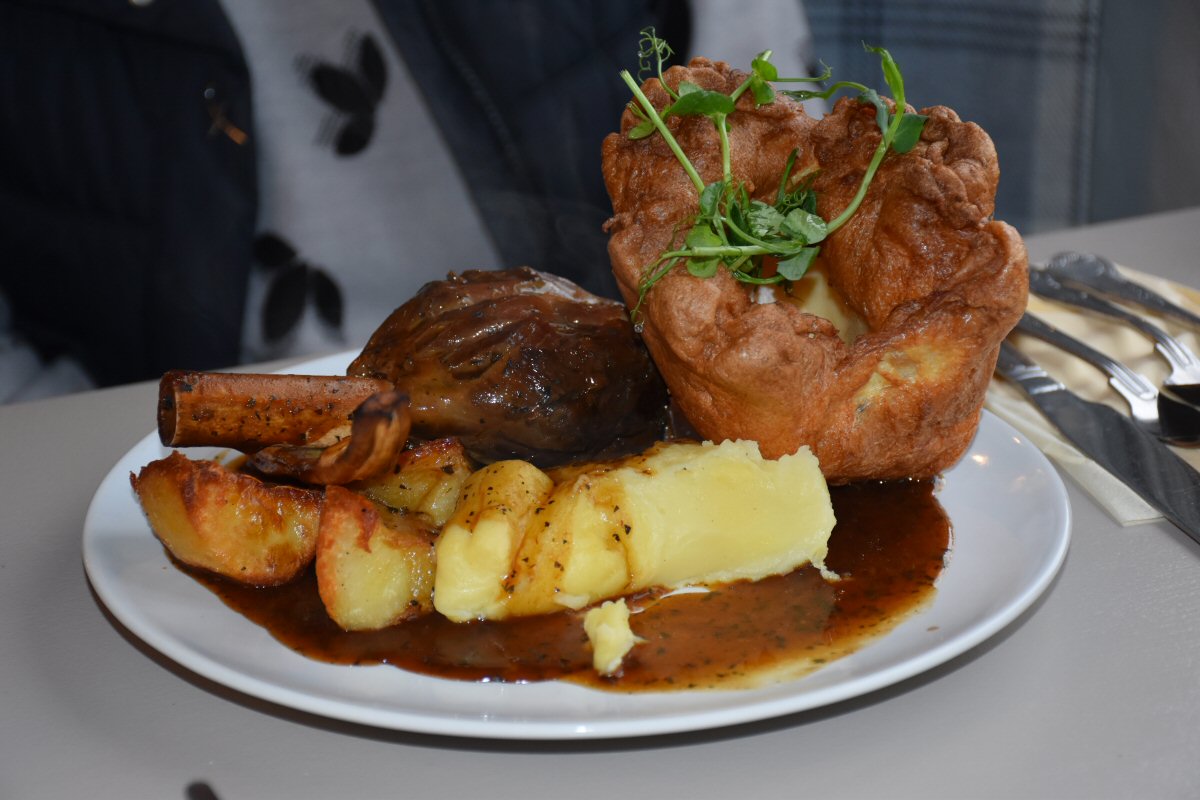 Two bowls of accompaniments came out: one laden with the most beautiful looking Cauliflower Cheese this side of the Pennines, and the other crammed with Cabbage, Fine Green Beans, Broccoli, Peas and Carrots. There was so much of the veg that we didn't finish it all, and the three of us love to pile on our veggies on Sundays, so that should tell you how much food there was on our table!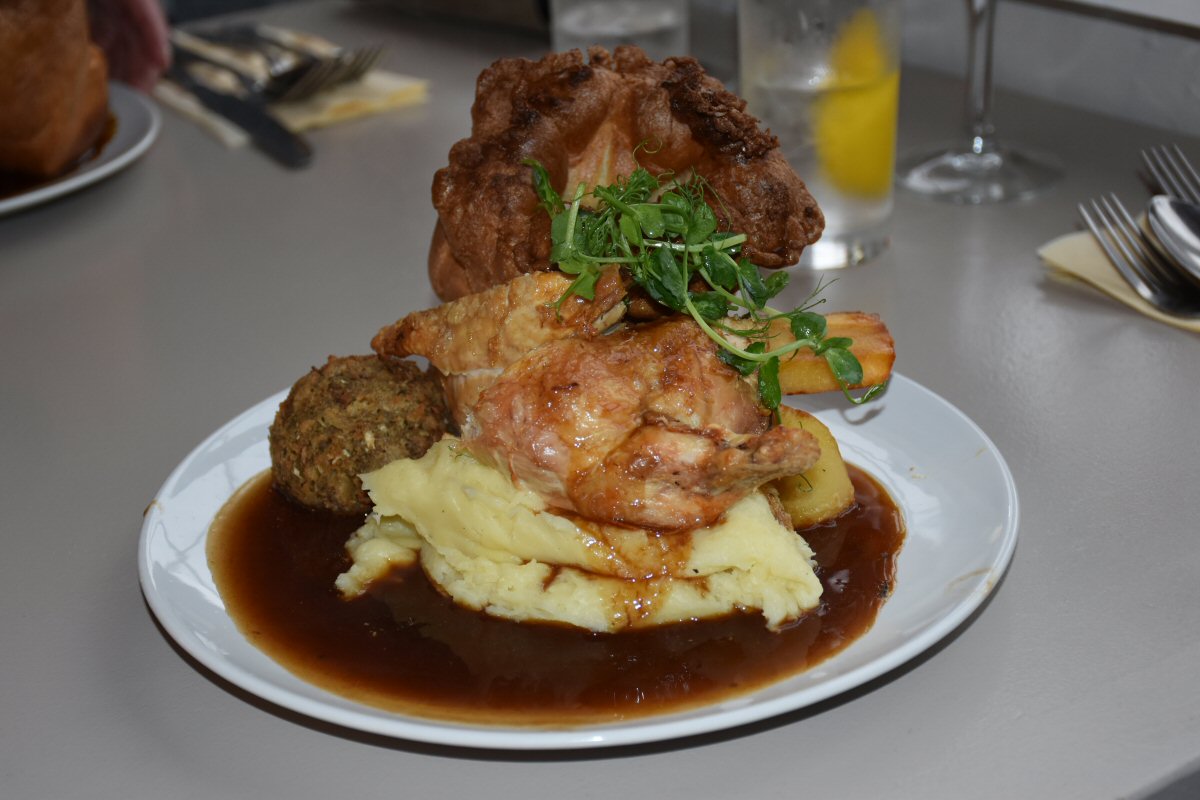 Swirls of steam were issuing forth from all the plates and dishes, and all the food was indeed piping hot and fresh out of Chef Josh's kitchen.Having taken the photos for blog purposes, it was serving spoons at the ready and go, go, go! As well as the two-tone colour of the Cauli Cheese on the melted crust, there was an ocean of thick sauce underneath so I spooned plenty of that onto Mummy Bird's plate for her as His Nibs served up her vegetables.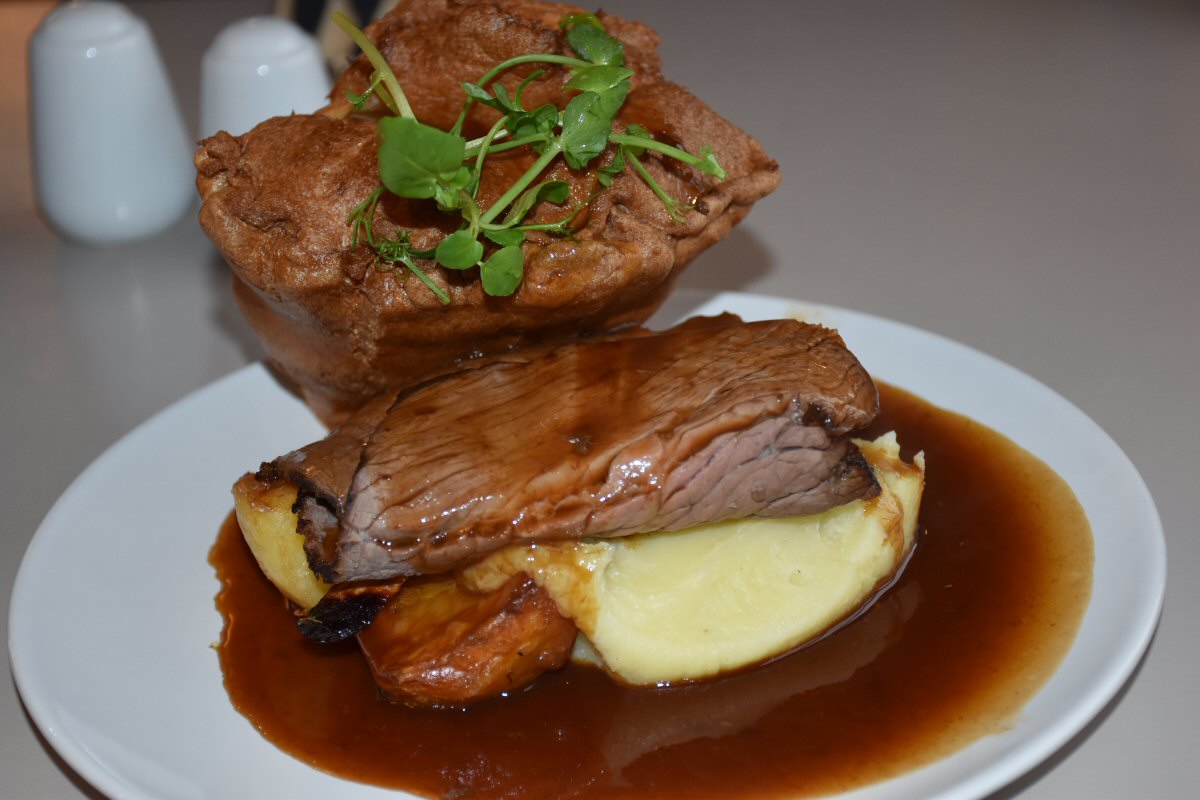 Mummy Bird gave her Lamb Shank the merest of touches with her fork and it slipped cleanly away from the bone, the meat was that tender! Flavour-wise it was superb too, and comes from a local supplier, which was good to hear; support and shop local. Our lovely server, Freya, had also brought out a selection of sauces (in small individual bowls) to accompany the meats, but asked if there was anything else we would like. I have to say that the level of service was really good at Lumb Farm, and all done with a smile; we liked the relaxed pace here, because one meal that really shouldn't be rushed is the Sunday Roast. My Chicken was gorgeously juicy and creamy in taste, and His Nibs' Beef was rich in taste and tender in texture. You can tell how impressed we all were with our choices as a hush descended over our table, and this only happens when we're busy filling our faces with delicious grub!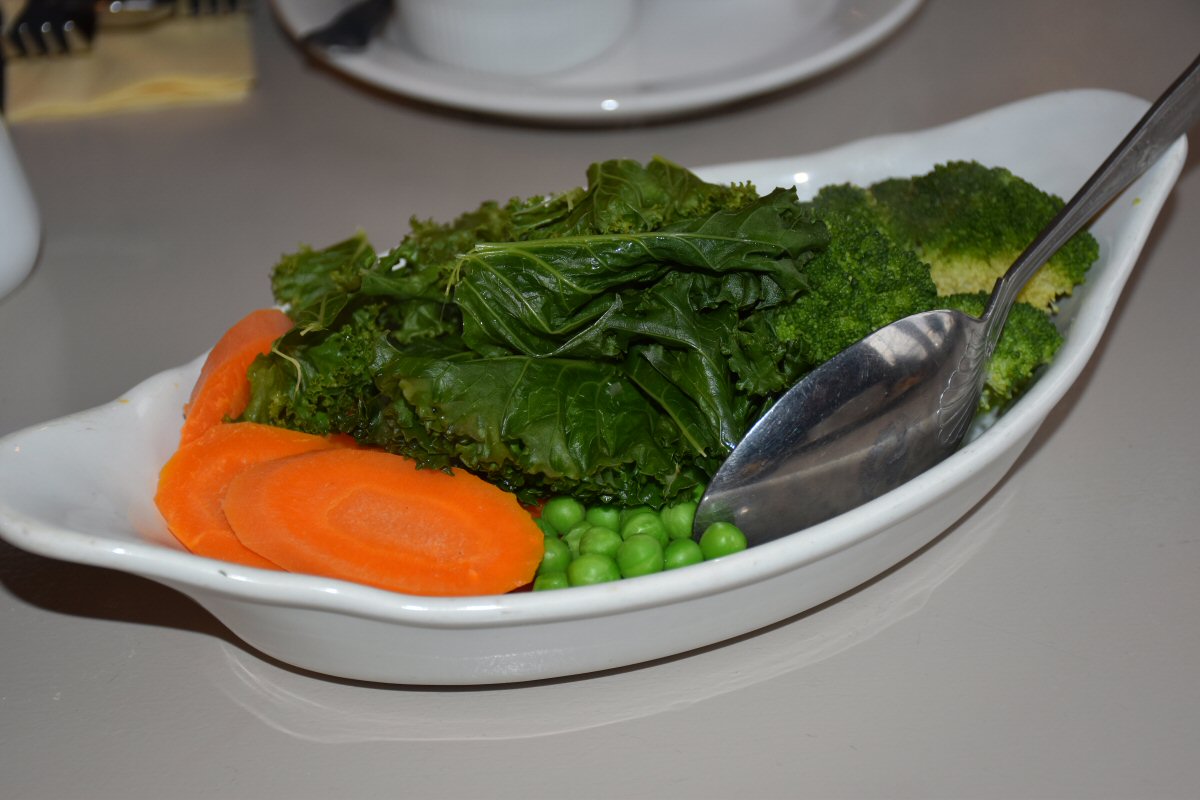 All the vegetables had been cooked perfectly to preserve all their flavour and a nice crunch without being crunchy, if that makes sense. Both The Man and I have been brought up in households that made an occasion of Sunday lunches/dinners and so we are well versed in knowing whether roasties and Yorkies are 'up to scratch' in the crispness stakes. Chef Josh does a good roast 'tater (crisp, golden outer, nice soft inner, and the spud has to have some flavour of its own) but he does an even better Yorkshire pudding! Not only did these beasts need their own postcode, they had fantastic thin, ultra-crisp outers that gradually morphed into softer, more yielding (but definitely not soggy!) bottoms and had a nice rich flavour in the mouth. No word of a lie, I think these were the best morsels I've had –other than Mummy Birds', obvs, and could rival some top chefs in their fancy kitchens. I don't say that lightly either, but props where they're due, and Josh deserves them.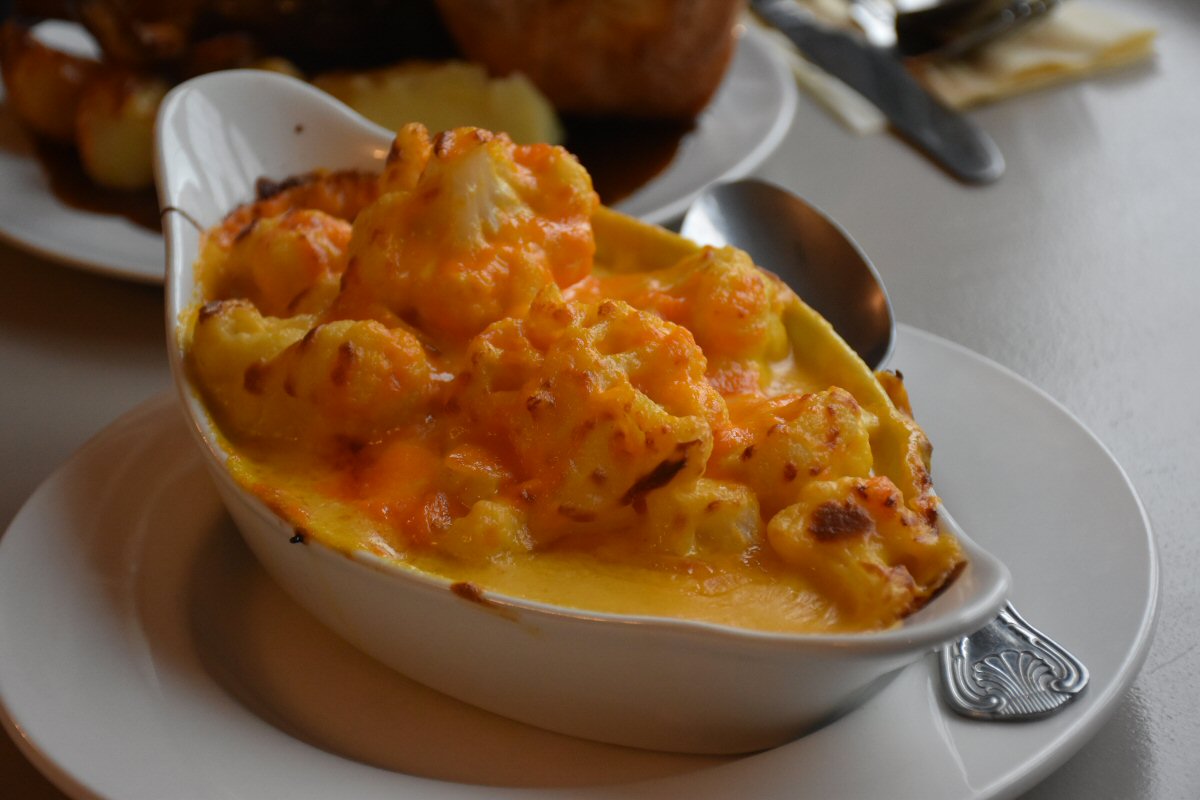 Freya came to clear away our plates and the various dishes and bowls (she'd also been checking on our satisfaction and drinks whilst we'd been eating) and asked if we wanted pudding. As seasoned gluttons, His Nibs and I always keep 'space for pud' in our tummies and our bad influence was rubbing off on Mummy, as she said that she would have a dessert as well.

I decided to go for the Ultimate Chocolate Fudge Cake with pouring cream on the side, the Man chose his perennial fave, Sticky Toffee Pudding and Custard, and Mummy Bird harked back to her youth with the classic Old School Cornflake Tart (with Custard, for good measure!).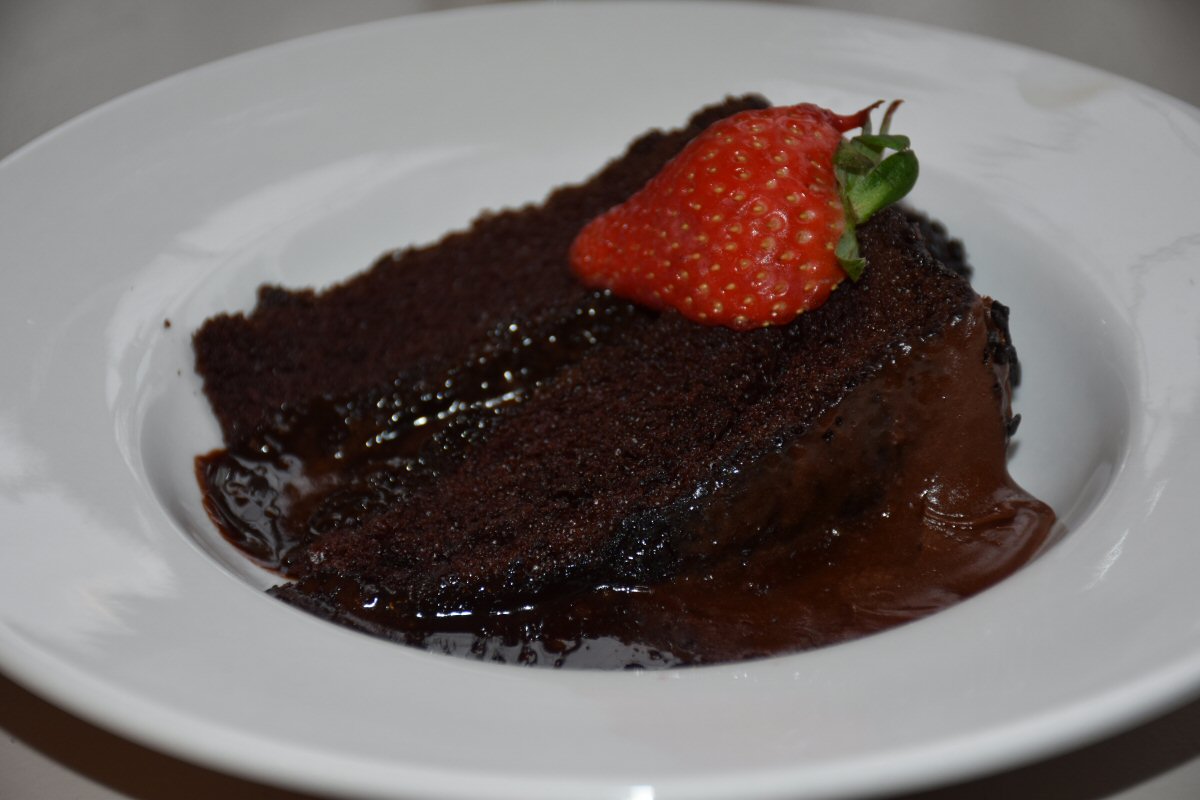 As with the main course the portion size was generous and we girded our loins for the challenge! My Fudge Cake is served warm so it goes wickedly gooey in the mouth and coats the cheeks in such a way that it lingers there for quite a while, letting you fully appreciate its cocoa luxury. I was pleased to note that, for such an indulgent dessert, the texture of the sponge cake was lovely and light. Another nice touch was the fact that the pouring cream, of which there is plenty (surprise, surprise!), comes in a separate jug so that you can add as much or as little as you fancy.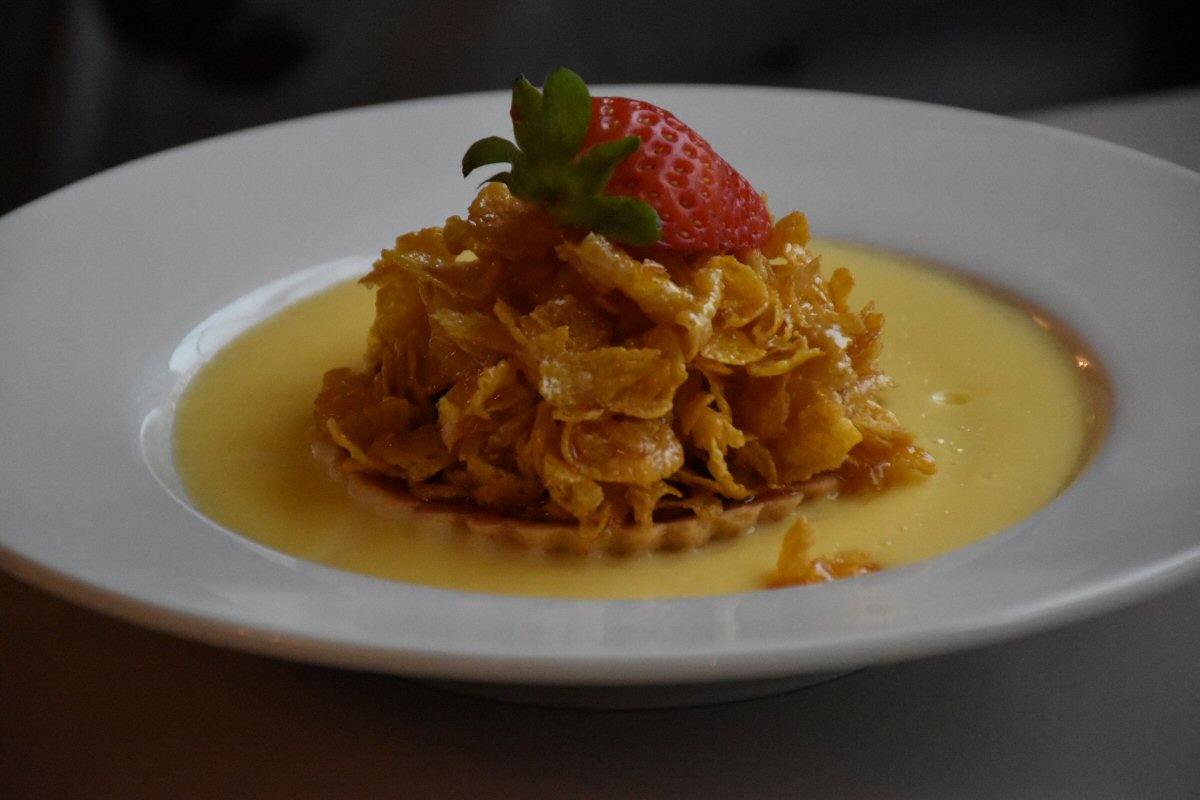 Mummy Bird was chowing down happily on her retro pud and commented on the fact that it was beautifully sticky with a firm texture that wasn't going to break her teeth – some things have progressed over the millennia then ;)! Next to me, The Man was ploughing away steadily at his dark, hearty pudding, spooning mouthful after mouthful in with a happy smile on his face. As a bit of an expert on this particular pud he said that this one was wonderfully rich in taste, but light in texture with an indulgently fab toffee sauce that lazed on the palate. Three seals of approval on the puds, then.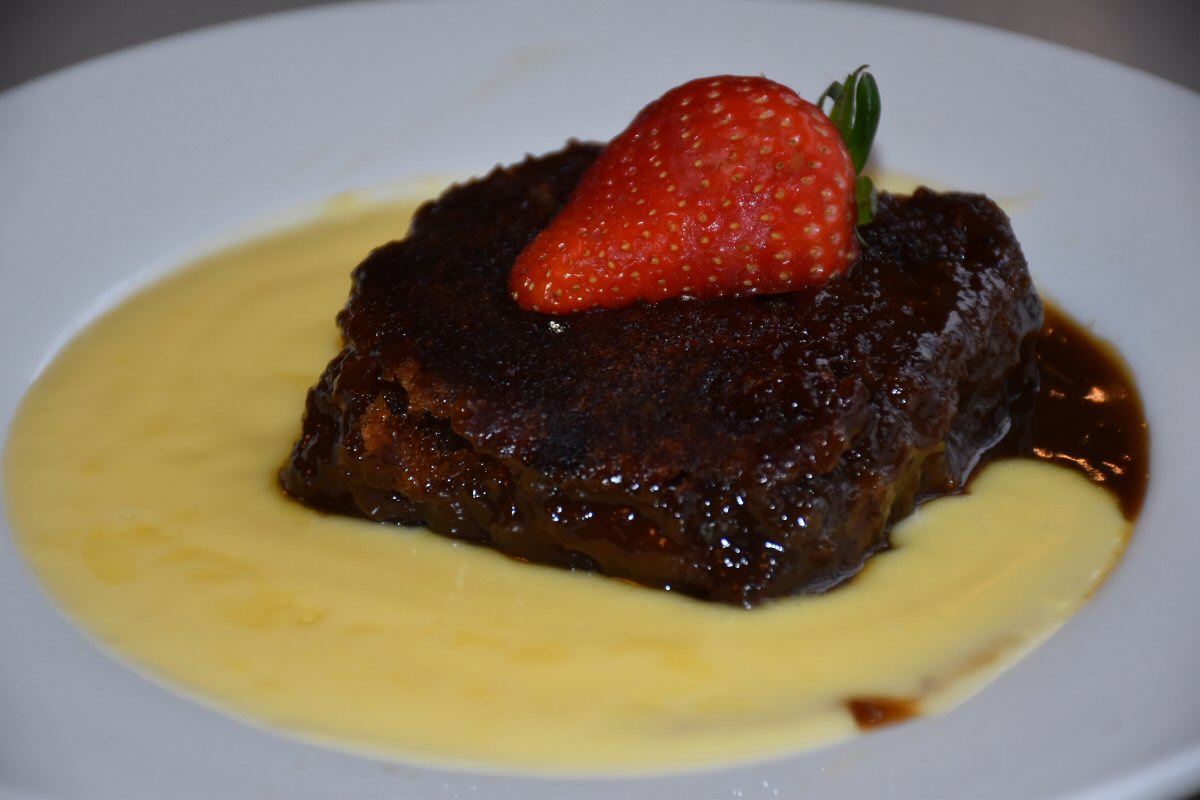 So full were we, that none of us fancied a coffee! This had been a lovely, relaxed family meal and it was nice to see that families as well as couples had chosen to come to Lumb Farm for this iconic meal. Hot Wings more than happily awarded here! We are already planning to return. To book a table phone the Lumb Farm and Country Club team on 01773 744299.
No incentive was provided to visit this venue
read more
Read Some Of Our Recent Reviews
---

A Family Dinner At Thai Thai Restaurant In Chesterfield Thanks to the weather being kind, it had been all hands on deck at Mummy Birds gaff and so we hadn't quite got around to organising Sunday Lunch! There was no way in hell Read The Article

---

Burger and Beer Mondays At The Railway Inn, Shottle It wasn't long ago that we had a Flock outing for Sunday lunch at The Railway Inn at Shottle (and really enjoyed it) so when we were invited to try out their newest offering Read The Article

---

A Visit To The Seafood And Champagne Terrace At The Cavendish Hotel, Baslow I know The Man and I must seem calm and collected to a lot of you, so let me shatter that bubble right now by describing what happened when a certain invite Read The Article

---

Dinner At The Red Lion At The Peak Edge Hotel Sometimes you visit somewhere that is already wonderful but, when you know that there is more to come, gives you that shiver of excitement up and down your spine. This is exactly the feeling Read The Article

---

A Tasty Lunch At The Vegan Revelation Cafe, Belper Vegans, you have got an absolute bobby dazzler of a cafe here; non-vegans prepare to have your taste buds bowled over and have your 'no meat' notions over-turned - and I do include myself Read The Article

---

Dinner At The Recently Refurbished Bay Leaf Indian Restaurant, Heanor Can you believe we were out again with Mummy Bird; she's becoming quite the social Tribal Elder! The last time she'd seen Faz was at his previous restaurant (Nirvana) Read The Article

---

Dinner At The George At Hathersage You can't fail to be impressed by The George at Hathersage when you first clap eyes on it; the huge stone building commands your attention with its imposing beauty. It has its own car park too Read The Article

---

Dinner At The Seafood Cave and Grill, Matlock Bath I love seafood (yes, even cockles and winkles!) so I was beyond excited to receive an invite from the owner of The Seafood Cave and Grill in Matlock Bath, Ian McGhie, to sample the food Read The Article

---

Sunday Lunch At The Spanker, Nether Heage As many of you lovely peeps are aware, we recently did a poll on the blogs Facebook page asking for your favourite venues to have Sunday Roasts at. Well, you all certainly got involved, voting for Read The Article

---

Burgers And Loaded Fries At Cravings Street Food Bistro, Sutton-in-Ashfield Boyf Birds' parents had been to a local eaterie recently that they felt would be right up our street (food), so we decided to pay said venue - Cravings Street Food Read The Article

---