A Flock Dinner At Kathmandu Gurkha In Clay Cross
---
Published On Sunday 14 Nov 2021 by Sticky Beak
See Recent Dining Out Reviews | See All Recent Reviews


A random convo sparked the comment "we haven't been there in ages", so with one swift movement His Nibs picked up the phone and booked a table at Kathmandu Gurkha restaurant in Clay Cross. We had booked an early evening slot so didn't have too much of a problem getting parked; it isn't the largest (or widest!) car park in the world, so things can get a bit sticky at peak times, but there is plenty of parking nearby on side streets.
The tables are nicely spaced apart, which is great from a privacy point-of-view as well as being Covid safe, and are smartly set with spotless cloths, cutlery and napkin adorned plates. I have to mention the chairs; with their high backs and deep padding, these are extremely comfortable. All of the team are very smartly dressed: the gents in trouser and waistcoat combos, the ladies in traditional saris.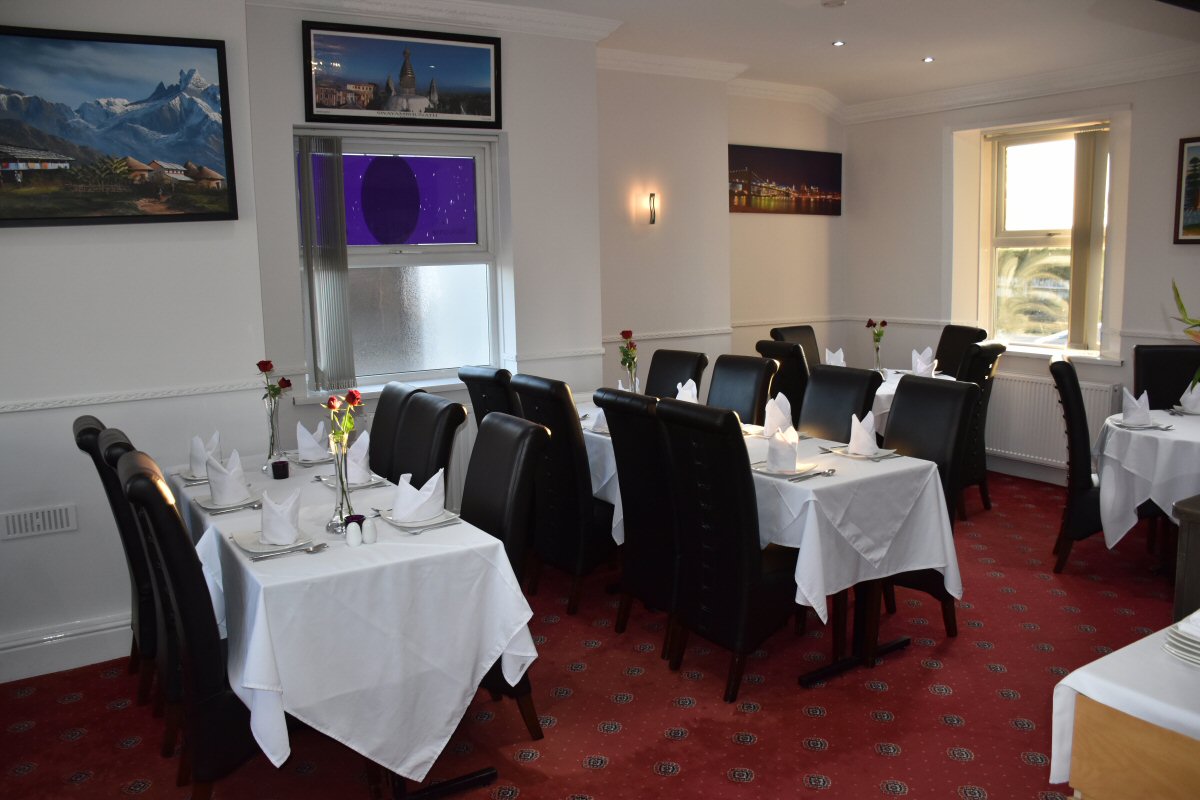 We kicked things off with Poppadoms and Pickles – is there any other way, really? The poppadoms were lovely and crunchy and not at all greasy, and the pickles ranged from mild, sweet Mango Chutney to kicking spiced Onion salad. For a while our table fell silent, the only sounds the intermittent snap of poppadoms being broken and the clink of spoons as they scooped up sauces.




Many years ago I tried the Mo-Mo (dumplings) for the first time in my life and instantly fell in love with their comfortingly soft outers. It was a no-brainer, then, what I was going to have for my starter on this occasion, too: the Chicken Mo-Mo (£4.95), served with Sesame and Tomato chutney and a crisp side salad. The Man Bird had Nepalese Chilli Chicken (£4.95) and Mummy Bird went for Chand Ko Chad (Marinated Chicken Breast pieces, also £4.95).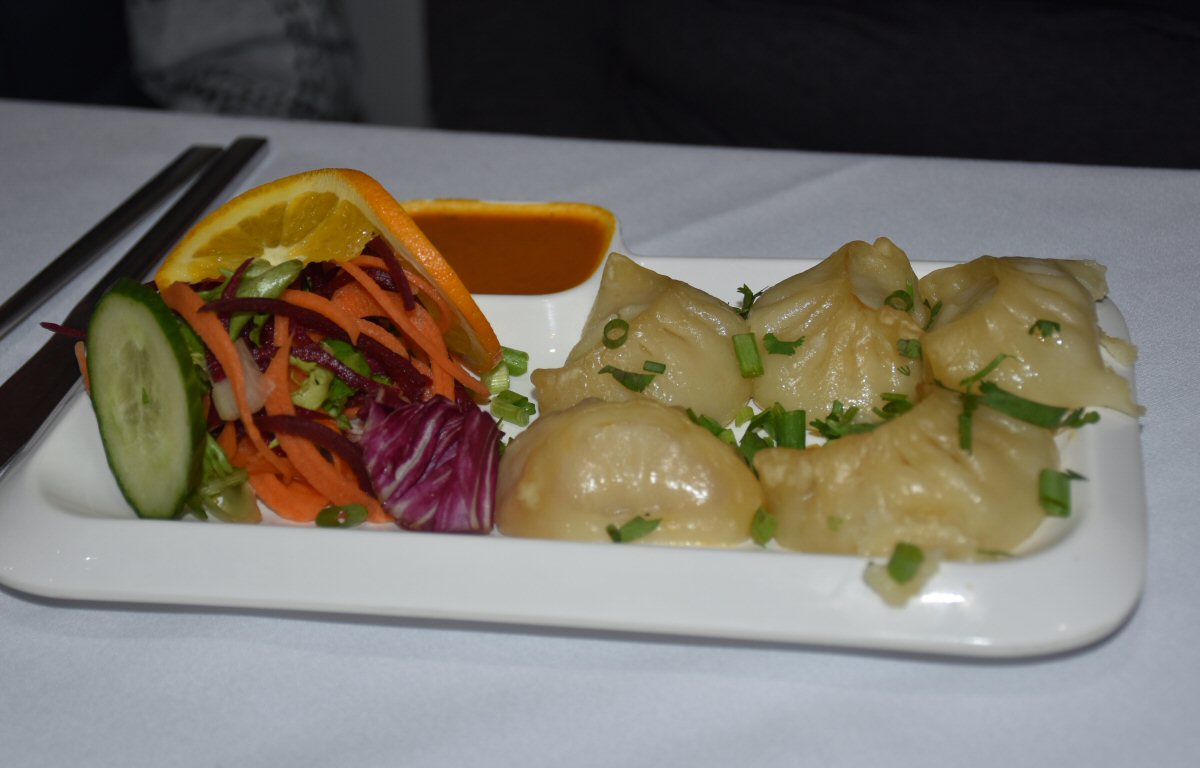 If you want something tasty, satisfying and comforting all at the same time, then the Mo-Mo are your new best friends; they literally have it all. Mummy Birds starter had the Chicken breast bites topped with a creamy, cheesy sauce with just a light touch of Black pepper to liven them up, and she said that the poultry was gorgeously moist and flavoursome. The sauce had that fantastic linger factor too, coating the tongue lovingly. His Nibs had gone for a proper fiery minx for his first course, grinning happily as that Garlic and Chilli combo did a swift one-two on his palate! Sliced Onions and Peppers added a nice textural element to this dish and the green peppers popped really well against the ruby red sauce for some visual appeal.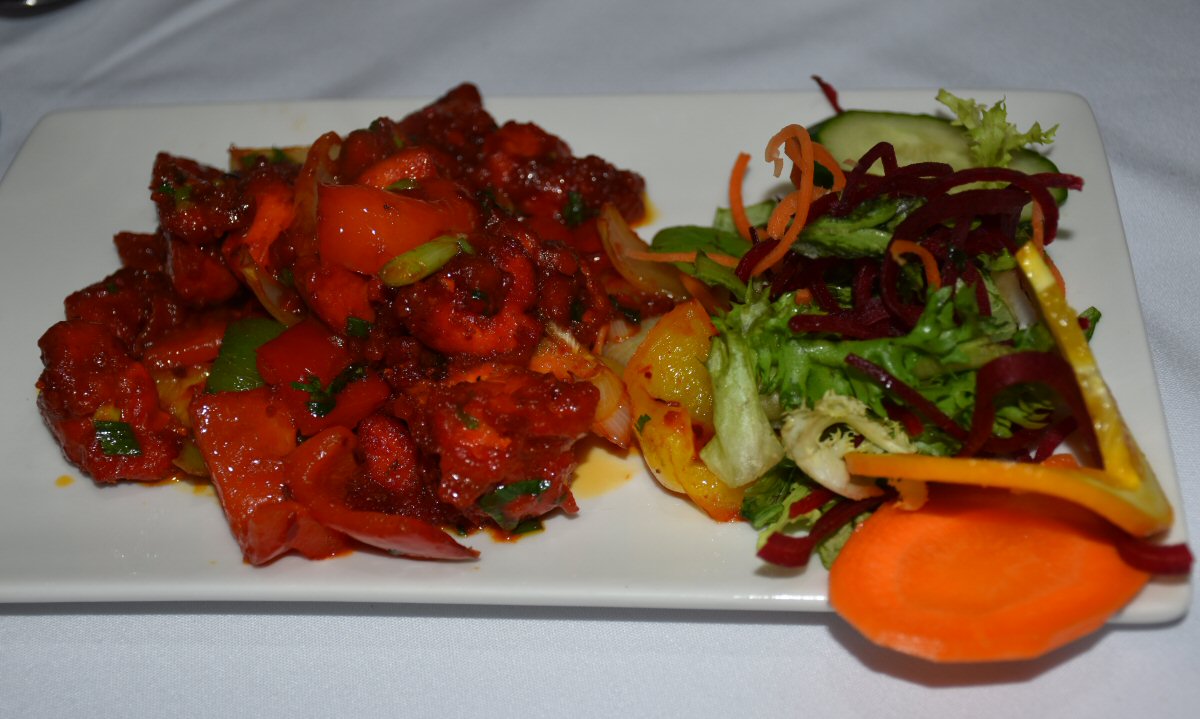 Kathmandu had filled up nicely and the venue was alive with the steady bubble of laughter and chatter, something that still has a bit of novelty value to it in these early days of returning to pre-pandemic social eating habits. Our lovely server had cleared away our plates and checked we were ok for drinks, then left us yapping away merrily among ourselves – something we're rather good at, believe it or not! It wasn't long at all before our nostrils twitched and plates of food were being set down in front of us: Mummy had gone for her favourite, Chicken Gurkha Lasuni Khukura (£12.95), I chose Royal Duck (£15.95) and The Man opted for Chicken Chatpata (£14.95).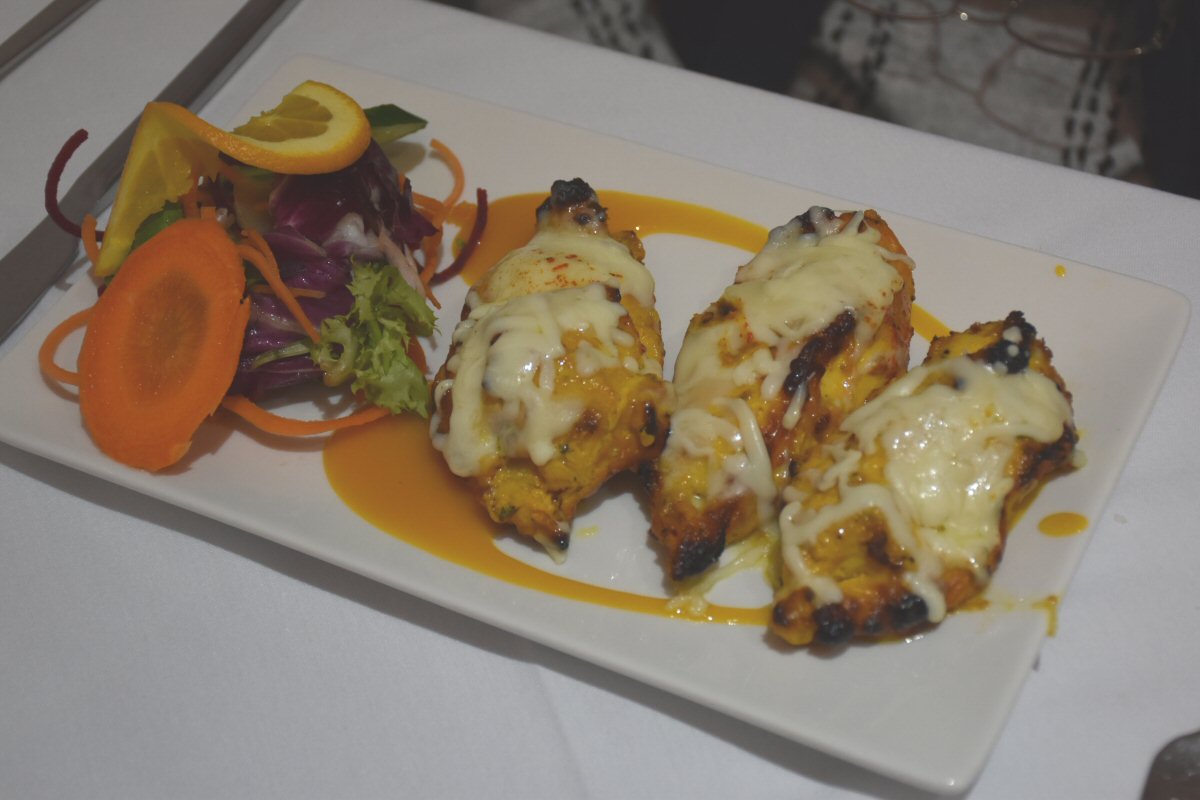 All our choices were from the Chef's Specials section of the extensive menu and come with Pilau Rice and your Choice of Naan Bread; I really liked the fact that you can tailor make these dishes to your own preference, spice level wise. Mummy asked for hers to be on the milder side, I went middle-diddle and His Nibs likes it hot (oo-er!) so that's what he got. The Kathmandu team are clearly feeders – our plates were full with an assortment of delicious looking food. After the photos were taken, we all tucked in heartily and smiled as we savoured those initial mouthfuls.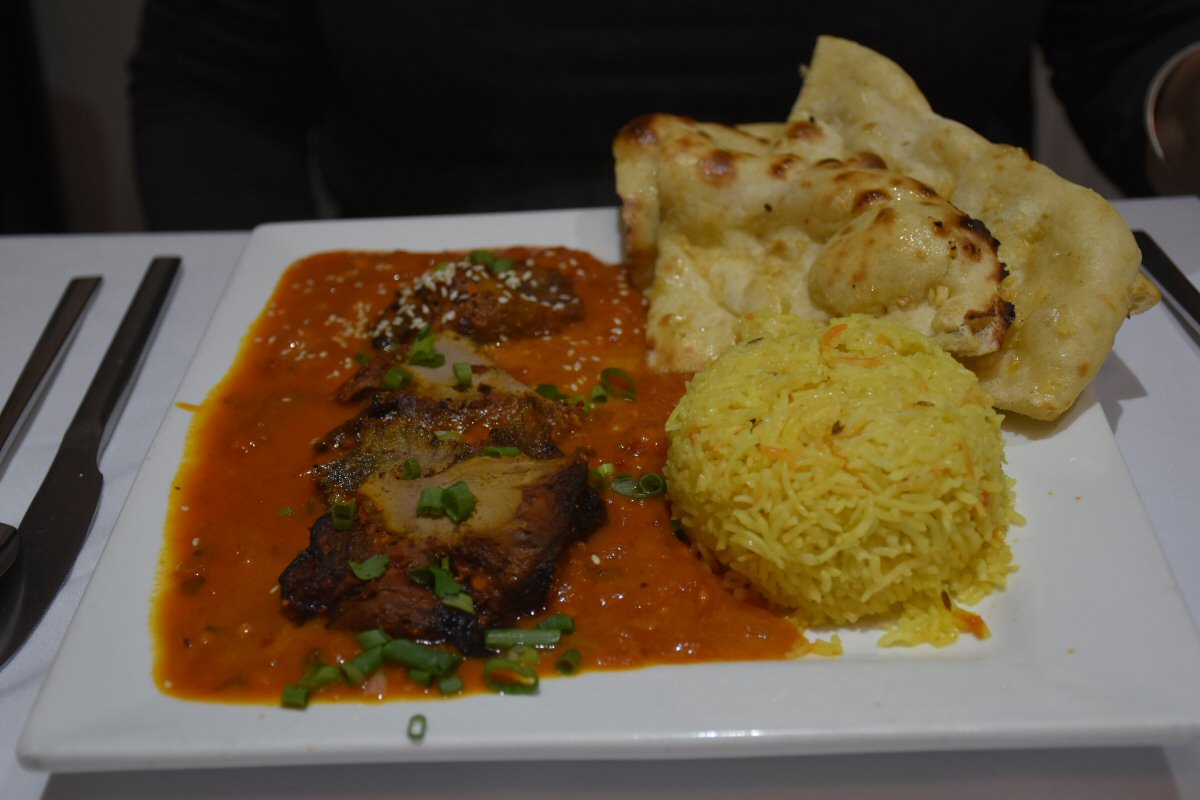 My slices of Duck were rich tasting with an earthy sweetness to them that complimented the strong spices in the sauce brilliantly. I got the heat from Ginger comely through clearly, as well as Corianders distinctive fragrance, and the thicker sauce helped it stay in my mouth so that the flavours really developed on my tongue. The Pilau rice on all our plates had been arranged in precise timbales and each grain was separate from its neighbour and beautifully fluffy without being soggy in the least.




Mummy Bird was chirruping happily as she steadily made her way through her dish, and kindly passed me some to try. The Chicken is marinated in Yoghurt, Mustard and Garlic so that the flavours leech into the flesh, before being cooked in the Tandoor and then served with a garlic-laced sauce. I got a subtle heat from the Mustard at the back of my mouth with Garlic being a little more pronounced, and whilst there was plenty of spice to appreciate, it wasn't at all tingly on the lips or tongue which was perfect for her.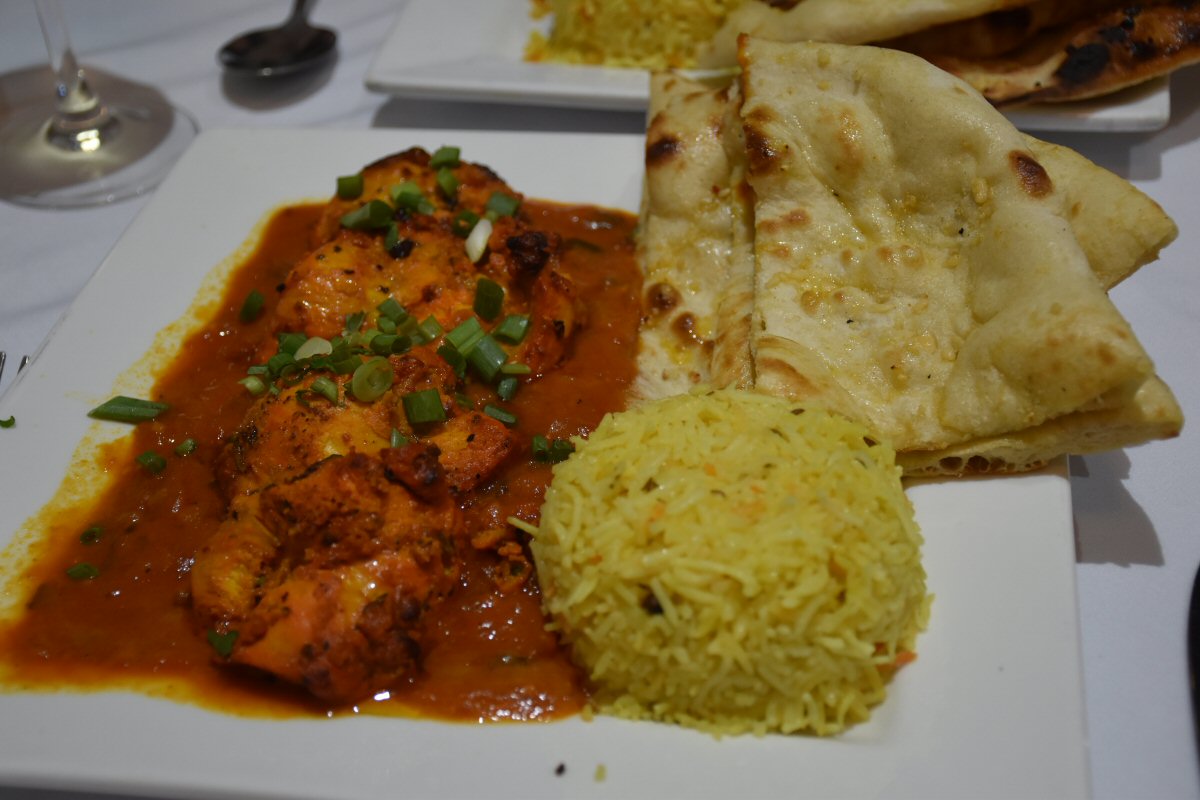 Across the table from us, The Man was busily chowing down on his firecracker of a meal. As with the meat in our meals, his poultry was wonderfully tender and succulent with a mild creamy taste that allowed the spices to take centre stage. This was a dish whose spices had been carefully chosen to provide a multi-layered flavour explosion on the palate; a one-dimensional meal this most certainly wasn't! The thick sauce clung to the Naan bread amazingly well as His Nibs scooped up bit after bit, popping it into his greedy mouth.

All too soon, we had cleaned our plates and found ourselves desperately using every last bit of bread and grain of rice to soak up the (frankly) mouth-watering sauces, testament to Chef's skill. None of us had got room for dessert, or coffee, the portions really had been that generous. There were so many more dishes that we could've chosen, so I think you can safely assume we'll be returning very soon! Hot Wings very happily awarded to this great Clay Cross team.
No incentive was provided to visit this venue
read more