Breakfast At The Crew Yard Cafe And Bistro, Budby
---
Published On Thursday 11 Nov 2021 by Sticky Beak
See Recent Dining Out Reviews | See All Recent Reviews


The Man Bird and I were in the mood for exploring off-park (we were staying at Centerparcs), and with the weather playing nicely we got in the jalopy and headed for Budby Antiques Centre. Budby is a gorgeous, little chocolate-box hamlet, full of rose pink - yes, really – houses and picture perfect gardens so it was no hardship to drive through it before turning into the Antiques Centre on the corner.
I shall forgive you for thinking "how on earth does she think she's going to get anything to eat at an Antiques centre?" , let me clarify: there is a café tucked away at this location. You have to go through the fantastically quirky Antiques centre to get to the Crew Yard Cafe and Bistro and when we visited, the troughs in the courtyard were full of Busy Lizzys (still in bloom) that scattered their candy colours around the space. Inside, the Crew Yard eaterie is just as beautiful as its build-up with a striking, high-beamed apex ceiling and original artwork, which is available to buy, should you wish, strewn over all the walls. Chalky white walls provided a calming, blank canvass to the café, allowing all the other elements to shine.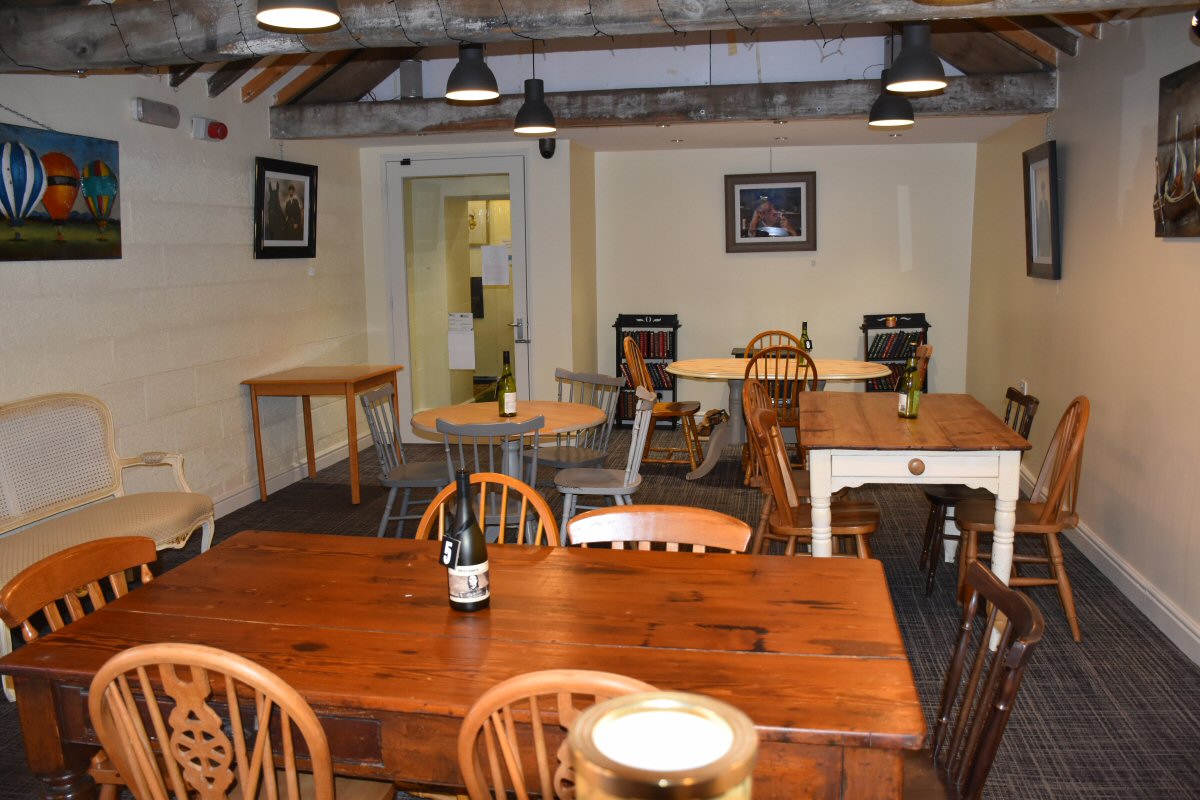 Having been so eager to explore the locale, we had left our villa without and gee-up juice (that's caffeine, to you) so the first task was to order a Cafetiere of coffee for two (£5) whilst we decided what to break our fast with. Now, I want you to gird your loins, dear readers, because my choice will shock you to the core; I went for the Vegan Breakfast! Yes, you read that right, the VEGAN breakfast (£7.50): me, a fully paid up member of the carnivore club, going for not just meat-free, but dairy and egg- free, too. It just sounded so. Damn. Good: Vegan Patty (which I rightly assumed would be Lentil/Pulse based), Mushrooms and Spinach with home-made Pesto, Herbed Tomatoes, Beans (which actually came topped with a divine garlic crumb!!), Roast Potatoes, and Garlic-infused grilled crusty bread. The Man Bird chose the Large Breakfast (£7.50) which is made up of 2 rashers of Bacon, 2 Sausages,, Beans, Herbed Tomatoes, Fried Egg, Mushrooms, and 2 slices of white or brown, toasted artisan Bread and Butter.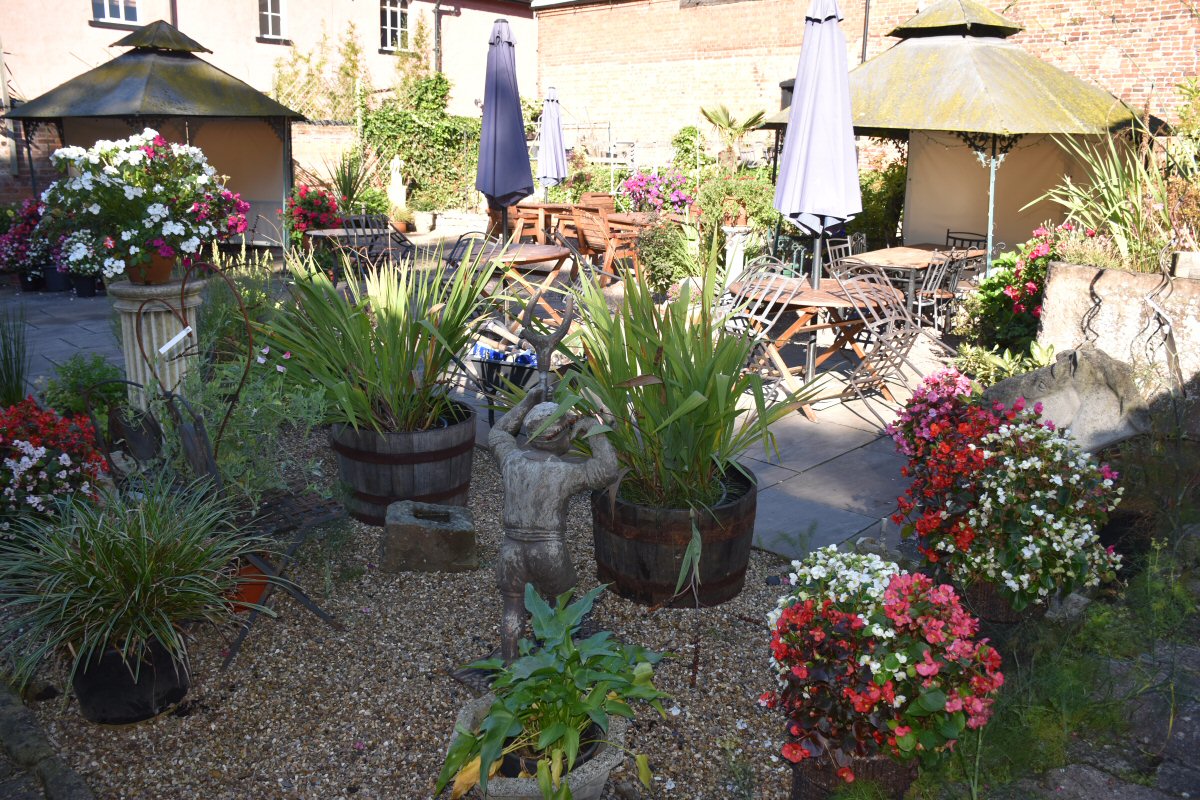 The lovely lady came and took our order and we soon heard the pop and sizzle, as well as the delicious aroma (!) of food being freshly cooked coming from the kitchen. Other folks soon began to arrive for their breakfasts; some regulars, some newbies/tourists like ourselves, and a quiet hum of conversation filled the room.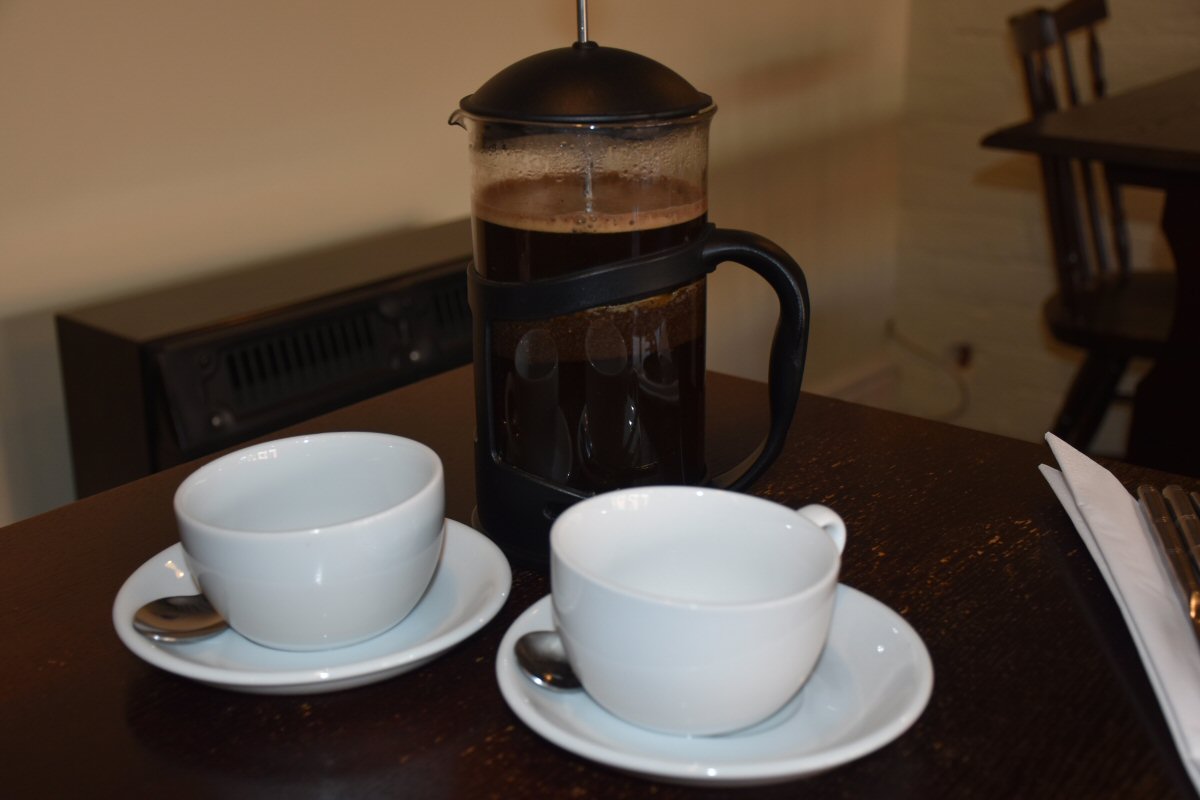 Soon, our dishes were being placed before us and we eagerly tucked in. Grins spread across our mushes as we chomped our way through mouthful after mouthful of tasty, flavoursome ingredients. His Nibs said the bacon was superb; properly meaty and deeply flavoured, matched by the rich creaminess of his eggs' yolk. I was equally impressed by the firm, dense texture of the vegan patty which was nicely seasoned and held its shape brilliantly as I dunked it into my beans. Both of us raved about the quality of the partnership between the sweet, softened baby Plum Tomatoes and the clean notes of the herbs that adorned them.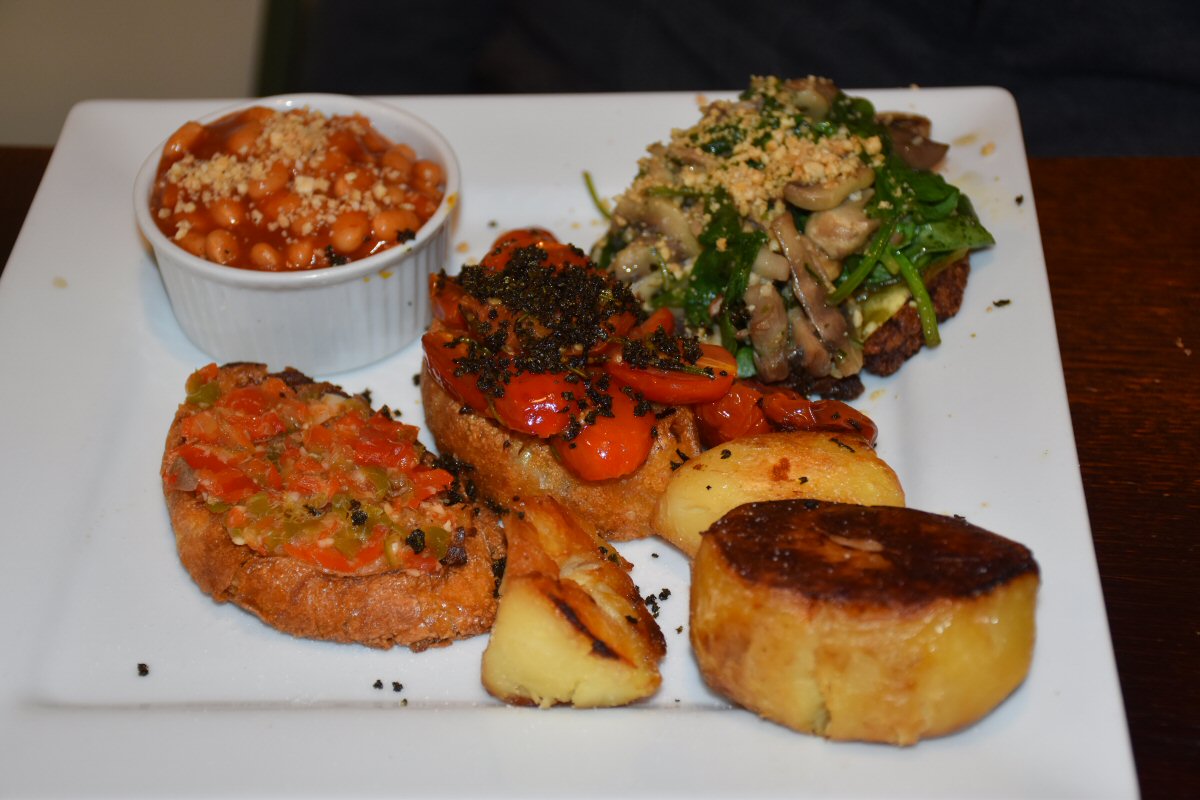 My luck was firmly in, as always, as The Man passed me his Mushrooms over. Chef had cooked them perfectly to soften them and enhance their sweet earthiness without drowning them in grease which just kills their taste. I was also swooning as I tucked into the wilted Spinach and Mushroom combo on my breakfast, revelling in its Pesto-pimped bounce – this was amazeballs!!




Cheekily (and so smooth it was almost imperceptible) The Man had ordered a side of Roast Potatoes (an extra £1.50) to go with his Large Breakfast – the same ones I had already included in my Vegan Brekkie (just saying!) – and we were both huge, instant fans of their lightly smashed up, super-crisp outers. Inside, they were gloriously soft with a gently nutty edge to their flavour that lingered on the tongue beautifully. His Nibs' breakfast had a pair of big bangers (easy, tigers) whose herbed, seasoned flesh may have been a bit too much for my personal taste, but he loved them and soon polished them both off.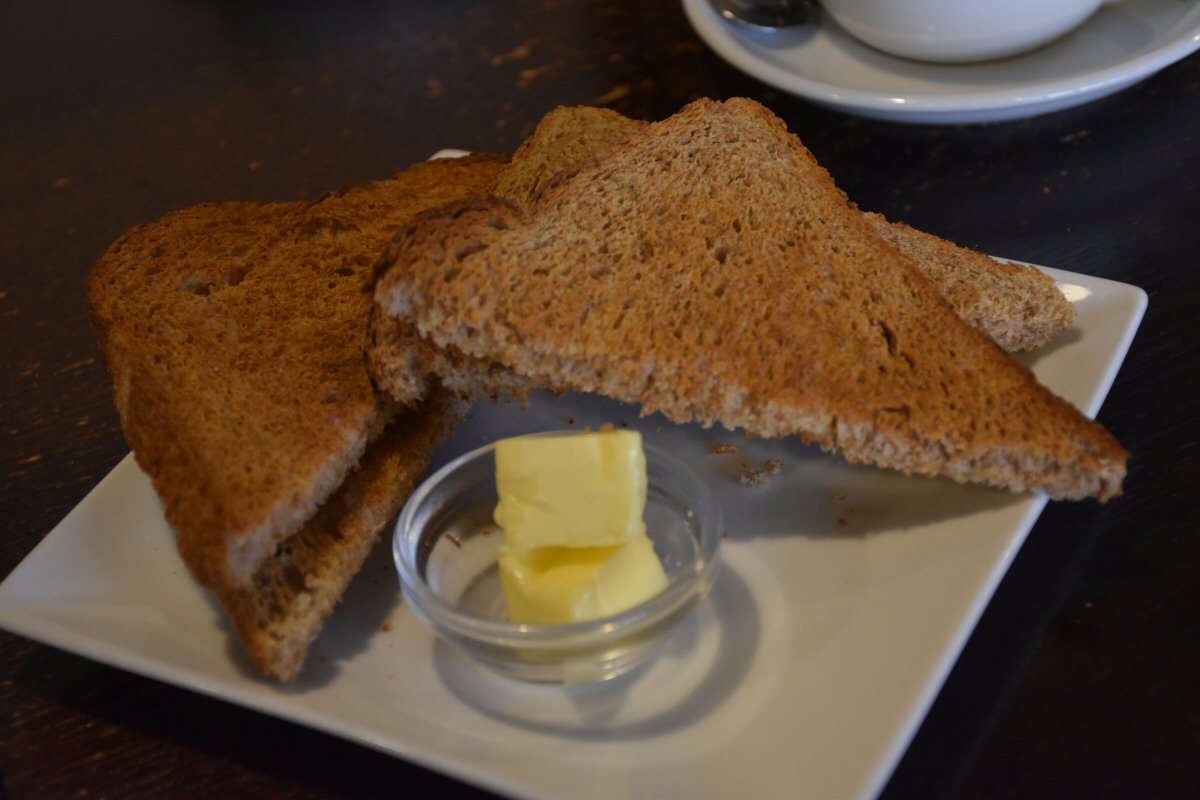 The Garlic infused bread on my Vegan plate was superb; it was crunchy and tasty and the Garlic came through clearly on my palate. Not quite as exciting was the toasted bread on His Nibs' plate; however, it may not have the herby zhuzh of my offering, but the bread was lovely and springy under its toasted outer, with a clear malty taste to it.

From start to finish, we had enjoyed each and every mouthful; you couldn't wish for a better start to the day! Hot Wings given to this fabulous team located in Budby – we shall certainly be back.
No incentive was provided to visit this venue
read more
Read Some Of Our Recent Reviews
---

Lunch At The Recently Opened Chatsworth Kitchen At Peak Village, Rowsley Everyone who knows me, knows I love Chatsworth (always have, always will) so when the invitation to sample lunch at the newly opened Chatsworth Kitchen Read The Article

---

A Visit To Vietnamese Street Kitchen, Resorts World, Birmingham Way back in the day (pre-covid) Fledge had bought me and The Man Bird tickets to see Mrs Browns Boys live and finally, after a couple of false start reschedules, the day of Read The Article

---

Sunday Lunch, A Museum Tour & Painting A Piece Of Denby At Denby Pottery Village It wasn't long ago that His Nibs and I visited the Denby Pottery Village to sample the Afternoon Tea at Bourne's Coffee Shop and Bistro (it was superb Read The Article

---

Bottomless Brunch At Turtle Bay In Derby The timing of the invitation from the Turtle Bay team in Derby to go and sample their Bottomless Brunch couldn't have been better; not only was it going to be The Man Birds' birthday a couple of days later Read The Article

---

Afternoon Tea At Santo's Higham Farm Hotel & Restaurant Aaaaaarggggh, don't you love your children??!! A while back, His Nibs had spotted a great deal on Groupon (you know what a bargain hound he is!) and thought it would be Read The Article

---

Sunday Lunch At The Countryman Pub & Dining, Kirkby-in-Ashfield We finally got to visit a venue thats been on our radar for quite a while, The Countryman Pub and Dining in Kirkby-In-Ashfield! A few weeks ago we tried to book a table for dinner Read The Article

---

Dinner At The Divan Turkish Restaurant In Chesterfield Chesterfield was welcoming us back again for our latest review visit; this time to the newly opened Turkish restaurant, The Divan, on Lordsmill Street. Owner Tuncay (along with Read The Article

---

Breakfast At Marsh Green Farm Shop & Cafe, Kelstedge Ah, you've gotta love a Bank Holiday curve-ball, haven't you? His Nibs and I headed over to Mummy Birds' gaff with the intention of having a leisurely couple of hours at the Sunday Read The Article

---

Afternoon Tea at Bourne's Coffee Shop and Bistro, Denby Pottery Village You all know that The Man Bird and I do like an Afternoon Tea; I mean, who doesn't?! Just a few miles down the road from the nest is Denby, home to the world-renowned Read The Article

---

All You Can Eat At The River Garden Cantonese Restaurant In Belper As is the seemingly never-ending pattern of our weekends at the moment, The Man Bird and I had been busy gardening/re-seeding/pruning/digging, so when it came to sorting Read The Article

---