A Visit To The Recently Opened Nepalese Restaurant In Alfreton, Thapa's
---
Published On Tuesday 9 Nov 2021 by Sticky Beak
See Recent Dining Out Reviews | See All Recent Reviews


Locals will know by now that Louby's has been replaced by an Indian/Nepalese restaurant called Thapa's, owned by Mr. Tul Thapa. The Man Bird and I decided to pay it a visit recently and were happy to see that the distinctive red and black high back chairs (formerly used by Lou) were still in use: you can't beat a bit of recycling. Tul has used the striking seating as a partner to the way he dresses his tables; pristine white cloth overlaid with a berry red one, set with gleaming cutlery and a simple, pink Himalayan salt tea light holder.
The space has been decorated around a Himalayan/Nepalese scheme, with colourful flags acting as a hanging garland from edge to edge and a massive mural of the mountains on the far wall. Metal lanterns break up the two areas of seating nicely and soften the effect a little. To create a welcoming ambience, incense sticks were releasing plumes of fragrant smoke at the entrance, taking the eye away from the starkness of the hand sanitiser (which is an all-too-familiar sight now).




We were shown to our table and asked what we'd like to drink. The Man Bird opted for a large bottle of Gurkha Beer and I had a glass of Merlot, not particularly through choice – it was the only red available by the glass; there was also only one choice of white wine that you could have as a glass. This was a shame, because there were some other nice wines that I could've happily drunk, but I didn't want an entire bottle to myself (His Nibs was driving): maybe this restricted selection will widen in the future? Anyhow, the Merlot was nice enough, so no reason to dwell on it.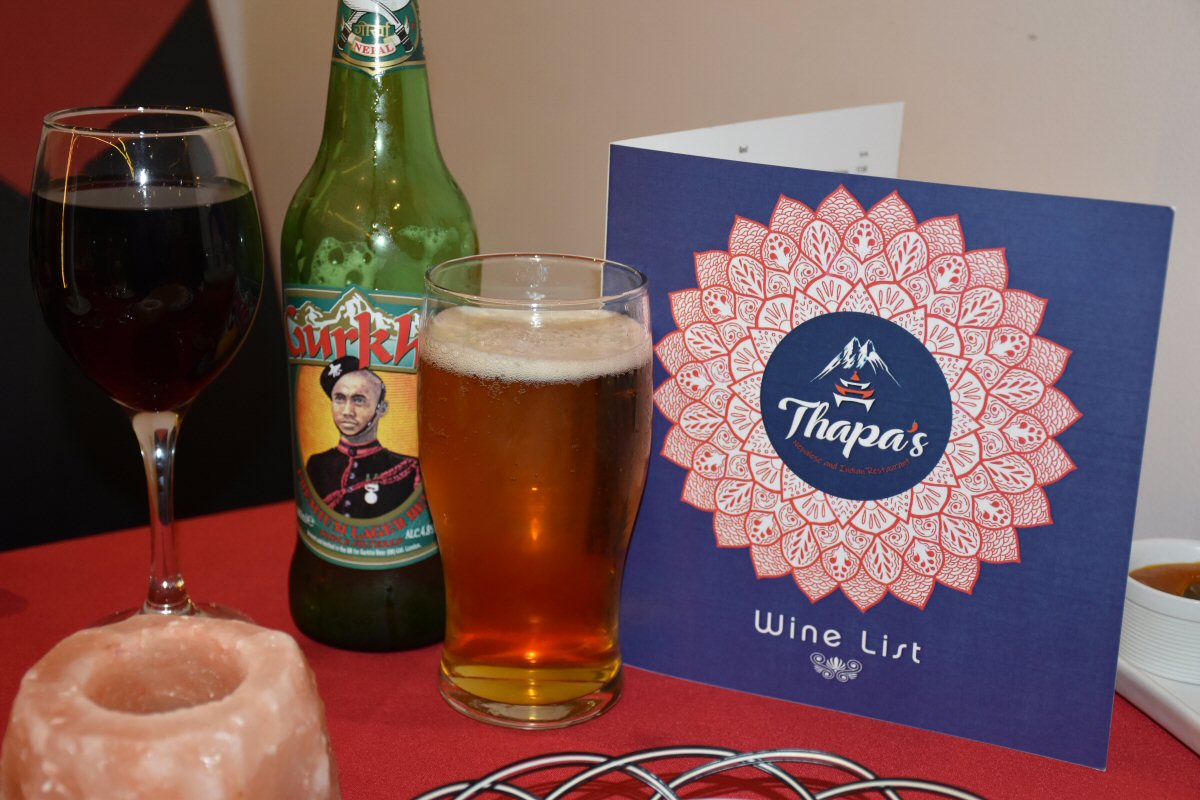 Our lovely server asked if we would like Poppadoms and pickles whilst we chose our food and it wasn't long before a couple of crisp, non-greasy morsels were being placed before us along with Spiced Mango Chutney, Lime Pickle, Herbed Yoghurt, and Onion Salad. As we nibbled away, we chose the Lamb Choyela (me, £4.95) and Chicken Sekuwa (The Man, £4.95) for starters, with Himalayas Special Lamb (comes with Pilau rice and Naan bread) and Sagara Basa Special (comes with Pilau rice)for mains; both come from the House Speciality section of the menu and are priced at £14.95. I asked to change the Pilau rice to Garlic Rice, and we also ordered an Onion Kulcha (£2.25), which is a type of bread stuffed with Onions and then cooked in the clay Tandoor.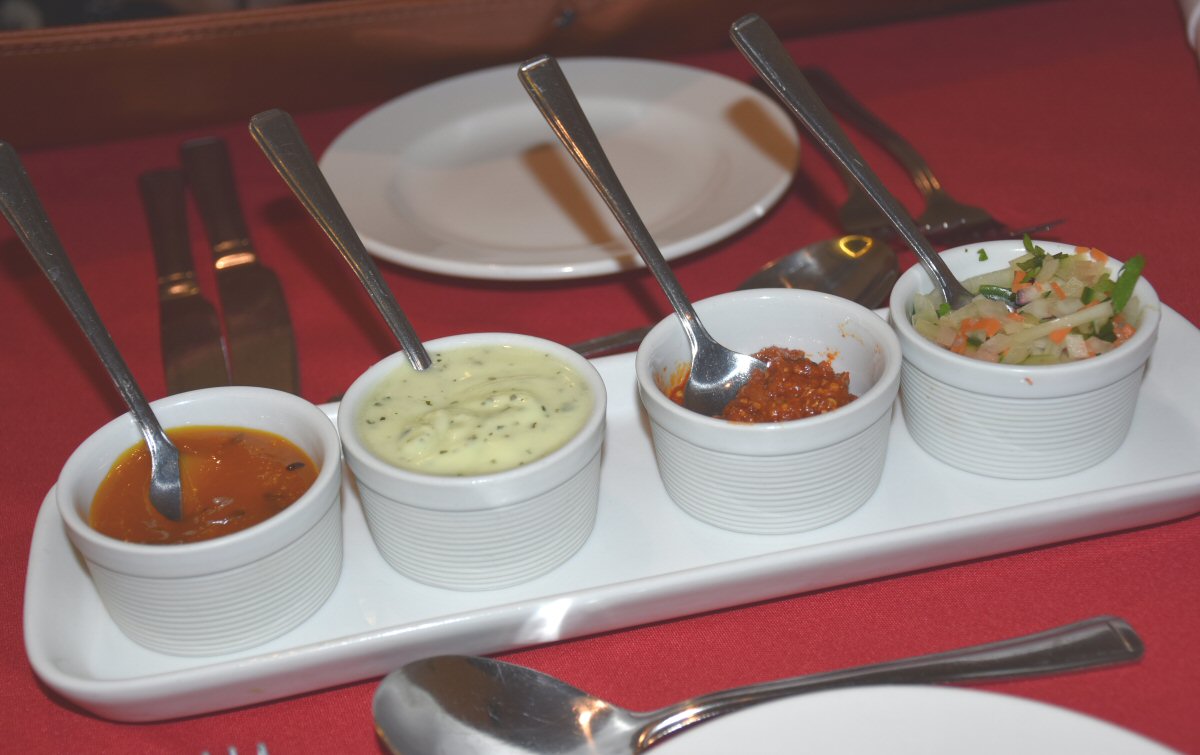 My Choyela dish was beautifully presented: the Lamb pieces were finer than you would usually expect and had been marinated in Himalayan spices to tenderise them, before being cooked with Fenugreek seeds, Green Chillies, Ginger and Garlic to further enhance the flavour profile. The meat melted on my tongue, in contrast to the crisp, puffed rice that sat on top of it; this provided a great textural element, with a wicked crunch when bitten into. A simple salad of carved Radish, Cucumber, Mixed Leaves and a halved Cherry Tomato added colour, but the real star in the 'visual appeal' stakes was the intricate pattern made by the two coloured sauces that adorned the long edge of the bright white rectangular platter.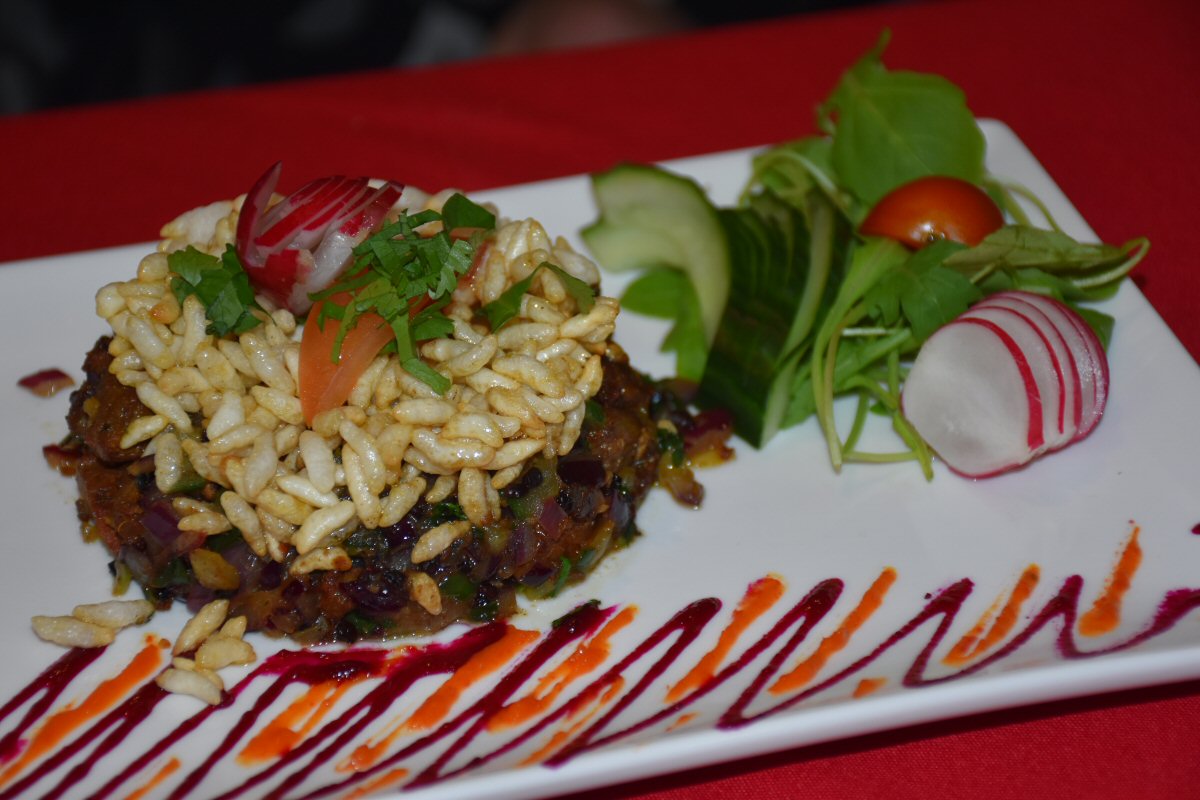 The Man Birds' Chicken Sekuwa had the same extravagant presentation as my dish, but the two sauces had been arranged in a different pattern; the two platters looked magnificent when placed next to each other! I got to eat the side salad on His Nibs' plate – you all know what a salad dodger he is; his loss=my gain. No such luck with the chicken though, that all got eaten by Mr Greedy Guts, who said that it was beautifully soft in his mouth with lovely spicy notes to it.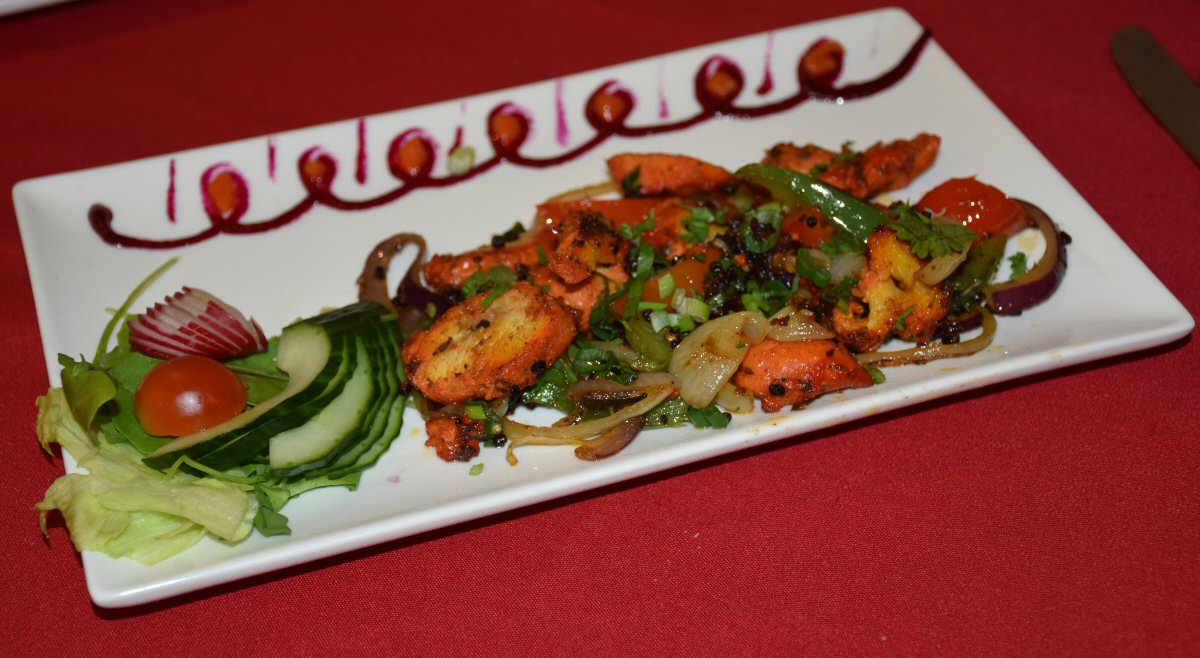 Tul himself came over to check that we were enjoying our food (we were indeed) and asked if we needed anything else, so we asked if we could possibly have a jug of water. In a flash, a large jug of iced water with glasses was placed before us, and our empty starter plates were swiftly removed at the same time: slick.

A steady stream of other diners were arriving at Thapa's, including a group of 9 who were out celebrating, as well as group of male friends having a catch up and some more couples like the Man and I. Our main courses came out around this time (but not our Onion Kulcha as the first one had decided to do a swan-dive to the bottom of the Tandoor - naughty bread! - though its replacement soon followed as we just started to eat), and I noticed that the team began to struggle a little and service wasn't quite as seamless as it had started out.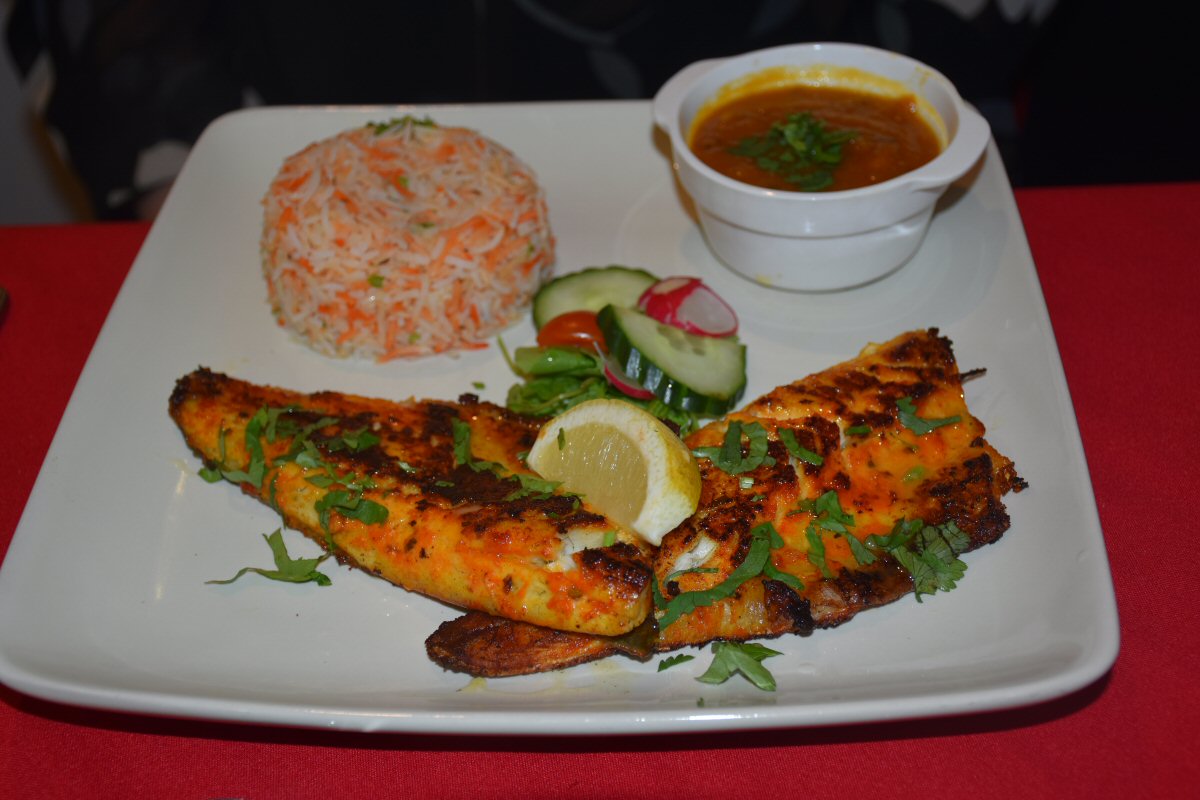 My Sagara Basa was simply stunning in its presentation, the whole, boneless Sea Bass taking centre stage on the platter, with a separate bowl of sauce and a large timbale of rice at its side. I must say that I quite liked having all the elements of my dish on the plate, rather than having to faff with several different pots and bowls; it made the whole process a lot smarter and cleaner. My palate was dancing happily as it experienced the sweet, succulent fish fillet; this really was delicious, and the spices used didn't over-power the Sea Bass at all. In marked contrast to the subtle fish was the punchy, blousy Garlic rice! There was no restraint here, the Garlic jumped up and shouted down its gastro megaphone to announce its presence; if you're on date night this'll kill the vibe, but I'm married, so there's no shenanigans ;)!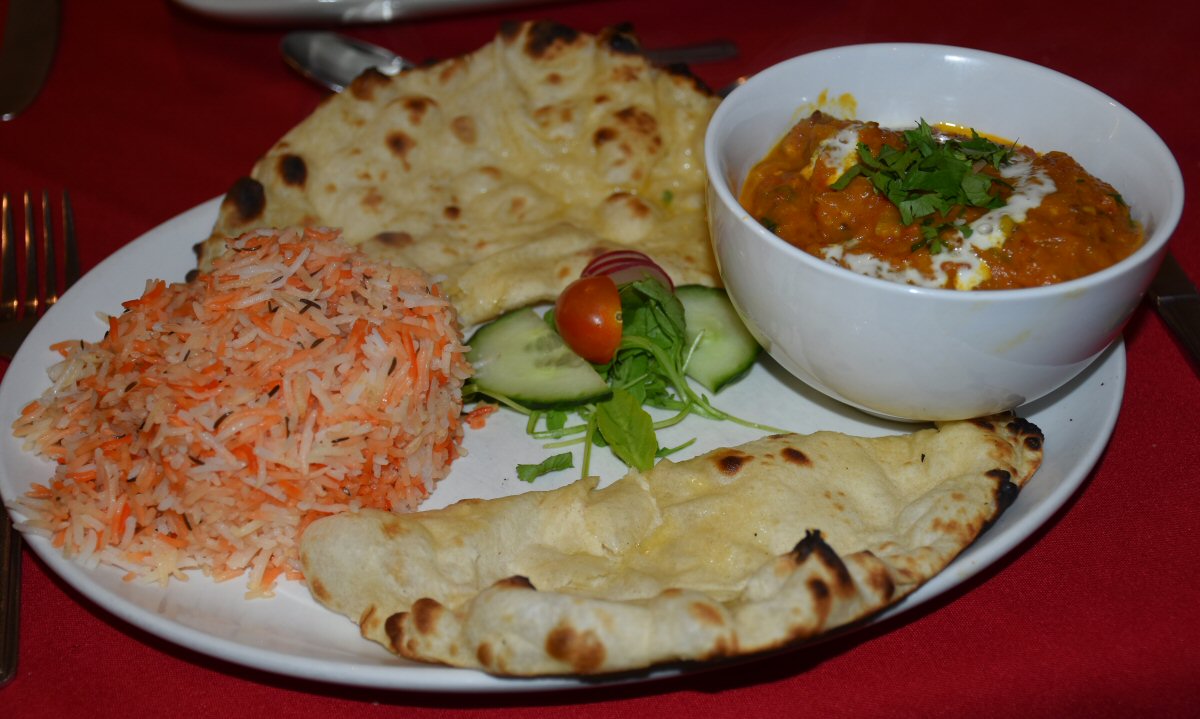 His Nibs' Himalayan Lamb was "really good", having tender, flavoursome chunks of Lamb at its heart and a supporting cast of spices underneath it that imparted their hints in layers. Chef prepares a thick sauce to go with the meat and this really was something to savour; its initial sweetness makes way for a confident spiciness that, whilst certainly hot, doesn't make the tongue and lips tingle unpleasantly. This was one of those sauces that had us both reaching for the breads to dunk into it.




The Onion Kulcha came into its own at this juncture; the soft bread was a higgledy piggledy lattice in appearance on the surface and had been stuffed with slices of red onion that were softened, but still just firm, with a gorgeous sweetness to them that delighted my mouth. It was the sweetness of the Onion that danced expertly with the more insistent character of the sauce, providing a real harmony of taste and texture that we both loved. The Man Birds' dish had come with a plain Naan, but even this was beautiful in the mouth; soft and pillowy, but not chewy or claggy, and with a gentle buttery flavour on the palate. When done well, even the simplest of foods can be a joy to eat, and it was the bread's simplicity that allowed the full taste of the sauce to shine on His Nibs' tongue.
Our plates were cleared away and a couple of heated, Lemon scented towelettes in a basket were popped on the table so that we could cleanse our hands of any residue from the breads. We had just finished doing precisely this when another member of the team brought some more out; this is what I was on about earlier when I mentioned the team weren't quite communicating 100% with each other. I'm sure that this is purely down to inexperience; after all, Thapa's has only been open for 4 weeks! None of us are perfect when we first start out, so some latitude needs to be given I feel. Thapa's isn't the largest of venues so there was an intoxicating mix of aromas filling the restaurant that gathered pace with the passing time, and despite being full, we both sniffed the air appreciatively every time another tray passed by us.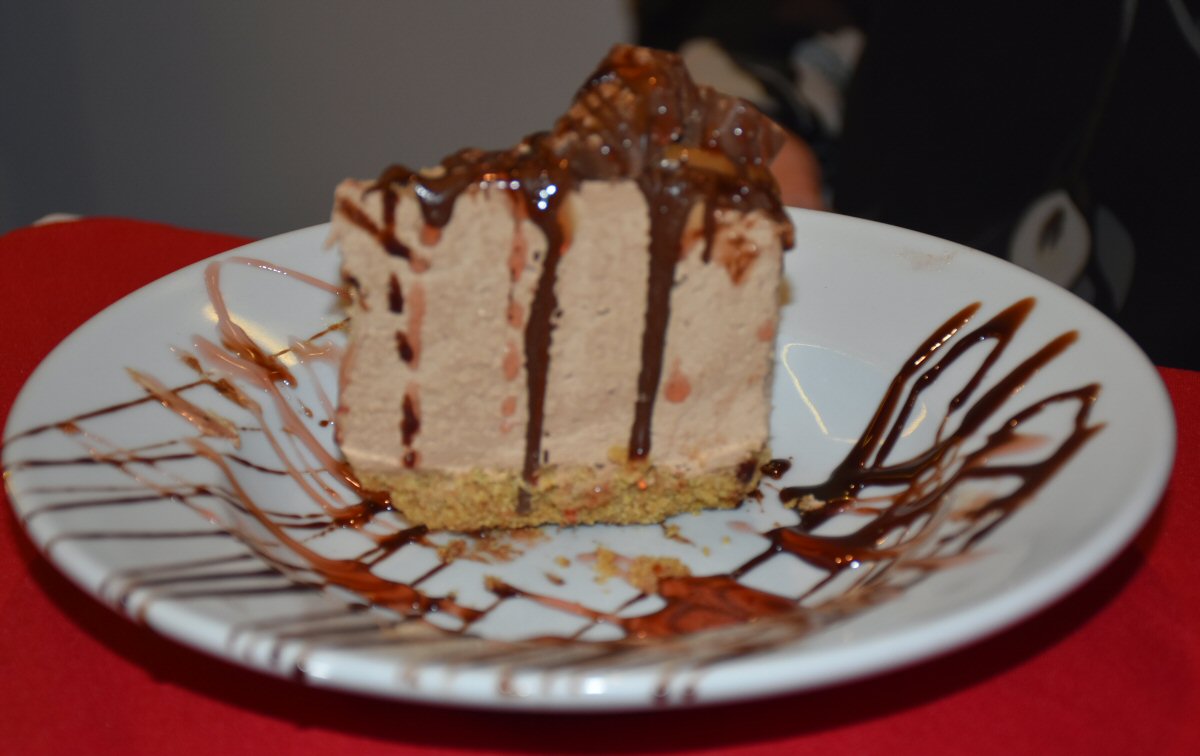 Snapping back to reality, we turned our attention to the dessert selection for the final part of our culinary journey. Thapa's offer a selection of homemade cakes (all £4.50 per slice) so I ordered the Mars Bar variety and The Man had the Mint Aero minx, followed by our usual black coffees. The cakes were sumptuously deep and we sank our cutlery into them with no hesitation. My morsel was a creamy, caramel cheesecake that was adorned with chocolate sauce and plentiful pieces of Mars Bar, and it was very tasty indeed. Those who like the combination of chocolate and mint will be instantly won over by the Mint Aero cake on offer at Thapa's; the cheesecake body was gently minty with a blanket of rich chocolate sauce and bubbly Mint Aero pieces decorating it all.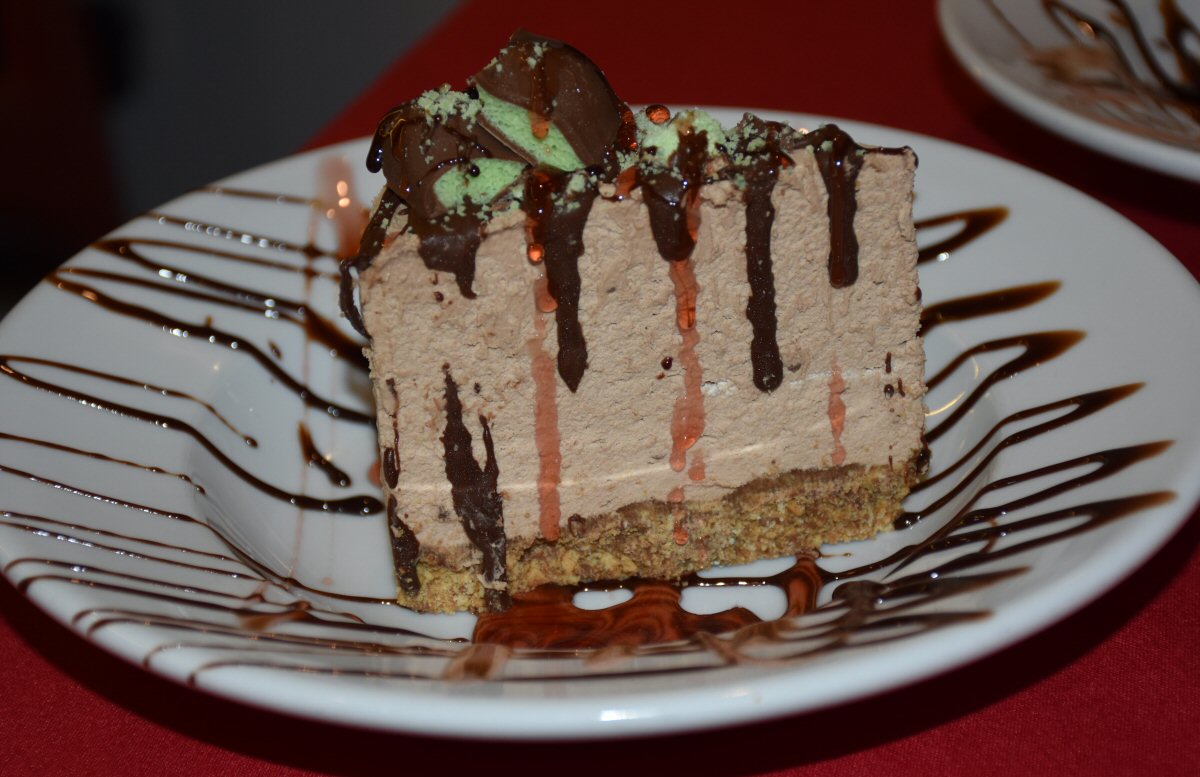 Our tummies were fit to burst at this point, so all that remained was for us to relax and sip the smooth, rich coffee blend whilst letting our meals digest. The total bill came to a smidge over £70, which we thought was pretty good value considering the drinks, nibbles, coffees and three courses we'd had – oh, and the extra Onion Kulcha.

Despite the minor hiccups in service, which I felt needed to be mentioned, I do feel that Thapa's still merits being given Hot Wings: the food and venue are lovely and the service just needed sharpening up, there was nothing intrinsically wrong with it. Thapa's is open Tuesday – Saturday 5-11pm, and Sundays 5-10pm, it's closed on Mondays. To book a table, contact Thapa's on 01773 836086.
No incentive was provided to visit this venue
read more
Read Some Of Our Recent Reviews
---

Lunch At The Recently Opened Chatsworth Kitchen At Peak Village, Rowsley Everyone who knows me, knows I love Chatsworth (always have, always will) so when the invitation to sample lunch at the newly opened Chatsworth Kitchen Read The Article

---

A Visit To Vietnamese Street Kitchen, Resorts World, Birmingham Way back in the day (pre-covid) Fledge had bought me and The Man Bird tickets to see Mrs Browns Boys live and finally, after a couple of false start reschedules, the day of Read The Article

---

Sunday Lunch, A Museum Tour & Painting A Piece Of Denby At Denby Pottery Village It wasn't long ago that His Nibs and I visited the Denby Pottery Village to sample the Afternoon Tea at Bourne's Coffee Shop and Bistro (it was superb Read The Article

---

Bottomless Brunch At Turtle Bay In Derby The timing of the invitation from the Turtle Bay team in Derby to go and sample their Bottomless Brunch couldn't have been better; not only was it going to be The Man Birds' birthday a couple of days later Read The Article

---

Afternoon Tea At Santo's Higham Farm Hotel & Restaurant Aaaaaarggggh, don't you love your children??!! A while back, His Nibs had spotted a great deal on Groupon (you know what a bargain hound he is!) and thought it would be Read The Article

---

Sunday Lunch At The Countryman Pub & Dining, Kirkby-in-Ashfield We finally got to visit a venue thats been on our radar for quite a while, The Countryman Pub and Dining in Kirkby-In-Ashfield! A few weeks ago we tried to book a table for dinner Read The Article

---

Dinner At The Divan Turkish Restaurant In Chesterfield Chesterfield was welcoming us back again for our latest review visit; this time to the newly opened Turkish restaurant, The Divan, on Lordsmill Street. Owner Tuncay (along with Read The Article

---

Breakfast At Marsh Green Farm Shop & Cafe, Kelstedge Ah, you've gotta love a Bank Holiday curve-ball, haven't you? His Nibs and I headed over to Mummy Birds' gaff with the intention of having a leisurely couple of hours at the Sunday Read The Article

---

Afternoon Tea at Bourne's Coffee Shop and Bistro, Denby Pottery Village You all know that The Man Bird and I do like an Afternoon Tea; I mean, who doesn't?! Just a few miles down the road from the nest is Denby, home to the world-renowned Read The Article

---

All You Can Eat At The River Garden Cantonese Restaurant In Belper As is the seemingly never-ending pattern of our weekends at the moment, The Man Bird and I had been busy gardening/re-seeding/pruning/digging, so when it came to sorting Read The Article

---