Out For Seafood At The Jolly Fisherman, Craster
---
Published On Wednesday 27 Oct 2021 by Sticky Beak
See Recent Dining Out Reviews | See All Recent Reviews


I love seafood and Northumberland's coast is home to lots of fishing villages that land lots of yummy catches so, as they say, 'when in Rome'...

His Nibs was scoring loads of Brownie points with the reservations he'd made for various meals, but he scored 'douze points' by bagging us a dinner table at The Jolly Fisherman in Craster. We've not visited Craster itself before; we just walked through it as we visited Dunstanburgh Castle which is a mere mile and a half up the road!! One thing I absolutely love about this village is the fact that it hasn't let itself get tangled up with tourist traffic – all visitors have to use the car park on the outskirts of the village and walk in. The walk is beautiful though, so it isn't a chore; and of course there is provision for disabled people to park closer.
The Jolly Fisherman is a gorgeous village pub that has a very pretty beer garden and, as we'd arrived a little early for our table, we took the opportunity to watch the sun go down over it with halves of cider and lager in our respective hands. Heading inside at our time slot, I could see that the pub had kept its traditional feel in the bar/lower dining area; going up the stairs to the formal restaurant gave us our first glimpse of the breath-taking sea view that has diners flocking here. On the walls of this light, airy space are artworks of various marine species; a nod to the maritime-heavy theme of the restaurant's menu. Meat lovers shouldn't despair though; there is plenty of choice for non-fish and seafood eaters. There is also a selection of dishes for vegetarians and vegans.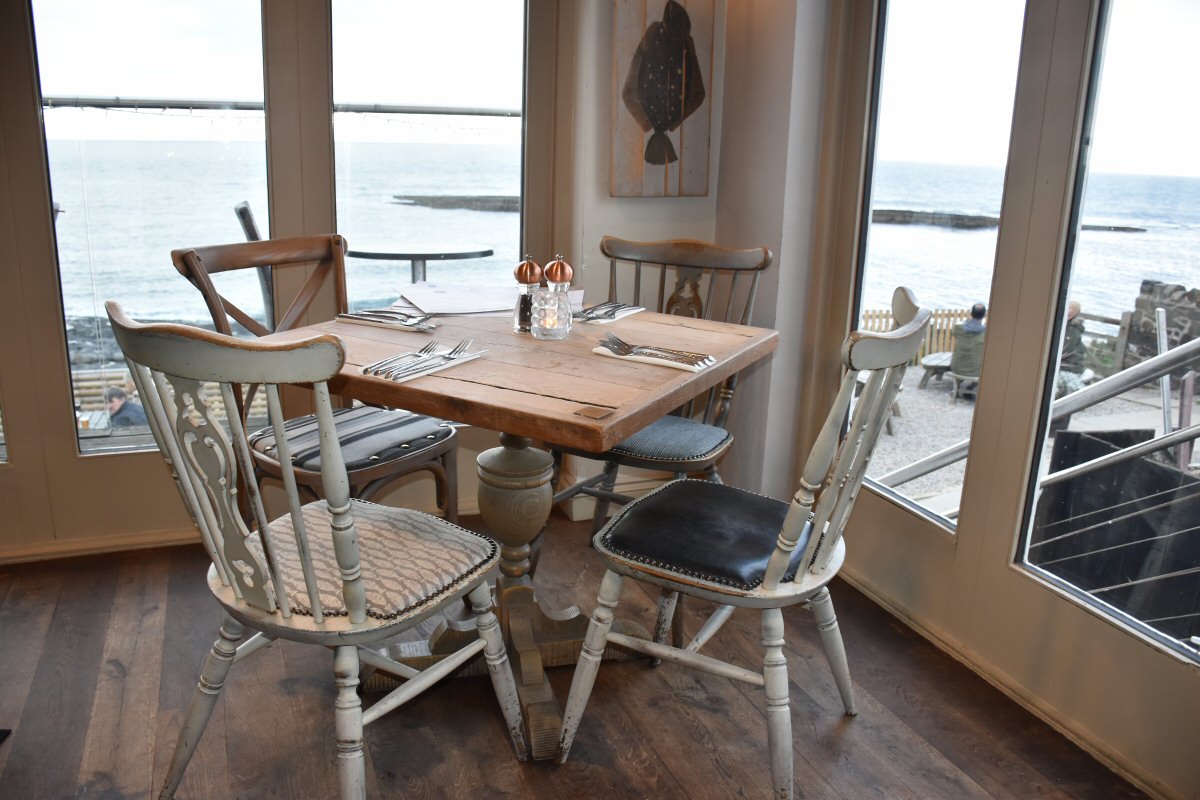 Executive Head Chef, Kevin Mulraney, has devised an extensive menu that changes seasonally to keep abreast of the tastiest, freshest morsels around and utilises his Michelin Star experience to offer The Jolly Fishermans diners a truly gourmand journey. I had spied the Jolly Fish Board and all its temptations, so that was what I was having for main course; I hadn't even chosen a starter at this point! Before we got to food though was the matter of drinky-poos; The Man Bird was driving so he had a pint of Coke and I fancied a glass of crisp Sauv Blanc to go with the seafood I was having. Unfortunately, the New Zealand Marlborough one was only available by the bottle (boo, hiss!) so I had a Chardonnay instead which was nice enough, but not my first choice. There is a good selection of wines available, of all colours and types, so whatever dish you choose there will be a fab partner for it.




To kick the meal off I had a trio of Lindisfarne Oysters (£3 each, £16 for 6, £30 for a dozen) and The Man had Queen Scallop Popcorn (£8 for 8 pieces, £10 for 12 pieces; no prizes for guessing which he chose!). Despite the restaurant being wickedly busy, it wasn't long before our lovely server was placing the delights before us and we eagerly tucked in.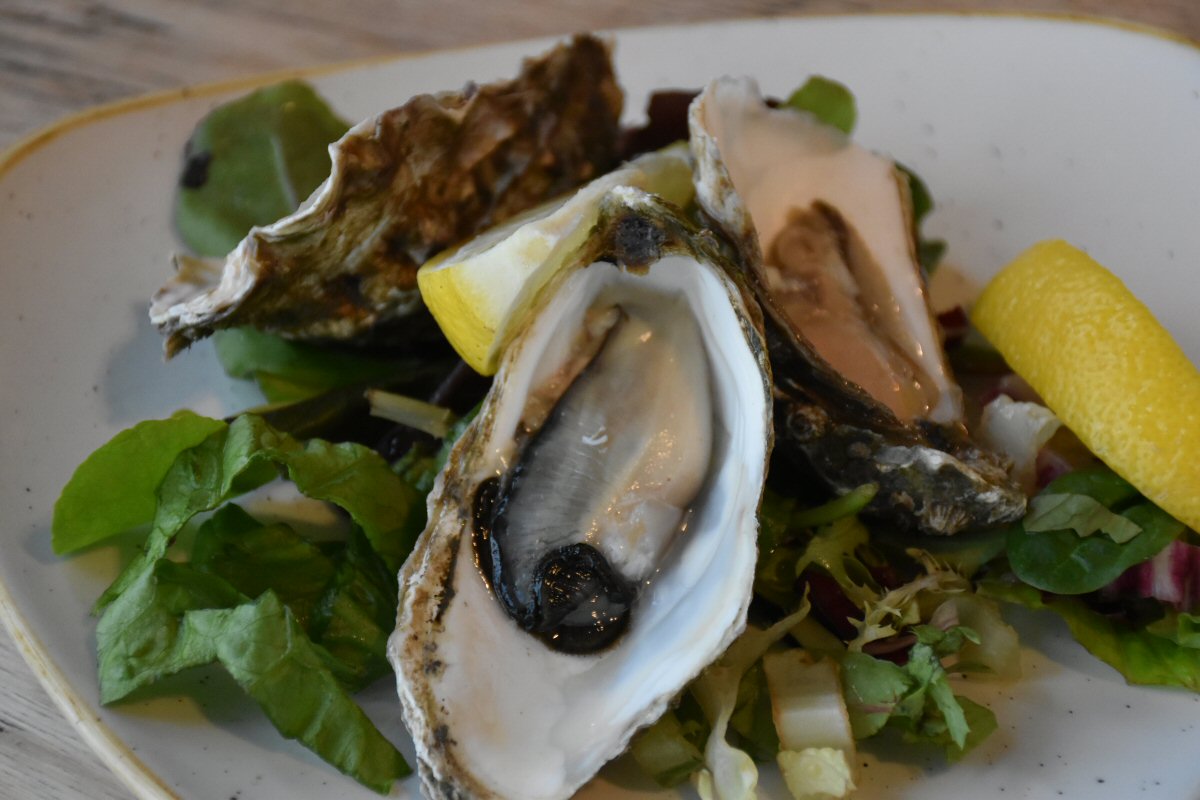 My Oysters were simply glorious; meaty and full of the tang of the sea – all I did was squeeze some fresh Lemon juice over them before letting them slide over my tongue and down my throat. Part of me loves to see His Nibs wrinkle his nose in revulsion as I indulge in these treasures of the sea; is that bad of me? Luckily for me, The Man Bird doesn't have that devilment in him, quite the opposite in fact; he tried a piece of the Scallop popcorn and then handed me some to try for myself. That, right there, is why I married him – and no, ladies, he doesn't have a brother! As you can imagine, the Queen Scallops were exquisitely sweet and moist, most deserving of their royal title. It will come as no surprise to you that the presentation of both starters was spot-on; nothing was out of place and visual appeal was certainly considered when devising each dish.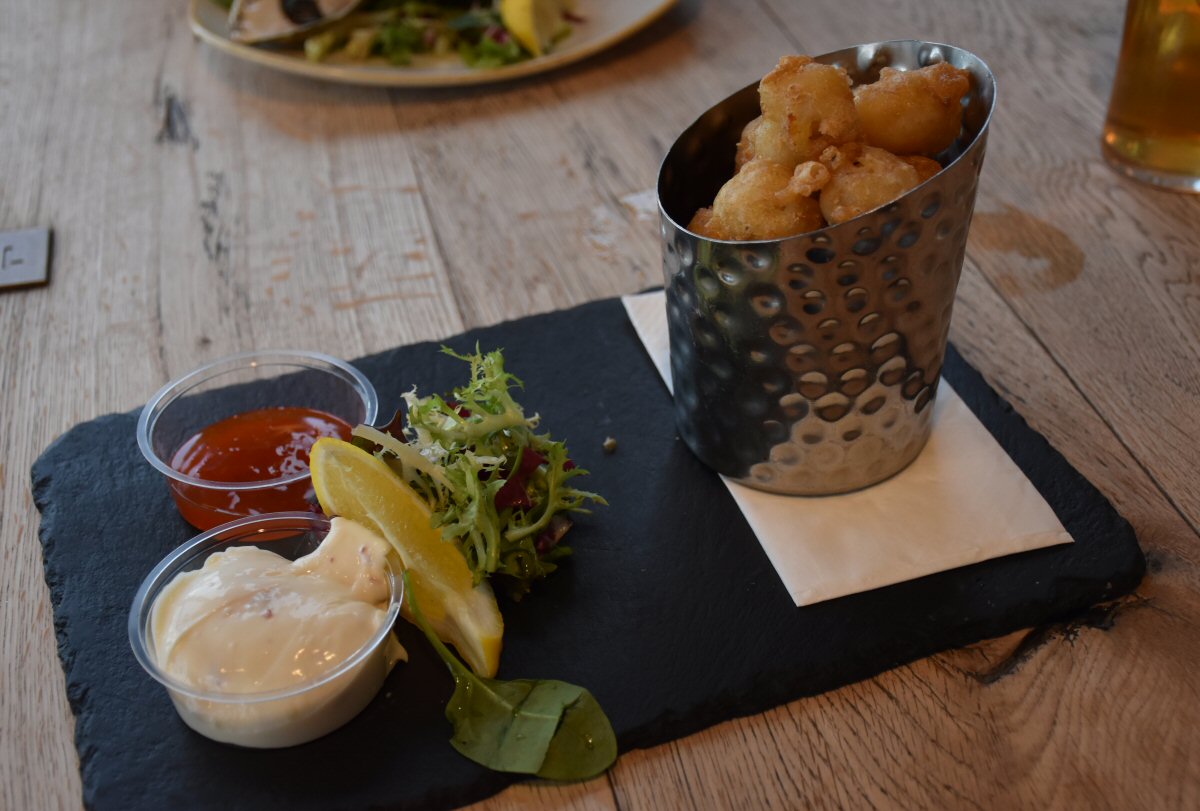 For main courses we had the Jolly Fish Board (as previously mentioned, £18.50) and the Thick-cut Cod Fillet with Pomme Anna, Minted Pea and Carrot purées, and Tender stem Broccoli (£18.50). Every so often, when the door opened, we would catch a sniff of the tantalising aromas emanating from the kitchen and our nostrils would twitch in anticipation. Again, we didn't have an overly long wait for our food – Chef Mulraney clearly is in command of his kitchen and runs a tight, efficient ship.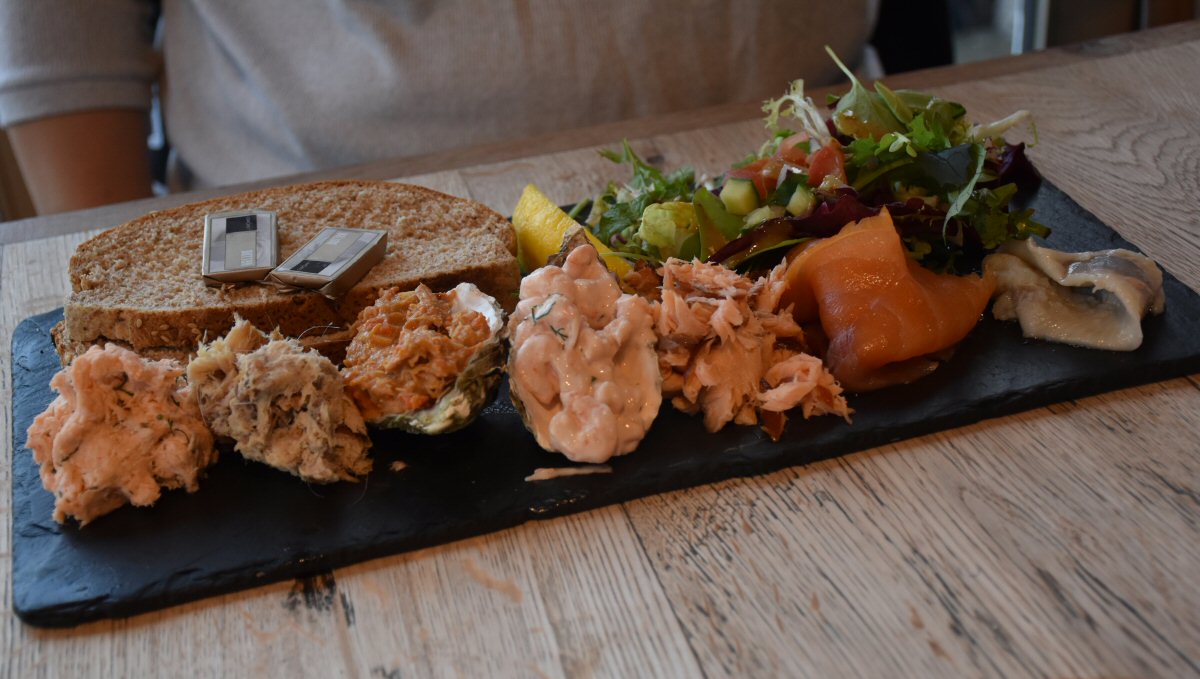 I decided that my selection really should've been called the Magnificent (Marine) Seven, due to there being seven different mounds of fish and seafood on the slate platter, along with an ample salad, slices of Artisan Bread and a wedge of fresh Lemon. Salmon is well represented on this board, coming in a trio of guises - Fresh, Smoked, and Hot-Smoked - so I decided to begin with one of its types: Hot-Smoked. This type of Salmon has, as its name suggests, been smoked at a higher temperature than its regular (cold) Smoked cousin, resulting in a flakier texture and richer smoke notes on the palate. The fresh Salmon's thick slices were arranged in swirls to maximise their visual appeal and their flavour was gorgeously delicate in comparison to both its smoked peers; the cold smoked Salmon was mid-way between this gentle taste and the more robust taste of the hot-smoked fish.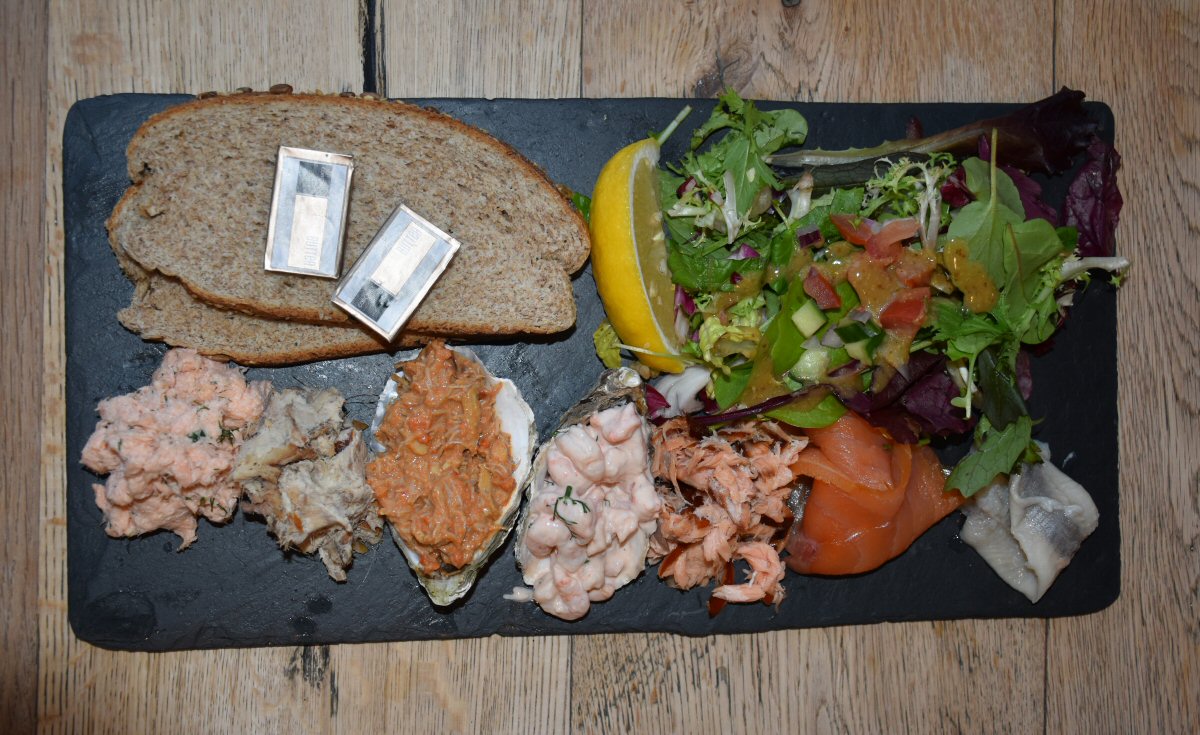 Surprisingly, I haven't had sweet cured Herring before but I was instantly converted to its charms as I savoured that initial bite. This particular morsel is a real conundrum of tastes; you get the distinct sweetness of (I assume) the sugar used to cure it and then a curious twang of something tart (? Cider vinegar) which bamboozles, yet delights, the senses. The Herring was still firm in texture and didn't fall apart the moment a knife went near it; it held its ground until a bit of pressure was applied.

His Nibs winced as I plopped a generous helping of the pungent (and very yummy) Kipper Pâté onto a slice of the springy artisan bread – he could smell it across the table and it was making his nose wrinkle! As I swallowed a mouthful he mardily said "you needn't think I'll be kissing you tonight". Hahaha poopy pants, do I look bothered?!

The disparaging looks continued as I munched my way through the beautifully succulent North Sea Prawns that had been presented in an Oyster shell. These treasures had been lightly bound in a Marie Rose sauce to accentuate their flavour and Chef had used the perfect amount of sauce: not too much, not too little. Dark Crab meat had also been placed in a shell, its colour contrasting nicely against the pale shade of its confines. This seafood marvel was divinely fragrant on the palate; strong, with an earthy base note that came alive after a few seconds in my mouth.

Fresh, crisp mixed salad added some crunch and texture to what was otherwise a pretty smooth main course choice. I had thoroughly enjoyed each and every mouthful and my tummy was nicely full without being podged.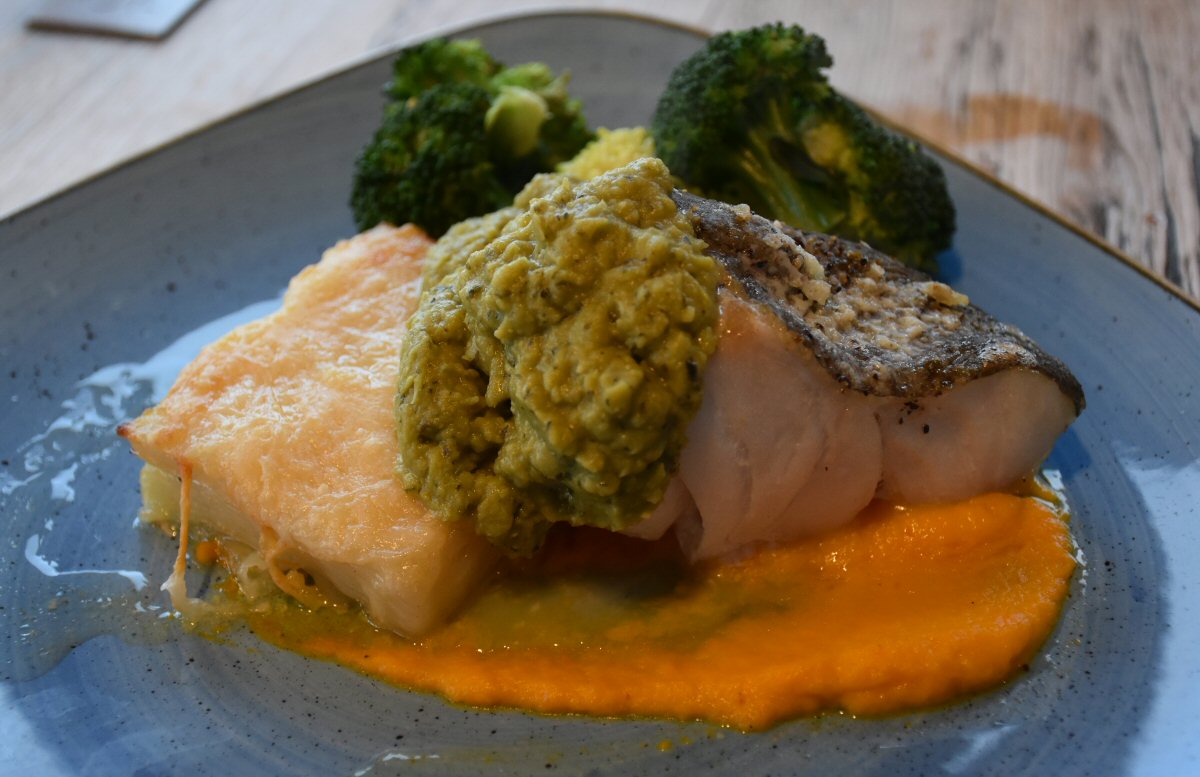 His Nibs' Thick cut Cod Fillet was exactly as stated and as he took the first bite into it he grinned in happiness at its meaty texture. Chef Kevin Mulraney had cooked the Cod with skilled precision to keep its natural firmness but not toughen or dry it out, and the sweet flesh's taste exploded onto The Man's palate joyously, melting on the tongue as it did so. The minted pea purée was delicious; sweet and fresh tasting. Partnering it was the Carrot purée, whose flavour had been enhanced with skilful seasoning, and both elements went with the Cod fantastically well. Broccoli florets added some crunch to the dish and brought a lighter, fresher element to the vegetable ensemble. The dinky circle of Pommes Anna was marvellous, the thinly sliced Potatoes seductively buttery and cooked to a gentle golden hue. His Nibs is a massive 'tattie fiend' and said he could've eaten a larger portion of this all by itself! This was another triumph, as the spotlessly clean plate testified.

For dessert I had chosen the Vanilla Panacotta with Strawberries and Champagne sorbet (£7.50), whilst The Man Bird had opted for the Lemon Tart with meringue, Fruit Compote and Strawberry Ice Cream, which he switched out for some Blood Orange sorbet (£7.50).




My Panacotta had a wobble that was perhaps even more seductive than that of Jessica Rabbit (Google it, youngsters!) and had a sublime warm, rounded Vanilla taste to it that lingered in my mouth lazily. Fresh Strawberries provided some zip and zing, with the chilled Champagne sorbet adding a fragrant edge to proceedings.

The Man's Lemon Tart was magnificently refreshing in the mouth, releasing its citrus bounce with abandon onto the taste buds. The Blackcurrants in the fruit compote popped against the teeth when bitten into, imparting their vibrant sharpness on the tongue and dancing merrily with the Lemon notes. Chilled Blood Orange sorbet aroused the senses and added even more bright fruitiness to this delightful early autumn dessert. Conventional sweetness, which assuaged the sharp tartness , came via the browned, piped Meringue top on the tart; not only was this delicious to taste, it was gorgeous to behold.




Every member of The Jolly Fisherman team that came to check we were enjoying our food did so with a smile on their faces and it was great to watch how well they were working together to ensure that all their diners were having a good time. Even something as trivial as the end-of-meal coffees were served perfectly, leaving a very positive final impression for us.

It was one of those occasions where we didn't want the evening to end, but it did, and so we made our way slowly back along the path to the car park where old faithful a.k.a. the Jalopy was waiting for us. Hot Wings happily awarded to this friendly Craster team.

If you plan to visit The Jolly Fisherman you do need to book in plenty of time ahead to get a time to eat that suits you – it's incredibly popular!
No incentive was provided to visit this venue
read more