A Flock Dinner At The Royak Oak In Westwood
---
Published On Tuesday 19 Oct 2021 by Sticky Beak
See Recent Dining Out Reviews | See All Recent Reviews


Fledge was coming back from University for the day so we decided to make the most of it and all go out for a Flock meal. The Man Bird had had his eye on The Royal Oak at Westwood for a while and seeing as none of us fancied Chinese or Indian cuisine, it seemed like the perfect time to try it out. There is a car park onsite so no problem with finding a spot for the jalopy, and having parked up we made our way inside.
The Royal Oak takes its name very seriously; there is solid wood everywhere you look, but the eye-catchers are the high back chairs and tables with their 'mini log' inserts, and the huge, oak surround mirror on the wall. Having got us settled at our table, one of the team took our drinks order and told us what the specials were for that evening.




Mummy Bird spied the Steak and Ale Shortcrust Pastry Pie (£9.95), so that was her sorted, and I fancied the pan roasted Salmon Nicoise (£10.95) but added a side of 8 Camembert Bites (£2.95). Both The Man Bird and Fledge went for specials dishes: Lamb Rump with Creamy Mash and Mixed Vegetables (£9.95) and Chilli and Garlic King Prawns with a Pea and Saffron Risotto, also £9.95.




Our table was located where we could see the kitchen entry and every time the door opened a wonderful aroma wafted over to our nostrils, making our tummies rumble in anticipation! Luckily we didn't have long to wait before our lovely servers were placing laden plates before us. The Man Bird did his thing, i.e. took the photos of all the dishes, before we began to cut into our choices.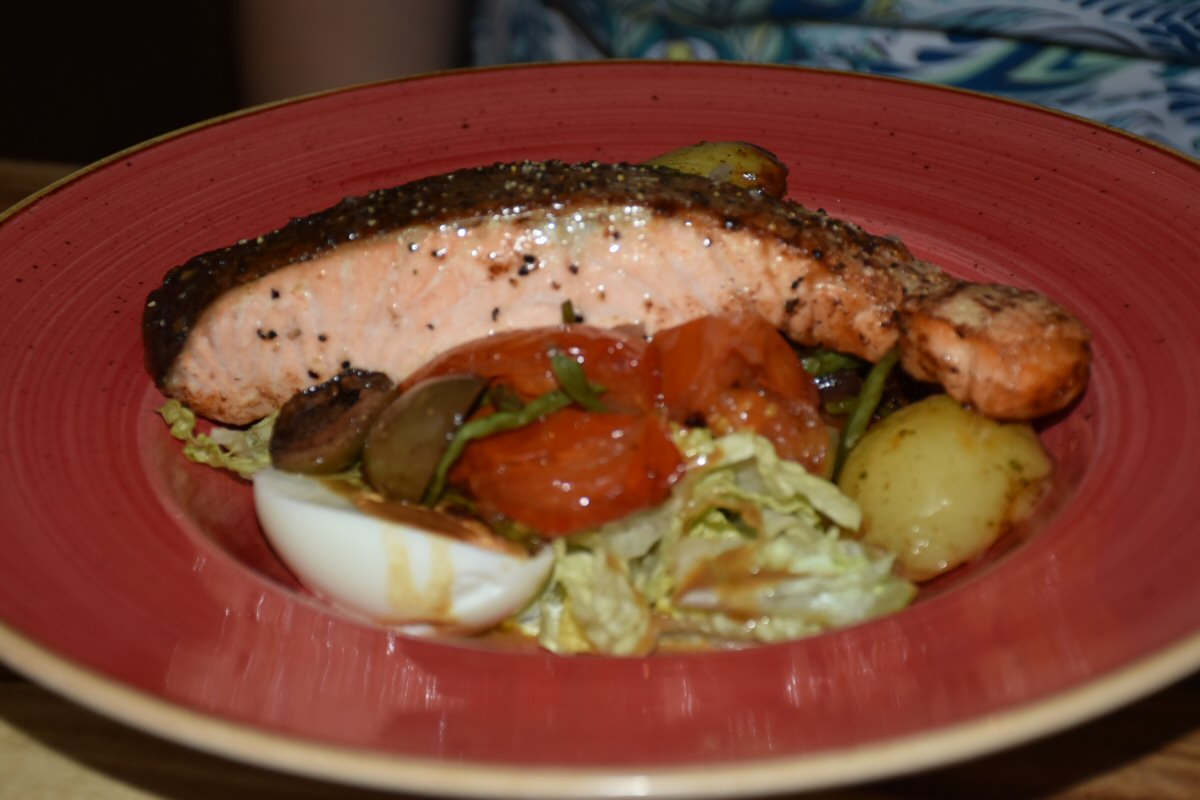 Mummy Bird's Steak and Ale pie was a beautiful individual morsel, sitting proudly among a mound of soft Mushy Peas and a mini bucket of homemade, double cooked Chips; she was very tempted to have the creamy Mash, but changed her mind at the last moment. The chunks of Steak were incredibly tender, with a superb, rich flavour that partnered the intense meat gravy that coated it. Now, Mummy Bird's mummy was a phenomenal pastry maker, so she knows when pastry is how it should be; to see her smile when she tried that first mouthful meant that Chef had done his job well. I got passed a piece of the Shortcrust pastry to try and it was beautifully rich and buttery in taste, with a lightly crumbly texture that melted on the tongue but didn't disintegrate into a thousand crumbs when cut into. The homemade Chips were an inviting golden brown shade and had a superb crisp outer that yielded to the bite easily and revealed comfortingly soft inners.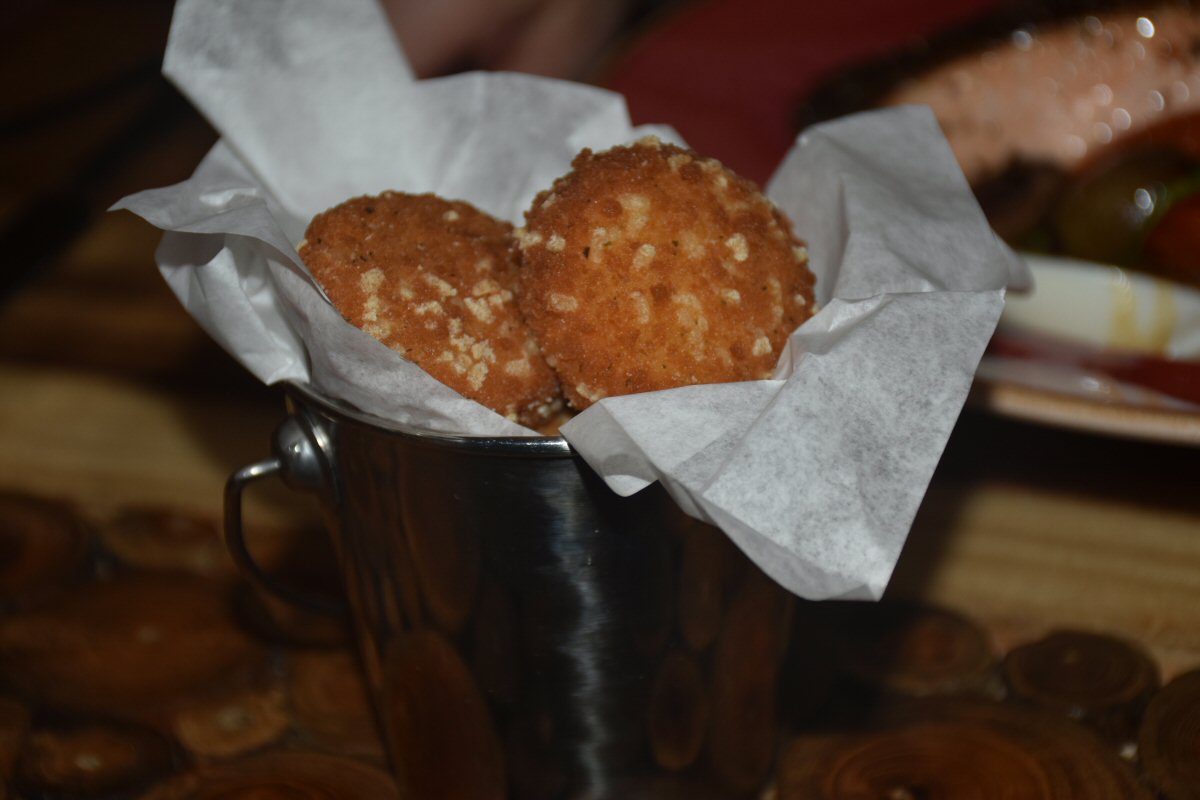 My own dish of pan roasted Salmon Nicoise was equally delicious. The Salmon itself was a thick, meaty fillet that had been cooked perfectly to retain its delicate fragrance and juiciness and my palate was dancing in delight as the tastes flooded over my taste buds. There was a great contrast in textures within this dish, thanks to the crunchy Green Beans and the softer sautéed Tomatoes and Soft-boiled Egg. A tangy French Mustard dressing lightly coated the mixed leaves, adding a subtle punch that married nicely with the distinctive taste of mixed Olives. My decision to add some mini Camembert Bites turned out to be an inspired one, if I say so myself. Each dairy nibble had possibly the crunchiest Panko coated outer, providing it with some real muscle in the texture stakes and then the gooey, creamy Camembert soothed the senses.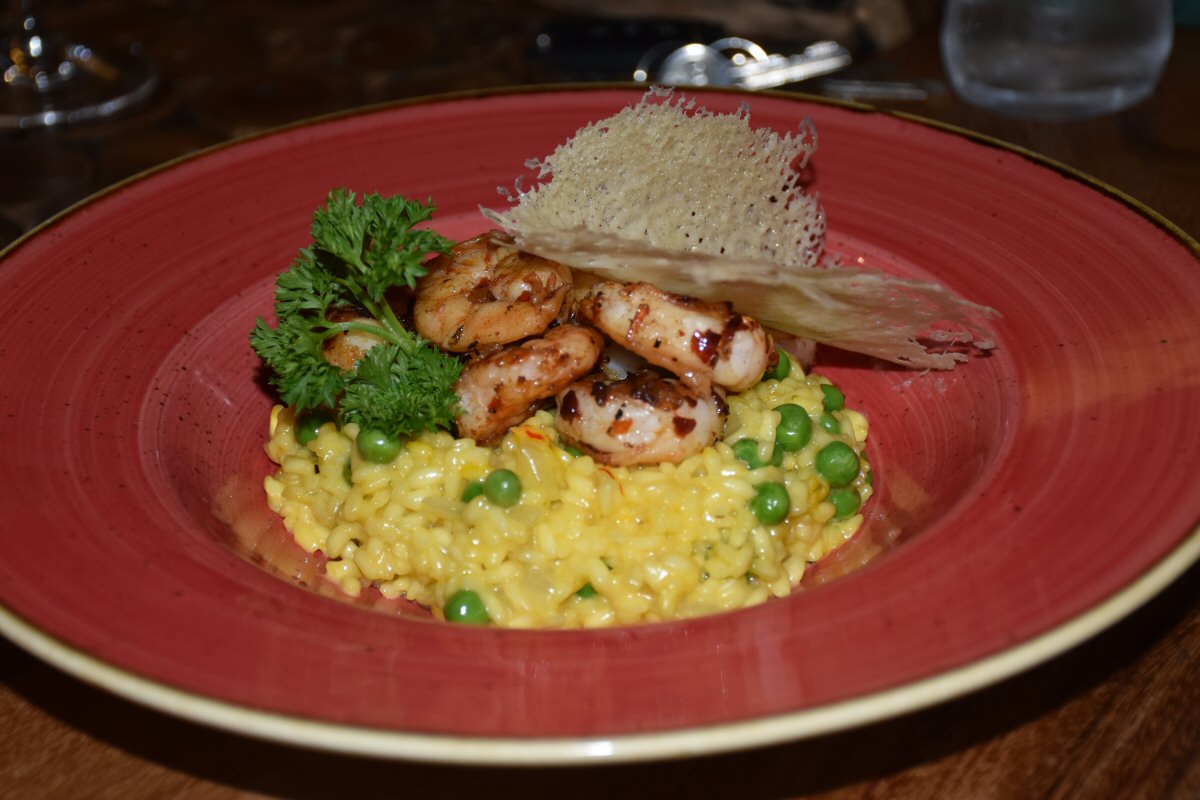 Chickadee was an extremely happy soul, not least because as a poor (!) student she was getting fed for free! The King Prawns were a generous size and plentiful within the dish, and Chef had liberally cooked them with Garlic and Chilli so that they packed a real punch in the mouth – not enough to make the lips and tongue tingle though! The accompanying Pea and Saffron Risotto was an altogether more relaxed affair, its creamy grains comforting and soothing in the mouth and a hint of sweetness balancing out the spicier elements in the dish.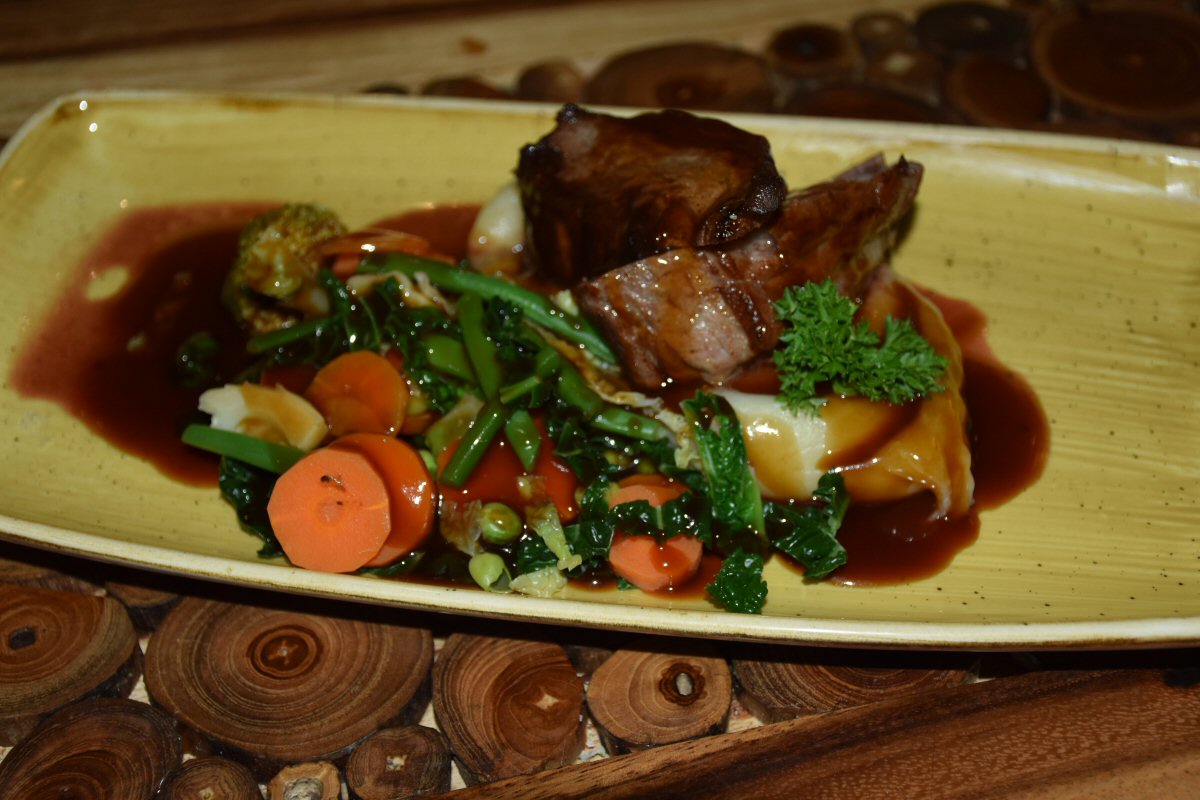 His Nibs completed our quartet of satisfied diners, saying how superb his Lamb Rump had been. I was passed a piece and can stoutly say that the meat was excellent; it had a gorgeous soft texture, was moreishly juicy and the flavour was amazing. Partnered with silky smooth mash and al dente vegetables, this was a perfect example of what this 'pub classic' should be like.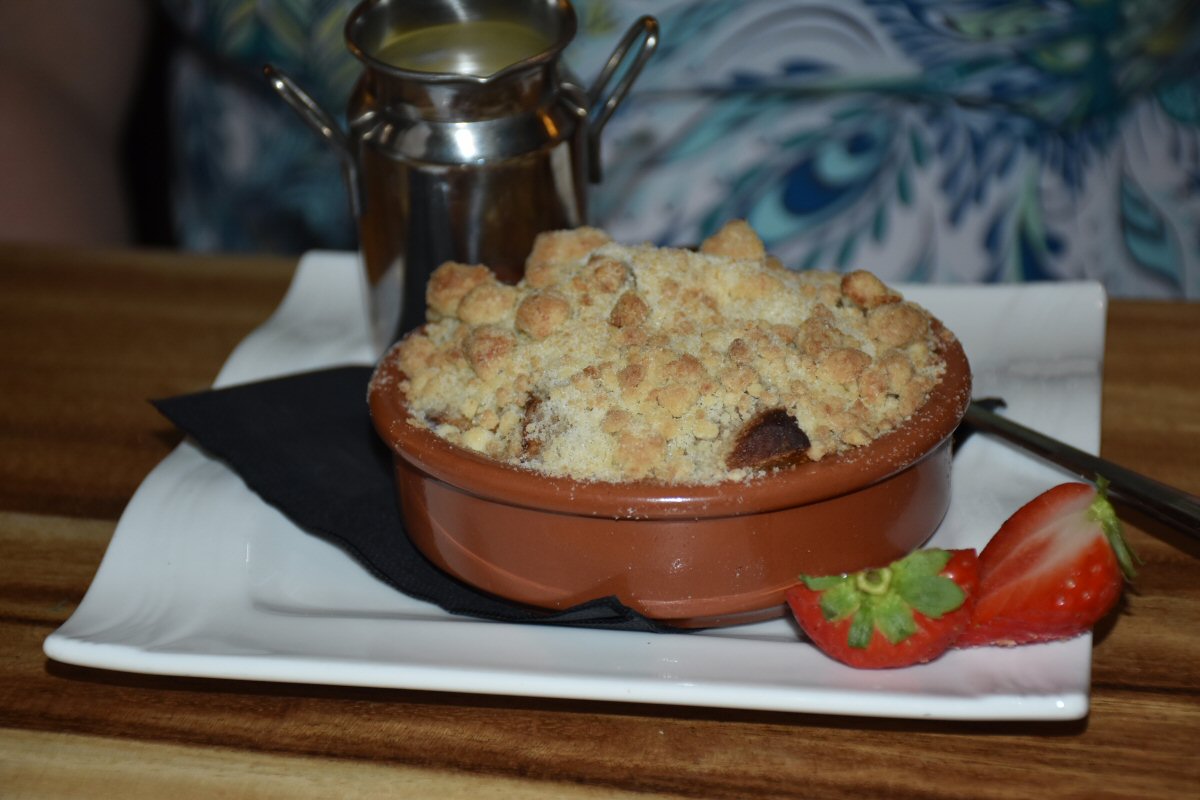 Only The Man and I had enough room for pud, but we all had black coffees. I went for the seasonal crumble, which was Peach and Walnut, and His Nibs had the Royal Oak's signature Chocolate Fudge Brownie; both puds were £4.95. I love a crumble, and have had many interpretations over the years, but I can honestly say that this was one of my favourites. The juicy, sweet Peaches had been sliced and were divinely soft in my mouth, and I revelled in their velvety texture, letting their fragrance roll over my tongue. At the other end of the scale were the crunchy, slightly bitter pieces of Walnut and when you factored in the buttery crumble topping this was everything you heart could desire in an Autumnal pudding.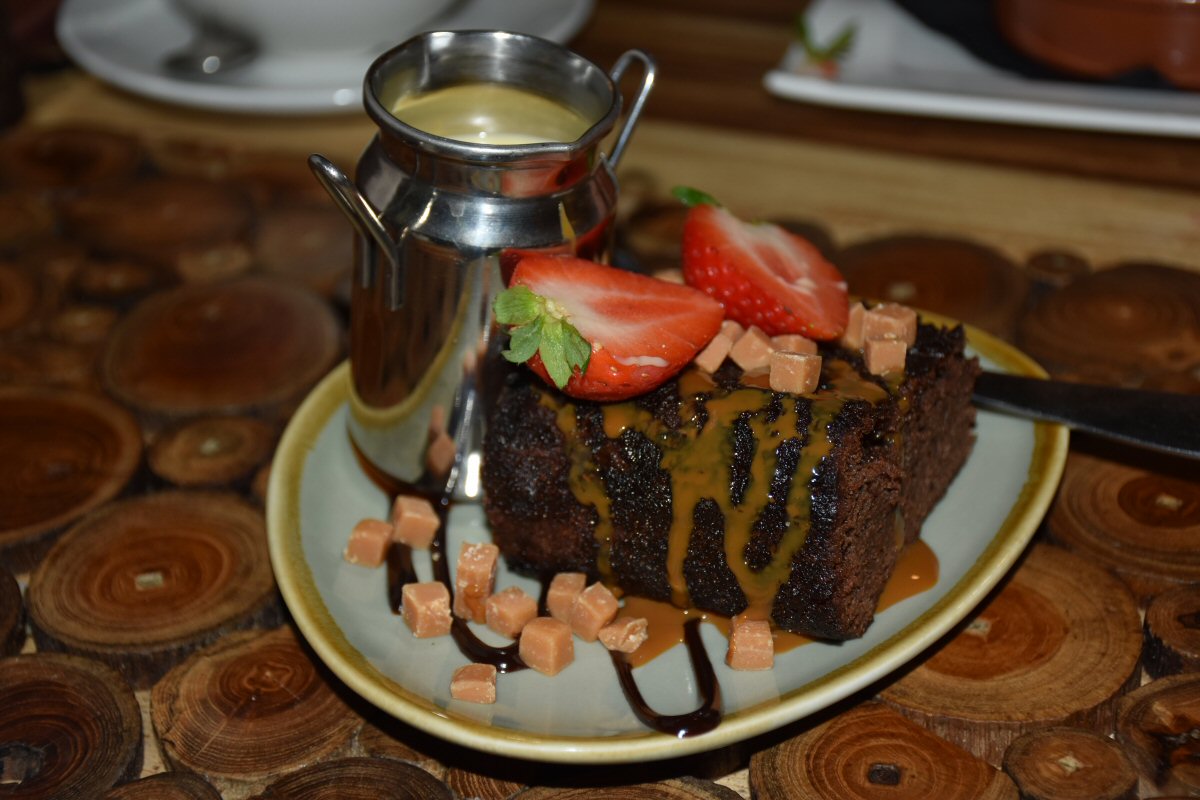 Chocoholics will be in their element if they select the Chocolate Brownie for dessert at The Royal Oak; this minx is wickedly dense in texture with a gooeyness that cocoons the mouth. Rich toffee sauce and tiny pieces of buttery fudge enhance this pleasure and His Nibs' face said it all: he'd died and gone to cocoa heaven! Hot, Vanilla custard intensified the gooeyness of this pud; it melted the chocolate even more, which really brought out the cocoa notes.

No surprises then, when I tell you that both bowls were squeaky clean! This had been a lovely family meal, and we were joined by plenty of other tables that were having a great time. Hot Wings happily awarded to this fab Westwood team – we'll certainly be back; we want to try your 'Fish n Chip' night!
No incentive was provided to visit this venue
read more