Breakfast at Sherwood Pines Cafe, Sherwood Pines
---
Published On Saturday 16 Oct 2021 by Sticky Beak
See Recent Dining Out Reviews | See All Recent Reviews


The Man Bird and I are at Centerparcs at Sherwood Forest by ourselves (lots of hanky-panky planned!) and decided to go and have a wander off park, into neighbouring Sherwood Pines for some scran. Clearly His Nibs had forgotten the trek it is (to him, anyway!), until we got about halfway down the first path...then the moaning began in earnest –think a five year-old in a car asking "are we nearly there yet" ?
After an hour or so's walking we arrived at the entrance to 'Go Ape' and knew that the Pines Café was only a minute further on. There is still a one-way system in operation at the toilets and within the café, but you don't have to wear a face covering or anything if you don't want to. The inside of the venue is spotlessly clean and we sat down at one of the tables, made a mental note of its number, decided what we wanted to eat, and then The Man Bird went to the counter to order.




We had a glass of Orange Juice each, then I had a pot of Tea for one whilst His Nibs had a black coffee; he had the Rangers Breakfast (£8.25) with extra Sautéed Potato and I opted for the Healthy Breakfast (£6.95). Our food was cooked fresh-to-order, so it arrived piping hot and we tucked straight in, helping ourselves to sauces from a selection in the wooden cutlery and condiment box that our lovely server had brought over earlier.

I gained a whole, grilled Field Mushroom from The Man's plate, so I played nicely and gave him some of my 'fart-pellets' aka Baked Beans. We had both opted for wholemeal bread to go with our brekkies, and it was lovely, springy stuff that had a super nutty, malty flavour to it. Both our eggs were excellent in taste, the yolks beautifully sunny and rich; my dish saw them softly poached, His Nibs' were fried, but weren't at all greasy in the mouth.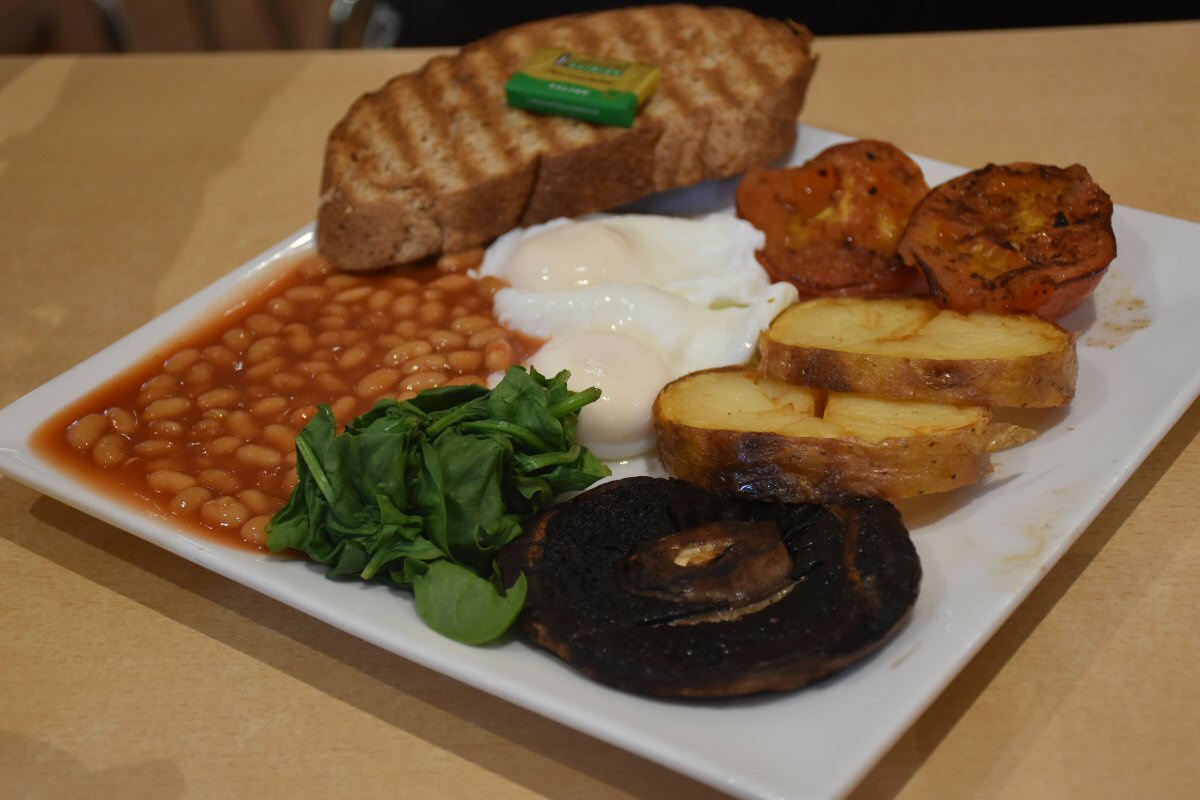 The Rangers Breakfast has all the perennial faves of a Traditional English fry-up in there: Bacon, Sausage, Hash Brown, and Tomato, as well as the aforementioned items, and each element was delicious. His Nibs said the Bacon was good quality stuff and had a deep, meaty taste to it, rather than being that insipid, water-injected cheap imposter. You certainly get a good plateful, that's for sure – perhaps as well we'd walked the 3 miles to the café to work up an appetite!

My Healthy Breakfast was no less satisfying, the plate bulging with the amount of food on it. I particularly liked the mound of wilted Spinach; it was still nicely firm in the mouth with lots of flavour to enjoy. The halved Tomatoes had been grilled to colour their tops and warm them, and as I popped a piece into my mouth, I got a hit of the fruit/vegetables sweetness, intensified by the grilling process.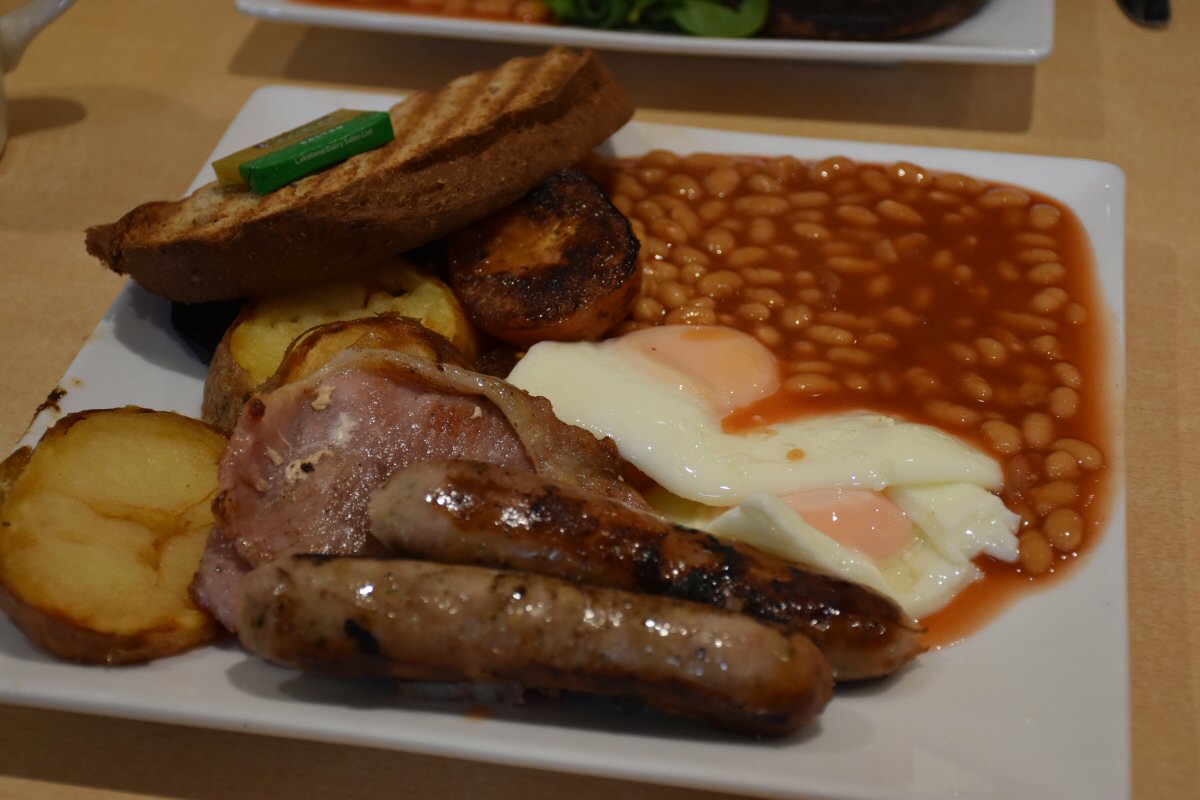 Perhaps our favourite item was the sautéed potato; this wasn't what we'd anticipated in the slightest – but I always say that assumption is the mother of all... We were expecting the usual small cubes of 'tater, but what we got were marvellous thick slices of oven-baked baked spuds. This meant that the centres were beautifully soft and comforting, with a sweet, earthy taste to them and the skin was lightly crisped on the outside: utterly moreish.

The café may be basic in its decor and feel, but the staff and food are anything but; it's easy to see why folks make it a regular pit-stop – there were several regulars there, who the staff knew by name, enjoying a light bite before carrying on with their cycling adventure. If we're back in the area, we'll definitely be returning – Hot Wings happily awarded here, to the Sherwood Pines Cafe and its team.
No incentive was provided to visit this venue
read more
Read Some Of Our Recent Reviews
---

Lunch At The Recently Opened Chatsworth Kitchen At Peak Village, Rowsley Everyone who knows me, knows I love Chatsworth (always have, always will) so when the invitation to sample lunch at the newly opened Chatsworth Kitchen Read The Article

---

A Visit To Vietnamese Street Kitchen, Resorts World, Birmingham Way back in the day (pre-covid) Fledge had bought me and The Man Bird tickets to see Mrs Browns Boys live and finally, after a couple of false start reschedules, the day of Read The Article

---

Sunday Lunch, A Museum Tour & Painting A Piece Of Denby At Denby Pottery Village It wasn't long ago that His Nibs and I visited the Denby Pottery Village to sample the Afternoon Tea at Bourne's Coffee Shop and Bistro (it was superb Read The Article

---

Bottomless Brunch At Turtle Bay In Derby The timing of the invitation from the Turtle Bay team in Derby to go and sample their Bottomless Brunch couldn't have been better; not only was it going to be The Man Birds' birthday a couple of days later Read The Article

---

Afternoon Tea At Santo's Higham Farm Hotel & Restaurant Aaaaaarggggh, don't you love your children??!! A while back, His Nibs had spotted a great deal on Groupon (you know what a bargain hound he is!) and thought it would be Read The Article

---

Sunday Lunch At The Countryman Pub & Dining, Kirkby-in-Ashfield We finally got to visit a venue thats been on our radar for quite a while, The Countryman Pub and Dining in Kirkby-In-Ashfield! A few weeks ago we tried to book a table for dinner Read The Article

---

Dinner At The Divan Turkish Restaurant In Chesterfield Chesterfield was welcoming us back again for our latest review visit; this time to the newly opened Turkish restaurant, The Divan, on Lordsmill Street. Owner Tuncay (along with Read The Article

---

Breakfast At Marsh Green Farm Shop & Cafe, Kelstedge Ah, you've gotta love a Bank Holiday curve-ball, haven't you? His Nibs and I headed over to Mummy Birds' gaff with the intention of having a leisurely couple of hours at the Sunday Read The Article

---

Afternoon Tea at Bourne's Coffee Shop and Bistro, Denby Pottery Village You all know that The Man Bird and I do like an Afternoon Tea; I mean, who doesn't?! Just a few miles down the road from the nest is Denby, home to the world-renowned Read The Article

---

All You Can Eat At The River Garden Cantonese Restaurant In Belper As is the seemingly never-ending pattern of our weekends at the moment, The Man Bird and I had been busy gardening/re-seeding/pruning/digging, so when it came to sorting Read The Article

---