Lunch At The Manor House Hotel On Holy Island
---
Published On Wednesday 13 Oct 2021 by Sticky Beak
See Recent Dining Out Reviews | See All Recent Reviews


There's no denying what a beautiful county Northumberland is and even though I moan like heck about the ball-ache of a journey up there, when we pull up at mum-in-law's (Geordie Bird/GB) house I always smile. It doesn't matter whether His Nibs and I stay for a weekend or a week, there's never enough time to do everything we want, and this visit was no exception. Sorry, Endeavour café in Newbiggin-by-the-Sea, I didn't get to come and have one of your delicious crab sandwiches this time and I really missed it; next time, I promise!
It has been a few years since our last visit to Lindisfarne (Holy Island) and as luck would have it, the tide times were in our favour, so off we set. We hadn't had breakfast at GB's before we set off, which was a deliberate move on our part as we intended to have an early lunch at The Manor House Hotel. Leaving the jalopy in the car park along with loads of others, we joined fellow walkers and accompanying dogs along the pavement that leads in to the village and then headed off towards the hotel.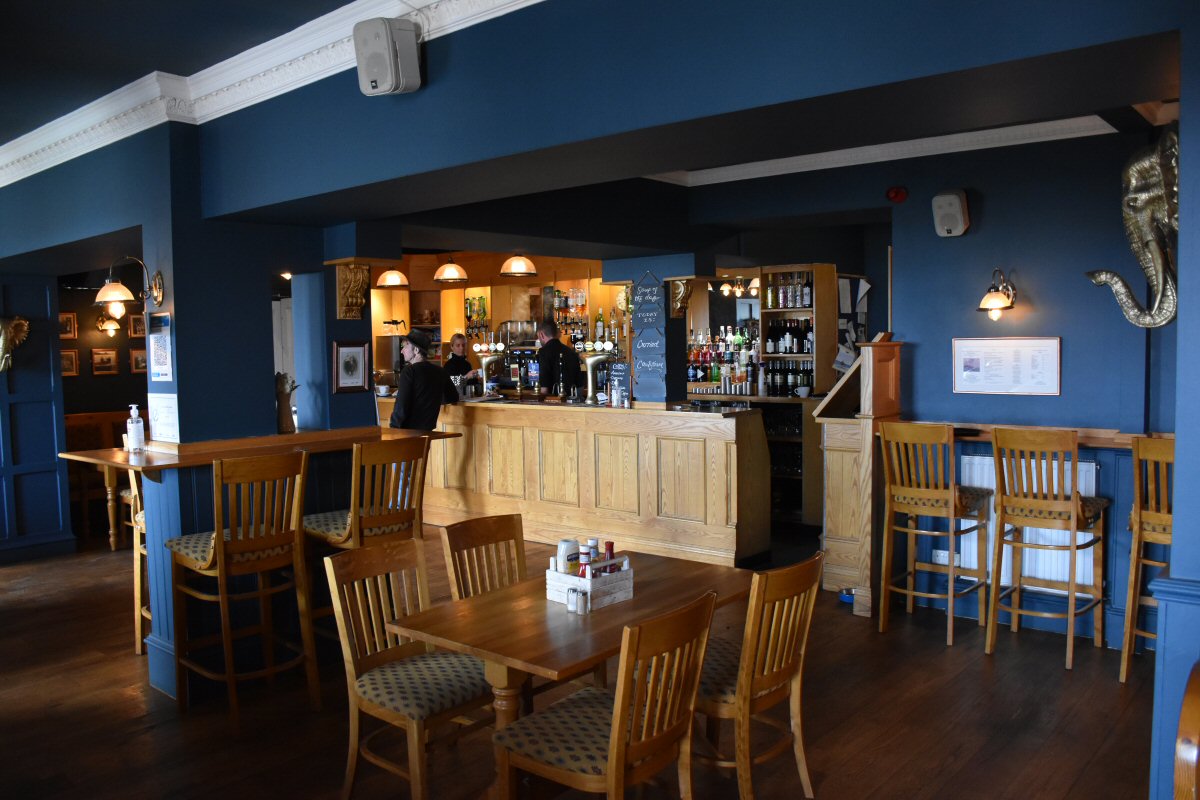 The Manor House Hotel is very traditional in style; I loved the shade of blue on the walls, and the quirky brass/gold Elephant head on the wall was cool, too! After finding a table and grabbing a menu from one of the holders, we settled on what we fancied to eat and The Man went to the bar to order, table number memorised! We were the first ones to order food, bang on the stroke of Noon! During the day diners are seated in the informal bar area (The Island Bar), where there is plenty of space and dogs are welcome; in the evening there is a more formal restaurant, The Priory, on the left side of the bar. I was happy to see that the Priory Bar was spotlessly clean and clearly the team are very proud of their high standards.

I settled on the Holy Island Crab sandwich which comes on a choice of white or brown Stottie or Focaccia (£9) and added a portion of fries for £2.50 extra; His Nibs went for Whole Tail Scampi, hand cut Chips and Minted Mushy Peas, £12. It seemed as though we weren't the only ones who had the intention of grabbing an early lunch; a steady stream of folk soon began to pour in – good job we'd walked fast and grabbed a perch!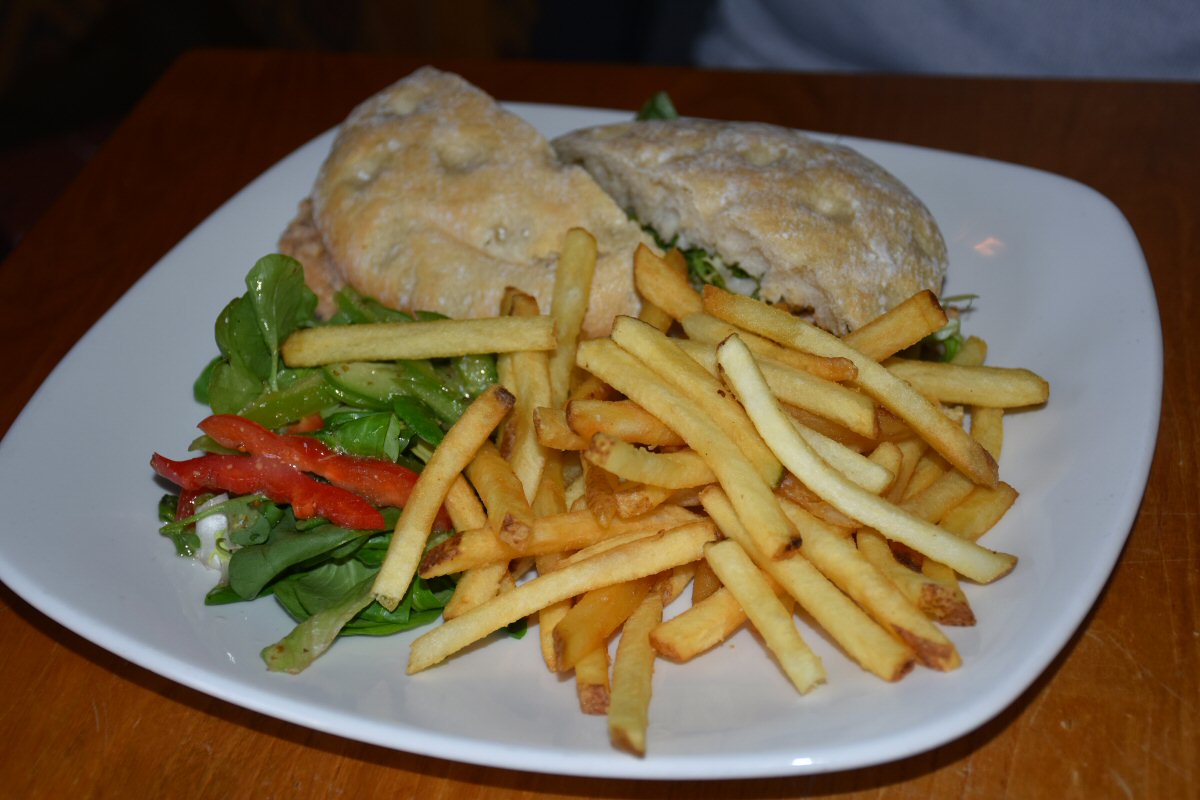 It wasn't long before a lovely chap was bringing our meals out and he stopped to have a quick chat when he'd carefully put the plates down; it was only his third day working at the hotel and he was loving it, which was nice to hear.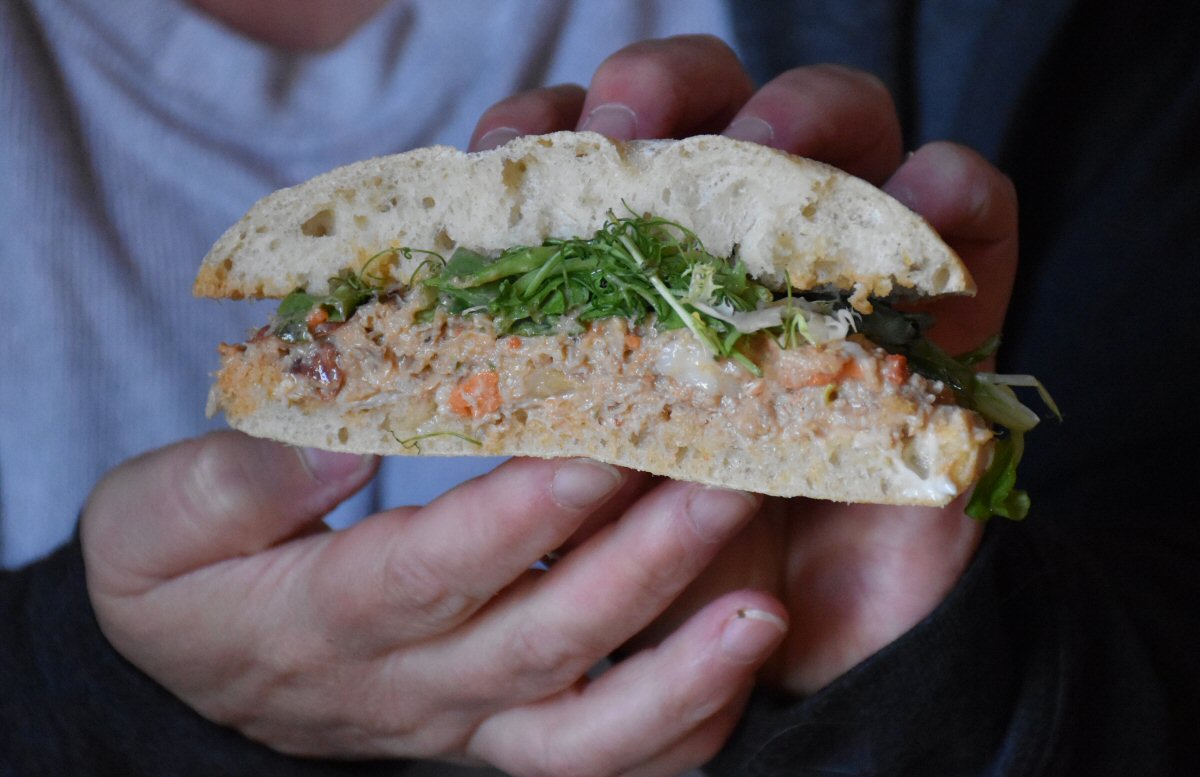 My sandwich was a gorgeously thick number, the Focaccia bun stuffed to the brim with a blend of white and brown Crab meat that was bound in a Lemon Mayo with Watercress. That first bite was luscious! My mouth filled with that mesmerising sweet, rich taste that crab has, and I grinned in happiness to myself. I absolutely love crab and you can't get finer than the Northumbrian variety. There was also a nice side salad of mixed leaves and sliced peppers that were drizzled in a lightly zingy dressing so that they popped on the palate. I was also impressed with the skinny fries; although they weren't homemade, they had been cooked properly so that they were wonderfully crisp and didn't have any hint of greasiness on them.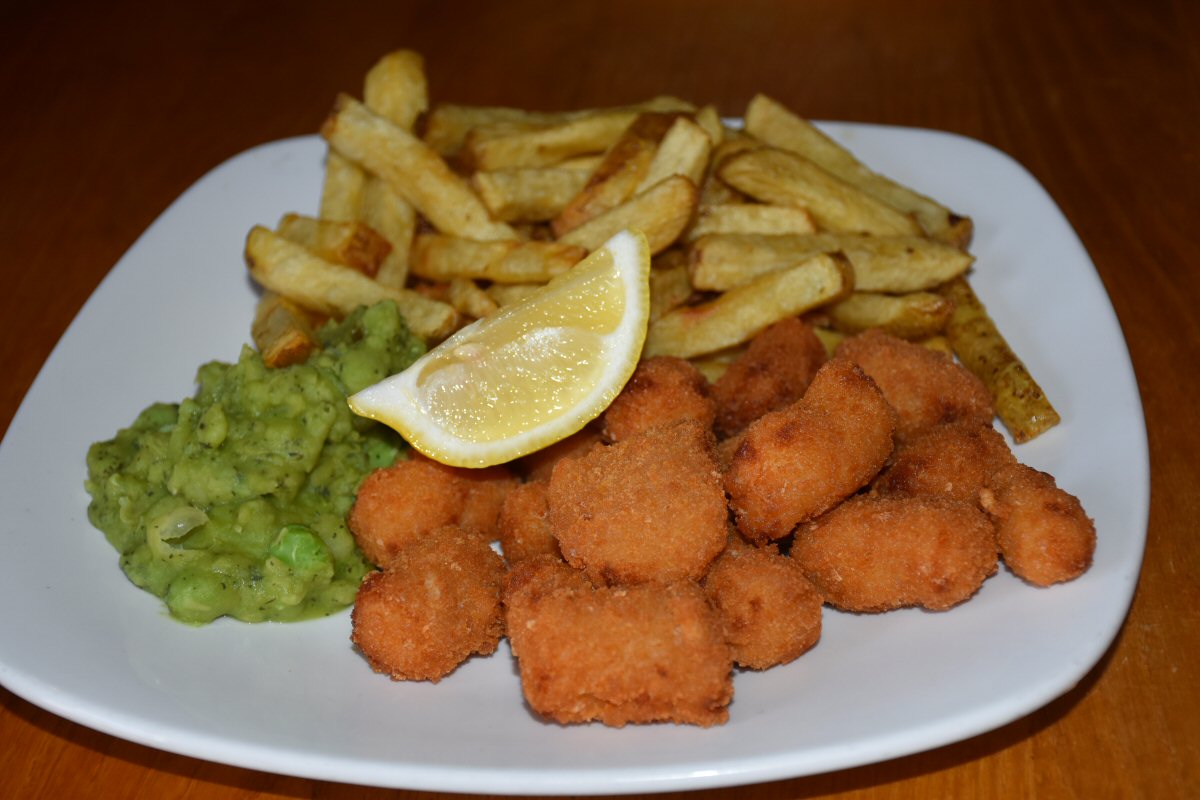 His Nibs was a hungry Horace thanks to missing out on brekkie, so he was an especially happy chappy when he saw what a generous portion of Scampi the team at The Manor House Hotel serve up. I don't know why, but he hadn't assimilated the fact that the mushy peas come minted, so he was surprised when the clean herb note hit his palate. He remarked to me that they were minted, to which I replied "Hallelujah! Finally, a place that is on my wavelength!" I always add mint sauce or fresh mint to my mushies; is there any other way to eat them??! Anyhow, he was happily scoffing away at them and even went so far as to dunk one of his hand-cut chips in their green glory! The scampi was declared to be marvellously meaty in texture and sweet in taste, and when I got offered a piece to try, it was indeed exactly that. Inside each golden batter cocoon was a piece of pearl white deliciousness that I took the time to savour, unlike The Man who was popping piece after piece into his eager mouth with indecent haste!

Although it was only a quick lunch we'd gone in for, it had been a superb offering and we both said that we'd go back again in future. In fact, The Manor House Hotel has such a lovely friendly vibe to it, we decided to stay a while longer and have a couple of black coffees instead of leaving straight away. Hot Wings happily awarded to this great island team.
No incentive was provided to visit this venue
read more