Fresh Fish & A Firepit On The Beach At Riley's Fish Shack
---
Published On Wednesday 6 Oct 2021 by Sticky Beak
See Recent Dining Out Reviews | See All Recent Reviews


At the end of a hectic day driving up to Northumberland, unpacking and fannying about buying bits-and-bobs that we'd forgotten to pack (oops, my bad!) it was lovely to settle into one of our happy places, Riley's Fish Shack, and take a breath of clean sea air. The Man and I like Riley's so much that it is pretty much a set fixture on our timetable when we come 'up north', so needless to say that we'd paid the deposit on a pair of deckchairs a few weeks ahead of our trip.
One thing that has changed since our last visit is the fact that you now are now charged a tenner to hire a fire pit, whereas before it was FOC; if you don't want a fire pit you have the option of buying a Riley's blanket at £6 or wrapping up warm in plenty of layers on chillier nights. We did all three; well, we brought our own blanket but that was more of an afterthought than a purposeful act, but we'll take the win!!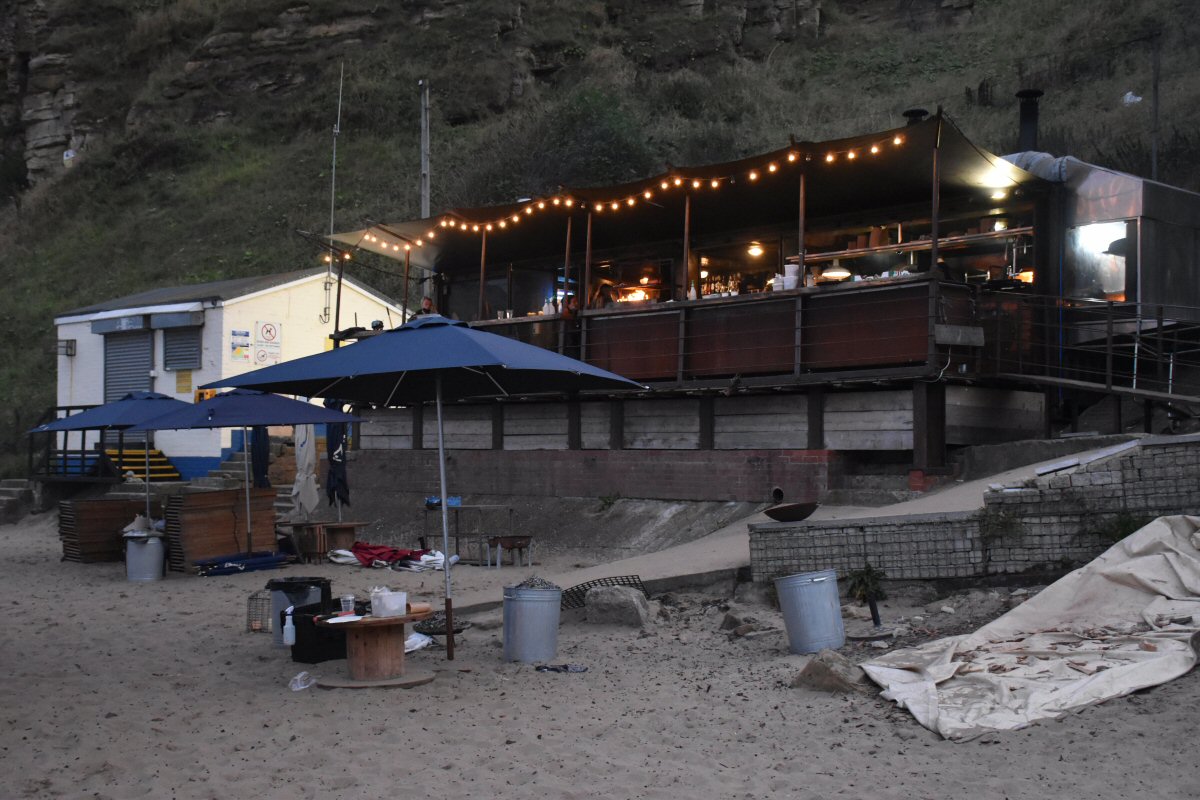 Our host for the evening, Oscar, took us to our front-row spot that had its own wind-break and umbrella set up, so we hunkered down in the deep deckchairs and began to peruse the selection of food on offer.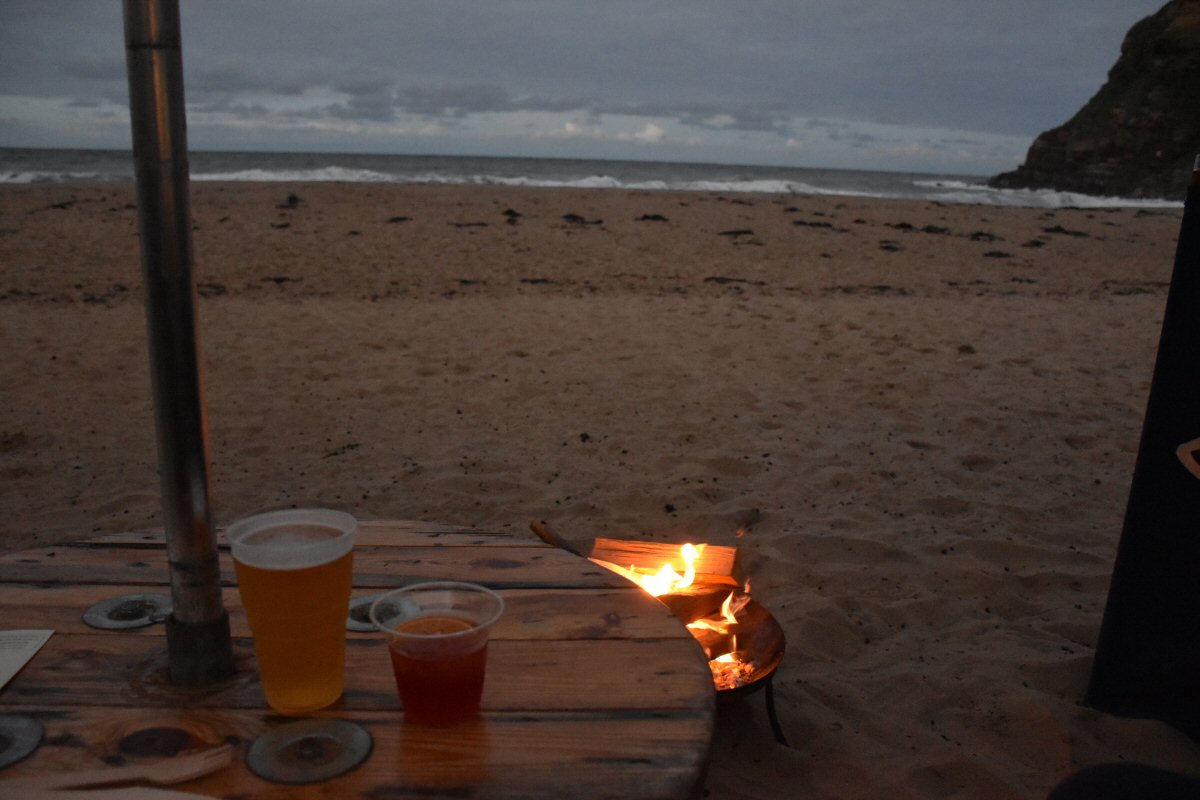 The menu was just as extensive as usual, so the only problem you'll have is narrowing down what you want to eat! I just had to have a classic Oyster from the cold bar section of the menu; cheeky, I know, but it's an annual ritual now. His Nibs sat there, looking at me in disgust as I poured some Tabasco and Lemon juice onto the slippery shellfish morsel before dispatching it swiftly down my gullet. Marvellous!!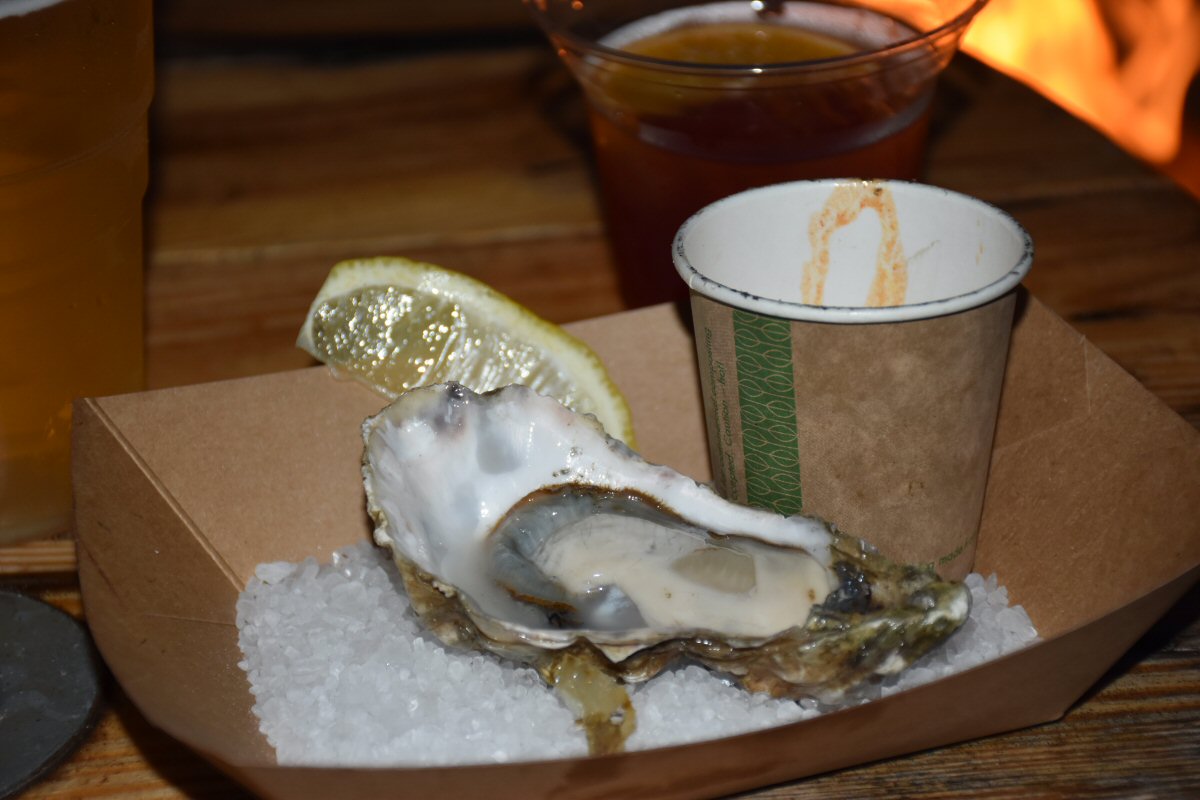 I ordered a Sea Salt Negroni (£8.50) when Oscar came back a short while later and His Nibs had a pint of Allendale Brewery's Adder Pilsner Lager; all the beers are between £5.50 and £6.50 a pint. For a niche venue, Riley's has a superb selection of tipples; they're not the cheapest by a long chalk (especially wines by the bottle) but sometimes it's nice to push the boat out – plus the fact that residents of Tyne Mouth aren't exactly short of a bob or two, looking at the properties nearby! Non drinkers/designated drivers are well catered for too with a fab choice of soft drinks.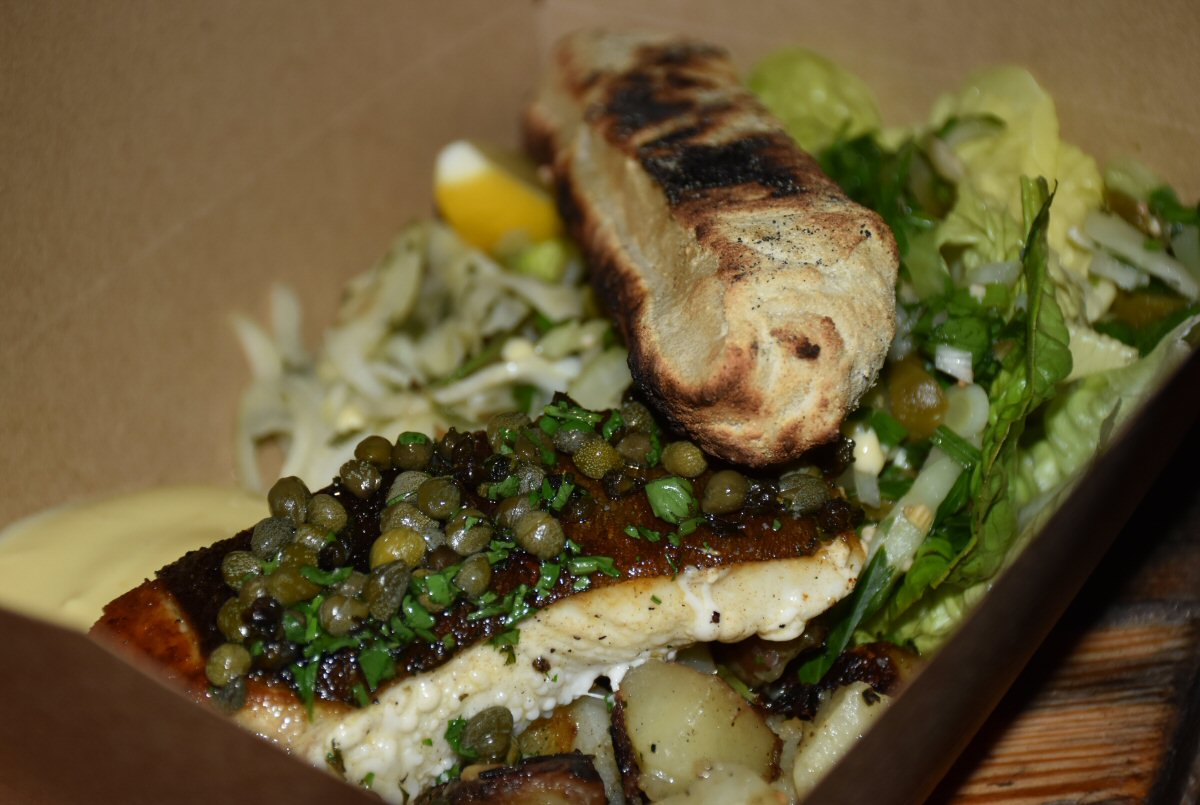 We were tempted to have a couple of small plates before our main course, but previous experience has taught us that this is a bit too much, even for our greedy bellies! Instead, we went for mains and a couple of sides, which turned out to be the wise decision. Both of us had dishes from the grill and hot plate menu; Salted Hot Plate Hake for The Man (£25) and Crispy Skin Halibut for me (£29) and they both come with Caper Butter, Mixed side, hot plate Potatoes and a twist of sourdough. Our chosen sides were roast Whole Cauliflower with Romesco sauce (£5.50) and Blackened Courgette with Harissa, Tahini and Dukkah (£5.50).There is a flat-iron Steak wrap on the menu as well, just in case you don't fancy fish or seafood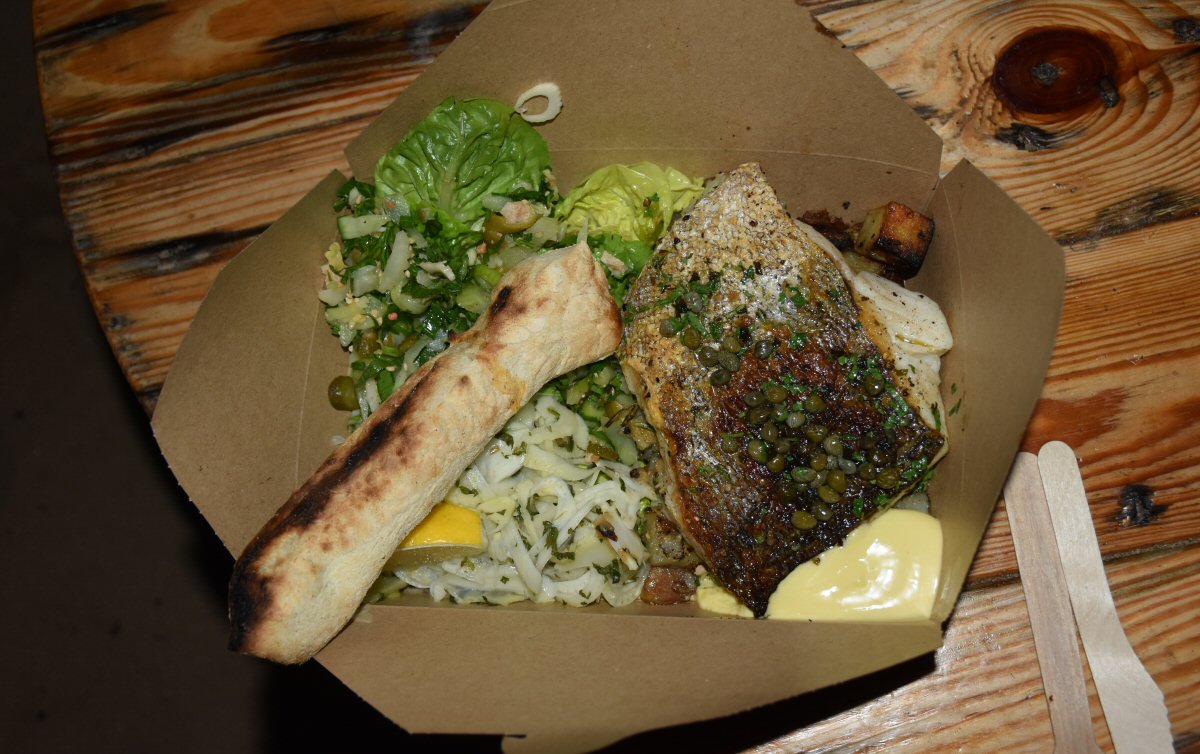 .

Whilst we waited for our food to arrive we sat talking, looking at the lively sea: those 'white horses' were certainly galloping towards the shore at a brisk rate. I think this was the choppiest we've seen it at King Edwards Bay and in the fading evening light, the waves looked and sounded beautifully dramatic.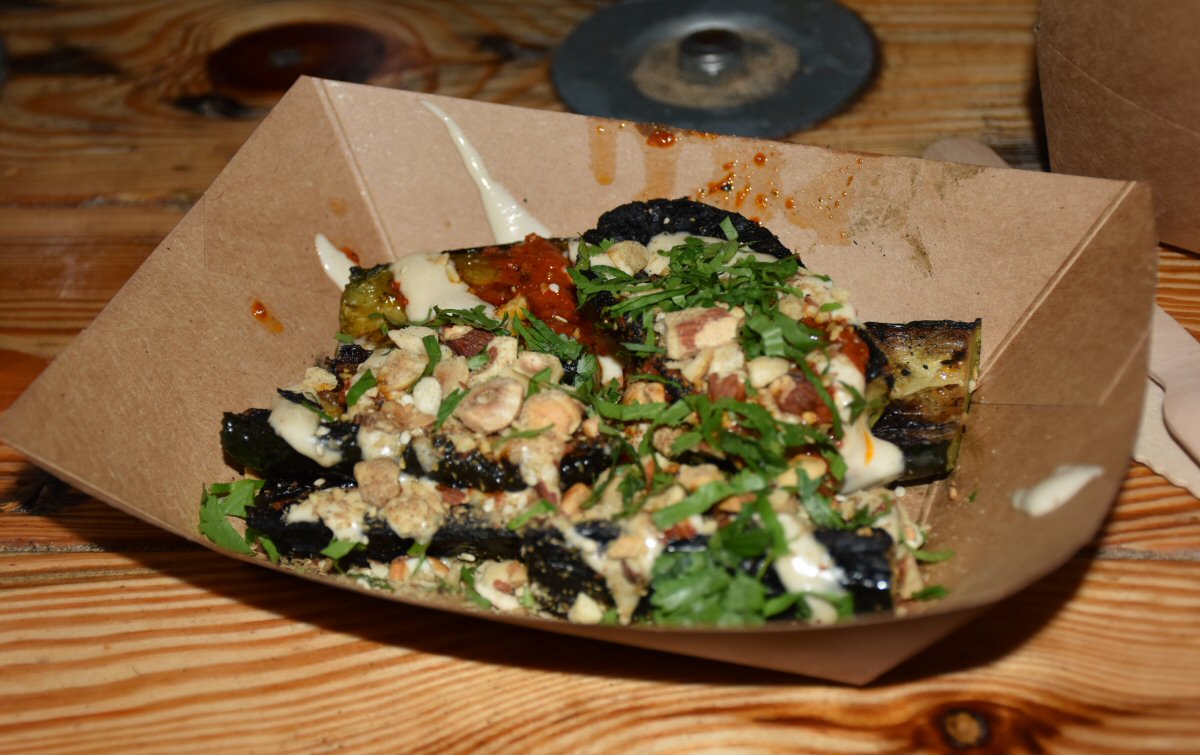 As is befitting the beach setting, Riley's serves their dishes in cardboard containers and cutlery is the wooden, disposable type. When our food arrived, we wasted no time in putting the cutlery to use! As before, all the food was piping hot so we just began to eat the hot plate potatoes and mixed side whilst the fish cooled a little – doesn't take long when the sea breeze is up. There's nothing finer than fresh fish; it is meaty in texture and has a sublime sweetness to its flesh that makes the soul sing in joy.




His Nibs and I had found our happy place again, smiling broadly at each other in the brooding night sky, our shadows from the shack's fairy-lights perfect in the sand. Each and every component of this evening supper was glorious with layer upon layer of taste and texture assaulting our senses. Even humble vegetables are transformed into something special at Riley's Fish Shack, and the Chilli, Lime, Fennel, Caperberry Pickle salad, Aioli, Green sauce and Potatoes in the mixed side accentuate all notes in the various seafood and fish dishes on offer.




Yet again we found ourselves desperately wishing for that DeLorean to appear and allow us to relive the evening over and over, ad infinitum; maybe one day *sigh*. Hot Wings awarded again to this Tyne Mouth team (not Northumbrian as His Nibs pointed out, although I don't know the difference to be honest!). See you next year guys!!
No incentive was provided to visit this venue
read more
Read Some Of Our Recent Reviews
---

Lunch At The Recently Opened Chatsworth Kitchen At Peak Village, Rowsley Everyone who knows me, knows I love Chatsworth (always have, always will) so when the invitation to sample lunch at the newly opened Chatsworth Kitchen Read The Article

---

A Visit To Vietnamese Street Kitchen, Resorts World, Birmingham Way back in the day (pre-covid) Fledge had bought me and The Man Bird tickets to see Mrs Browns Boys live and finally, after a couple of false start reschedules, the day of Read The Article

---

Sunday Lunch, A Museum Tour & Painting A Piece Of Denby At Denby Pottery Village It wasn't long ago that His Nibs and I visited the Denby Pottery Village to sample the Afternoon Tea at Bourne's Coffee Shop and Bistro (it was superb Read The Article

---

Bottomless Brunch At Turtle Bay In Derby The timing of the invitation from the Turtle Bay team in Derby to go and sample their Bottomless Brunch couldn't have been better; not only was it going to be The Man Birds' birthday a couple of days later Read The Article

---

Afternoon Tea At Santo's Higham Farm Hotel & Restaurant Aaaaaarggggh, don't you love your children??!! A while back, His Nibs had spotted a great deal on Groupon (you know what a bargain hound he is!) and thought it would be Read The Article

---

Sunday Lunch At The Countryman Pub & Dining, Kirkby-in-Ashfield We finally got to visit a venue thats been on our radar for quite a while, The Countryman Pub and Dining in Kirkby-In-Ashfield! A few weeks ago we tried to book a table for dinner Read The Article

---

Dinner At The Divan Turkish Restaurant In Chesterfield Chesterfield was welcoming us back again for our latest review visit; this time to the newly opened Turkish restaurant, The Divan, on Lordsmill Street. Owner Tuncay (along with Read The Article

---

Breakfast At Marsh Green Farm Shop & Cafe, Kelstedge Ah, you've gotta love a Bank Holiday curve-ball, haven't you? His Nibs and I headed over to Mummy Birds' gaff with the intention of having a leisurely couple of hours at the Sunday Read The Article

---

Afternoon Tea at Bourne's Coffee Shop and Bistro, Denby Pottery Village You all know that The Man Bird and I do like an Afternoon Tea; I mean, who doesn't?! Just a few miles down the road from the nest is Denby, home to the world-renowned Read The Article

---

All You Can Eat At The River Garden Cantonese Restaurant In Belper As is the seemingly never-ending pattern of our weekends at the moment, The Man Bird and I had been busy gardening/re-seeding/pruning/digging, so when it came to sorting Read The Article

---