Afternoon Tea at Cafe 24 In The 1924 Building, Belper
---
Published On Saturday 2 Oct 2021 by Sticky Beak
See Recent Dining Out Reviews | See All Recent Reviews


Everybody knows that I like, no, LOVE, cheese and that I am also rather partial to Afternoon Tea. Imagine my delight then, when Jean (who we originally met at Rose Cottage in Matlock Bath) invited His Nibs and I along to sample this iconic offering at her new venture, Café 24, in the 1924 building in Belper. Fellow fans of this quintessentially British 'meal' should note that Jean requires 24 hours notice if you fancy trying it for yourselves; jot this fact down because there is so much detail coming that you may get lost in its fabulousness and forget this jolly important point!
We parked the Jalopy in a nearby car park and wandered down the street to building 1924 which is on the same street as Rice Bowl and Arthur's!! No less than fourteen independent traders are housed under this one roof and the communal interior is loosely based on the look of The Shambles in York. Needless to say this little venue has masses of appeal, both from the pavement and inside.




Café 24 itself is wonderfully quirky, warm and inviting. A mix of colourful tasselled lanterns and modern, metal lamps suspended from the ceiling provide light and ambience, whilst an assortment of vintage sewing machines and biscuit tins adorn the shelves above the chilled drinks cabinet. The kitchen area is set at the rear of the café, with the seating in front of it on the dark, cobbled stone floor. You almost feel like you're sat outside a street café, but with the warmth of indoors: win-win if you ask me!. Against the dramatic decorative effect of the dark cobbles are the exposed red brick walls and the wood and metal tables, and all these elements give a superb organic feel to the building.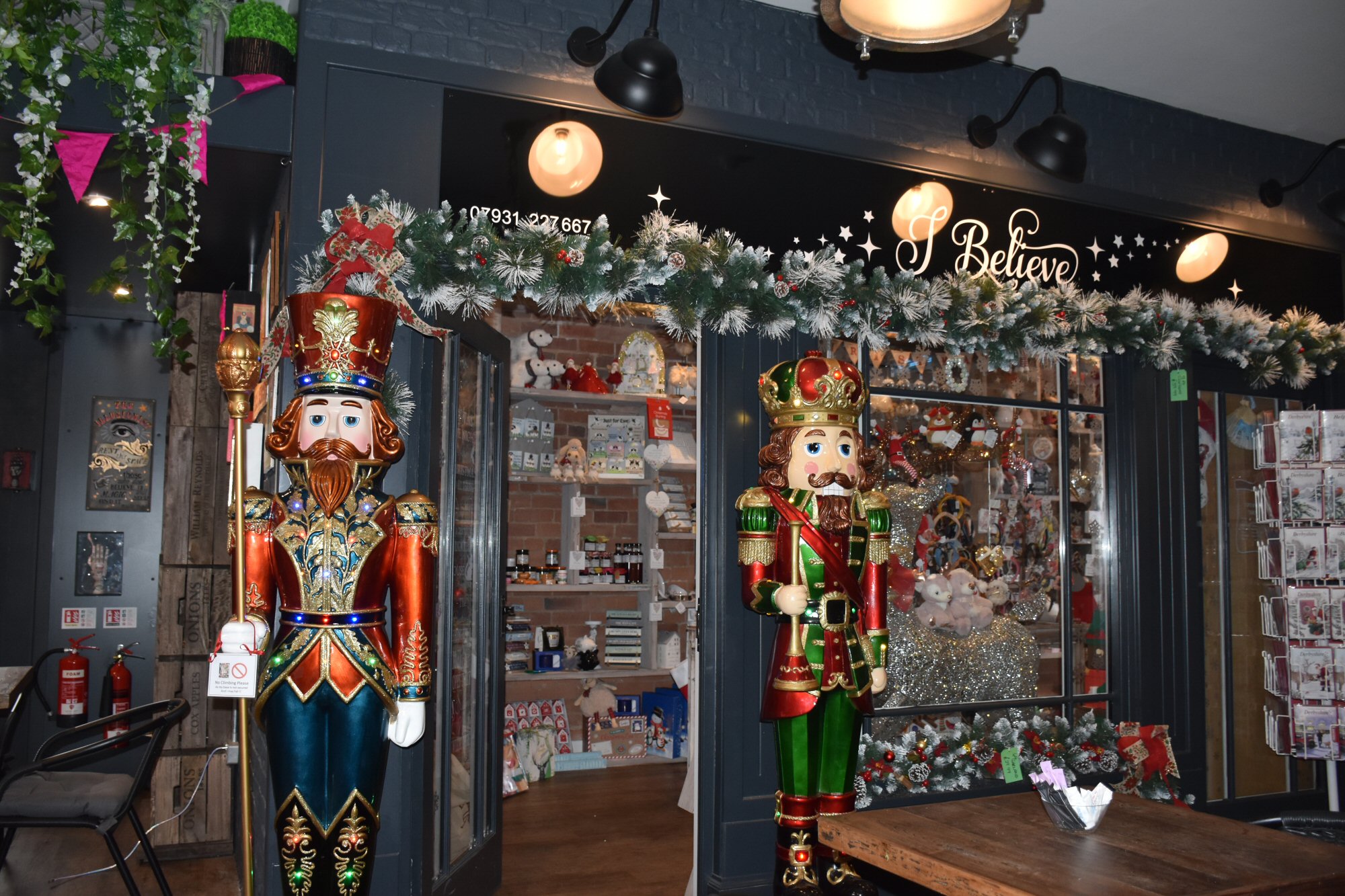 The Man Bird and I sat at a table that gave us a great view all along the 'street' so we could see several of the different shops in the 1924 building. The one closest to us was a fab unit called 'I Believe' that stocks all manner of things, including a great range of seasonal products (there are some amazing Festive things in at the moment!) and cards, and this is where the cups and preserves used by Café 24's Jean come from.




Jean came to see what we wanted to drink (you can have alcoholic drinks as Café 24 is fully licensed), and though I was tempted to partake of the grape, I decided on a pot of Tea whilst The Man went for a black coffee. I should just say that both the Traditional Afternoon Tea (£12.50 pp) and the Cheese Lovers Afternoon Tea (£15 pp) come with bottomless tea and coffee, and if you wish to, you can upgrade and make the Traditional version a bottomless prosecco tea for £25 per person. Children don't have to miss out on the pleasure of Afternoon Tea; at Café 24, Jean does a 'Little Miss and Mr' version priced at £9 per child, where they can have Tea, juice or milk to go with a selection of sandwiches, scone with jam and cream and their choice of cake served with Ice Cream.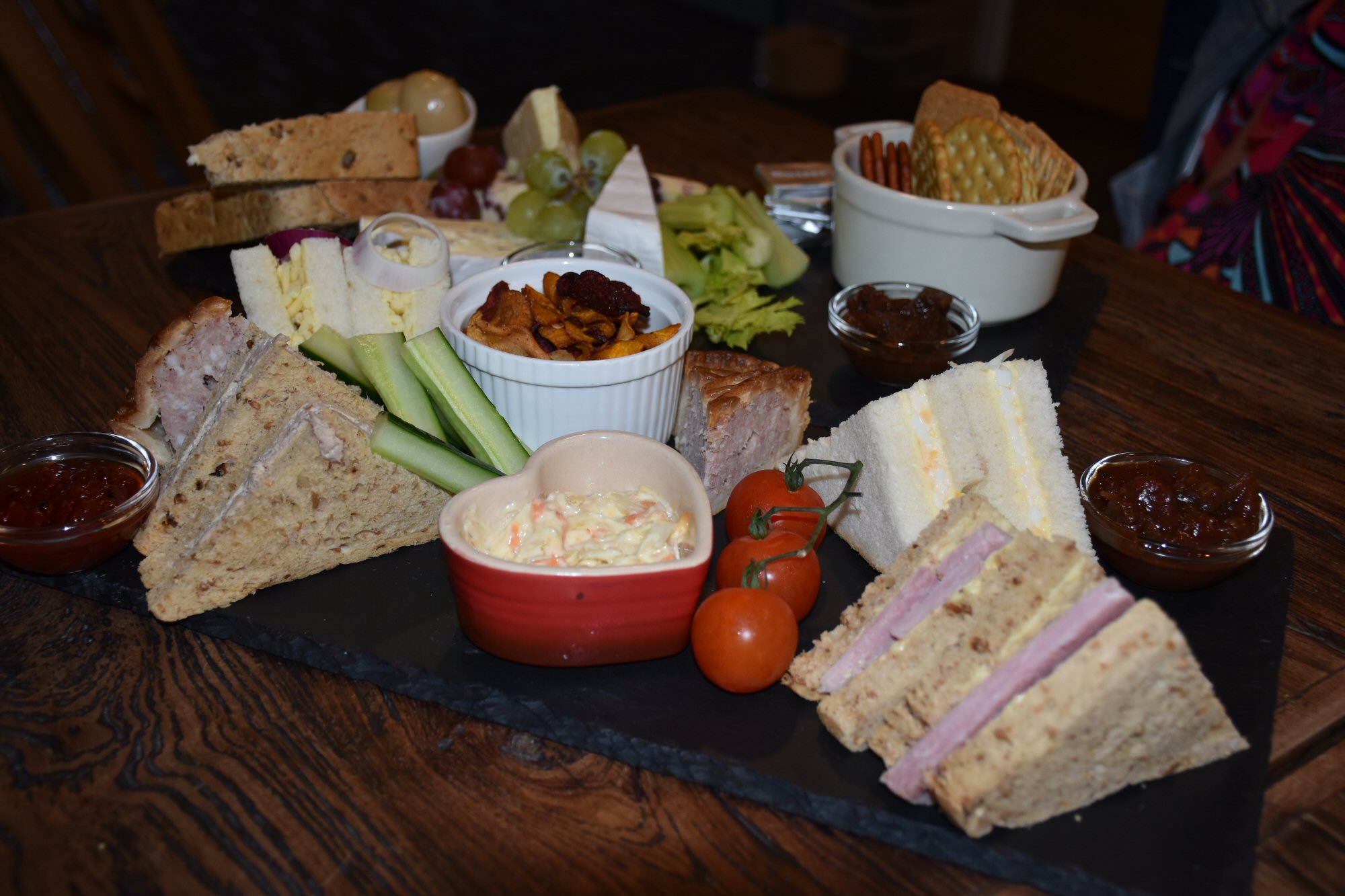 With his usual lack of decorum, The Man slammed straight into the stack of sandwiches, pausing only to choose his first victim from a selection of Mature Cheddar cheese, Egg Mayo, or hand-cut Ham – I got the Tuna Mayonnaise ones as he doesn't do 'fishy fish'!

All the bread was super springy and gorgeous in taste (especially the wholegrain one, which had a moreish maltiness to it), testament to the skills of the bakers at Bakewell Bakery who supply it. Each sandwich type was filled to the rafters with super-fresh ingredients and bursting with flavour: the egg was rich and creamy, the mature cheese punchy, and the thick cut Ham sweet and succulent. The Man tasted a bite of the Ham as was, before adding some Chilli Jam to one triangle and a farmhouse (from Pilsley Farm) Chutney to another; both variations were declared to be sublime! Knowing His Nibs' penchant for a bit of Pork Pie in the afternoon, Jean had very kindly popped a couple of pieces on his plate as a treat to go with his sandwiches, coleslaw, root vegetable crisps, cherry Tomatoes, sliced Red Onion and Cucumber.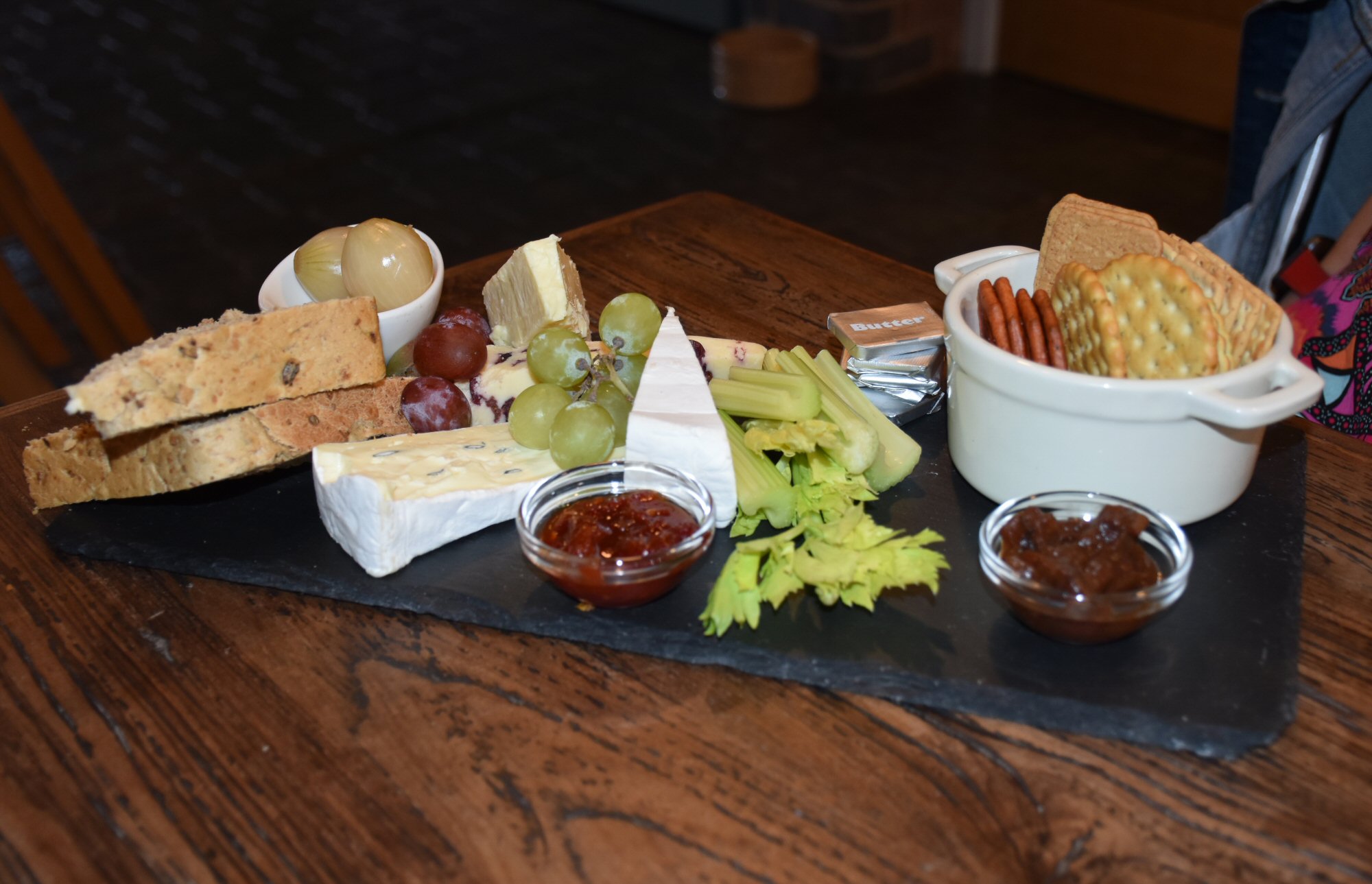 I, meanwhile, was sitting there with my eyes on stalks, goggling at the four wedges of dairy delight on the platter before me! In the Blue Cheese corner was the wonderfully creamy-yet-punchy Cambozola (a hybrid of Camembert and Gorgonzola), partnered in the robustness stakes by the same Mature Cheddar His Nibs had had. Wonderfully mild Brie provided a respite from the exuberance of its two cousins before the gorgeous Wensleydale and Cranberry's nutty, slightly sweet yet curiously tart flavour had my taste buds back on full alert.

Dairy lovers will totally rejoice at Café 24's Cheese Lovers Afternoon Tea; I know I was certainly lost in its splendour! One thing I was particularly impressed with was the fact that Jean serves her cheeses at room temperature; now you and I both know that this is the way it should be done, but you'd be surprised at how often it isn't!! This one detail made all the difference between an average experience and the total knock-out I had the pleasure of eating.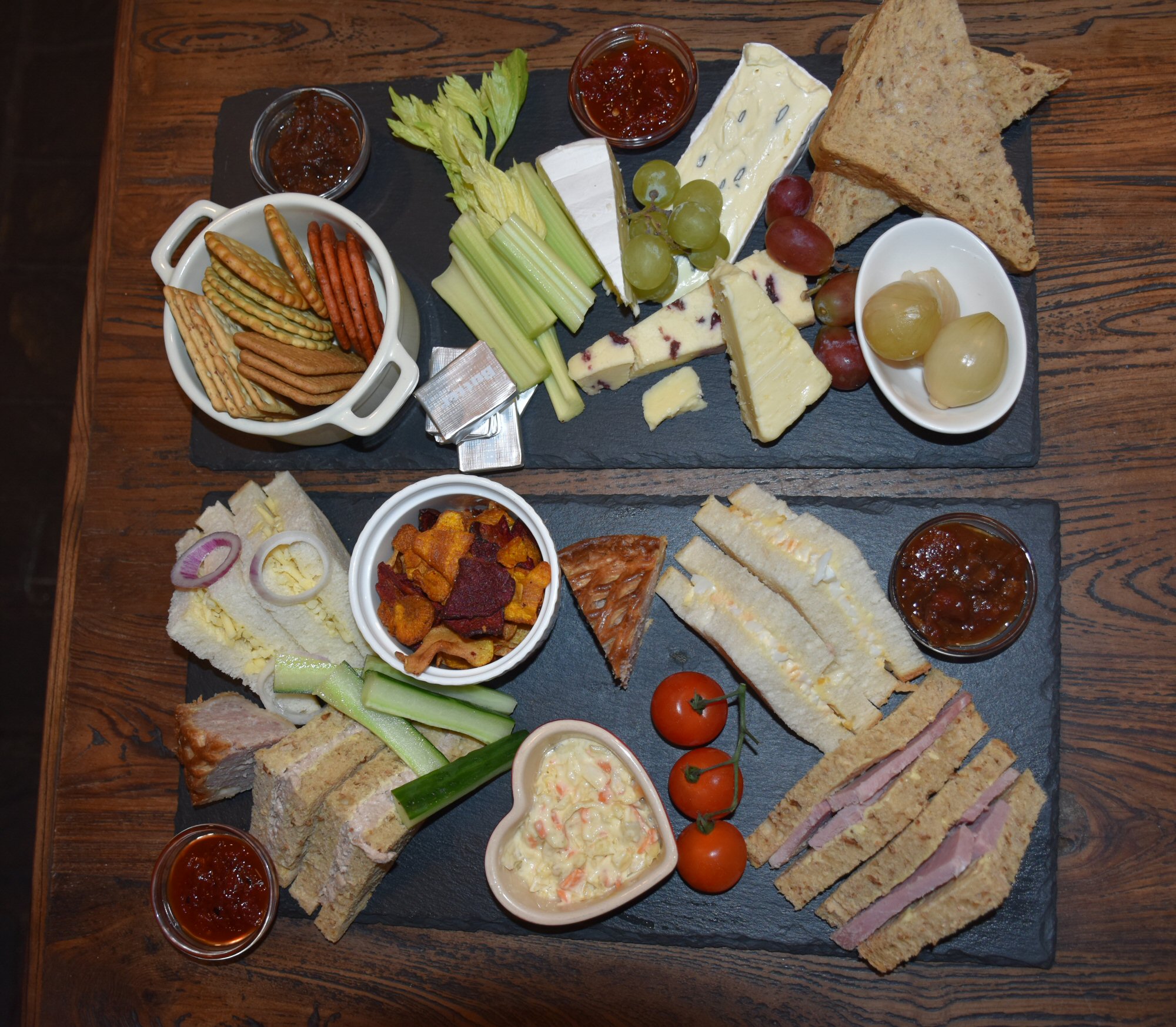 To go with my cheeses there were bunches of Red- and Green- Grapes, baby stalks of Celery (including the tender leaves), a dish of amazing, face scrunchingly sharp pickled Onions, slices of Bakewell Bakery's bread and individual pats of butter, pots of fiery Chilli Jam and smoky Chutney, and a quintet of cracker types. Good job I have a heartier-than-hearty appetite because there was still the cakes and scones to come!!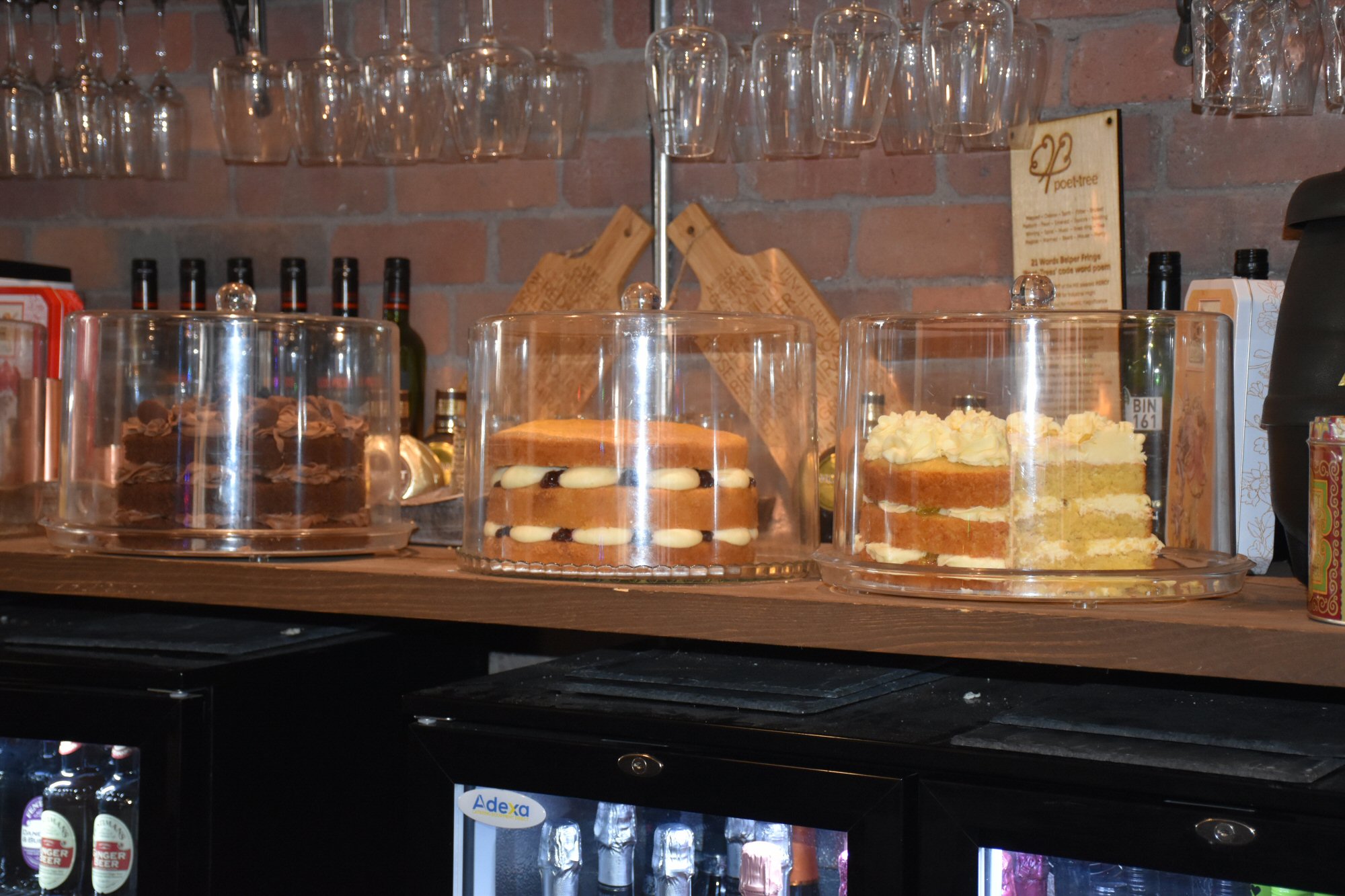 Jean and her lovely team had all been popping back and forth, making sure we were enjoying our teas and asking if they could get us more drinks – I asked for another pot of tea and The Man had an Earl Grey tea this time, both of which came served with smiles. On the side counter was several domed, glass cake cloches that housed a truly mesmerising selection of skyscraper proportioned cakes from the Beautiful Food Company in Duffield who supply Jean with her sweet treats. Jean is herself a rather good baker, but there aren't enough hours in the day to bake and run the business hands-on, so she delegated this task.

I had the Lemon and Blueberry sponge, and wowsers it was superb! The sponge was ridiculously light and airy, melting instantly on my tongue and the citrus flavour was beautifully clear on my palate. Plumptious Blueberries imparted random splodges of colour throughout the sponge and added a gentle sweetness to the overall taste of the cake. Cloud-soft frosting decorated the top of the sponge as well as whole fresh Blueberries and it had almost looked too good to eat...almost.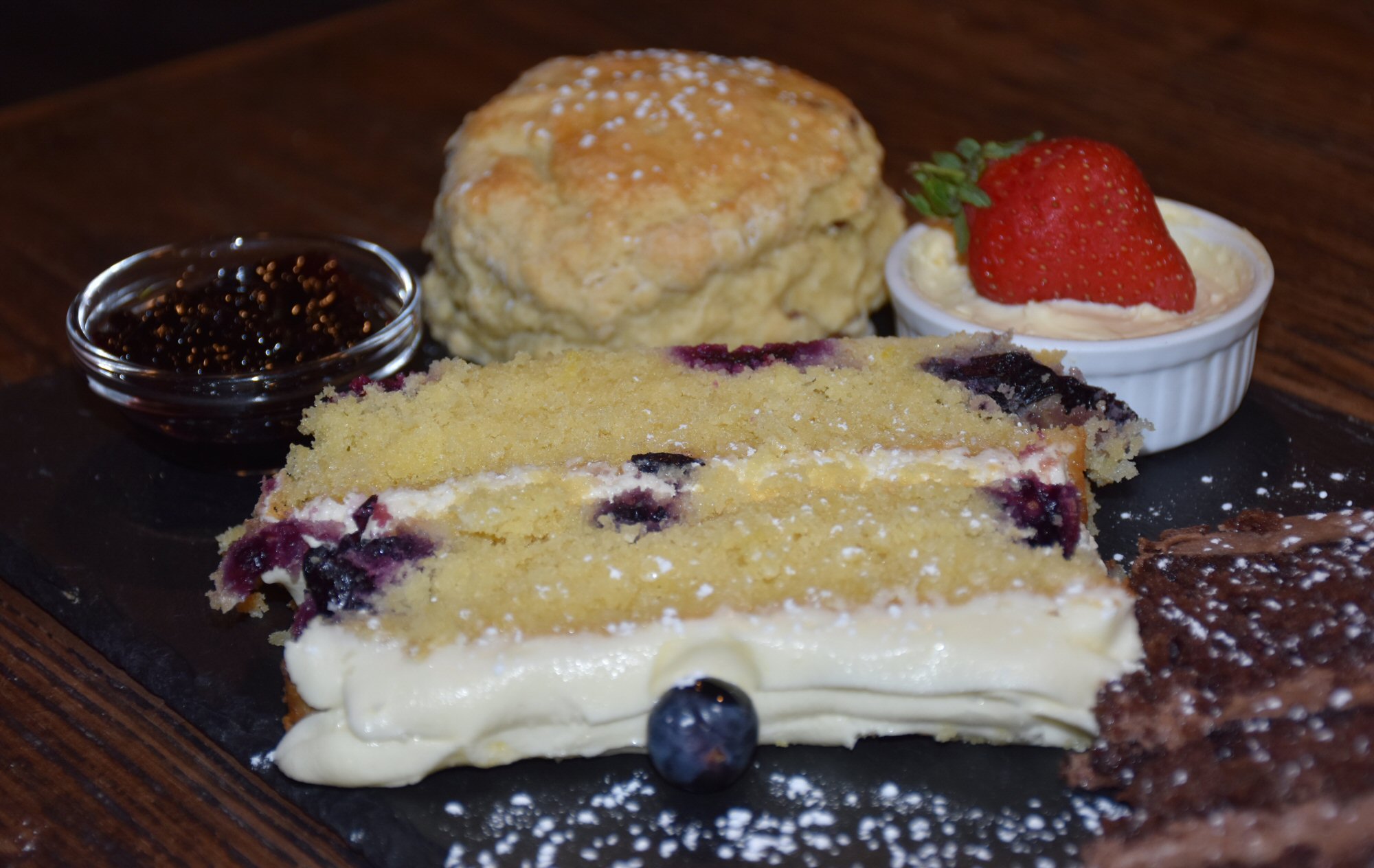 His Nibs had no thought of hesitation or appreciation of the beauty of his Chocolate Heaven cake; he bit straight into its triple tiers, smattering his chops with cocoa splats as the size of it proved more than a match for even his Mersey tunnel mouth!! For quite a while a tranquil silence descended on our table as the pair of us busied ourselves with fully appreciating the cakes. I have to say that the Carrot Cake, Victoria Sponge and Lime and Coconut cakes all looked tantalising as well, and if I could've managed a piece of each, trust me, I would've done!




The fruit scone was as delicious as the cakes had been and both of us revelled in its pleasingly dense (but not clarty!) texture, mopping up any crumbs that dared to try and escape from our clutches. I helped myself to some of His Nibs' clotted cream, purely so that he couldn't be tempted to over-indulge in dairy morsels you understand, and then slathered an indecent amount of jam on the top. Heavenly!




Café 24 offers delicious food at every time of day: breakfast is served until 11.30am and ranges from toast at £2 to the Fully Loaded breakfast at £9; Jean also does a Sausage, Egg and Cheese Muffin that comes with a Hash Brown, too, which I cheekily suggested should be called the 'Mc Jean' – if you want one of these please (just for me) ask for a Mc Jean, thank you!! Lunch is then the order of the day and you can have morsels such as sandwiches and Panini's, or Lasagne, jacket Potatoes or even Spanish Rarebit. Fans of freakshakes will be happy as there's four of these to choose from at Café 24, too, all priced at £6, as are the trio of scrummy sounding waffles, for those who like their sweet treats.




Jean is hoping to introduce a monthly 'Bistro Night' at Café 24 (permission pending), with various themes at each one, so keep your eyes peeled for these. If the standard of the Afternoon Teas is anything to go by, these will certainly be worth turning out for! I should just mention that the Afternoon Teas do require 24 hours advance booking notice, in case you've forgotten – which I did point out may be the case at the beginning of this blog.




Hot Wings happily awarded to Jean and her superb team; the whole experience had been amazing from start to finish!
Some form of incentive was provided to visit this venue
read more