Sunday Lunch at the SaltHouse, Cullercoats, Tyne & Wear
---
Published On Wednesday 29 Sep 2021 by Sticky Beak
See Recent Dining Out Reviews | See All Recent Reviews


It's become a bit of a tradition on our annual pilgrimage to Geordie Bird's (His Nibs' mum) gaff to take her out for Sunday Lunch. The one demand she has is that the venue has to do small portions – God forbid should she actually do what the rest of us do and take leftovers home in a 'doggy bag'!! Over the years we've managed to visit some fab places for this iconic British meal, and this year we went for something a little different: a Tapas restaurant called Salt House, run by a Yorkshire man (Mark Deakin) and his wife, Shelley, that serves a roast on Sundays. Mark and Shelley fell in love with Tapas dining during their 5 years on the island of Ibiza and wanted to bring those authentic flavours to the Northeast, but you can't leave your roots behind either, so the roast had to be represented too!
We were in contact via email a couple of times prior to arriving and they mentioned that although they didn't have their own parking, there was some close by and kindly sent us a photo of where to turn off the road.




Salt House is located on the main road in Cullercoats and has beautiful views out over the sea at Cullercoats Bay which, thankfully, we were able to fully appreciate as the weather was clear. The venue is open-plan and has really quirky decor: there's a mix of tiles and wood for the flooring, large circular lights and two distinct schemes for the front and rear areas. I was instantly smitten with the large pink neon sign that dominated the roadside dining area, but I also loved the faux-flower wall and vivid mural that the back space had; tucked right at the back is a superb wooden table complete with a pair of swing seats.




We were greeted warmly by the lovely Georgia who went to get our drinks whilst she left us to peruse the menu. I had a glass of a very juicy Rioja, GB (Geordie Bird) and His Nibs both had soft drinks and then, as a surprise, Georgia brought out a 'Markarita' cocktail compliments of Mark, who sadly wasn't around to meet us in person. This tipple was the Salt House mixologist (Tom Proud) and Mark's take on the classic Margarita and proved to be extremely popular during lockdown when the team set up a cocktail delivery service.The glass rim is decorated with a fiery 5-chilli salt mix that partners the zesty Lime juice brilliantly, as well as complimenting the heat that the Tequila leaves at the back of your throat!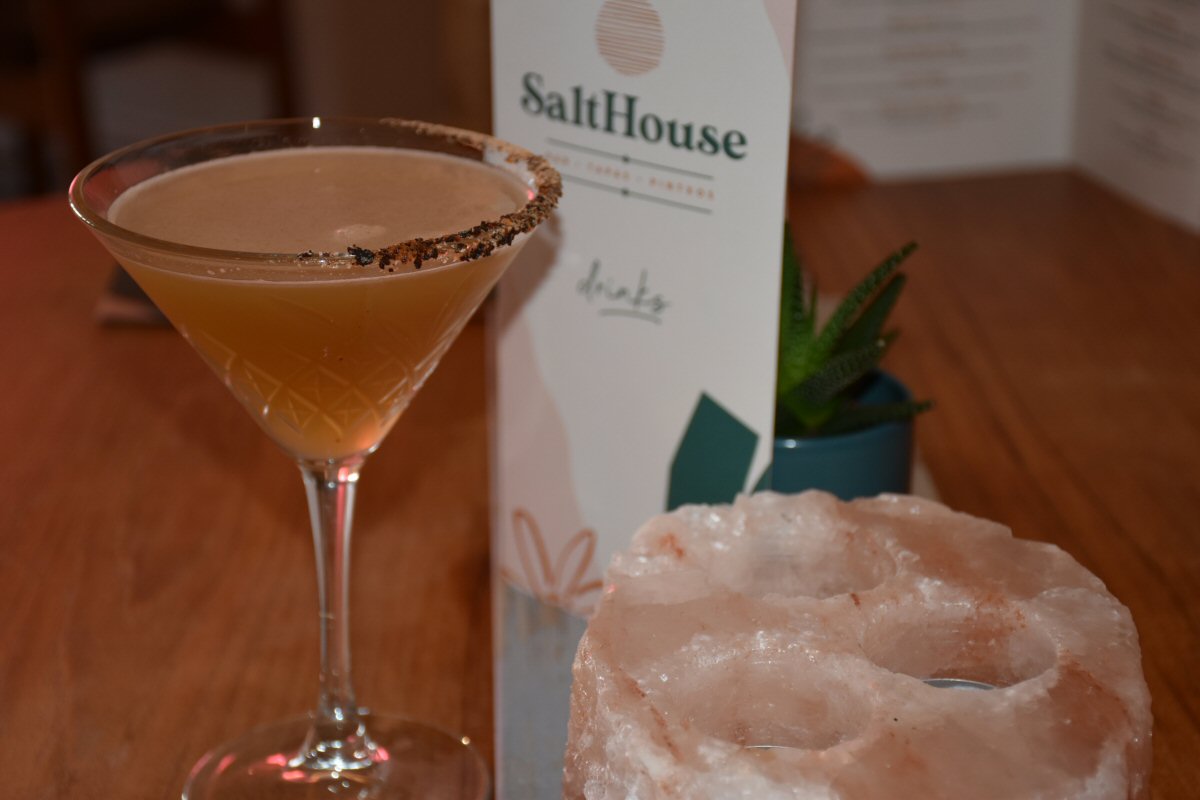 Turning our attention back to the food on offer, I ordered the Garlic and Thyme Pork Loin with crackling (£12.50) for my main; His Nibs and GB both fancied the Wholegrain Mustard and Herb marinated Rump of Beef (£12.95), although I would've staked money on Geordie having the Lemon and Thyme roast Chicken! All the roasts at Salt House come with Root Vegetable mash, Panache of Spring Greens, Orange and Thyme Carrots, Roasties, Yorkie Pud, Stuffing ball (with Pork and Chicken dishes) and plenty of gravy. Cauliflower Cheese is available at £3 extra, so we had some of that, too.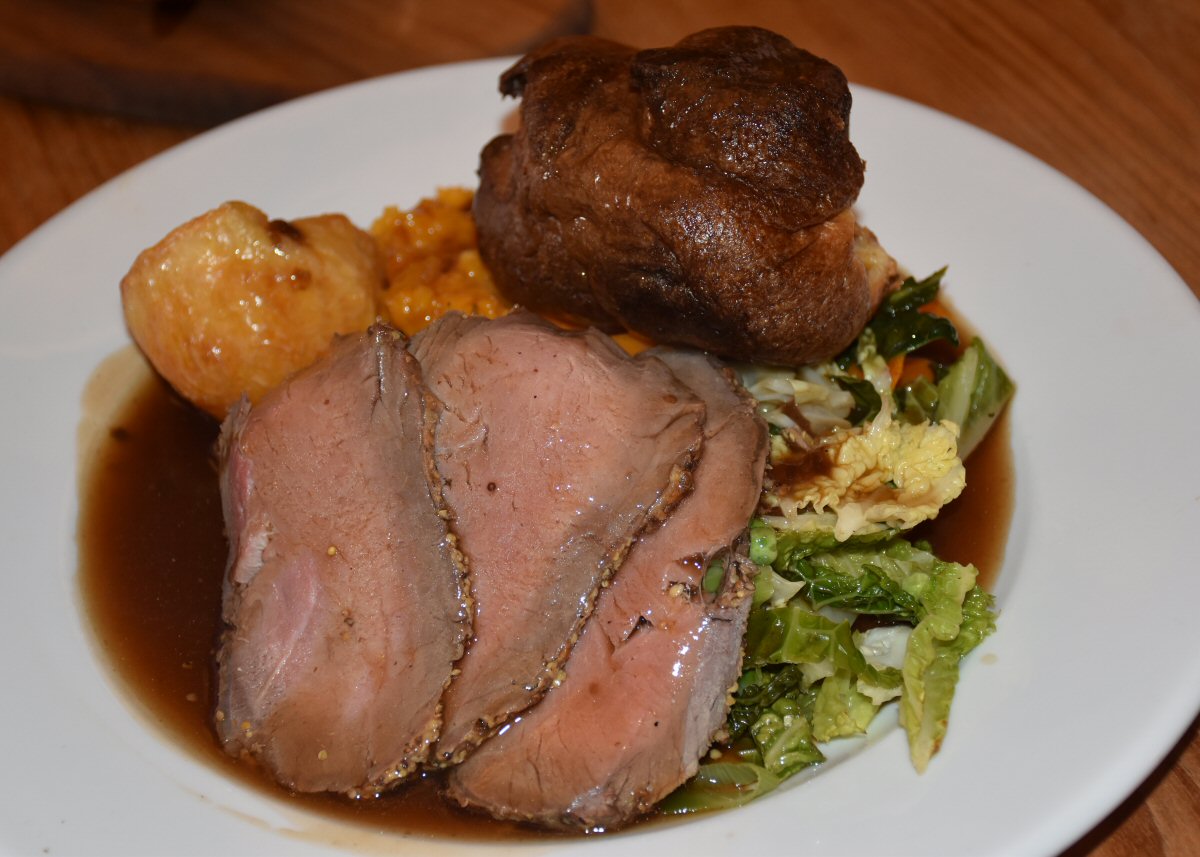 The kitchen is open, so you get to see your food being cooked, as well as smelling its progress: our nostrils were fair twitching, let me tell you! It wasn't long before Georgia and her colleague were placing the steaming plates of yumminess before us and as soon as the photos were taken we dived in.

We all commented on how tender and flavoursome the meats were, and GB had been impressed that Georgia had taken the time to ask if she wanted her Beef cooking a little more, as it comes served pink as standard. Very often, it's the little details like this that really set a venue apart from others in the vicinity, and Geordie Bird said that she'd be very happy to come here again –which, believe me, is high praise indeed! The one criticism that GB and The Man had was that there wasn't any mashed potato on the plate; I wasn't bothered as I'm not the biggest spud fanatic and the roasties were more than enough for me, but those carb-freaks could eat tatties at each meal! Chef had nicely seasoned the root veg mash though, and this appeased the pair of them as well as satisfying their need for 'mash' on the Sunday roast plate.




The carrots had a gentle citrus tone at their edge, with Thyme adding that cleaner note on the palate. One thing to mention is that all the vegetables had been cooked perfectly to retain their bite and flavour; there's nothing worse than soggy, bland veggies –especially in such an important meal. I do love Cauliflower Cheese and the one served in Mark and Shelley's kitchen is marvellous! It has the al dente vegetable at its heart with a gloriously punchy, gooey cheese sauce surrounding it that has a wonderful crisp, golden crust on its top – just divine.

My stuffing ball was delicious too; full of flavour, and with a nicely soft inner beneath its crunchy outer. My Pork came with a generous piece of crackling that was exactly as it says on the tin, so to speak; as I bit into its firm surface I was rewarded with a robust crunch that His Nibs could clearly hear on the other side of the table. I loved the fact that it wasn't greasy, either to the taste or to the eye, and it just had a faint salty tang in my mouth thanks to the salt that had seasoned it.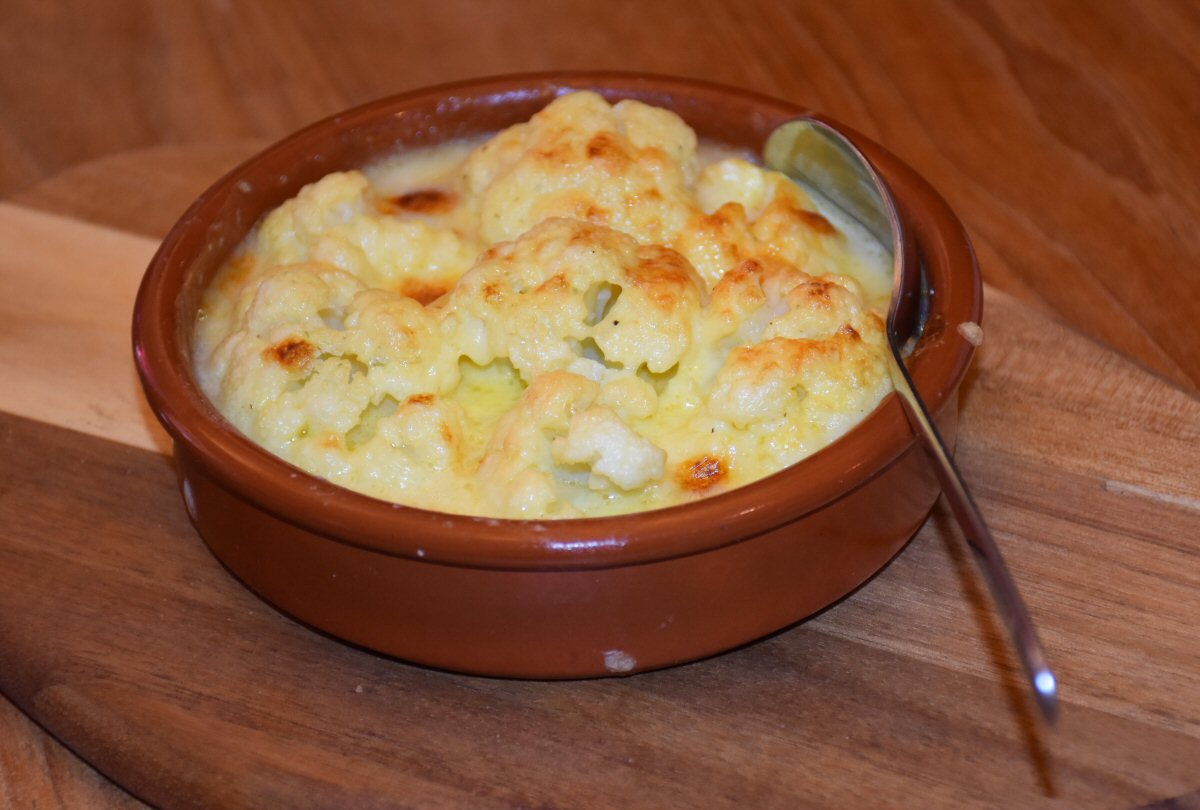 No Sunday roast is complete without the Yorkshire Pudding, in my opinion, and we all liked the ones here at Salt House. They weren't ridiculously large that nothing else could be put on the plate, but they were certainly a good size; best of all, they had golden crisp top and sides, with nice, soft middle/bottoms – not soggy ones though!

Geordie Bird is normally a bit of a picky eater who tends to push things around her plate a bit, but she surprised The Man and me with the speed she polished off this meal! It was a joy to see, and a bit of a relief if truth be told, because usually she'll nit-pick when we eat out; not the most relaxing of situations, I'm sure you'll agree. So bravo, Salt House! When we mooted the idea of bringing her again (but for Tapas instead), she didn't dismiss it out-of-hand – so who knows, maybe GB is getting adventurous in her old(er) age!

Georgia had checked we were enjoying our food whilst we were happily munching away, and was happy to see a trio of clean plates when she came back to collect them later. Despite my head saying "yes, let's have pudding", my tummy just couldn't stomach the thought of any more food – no pun intended, although it's a pretty good one if I say so myself! So all that remained was to settle the bill, say thank you to Shelley and the team, and head back to the jalopy.

Hot Wings happily awarded to this Tyneside team. I did originally say Northumberland to GB ,but soon got corrected, don't worry!. If you fancy trying the Sunday Roast for yourself – and why on earth wouldn't you? – then it's served between Noon-6pm, so give the Salt House team a ring to reserve your table.
No incentive was provided to visit this venue
read more