Out For Breakfast At Caboose In Blyth, Northumberland
---
Published On Wednesday 22 Sep 2021 by Sticky Beak
See Recent Dining Out Reviews | See All Recent Reviews


Even early morning, the drive from the Nest up to Geordie Birds' gaff is a drain, so once we'd unloaded the jalopy it was a desperate search for some sustenance – GB is a lovely lady but cooking isn't her forte (something we have in common!). It's only a short drive away to Blyth, where His Nibs spent some of his days as a young chick, and located on the Quayside is a venue called Caboose. Caboose was, pre-pandemic, a seafood restaurant (a pretty pricey one if I'm being honest!) but is now a more varied eaterie that just so happens to offer breakfast 9-11.30am.
Now, I think most folks will agree that Blyth isn't the most salubrious of towns in the county but like a lot of others, is having some major housing developments constructed presently. One of these developments is right on the quayside, near to Caboose and the other buildings, so there is plenty of free parking in the vicinity, which I hope will stay in place after the residential projects are finished.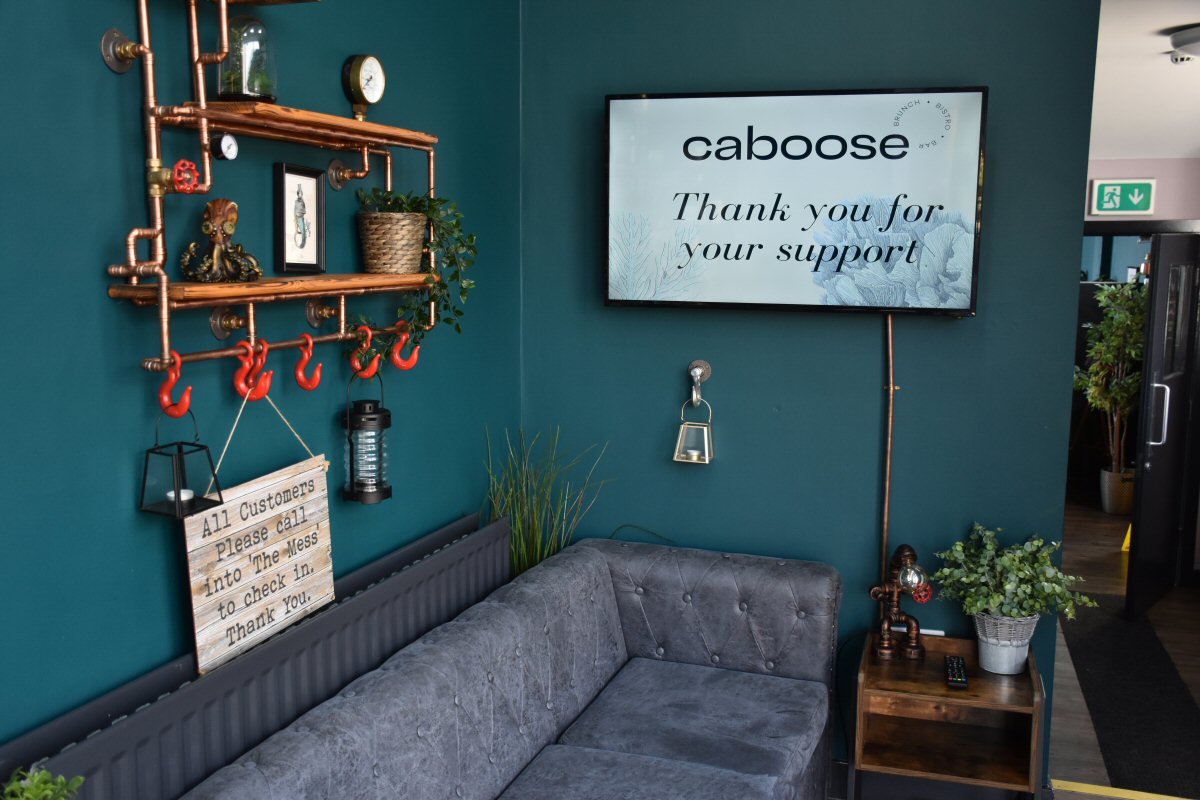 Caboose is a gorgeous, open plan venue with a superb airy feel to it that's amplified by the massive full-length windows and high ceilings. Although it's off the beaten track, it was blooming busy when we walked in at about 10.30am, which was nice to see; there was a mix of ages in too so it clearly has a wide appeal. Some thoughtful touches to the decor stops Caboose from feeling soul-less and cold; I particularly liked the central fishing net that was strewn with faux foliage, lanterns and a mixture of modern, filament-bulbed lights.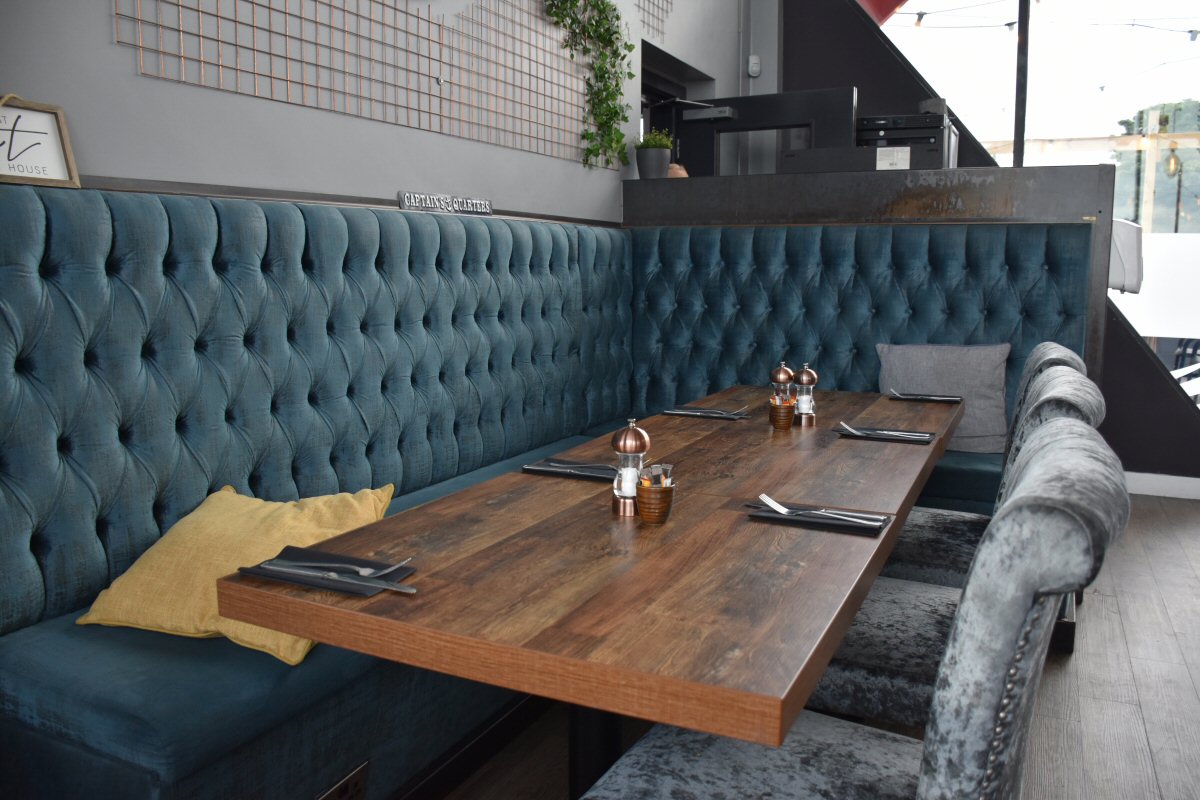 The square tables are paired with silver velvet upholstered, high back chairs, apart from the 'Captains Quarters' table which has a stunning Turquoise banquette seat as well. Unless you're blind, you can't help but notice the huge, well stocked bar which has a stylish burnished bronze finish to it that sets it apart.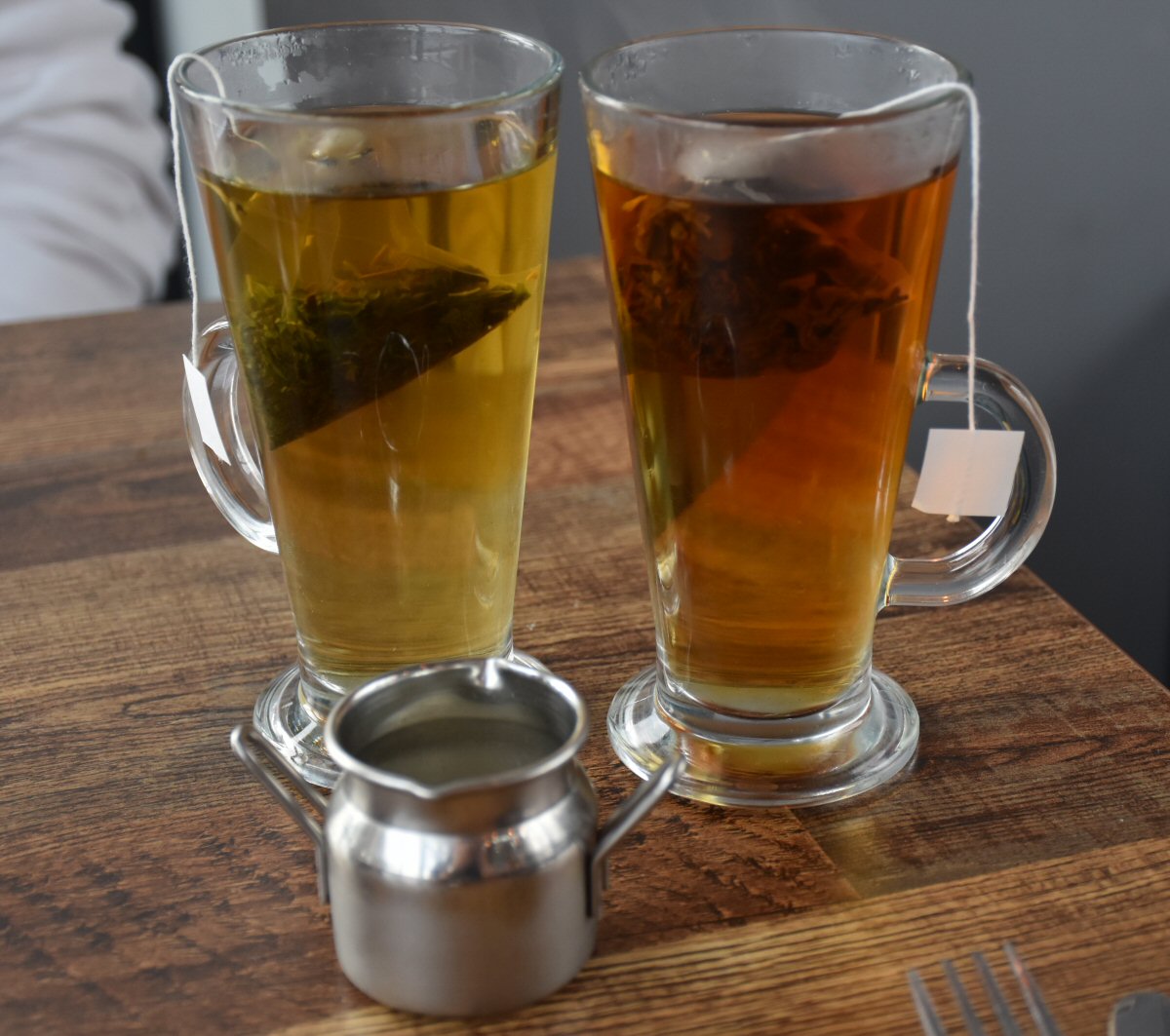 Caboose's breakfast menu is fairly impressive choice-wise, as well as catering for vegetarians and vegans alike. I nearly went for the Eggy Bread (you don't see that very often outside cities) but I don't like Cumberland sausage it came with and wasn't risking the vegan sausage in the veggie option either. Instead, I opted for the Eggs Royale (£8.95) with a side of Avocado - I do love me some Avo! - and The Man Bird went for The Caboose Breakfast (a traditional Full English affair priced at £10.45). I also fancied a cup of the 'proper Peppermint' tea and His Nibs had the Earl Grey; both teas (£2.20) are from Red Box Tea Company and the leaves are housed in fully compostable, 100% organic pyramid bags.




Everything at Caboose is cooked fresh-to-order, but I don't mind waiting for freshness, so we settled in and chatted away trying to guess the breed of dog whose tail was the only clue we had (it turned out to be a very handsome English Bulldog).Dogs are allowed in with their trained humans on the outside decking area! We didn't have long to wait until two plates of wondrous-smelling food were placed in front of us with a smile from our server.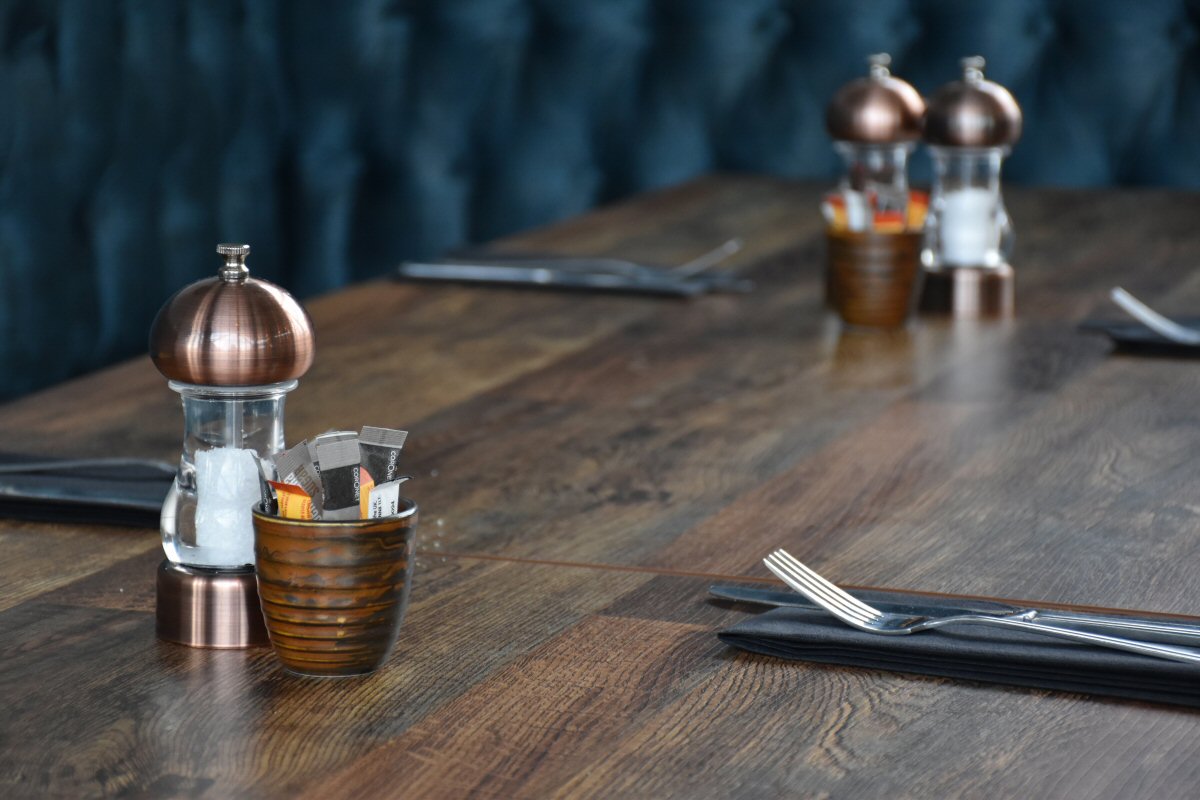 My pair of muffin halves were piled high with thick slices of tasty, lightly smoked Salmon, two perfectly poached Eggs, wilted Spinach and Hollandaise sauce. I fell in love instantly with the rich, creamy taste of the egg yolks and was impressed with the gorgeously thick-textured sauce. The buttered, wilted Spinach was beautifully done; still slightly crunchy, with a crisp, leafy taste on the palate. Sweet, plump Cherry Tomatoes burst on the tongue, releasing their juices in my mouth, and I loved the contrast in colour between them and the verdant Spinach and paler green of the creamy tasting Avocado flesh. The sunny hued Hollandaise was marvellously thick in texture, allowing it coat the inside of my cheeks beautifully.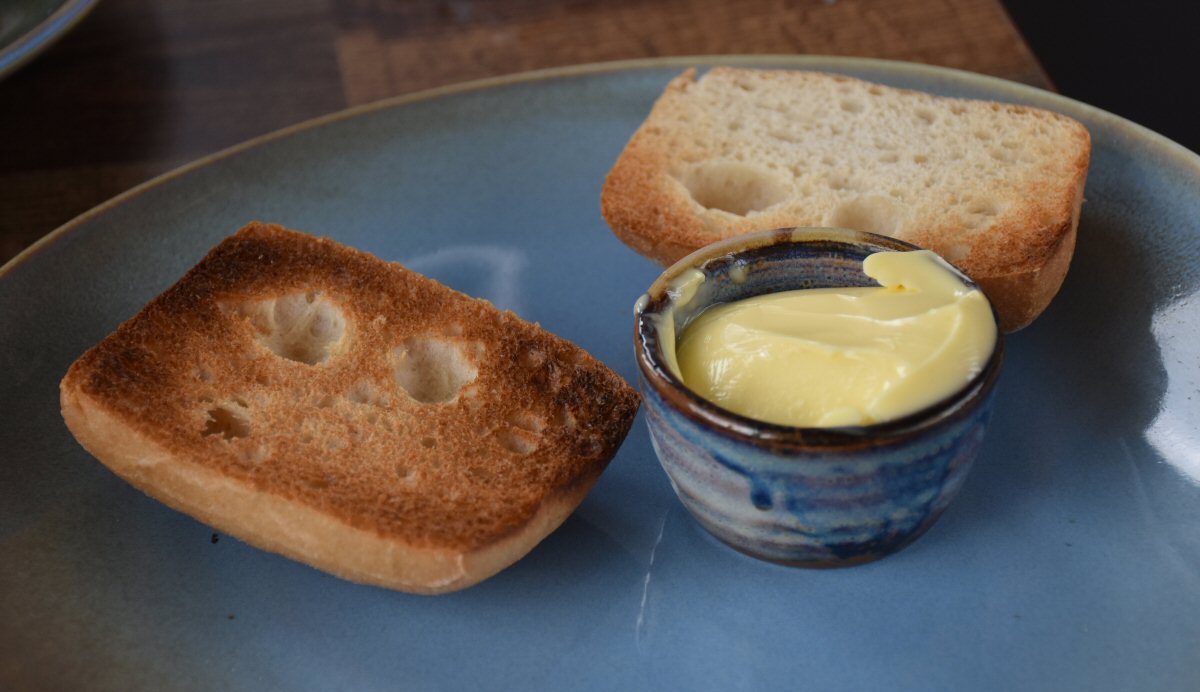 To go with his Caboose Breakfast, The Man added some toasted Ciabatta – Gluten Free was available! The Chef doesn't muck about and is clearly a fully paid-up, card carrying member of the 'Breakfast like a King' club; there was a plateful and a half to tuck into, so His Nibs girded his loins and dived straight in. His Nibs rated the Cumberland sausage, saying that it was really full of taste; I tried a bit and found it to be way too herbed and seasoned for my liking – you all know what a picky bugger I am when it comes to sausage though!! The Man had chosen to have fried eggs rather than poached and said they were done absolutely bang-on where the white is solid but the yolk is sublimely runny. Thick, dark slices of Black Pudding soon got scoffed, much to my dismay - I had been hoping to pilfer it for myself but, no, all I got was a single measly piece! It was superb as well, leaving me wanting more.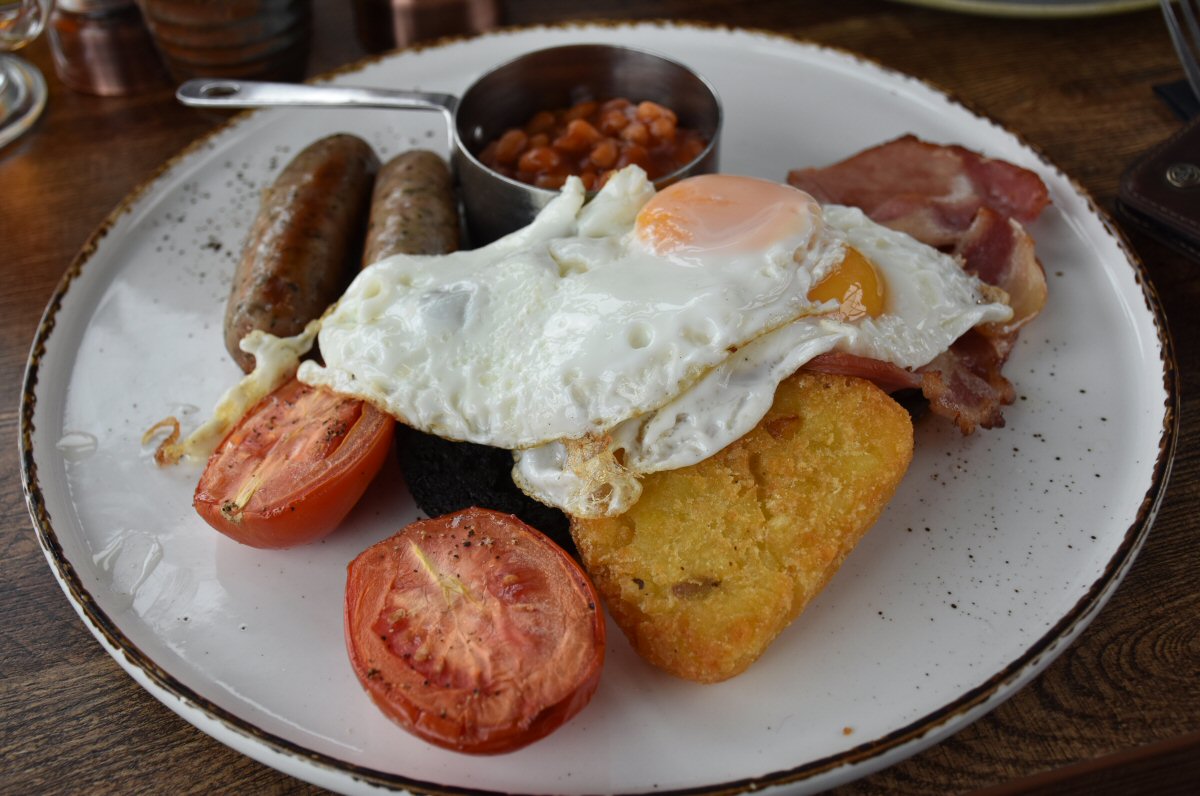 You can't beat generous slices of sweet farmhouse Bacon for brekkie and these ones were glorious, it has to be said. I got passed the baby button Mushrooms and revelled in their sweet earthiness as it hit my palate and I thought the butter gave them an appealing hint of glossiness too, as well as adding flavour. One of His Nibs' favourite bits of a fried breakfast is the Hash Brown and at Caboose it is treated with the respect it deserves, being fried to give a crisp outer with that sexy St. Tropez gold tone. The humble Baked Bean is also zhuzhed up at Caboose, with Smoked Paprika added to give a deeper note to the taste – yummy! A large half Tomato had been grilled to char its skin and soften the flesh and, when cut into, it was brilliantly sweet in the mouth.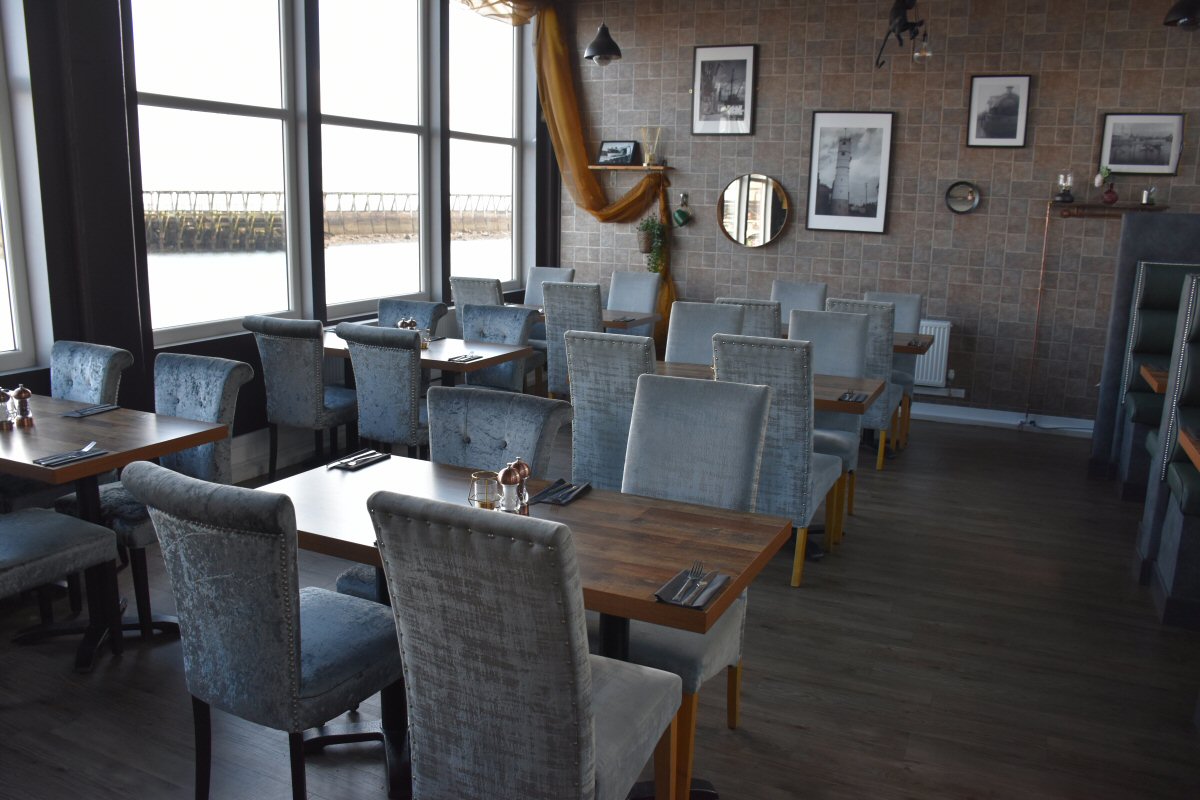 It wasn't long until there were two immaculate plates left before us, and we smiled at each other in contentment. In all honesty, there isn't much you can't face in the day ahead when you've filled your tummy, is there? When we'd emptied our cups we asked for the bill and it came in a miniature treasure chest – how cool is that?!




Nature called so I nipped to the lavatory and I have to say that the facilities are swanky too. I came out and couldn't see His Nibs; I did eventually spot him, flapping his gums (talking) to Caboose's owner who was telling him that there is a separate area the other side of the main entrance, to the right as you enter, rather than left as we went, which is used for functions and as an over-flow for the restaurant as needed.

We headed back to the car, replete, and reflected on what a great start Caboose had given our visit to Northumberland. Hot Wings awarded to this cracking venue and its team.
No incentive was provided to visit this venue
read more