A Birthday Dinner At Simply Thai, Buxton
---
Published On Sunday 5 Sep 2021 by Sticky Beak
See Recent Dining Out Reviews | See All Recent Reviews


There's nothing finer than a celebration...except a double celebration, that is! Not only were we out for Mummy Birds' birthday, it happened to fall on the 17th birthday of Simply Thai in Buxton, our gorgeous friend Mim's business. Parking can be a bit of a trial in Buxton, so we ended up in the train station and walked back to the restaurant – thankfully it was a dry (if not hot) summer evening.
As soon as you step into Simply Thai you get the warmest greeting from one of Mim's team, and all the staff are smartly dressed: the ladies in traditional Thai dress and the gents in shirt, trousers and waistcoats. We were shown to our table and soon began to admire the decor: warm, mid-brown wood panels contrasted with the deep blue accent walls and a plethora of Eastern-inspired mural and prints adorned the space.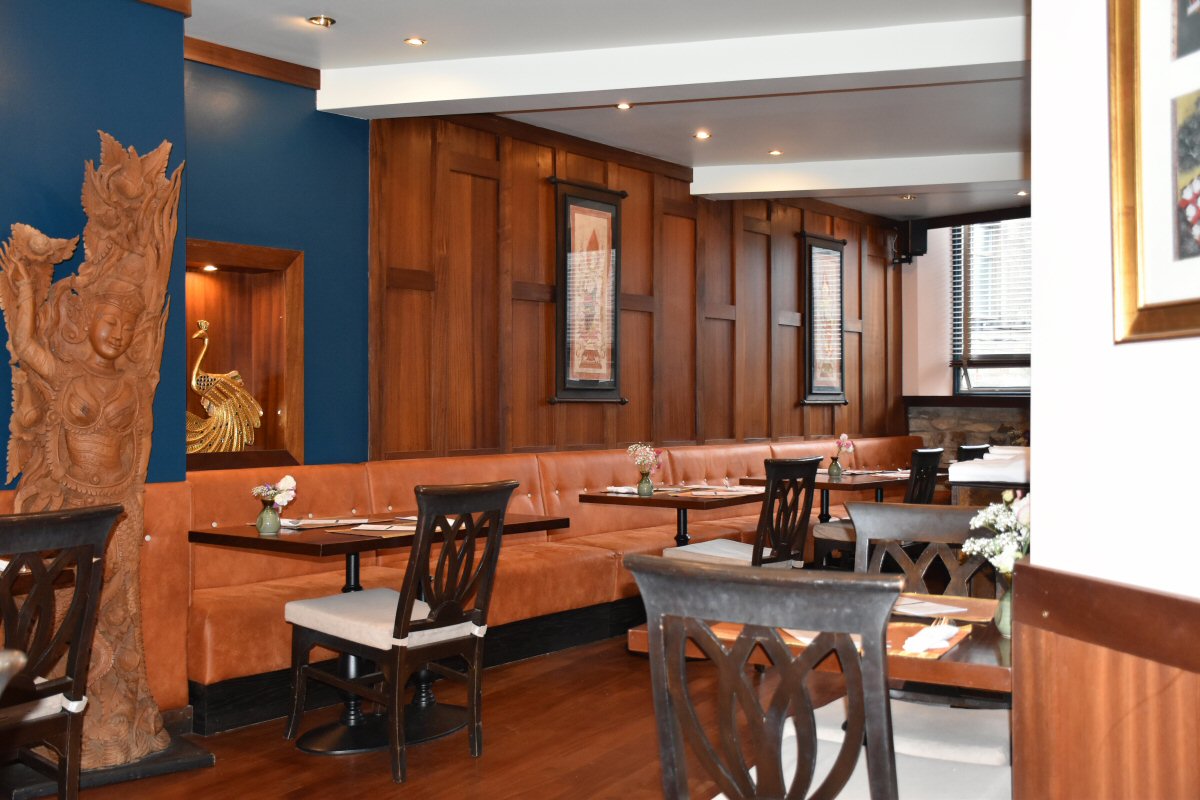 Mummy Bird and I decided to have a bottle of wine to get the (birthday) party started, His Nibs had a pint of Stella Artois and Fledge had a Cranberry juice. Whilst we were perusing the extensive menu, one of the lovely team brought over some Thai Prawn Crackers and accompanying sweet Chilli dipping sauce and we all tucked in.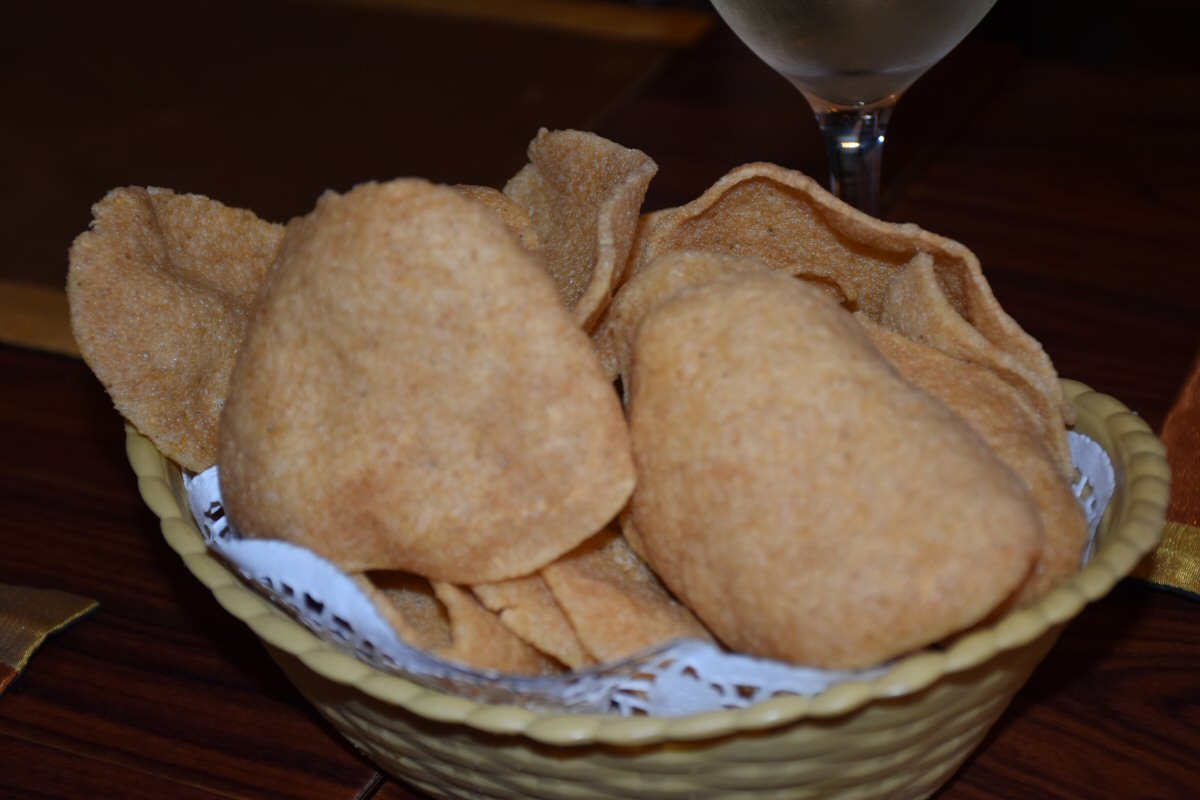 His Nibs chose his perennial fave, Calamari, to start; I had grilled, marinated Pork on skewers, Fledge had Chicken and Prawn Toasts, and Mummy Bird fancied Chicken and Prawn Filo parcels. Other tables of diners were already savouring their dishes and the aromas wafting through the restaurant were sublime; we all sat there salivating and listening to our tummies growl in protest that they weren't experiencing the delights of Chefs' creations yet!




Luckily we weren't waiting long at all before our beautifully presented starters were gently placed before us. Each platter had baby Little Gem lettuce leaves, Carrot flowers and fresh herbs adorning them, which really enhanced the visual appeal of the already superb dishes. Mummy Bird and Fledge had both gone for Chicken and Prawn combination mixtures, albeit different interpretations, and both were certainly hitting the mark judging by the smiles on their faces. The outer of the toasts were lovely and crisp, as was the pastry on the filo parcels and both morsels had plenty of juicy, tasty filling. Mummy Bird didn't use all of her sweet chilli sauce, so Chickadee snaffled that pretty swiftly; as we say in our flock "the slow bird doesn't get the worm!". The Man Bird was absolutely bowled over by the light, Tempura batter that coated his tender seafood – the crunch as he bit into it could be heard distinctly on our table (and probably the next one, too!).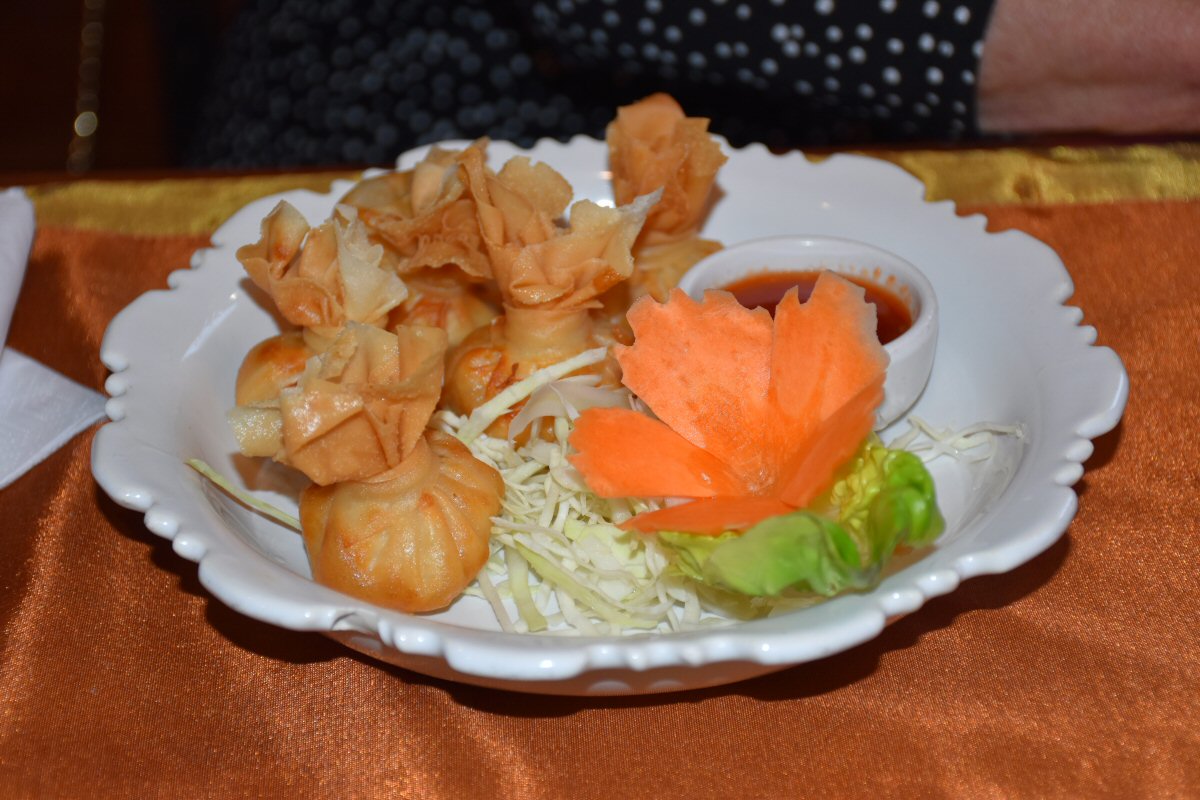 We were asked if our starters were to our liking as we were munching our way through them, and a while later a quartet of clean plates were making their way back into the kitchen – that'd be a resounding 'yes' from us all then!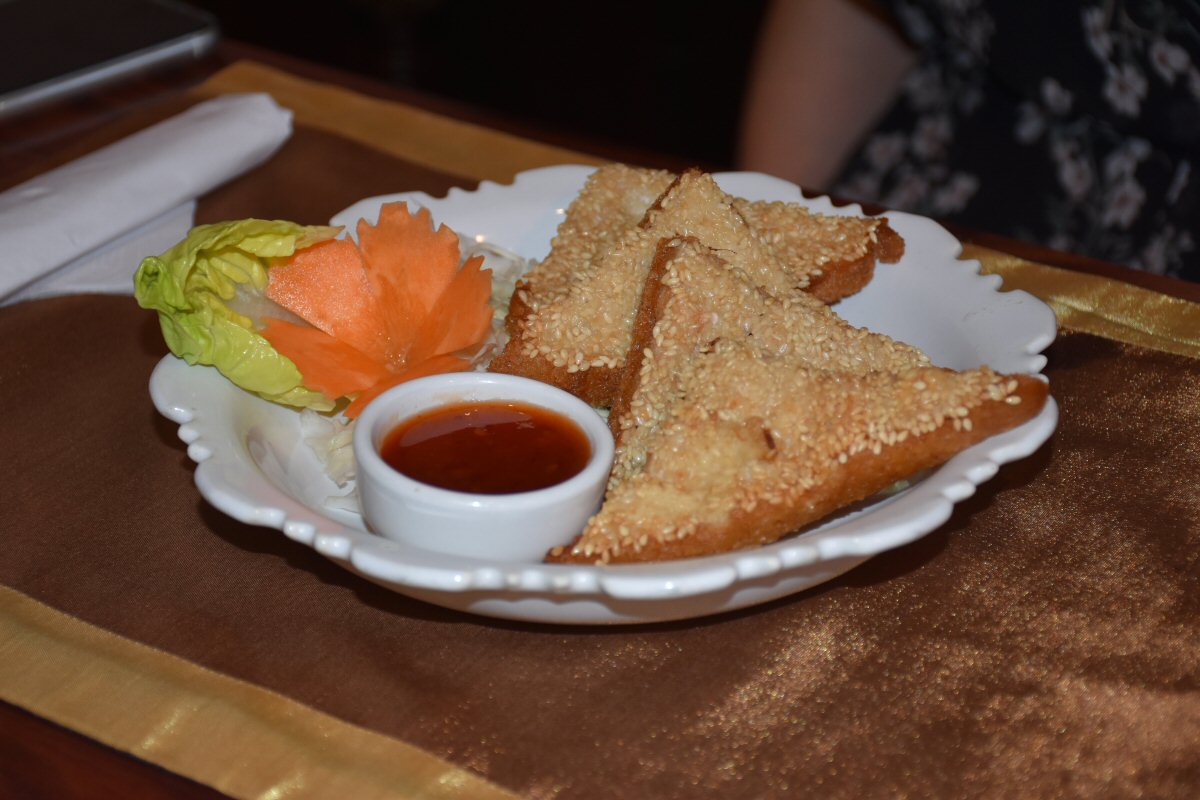 For main courses we'd all chosen a different meat: Chicken for Mummy, Prawns for Fledge, Beef for The Man and Fish for yours truly. To go with our meals we had two portions of Coconut rice and two portions of the Thai sticky rice, both of which we've had before at Simply Thai, and both were spectacular for something so basic in terms of accompaniment. We know how mesmerising the presentation of the food is at Simply Thai, Mim wouldn't have it any other way (she is always immaculately dressed, as those who know her will attest to), but it was breath-taking on this occasion; a rainbow of colours shone on each platter and the textural element of the ingredients were showcased to their maximum.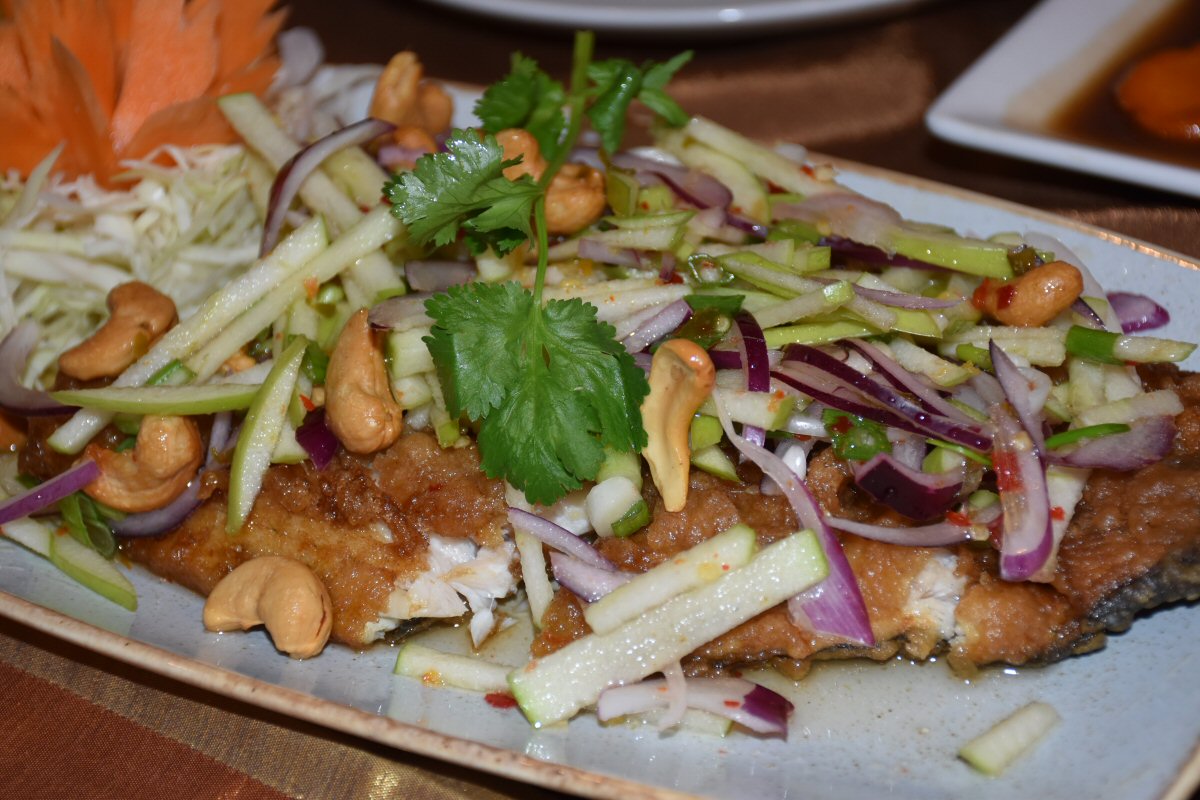 Even though it seemed a shame to delve into such beauty, we did so with our customary gusto, scooping spoonfuls from the serving dishes and popping them onto our plates. My Sea Bass was total perfection, its sweet, succulent flesh moist against my tongue and contrasting with a crisp, crunchy Green Apple salad. More texture came via the Cashew nuts, raw Red Onion slices and Spring Onion strips. I had gone for the spiciest dish and the Chilli, Garlic and Lemon dressing didn't disappoint in its potency – well it is described as extra hot! This certainly had the tingle factor in the mouth, but the flavours were fresh, crisp and clean, making them a joy to experience. What really pleased me was the fact that, despite their intensity, the spices somehow didn't overpower the fish; Chef clearly is skilled.




The Man Bird had gone for a spicy dish too (not as spicy as mine): stir-fried Beef with Black Pepper, Chilli, Garlic, Onion, Peppers and Spring Onion. All the flavours came bouncing out like one of RuPaul's drag queens, sashaying over His Nibs' tongue and palate with style. Each vegetable was still nicely crunchy which made the tender Beef seem even silkier in the mouth –absolutely sublime.




Mummy Birds Thai take on Sweet and Sour had her smiling blissfully with its duality certainly coming through on the palate. The sauce had a superb tang at its edge, backed up by the sharper notes of Onion, Pepper and Spring Onions. Smooth tones and melodic sweetness were provided by soft Lychees and pieces of fresh Pineapple, and all the components blended together seamlessly.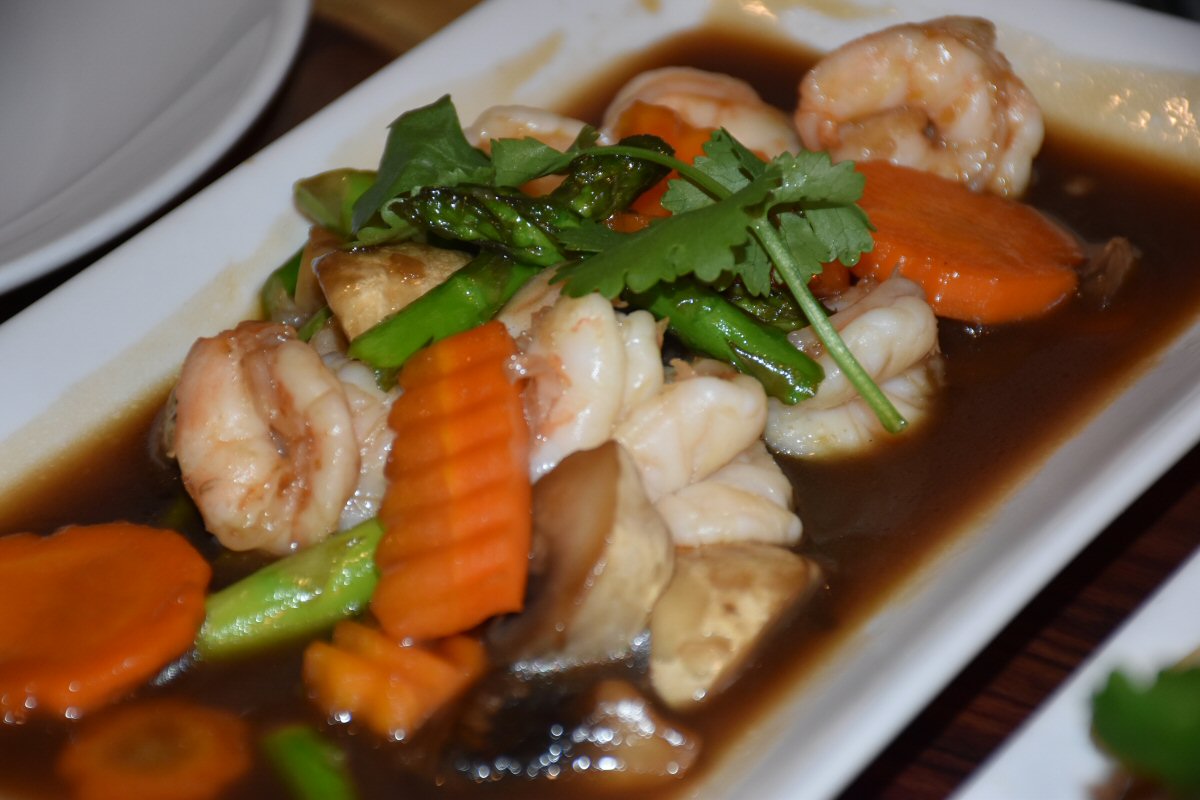 Across the table from me, Fledge was chowing down enthusiastically on her stir-fried King Prawns. These fat beauties came with Green Asparagus, Mushroom and Carrots, all cooked skilfully in a gently aromatic Oyster sauce. Chickadee can take after her daddy and be a bit of a salad- and vegetable-dodger, so I was surprised that she was eating the Asparagus as happily as she was; when I quizzed her though, she said it was delicious. Yet another lesson in assumption being the mother of all .....!




Other than some sauce being left, all our plates were squeaky clean, something that made our server very happy. As a surprise (even to The Man and I!),Mim brought out a warmed chocolate brownie slice with a candle perched on its top on a white platter, and with 'Happy Birthday' written in chocolate at the side. How kind was that?. Not forgetting that Simply Thai was celebrating its 17thanniversary, Mim had also got a treat in store for all her diners that night – a big bowl filled with folded slips of paper that each contained a prize/present that you dipped into at the end of your meal. Needless to say, everybody (not just us) went home with a spring in their step that night.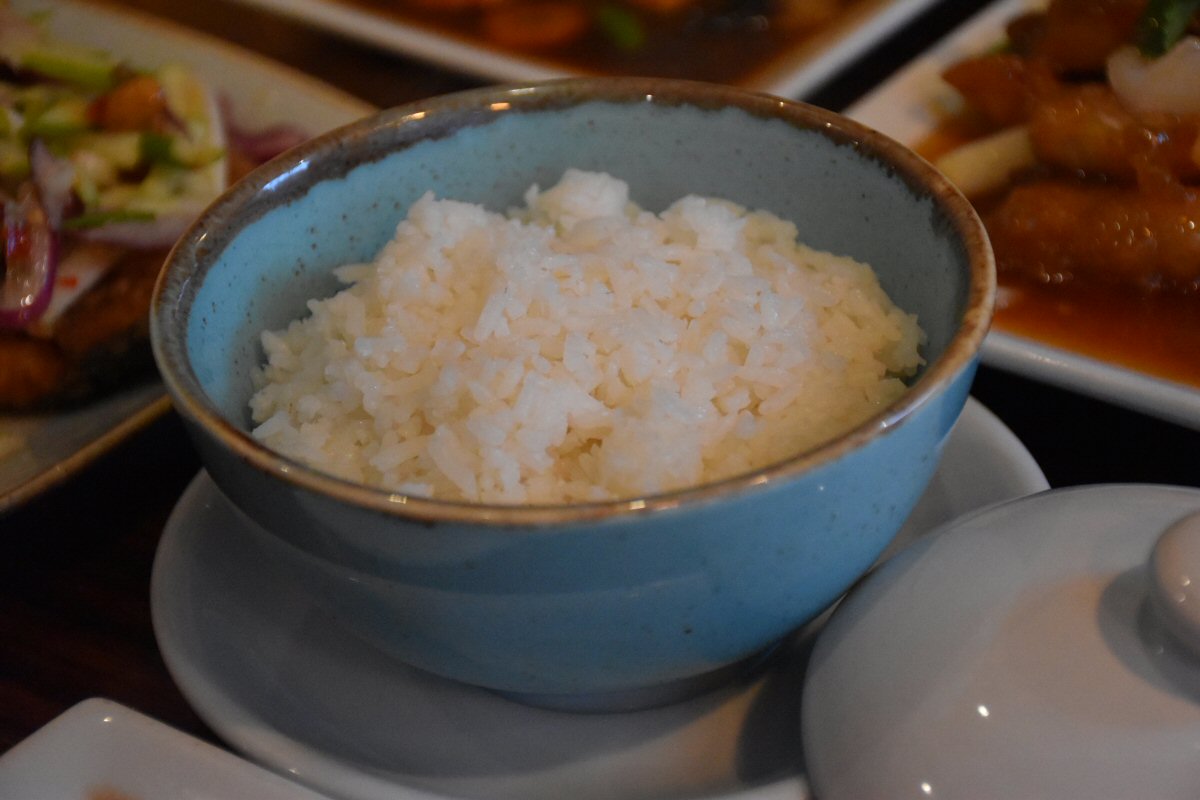 We couldn't leave without partaking of black coffees from Peang Thai coffee from Buxton Roastery; this bean is just the ticket after a fantastic meal such as the one we'd just had. As we left, all the team members bowed and bade us goodnight; Mummy Bird said she'd felt like royalty and that was all that mattered to me!

Hot Wings happily awarded again to this very deserving Buxton team; much love to you all, Mim. I would strongly advise booking ahead for a table, especially if you want to eat at peak times in the evening; Simply Thai has a fantastic reputation and gets booked up very quickly.
No incentive was provided to visit this venue
read more