Back For Dinner At The Kedleston Country House
---
Published On Sunday 29 Aug 2021 by Sticky Beak
See Recent Dining Out Reviews | See All Recent Reviews


His Nibs and I have been to The Kedleston Country House a few times to dine in the past, and experienced the wares of several different Chefs. This time, not only was there a new Chef, Manuel Bissoli, (formerly of Angelo's), there were new owners too; sisters Helen and Sally who were the wedding co-ordinators for previous owners, Derby Brewing Company. The first thing I noticed was that the magnificent stone dogs (who I called Rufus and Hound; I know, not very imaginative!) were gone, replaced by a vibrant, summery garland of flowers that framed the entire entrance doorway. The plan is to change the scheme of this stunning display with the seasons; something that I think will work very nicely with the exterior of this distinctive property.
The entrance hall had been given a freshen up too, with new seating colours and a fresh lick of paint on the walls make it instantly brighter and more welcoming. I was happy to see that the low, squishy chairs were still there, ready for guests to sink into and leave their everyday worries behind them. Gin lovers will rejoice at the extensive collection of Gins behind the bar; I eventually settled on a Mulberry Gin from Boodles with Fever Tree light tonic and The Man had a pint of Poretti.




Our table was located in the Orangery, which will be the principle location for dining now; the former main restaurant will be primarily used for breakfasting guests staying in one of Kedleston Country House's rooms. If a wedding function is being hosted then this arrangement will be switched around if necessary. I love the Orangery's massive central skylight; in the lighter nights it is amazing to enjoy the light flooding in and when the nights draw in you can gaze up at the stars. Each pale wood table was exquisitely dressed with artfully fashioned napkins, a central gauze runner that swirled lazily over its entire length, and a jar of fresh, green foliage. There was also a delightfully fragranced 'Watermelon Margarita' jar candle from the Tipsy Candle Company flickering gently in the centre of our table.




We had a lovely young lady named Bethany assigned to us as our server for the evening, and a sweeter girl you couldn't wish to meet. Nothing was too much trouble for her, and she soon got us sorted out with water for the table as well as a glass of crisp Sauvignon Blanc for me.




The A La Carte menu isn't the largest you'll see, but the choice covers all the bases you can want really. There is a trio of sharing options for starters, but we decided that we wanted to be selfish and have our own ones; I had first dibs and went for pan-seared Scallops (£10.50), forgoing my initial choice of Cider steamed Mussels because Mussels were featured in my main course choice – the Seabass Fillet with Mussels, fresh Tomatoes and Caper Butter (£16.95). The Man Bird opted for fresh Homemade Pasta (7.95) to start, followed by Duck Breast sous-vide with Red Wine and Berry sauce, and Orange and Rosemary baked Carrots (£16.95). We ordered a couple of sides too: Fine Green Beans with Toasted Hazelnuts (£4.50) and Potato Wedges with Truffle Mayo and Parmesan (£3.95).

Unfortunately for me, my carefully set out dining plan came crashing down around my ears when Beth came bearing bad news: the Scallops weren't available that evening. I resorted to the Cider steamed Mussels with pan-fried Chorizo, Garlic Crumble and fresh Parsley to begin (9.95) and resigned myself to the fact that I would be having Mussels twice over – good job I like them!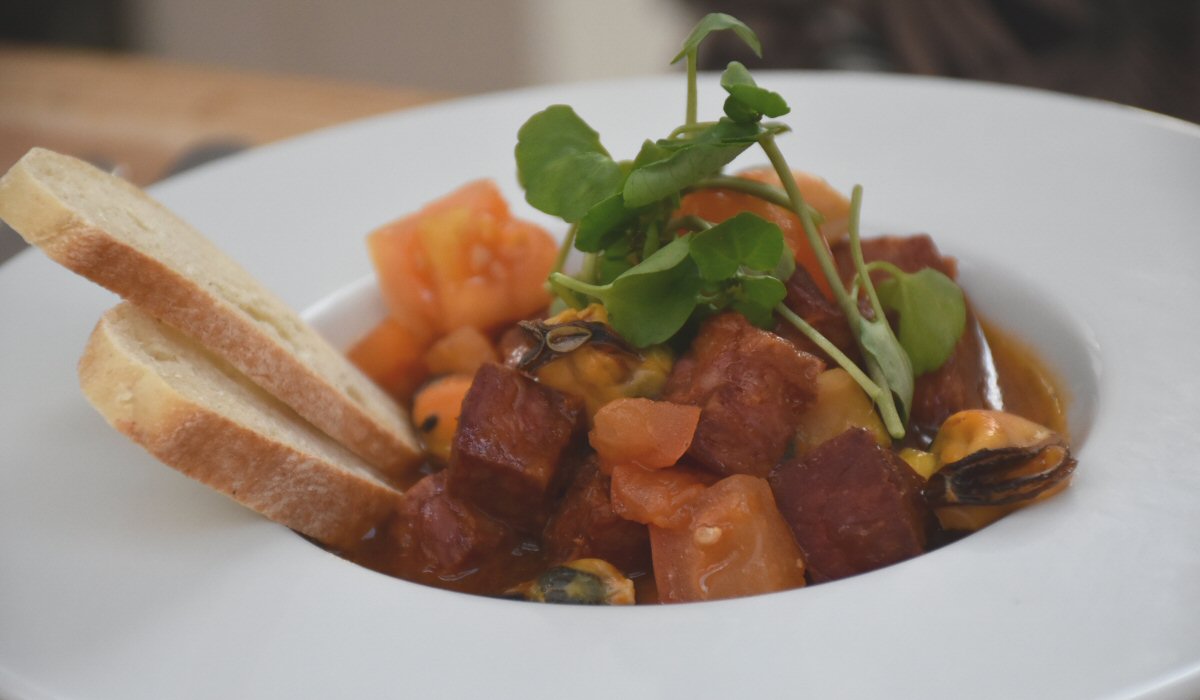 We weren't waiting overly long for our starters, both of which were very nicely presented. Instead of the usual metal pot, my Mussels came in a pristine white bowl so their aroma hit my nostrils instantly. Plump, juicy Mussels were paired with generous cubes of wonderfully spicy, smoky Chorizo and softened chunks of fresh Tomato, whose natural sweetness married with the sausage beautifully. A couple of slices of thinly sliced, mini sourdough came with the dish and I was soon getting them bathing in the cider-laced sauce so that they would be lovely and soft (and thoroughly soused!) when I wanted to eat them. I didn't get the Garlic Crumble component at all; maybe it had softened into the sauce and I didn't notice it? There could've been more fresh Parsley for me too; personally I love the taste of it and here it would've contrasted gorgeously with the reddish tones of the dish and made a fab visual impact for presentation purposes. Saying that, I did really enjoy this starter – it was light, flavoursome and superb for a summer menu item.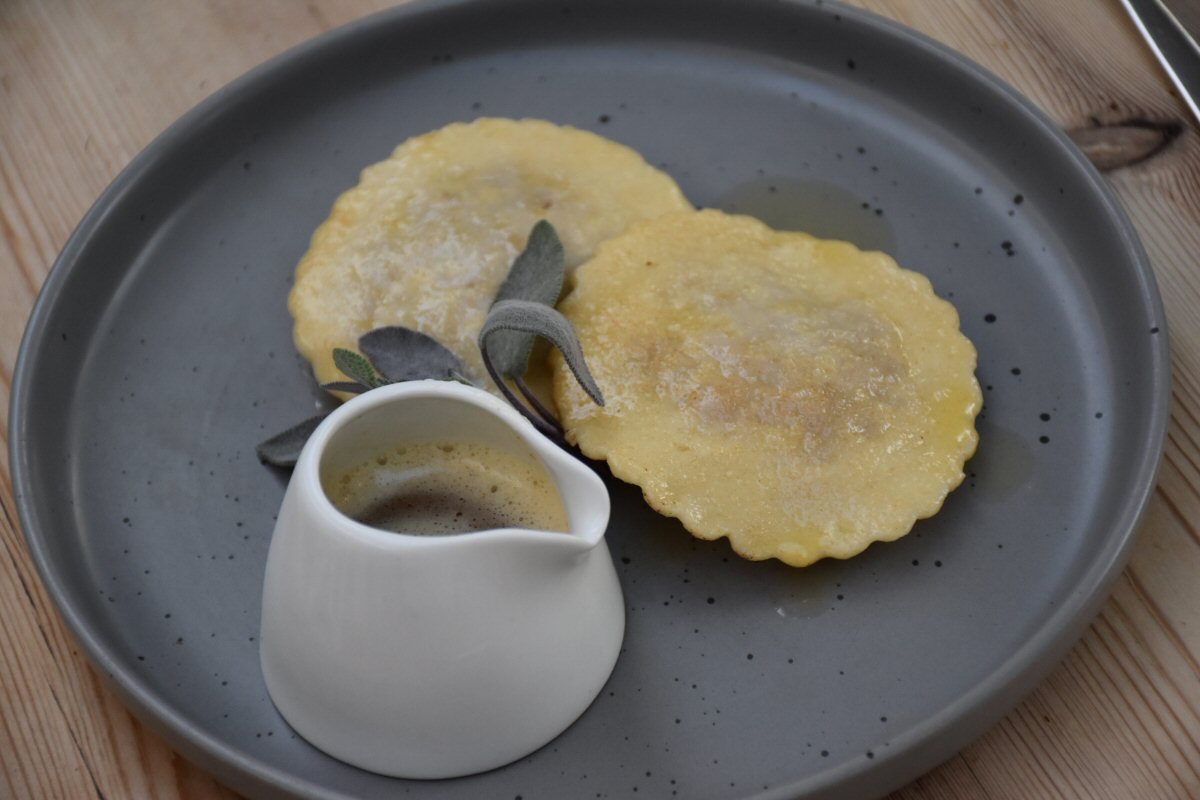 His Nibs was presented with a pair of largish Ravioli discs, accompanied with a separate little jug of Brown Butter and baby Sage leaves that had been lightly crisped to release their aroma. The minced Pork filling of the Ravioli was delicious in its sweetness and tenderness, but I thought the pasta was the wrong side of al dente when I was passed a forkful over to try. The Man Bird ate it all though, and as it was his starter he gets the casting vote. Again this was a great summer starter; the flavours were light and bouncy in the mouth and the portion was perfect so that it wouldn't spoil the appetite for subsequent courses.

Bethany was happy to clear away two clean plates and as we awaited our mains, we took in the finer details of the Orangery. You can't help but feel relaxed in the pale decor tones, accented by the hanging foliage on the walls, large limed-wood candle holders and the natural slate floor. As more diners came in, the quirky acoustics of the space came to the fore; the Orangery is quietly echoic, something which I'd never noticed before! I'd be curious as to how a piano would sound in this space.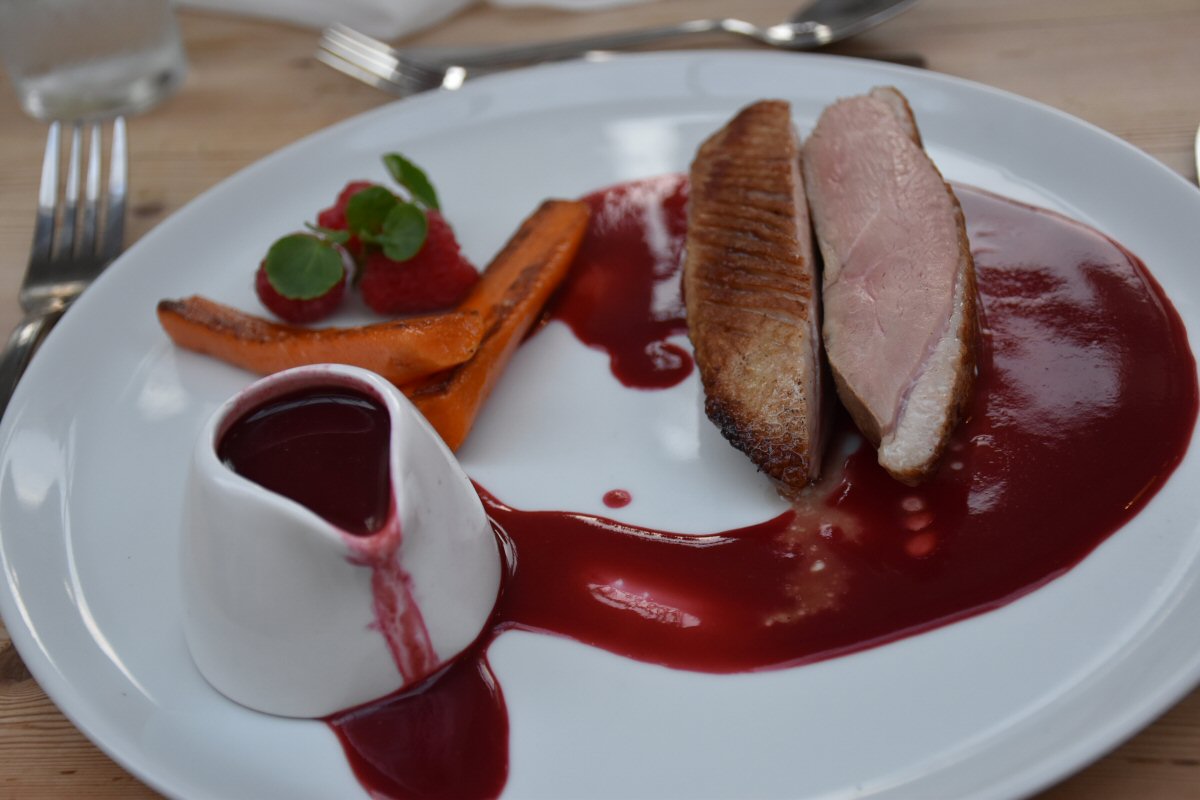 The Man has had meat cooked sous-vide before, so he knew that his Duck breast would be spectacularly moist and tender, almost like velvet in the mouth; he wasn't disappointed. The Duck had a great depth of flavour too and its gentle sweetness stood up to the robust Red Wine and Berry sauce, assuaging the sharp tones marvellously. Chef had halved the Carrots lengthways cooking them to retain some firmness and they had a delightful citrus hint to them via the Orange element of the dish.




My Seabass fillet was a total joy to eat; the fragrant flesh was perfectly moist and soft, with uber-crisped skin contrasting against it perfectly in the mouth. Gentle seasoning imparted taste for the palate to appreciate, without over-powering the fish. Personally I would've liked more Capers in the butter; I couldn't see any in the pot and didn't get their distinctive tang either which was a shame because I think this would've added a super zhuzh to it all. There was the same Tomato and Mussel ensemble as in the starter I'd had (minus the Cider and Chorizo) which, whilst it was undeniably yummy, couldn't erase the fact I felt gutted at having to double up on it thanks to Scallops being off the menu. Some you win, some you lose, I guess.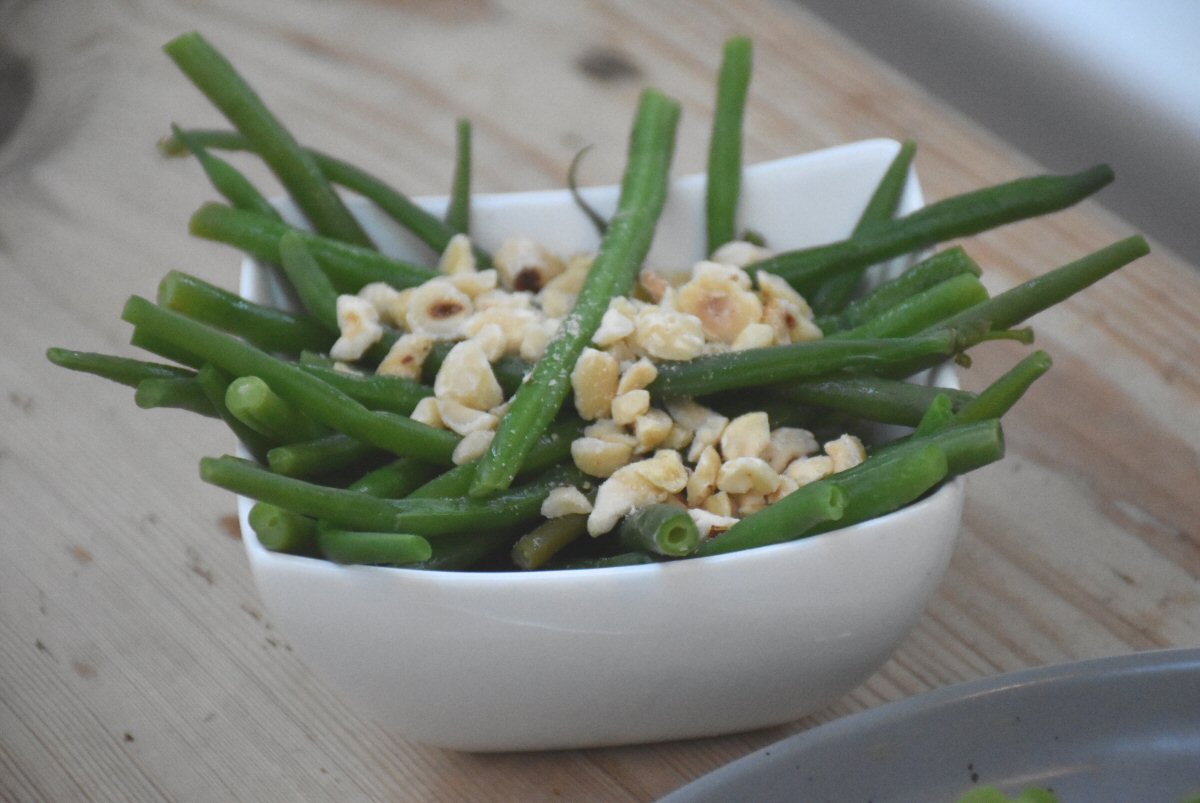 Chef Manuel accurately describes his creations; everything stated was on the plate: nothing more, nothing less. The Man and I were glad we'd ordered sides – our tummies needed them. Turns out that our choices complimented the meals wonderfully well. The Fine Green Beans were utterly gorgeous; served chilled and cooked spot-on (firm but not hard) so that they 'squeaked' when cut into - a sound I love! Toasted Hazelnuts added some much needed texture to my meal, which would've been unmistakeably soft otherwise. His Nibs' Potato wedges were sublime, almost like mini jacket spuds in size! They had a comforting floury texture that was beautifully soft and sweet in the mouth, with earthy truffle notes coming through nicely from the Mayo. Making its presence clearly known was the punchy tasting Parmesan, finely grated so that it was melting with the warmth of the wedges.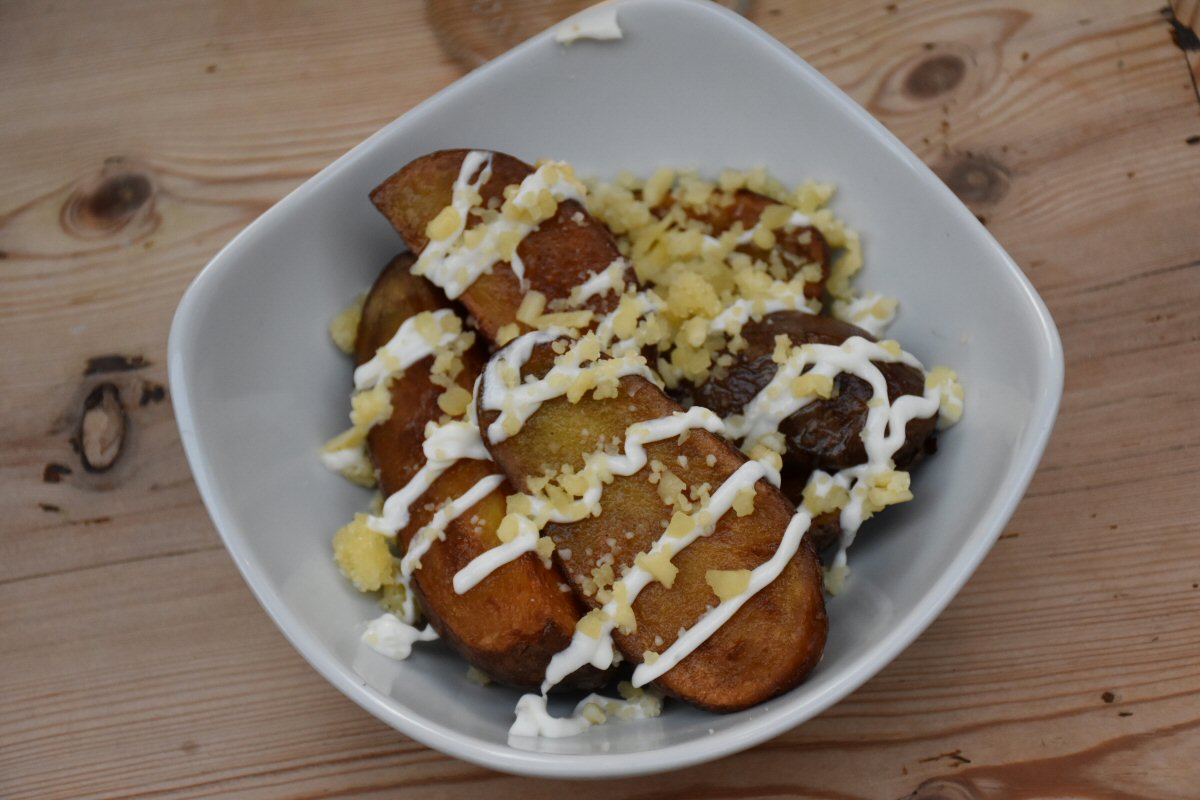 Beth had checked back during our starters and mains, also asking if we needed more drinks or water, and every time she caught our eye she graced us with her dazzling smile. Honestly, this young lady just has that manner that wins your heart over; she chats easily, in a way that belies her tender years, and does everything with joy and happiness – even something as menial as clearing our empty plates away.

For dessert I had the Poached Spiced Pear with Mascarpone and Honey, served on Chocolate and Granola Crumble (£6) and His Nibs had Chocolate Brownie, choosing to have it with Chocolate sauce instead of Ice Cream, Clotted Cream or Crumble (£6). It isn't often you see poached Pears on the menu, which is a shame because they're a superb summer dessert and when done well are mind-bogglingly good.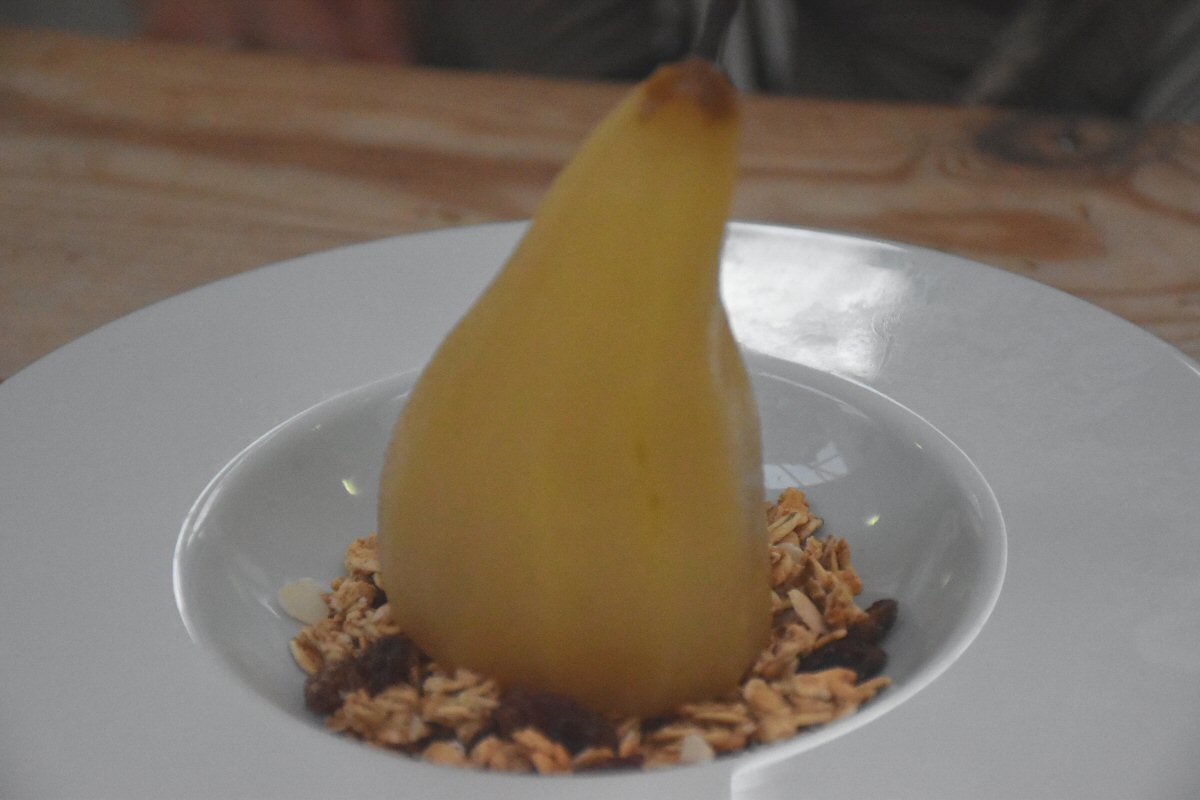 Both sweets were presented beautifully and The Man was grinning like a fool at the (massive) size of the triangle of Brownie he was served. Chef had warmed the choccie temptation to render it seductively gooey without it becoming a puddle of molten nothingness and it lingered in the mouth superbly, coating every millimetre of His Nibs' cheeks and tongue. Just as wondrous was the chocolate sauce; wickedly intense and perfectly liquid enough for pouring all over!




My poached, spiced Pear was my favourite part of the meal; totally faultless in its execution and sublimely fragrant on the palate. The bottom third of the fruit was filled with a magnificent, dense-textured concoction of Mascarpone, Honey and chopped Pistachio nuts that filled my mouth with a symphony of taste and texture. I was thoroughly enamoured with the divinely soft Pear; it required no effort from the cutlery to be cut into and the hint of white wine/Prosecco and spices had permeated every cell of the gently perfumed fruit. To add some body to this dessert there was a crunchy Granola base, ensuring that all my senses had been stimulated: yep, this is a sure-fire winner and no mistake.

A couple of nicely rich, smooth black coffees brought our meal and time at The Kedleston Country House to a relaxed conclusion, and as we departed out the door Bethany and her colleagues bade us goodnight.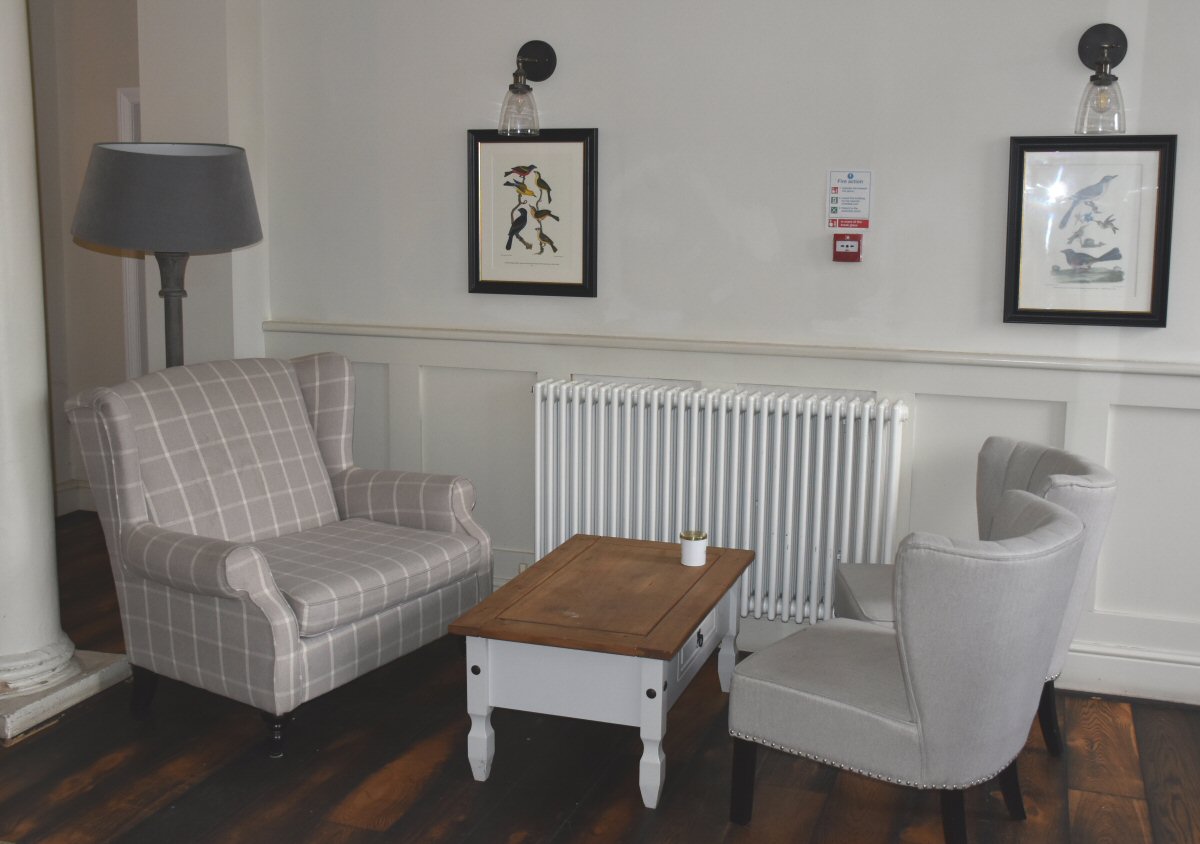 The delicious a la carte offerings from Chef Manuel Bissoli are available at lunchtimes (Noon-3pm) on Thursdays and Fridays, and for dinner Thursday-Saturday 5-8pm . At the time of writing this (August 2021) the Kedleston team are offering 3 courses for the price of 2 at lunchtime, and if you really to push the boat out then why not upgrade to the 'Bottomless Lunch'? The Bottomless Lunch offers unlimited Prosecco or House Wine for 90 minutes for an additional £13.95 per person.If you fancy trying Afternoon Tea this is served on Saturdays, Noon-4pm, but you do need to give at least 24 hours notice. Sunday Roast fans can get their fix 12-4pm on, yep, you guessed it, Sunday!!

Hot Wings awarded here to this friendly, enthusiastic team.
Some form of incentive was provided to visit this venue
read more
Read Some Of Our Recent Reviews
---

Lunch At The Recently Opened Chatsworth Kitchen At Peak Village, Rowsley Everyone who knows me, knows I love Chatsworth (always have, always will) so when the invitation to sample lunch at the newly opened Chatsworth Kitchen Read The Article

---

A Visit To Vietnamese Street Kitchen, Resorts World, Birmingham Way back in the day (pre-covid) Fledge had bought me and The Man Bird tickets to see Mrs Browns Boys live and finally, after a couple of false start reschedules, the day of Read The Article

---

Sunday Lunch, A Museum Tour & Painting A Piece Of Denby At Denby Pottery Village It wasn't long ago that His Nibs and I visited the Denby Pottery Village to sample the Afternoon Tea at Bourne's Coffee Shop and Bistro (it was superb Read The Article

---

Bottomless Brunch At Turtle Bay In Derby The timing of the invitation from the Turtle Bay team in Derby to go and sample their Bottomless Brunch couldn't have been better; not only was it going to be The Man Birds' birthday a couple of days later Read The Article

---

Afternoon Tea At Santo's Higham Farm Hotel & Restaurant Aaaaaarggggh, don't you love your children??!! A while back, His Nibs had spotted a great deal on Groupon (you know what a bargain hound he is!) and thought it would be Read The Article

---

Sunday Lunch At The Countryman Pub & Dining, Kirkby-in-Ashfield We finally got to visit a venue thats been on our radar for quite a while, The Countryman Pub and Dining in Kirkby-In-Ashfield! A few weeks ago we tried to book a table for dinner Read The Article

---

Dinner At The Divan Turkish Restaurant In Chesterfield Chesterfield was welcoming us back again for our latest review visit; this time to the newly opened Turkish restaurant, The Divan, on Lordsmill Street. Owner Tuncay (along with Read The Article

---

Breakfast At Marsh Green Farm Shop & Cafe, Kelstedge Ah, you've gotta love a Bank Holiday curve-ball, haven't you? His Nibs and I headed over to Mummy Birds' gaff with the intention of having a leisurely couple of hours at the Sunday Read The Article

---

Afternoon Tea at Bourne's Coffee Shop and Bistro, Denby Pottery Village You all know that The Man Bird and I do like an Afternoon Tea; I mean, who doesn't?! Just a few miles down the road from the nest is Denby, home to the world-renowned Read The Article

---

All You Can Eat At The River Garden Cantonese Restaurant In Belper As is the seemingly never-ending pattern of our weekends at the moment, The Man Bird and I had been busy gardening/re-seeding/pruning/digging, so when it came to sorting Read The Article

---