Dinner At Cocina Familiar Mexican Restaurant In Wingerworth
---
Published On Wednesday 18 Aug 2021 by Sticky Beak
See Recent Dining Out Reviews | See All Recent Reviews


'Seek and ye shall find' goes the saying; well, we sought...and we found. Located on one of those weird shop precinct things within a housing estate is a Mexican fusion restaurant named Cocina Familiar, and we'd been tempted by the dishes on its online menu to go and discover more. Parking wasn't a problem; there were plenty of spaces in the evening and we just swung the jalopy into one of them in front of the restaurant. I say restaurant, but really it was more of a 'when you're on holiday and stumble into an eaterie that's someone's front room' kind of vibe. Mind you, the literal translation of Cocina Familiar is Family Kitchen, so it couldn't have been more apt!
Owner Jennifer is definitely a gal that lives life to the full and this is reflected in the, frankly, bonkers aesthetic of Cocina Familiar. Vibrant Turquoise, Lime, Red, and Magenta paint colours all feature on the walls, framed dramatically by a dark paint-splattered effect floor and a striking Azure hued ceiling that is strewn with those brilliant 'spider' lights! As if this isn't enough for your senses, Jen showcases works by a local artist on the walls, and I have to say that I really liked the canvasses; at first glance they look bright and happy enough, but look closer and you'll see subversive elements to them all - I won't spoil the surprise, you'll have to see them for yourself. The piñata in the window watches over it all, and thanks to the art stuff and toys available for kids to use, I'm sure there is plenty for him to observe.




At a push, Cocina Familiar can seat 24 folks, so it definitely isn't the vastest eaterie you'll ever come across. What it lacks in space though it definitely makes up for in quirkiness and friendliness; from the moment we stepped inside we felt like long-lost friends rather than customers. The menu itself isn't the largest around, but to be fair it doesn't need to be because all the Mexican classics are there, such as Nachos in various guises, Burritos, Loaded Fries and a good selection of Tapas. For those that have dietary needs it's good to know that all the Nacho toppings, Burrito fillings, and Tortilla Chips are Gluten- and Dairy- free; additionally, the Tortilla wraps are available Gluten free for the Burritos if needed. There is also a specific Vegetarian and Vegan menu available, as well as a childrens one.




For starters we ordered some Tapas dishes to share: BBQ Chicken Enchilada, Cajun roasted Cauliflower and (courtesy of Jennifer) Creamed Cajun Garlic Mushrooms, priced £6.25, £5.50 and £5 respectively. I had assumed that there was another Chef in the kitchen but, no, it's just Jen the lone superstar (!) with a couple of local youngsters supporting her in various ways. Whilst our Tapas were being prepared, we sipped at our drinks: large glass of Malbec for me (usually by the bottle only, but my first choice wasn't available) and a bottle of Sol lager for His Nibs, complete with wedge of fresh Lime. There were bowls of fresh, homemade Salsa, Soured Cream and (temporarily shop-bought) Guacamole popped onto our table ready for us to tuck into with the Tapas. I won't lie; I was a bit gutted to see the bought-in Guac, but Jennifer hadn't managed to get hold of any Avo's that day and I did sympathise as I hadn't managed to get all my groceries that day either. The good news is that Jennifer does usually make her own Guacamole though, and it was a decent mass produced variety that she provided on this occasion.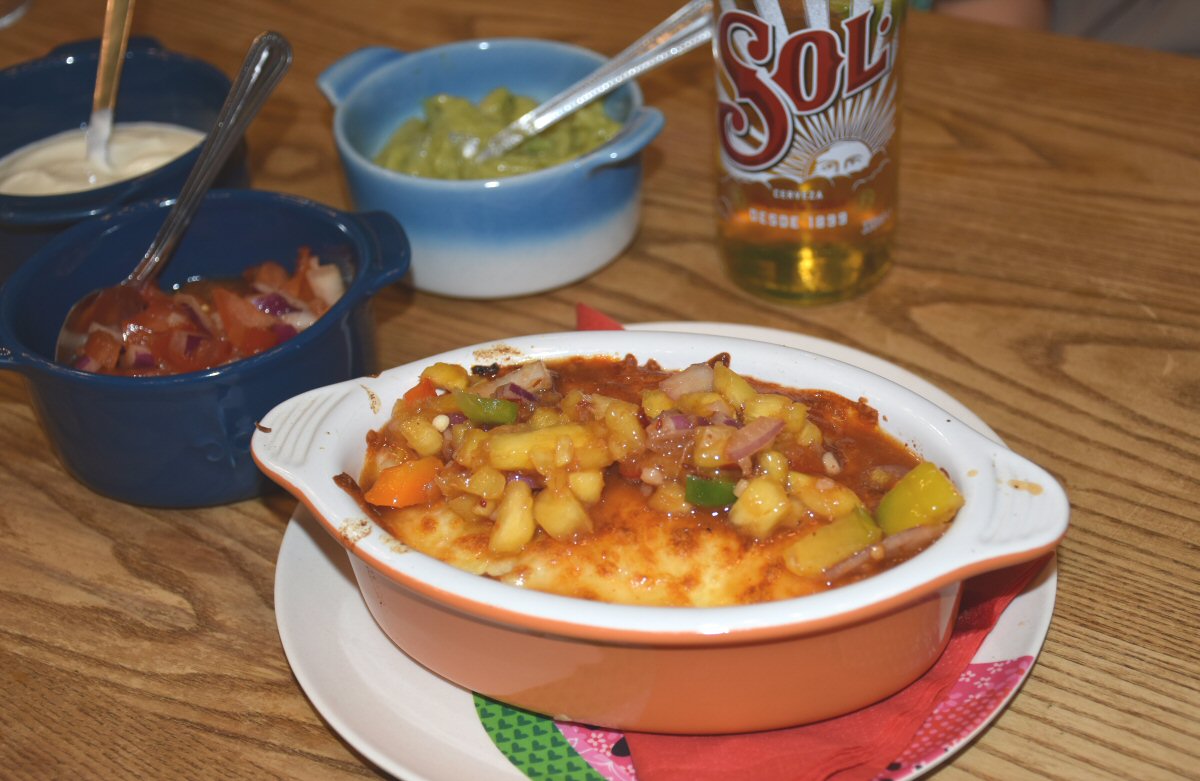 The BBQ Chicken Enchilada was absolutely cracking! Piping hot (it literally travelled 3 metres from kitchen to table!) and crammed with Lime-laced Chicken, rice and a brilliantly punchy Pineapple salsa which was sweet, spicy and refreshing all in one. Tender shreds of Chicken breast and the rice had been mixed with a smoky BBQ sauce to coat them fully and make them super-juicy (they were already moist), then they were cocooned in a tortilla and rolled, before being slathered with cheese and oven cooked to melt it. This was superb in every way; taste, texture and visual appeal.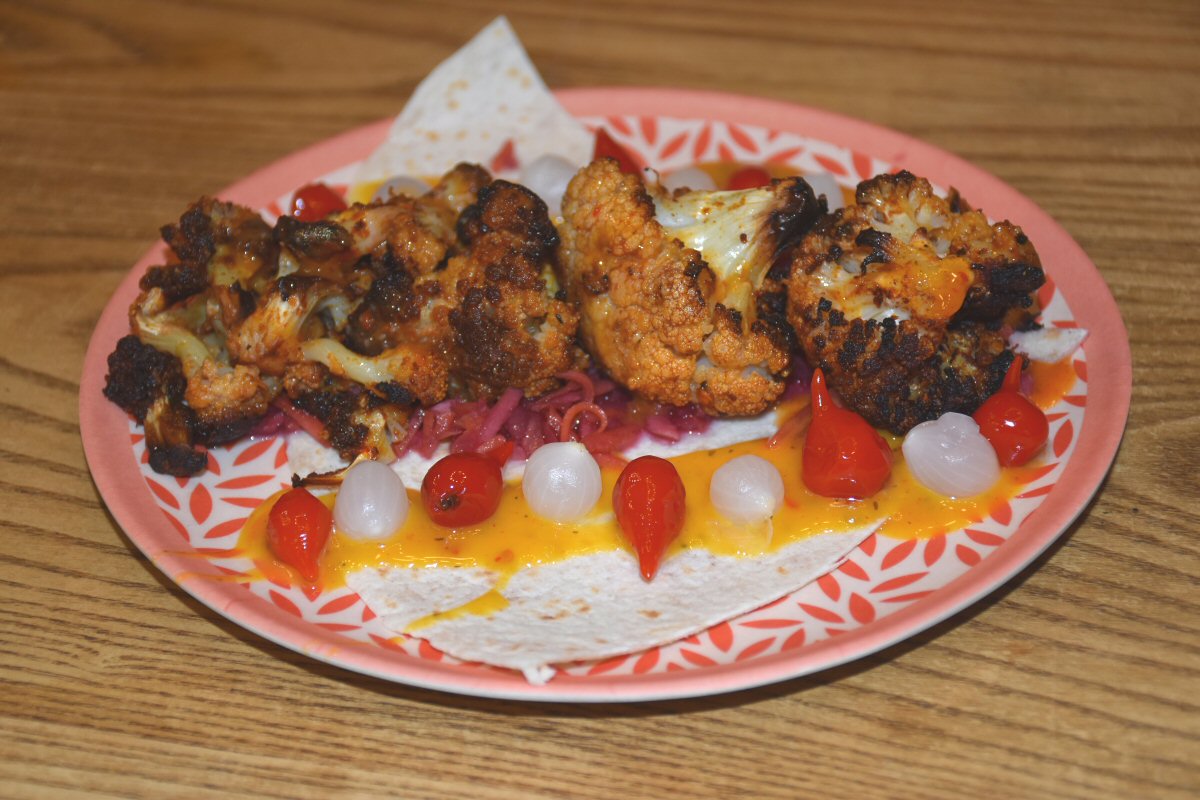 Both of us loved the blackened/charred Cauliflower; the vegetable itself was still wonderfully crunchy and the Cajun spices added a marvellous bounce on the tongue without giving that unpleasant tingle factor. His Nibs had spied the little Red Roquito peppers and began gobbling them up greedily, so I grabbed one quickly before they all disappeared! There were also dinky pickled Silverskin Onions in the mix, which I love, so we revelled in their tanginess too. My personal favourite thing in this dish though was the shredded, pickled Cabbage; this was a beautiful rose-pink colour whose prettiness belied the face scrunching sourness that the crunchy slivers had to them! If you want a dish that delivers sweet and sour notes then this will tick the boxes for you.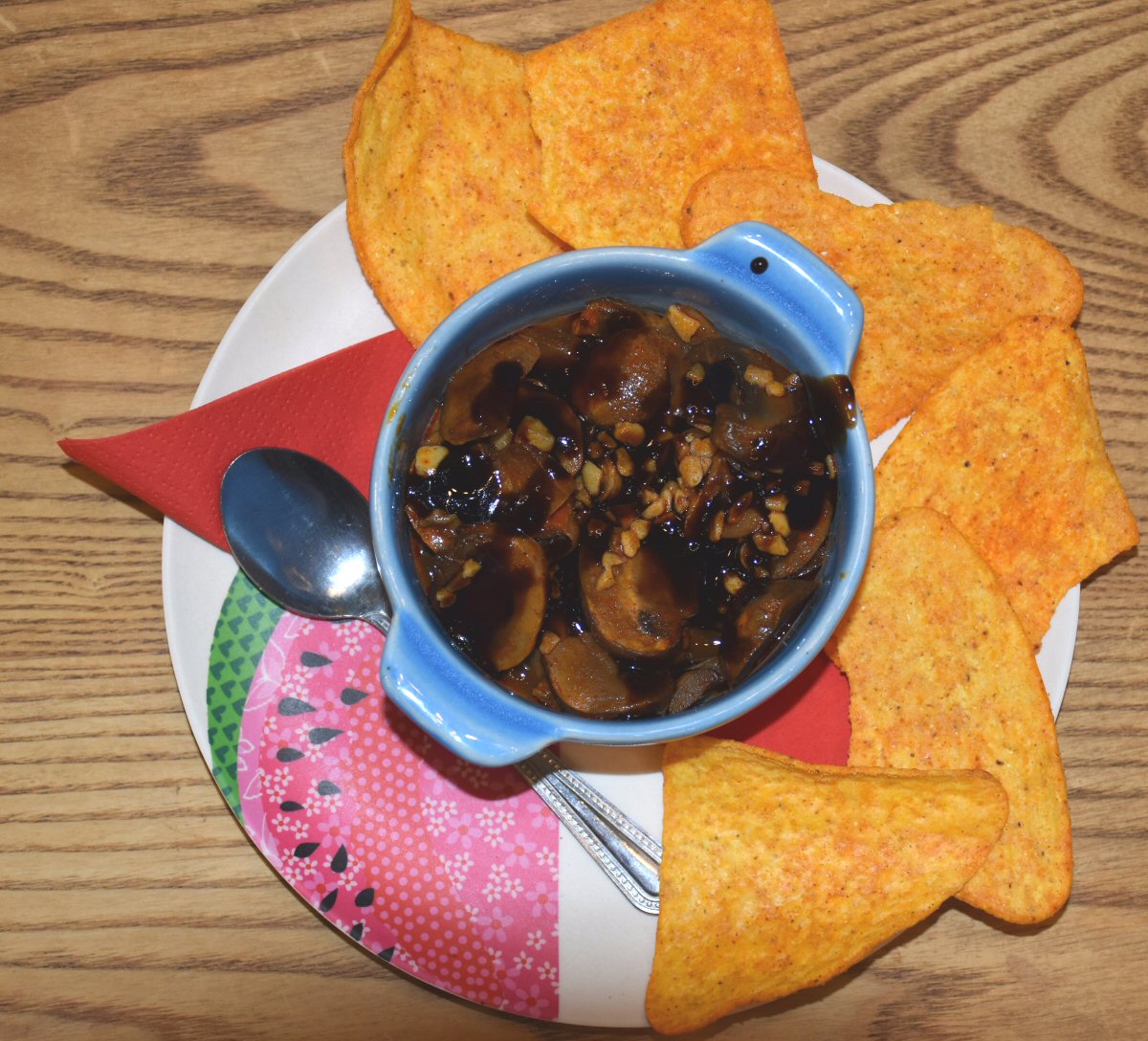 The Man Bird and I had originally just chosen a couple of Tapas to have as starters but Jennifer sent out some of the scrummy Creamed Cajun Garlic Mushrooms for us to sample as well. The softened Mushroom slices had been sautéed with an abundance of garlic and then drizzled with a wicked Chilli Balsamic dressing that complimented the fungi's earthiness and added a sweet-yet-sharp note and some fire for our taste buds to enjoy. Some crunchy Tortilla chips allowed us to scoop up the last vestiges of the sauce; after all, something this tasty deserves to be savoured right down to the last millilitre!




Jennifer had also brought out some chilled water for the table and as we waited for our mains to be cooked, we took the opportunity to refresh ourselves and cleanse our palates. The smells coming from the kitchen were intoxicating and we tapped our feet excitedly in anticipation of what was to come. We had been warned that Jen was a feeder and that the Burritos would be large to say the least, and we were a bit glib, like, 'yeah, yeah' - but when they arrived we were a bit stunned; they were mahooooosive!




His Nibs had opted for the ground Beef version (Burrito de Carne), whilst I fancied the Chicken variety (Burrito de Pollo) both priced £8.50; in fact all Burritos are £8.50, which keeps things simple. The Mans' beef was slow cooked with Onions, Sweetcorn, Garlic and spices, then wrapped in a wheat tortilla, along with Mexican rice, Cheese and homemade fresh Tomato Salsa and cooked to warm perfection. I kid you not when I say that the Burrito was about 8" circumference, as was my own! The beef was still beautifully moist, not dried out at all as can be the case when cooking minced/ground beef, and the spices brought their own notes to the symphony of flavours: some sweet, some tangy, some fiery, but all gorgeous. Texture was added via the onions and Sweetcorn, and for some extra mellowness there was the soured cream and Guac to plop on ad lib from the pots on the table.




My Chicken breast had been marinated in Lime, Garlic, BBQ seasoning and Mexican Beer, with Onion, peppers and Garlic added before the whole lot was slow cooked to release all the flavours. The chicken was then shredded and rolled into a Tortilla along with Mexican rice, Cheese and Jen's homemade fresh Pineapple salsa and then oven baked until lovely and golden. Not only did the Pineapple salsa add an exquisite degree of sweetness that brought out the fire of the Mexican spices, it brought some texture to the dish alongside the onions and peppers. For a hit of creaminess I slathered on a couple of large spoons of the Guac and some soured cream for a sharp, clean edge in my mouth.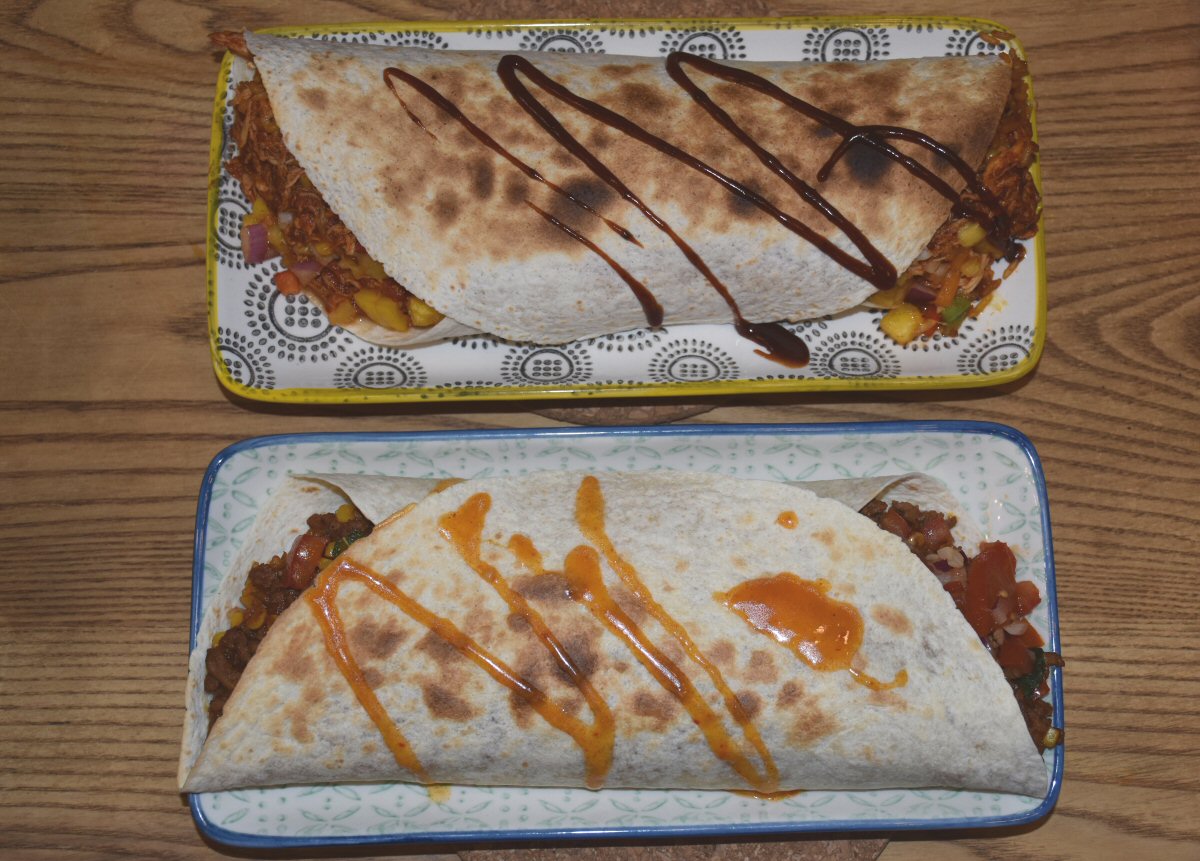 It took some doing, but we both managed to finish the Burrito's! Presently there isn't a dessert menu at Cocina Familiar, which is just as well because we hadn't got room for anything sweet – not like us at all! Every single mouthful had been a joy to eat, from starters to the huge mains. Our senses had been treated to a veritable rainbow of tastes, whether from vegetables or spices and the quality of the ingredients had shone through in the final results.

To bring things to a sociable close we had a shot of Honey Tequila; well, it would've been rude not to really! I loved the dual nature of this tipple: you definitely got the sweetness of the Honey, but then the fire hit the back of your throat and warmed the belly when it got there. It's entirely up to you whether you sip and savour this lovely Tequila or knock it back as a shot, but personally I think it's best suited to a slow enjoyment rather than instant gratification.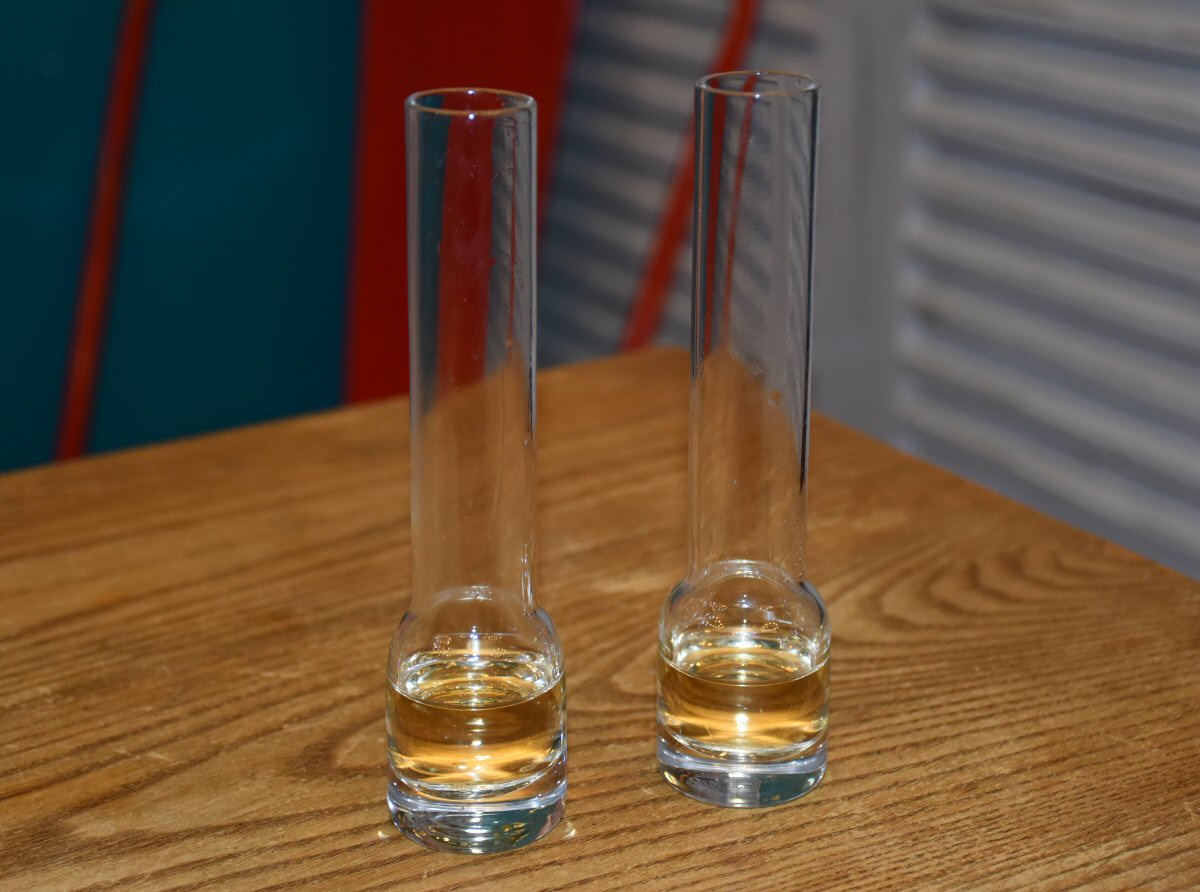 Cocina Familiar isn't posh at all, so if you're after fine dining and ass kissing, don't bother going – you'll have a wasted trip. If you're a true foodie, who chases the food grail of good food honestly cooked with love, passion and flair, staying true to the heritage of whichever country's cuisine Chef is cooking, then Cocina Familiar is a true gem. Jennifer and her small team worked their socks off to ensure that customers eat wonderful Mexican food and receive great service whether eating in or via takeaway/collection at the rear of the restaurant – a fab idea that ensures diners aren't disturbed by a stream of others coming in all the time.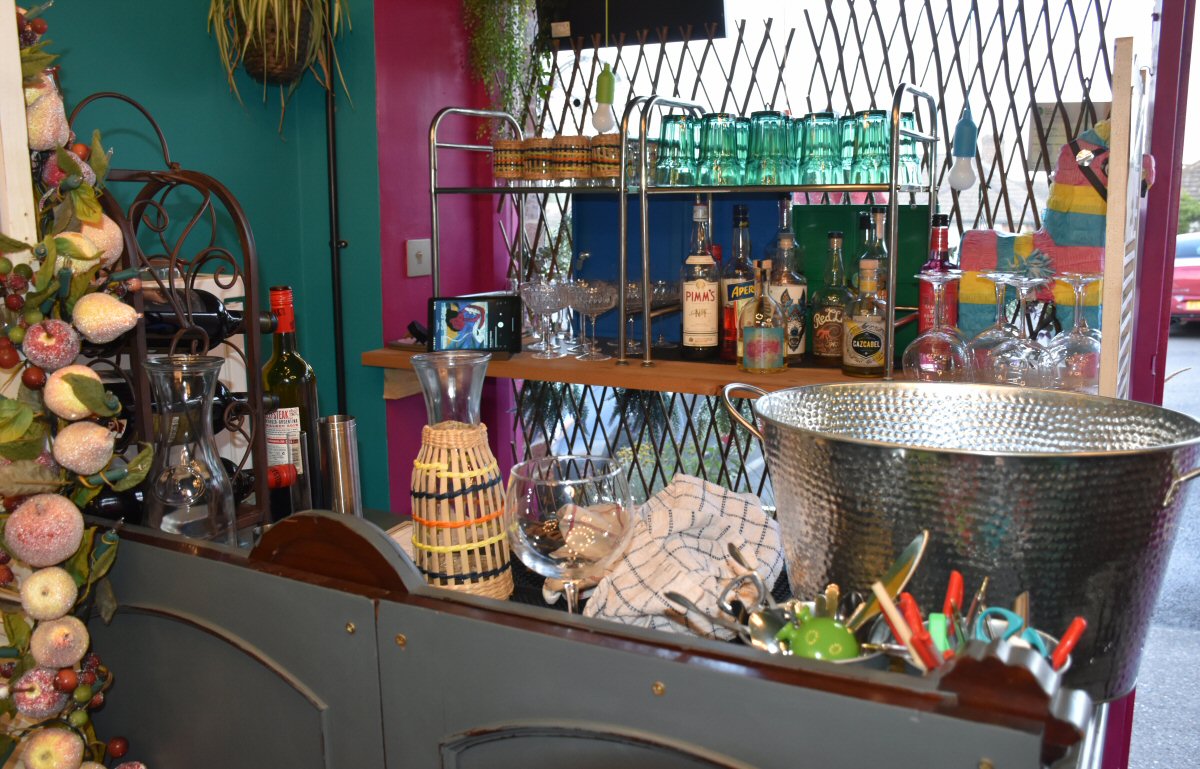 I would advise reserving a table due to the very limited number of seats at Cocina Familiar and for details on the theme evenings that Jen has got planned, head to the Facebook page or give them a ring on 07508 800168. In brief, every Friday in August and September (and maybe beyond, but there aren't details up yet) you can head over for Bottomless Bubbles with Tapas, Gin Tasting and Tapas, Fish Supper (Tapas style) or Vegan Tasting Evenings; these events are on rotation – so check the dates carefully! - and priced between £18 - £25 per person.

Hot Wings thoroughly deserved here; Wingerworth, you've got a bloody treasure here you jammy monkeys!
No incentive was provided to visit this venue
read more