A Flock Sunday Lunch At The Durham Ox, Ilkeston
---
Published On Sunday 8 Aug 2021 by Sticky Beak
See Recent Dining Out Reviews | See All Recent Reviews


With the prospect of a summer holiday having pretty much been benched for another year, we took the opportunity as a flock to do some decorating at Mummy Bird's house. Over the last few weeks (and with more in the pipeline) we've been cleaning, scraping and painting inside and outside, so there hasn't been much enthusiasm at the end of the day to cook a meal! This was most definitely the case a couple of weeks ago on that ridiculously hot Sunday; there was no way in hell any of us were slaving away in a hot kitchen, so we were naughty and passed the buck to the Chef at The Durham Ox Inn in Ilkeston.
His Nibs and I have been to this characterful venue a couple of times previously when it was under its old owners, but thanks to lockdowns 1.0,2.0 and 3.0 we haven't made it back to check out how it's faring under new owner Rachel and her family, who took over in July 2020. We were puthered just from the short walk from the car park to the Durham Ox, and you have no idea just how grateful we all were when we felt the breeze from the ceiling fans; it was the most heavenly feeling.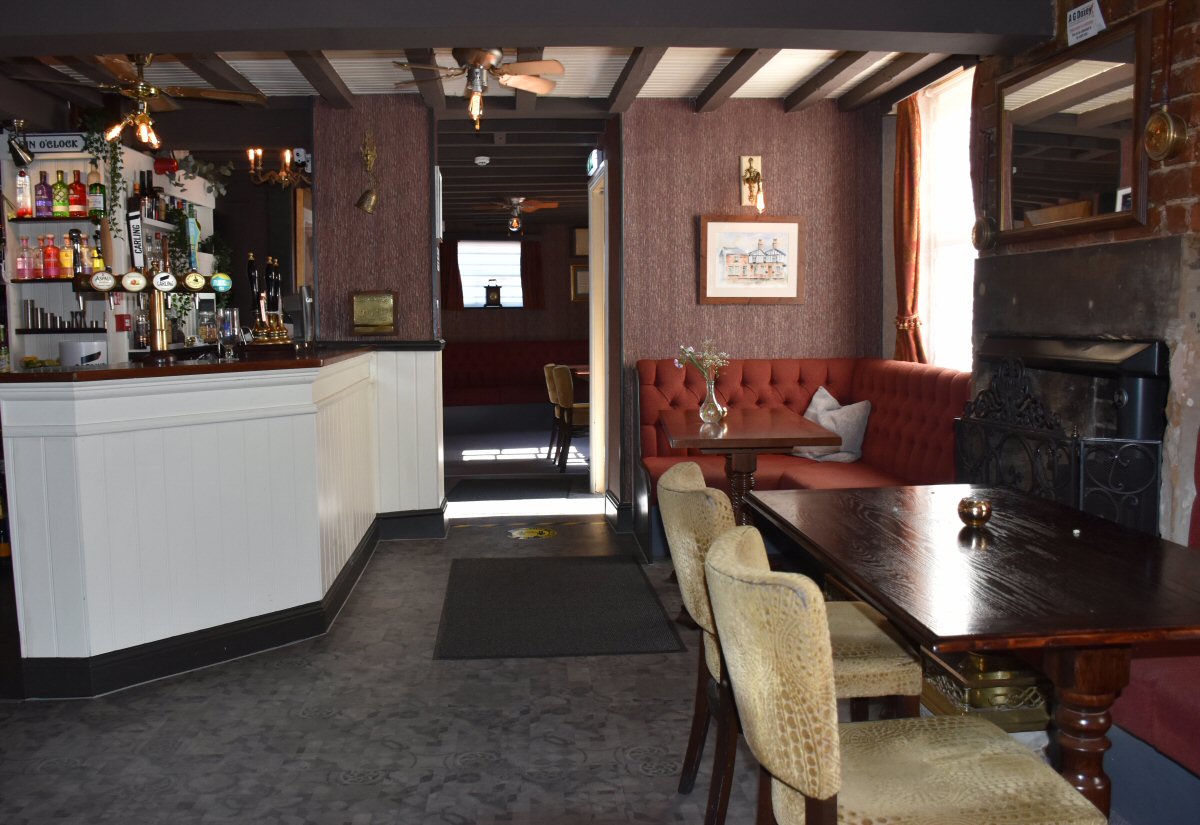 Having sat down, we turned our attention to ordering drinks: a chilled glass of Pinot for Mummy, a cheeky Malbec for moi, and a pint of Moretti for His Nibs. Connor got rewarded with massive smiles as he brought them over and said he'd give us few minutes to look over the menu and decide what we fancied.

Now, I don't know about you, but I always have a bit of a dilemma: do you go for starter or save yourself for dessert, hoping that you'll still have room in your tummy for it after a roast? After a bit of discussion we all decided to risk it for a biscuit and indulge in dessert, so then we just had to choose which meats to have. I should just point out that you don't have to have a roast on Sunday at The Durham Ox, there also other menu choices available – some blooming tempting ones, actually. Anyhow, I just fancied the roasted rump of English Beef (£12.95), The Man chose roast leg of Lamb (£13.95) and Mummy Bird opted for the traditional roast Turkey (£11.95), all of which are served with Sage and Onion stuffing, Honey and Orange roast Root Vegetables, slow-braised Red Cabbage with Apple and Cinnamon, seasonal Greens, Goose fat ruffled roasties, creamy Mashed Potato, Yorkshire Pud and gravy! Those who are vegetarian, Vegan or Gluten intolerant can also request suitable stuffing, roasties and gravy options if desired.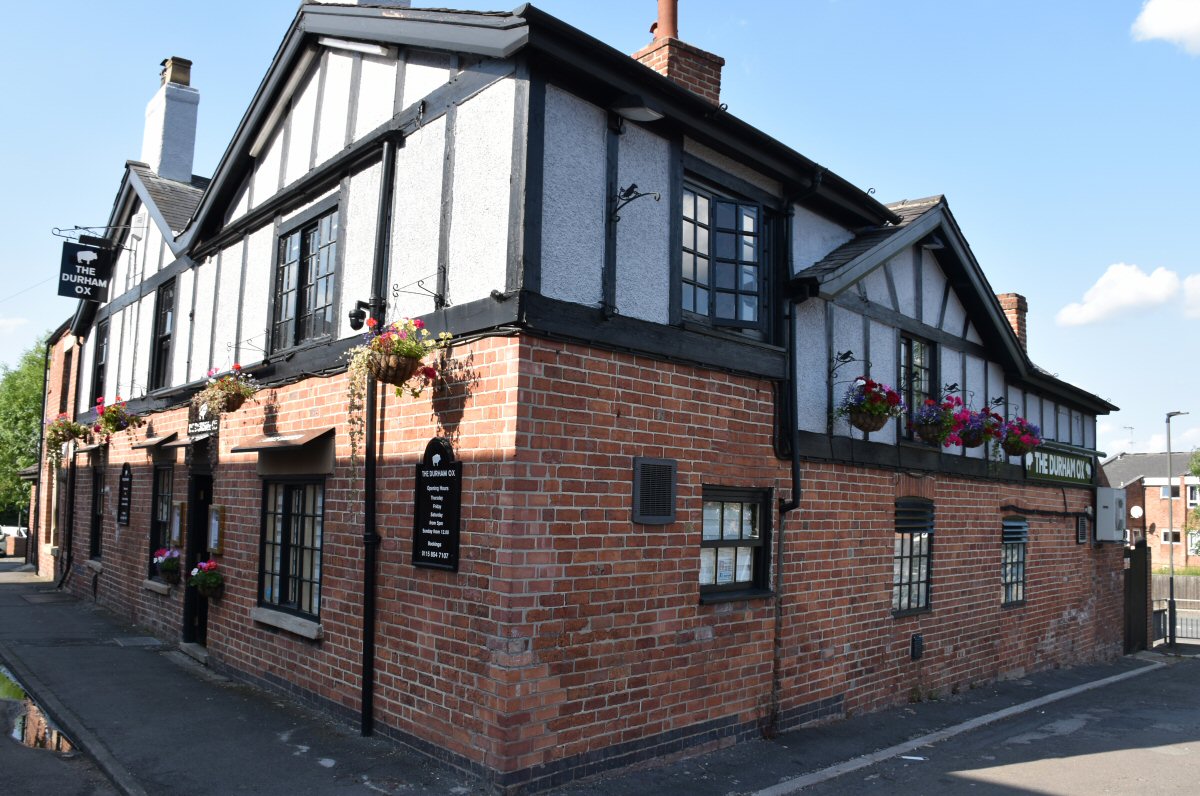 Whilst we waited for our roasts to arrive we had a gander around (as you do!) and The Man and I were pleased to see that the 'olde worlde' charm of The Durham Ox Inn hadn't diminished at all, although it was obvious that Rachel had given everything a spruce up. This lovely building dates back to 1780 and in times gone by used to double up as the town's gaol, housing convicts in its cellars, from where they used to be taken through the underground caves and tunnels to St. Marys church to await trial and punishment. The sun was becoming a bit of a pest, getting in my eyes, and I reached over to draw the curtains; Connor saw my plight though and raced over to lower the blinds instead – now that's customer service!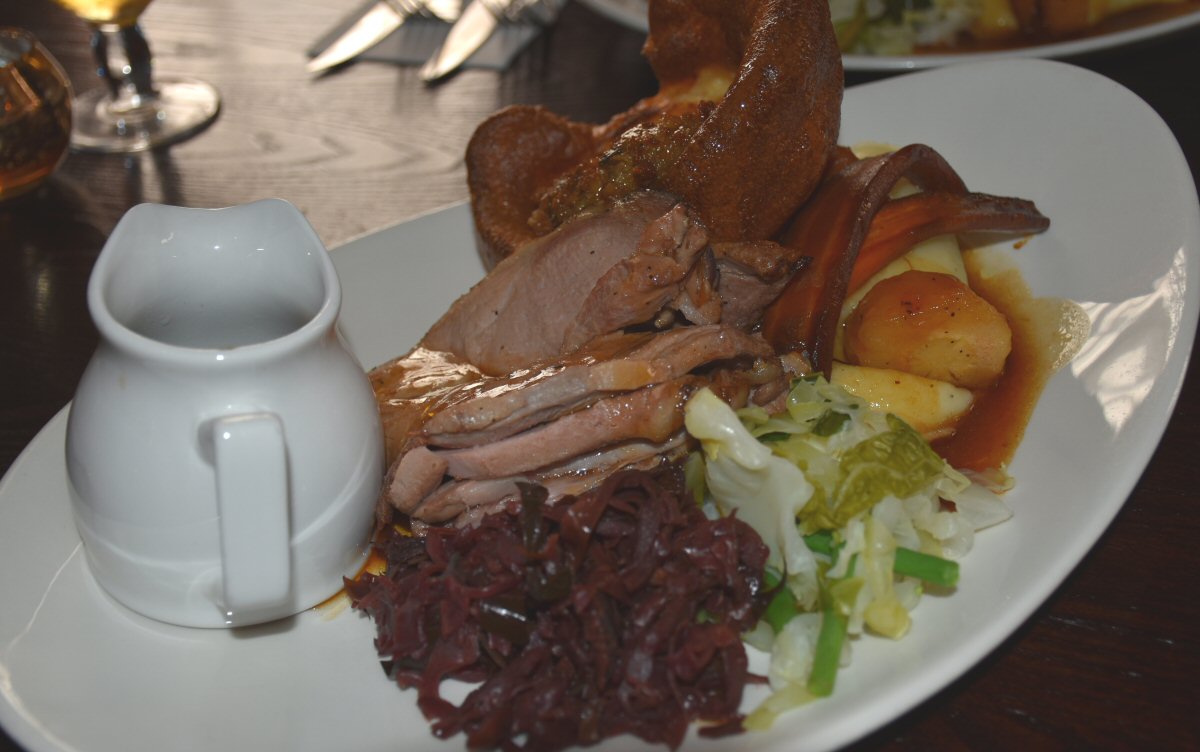 From the description of the food it was clear that the plates were going to be hefty sorts, but, even so, we all gawped a little at the frankly whopping platters that were placed in front of us... and we'd ordered a side of Cauliflower 3 Cheese (£2.50) too! Hunger swiftly took over from shock and awe though, and we dived in with our usual gusto. My beef was incredibly tender and served pink in the middle (perfect, in my opinion) and both Mummy Bird and His Nibs commented that their meats were juicy and succulent too; the lamb was beautifully sweet and the turkey was nice and creamy tasting.

I was an instant fan of the Cauliflower – and Broccoli too, it turned out – 3 cheese; the veg were still nicely firm and the cheese sauce was thick and gooey, with slices of Onion nestled within it. Mummy Bird's favourite vegetable was the Apple and Cinnamon-pimped Red Cabbage, and to be fair, it was stonkingly good, both taste- and texture- wise. No shortcuts had been taken either, evidenced by the large piece of Cinnamon Bark concealed in the ruby toned shreds!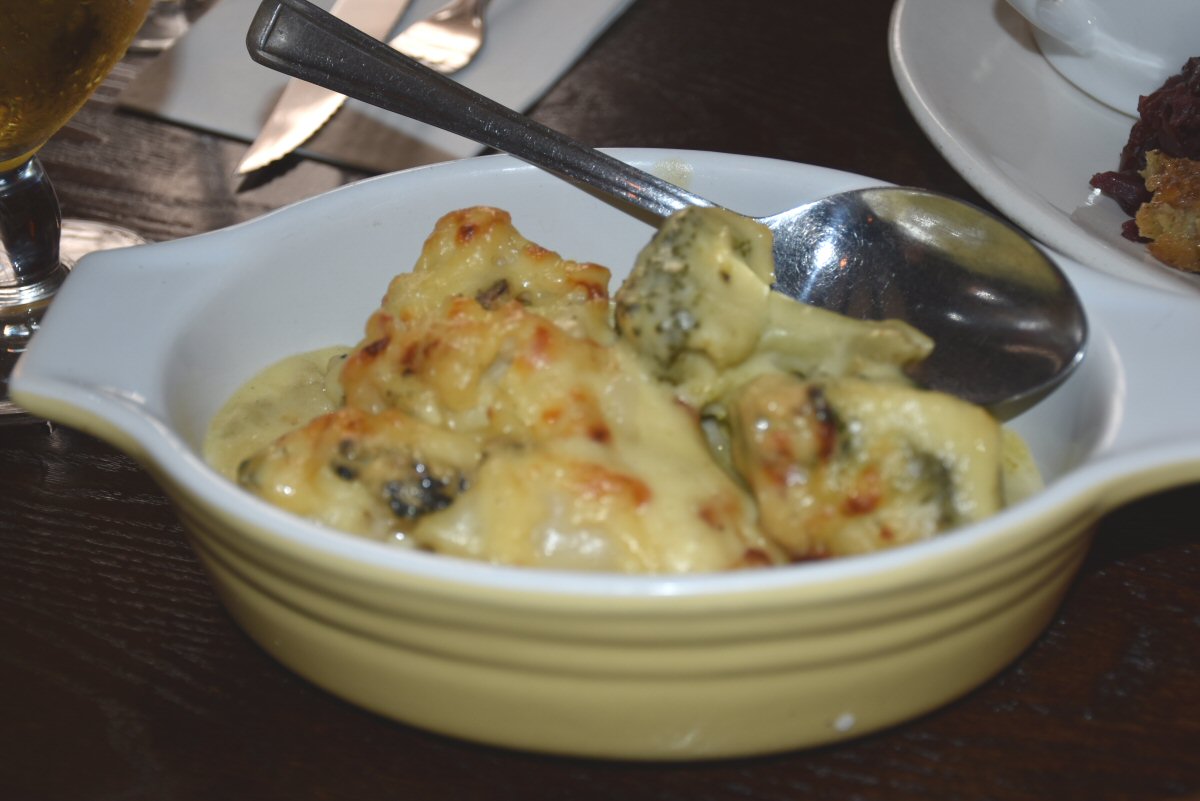 The Man Bird is a real Potato head, I mean that in a nice way and in the context that there's no version of the humble spud that he doesn't love (apart fROm in its raw state, obvs!). He was bowled over by the sheer creaminess and smoothness of the seasoned mash, waxing lyrical about it as Mummy and I were extolling the virtues of our favourite veggies. the quartet of ladies on the next table must've thought we were proper weirdo's, banging on about vegetables!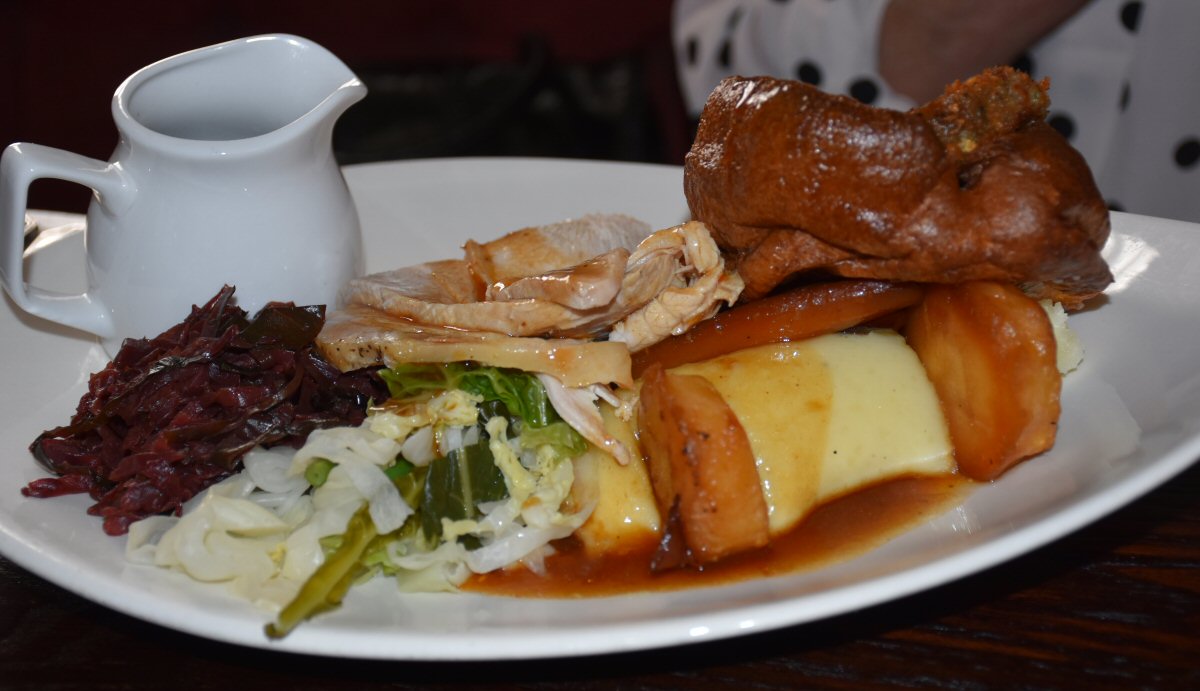 Parsnips and Carrots had been cut into chunky pieces and roasted in honey until they were golden and glossy, making them a sublime treat in the mouth. A lighter, fresher note came via the Green Beans and Green Cabbage, and we all relished their crunch and clean taste in our mouths. At first glance, I had missed the Sage and Onion stuffing, but there it was, nestled in the middle of the massive Yorkie, waiting for me to cut into its herby, marbled surface. Chef must have a direct line to my mind because he'd cooked the stuffing exactly as I like it: lightly crisp outer and a softer (but not soggy; never soggy or uncooked!) middle. I was a very happy birdie, as you can imagine. The Yorkshire Pudding was blooming lovely too, ticking all the boxes with its colour and texture. Definitely no faulting the Sunday roast at the Durham Ox Inn, that's for sure.




Owner Rachel had come over to say hello which, given the fact that she needed to be organising her son's birthday party, was lovely. For some reason, I had never cottoned on the fact that there are rooms available to stay in at The Durham Ox inn – despite the fact that there's a clue in the name: INN! Double rooms are £75 per night, singles are £65 and there are discounts available for longer stays; for more details get in touch with the team and book direct.

All three of us managed to keep enough room for dessert – Mummy Bird by the skin of her teeth! Possibly the most glamorous server on the planet, Lois (love that name!) came to the rescue of Mummy by suggesting the Strawberries and Cream as a lighter choice, and I had the Chocolate Delice, with The Man plumping for Sticky Toffee Pudding – quelle surprise! All desserts are £6.95, apart from the Cheese Board which is £7.95.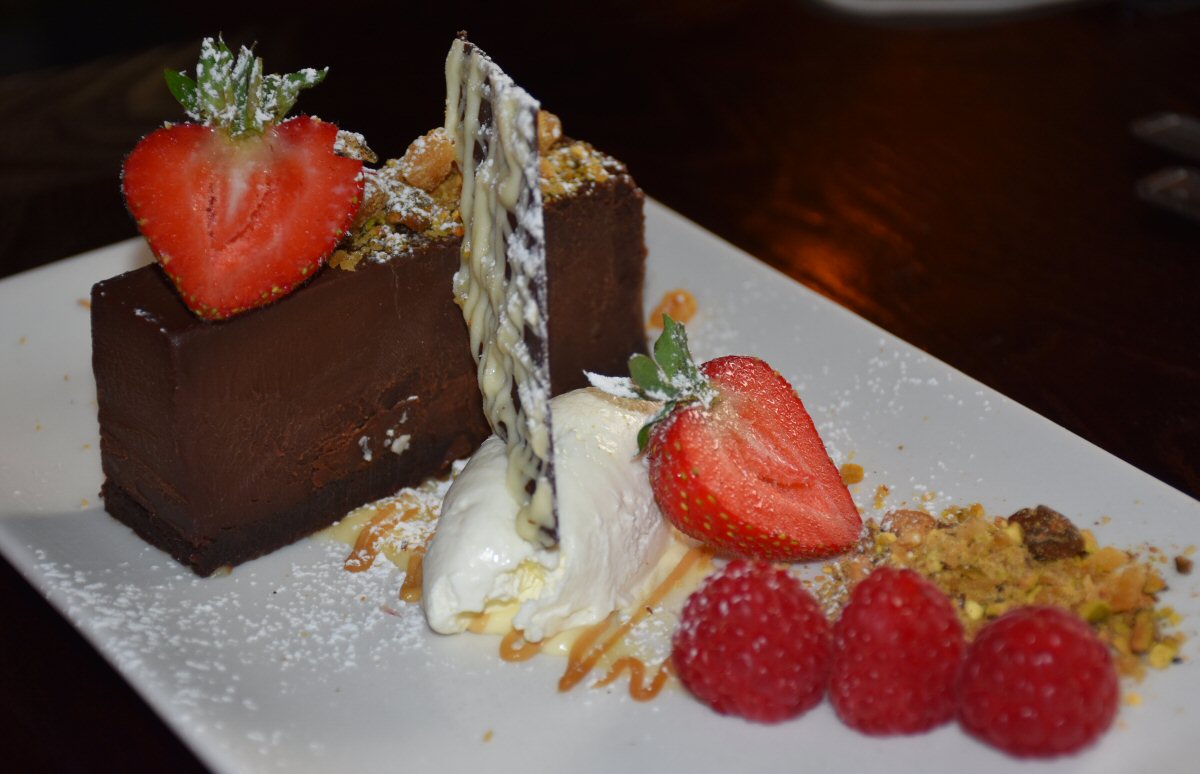 Chocoholics will rejoice at the utter extravagance that is the Chocolate Delice - honestly, it is swoon-worthy! For a start, the Cremeux is wickedly dark and rich and then it has that dense texture that really takes it time to melt and coat every millimetre of your mouth: cheeks, tongue, lips; the lot! Secondly, this minx sits on a gooey, decadent Brownie base; yes, really! Seriously, you couldn't wish for a more indulgent pud. Things lighten up a smidge with the dollop of Mascarpone cream that adorns the delice, along with the beautifully crunchy Pistachio praline that adds a superb textural element to an otherwise smooth dessert.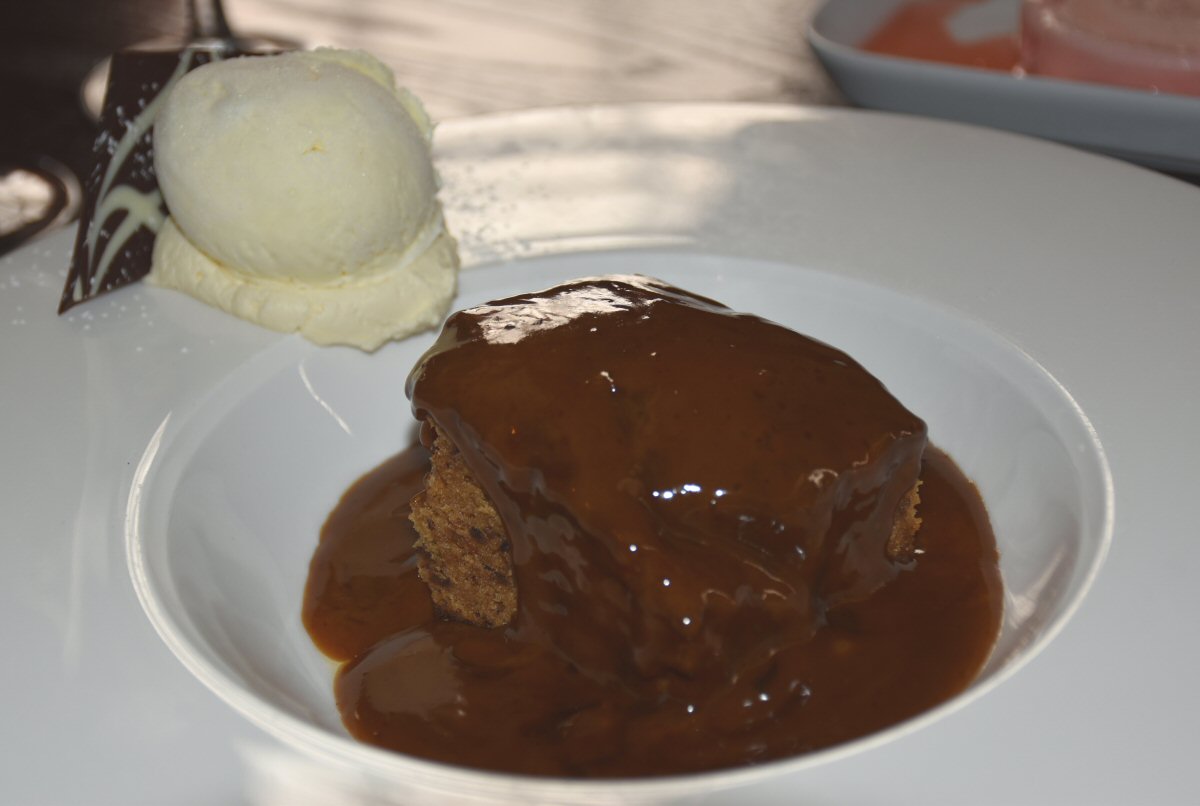 Yet again The Man Bird was grinning in delight with his choice of Sticky Toffee pudding; at The Durham Ox it's nice and light on the tummy, but marvellously rich in taste. A lake of Salted Caramel sauce surrounded the dark slice of pudding, and this had a lovely saltiness to it that seemed to enhance the sweetness of the pudding. Cool Chantilly cream and some fancy shapes fashioned from chocolate completed this total gem of a dessert.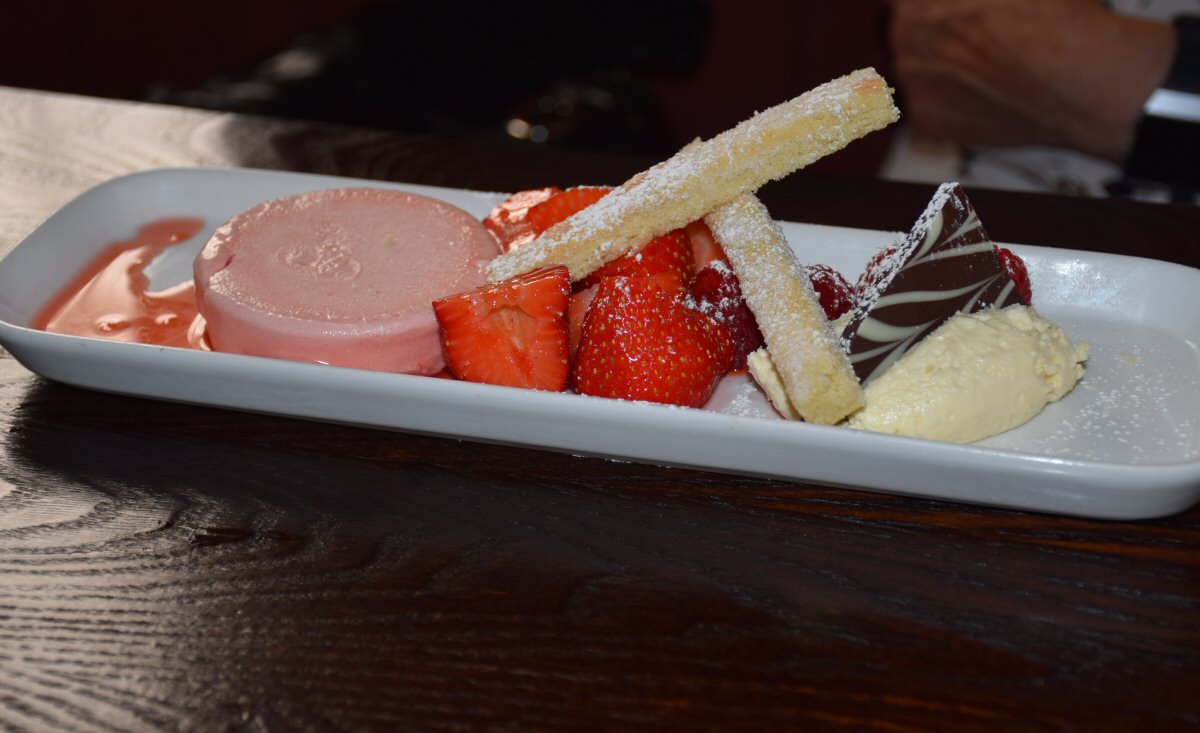 Mummy Bird's Strawberry and Elderflower Parfait was the epitome of summer: fragrant, light and joyous. The obvious partner to Strawberries is always cream; gorgeous Vanilla laced Chantilly cream on this occasion, adding a sweetness and roundedness that balanced the fruit's sharper note. So far, so soft-textured; enter a pair of glorious, buttery shortbread fingers to remedy that situation and bring some crumble to the party. What an absolute belter of a summer pud!

Whilst Mummy was finishing off her glass of wine, The Man and I sipped at a couple of black coffees to conclude our meal. Lois came to clear the plates away, smiling as Mummy Bird thanked her for a cracking recommendation. Connor came over to say that we could have our drinks out in the garden area if we wished, but we stayed put. The ladies who'd been eating at the table next to ours had gone out there though and Connor had been their personal mixologist, honing his cocktail skills ahead of the launch of The Durham Ox Inn's cocktail menu (which should be happening around about now, I reckon).

I tell you what; there are far worse ways to spend a Sunday afternoon than in the friendly, relaxed surroundings of The Durham Ox Inn in Ilkeston. We couldn't fault anything about this place: the service was spot-on, so was the food, and (despite the sun's best efforts) the fans had kept us all nice and cool! Hot Wings awarded to this super team.
No incentive was provided to visit this venue
read more