A Night Out In Boston At The Ropers Arms Italian Bistro
---
Published On Tuesday 27 Jul 2021 by Sticky Beak
See Recent Dining Out Reviews | See All Recent Reviews


The friends that we were visiting in Lincolnshire are fairly like us; they don't mind cooking, but sometimes it's nice to have the night off and go out. Having the extra burden of having to host us (The Man Bird is SO demanding!) clearly had them feeling the pressure, so they booked a table at The Ropers Arms pub in town (Boston) for us all. As I chatted away to my pal I asked what the menu was like; did they do 'pub classics' etc., and she said "No, it's an Italian restaurant". Now, I don't know about you but to me that didn't sound much like an Italian name! However, I have been burned in the past by making assumptions so I kept an open mind.
The venue had a nice vibe about it and was fairly traditionally decorated – you'll have to forgive my lack of detail, it had been a hefty afternoon of drinking Gin at the Fuddy Duck Brewery and my note-taking skills weren't at their sharpest. If truth be told, I was more concerned with getting food inside me than how trendy the place was; it was clean, the staff were pleasant and the wine list was good!




Despite the distinctly non-Italian name, the menu was pretty good and it wasn't long before we'd all chosen what we fancied: His Nibs and I went for the meat and cheese sharing platter (£14.50 per couple), my Bestie had the Gamberoni in Tempura (£8.50) and her Hubby had Burrata (£8.50). Whilst we were waiting for them to be cooked (the food is cooked fresh to order at The Ropers Arms) one of the lovely team brought out some Tempura Vegetables for us to chomp at. The vegetables were all still nicely al dente and the Tempura batter was wickedly light and crunchy – exactly as it should be. I thought it was a nice touch to be served complimentary nibbles, although to be fair, Italians are known for their gracious hospitality and love of feeding!




There was a fair few tables occupied, showing that this venue is a popular one locally, and the gentle bubble of chatter could be heard throughout the various spaces that housed tables and diners. Our tables' chatter was probably more of an insistent torrent than gentle bubble to be fair, but no-one seemed to mind.

His Nibs and I were pleased to see a wooden board absolutely stuffed with lots of yumminess being set down before us and eagerly tucked in; I started on the Pickles and Olives, The Man grabbed a piece of each of the four Italian Salamis on offer. There was a good selection of meat products to savour, each with a different texture and level of spiciness and the quality shone through. I paired the black olives with some Parmesan chunks and the two went together really nicely; the muskiness of the mature olives standing up to the salty element of the cheese. The sharper, greener olives went well with the salami and the creamy Buffalo Mozzarella.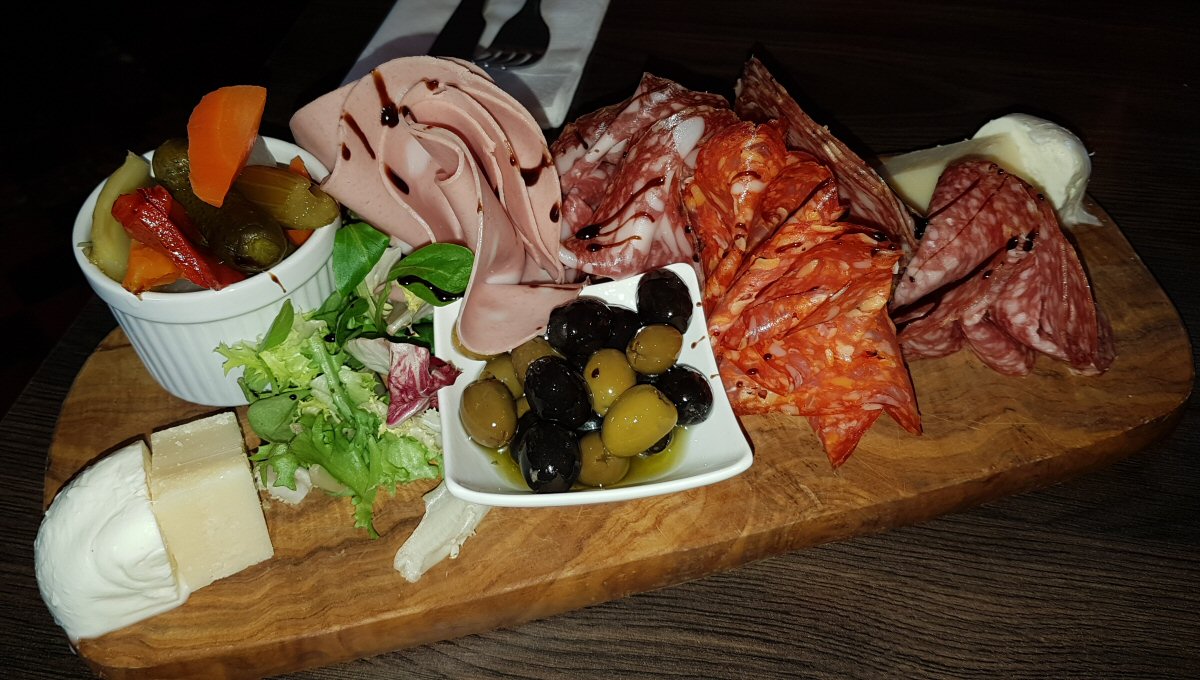 Bestie's King Prawns had a gorgeously crispy batter cocooning them and were partnered with a robust, spicy Tomato-based sauce that had her smacking her lips in appreciation. Crucially, it was a decent sized starter portion to enjoy. Besties hubby (who I think I shall name The Bolton Wanderer, aka TBW) was also suitably enamoured by his choice: Burrata cheese served with grilled, marinated Aubergine, Sun-dried Tomatoes, Basil oil and Parma Ham. He said that there were lots of different flavours bursting onto his tongue and that this really woke the taste buds up in preparation for the main course.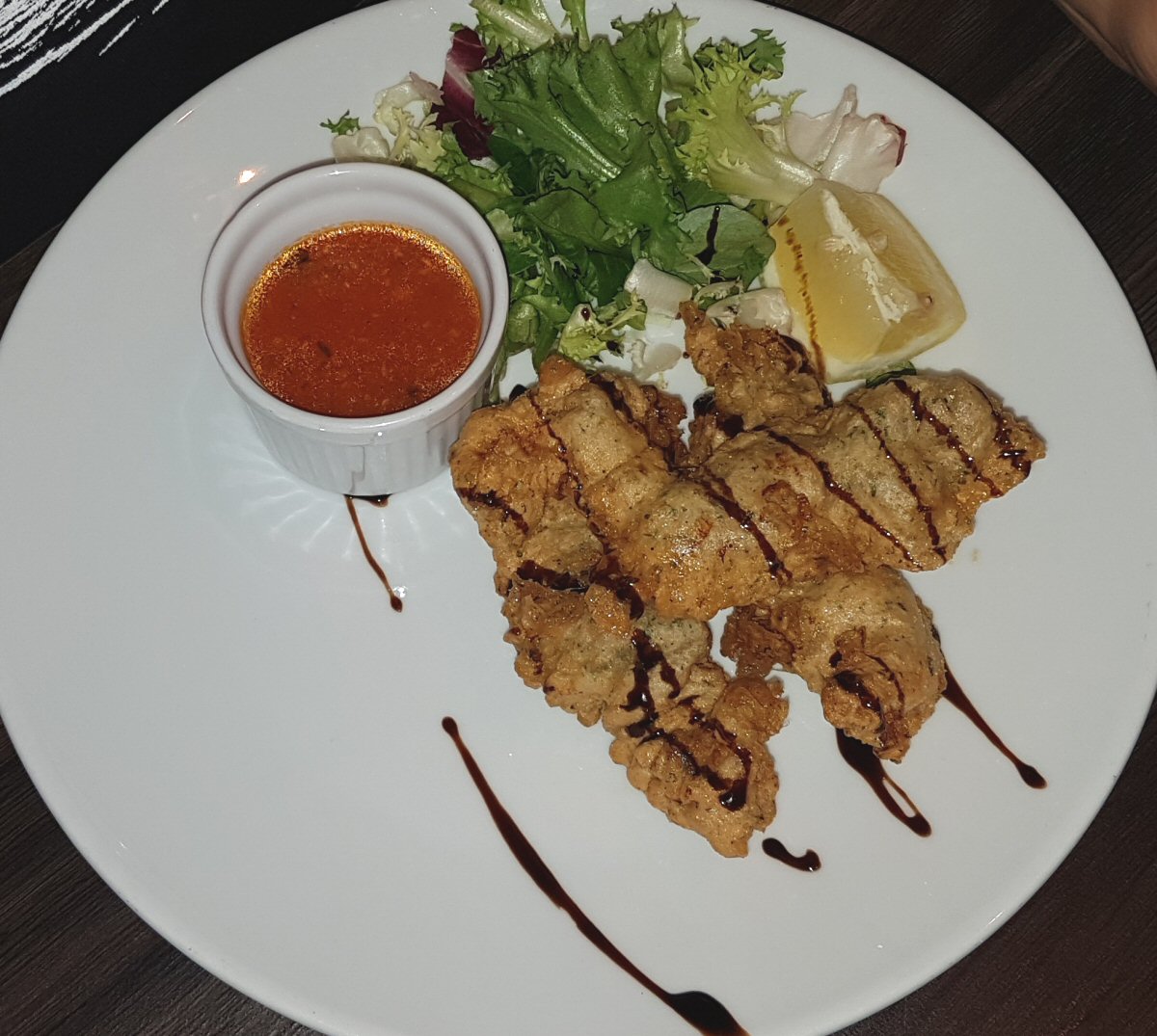 In common with Derby's Dolce and Salato restaurant, there is just one Chef in the kitchen at The Ropers Arms and this is why you get an allocated time for your table to be served; Chef wants each meal to be of the highest quality and to be able to concentrate on each tables' requirements. Thankfully, there is no time limit on your stay; once you're in, you're in for the evening if you so wish! The quartet of clean plates on our table were testament to how much we'd enjoyed our first course and the team member who cleared them away was very happy.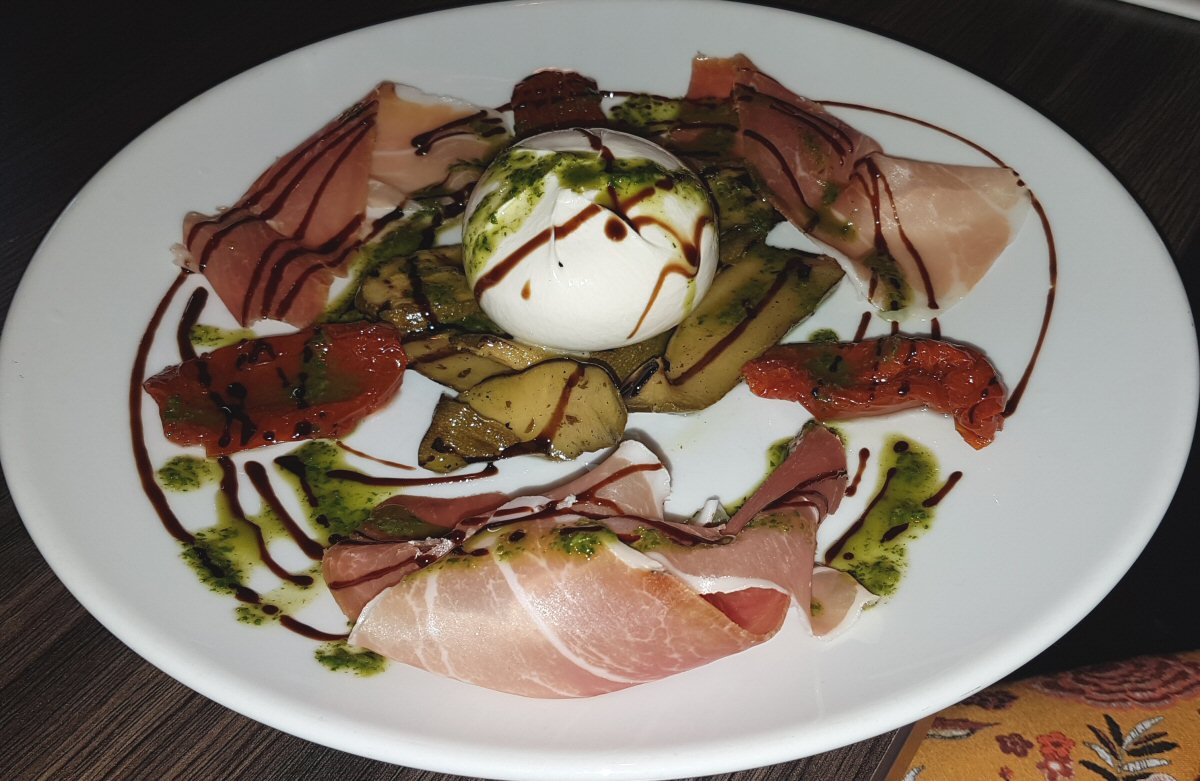 Whilst we waited for our mains to come out, we carried on the theme of the day: drinking. TBW and I do like a chunky Red wine and the Montepulciano D'Abruzzo and one served here was hitting that sweet spot perfectly; needless to say we had to order another bottle to ensure we'd have enough lubrication during the main course ruminations! Not to be outdone, The Man Bird and Bestie also ordered a second bottle of their tipple, Trebiano igt Rubicone.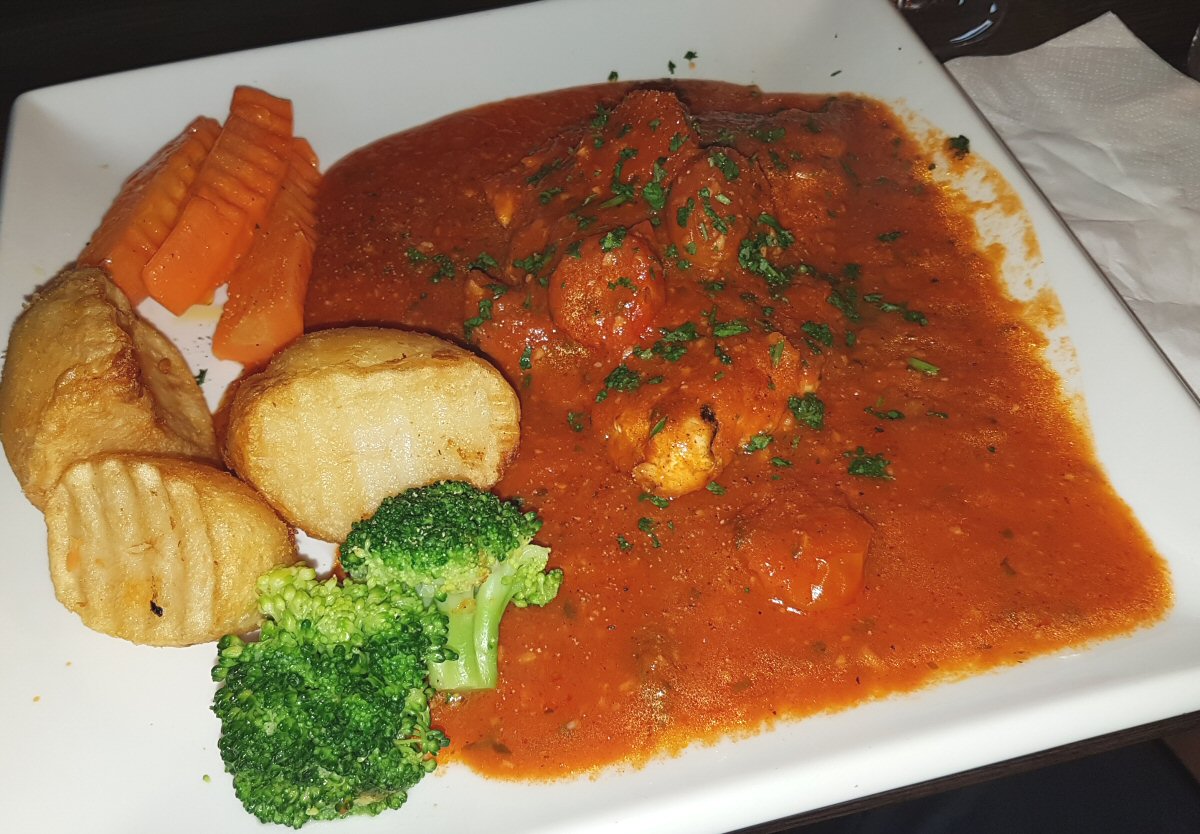 Both chaps had opted for Chicken as their main. His Nibs went for the spicy Pollo Alla Diavola dish (£13.90): Chicken breast in a hot chilli, Tomato, and Garlic sauce, TBW went for Pollo Provinciale (£15.50) that had the breast stuffed with Italian spicy Sausage, Pecorino cheese, Sundried Tomatoes and a topping of light Tomato sauce. Bestie went for her fave, Gamberoni (King Prawns), in Salsa Picante (£18.50) a spicy dish with fresh Chilli, Garlic butter and white wine that is presented on a bed of fresh Spinach and Cherry Tomatoes. Usually I go for a seafood or fish dish at Italian restaurants, but I went for the Bisteca Al Pepe Verde (£19.50): Sirloin steak served with a Cream and Green Peppercorn sauce.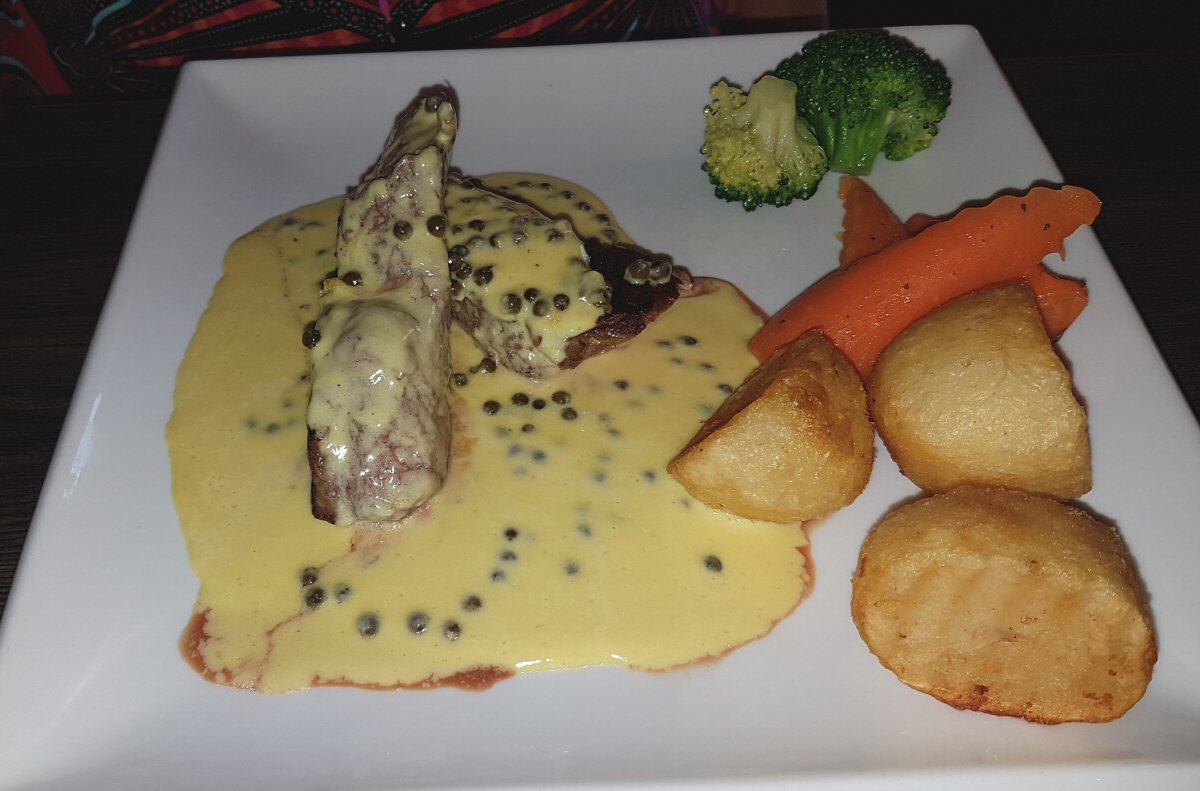 Without exception, the poultry, seafood and steak were all cooked perfectly; everything was tender, juicy and flavoursome. We were very happy campers! The portion sizes were again nice and ample, and you could tell that the ingredients were of good quality; brightness and zest oozed from every molecule of the meals. Bestie's Gamberoni cam e with spinach and Cherry Tomatoes, both of which were delicious, and the other three meals come with market fresh (i.e. seasonal) vegetables and potatoes. The Carrots and Broccoli were cooked to retain some crunch and were beautifully tasty, and the roasties were amazing; crunchy, golden outers that revealed soft, fluffy insides.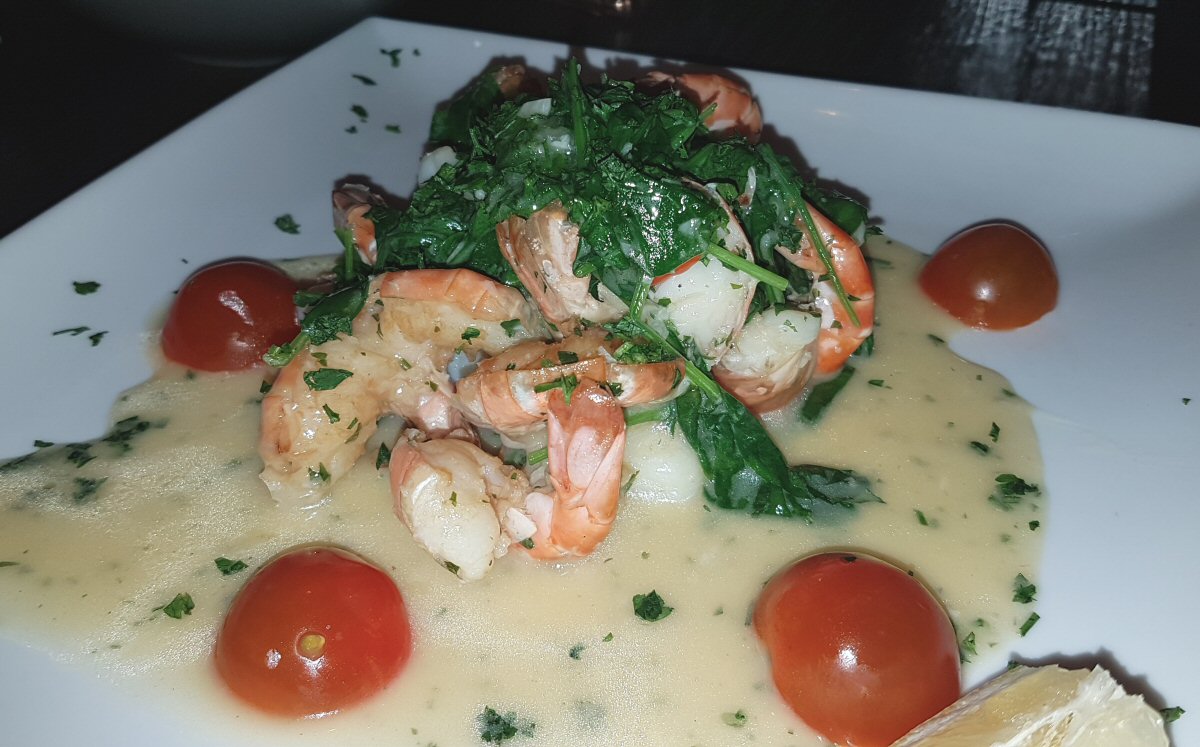 The two fellas had pints of Peroni as their desserts (classy as ever, lads, classy as ever!), I had the Amaretto Tiramisu, and Bestie had the Panna Cotta. Both our puds are homemade at The Ropers Arms and are priced at £5.50 each.




Panna Cotta is made with sweetened Cream and is stiffened with gelatine to give it an unmistakeably seductive 'wobble' when moved, but the secret is to not over-stiffen it or leave it too limp (settle down, settle down!). I have to say that this morsel looked to be just right, and Bestie said it was lovely and fruity in flavour and surprisingly light on the tummy. Win-Win. I could've eaten my Amaretto Tiramisu all day long; it didn't beat Reno's (sorry!) but the Almond hint from the liqueur was perfect against the cream base. Not to be outdone by the men, us gals had a brandy-pimped coffee to complete our meal before we had to head outside and get our taxi home – there's a story to be had here to, but that's a tale just for the four of us to know ;).




Hot Wings happily given to The Ropers Arms team; we had a superb evening with you and if we're ever back in Lincolnshire we'll be ringing up to reserve a table!! Due to the small size of the venue for dining, it is ESSENTIAL that you reserve a table – just sayin'.
No incentive was provided to visit this venue
read more