A Flock Outing To Chesterfield For Dinner At Sicily Restaurant
---
Published On Sunday 25 Jul 2021 by Sticky Beak
See Recent Dining Out Reviews | See All Recent Reviews


You've gotta love the Covid pandemic; everything has been turned upside down and inside out, which is how we came to be enjoying Mummy Birds' Christmas present in June!! As you get older you realise that you need less 'stuff' and want to do more and make memories, so His Nibs and I decided (among other things) to get Mummy Bird a meal as part of her festive treats. Italian food is always a winner for Mummy, and we had originally planned to go back to Cucina in Derby but they aren't re-opening until around September time so we immediately thought of Sicily as we'd had such a superb meal there ourselves previously.
Sicily does have its own small car park, but there is also on-road parking up the adjacent street if necessary, too. With the tables already amply spaced apart there was no need to lose any of them when the restaurant was permitted to re-open, but additional covid safety measures such as hand sanitiser and face masks are in use. All the windows and doors were open as well to maximise air flow through the venue, again in accordance to current government requirements.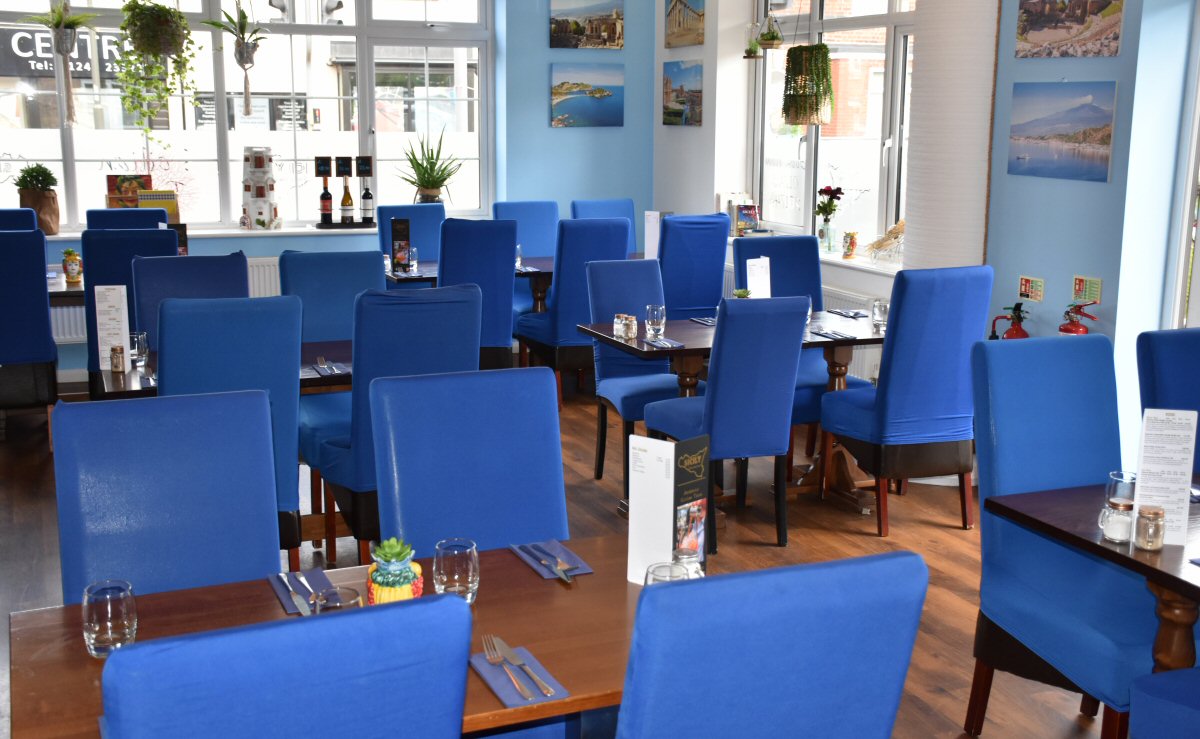 Given the fact that Sicily is an island, it's only fitting that this authentic restaurant has a distinct marine theme to its decor, both in terms of the azure, turquoise and white colour scheme and the lobster pots, fishing nets and shells dotted around the space. Furnishings are simple too, no fancy tables and chairs, but are all very clean and functional; what this means is that the focus is very much on the cuisine offered at Sicily restaurant.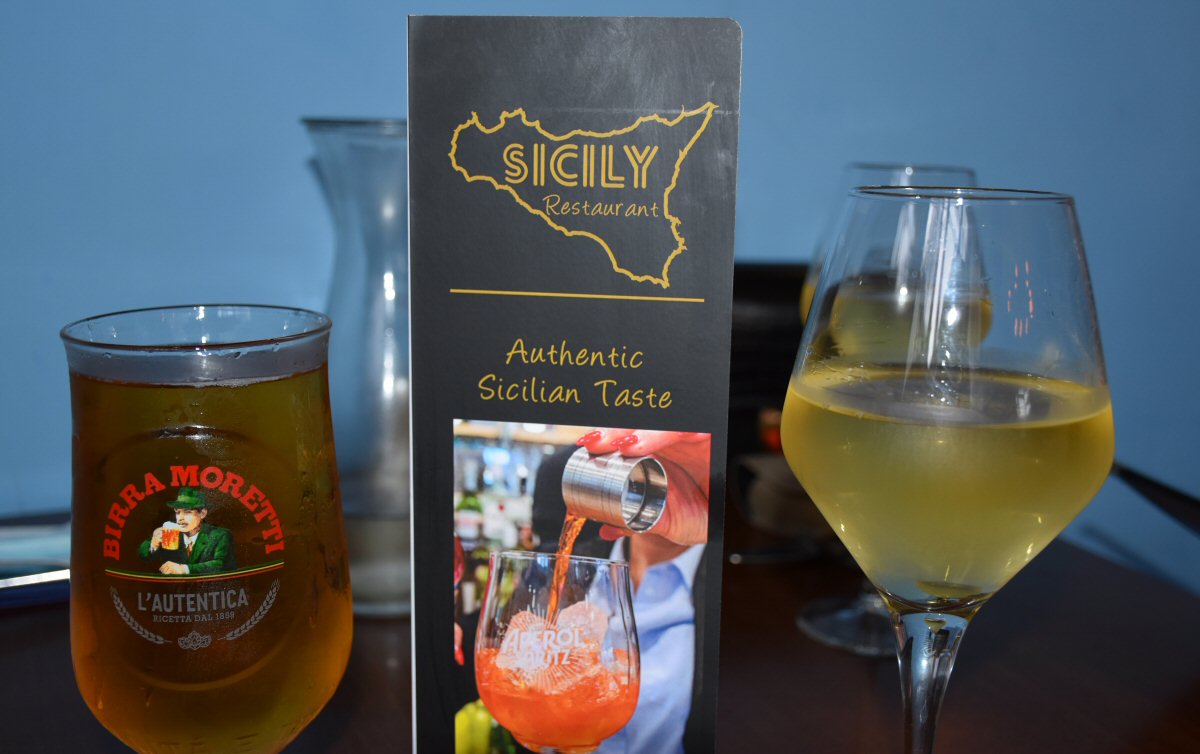 One thing that is particularly noticeable is the quality of the customer care because a) it is a family run restaurant with a very small team, and b) Sicily is a relatively small venue compared to many in the area. As soon as we'd stepped inside we were treat more like friends than customers and Monica was all smiles a she took our drinks orders: draught Birra Moretti for The Man, and large glasses of a very cheeky (Sicilian) Pinot Grigio for Mummy Bird and myself, which has just been introduced to the drinks selection.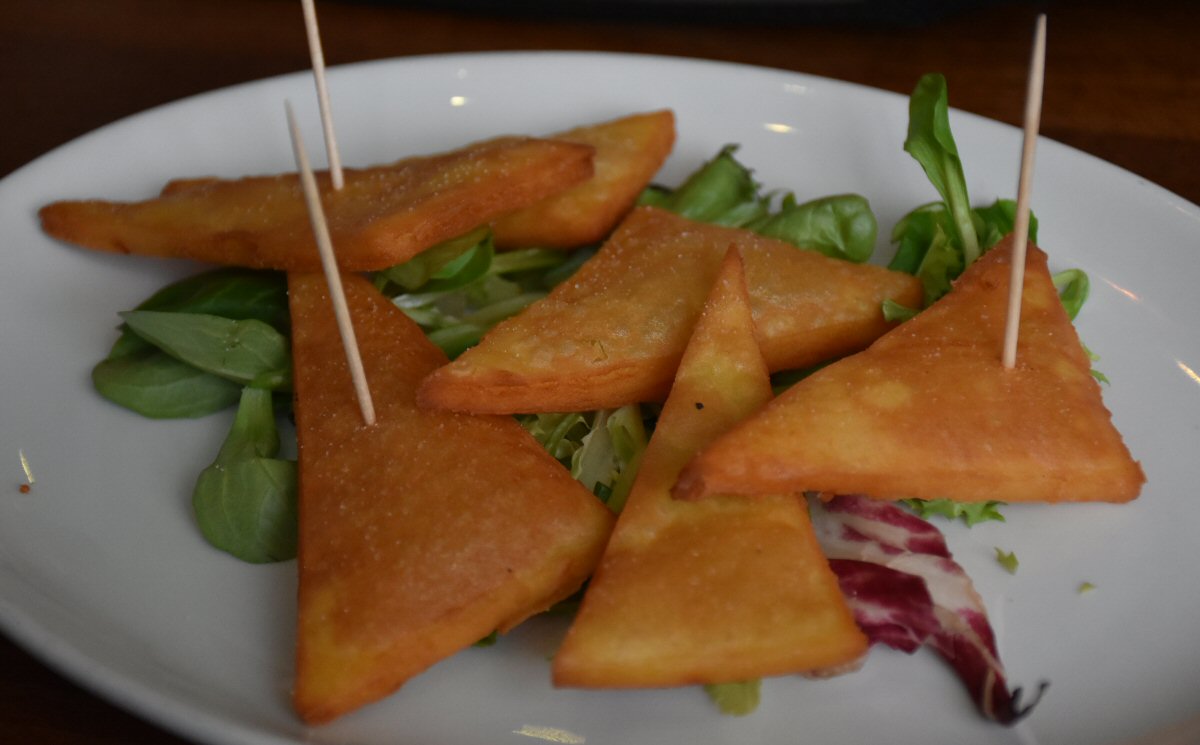 Pep was cooking up a storm in the kitchen and Monica soon returned with some fresher-than-fresh Panelle (Chickpea fritters) for us to nibble on as we perused the menu and specials board. If you've never had these fritters before then you're missing a trick; trust me, you need these beauts in your life! They're not outré at all, just simple fried Chickpea patties, but they are so incredibly delicious and Pep seasons his superbly. Monica also brought out a large carafe of chilled, iced water for the table which we thought was a nice touch.




Mummy Bird fancied the Polpette Della Mamma – meatballs - (£8) to start and I sort of followed her lead and had the Fishballs from the specials board (Polpette Di Pesce, £8) made with Cod, Breadcrumbs, Orange zest and Sultanas and served with Sweet and Sour White Onions. The Man Bird had his beloved Calamari Favignana (£8), served with Aioli and mixed leaves. It wasn't long before the piping hot, freshly cooked morsels were making their way over to us and we eagerly began to eat.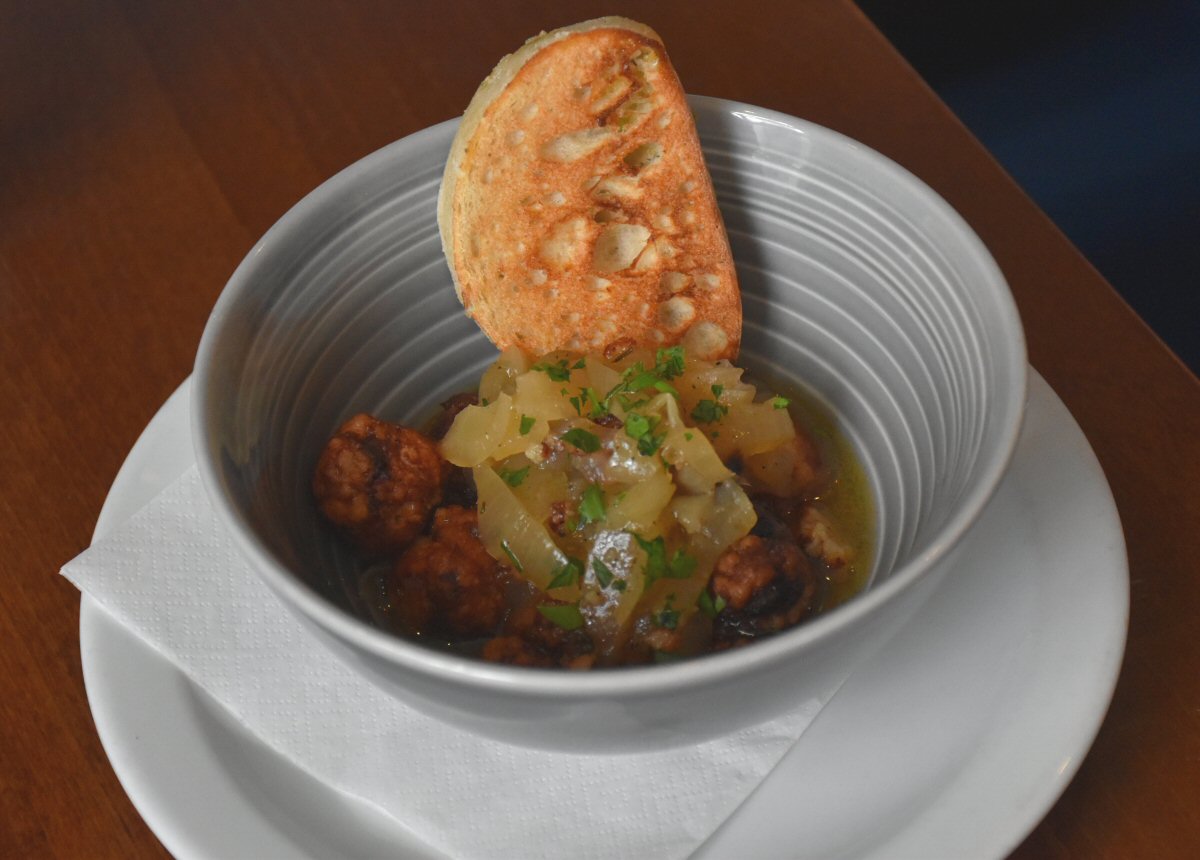 My Fishballs were small in size but mighty in taste and texture; their outers were lovely and golden with a gentle crispiness to them that contrasted well with the soft inners. Sweet Cod lingered on the tongue and there was a gentle hint of citrus from the Orange zest that had been very finely chopped; sweet, heady Sultanas added an extra layer of flavour into the mix. I was surprised by how well the sliced Onion went with the Polpette and savoured their dual sweet/sour tang, immersing myself in the pleasure. Mummy's meatballs were magnificent; dense textured and intense in taste, partnered with an equally robust, tomato based sauce. Both our starters had come with a toasted slice of Ciabatta and we used them to full effect, mopping up every last scrap of scrumminess.




I was sneaky and pinched a piece of His Nibs' Calamari whilst he was busying himself with getting the perfect shot and it was glorious! Not only was there a whole heap of it to chow down on, but the soft seafood popped brightly against the crunchy, crisp batter; factor in the tangy Aioli and you've got one heck of a starter!

For my main course I went for a baked pasta dish, based around Sicilian ring-shaped pasta – think Heinz Spaghetti hoops without the sauce (!) - with homemade Bolognese sauce, Aubergine, Peas, Béchamel and Mozzarella and Parmesan cheese. This was going to be one tasty minx, I reckoned. Mummy Bird chose Tagliatelle Del Barone, a Beef and Pork Ragu with Mushroom, Cream, Parsley and earthy Truffle oil, and The Man had La Porchetta from the specials board which was Italian roast, rolled Pork with a Red Wine, Rosemary and Onion sauce and accompanied by roast Potatoes.

We could smell all the mouth-watering aromas emanating from the kitchen, and every time Monica went passed our table we craned our necks to see what tempting morsels were heading out to other tables. Soon enough, our meals were being placed before us and with no hesitation at all we wielded our cutlery and began to eat.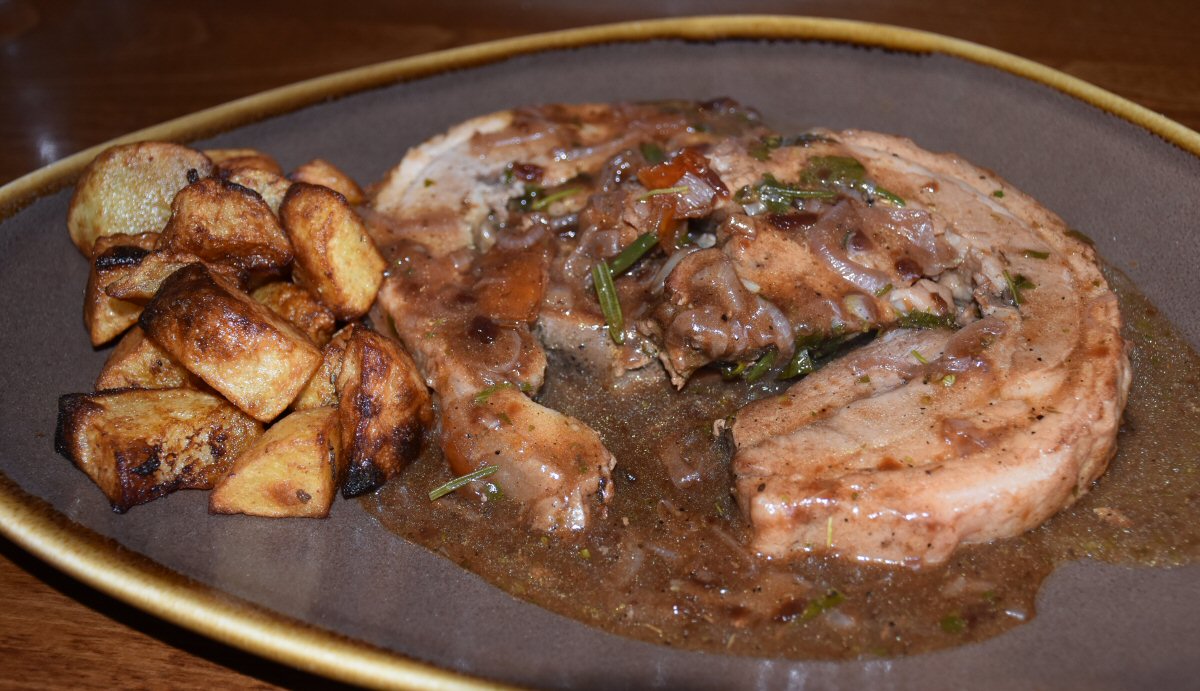 His Nibs was simply bowled over by the tenderness and creaminess of the Pork; it melted on the tongue and needed no pressure at all from the knife to slice into it. I dibbed my finger in to the sauce and it was wonderfully robust, with a superb Rosemary hit on the palate. I've said it before, but I'll say it again; there is something magical and seductive about a crisp-outered, cloud soft Roastie and Pep had produced some crackers on this occasion. At first glance it hadn't looked the biggest plateful of food, but The Man struggled to finish it all!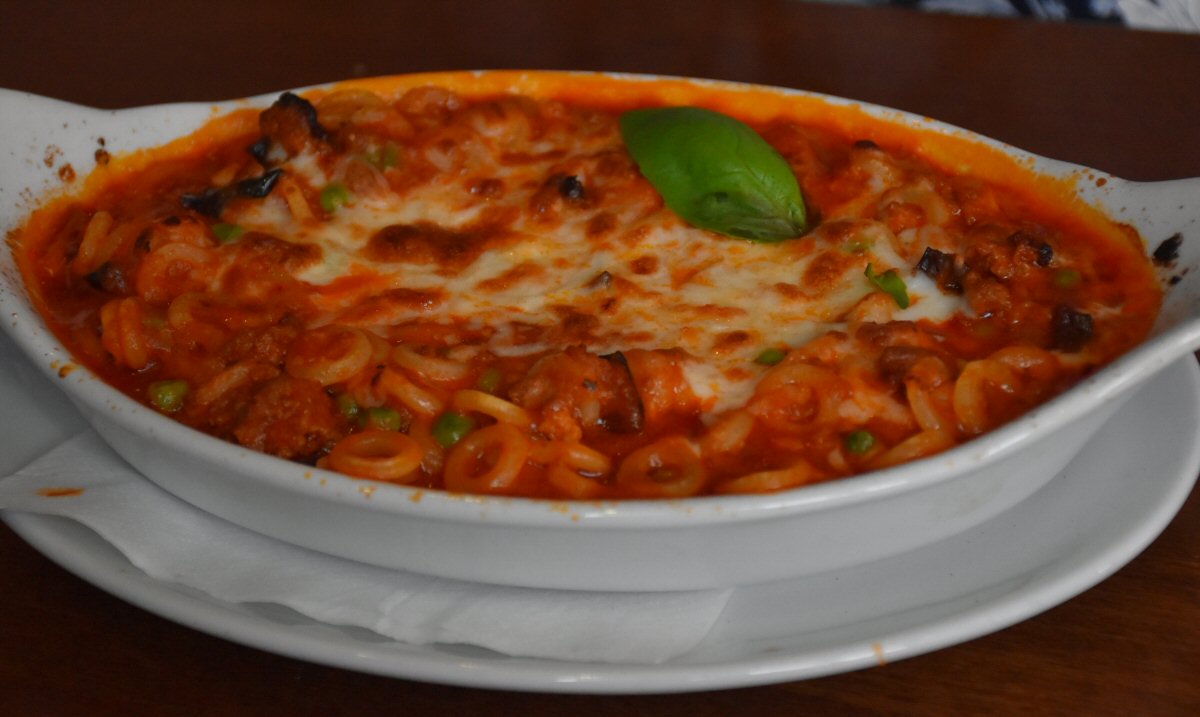 Mummy Bird was also struggling with her Tagliatelle Del Barone – there was a hearty amount of pasta (homemade, btw!), but it was the sheer enormity of the meaty Bolognese that was proving to be tricky. Top quality protein soon satisfies any appetite and when partnered with rich cream and indulgent Truffle elements it certainly conquers any emptiness in a tummy.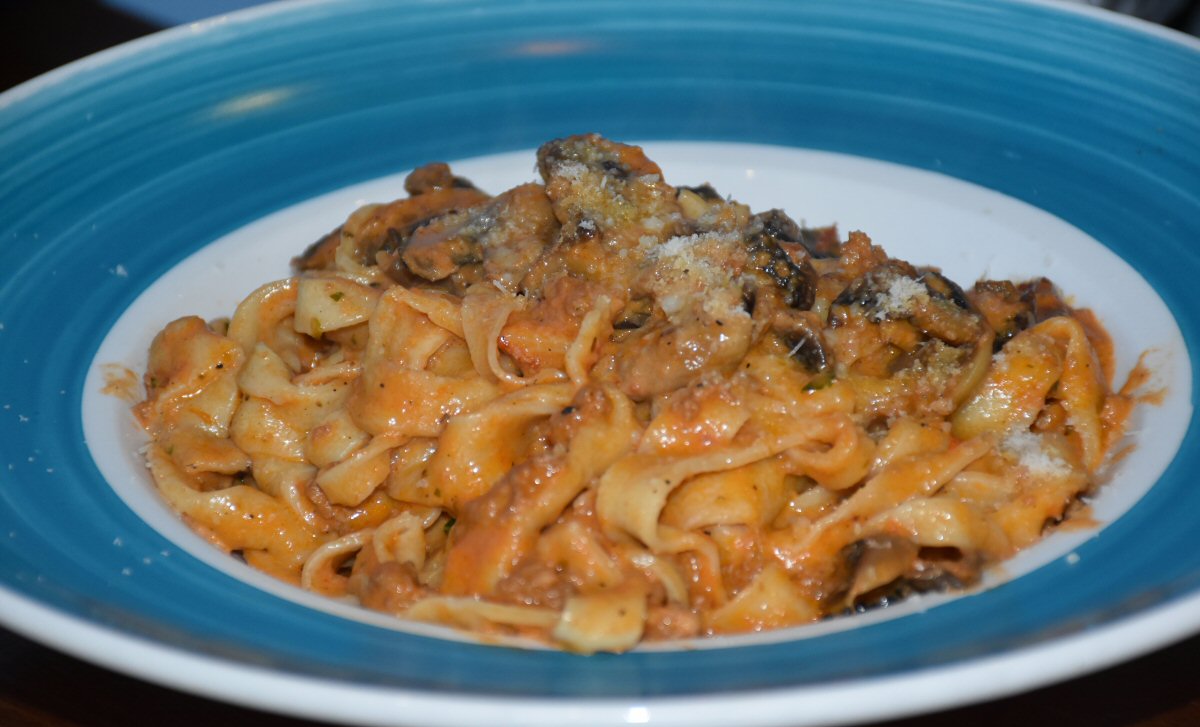 My eyes lit up when I spied the baked deliciousness that I'd chosen; a thick layer of melted cheese had been garnished with fresh herbs for some visual appeal, and when I pierced the top and exposed the meaty underbelly I was rewarded with a gloriously tantalising aroma. The Aubergine had been cut into small pieces that were very similar to the verdant peas in size and both vegetables were lovely and sweet in taste. This dish really did have it all; texture, beauty and complex layers of taste.




Needless to say, Monica received positive feedback when she asked if we were enjoying our food, and took back a trio of squeaky clean plates to the kitchen. We had a little breather before ordering desserts: Tiramisu for Mummy, Cannolo al Pistachio with Pistachio Ice Cream for me and Baba Italiano with cream (switched to Pistachio Ice Cream) for His Nibs – both off the specials board and priced at £5.50.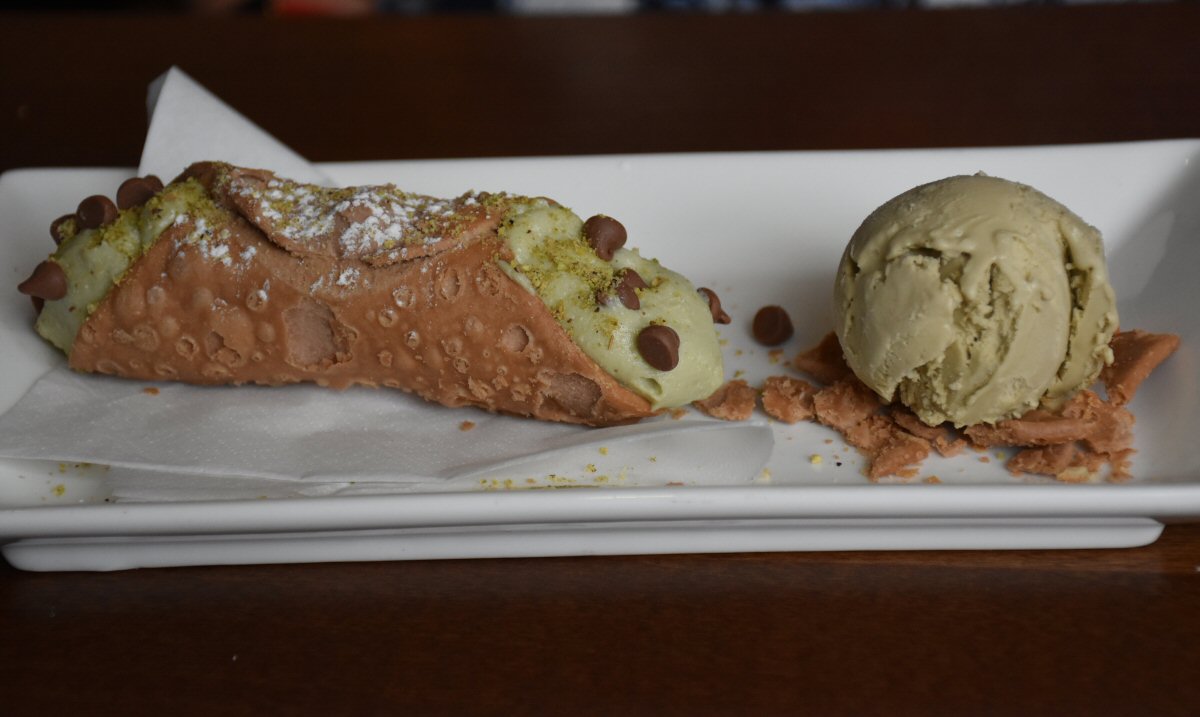 Mummy Bird was an instant fan of Sicily's Tiramisu, revelling in its silky cream, intense coffee hit and generous layer of cocoa on top to deliver that beautiful chocolate element. Tiramisu isn't a complicated dessert, but by golly is it a pearler; same with Cannoli/o: not especially difficult to make, but absolutely superb when done right. Pep fries his pastry dough to golden, super-crisp perfection and then fills it with a magnificent Pistachio cream that not only tastes marvellous but looks pastel-perfect too. Fans of Pistachio (and I am one of them) will appreciate the double-dose of nuttiness in this dessert.




The Man Bird was very pleased to discover that the sponge in his Baba Italiano was lighter than a cloud because he was more than a little full at this point but had been determined to have a dessert! Everything in life is a balance though and in complete contrast to the subtlety of the sponge was the wallop of Rum that soaked it; I think that if I'd held a flame near The Man he would've combusted!

On the menu that night, for the first time, was a Nutella pizza for pudding – I'm sure this will delicious, so if you have it yourself, please let the blog know how it was. We finished up with a black coffee, reflecting on how great it was to be back 'on the scene'. We bid farewell to Pep and Monica and used the hand sanitiser as we left. Hot Wings given to this fantastic, family-run Chesterfield restaurant again – it has a relaxing bistro vibe that will appeal to all family members, whatever their age. To reserve a table simply ring 01246 201749, or book online via the website: www.sicilyrestaurantchesterfield.co.uk
No incentive was provided to visit this venue
read more