A Return Visit To The Lotus Lounge In Alfreton
---
Published On Thursday 1 Jul 2021 by Sticky Beak
See Recent Dining Out Reviews | See All Recent Reviews


The Man Bird and I did a classic 'excellent communication skills between married couples' thing the other night; he thought I'd taken something out of the freezer for dinner, I thought he'd done it. Result? Nothing got taken out of the freezer and so we were scuppered for dinner! Brilliant! Thankfully, His Nibs reminded me of why I'd married him and showed his genius by bagging a table at Lotus Lounge in Alfreton for their all-you-can-eat midweek buffet.
We clearly weren't the only ones skiving off kitchen duties, there were several tables occupied when we arrived! After scanning the NHS Track-n-Trace app and having our temperature taken, we were shown to a table and started tucking into the prawn crackers that were brought over. Both of us ordered bottles of Tsing Tao and turned our attention to the starters section of the buffet menu.




Round one saw us ordering Crispy Aromatic Duck with Pancakes, Satay Chicken Skewers, Yuk Sung, and Spare Ribs in BBQ Sauce. The beauty of having a set number of dishes to choose from means that Chef and his team can cook up a storm in a short space of time, so it wasn't long before a large platter laden with shredded Duck, Cucumber, Spring Onion and Hoisin sauce and a bamboo basket with pancakes in was making its way over to us. As we began to munch on the succulent duck more starters came, out and soon our table was scattered with a smorgasbord of dishes.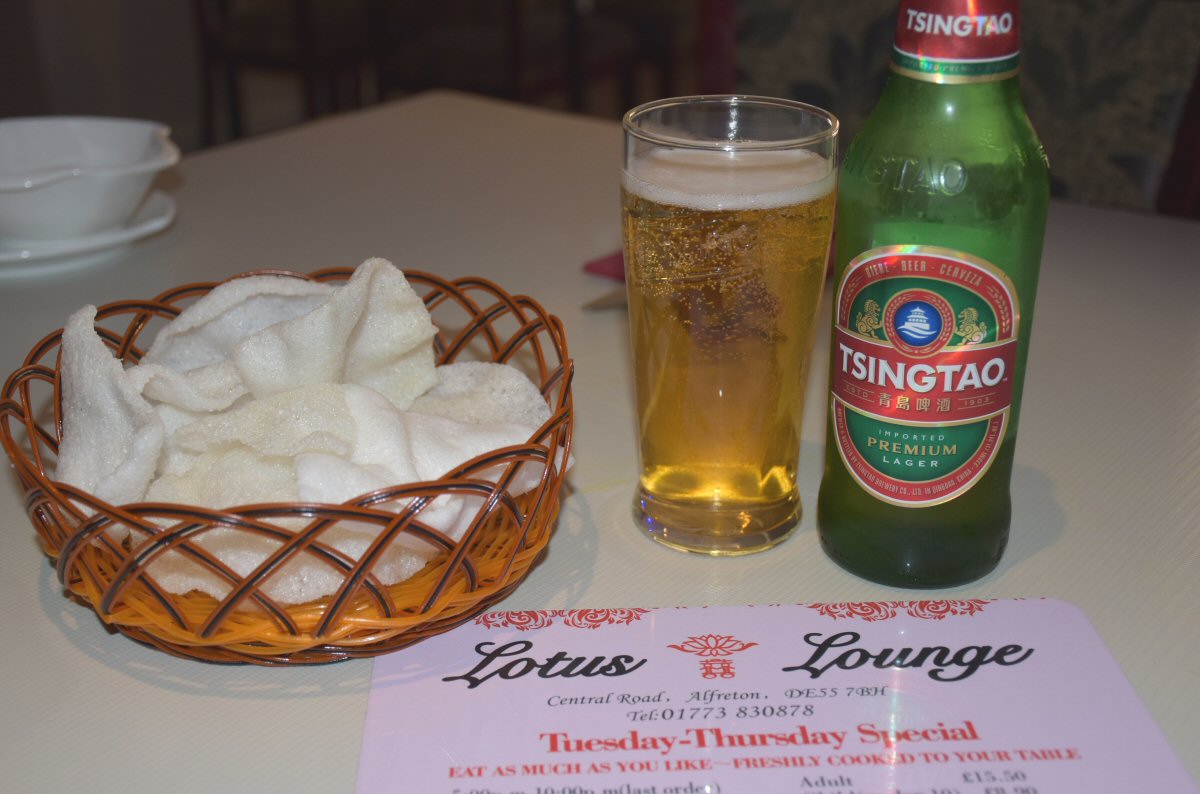 On a warm summer evening it was utter bliss to chomp into cool, crisp iceberg lettuce leaves that were stuffed with a very fine mix of minced meat and nuts and vegetables. In fact, it was so refreshing and tasty that we ordered more Yuk Sung. You can't beat meaty Pork ribs slathered in tangy BBQ sauce and the ones coming out of the Lotus Lounge's kitchens were excellent! I'd forgotten the novel way that the chicken breast meat is flattened and thinned before skewering it at Lotus Lounge and, for a brief moment, thought 'that looks a bit tidgy'. I'd also forgotten that it was very filling!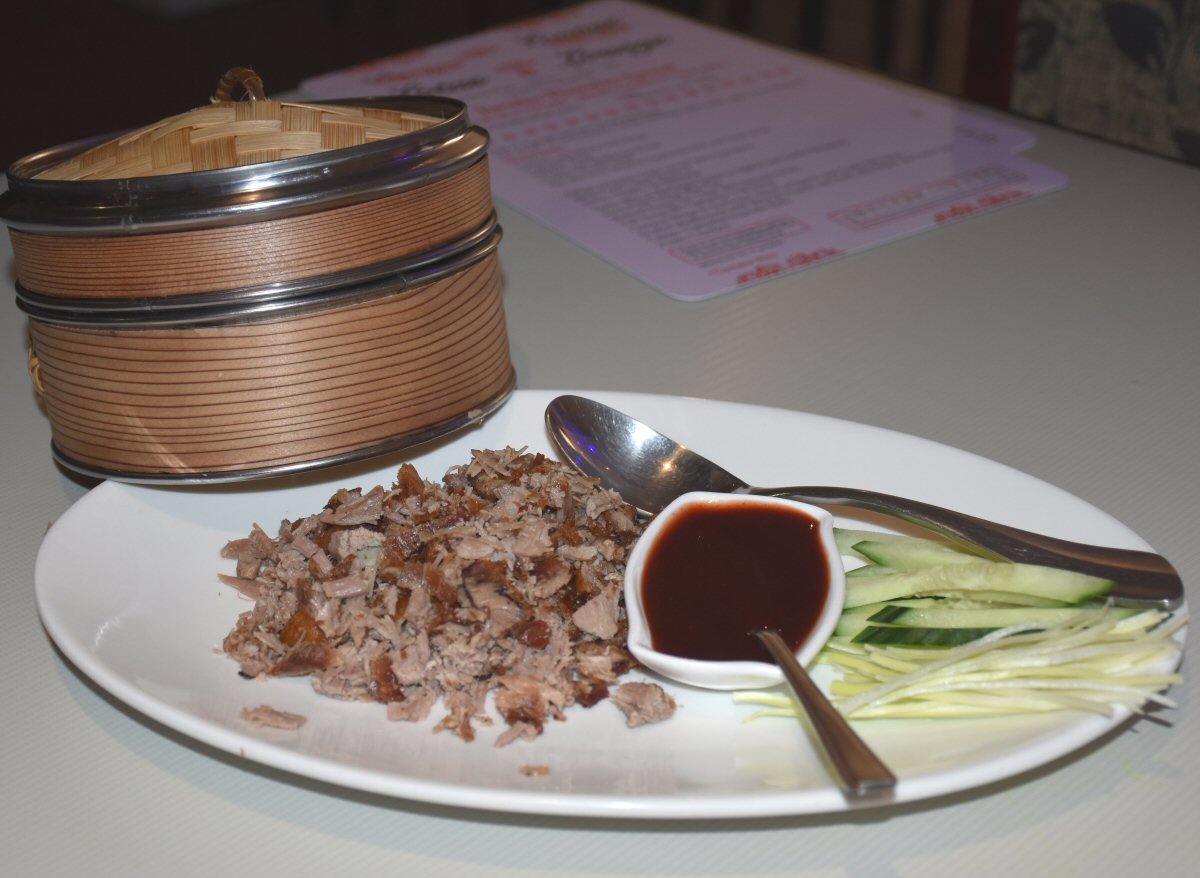 With round one over and done with, we ordered some more morsels from the starter selection: more Yuk Sung (!), deep fried Crispy Seaweed, crispy Vegetarian Spring Rolls and more Satay Chicken Skewers. Lotus Lounge are one of the few places that really do get the Crispy Seaweed spot-on; it isn't at all greasy and yields a wicked crunch as it's popped into the mouth. Just as crispy were the yummy Spring Rolls; stuffed with crunchy vegetables and then fried to delicious perfection – no trace of oil left on them either.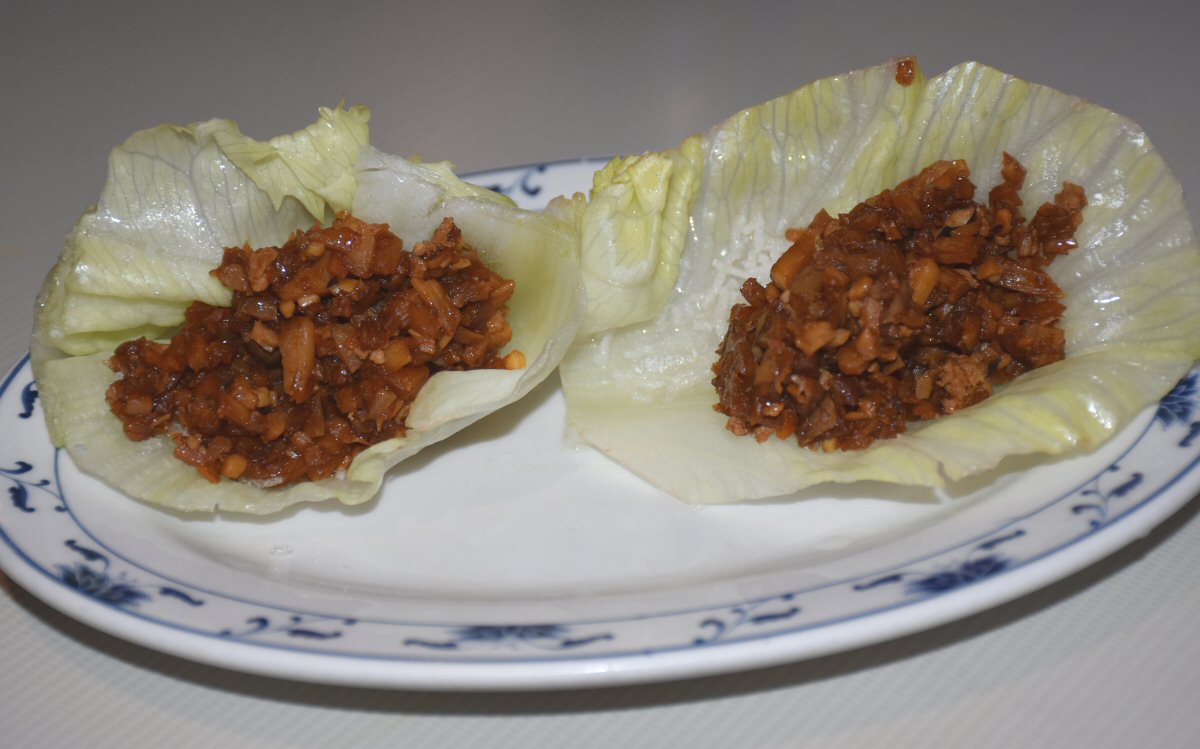 Tempted as we were to go for thirds on the starters and have more Aromatic Duck and Yu Sung, we were also looking forward to sampling some of the mains, so that's what we did! First off we ordered some Green Pepper and Spring Onion Fried Rice, Crispy Chilli Chicken, King Prawns in Thai-style Sambal sauce, and Deep Fried Crispy Mongolian Aromatic Lamb. As with our starters, it wasn't long at all before the first of our mains were being brought out to us. We took the opportunity to order more drinks - all this eating was thirsty work!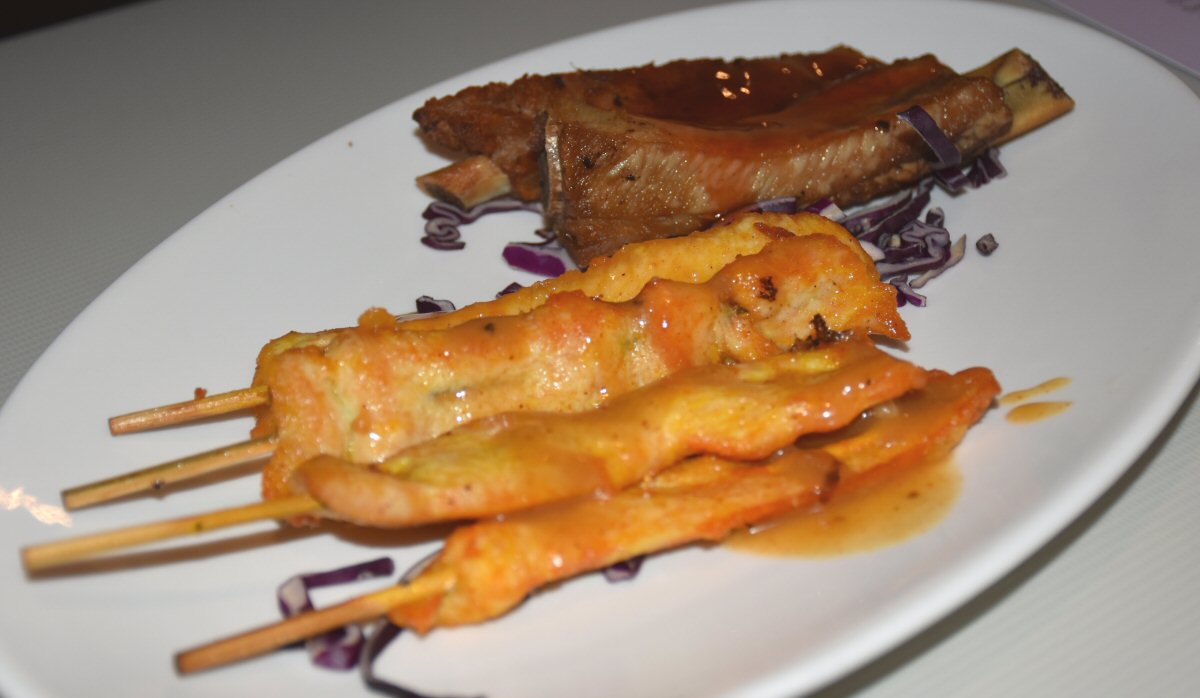 It's only when you haven't had something for a long while that you really appreciate just how much you've missed it, and both of us sighed with joy as we took our first bites of the Mongolian Lamb. The Lamb had a wonderful depth of flavour and a juiciness that let it melt in the mouth, and the contrast between the soft meat and the uber-crisp skin was superb.There is no fancy sauce with the Lamb, and it just doesn't need one; its own juices suffice perfectly well.




The fancy-pants sauce came courtesy of my chosen dish, The Thai-style King Prawns, and boy did this have one heck of a punch to it!! The tingle factor was definitely there, not ridiculously so, but it certainly made my palate sit up and take notice. I was also spoiled for choice when it came to the vegetable component in my dish, too: Baby Sweetcorn, Onions, Peppers and Chinese/Straw Mushrooms were all coated in the marvellously spicy Sambal sauce alongside the Prawns.




His Nibs was also feeling the heat as he tucked in to his Crispy Chilli Chicken, although he didn't get its sting until the second mouthful! The poultry was lovely and moist and coated with a bobbly, crunchy batter that made a beautiful sound when bitten into.

Rice is often underestimated in its role within a meal, but a good, flavoursome Rice element certainly brings a positive slant to an Oriental table. At Lotus Lounge each grain is separate and fluffy and punctuated with an abundance of verdant Pepper slices and flecks of Spring Onion that both lend their characteristic taste to the grain. So good was this humble dish that we ordered another bowl of it when we went for another round of main courses.




We couldn't possibly omit the Mongolian Lamb in our next set of mains, and we also tried the new dish on the menu: Oyster sauce with Beef and Vegetables. This was a gorgeous dish; silky in the mouth and mild in flavour, and the Beef was particularly tender to the bite. For some reason I just fancied the Aubergine in Black Bean sauce and I have to say that I'm jolly glad I had it; I was extremely gratified to see that the porous vegetable wasn't ridiculously oily (as can very often be the case), so the gentle taste could be discerned in the mouth. Partnering the Aubergine slices was a superb, smoky Black Bean sauce that actually was far superior in flavour than you would perhaps expect. The final selection of our main courses was the ever-popular, perennial favourite, Szechuan Chicken and this was wonderfully punchy and sharp on the palate, with the Szechuan peppers making their presence known rather nicely.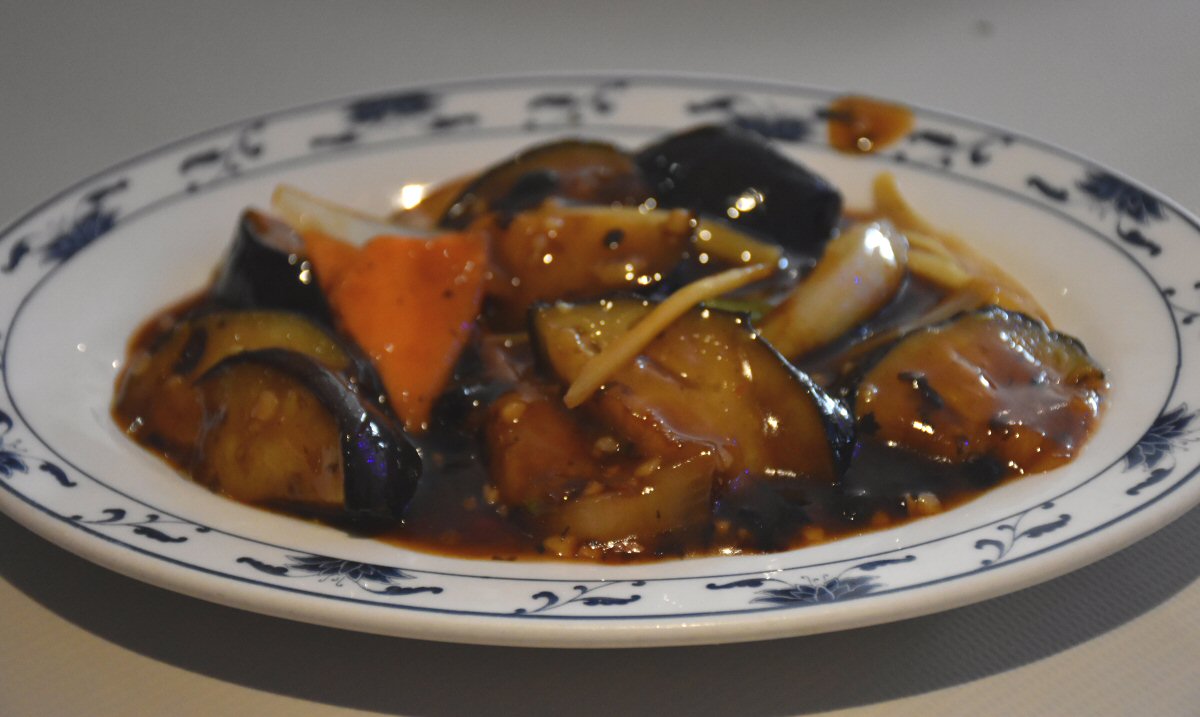 Throughout the evening, several team members checked that we were enjoying our food and brought over fresh plate, napkins and cutlery between the starters and mains. Wherever we looked in the restaurant there were happy faces to be seen and a constant bubble of chatter and laughter filled the space. Again, you don't realise how much you've missed the hub-bub of chatter and groups of people until you experience it once more.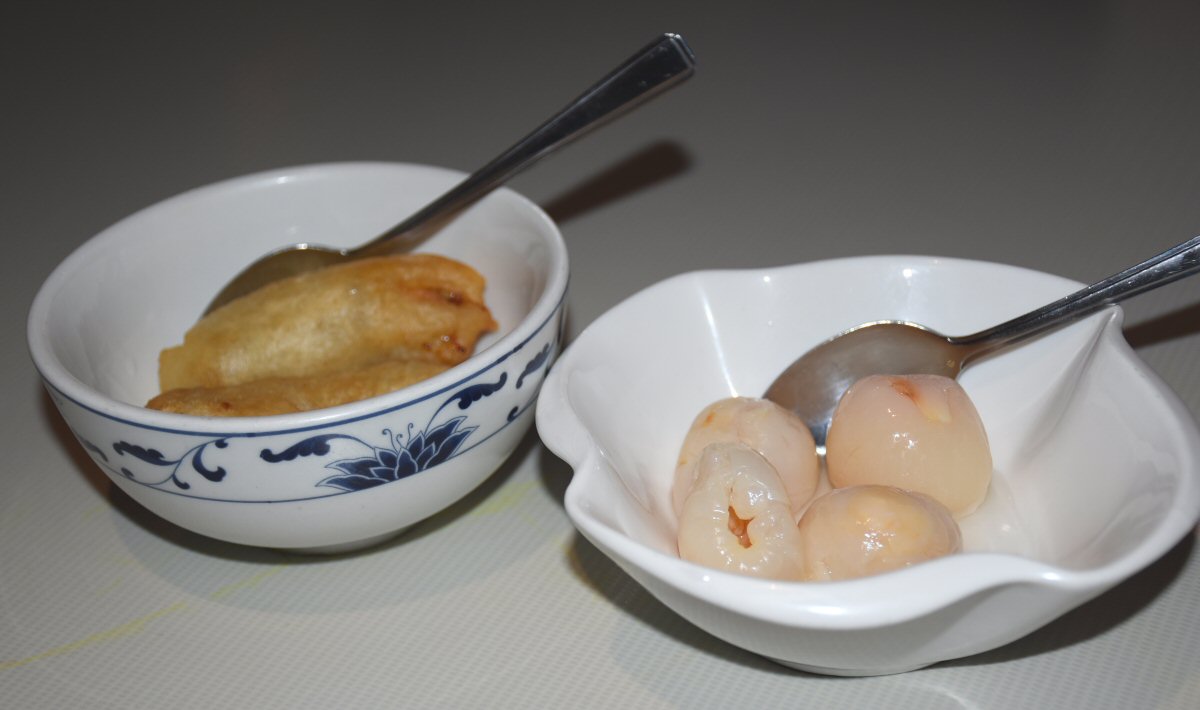 The final chapter of the meal was the sweets: Fritters (Banana, Apple or Pineapple), Lychees or Ice cream. His Nibs went for his absolute favourite, Banana fritter, and I opted for something simple but delicious, Lychees. I appreciate that the highly fragrant flesh and texture of Lychees/ Chinese Gooseberries isn't to everybody's liking, but I just adore them! Paired with plain Vanilla Ice Cream, this quirky fruit brought my meal to a close perfectly. Across from me, The Man was cutting into the golden batter that surrounded the halves of Banana inside. Apparently they were utterly scrummy, and disappeared in a time that Usain Bolt would be envious of!

Midweek evenings, 5-10pm (Sunday -Thursday), the price is £15.50 per adult and £8.90 per child; this increases to £17.50 and £10.90 respectively on Friday and Saturday. There is also a Sunday Lunch buffet available which is priced at £10 per adult and £8 per child, Noon-4.30pm.

Hot Wings awarded to this great Alfreton restaurant again, we were happy to be back.
No incentive was provided to visit this venue
read more