Out For Dinner At Dolce & Salato Italian Restaurant, Derby
---
Published On Sunday 13 Jun 2021 by Sticky Beak
See Recent Dining Out Reviews | See All Recent Reviews


Now that lockdown restrictions are being eased, His Nibs and I can get out-and-about a bit more, and boy are we enjoying it! There has been a long list of venues we've been wanting to visit sat on our desk for about a year, so it's nice to be able to start and work our way down it. One such venue is Dolce & Salato in Derby's Cathedral Quarter; an Italian restaurant owned and run by Lorenzo Monterro. Whilst the daily changing menu is small in its offering, the flavours are anything but, thanks to Reno's former Michelin-Star experience.
We parked the jalopy up at Parksafe and had a leisurely stroll over to the Cathedral Quarter, taking in a cheeky pit-stop at The Worm Has Turned (a new cafe that we hadn't seen before) for a pre-prandial G&T and lager. I have to say that it was lovely to just grab a pew, so to speak, and watch the world go by – well folks going home after work, actually. Having finished our drink (the guy working there was really lovely, by the way) we moseyed along the street to Reno's gaff and, after using the sanitiser and signing the book, we introduced ourselves and were shown our table.




I was surprised by the compactness of Dolce & Salato.... until I saw someone go to a table downstairs. The stairs to the lower dining area are cleverly concealed by a wall adorned with NY-inspired wallpaper, which definitely means the upper, pavement-level space has a homely, cosy feel to it. I loved the open kitchen; not only do you see all the action as it happens, you also get the wonderful aromas of the dishes wafting around you. My mouth was proper watering! Reno doesn't have a license to sell alcohol, so it's a BYO bottle establishment; they do, however, sell a range of soft drinks for those who abstain or are the designated drivers for the evening. We asked for a bottle of water for the table and a large, rose hued bottle of chilled water and a couple of glasses soon appeared. Other than our glasses, water and bottle of wine the table was simply set: plain cloth and cover, single candlestick with flickering, pale grey candle, shining cutlery, and black napkin in the wine glasses.
Reno and his team have cleverly arranged the tables so that folks are back-to-back or seated at angles to each other so that the 1-metre rule is still observed, but maximising the number of covers they can offer, and trust me they need every single table to meet demand! The evening we went there wasn't a single table left on either level, and when Lorenzo came over to chat he said that they were full for the rest of the week and the next couple of weeks were very busy too.

As previously mentioned, the menu changes daily which means produce is always the freshest it can be (and seasonal), but it also means that Reno, as sole chef, can keep his standards exceptionally high. For starter I had the Octopus Salad, The Man had Gnocchi Alla Reno and we could see them being cooked thanks to our position.




Soon Ester was placing the pair of stylish white platters before us and bidding us to enjoy. My plate was a veritable riot of colour, the very epitome of summer and the fresh smell of herbs hit my nostrils. From across the table came the gentle smell of His Nibs' Gnocchi, wafting on the tendrils of steam that emanated from the plate.

The pieces of seafood were tender and soft against my bite, their sweetness and fragrance illuminating my taste buds. Julienned carrot, mixed sweet peppers and red onion added crunch and texture to this delicious starter, and I was pleased that Reno had sliced the onion so finely that it provided a whisper of its characteristic taste and didn't overwhelm the other elements. Cherry tomatoes added their notes to the dish and were complimented by garlic and fresh Basil and Parsley.




His Nibs was tucking into his Gnocchi with relish and as I tried a bit I could see why; the small potato dumplings had been expertly drained so that no trace of water remained and they were cooked perfectly al-dente. I know, you would expect nothing less from such an experienced Chef, but it does still happen on occasion - not here though! The Gnocchi were cooked with Calabrese spicy sausage (Nduja) and there were less obvious slices than you would perhaps expect, but Reno also incorporates it into the sauce so you certainly don't miss out on the taste in any way, shape or form. Partnering this assertive flavour are the equally robust flavours of Gorgonzola, Brandy, and Parmesan, with cream binding it all together in harmony. The Man Bird described his dish as 'melt-in-the-mouth' and was enraptured with the tingle that crept over his palate as he progressed through the plate of moreishness before him.

Ester had come to check we were enjoying our food and was smiling as she took back a pair of clean plates to the kitchen. As we'd been eating the starters more and more people arrived to dine, and soon the space was filled with a stream of conversation and laughter; I can't tell you how fantastic it felt to feel such energy again – it seems such a long time ago that we were all so carefree! Chef was like a conductor before a symphony orchestra, rotating pans, plates and utensils as he conjured up dish after dish, seemingly with ease, whilst Ester and the other young lady serving that night were continually moving to tables delivering his morsels.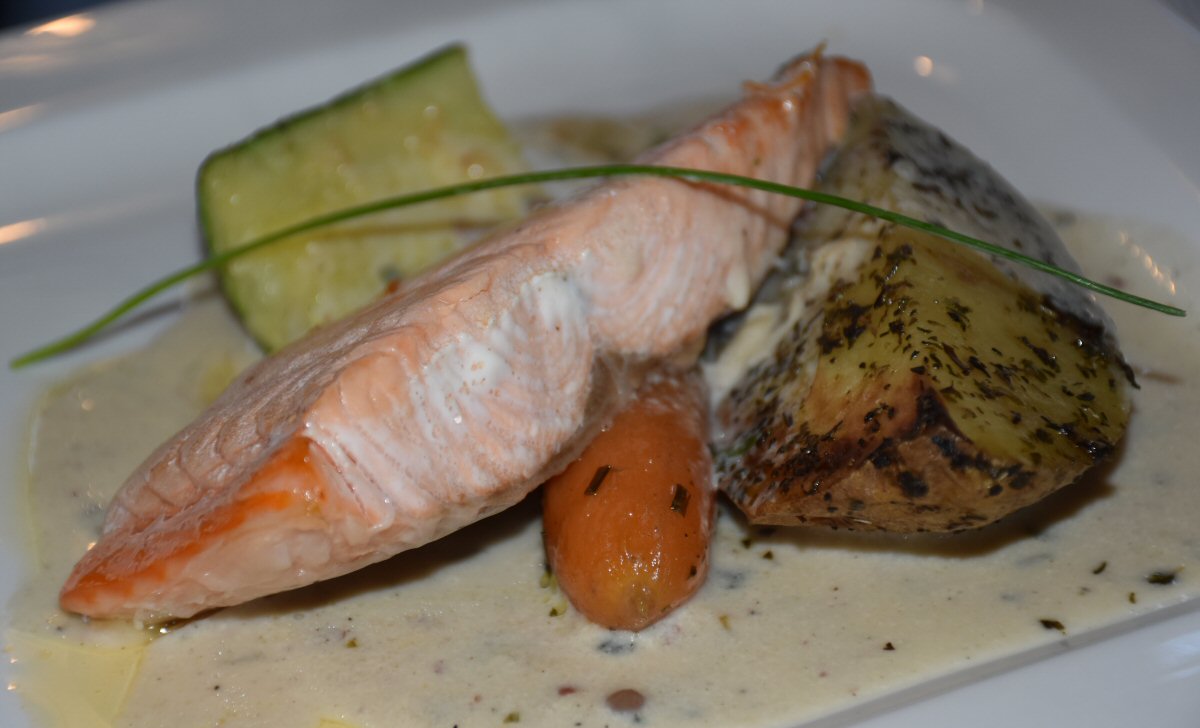 Continuing the marine theme, I ordered Salmon fillet with Pink Peppercorn, Rosé wine and Tarragon sauce for my main course, with Him Indoors opting for Sirloin Steak with Gorgonzola and creamy Black Truffle sauce. Fresh seasonal vegetables come with the mains as standard so you don't have to order separately.

As with the starters, the mains came exquisitely presented on white platters and after taking the photos we both brandished our cutlery and dug in. His Nibs was mightily impressed with his steak, both for the depth of its flavour and for its tenderness; the ordinary dinner knife was more than sufficient to cut through its fibres. The earthy notes of Truffle came through perfectly; clearly discernible without dominating the landscape of taste, the dairy components softening the overall effect in the mouth, cosseting the cheeks and lingering on the tongue marvellously.




I was presented with a large fillet of pale pink, fresh Salmon whose fragrant flesh had been crowned with a bouncy pink peppercorn, wine and Tarragon sauce, and I have to say that it all married superbly together. My palate was quite mesmerised by its subtle, yet multi-layered tastes and delighted in identifying each elements character: bright pepper, sweet wine and bright, gently anise Tarragon. Each piece danced smoothly alongside the fish's own character to produce a wondrous dish that really was a joy to eat.

Both of us had a quarter of a waxy variety of potato that had been skilfully seasoned and cooked to render it effortless to bite but firm enough to maintain its shape when cut into. Both the Carrot and Courgette were still-firm to the bite without being tough at all; so good were they that The Man even ate the Courgette, which is a first!

Yet again, Ester cleared away clean plates and thoughtfully gave us a break before asking if we would like dessert. No prizes for guessing what I ordered: yep, Tiramisu! The Man chose Double Fudge Chocolate Cake with Sambuca.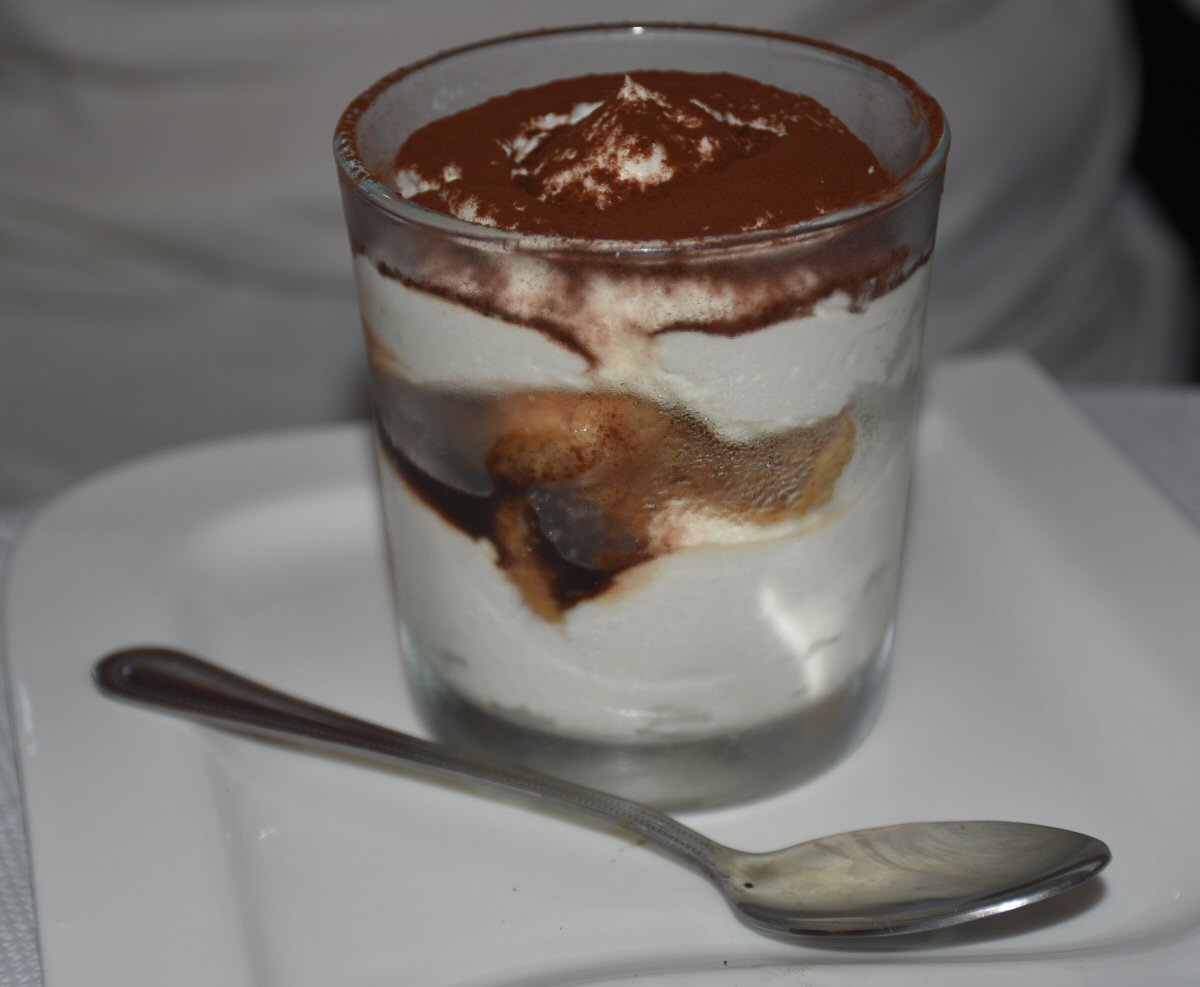 Both desserts came in clear, stemmed pots; His Nibs' dessert had a Strawberry garnishing it, my Tiramisu had an extravagantly thick layer of Cocoa powder adorning it. Now, regular readers of the blog will be familiar with the tale of my nursing days when an Italian lady named Giovanna used to bring her Tiramisu for us to have on night-shifts; I have yet to taste one that bests hers. I will never publicly say that my 'Italian Mama' has been beaten, but I will go so far as to award Reno equal first status! This didn't just 'pick me up' (the translation of Tiramisu), it had me dancing amongst the stars, way up in the sky! Reno doesn't rush the process of combining the mascarpone, whipping cream and icing sugar; instead he takes his time and the result is a rich, indulgent concoction that somehow doesn't weigh heavy in the belly. Coffee and Amaretto were distinct flavours, as was chocolate too; making this a classic finish to what had been a refined Italian meal.




The Man Bird was grinning like the cat that had got the cream with his choice of dessert: if you want a seriously sumptuous, lavish treat then this.is.it! Sambuca-laced fudge lingers seductively on the tongue, and the light, airy cake has a good wallop of chocolate taste that hits the sweet spot with every mouthful. Utterly glorious, that's all he could say!




We finished off with our customary black coffees, and reflected on what a superb experience we'd had at Dolce & Salato in Derby's Cathedral Quarter. Obviously the food was excellent, the service had been every bit as good, and the price for 2 courses being £30, 3 for £35 per person represents (we feel) really good value for money. Hot Wings very happily given to Lorenzo and his team!!

If you're in the city then why not pop in at lunchtime too? Dolce & Salato is open as a cafe and deli 11am-3pm, making it the perfect place for a light lunch. I would strongly advise booking ahead to reserve a table, it was fully booked for the week ahead when we went, and demand will only grow as more and more people eat out again.
No incentive was provided to visit this venue
read more