A Groupon Deal At Marco Pierre White Steakhouse, Sheffield
---
Published On Thursday 12 Nov 2020 by Sticky Beak
See Recent Dining Out Reviews | See All Recent Reviews


The Man Bird's only gone and done it again; bagged us a fab Groupon deal, that is! This one was for a two course meal for 2 at any of the Marco Pierre White Steakhouse Bar and Grill's 17 locations for a measly £24.95. Originally we'd planned to visit Nottingham again but thanks to bloomin' Covid-19 it hasn't re-opened as yet, so we opted to go to the Sheffield location instead which is at the Doubletree by Hilton hotel.
Parking was a doddle - no surprise there, with it being a hotel with its own private facility! – and the restaurant is clearly visible from the outside. We donned our facemasks in accordance with current covid rules, and gave ourselves a good dousing with the hand sanitiser at the entrance. A lovely young lass welcomed us, asked if we'd got a reservation, and then showed us to our window table.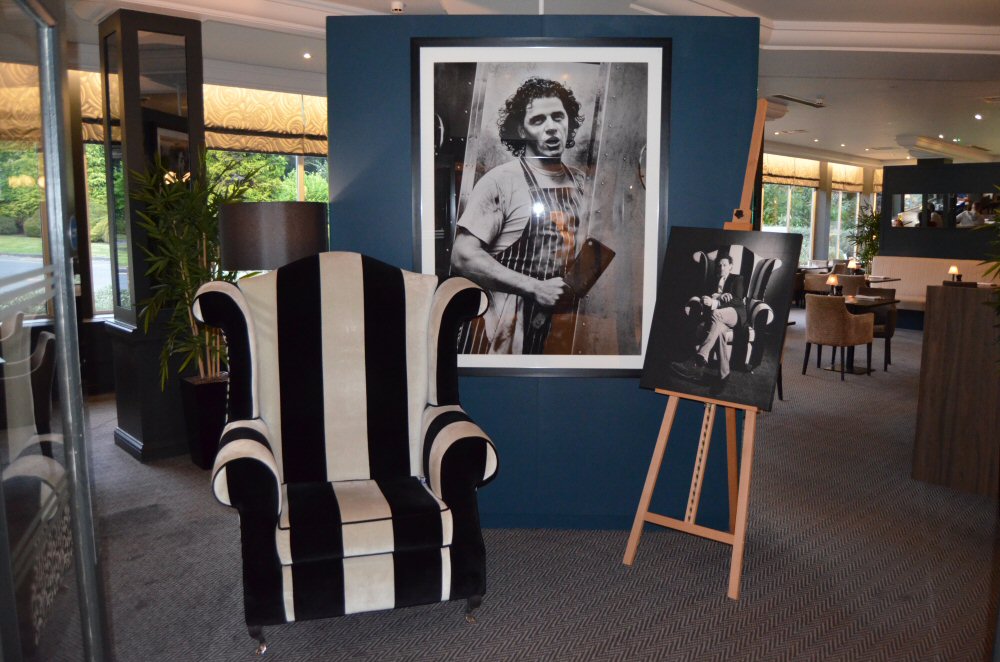 It goes without saying that the interiors of Marco Pierre White's establishments are swanky; the man himself is rather dapper so it follows that his style will trickle down to his restaurants. You can't miss the iconic black-and-white striped, high-backed armchair in the entrance either; I love these (though not so much the reportedly hefty price tag of 10K!) and every location has them. The rest of the interior follows the same monochrome palate with shades of grey added in as appropriate, such as in the black and grey herringbone carpet.

Darkwood tables are paired with comfortable mid-back tub chairs in complimentary tones and set with simple silver cutlery. On the walls there is a selection of black and white photographs depicting Mr MPW schmoozing with various other celebs and the modern lights cast a nice glow around the space. Each table has its own little free-standing lamp for extra light too and, apart from a pristine white cloth napkin and the salt and pepper mills, is the only adornment on the table.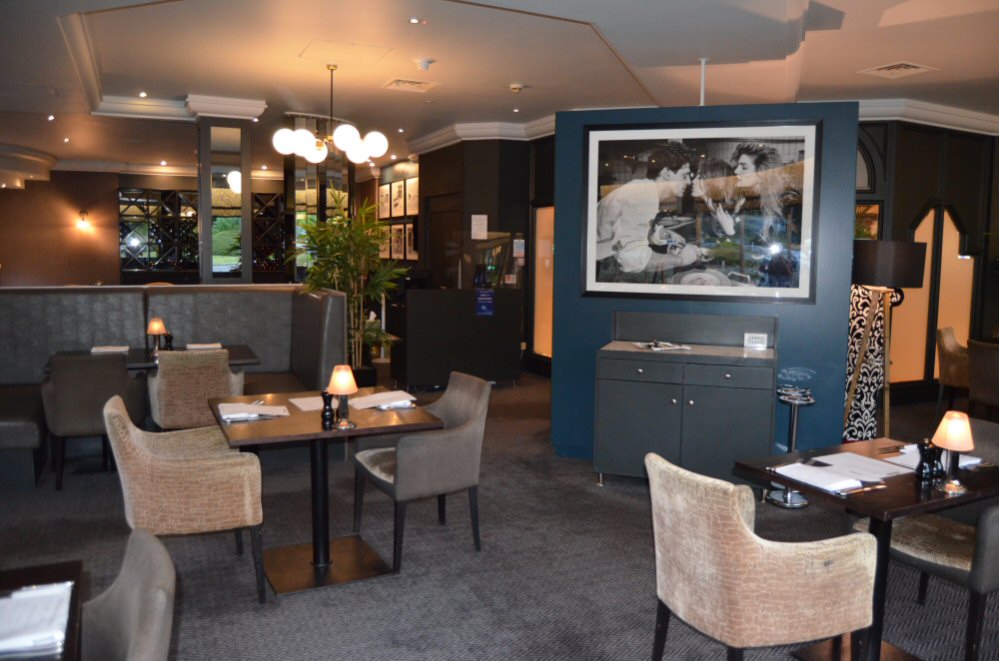 The wine list is pretty impressive, and very descriptive; if you're new to wine or want to try something different than your usual tipple, then this is a very handy feature. His Nibs settled for a pint of Poretti lager, and I had a large glass of Merlot instead of my usual Malbec (of which there were two choices). Our server came to take our food orders, asking if we wanted any Olives or Bread to nibble at whilst we waited; we didn't, but did accept the offer of water.




There wasn't much on the starter selection that tickled our fancies, so we opted for main and dessert as our two courses. I had the Butcher's Steak and Chips and The Man had Mr Lamb's Shepherd's Pie, followed by Summer Fruits Poached in Sparkling Wine and Dark Chocolate Brownie with Milk Ice Cream respectively. We were the first diners in the restaurant, but it soon had a trickle of others coming in, with there being perhaps 7 or 8 tables taken when we departed. Not wanting to be overly nosey, I did discern that the majority of our companions were also taking advantage of the Groupon deal ,or at least opting for the set menu option (2 courses for £17.50, 3-4-£22.50) rather than going a la carte.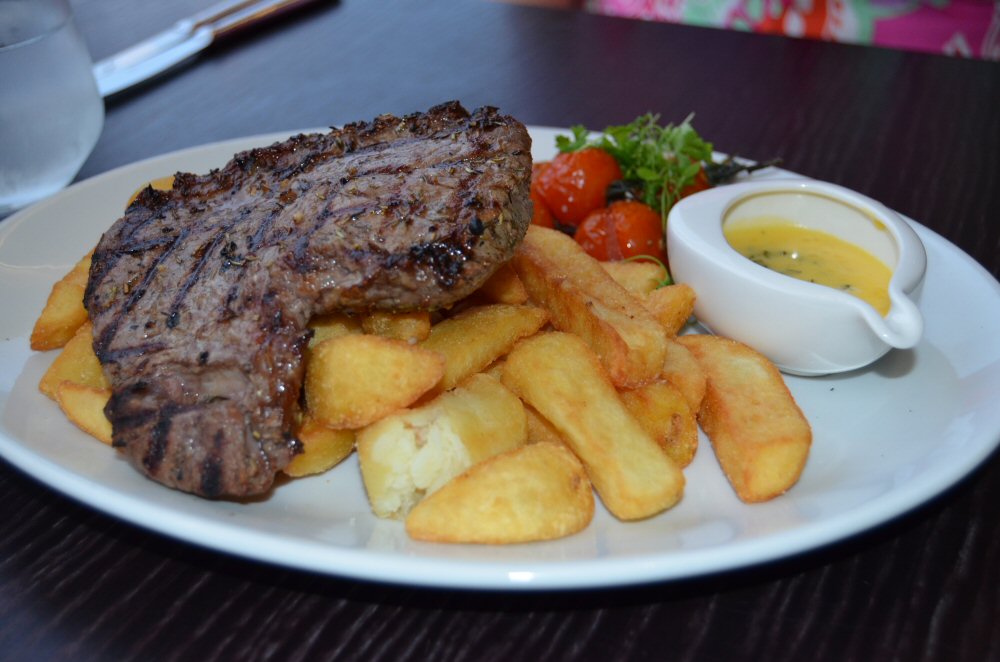 My steak was just amazeballs, I have to say. Incredibly juicy and moreish, with a superb depth of flavour to it that had my taste buds jumping for joy; I could have eaten this time and time again. The béarnaise sauce was in a separate little jug and flecks of green Tarragon could be seen amongst its sunny hue. Béarnaise has a lovely creamy, butteriness to it that coats the tongue and cocoons the palate and the one served from MPW's kitchen at this Sheffield venue of his Steakhouse Bar and Grill was just glorious: the perfect accompaniment to steak that it is meant to be.

Super sweet Piccolo Tomatoes had been left on the vine and roasted slowly to concentrate all their wonderful taste, and as I bit into one it bounced like Tigger on my tongue, imparting its summery optimism as it did so. A good steak demands the best in chip companions and, again, MPW delivers. Crispy outers revealed gorgeously soft, powdery inners that melted in the mouth and not a trace of grease or oil could be tasted. This had been a brilliantly executed steak-n-chip meal; definitely one of the better out there.




His Nibs was just as smitten with his choice of Mr Lamb's Shepherd's Pie. The top layer was a wonderfully deep layer of creamy egg-enriched mashed Potato that just sang to the soul with its indulgence. Under this blanket of yumminess was a mass of stupidly rich tasting minced Lamb which I defy anyone not to like (vegetarians and vegans excluded, obvs!) with its incredibly deep taste and silky gravy. If there were any vegetables cooked in with the Lamb they were microscopically small, but this was a plus as it meant the Lamb really did take centre stage – which it most definitely was born to do!

The final flourish to this mesmerising dish was the Garden Peas: not only were they beautifully sweet, they remained nice and hot until the very last one thanks to the genius idea of serving them in a dinky (but still very weighty!) cast iron pot.

Our server had come to check that we'd been happy with our meals, and was pleased to see a pair of clean plates when she came to clear away. After taking the plates back to the kitchen, she returned to set out our dessert cutlery and checked to see if we needed more drinks.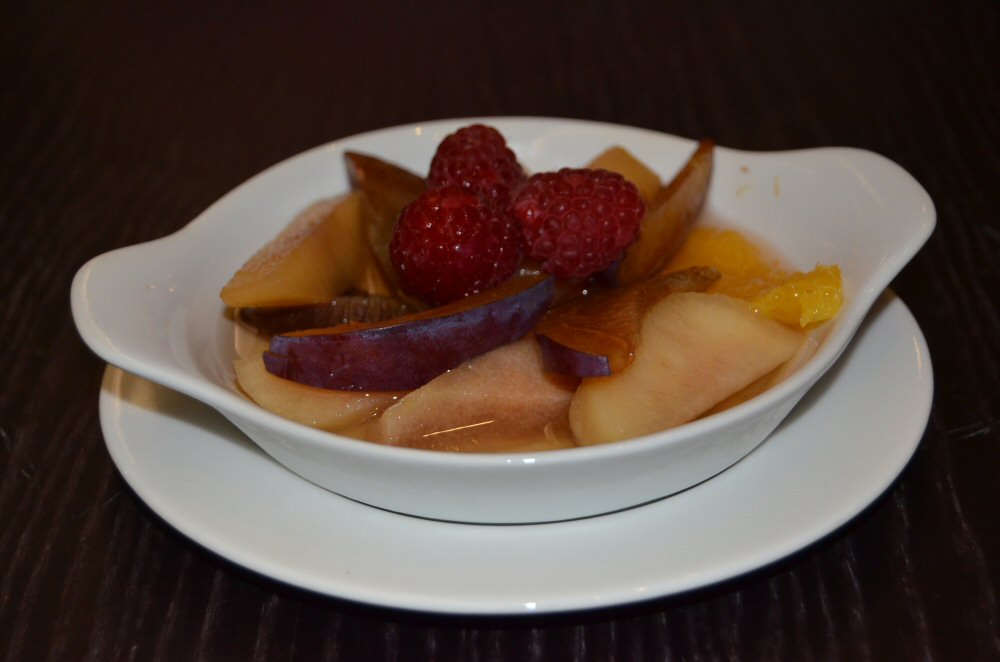 We didn't have long to wait for our sweet course and duly got to work. Now, I don't know whether it was BoJo's latest round of increased Covid measures or the decidedly cooler weather that had made me feel a bit 'meh', but I was a bit under-whelmed by my choice of dessert. Don't get me wrong, the fruit was all poached perfectly to retain a little texture and not dull its taste - and I did enjoy the combination of Orange, Apple, Plum, Pear and Raspberry – but I didn't find that the poaching wine particularly brought anything to the party, so to speak. I would also have liked there to have been a bit of decoration to add to the presentation; there were no fresh herbs or edible flowers, it was literally just the fruit slices in a bowl with the poaching liquor.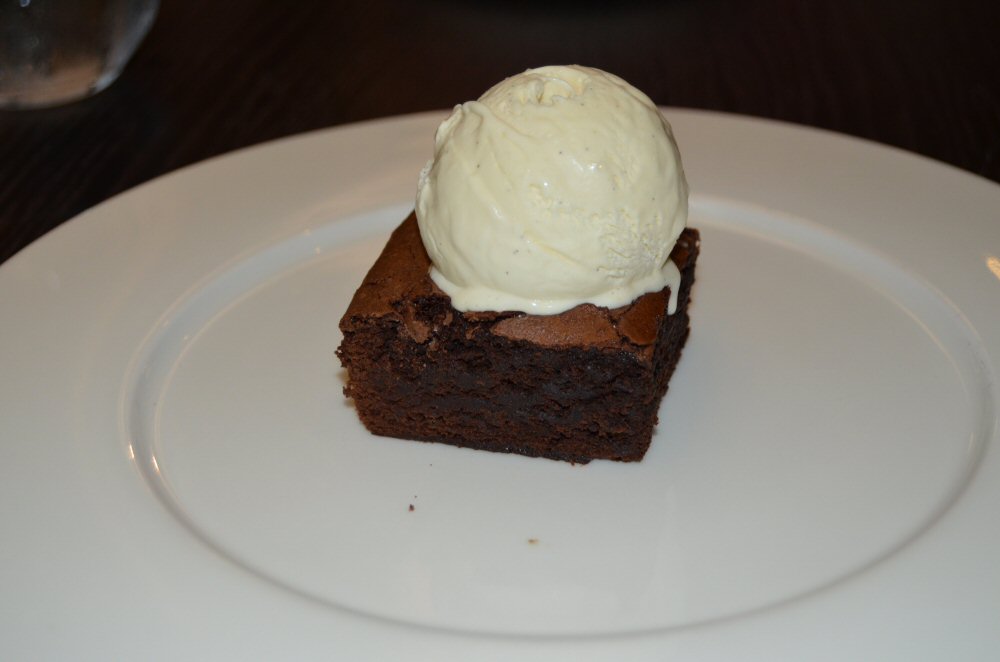 The same lack of wow factor was evident in The Mans choice of Dark Chocolate Brownie and Milk Ice Cream. Maybe MPW goes for the minimalist/pared back/ industrial look for its desserts? I don't know, but it just wasn't floating my boat that particular evening and just wasn't as appealing as the main courses had been. Go and judge for yourselves though – I always say that the blog is my subjective opinion and that we all like different things. Not to be a complete 'Debbie Downer',

I'm pleased to report that the Brownie was fantastic in terms of texture and taste. You couldn't wish to find a richer, more cocoa-indulgent dessert than this one and chocoholics everywhere will rejoice if they sample this morsel. Indeed, The Man Bird had that grin on his mush that told me he was thoroughly enjoying every single crumb of it! The Milk Ice Cream was delicious in its creamy luxury and simple flavour; anything too complex would've detracted from the splendour of the Brownie, but as it was it just added to the overall experience of this dessert.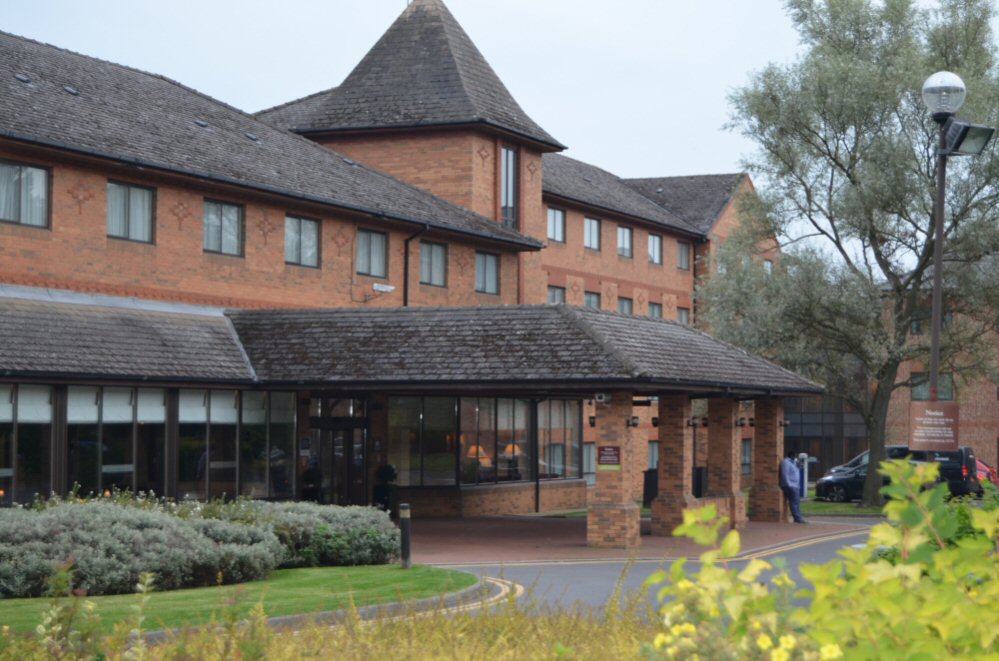 As we put our spoons down, we sat back happily in the comfort of the chairs and chatted about the lovely evening we'd had. As usual, we hadn't stopped talking all evening and the time had crept up on us, so it was time to bid farewell to Sheffield and come back over the border into the 'Shire. I'm going to award Hot Wings to this venue as I think that not to do so just over the lack of presentation in the desserts would be churlish and very mean-spirited – and at the end of the day it didn't detract from the flavour of the food. And as I say, it was probably Bojo or Mother Nature's fault that I was mardy anyway!

Given that the Marco Pierre White Steakhouse Bar and Grill is attached to the Doubletree by Hilton Hotel, I would recommend booking ahead to reserve a table; you never know if there's going to be a flurry of folk descending into the restaurant!
No incentive was provided to visit this venue
read more