Dinner At The Bulls Head, Belper Lane End, Belper
---
Published On Wednesday 14 Oct 2020 by Sticky Beak
See Recent Dining Out Reviews | See All Recent Reviews


The Man Bird has done it again; bagged us a fab Groupon deal, that is. This time it was for two people at The Bulls head at Belper Lane End to enjoy an 8 oz Flatiron Steak and large glass of wine each for £29. Even better though was the fact that an extra Groupon discount came up and we actually paid £20.30 – back of the net, get in!!!
If you haven't visited The Bulls Head before, you're in for a treat; this is a superb example of a traditional country pub that dates back to the 18thcentury. The car park is lovely and big – so big that coaches can use it, and motor homes wanting somewhere to stop overnight (with prior arrangement, obviously don't just rock up unannounced!). Dogs are more than welcome here and we saw the water bowl down in the bar area, filled and ready for use; treats are also available (foc) if you allow your hound to partake of them.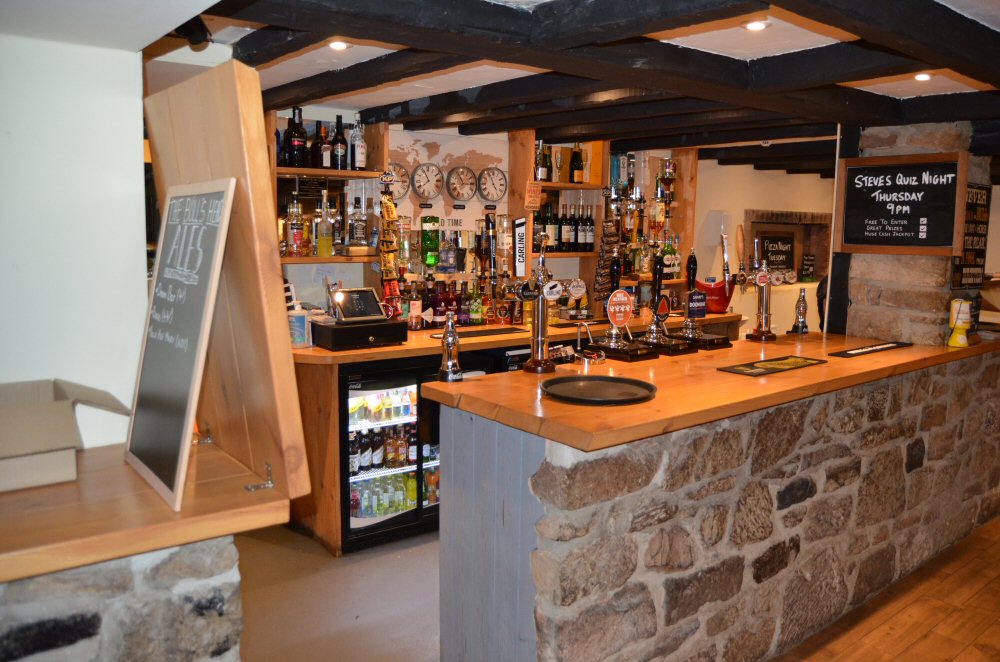 As we stepped inside there was a table laden with hand sanitiser and a book to pop your contact details in for track-and-trace purposes, and the lady behind the bar welcomed us in warmly and confirmed our reservation. The bar is a proper sturdy affair in keeping with the traditional feel of the space and they serve a variety of real ales, as well as a large selection of wines, Gins and spirits. You are allowed to eat in the bar area, but we went through to the restaurant (open until 9pm daily, closed on Mondays) at the rear of the venue.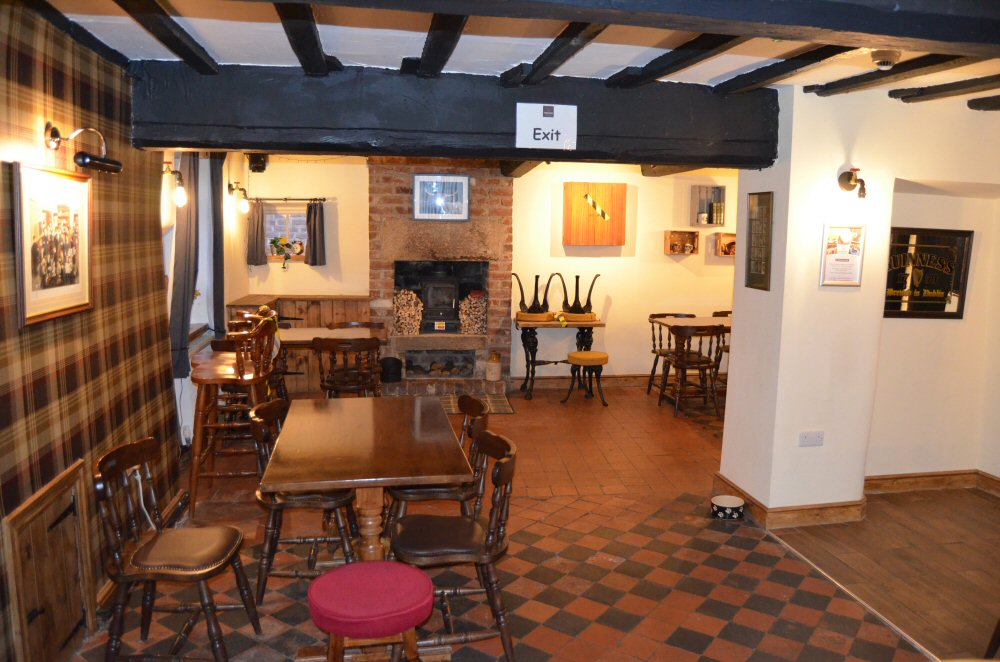 The restaurant is lovely: mid-tone wooden floors, high ceilings (white with contrasting dark beams) and pale wood tables with high backed, padded chairs in rich burgundy. Fairy lights and faux Ivy are twisted around the pillars to help disguise their starkness and soften the look and to be fair, it did look a little ethereal as the light began to fade. A lovely young lady came to take our drinks order: Malbec for me, Pinot Grigio for The Man.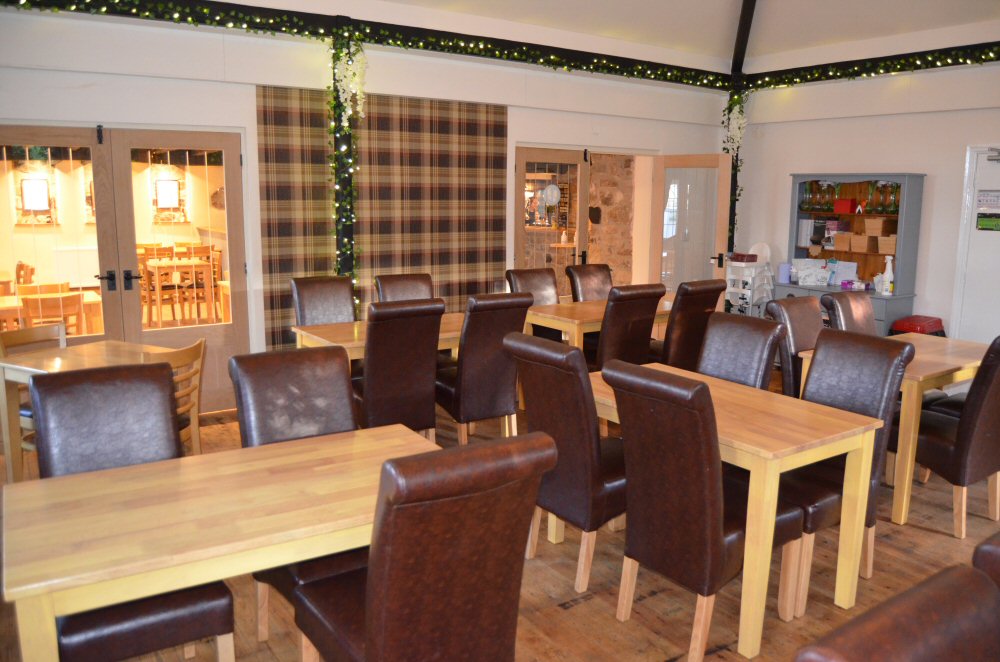 It doesn't take much to tempt us as you know, and I was absolutely chewing my knuckles with hunger (being back at the gym is hard work y'know!) so we ordered starters: Swedish Meatballs in a Chilli, Garlic and Tomato sauce (His Nibs) and Deep Fried Brie with Garlic Mayo (moi), both £4.95. The kitchen team got right on it and it wasn't too long before the lovely young mask-wearing lass was placing our food in front of us, and boy did it look and smell good!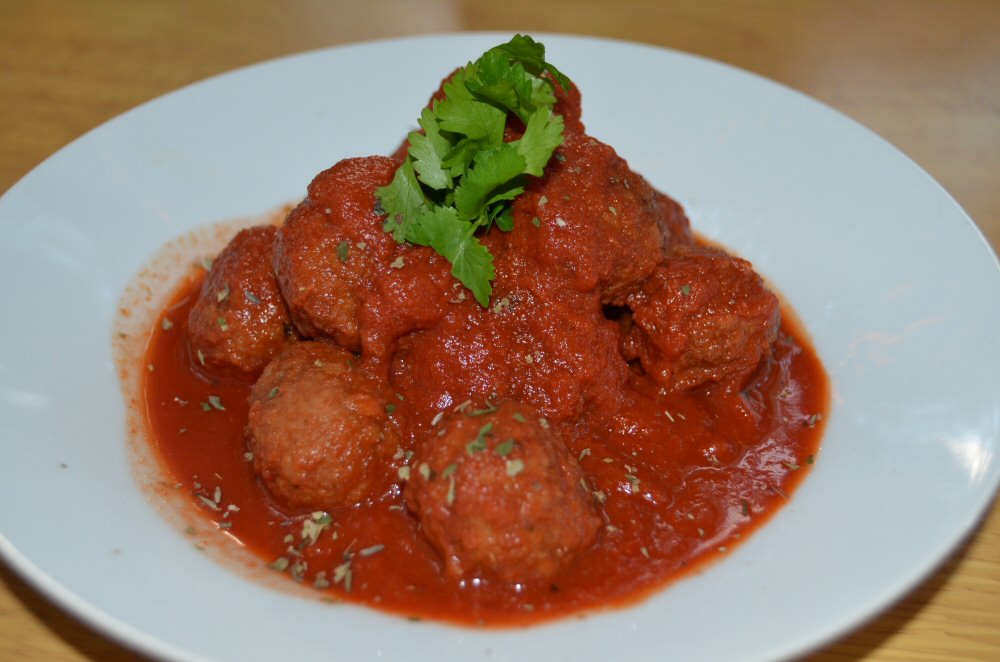 No less than eleven (!) mini meatballs were nestled in a deep lake of sauce and His Nibs tucked right in. The small spheres were ultra smooth in texture, a bit different to many of the meatballs out there; they tasted delicious and had been seasoned nicely. You can't beat a good, thick Tomato-based sauce to warm the belly and on the colder-than-seasonally-usual evening this was hitting the spot for The Man Bird. There was a nice gentle heat from the chilli that came creeping through after a couple of seconds on the palate rather than walloping it and the same could be said of the garlic too – no honking bed breath for me to suffer from Him later on, bonus! Fresh Coriander garnished the meaty pile, another element to freshen the breath.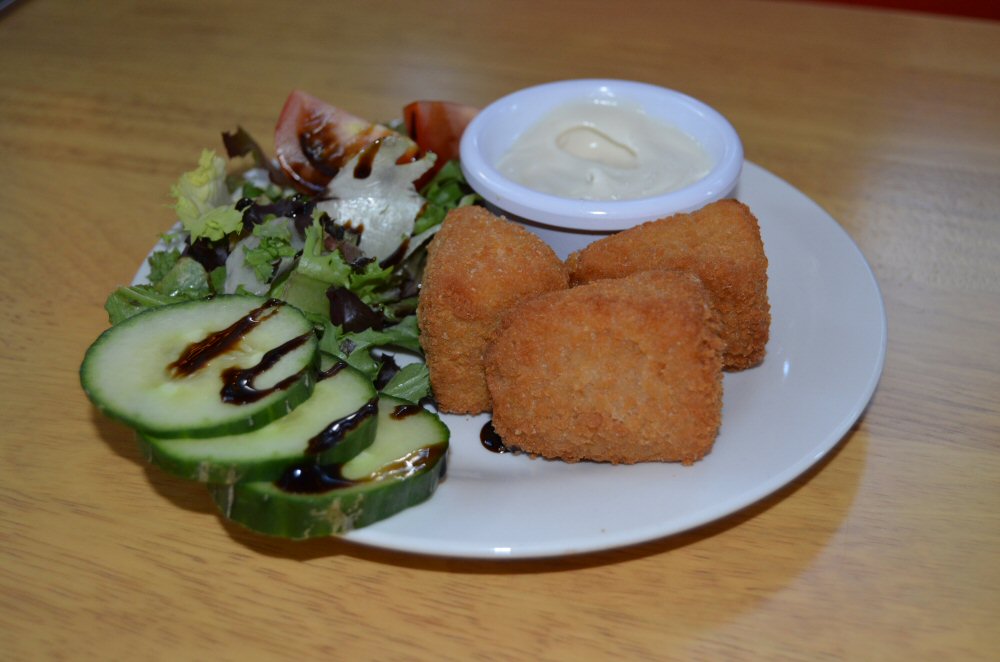 I had a gorgeously golden trio of Brie wedges before me that had been carefully placed on top of a bed of mixed leaves, quartered Tomatoes and Cucumber slices (all dressed in a Balsamic glaze). The crumb coating was beautifully crisp and not at all greasy, meaning the delicate creamy taste of the Brie could be fully appreciated. A separate little pot housed the Garlic Mao and, scrummy though it was, I think I would've partnered the cheese with either chutney or a relish with a bit of spice to it rather than more creaminess that a Mayonnaise offers.

Our lovely server had come to check we were enjoying our starters and was happy to take back a pair of clean plates to the kitchen.




The Flatiron steaks were very generous in size and had the most glorious juiciness to them that you could wish for! Flavour-wise the steaks were super too, and the steak knives glided through their fibres with ease thanks to their tenderness. When I enquired, we were told that Mainstream Foods International (based at Stonebroom, Derbyshire) supply The Bulls Head, so credit has to go to them as well as to Chef's excellent cooking skills. A sweet, whole Tomato had been oiled and sprinkled with herbs before being quartered and grilled to soft perfection and a pair of whole field Mushrooms were also massively appreciated by my tummy – especially as I got given another pair by The Man!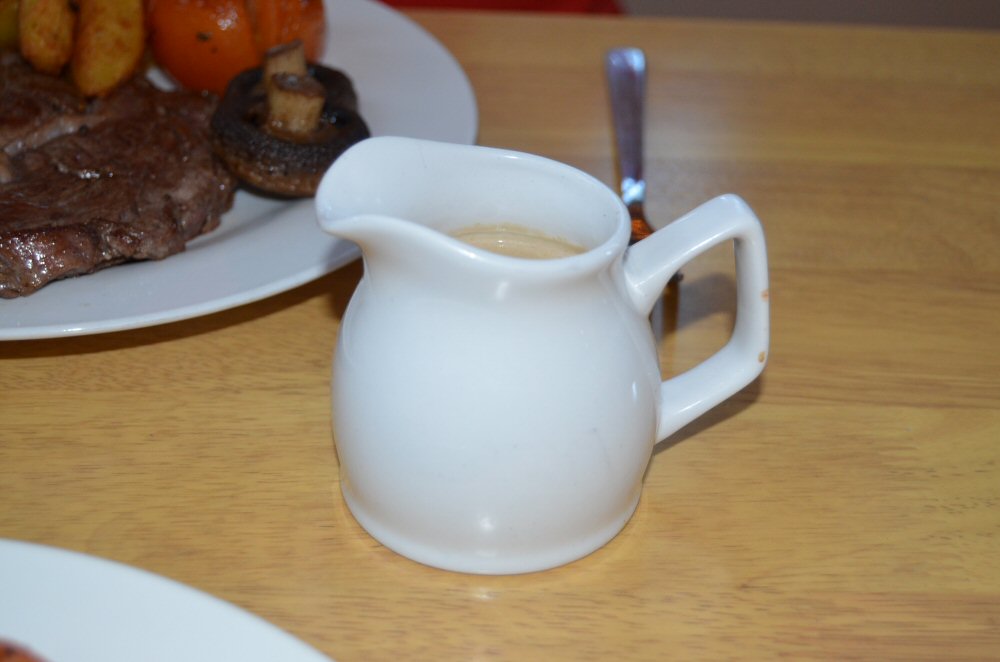 The chips were wonderfully crisp on the outside and soft inside and again weren't oily or greasy in the mouth. We were brought a little jug of creamy pepper sauce to help ourselves to; I poured some over my steak whilst His Nibs dunked his chips into the jug and its remaining contents. Needless to say, our plates were squeaky clean except for a bit of fat that had been on the edge of our steaks.

I couldn't resist the lure of the Honeycomb and Toffee Cheesecake and, ever the gentleman, The Man Bird couldn't allow me to eat dessert solo, so he had the Carrot Cake – both priced at £5.50. We also ordered a couple of black coffees (£2.50 each) to come after our puds.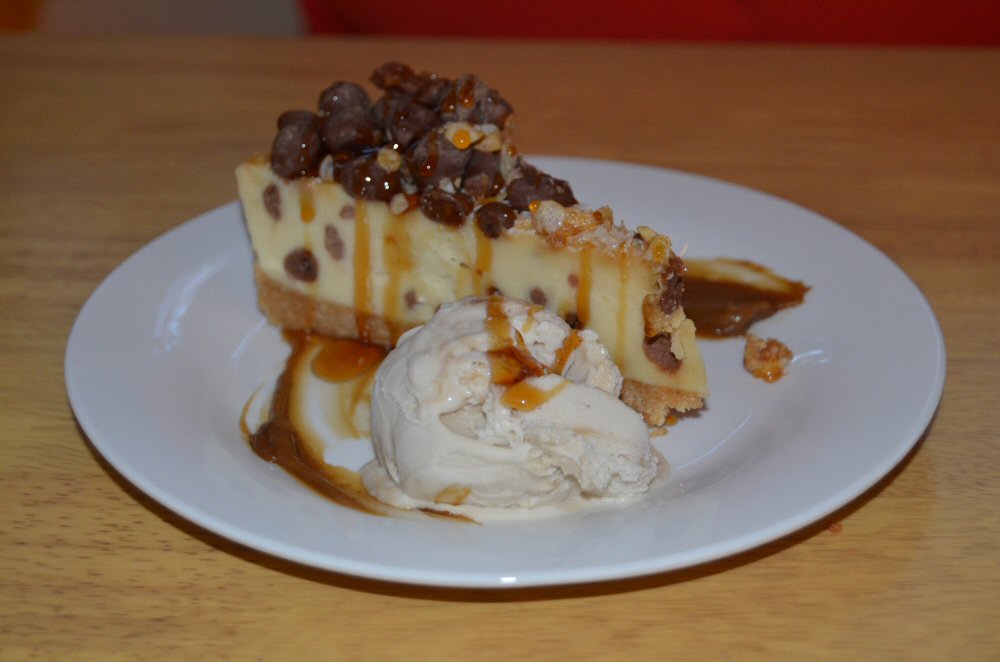 Nestled amongst the soft smooth cheesecake were pieces of chocolate covered Honeycomb, so as I took a mouthful I was rewarded by smooth creaminess and sweet crunchiness. A generous scoop of toffee ice cream added to my gastronomic pleasure, as did the abundant, thick, rich toffee sauce that decorated the platter. More pieces of the chocolate smothered Honeycomb adorned the top of the cheesecake, just to hammer home the indulgence of this superb dessert.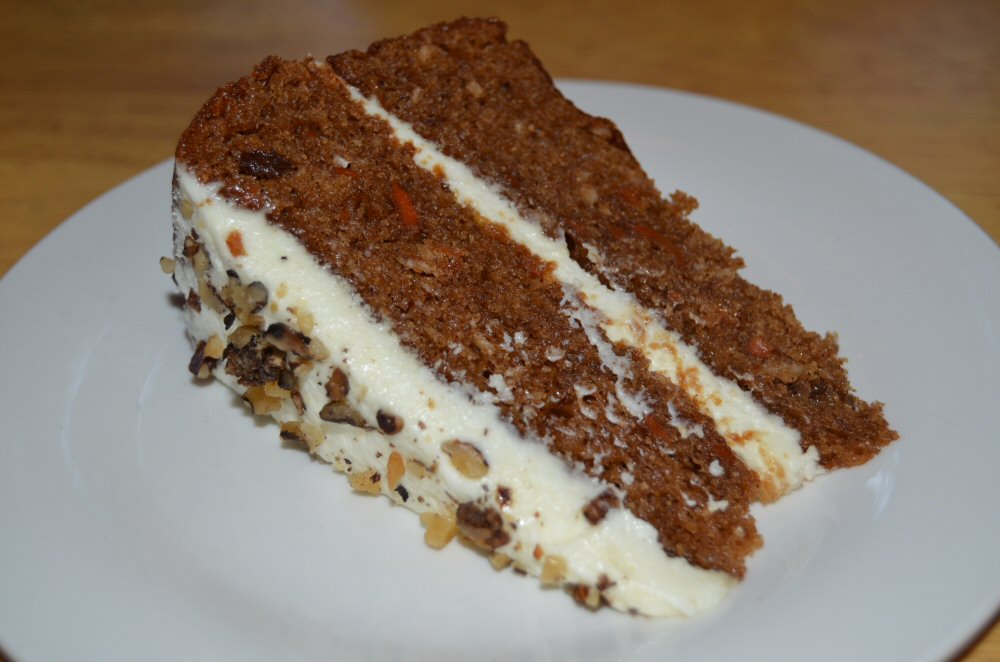 The Man was really happy with the texture of his Carrot cake slice; it wasn't too dense or too light, just that perfect texture that satisfies against the bite. There was plenty of rich buttercream in the middle and a generous layer of slightly tart frosting on the top. Any self-respecting Carrot cake has to have a good dash of spices within it and this one was really lovely in the mouth; it also had a gentle moistness to it thanks to the finely shredded Carrot in the cake mixture, but wasn't at all sticky or clarty. The Bulls Head team provide a pot of pouring cream with their Carrot cake for you to indulge in, or not, as much as your heart desires.

All that remained was for us to sup our coffees (which were a beautiful richness to end a meal with) and settle the bill before we headed back to the nest. This had been a thoroughly enjoyable evening and I look forward to returning again. Hot Wings happily given here
No incentive was provided to visit this venue
read more
Read Some Of Our Recent Reviews
---

Out For Dinner At The Bear Inn, Alderwasley If it's the full on, single track road, rural Derbyshire experience that gets your motor running, then the journey to The Bear Inn at Alderwasley will have you in joyous raptures. For those of you who are Read The Article

---

Lunch At The Recently Opened Chatsworth Kitchen At Peak Village, Rowsley Everyone who knows me, knows I love Chatsworth (always have, always will) so when the invitation to sample lunch at the newly opened Chatsworth Kitchen Read The Article

---

A Visit To Vietnamese Street Kitchen, Resorts World, Birmingham Way back in the day (pre-covid) Fledge had bought me and The Man Bird tickets to see Mrs Browns Boys live and finally, after a couple of false start reschedules, the day of Read The Article

---

Sunday Lunch, A Museum Tour & Painting A Piece Of Denby At Denby Pottery Village It wasn't long ago that His Nibs and I visited the Denby Pottery Village to sample the Afternoon Tea at Bourne's Coffee Shop and Bistro (it was superb Read The Article

---

Bottomless Brunch At Turtle Bay In Derby The timing of the invitation from the Turtle Bay team in Derby to go and sample their Bottomless Brunch couldn't have been better; not only was it going to be The Man Birds' birthday a couple of days later Read The Article

---

Afternoon Tea At Santo's Higham Farm Hotel & Restaurant Aaaaaarggggh, don't you love your children??!! A while back, His Nibs had spotted a great deal on Groupon (you know what a bargain hound he is!) and thought it would be Read The Article

---

Sunday Lunch At The Countryman Pub & Dining, Kirkby-in-Ashfield We finally got to visit a venue thats been on our radar for quite a while, The Countryman Pub and Dining in Kirkby-In-Ashfield! A few weeks ago we tried to book a table for dinner Read The Article

---

Dinner At The Divan Turkish Restaurant In Chesterfield Chesterfield was welcoming us back again for our latest review visit; this time to the newly opened Turkish restaurant, The Divan, on Lordsmill Street. Owner Tuncay (along with Read The Article

---

Breakfast At Marsh Green Farm Shop & Cafe, Kelstedge Ah, you've gotta love a Bank Holiday curve-ball, haven't you? His Nibs and I headed over to Mummy Birds' gaff with the intention of having a leisurely couple of hours at the Sunday Read The Article

---

Afternoon Tea at Bourne's Coffee Shop and Bistro, Denby Pottery Village You all know that The Man Bird and I do like an Afternoon Tea; I mean, who doesn't?! Just a few miles down the road from the nest is Denby, home to the world-renowned Read The Article

---