Sunday Lunch At The Three Horseshoes Near Blyth, Northumberland
---
Published On Thursday 8 Oct 2020 by Sticky Beak
See Recent Dining Out Reviews | See All Recent Reviews


Being the wonderful children that we are, His Nibs and I always take his mum (Geordie Bird) out for Sunday Lunch; she lives alone and doesn't really bother cooking from scratch for herself, so we know she enjoys the treat. The one thing though that really bugs me is the fact that she (without fail!) always carps on about "do they do small/child's portions?" -it wouldn't matter if we were going to a Michelin-starred venue, or Claridges or The Ritz: she would still ask this bloody question!

I get where she's coming from, I really do; she doesn't like waste (who does?!) and because she has an appetite smaller than a Spuggy's (Sparrow, in normal parlance) she doesn't want to be faced with a mountain of food. Normal folk would just ask for the leftovers to be packed up and have them another time at home, but clearly this is a stretch too far for common sense in GB-world!
Anyhow, we checked that The Three horseshoes in Horton does small portions of food (they do) and duly booked the table - we still got the inevitable question though as we sat down at the table! Because we'd booked ahead, our contact details were already taken so we didn't have to do that again with the front-of-house hostess at the venue; all we had to do was use the automatic hand santiser at the entrance and head to the restaurant reception and wait to be taken to our table by one of the mask wearing team members.




The Three Horseshoes has loads of car parking so no worries on that score, and it's dog friendly too with a raft of pooch tables being situated along the inside corridor area (nifty, as it means any dirt isn't trailed through to the rest of the premises). This 2019 Food Awards winning (in the Gastro Pub category) restaurant has lovely high ceilings and a distinct barn conversion vibe to it, and I was especially happy to see all the ploughing paraphernalia and horse harnesses displayed on the walls.

One of the team came and took our drinks orders and we settled in as we decided whether to have a single course (£9.95, £5.95 for child's portion) or 2 courses for £12. The Man and I both plumped for the 2 course option, figuring that we'd probably want a pudding, but GB just wanted the roast.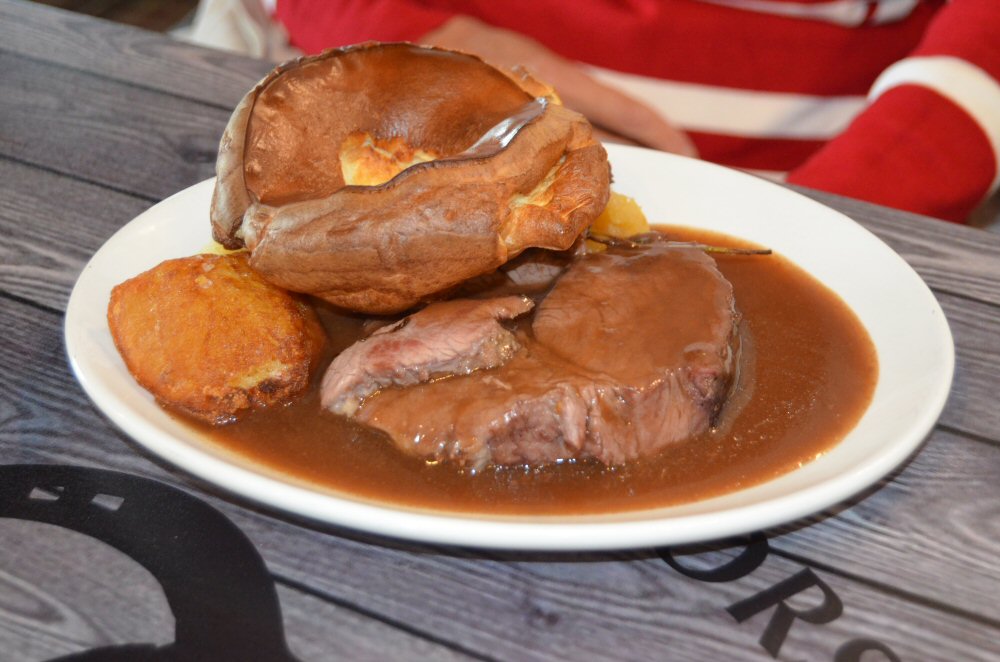 After a few minutes, a lovely young chap came over to take the food orders; His Nibs and GB both had the Topside Beef and I fancied the Roast Loin of Pork with Apricot and Sage stuffing. All of the roasts come with Yorkshire Pudding and rich gravy, and there is also a Fish and Chip option as well as Pumpkin Ravioli in a Roquefort Cream Sauce if you really want something different for your Sunday lunch/dinner. There were plenty of other diners in but social distancing was being observed with plenty of space between the tables – I would definitely book ahead for a table though, especially at peak times of Noon-2pm.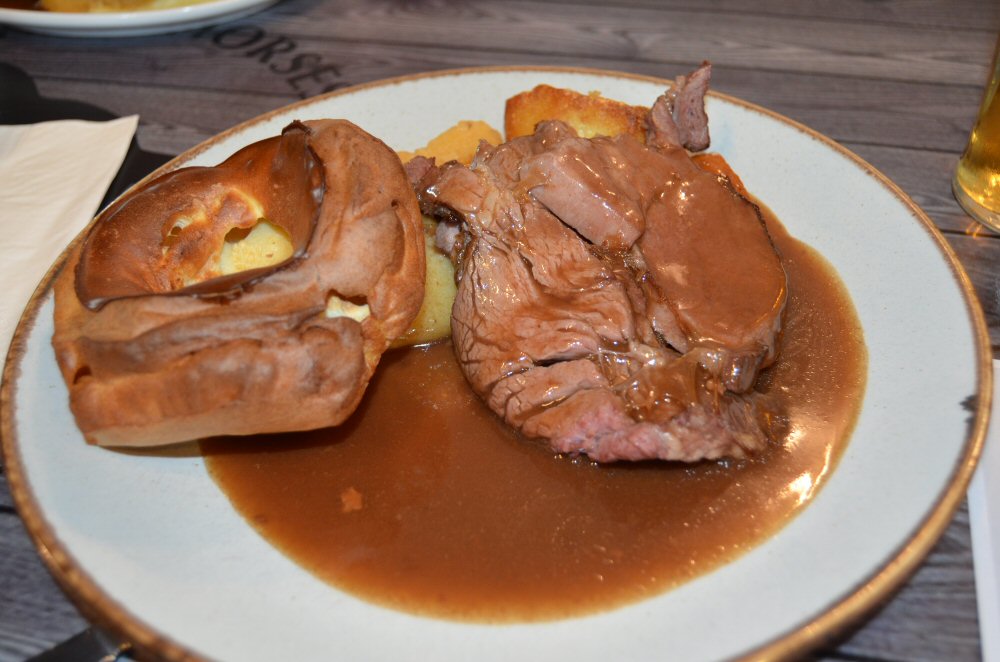 Large plates were placed before us, a smaller (but still fairly large) one for GB and there were clouds of steam issuing from all of them – safe to say the food was hot then! I pilfered a bit of His Nibs' Beef and it was beautifully tender with a great taste to it, and my Pork Loin was every bit as delicious, although milder and creamier in taste than the Beef. You can imagine the joy on my face when I discovered that there was crackling to savour – proper salt-seasoned, bubbly textured crackling too.

I cut away the fat underneath and popped it on one side of my plate where it would stay out of the way; I like to see a good bit of fat on my Sunday roast meat, it keeps the flesh moist whilst cooking and gives a nice gloss and flavour hit to homemade, meat-juice gravy. I'd asked for some Apple sauce and this came in an individual pot, so no Covid hygiene worries here either.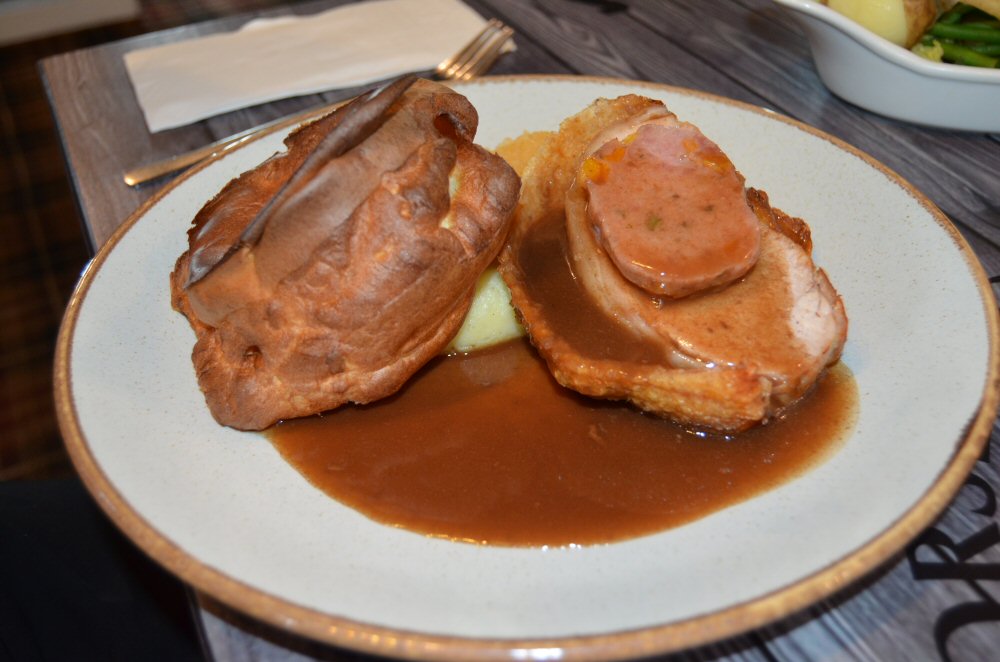 As well as the thick, plentiful slices of meat there was a mound of ultra smooth, buttery Mashed Potato, Roasties and mashed, sunset-toned Swede (it's NOT Turnip, whatever GB says!) on the plates and I had two slices of Sage and Apricot-pimped Sausage meat on mine as well. Our vegetables all came in a separate dish: Heritage Carrots, florets of Broccoli and Cauliflower, whole Green Beans, Steamed, skin-on New Potatoes and shredded Savoy Cabbage; all of which looked super-fresh and yummy.

Without further ado, I played Mummy and dished what my dining companions wanted onto their plates. As we tucked in we all commented on how well the veggies had been cooked; without exception, they'd all had a nice bite left to them, so no sogginess here. Needless to say, The Man and I both had squeaky clean plates! Geordie Bird had left some of her meat, so we asked for it to be packed up and Poochy-Doo had it as a treat when we got back to GB's house.




For dessert there is a choice of Sticky Toffee Pudding, 'Shoes School Cake, Layered Chocolate Brownies, Baked Cheesecake of the Week (White Choc and Raspberry on this occasion) and Cheese Selection (£2 extra) to choose from. I had the Cheesecake and The Man had his beloved Sticky Toffee Pudding, which comes with Toffee sauce. Our lovely server said he'd bring 3 spoons out, just in case GB wanted a bit of pud – ha! No way was she getting any of mine!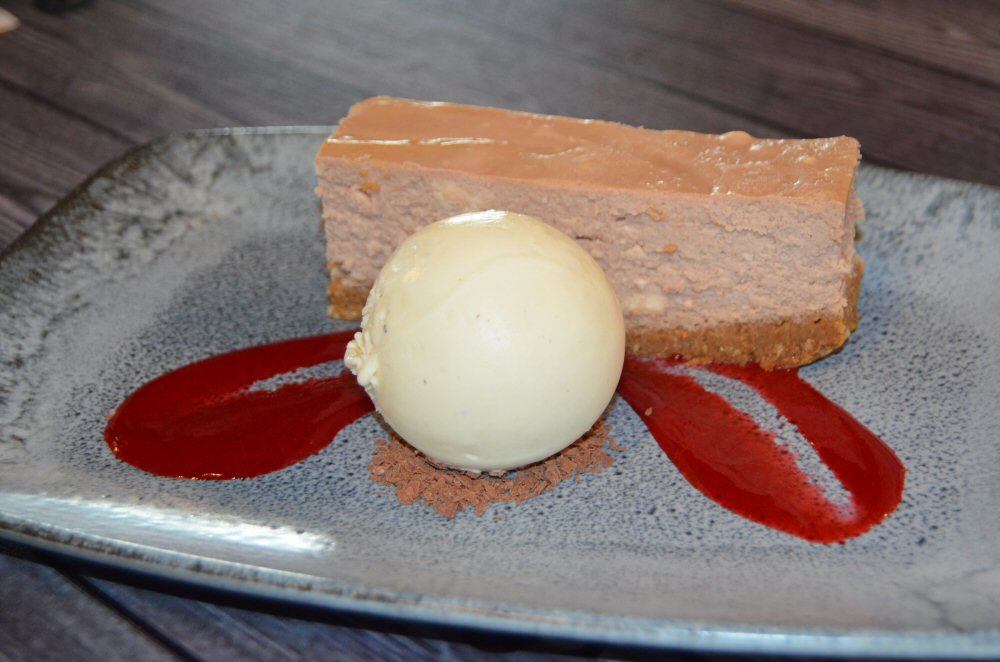 Just as with the mains, The Three Horseshoes team don't skimp on their sweet temptations and his Nibs and I were both presented with generous desserts: a thick triangle for me and a huge square for The Man. As well as the Toffee sauce, His Nibs' dessert had a scoop of Vanilla Ice Cream so GB tucked into that. The Sticky Toffee Pudding was everything you could dream of: nicely dense and satisfying without being stodgy, plentiful, and a gorgeously rich taste.

The indulgence factor of this morsel was ramped up by the smoky, sweet, treacle-esque sauce, which lingered superbly on the tongue as it caressed the taste buds. This was right up there with the best-of-the-best according to His nibs – and he should know with the amount and variety of Sticky Toffee Puddings he's devoured!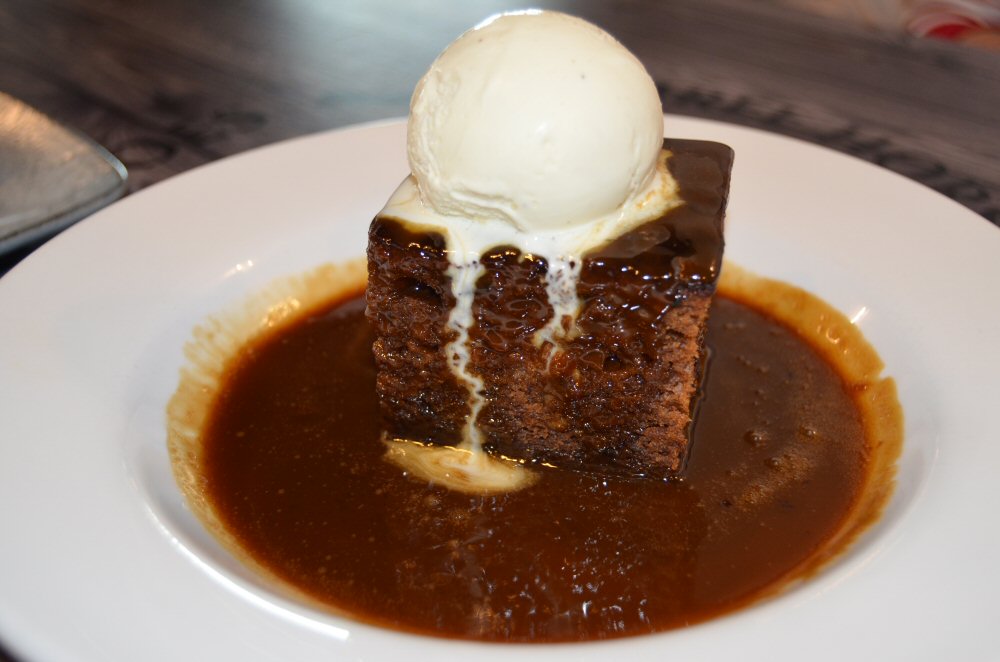 My White Chocolate and Raspberry Cheesecake was utterly divine; from the moment that first bit hit my palate I was smitten! The intense creaminess made it a luxuriant choice of dessert but because it wasn't overly sweet it wasn't sickly. I also had a scoop of Vanilla Ice cream and it was a good quality affair whose warm, rounded taste partnered the creamy Cheesecake beautifully. To stop things being too mild and creamy, the zest of a tangy Raspberry coulis cut through to provide a much appreciated sharp note.

Throughout our visit, the whole team couldn't have done more for us and we were looked after very well. All the tables received the same level of customer care, with check-backs being done at each course and drinks were kept refreshed as required. Hot Wings happily awarded to this welcoming team.
No incentive was provided to visit this venue
read more