A Flock Visit To The Merchant's Yard In Tideswell
---
Published On Sunday 4 Oct 2020 by Sticky Beak
See Recent Dining Out Reviews | See All Recent Reviews


The governments 'Eat Out To Help Out' scheme was coming to an end, and we as a flock were eager to eak out every last opportunity. Recently, The Man Bird and I went to The Merchant's yard in Tideswell and thoroughly enjoyed the tasting menu, so we hatched a plan to introduce the Tribal Elders and Chickadee to the delights as well during Augusts' EOTHO period. Even better, the team at The Merchant's Yard had devised a special August 'prix fixe' menu, based on their regular early bird offering.
We parked up a short walk away from the venue and washed our hands at the outside basin whilst the hostess confirmed our booking details. There were already several groups of diners in, including families with children, but everything is so well spaced out you don't even feel you're walking near anyone. The first order of the day was to order some drinks and we were offered chilled water for the table as well.




Each of the three courses offers diners a choice of 5 dishes, so there's certainly plenty to think about, and for those that take a while to choose there is the option of nibbling on Grissini and Red Pepper Hummus (a supplement of £3.50 is charged for this). His Nibs, Daddy Bird and Fledge went with the Confit Rabbit and Ham Terrine, Carrot Ketchup and Pickled Onion, Mummy Bird chose Oak Smoked Salmon with Herb Crème Fraiche, Pickles and Dill, and I fancied the Grilled Goats Cheese with Orange, Honey and Candied Walnuts to begin with.

The Merchant's Yard is a 2 AA Rosette eaterie, so you know that the presentation, and quality, of the food is going to be second-to-none. Verdant pea shoots with their delicate fronds added a bit of panache to the presentation and each dish had plenty of colourful elements to it, so our eyes were very spoilt.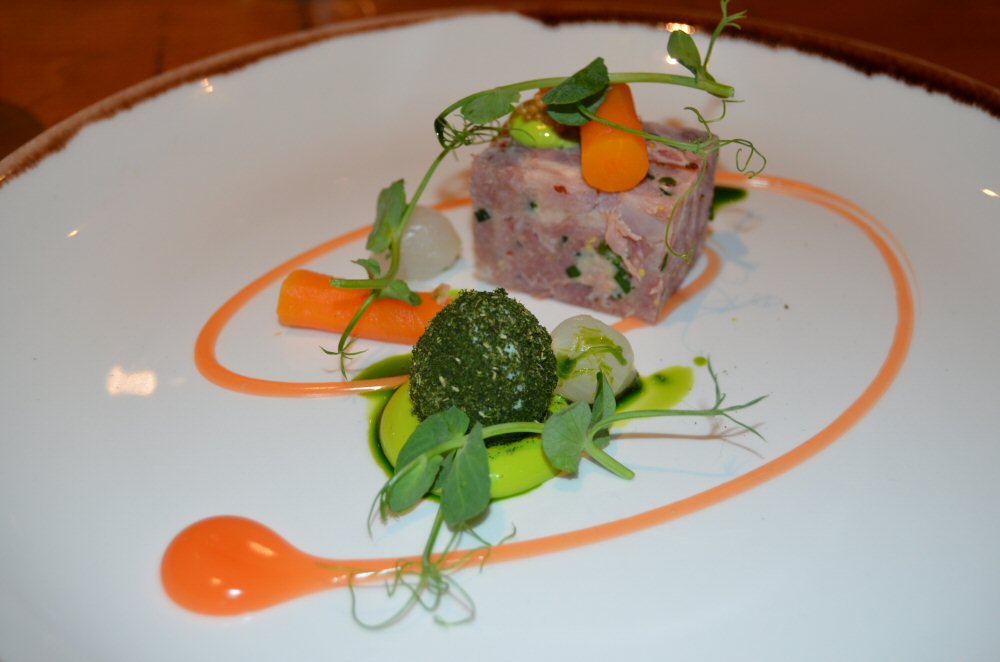 His Nibs and I had had the terrine as part of our tasting menu experience, but Daddy Bird was new to its intense flavour; his face when he took his first bite was full of joy. The intensity of taste is simply superb; chock full of meatiness and a mix of sweet and earthy notes. Clean notes of Carrot ketchup really kept the taste buds on their toes, especially when their softer flavour clashed with the tangy pickled Silverskin Onions. A dinky Quail Egg added a burst of creaminess on the tongue, rounding things out nicely – even Chickadee was impressed by this dish!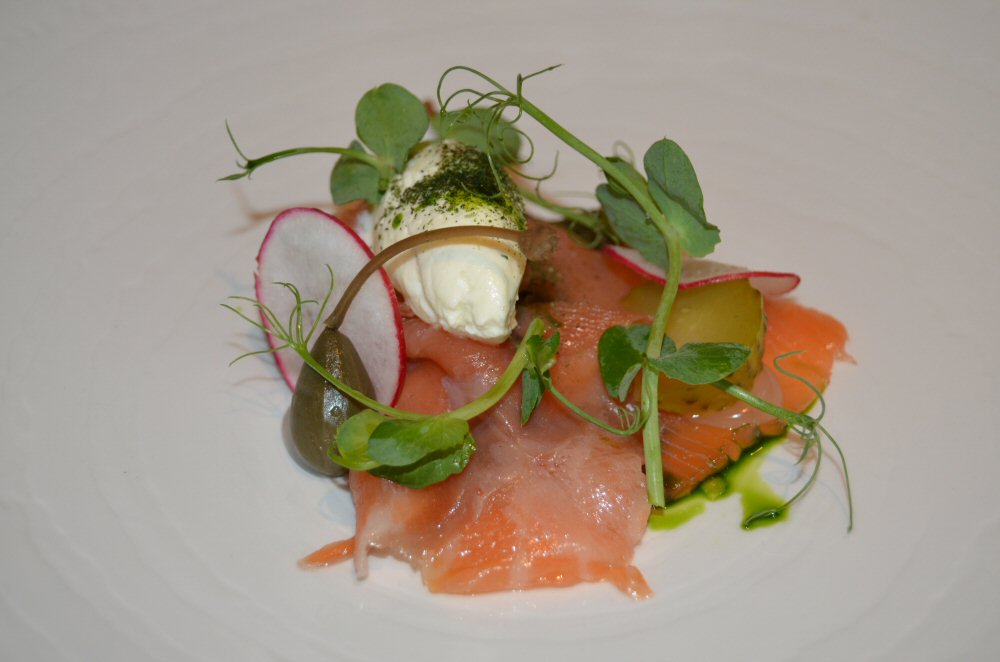 Mummy Bird has passed her love of fish and seafood down to me and has eaten so much over the years that she knows a good morsel when it passes her discerning lips. Yet again I could see that small smile of happiness begin to spread over her face; the same one that had told me of my Daddy Bird's satisfaction with his Terrine. Not only was the amount of fish on her platter a reason to smile, there was also the combination of its natural fragrance and smokiness during its production to savour too. The clean notes of the herb crème fraiche and Dill fronds lightened things up nicely in the mouth, accompanied by the zingy, crunchy pickles that also added texture.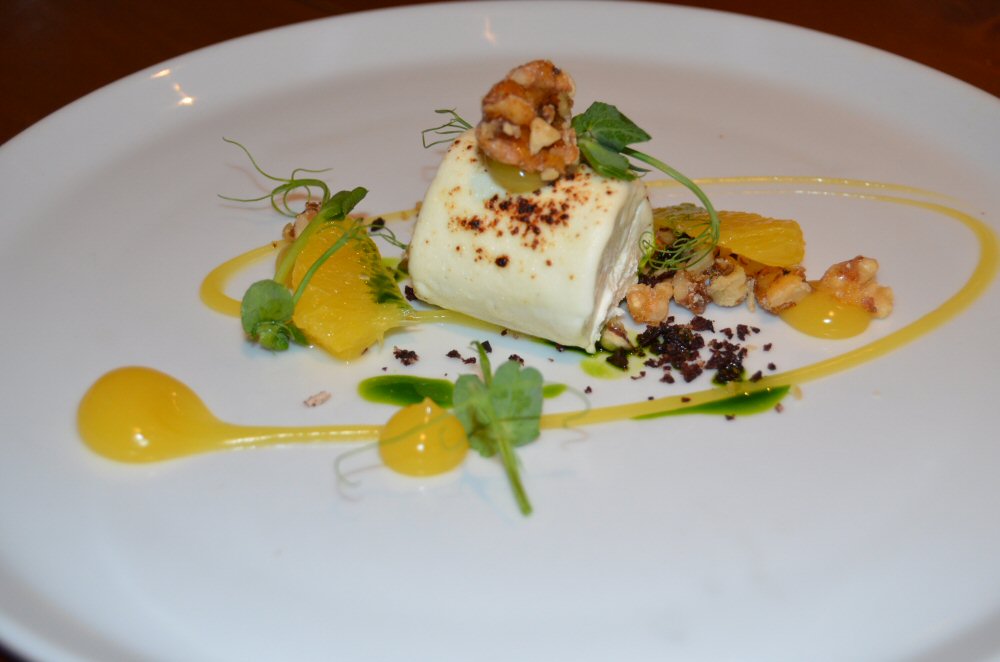 I am a massive fan of Goats Cheese (both soft and hard varieties, and mild or mature – I love them all!) and the one that was served to me on this occasion was delicious; not musky at all, just mild, creamy and utterly yummy! Segments of fresh Orange added a nice zest on the palate, their exuberance tempered by the rounded softness of honey. To stop this starter from being 2 dimensional, Candied Walnuts brought their earthiness and crunch to the table – a welcome sensorial treat.

Our server was happy to be taking away a trio of spotless plates, though he wasn't surprised as he'd checked we were happy with our food earlier.

Other than Chickadee choosing Fish and Chips with Pickled Egg, Curry Gel, Tartare Sauce and Mushy Peas for her main course, it was a clean sweep at our table for the Lamb Shoulder Shepherd's Pie with Olive Oil and Minted Greens. Mummy Bird had considered the 8oz Sirloin Steak for a moment (£5 extra), but the lure of a good Shepherd's Pie was too strong to resist.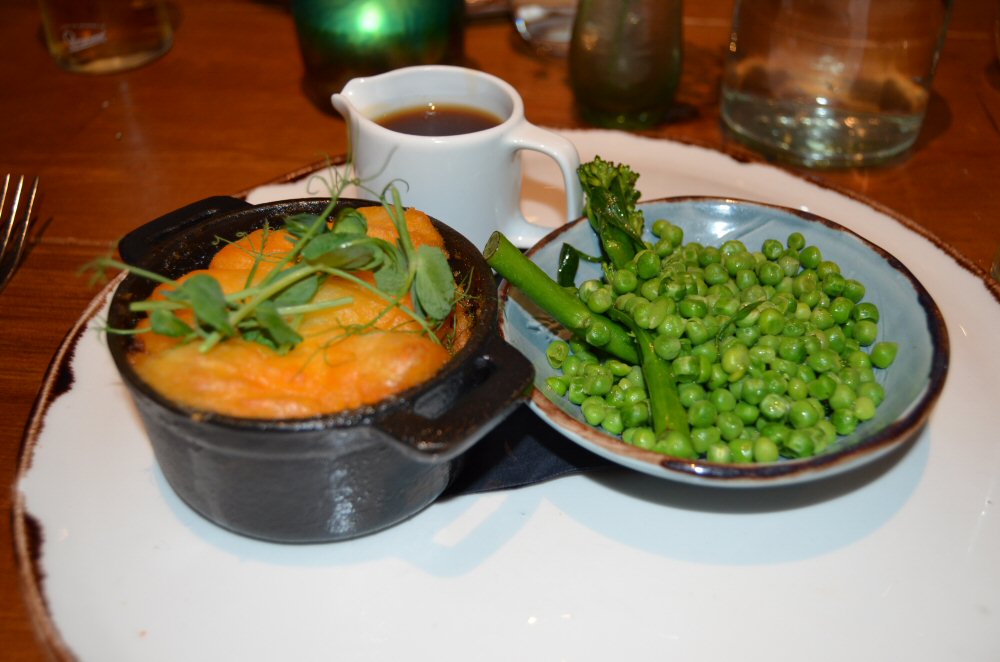 The Shepherd's Pies were served in round, individual bowls and had gorgeously deep, melted cheese tops to them, under which was a nice thick blanket of smooth mashed Potato. Given the confines of the Shepherd's Pie, it seemed odd that there was a little jug of gravy also on the plate, but it soon become apparent why. The pie was so crammed with minced (and chunks of) Lamb that until you'd eaten some of the contents there simply wasn't room for much gravy in the pie itself!! Once there was room and the gravy was added, it gave even more depth to the Shepherd's Pies' meatiness.

Daddy Bird's initial reaction when he saw his meal was "that doesn't look much"; as he was eating the substantial morsel however, his opinion changed and he was rather glad it wasn't larger because he couldn't have finished it! The bowl that housed the Shepherd's Pie was one of those that seemed to have no bottom – I'd been chowing down for what seemed an eternity and still couldn't see the bottom of the bowl; persistence pays off though and I was eventually rewarded with the sight of the crockery base. Petit Pois and Broccoli spears were the vegetable accompaniments and they'd been cooked and minted perfectly. A simple meal, but a glorious one.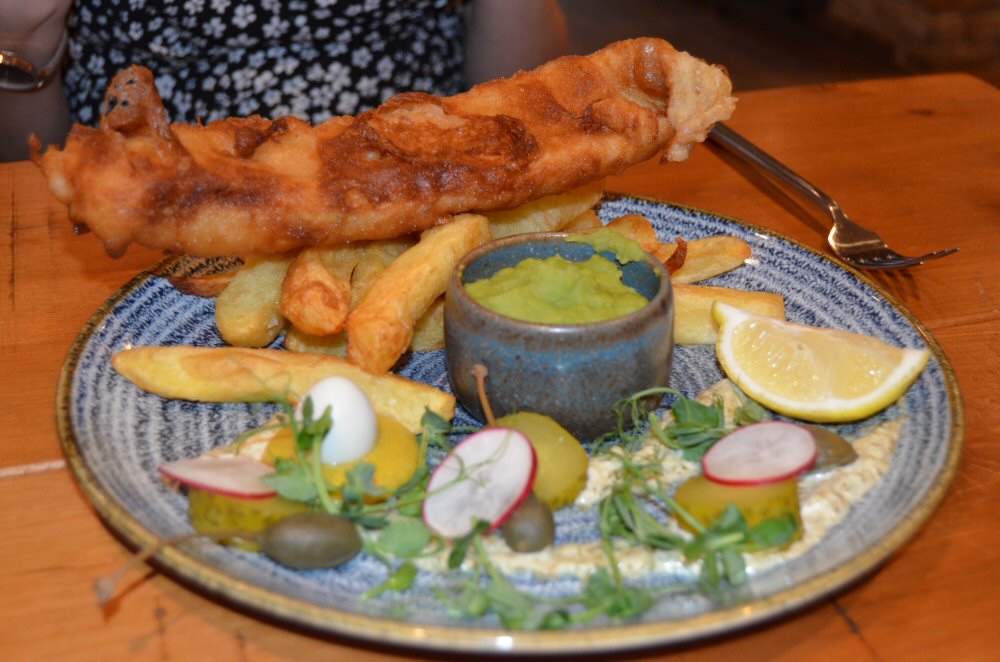 Chickadee had seen one of the Fish and Chips go out to another table but was still stunned at the size of the fish fillet served to her; it jutted out over both ends of the plate, and it wasn't a small plate to start with! Under a golden crispy batter coat laid a pearly white, sweet fillet of Cod that just melted in the mouth and had the taste buds singing with delight. Having never had a pickled egg before, Chickadee was a little wary of what it would taste like, but in the end it wasn't anything like she expected (i.e. tough and sour) and she enjoyed it; it wasn't a hens' egg either, it was a dinky Quail one. The Curry Gel was an instant hit with my girl thanks to its gentle spiciness: "just like the Curry sauce in a chippy" was how she described it. Tangy Tartare sauce is one thing that (bizarrely for a young adult) she does like and the subtle chunkiness of The Merchant's Yard's interpretation was an instant hit. Other than the frankly superb fish, the stars of the show were the homemade chunky chips; they were golden toned, crisp on the outside, and pillow soft on the inside.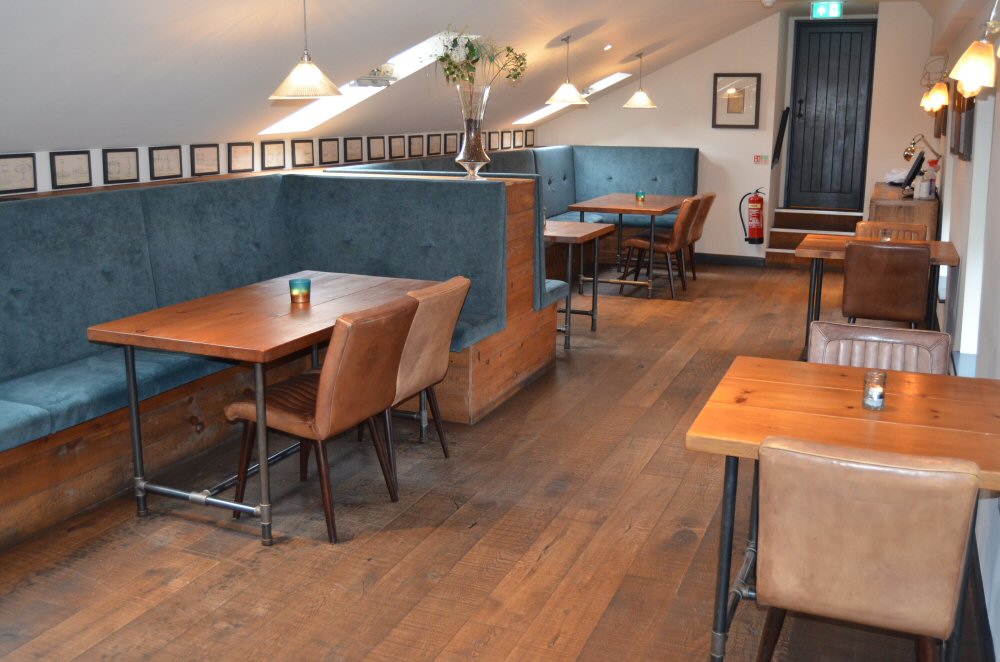 Whilst we'd been munching our way through the veritable feats of deliciousness, various members of The Merchant's Yard team had checked we were happy with our food and had brought over more drinks as needed. The service manages to be that wonderful level of attentiveness that you never feel crowded, but the moment you need something there is someone there to assist you.




The Chef's dessert of the day carries a £2 supplemental charge, and was a Mango Cheesecake on this particular occasion. I did briefly consider having this, but then changed my mind in favour of the Lemon Posset and Blueberry Sorbet; I'd wanted something with a bit of tartness to it to cleanse my palate and felt that perhaps the Mango wouldn't be the best choice for that. Daddy Bird usually finishes a meal with good old Vanilla Ice cream (and he did so here) and Mummy Bird, Fledge and His Nibs all ordered the Sticky Toffee Pudding with Salted Butterscotch sauce and Vanilla Ice cream.

Daddy Bird and I had our sweet treats served in a Martini glass, so already there is something a bit 'extra' about the presentation at The Merchant's Yard. A good quality Vanilla Ice Cream is, I think, one of life's most special things; an untarnished simple pleasure whose purity sings to the taste buds' soul. The variety served in precise quenelles at The Merchant's Yard is wonderfully rounded and soft in taste, cool in temperature but warm in flavour.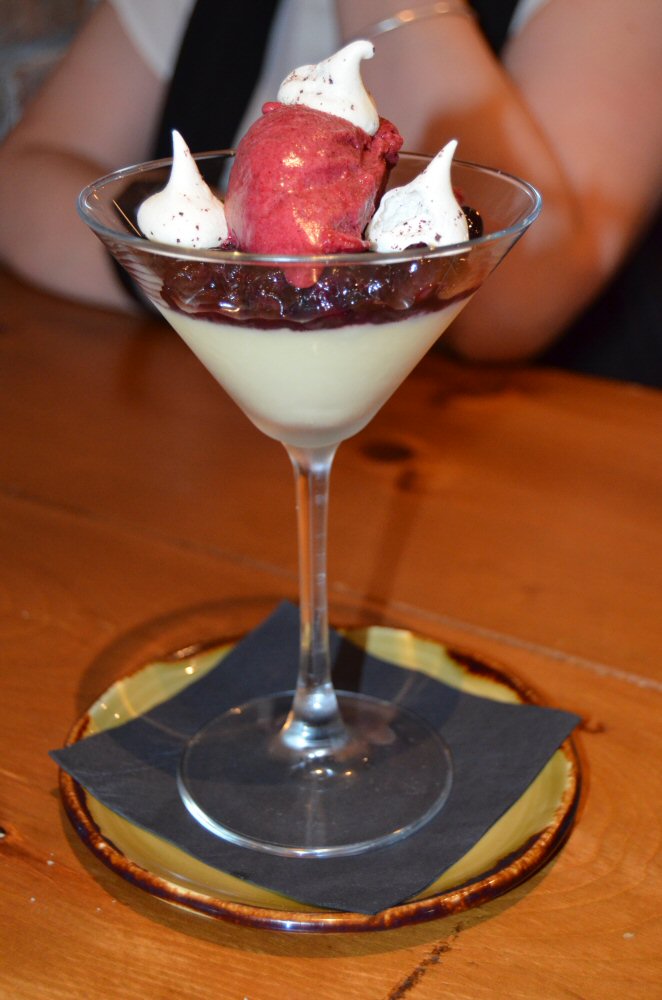 My Lemon Posset was comfortingly soft in texture with a superb citrus edge to it that woke my mouth out of its meat-induced slumber. Its gentle yellow tone was set off by the vibrant, rich Amethyst colour of the Blueberry Sorbet so there was no shortage of visual appeal with my choice. The Blueberries taste, both in the sorbet and the fresh ones used for garnish, was bright and exuberant in the palate, making this the perfect end to my meal.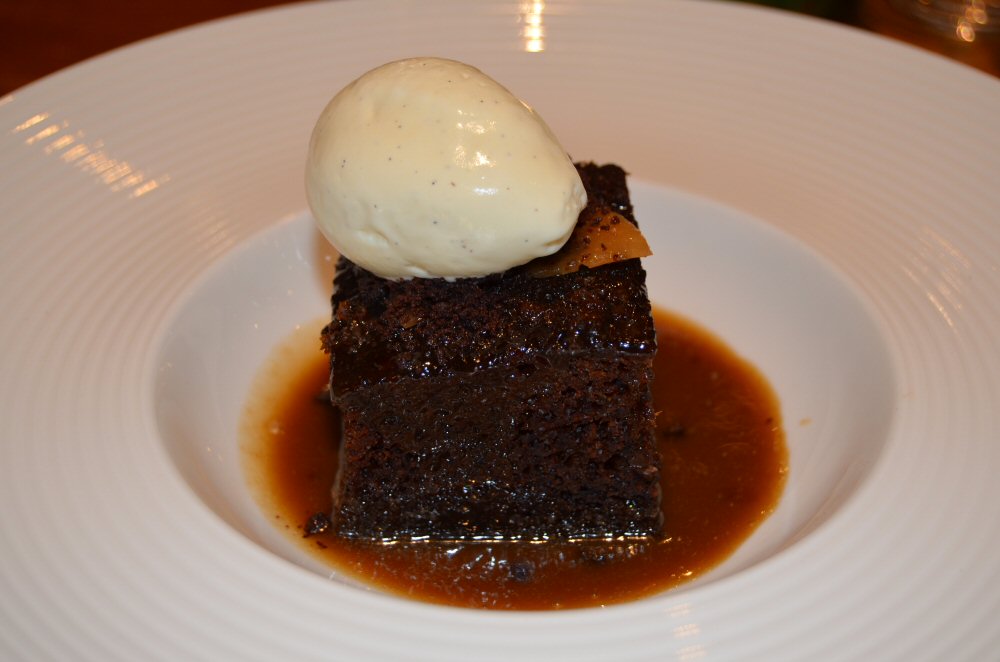 The other flock members were all in agreement about the quality of their Sticky Toffee Puddings: top notch! Head Chef Dan and his team certainly don't skimp on the size of their portions; the good 3" square slab of dark brown, mid-textured sponge was about 1.5" deep so if there was any trace of hunger left, this monster would certainly banish it. His Nibs smiled that smile of happiness he gets when something hits the sweet spot of satisfaction and it was all down to the indulgent toffee taste of the pudding. Chickadee and Mummy Bird were just as smitten with the Salted Butterscotch sauce, saying that behind its sweetness lay just a whisper of salt tang.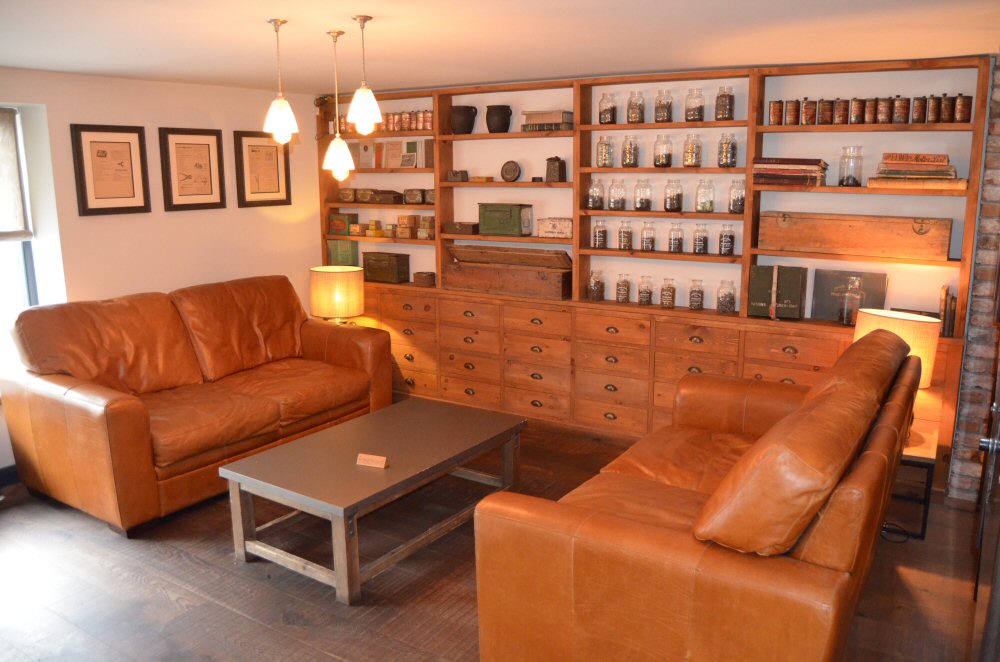 The Flock unanimously said that this special 'August-only' menu was great value. Don't despair though if you didn't manage to make it over and take advantage of it, The Merchant's Yard at Tideswell offer a regular 'early bird' fixed price menu. During October they are offering a 3 course menu for £22 which is available Monday from 5pm, Wednesday & Thursday 12 noon until 8pm then from 12 noon until 6pm on Friday.

Hot Wings given again to this friendly, enthusiastic team.
No incentive was provided to visit this venue
read more