Out For Dinner At Sicily Restaurant In Chesterfield
---
Published On Sunday 13 Sep 2020 by Sticky Beak
See Recent Dining Out Reviews | See All Recent Reviews


Yet again, The Man Bird and I were doing our bit on the governments 'eat out to help out' scheme. This time we were headed to Sicily Restaurant on Chesterfield's Sheffield Road; some of you that live in the locale to Chesterfield may already know of Sicily's sister restaurant, Ciuri Ciuri, on Stephenson Place in the town. We didn't manage to bag a spot in the small car park, but there is plenty of on-road parking close by so it wasn't a problem.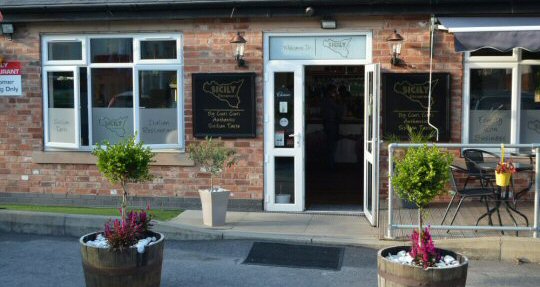 Hand sanitiser is at the entrance, so we dabbed some on our hands and followed the young man to our table. Track and trace details were already given at the time of booking, so we didn't need to go through that again. A lovely young lady came and asked if we'd like some water for the table without us needing to request it, which I thought was nice, and she took our drinks order at the same time: house white for me and a bottle of Moretti Sicilian beer for The Man. All the team were wearing face masks, but even these were funky designs rather than just boring blue – Sicilians clearly have style!




Sicily restaurant is very informal with a light airy feel to it – you could almost imagine that you'd stumbled across whilst out for a stroll in some pretty Sicilian village. The walls are painted a beautiful sky blue and frameless scenic prints adorn the walls. Vine-like foliage drapes along the wires of the central ceiling light and also along of the smaller walls and there were pots of fresh herbs in the windows, adding to the relaxed Trattoria vibe. Dark wood tables, bare of any adornment save a silver wire holder displaying a QR code for the menu, were paired with deep, comfy, high-backed dining chairs. There was great mix of diners, from couples and groups of friends, to families with young children.




To start off with, I chose the Polpette di Pesce (Fish balls, £8) as they were an unusual alternative to the standard meat version, and His Nibs went for the Calamari Favignana (deep fried Squid with Garlic Mayo, also £8).

As we waited for our starters, a platter of Sicilian Chickpea Fritters, Panella, was brought out for us to try. The little triangles were fried to golden perfection and when their crisp outers were bitten into it revealed a super-soft, smooth chickpea paste and tasted gorgeously creamy on my tongue. A light seasoning was all that this delicious morsel needed, and a smattering of fresh chopped herbs. Simple, but very, very moreish.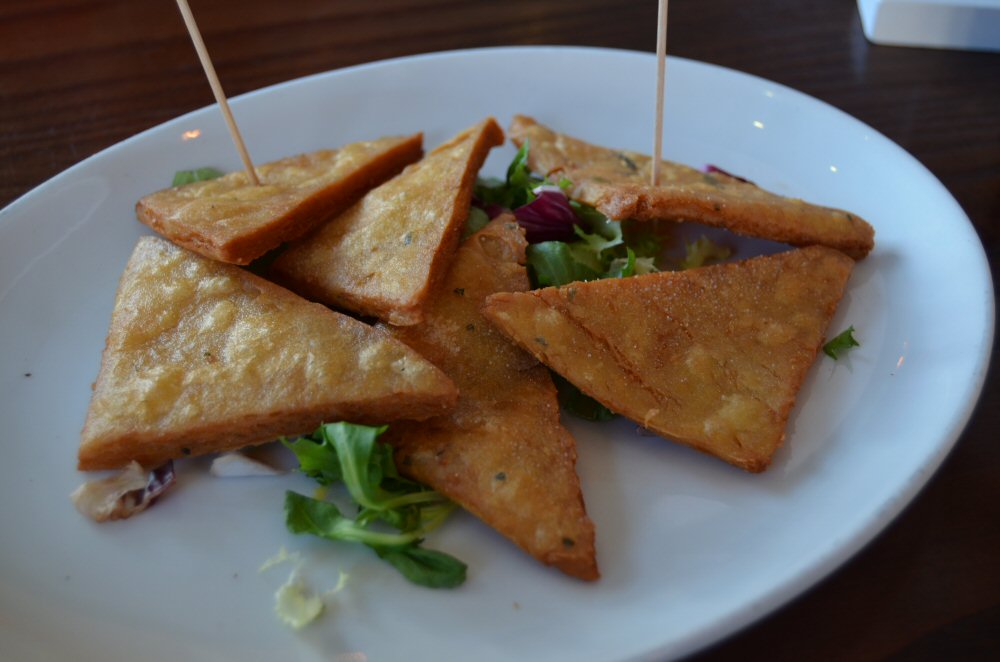 It wasn't long before our starters were winging their way to us and both dishes were nicely presented in colourful crockery. My Cod meatballs also had Orange zest and Sultanas in them to add flavour and had a light breadcrumb outer to them that was softened as they lazed in their bath of white wine, Parsley and White Onion sauce. This was a wonderfully light, fresh tasting dish - perfect to get the juices flowing as a first course - and I used the slice of bread to mop every last bit up, resorting to using the spoon for my main to get every last scrap of it into my eager mouth!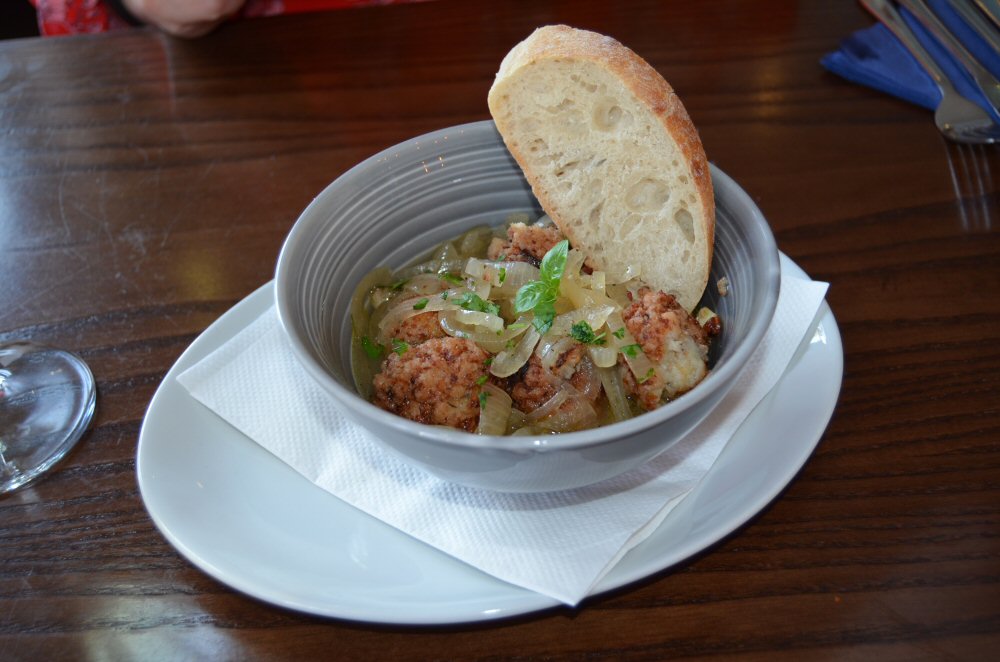 The Man's Calamari was certainly a plentiful portion for a starter; there were lots of golden, crispy rings on his platter and a bright, sunshine coloured wedge of Lemon sat beside them. Each sphere had a light, crisp batter outer and the seafood within was lovely and soft, not over-cooked or chewy. A separate little pot housed the Garlic Mayo; His Nibs thought it was just right, I would've preferred a stronger Garlic punch. Therein lays the beauty of reviewing: the opinion is purely subjective, personal taste, and open to debate (which He and I do frequently!).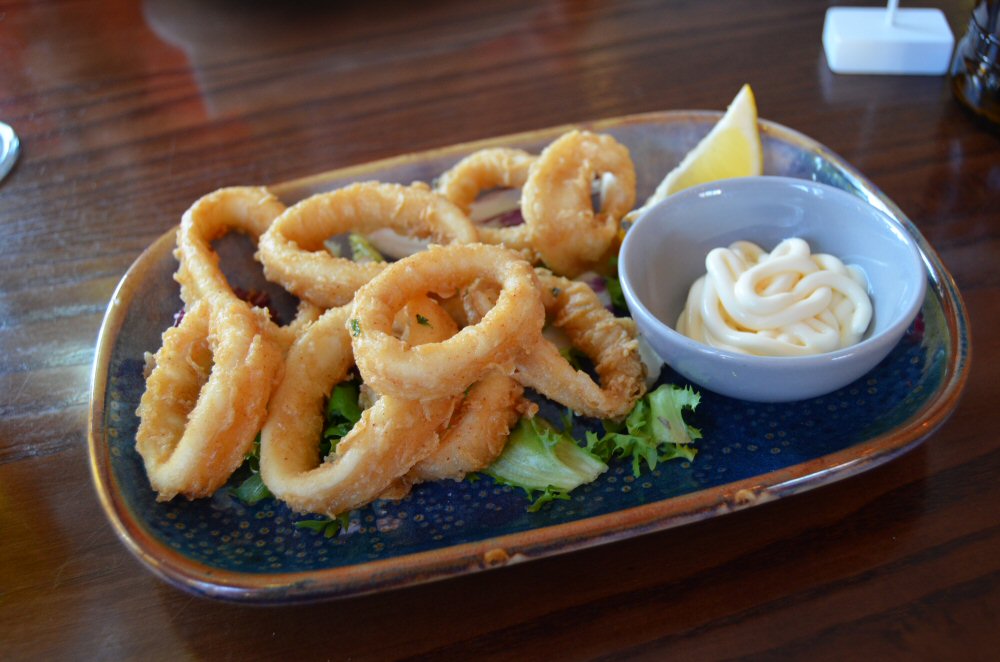 Keeping up the marine theme, I chose Tagliatelle Mare for my main course (£12); The Man Bird had the classic dish Meatballs and Spaghetti (Spaghetti Polpette e Sugo, £13). I had chosen my dish partly because the pasta was coloured with Squid Ink, which turns it a beautiful black hue and I wanted something a bit different; I wasn't disappointed when I clapped eyes on it either. It goes without saying that a decent Italian/Sicilian kitchen should be able to cook their pasta perfectly al dente, and I'm pleased to report that Sicily restaurant's Chef certainly knows his craft; the Tagliatelle was spot-on! The accompanying sauce was a feisty Tomato, Garlic and Parsley number that was bursting with taste and it bounced in my mouth most enthusiastically. Within the sensuous confines of the sauce were a plethora of succulent Prawns and chunks of fragrant, moist Salmon; when I eventually paused from my endeavours there was a clean bowl beneath me – a most gratifying sight. Our lovely server had come to check we were happy with our meals and one of the owners, Monica, also came to check on us.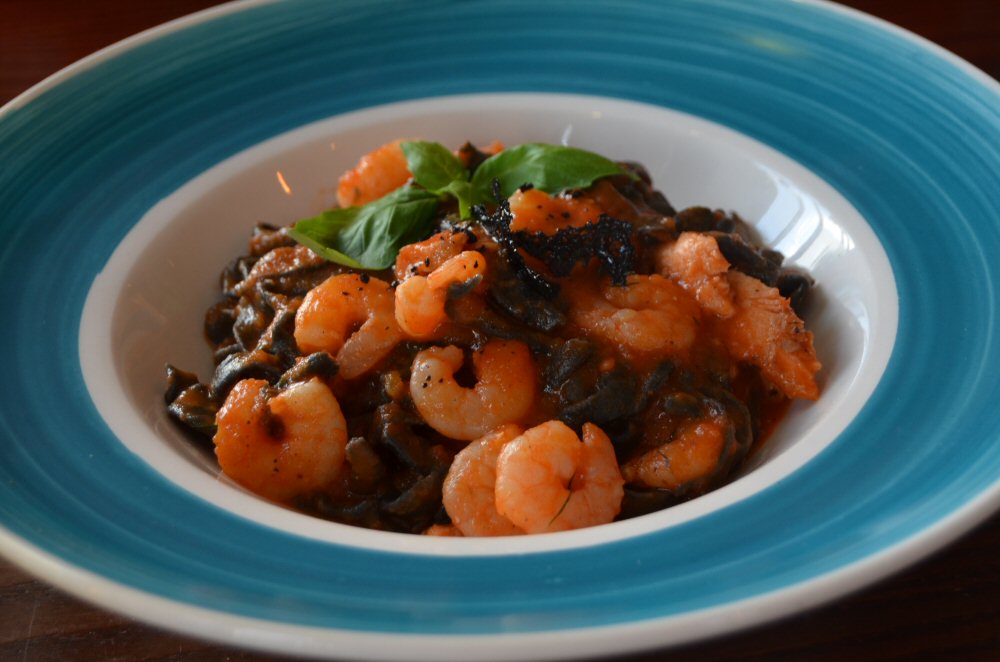 His Nibs' Spaghetti and Meatball combo was clearly hitting the sweet spot for him; from the moment that first mouthful hit his palate, he couldn't stop smiling. The meatballs themselves were a good size and had a pleasing chunkiness to their texture that really let him get his teeth stuck in, which is exactly what he did! What The Man really liked though was the fact that the meatballs held their shape when they were cut into instead of falling apart; there's nothing more frustrating than crumbly meatballs, apparently. There was plenty of spaghetti to partner the meaty treats and a fantastic, rich Tomato sauce gave a lovely moistness in the mouth. Due to Covid-19 restrictions, the Sicily team have taken the decision to add Parmesan to the dish in the kitchen rather than do it at the table as usual; this meant that the pungent cheese had begun to melt over the top of everything and weave itself into the fabric of the dish.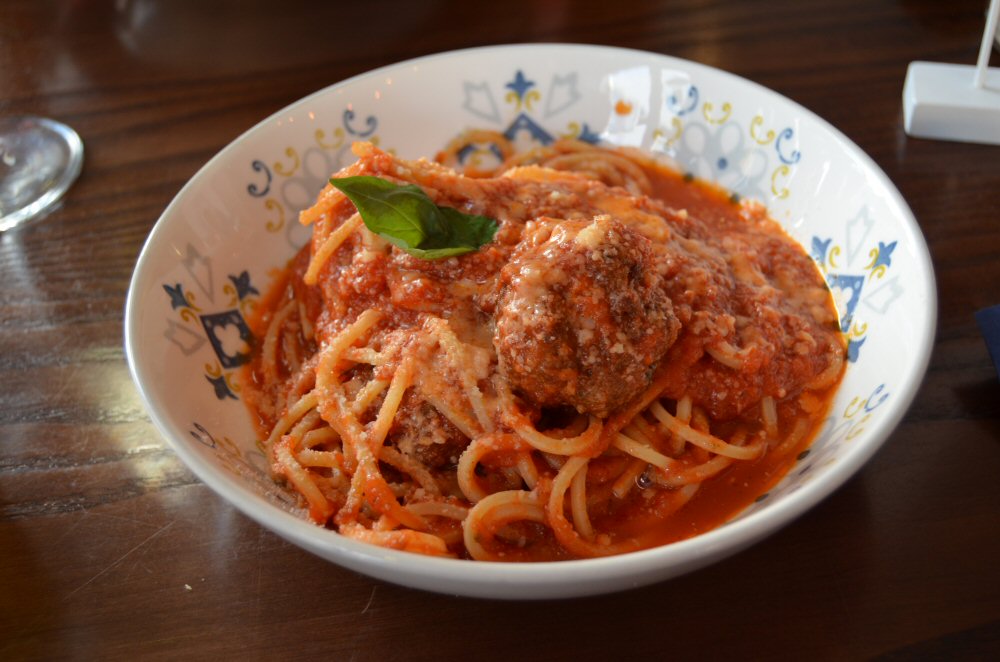 Having gone through a relative 'dry spell' when it comes to desserts (thanks to my gluttonous tendencies deserting me) I was determined to correct this appalling situation and ordered the homemade Tiramisu – this time I jolly well was going to indulge! The Man Bird decided that he couldn't possibly let me eat solo, so joined me for the third course and ordered the Cannolo, both priced at £4.50.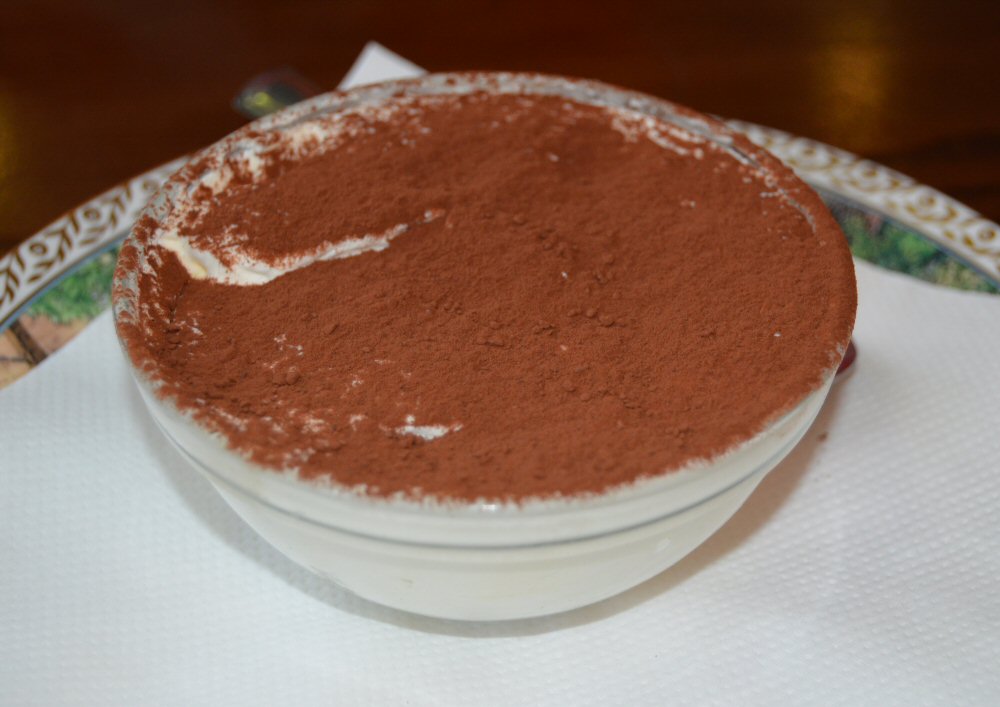 The Tiramisu came in a round individual bowl, a thick nutty brown layer of cocoa powder crowning it all. Underneath its chocolaty blanket lay a thick layer of stiffly whipped cream and the bottom tier was soft, moist biscuits that had been soaked in espresso. Taste-wise this was a glorious dessert, the coffee, cream and cocoa notes all marrying together harmoniously in the mouth to provide a super balance of sweet and bitter. If I had one criticism it would be that the coffee –soaked biscuit component was quite narrow (being at the base of the bowl), so you didn't get any of it on the palate until you'd dug quite a way down. For those who aren't so keen on this aspect of Tiramisu, you'll be singing with joy, but I would've liked a bit more of it personally.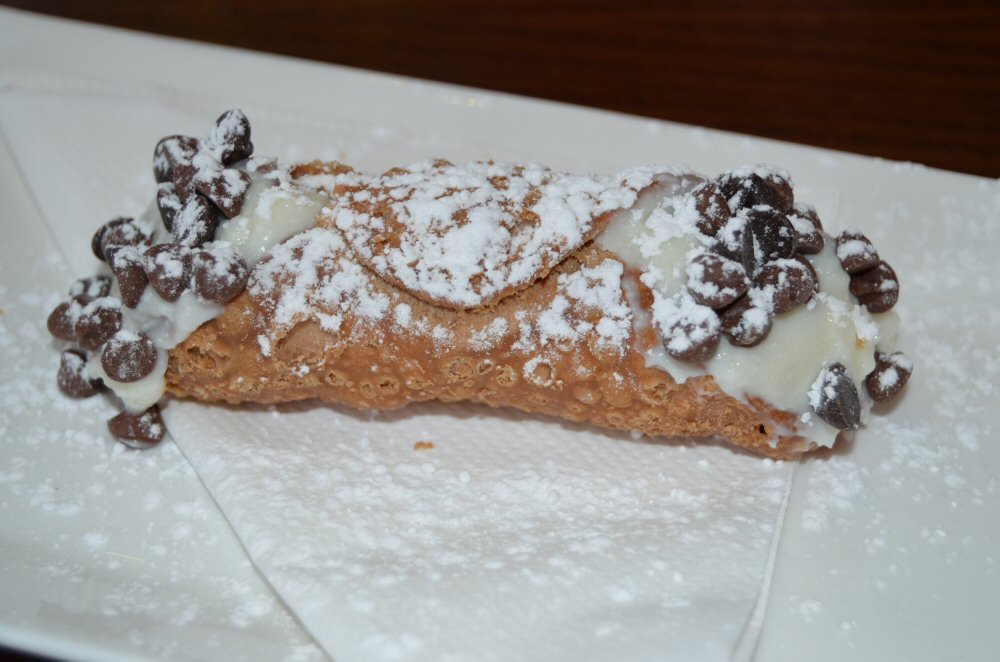 His Nibs hasn't had Cannolo/i since we visited Little Italy in New York a few years ago so he was looking forward to having it again. Let's just say that it was a bit different to the American version he'd had; for a start, it was a single piece that measured a good 4/5" in length and was about 1.5" in diameter! He'd been expecting a much smaller morsel, so was pleasantly surprised. The fried pastry dough shell was also much thicker than the one he'd had in New York and gave a fab crunch when bitten into. The final surprise came when he wasn't given a dessert spoon: apparently the traditional way to eat Cannolo is to pick them up with your fingers like a cake – no cutlery required! After a bit of hesitation, The Man picked it up and took his first bite. Cocooned snuggly within the fried tube of yumminess was a sweet Ricotta cream that was gorgeously light and fluffy on the tongue. As if there wasn't enough texture in this classic Italian dessert, a cascade of small chocolate chips added some more, as well as imparting a scrummy cocoa hit on the palate. Yep, we were both very happy with our choices of pud, evidenced by their total disappearance into our tummies.




A couple of black coffees brought our meal to its conclusion as well as a shot of Limoncello, compliments of the owners – grazie. For relaxed informal dining you'll have to go a long way to beat this family-run venue: the food and service was faultless and the restaurant is beautifully decorated (especially the bar) – what's not to like? I would recommend booking ahead to get a table due to it not being the biggest space in the world, and also because the tables are really spaced apart currently to comply with covid safety measures (which limits the seating numbers even further).

Hot Wings definitely earned here, no reservations at all!
No incentive was provided to visit this venue
read more