Catching Up With Friends At Nawaab Saab Indian In Nuthall
---
Published On Tuesday 1 Sep 2020 by Sticky Beak
See Recent Dining Out Reviews | See All Recent Reviews


No-one has enjoyed the Corona Crisis lockdown have they? It's put the kibosh on all our social lives. I was still shocked though when Mr TreeHugger said that he, Mrs Hugger, His Nibs and I haven't all been out together since Christmas; say what??! Shut the front door! That situation was swiftly rectified by him booking a table for us all at their local curry-house, Nawaab Saab in Nuthall.
Thanks to it being 'advance dining-in bookings only' at the moment, we managed to get parked really close to the venue and were greeted at the door by a member of the team. Hand sanitiser was at the entrance so we all had a good dousing with that before we made our way inside to our table and filled in the 'track and trace' form.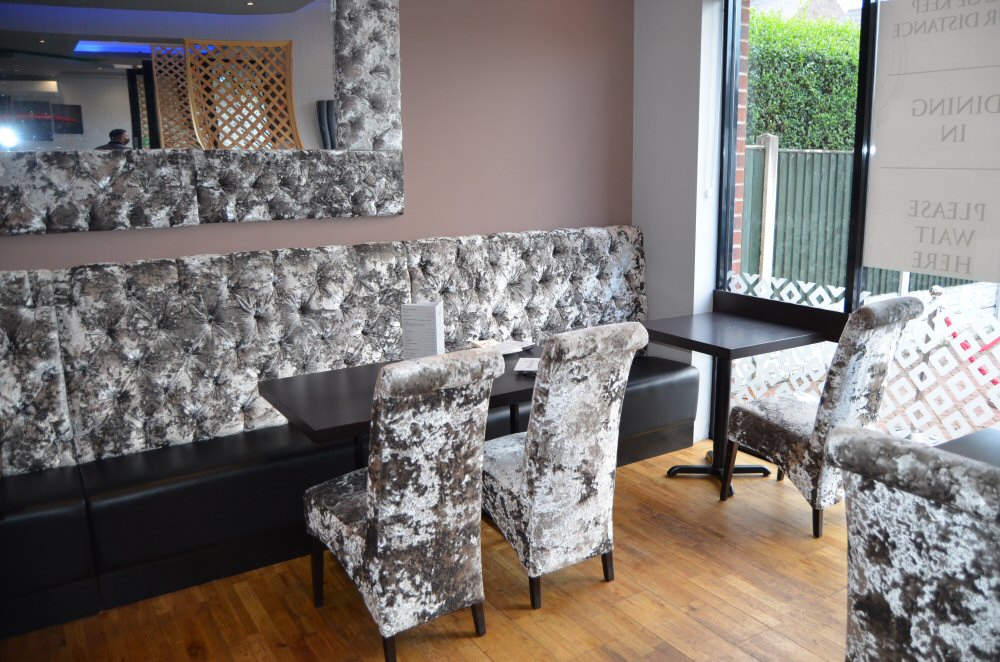 We swiftly ordered poppadoms and a pickle tray (hunger was ravaging us all!) and some drinks; The Man had a large 660ml bottle of Cobra lager and we had a bottle each of Pinot Grigio and Malbec to get the weekend started. Whilst we were catching up on the months' worth of gossip and news and munching on the crispy poppadoms, the lovely young man came to take our food orders.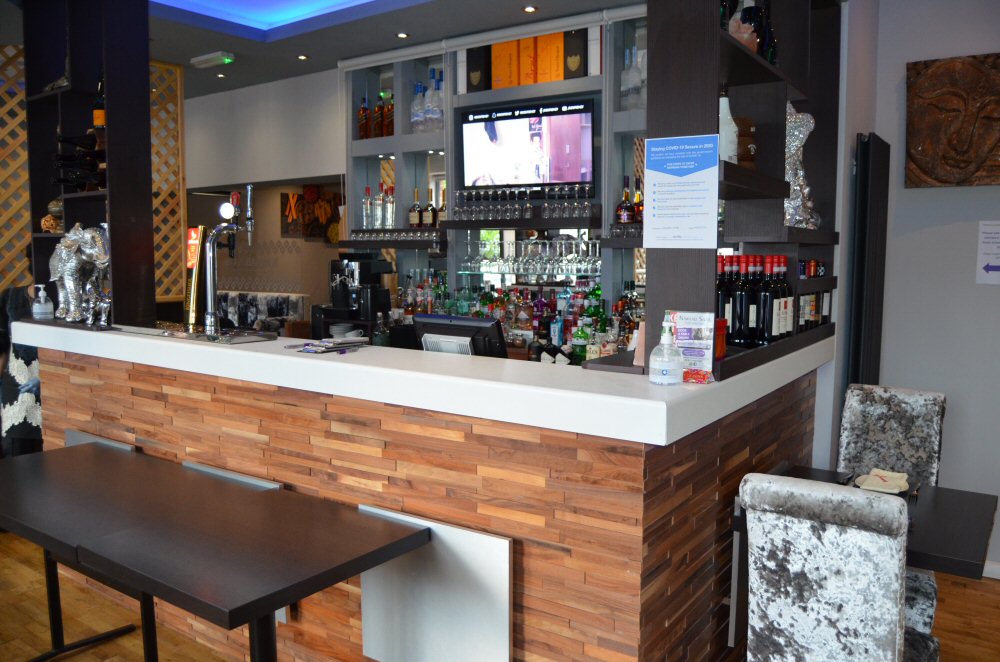 For starters we had the Sabzi Platter, Chicken Pakora, Tandoori Platter and Lahori Lamb Chop to be followed by mains of Chicken Tikka Dhesi Karahi, Chicken Tikka Shashlik and Lamb Rim Jhim. To go with the main dishes we ordered Traditional Pilau Rice, Garlic Rice, Peshwari Naan and Butter Paratha (with Mint Sauce on top as they had no fresh Mint).




As one of the team poured our wine (the manager) I took time to do what I do best i.e. have a nosy around at the decor! We didn't realise beforehand, but Nawaab Saab is the sister restaurant to Delhi Nights in South Normanton - small world! The restaurant style is centred on plush velvet: booth tables have stunning ombre-effect, black/grey/silver velour padded banquettes to sit on, free-standing chairs are striking silver velvet and even the mirror is surrounded by it! Pale wood trellis work and etched Perspex screens separate the tables and create a nice privacy for diners to enjoy. Our table had a quartet of canvas panels depicting bright red Chillies and there are other food related panels around the walls within Nawaab Saab.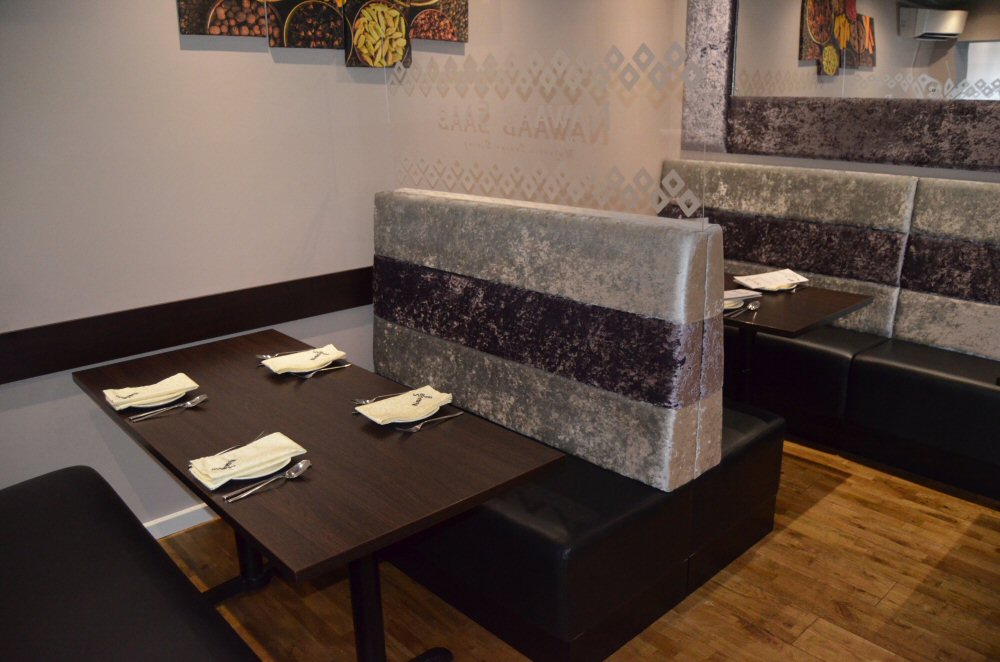 It wasn't overly long before our starters were being placed down in front of us and we eagerly began to eat. I'd chosen the Lahori Lamb Chops and the Tandoori sauce marinated meat was delicious, both in terms of flavour and texture. Each one of the pair of chops had got the protruding bone covered in silver foil to add a bit more visual appeal and also to aid cleanliness as you picked them up to get every last scrap of meat off the bone – clearly my reputation preceded me!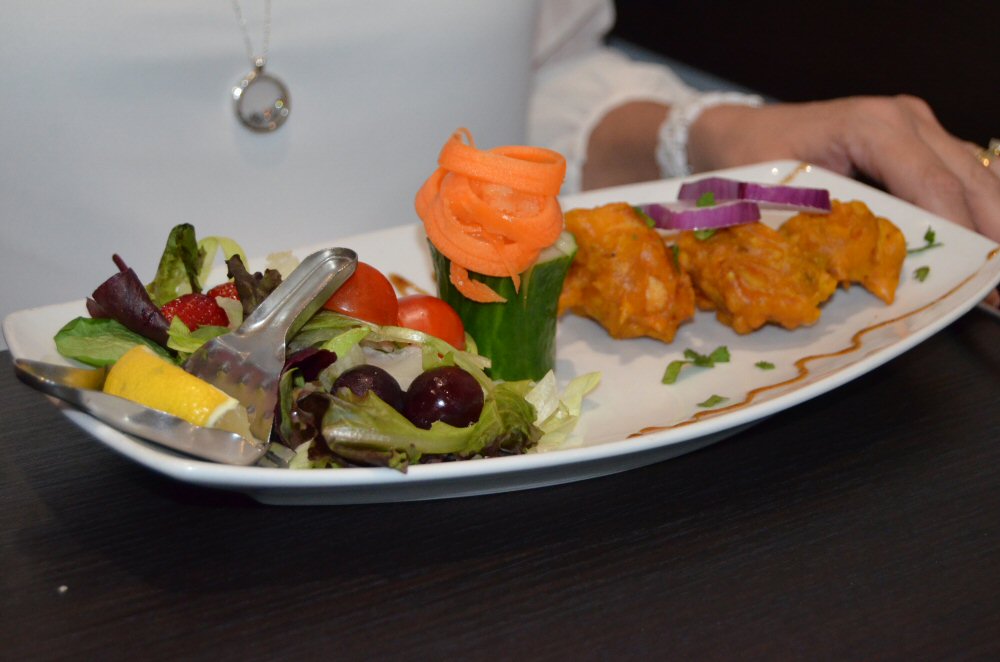 The Man was chowing down on his Sabzi platter – a mix of Onion Bhaji, Vegetable Samosas and Vegetable Pakora – and said how lovely each element was. Both Samosas were generously filled and weren't at all greasy, and the Onion Bhaji was just as generously proportioned with no oiliness on its surface either.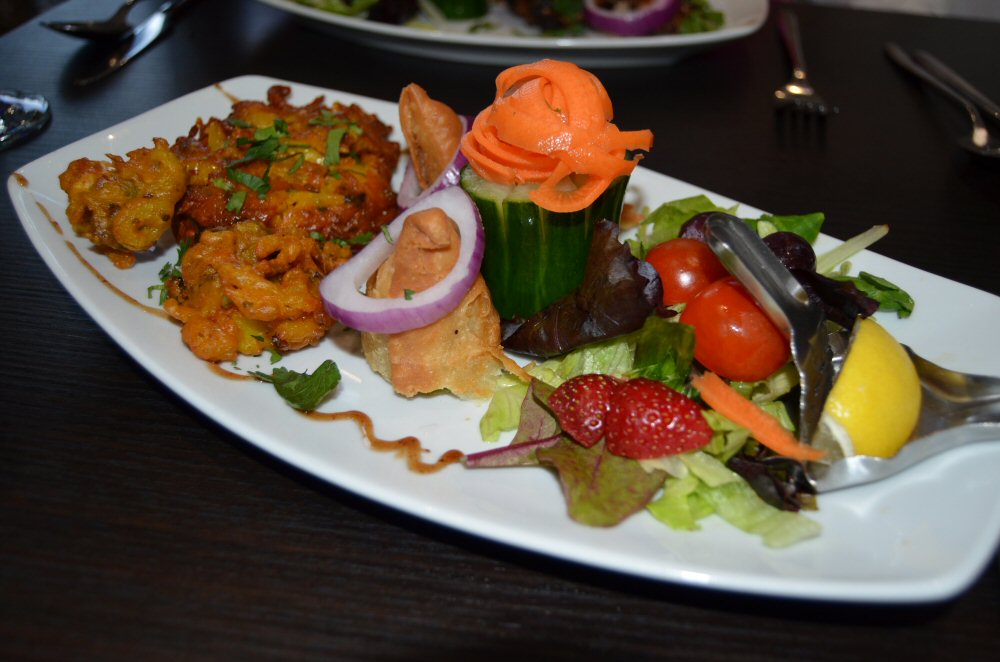 TreeHugger fancied the Tandoori Platter and all the meat was beautifully moist and juicy; the Seekh Kebab was just nicely spiced without being overpowering. The gorgeous Mrs Hugger had Chicken Pakora as her starter and the lightly spiced batter was super-crispy when she bit into it, giving the palate a whisper of the spice's taste. Each platter had been superbly garnished with a colourful, fruit-containing salad, Cucumber towers topped with spiralised Carrot and a bright fresh Lemon wedge in a metal squeezer for you to use as you wished.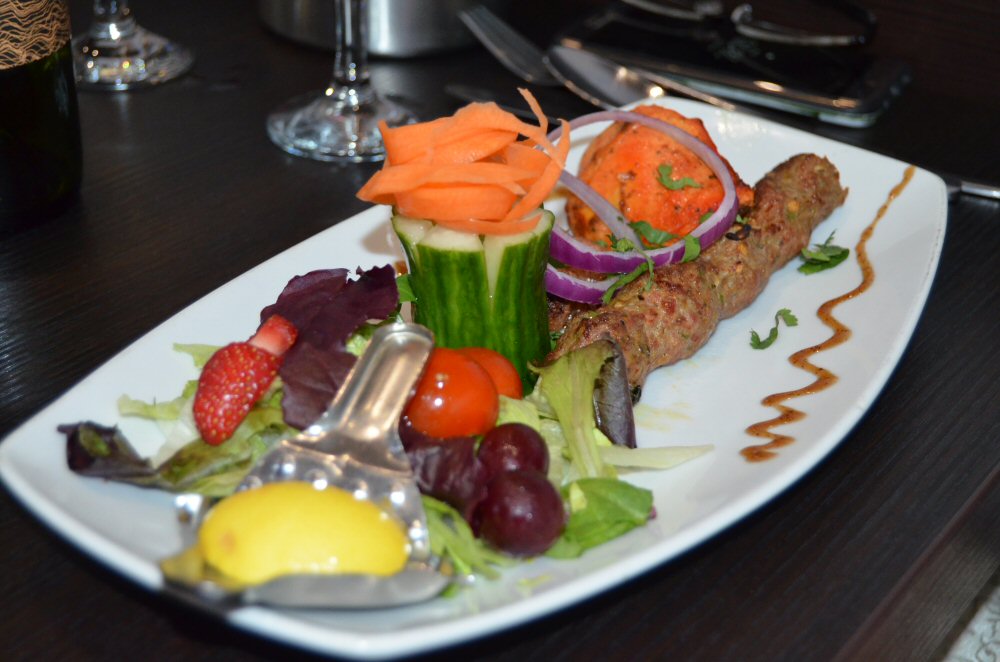 After our clean starter plates had been cleared away we filled in the interlude before the main course came out with our usual banter and chatter, and there was certainly plenty to talk about; not least the fact that our friends were now living in their new house!

The Man Bird had gone for Chicken Tikka Shashlik for his main course; pieces of Chicken that is marinated and then cooked in the Tandoor (clay oven) with Peppers, Tomato and Onion. Described as 'medium' on the spice scale, there certainly was no shortage of flavour going on in this tasty morsel and the vegetables and chicken were nice and plentiful. He and I had ordered a portion of Garlic Rice to share and this was beautifully fluffy with a pleasing Garlic note to it that wasn't too strong as to dominate our respective curries' flavour.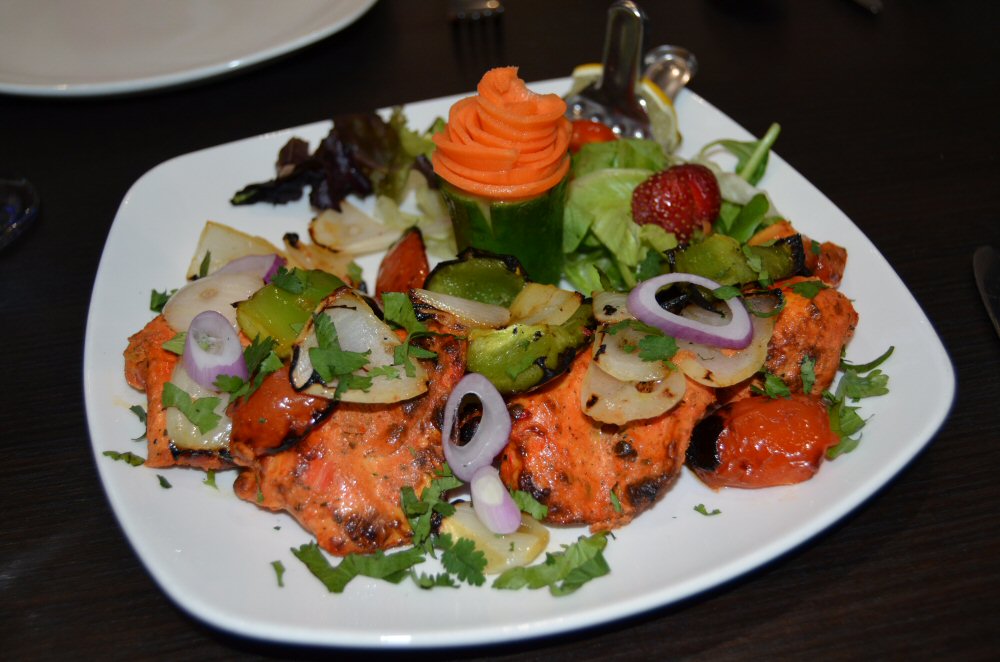 Team 'Hugger' had chosen Chicken Tikka Desai Karahi as their second course ('medium spicy'), and this dish also has Onion and Tomato in it but with the addition of a special Karahi Spice blend to get things going on in the mouth. Although this dish packs a spice punch it doesn't have a strong tingle factor, so if you don't like it too hot, you'll be fine with this. Plenty of fresh Coriander on the top of this dish gives it a lovely look, but also keeps it superbly clean on the palate.




They had gone for classic Pilau rice and its simplicity allowed the curry to take centre stage and shine. Mr TreeHugger is a monkey and will indulge his sweet tooth given half a chance, and that half-chance presented itself in the form of the Peshwari Naan. This particular bread is usually sweet anyway with the coconut and/or dried fruit that it contains, but at Nawaab Saab they go one step further and drizzle it with honey for a bit of extra indulgence. Well, you should've seen the delight on his face!!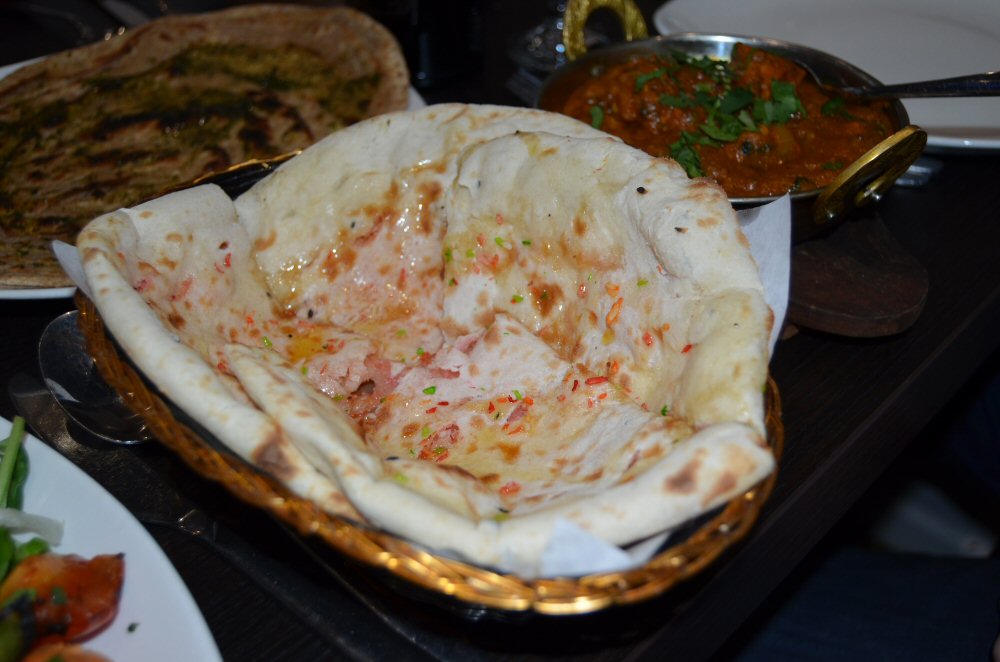 I always say that talking is thirsty work and another bottle of red wine (this time a South African Pinotage) somehow found its way to our table – rude not to partake of the grape, as they say! With our glasses duly refilled, we carried on yapping, laughing and munching.

As with my starter, I'd gone for a Lamb-based main course which was one of Nawaab Saab's signature dishes called the Rim Jhim. I'd nearly gone for the King Prawn variation of it, but took the recommendation of the manager instead. Turns out that this was a perfect choice; the Lamb was incredibly tender and succulent. The dish is described as 'medium hot' and there was no mistaking all the flavours of the spices as they bounced around on my tongue, but again there wasn't any unpleasant tingle on my lips or in my mouth.




A couple of years ago I got introduced to Paratha bread with Mint in at one of Nottingham city's Indian Restaurants and was instantly smitten! When I spied the Butter Paratha on Nawaab Saab's menu I knew straight away that that was going to get ordered and enquired as to whether Mint could be incorporated into it. There was no fresh Mint to hand, so instead Mint Sauce was swirled on the top and it actually worked really well: not as good as the 'real thing', but a cracking improvisation nonetheless.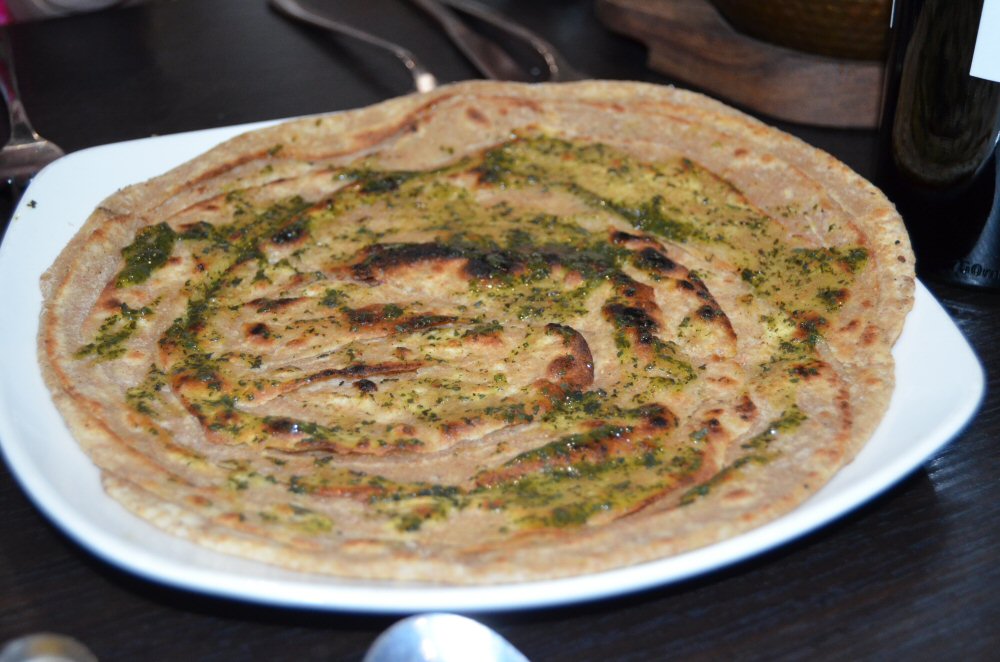 The men had a coffee (one was a liqueur coffee) to round off the meal; none of us could manage a dessert, even after a little rest 'to let the meal settle'! Throughout the evening the level of service had been excellent; check backs had been made at each course and our glasses weren't allowed to go empty. For the four of us the bill came to £185: we'd had Poppadoms and Pickles, starters, mains, Rice and Naans, coffees, a bottle of Cobra and three bottles of wine – all things considered we didn't think this was bad at all.
Hot Wings happily awarded to Nawaab Saab Indian Restaurant in Nuthall, and we'll definitely be back as I spotted another dish that I desperately want to try!
No incentive was provided to visit this venue
read more