Dinner At The All Siam Thai On Eccleshall Road, Sheffield
---
Published On Friday 28 Aug 2020 by Sticky Beak
See Recent Dining Out Reviews | See All Recent Reviews


There's never a dull (or quiet) moment when Fledge is around, and this particular day was no different. The Man and I picked Mummy Bird up in the jalopy and headed over to Sheffield where we planned to meet Chickadee at the local Dunelm and grab (yet more) bits for her new student digs. Fast forward a couple of hours and we'd just about cleared the store out and were heading back to said house for a brew and some cake.
We were recently at Mowgli for a flock dinner and we'd spotted a Thai restaurant along the way and said we'd go there one night, so guess what? Yep, we held good on our promise and that's where we were headed; All-Siam Thai Restaurant at 639 Ecclesall Road. Now, we've been to some places where the covid-19 measures are good but this has got to be up there with the best of them!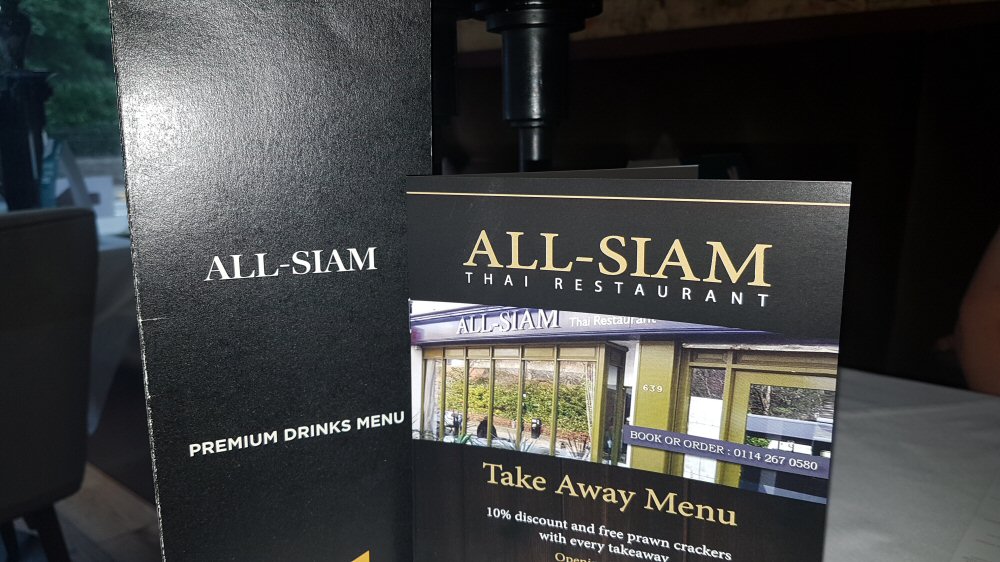 The restaurant door is locked, so you ring the doorbell to be allowed in (assuming you have booked a table) and use the hand sanitiser at the door too. One of the (PPE wearing) ladies then escorts you through to your table which is separated from the others by a Perspex screen; it almost looks like a maze of see-through screens, but what a fab way to stay hygienic.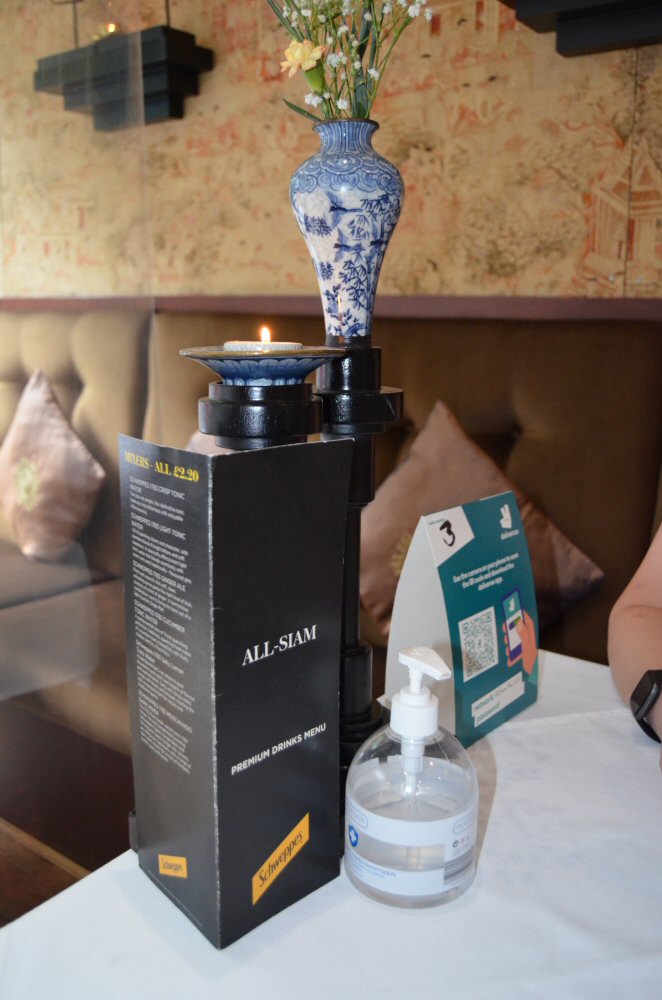 In no time we'd ordered our drinks and the lady was using tongs to place our napkins and cutlery down. Due to almost non-stop dining out we were all feeling somewhat podged so we decided that we were just going to have main courses, and skip starters. Next thing we know there is a stunningly decorated platter of Potato and Sweetcorn Pakoras being placed down in the centre of our table! The Filo pastry outers were super-crunchy and not in the slightest bit oily or greasy - Fledge commented how she didn't need to wipe her fingers after touching them. There was plenty of crunchy, finely shredded white cabbage and carrot to nibble at too, as well as those fab fried batter strands. A dinky separate corner of the platter held a sweet chilli dipping sauce which we all used sporadically.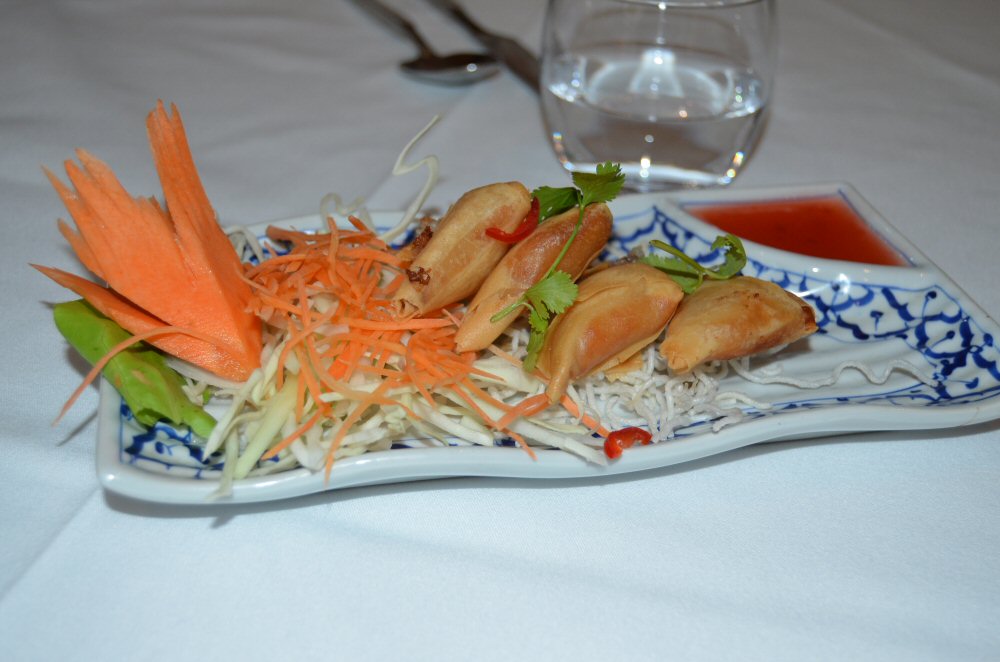 Mummy Bird absolutely loves Thai food but doesn't like too much chilli heat, so she opted for lightly battered Duck with stir-fried vegetables in a Thai sweet and sour sauce and a portion of steamed Thai fragrant rice. The Man Bird went for (Chef's Special) marinated Chicken with Coriander roots and Garlic that is accompanied by a ground rice and chilli powder sauce and a sweet chilli sauce, and Chickadee fancied the sound of stir-fried King Prawns with Chinese dried nuts, Water Chestnuts, Gingka nuts, Onion, Cashews and Shiitake Mushrooms; both of them had Sticky Rice as their accompaniment. I chose the Steamed Seabass with Fresh Chilli and Lime Sauce with a portion of Coconut Rice to go with it.

You really can't fault the effort that goes into presentation of the food at All-Siam, there were flowers of Carrot and verdant carpets of fresh Herbs as well as a colourful selection of fresh salad vegetables all creating a visual feast for the eyes on each platter. Equally amazing were the aromas drifting across the table from the quartet of dishes that we'd ordered and all four of us grinned at each other as we began to help ourselves to the deliciousness.




All of the meats, seafood and fish were just sublime: soft, juicy and extremely flavoursome. I tried a piece of Mummy Bird's Duck and it was superb; despite having a coating of sauce the batter remained nice and crisp and was lovely and light in the mouth. Like its more commonplace Chinese cousin, this sweet and sour had a nice thick glutinous sauce and the just-crunchy vegetables were cut a little thicker than the rest of our meals.




The Man and I were both expecting his Chicken to be in pieces and distributed within a sauce so we got a (pleasant) shock when the Chicken breast and dark meat had been thickly sliced and all placed in one spot then drizzled with the sauce. Ah yes, the sauce; almost BBQ in its smokiness but with a definite Garlic edge to it and very, very moreish. A nice deep bed of bean sprouts and vegetables added crunch and colour to the meal as well as being jolly tasty.




Chickadee loves, and I mean LOVES, King Prawns so she was dead chuffed with the generous amount of them in her dish; good job they were so plentiful they way she was gobbling them up! Not so fast to get eaten were the pale green Gingko nuts – takes after her dad in thinking that anything green/healthy must be avoided at all costs! Like most young adults trying to get her to be descriptive is like pulling teeth, so I have to be patient and garner what little snippets of information she chooses to part with. I managed to gather that although the dish isn't spicy particularly it has plenty of taste and that it is nice and fresh and light on the palate; she would've liked less Mushroom and (even) more King Prawns – no surprise there. Chickadee did say that she would definitely have this dish again.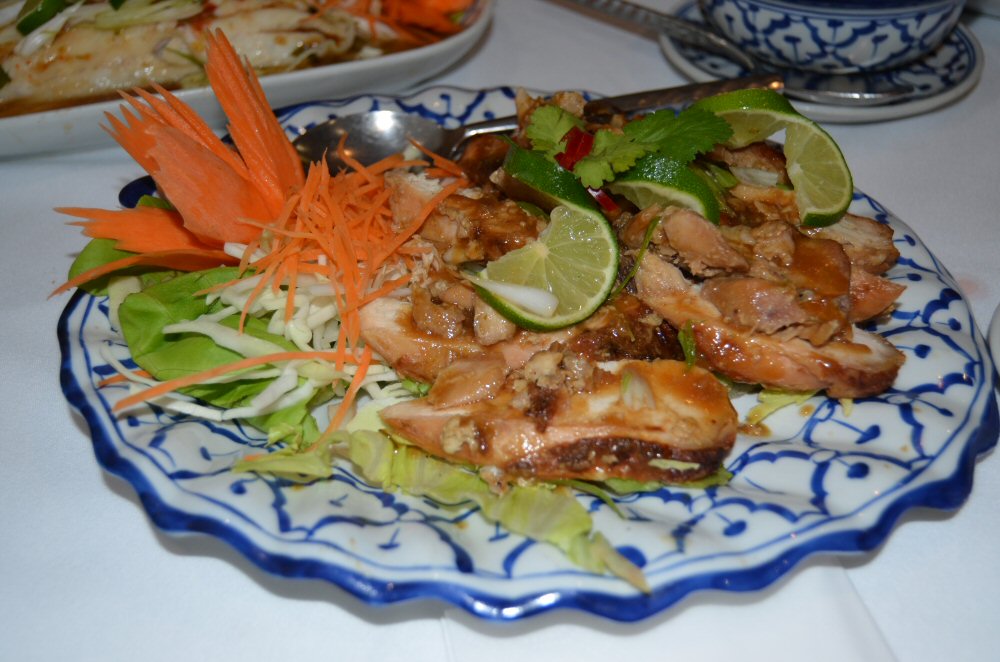 My Seabass was blooming magnificent, it really was. The fish itself was exquisitely sweet and Chef had cooked it to preserve all of its natural moistness and firmness so that it didn't flake apart as I moved each fillet from the serving platter to my plate. Of all the sauces mine was the thinnest; it was like a consommé but its delicate appearance belied its punchiness – this was certainly spicy, no mistake. What I really liked about it though was the balance of the Chilli heat and sharp, citrus kick of the Lime; it kept things fresh and clean on the palate and brought out the sweeter notes of the Seabass superbly. I had the usual shredded Carrot and Cabbage on one end of the platter, but underneath the fish was a light green bed of wilted Pak Choi and, being totally honest, this was all that was needed veg-wise to allow the sauce flavours to take centre-stage.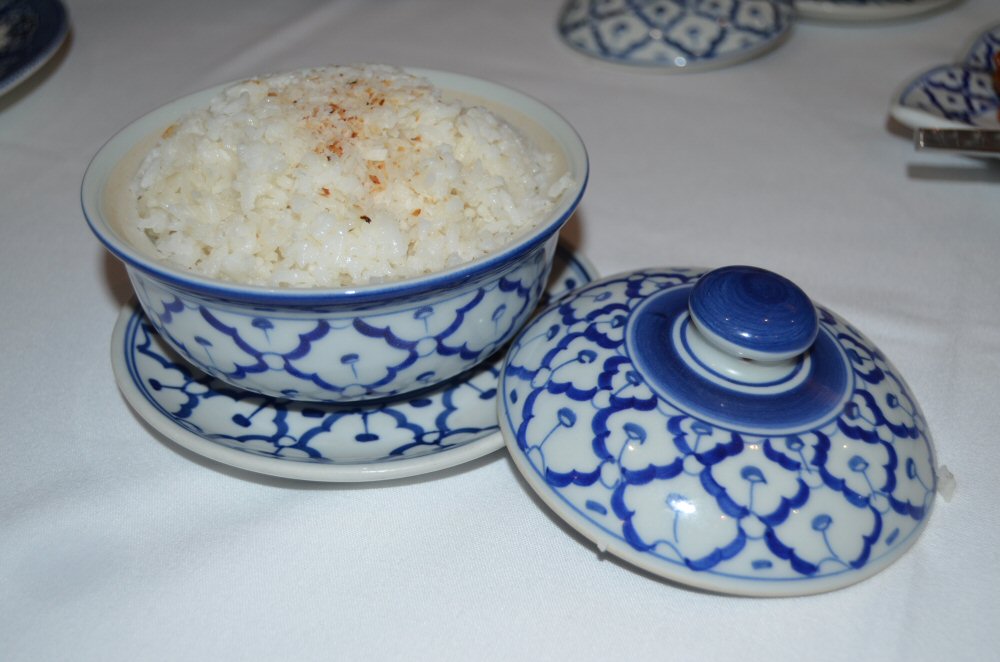 Each portion of rice came in its own blue and white lidded bowl, adding to the visual impact of the meal as well as ensuring that this humble side dish was kept in tip-top, hot condition as we helped ourselves intermittently. The sticky rise was just that: sticky, but beautifully so and Mummy Birds rice had a wonderful gentle fragrance to its beautifully fluffy grains. My Coconut rice was topped with golden brown toasted shreds and the rest of the white coconut flesh was mingled in with the creamy rice grains to just give it a little note of sweetness in the mouth (which made it the perfect partner for sweet fish and a sharp sauce! ).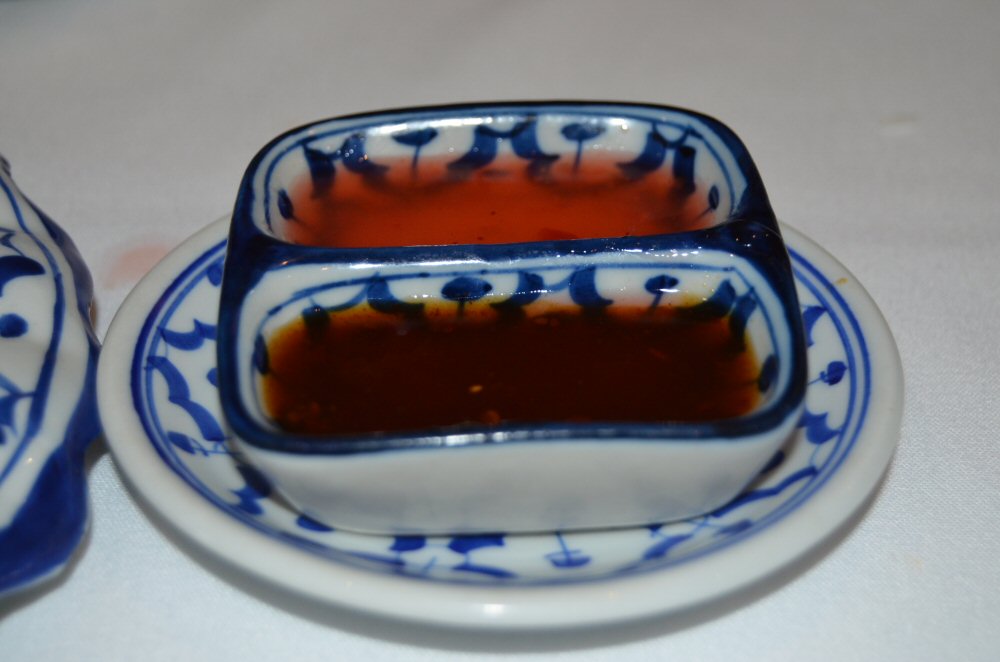 Throughout the meal our wonderful server had checked that we were enjoying our food as well as keeping our water glasses refreshed. Everything was done with a polite 'thank you' and the way her eyes crinkled you could tell that there was a beaming smile under the mask too.




Hot Wings most definitely deserved by the All-Siam team in Sheffield. I have a feeling the Fledge and her housemates will be using the takeaway service on a regular basis! Evening food service time is: 4-10pm Sunday-Friday, and 4-10.30pm on Saturdays, and takeaways have a 10% discount and free Prawn Crackers with every order too.
No incentive was provided to visit this venue
read more