Out For Dinner At Seven Restaurant and Cafe Bar in Derby
---
Published On Sunday 23 Aug 2020 by Sticky Beak
See Recent Dining Out Reviews | See All Recent Reviews


Not gonna lie, August will see His Nibs and me being total and utter gluttons – yes, even more so than usual! - which is down to the fab weather, the #eatouttohelpout scheme and our usual pattern of eating out for the blog. This time we decided to go to Seven Restaurant and Cafe Bar on Pride Park in Derby and so we made our way into their spacious car park, stepping out into a blast of hot summer evening air after being in the luxury of air conditioning in the jalopy. There were plenty of after-work diners enjoying the terrace atmosphere, so there was a fab buzz even before we got inside the venue proper.
We used the automatic hand sanitiser at the entrance and were greeted by a mask-wearing member of staff who booked us in and showed us to our table. Our lovely server then came and got us sorted with a bottle of chilled water, a glass of Malbec and a pint of draught Asahi. Whilst the table we were on was more than adequate, we do tend to need a bit more space for photographing the dishes and so we asked if it was possible to move. Thankfully the team were able to accommodate our request and we got settled in at a corner table.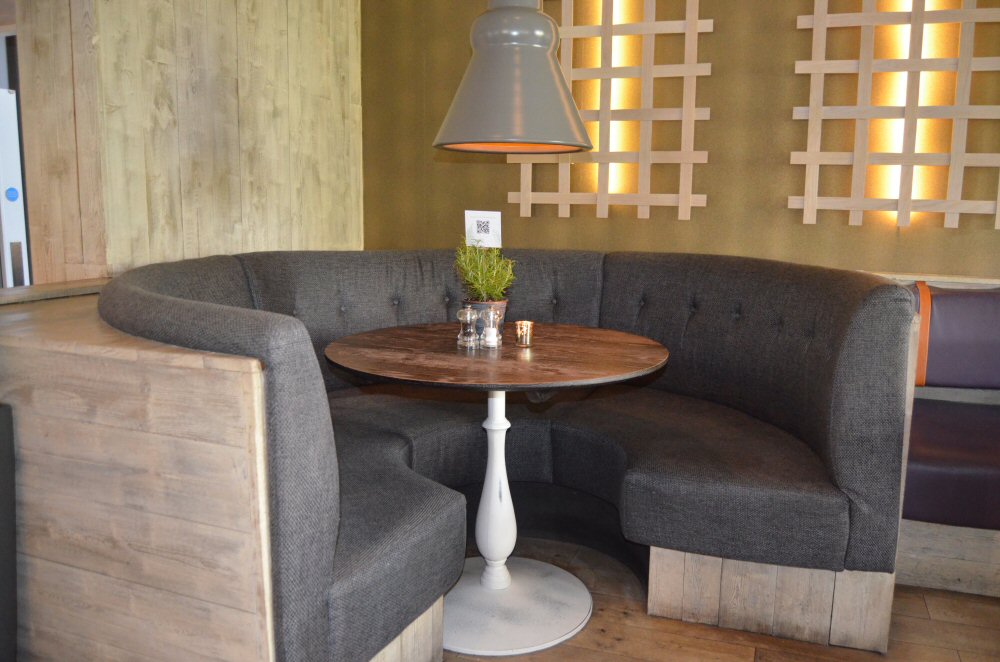 Seven is a very chic, modern space but isn't stark or unwelcoming and I love the area to the left of the entrance; the pale wood benches have matching high stools, there are some fetching tables and mid-back armchairs there too, and a canopied 'tree' creates a nicely chilled vibe that is echoed in the upper eating area too. Trendy bleached wood floors are contrasted, but complimented, nicely by darker, distressed wood tables and the whole look is tied in with natural tones throughout: think marine blues, stormy greys, sage greens and soft cream. Contemporary pendant lights cast a nice glow around the space, accented by metal-surround, suspended tea light sconces and there's upbeat music setting the tone in the background.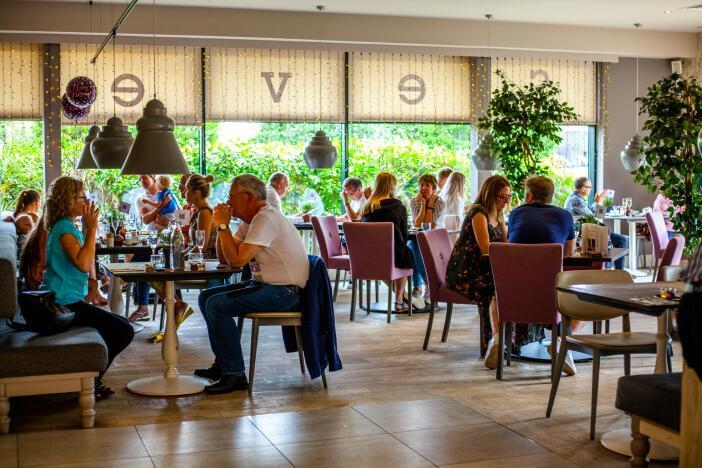 When we visited there was a lively thrum of conversation in the restaurant, coming from a varied mix of age groups. The diners were predominantly younger (20's) but there were also families with children and grandparents in the group and older couples too. I liked the table decor: fresh Rosemary plants in pots; it added a bit of colour to each table as well as imparting its clean aroma. Clear acrylic salt and pepper grinders were the only other adornments on the table as cutlery was brought out as and when needed.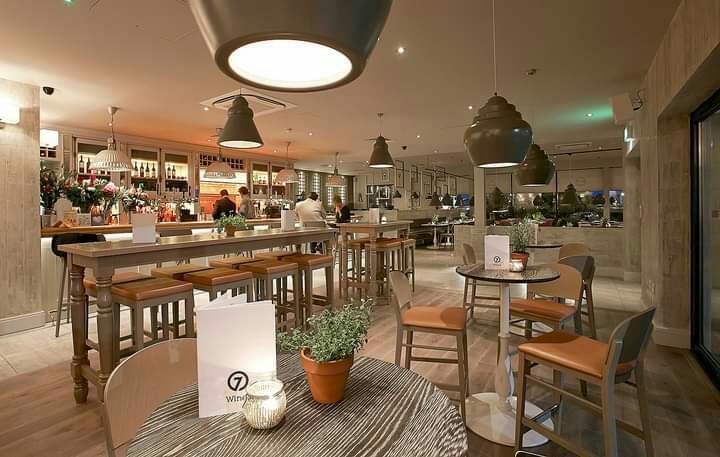 We ordered some Padron Peppers (£3.25) to nibble at whilst we looked through the menu, trying to decide what we fancied. The nibbles were brought out in a lovely blue-grey dish that showed off their verdancy beautifully as well as the dark, charred accents that graced their outers. Chef had charred the Padron Peppers perfectly to release their sweetness and provide a smoky edge on the palate and a generous scattering of Sea Salt flakes contrasted and balanced well with the other flavours. A light sheen on their skins was the only evidence that oil had been used as there was no hint of this in the mouth.




I settled on the Honey Roast Goats' Cheese with Beetroot, Caramelised Walnuts, Lambs' Lettuce and Herb Dressing (£6.25) to start and The Man Bird opted for Cajun Spiced Crispy Squid with Spring Onion, Chilli, and Garlic Aioli (£6.50). Presentation was again superb with nothing being a millimetre out of place.

After the photos had been duly taken, I tucked into the nice slice of Goats Cheese that lay before me. The cheese had been skilfully dressed with honey so that its muskiness wasn't overwhelmed by sweetness and I was pleased to see cubes of both Ruby- and Golden- Beetroot on my plate. I do like Beetroot - not so much the smell of it being cooked – and I wasn't disappointed here; the gentle earthiness of the beets came through in my mouth nicely, releasing their summery enthusiasm softly. There was a great crunch from the Caramelised Walnut pieces, and again they weren't overly sweet as to lose their nutty taste on the tongue. Lambs' lettuce added a pop of colour and a cool fresh element to the dish.




The Man Bird was just as smitten with his Cajun Spiced Crispy Squid; they were lovely and tender, not at all rubbery, and their tender sweetness shone against the spices used here. In order not to overwhelm their delicate nature, the batter wasn't too thick but was superbly light and crunchy when bitten into. Sliced on the angle, the green colour of the Spring onions gave a nice visual element to the dish as well as supplying a nice oniony note that was picked up and enhanced by the Garlicky Aioli. In addition to the heat of the Cajun spices, slices of fiery Red Chilli gave some fizz to this starter as well as contrasting beautifully with the green of the Spring Onion.




Our lovely server had checked we were happy with our starters and was pleased to clear away a pair of clean plates. He asked if we were ok for drinks and said he would bring out another bottle of chilled water for us – we had been so warm when we first arrived that neither of us had noticed the amount of water we'd drunk to cool down!

For main course I ordered the Pan Fried Cornish Cod with Gnocchi, Prawns, Spinach, and a Tarragon and White Wine Sauce (£13.95) and a side of Zucchini/Courgette Fries (£3.25); His Nibs chose Seven's Double Cheese Burger (£11.95), adding Pulled Pork for an extra £2.50 and some Onion Rings at £3.25. Although he'd known this consisted of a double Beef Patty his eyes still goggled when the frankly massive burger was placed before him!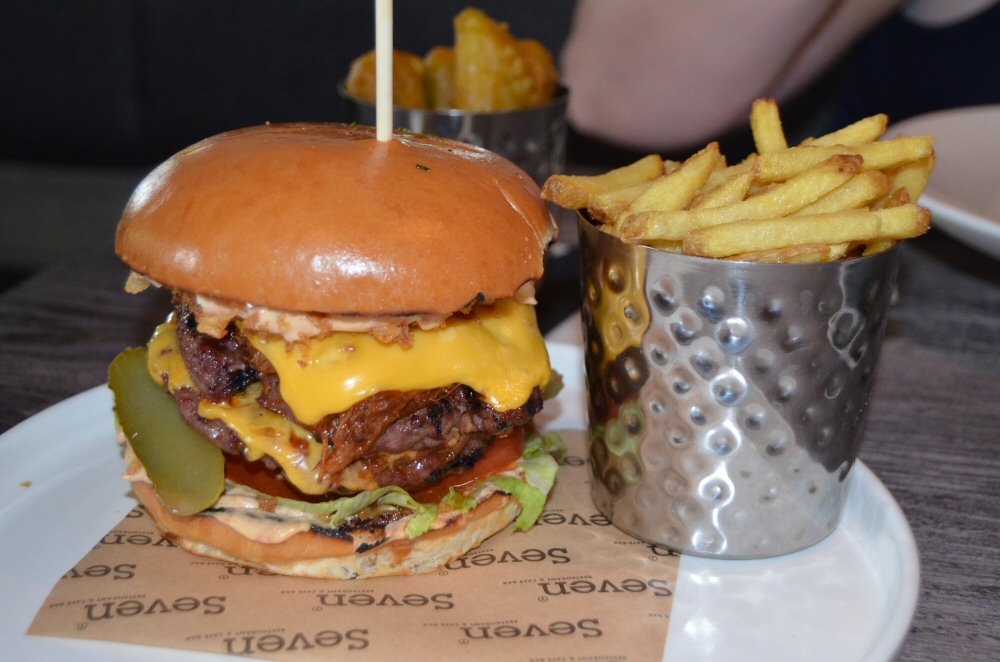 His Nibs has pretty manly hands (i.e. they're fairly large) but even he struggled to get a grip on the entire burger and decided that the safest bet would be to deconstruct it and eat this monster with a knife and fork. I'm pleased to report that the Beef Patties tasted every bit as substantial as they looked and The Man was a jolly happy chap, especially when he discovered they were served pink in the middle. The double American cheese had melted so that it was all gooey and soft, pairing nicely with the juicy Pulled Pork and contrasting fabulously against the sour pickles and crispy onions.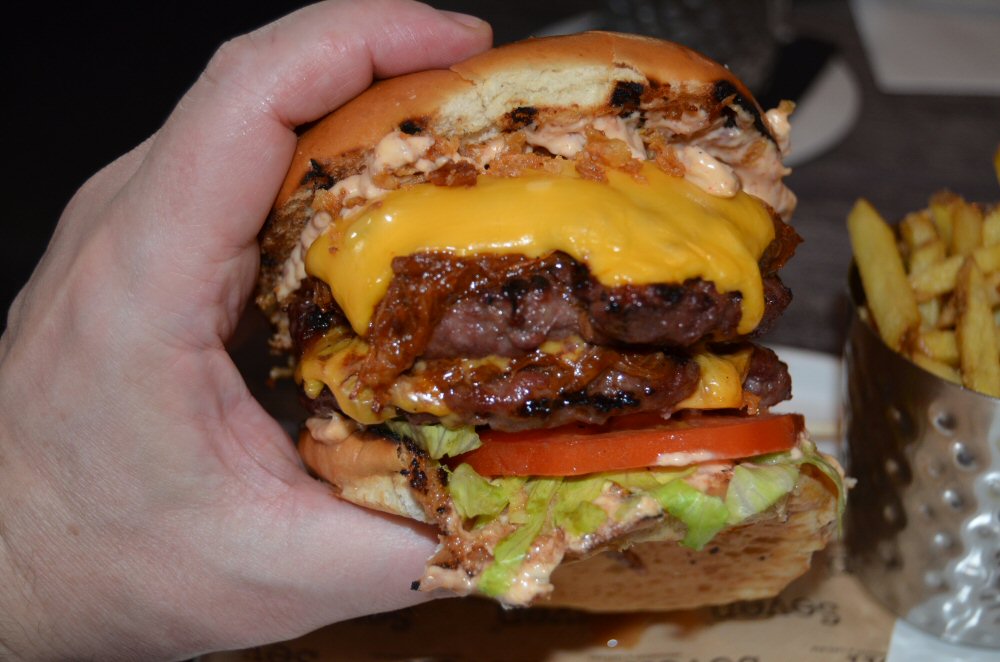 Seven do a wicked Baconnaise that manages to be creamy and meaty at the same time and The Man loved the Bacon bits in it too. I was given the slice of sweet, fresh Tomato and the shredded Iceberg Lettuce (salad dodger that he is!!) and I also pilfered a piece of the buttery, toasted Brioche bun that housed the whole burger. Having the bun toasted makes a world of difference I think to the overall experience of a burger; it stops everything going soggy and insipid as well as giving a bit of crunch in the mouth, and this one was delicious.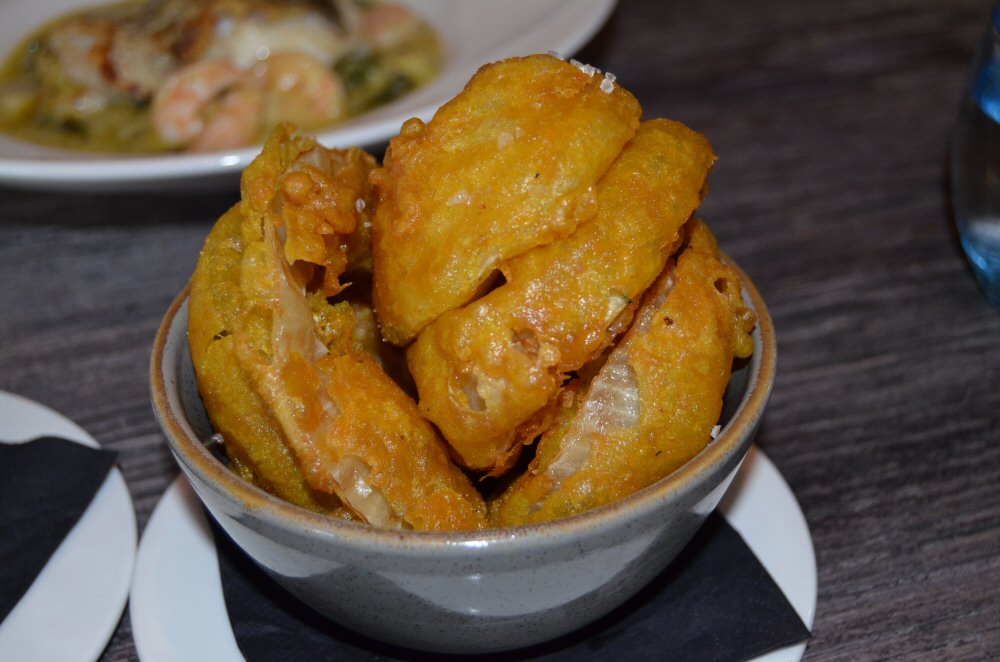 You get a good amount of chunky Onion Rings for your side order at Seven and His Nibs was digging into these beauts with much gusto! Underneath their thick crunchy batter coating (this was gorgeously seasoned) the onion itself was still al dente – there's nothing worse than limp onion in an Onion ring, is there? These got rated as being up there with the best of them.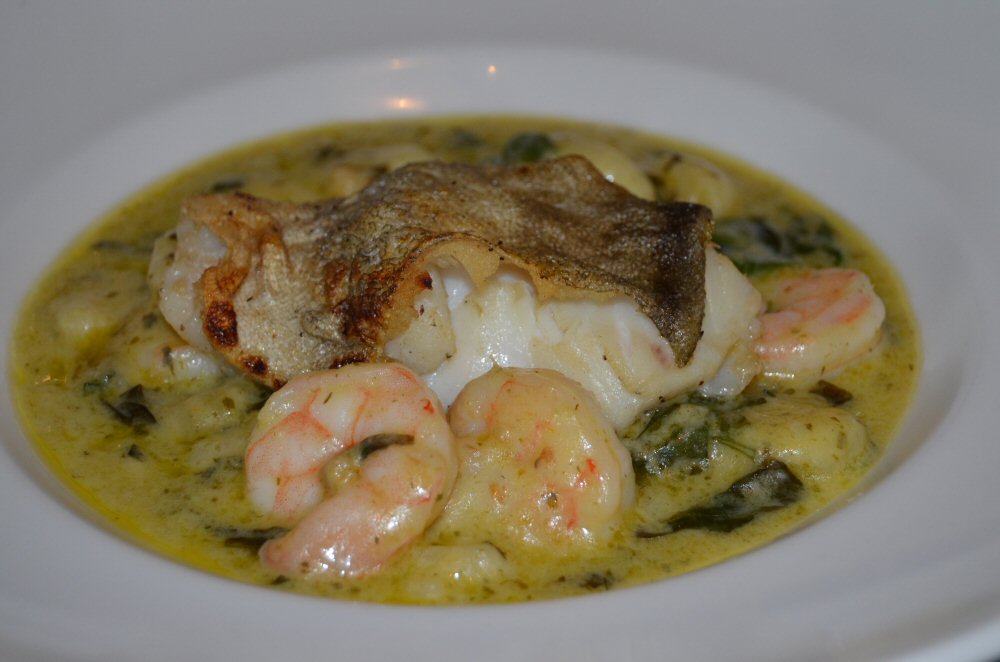 I was a big fan of my main course; the Cod was to die for. As you know, one of my biggest peeves is over-cooked, dried-out fish – if something is set to rankle me and put me in a foul mood it's this! Thankfully the Chef at Seven Restaurant and Cafe Bar knows exactly what he's doing and the result was a superbly moist, super-sweet piece of fish that was a joy to eat. Fragrant, meaty-textured King Prawns complimented their marine partner brilliantly, as did the gently anise tones of Tarragon. Wilted Spinach added a splash of colour in the sauce alongside the herb and the precisely formed Gnocchi were lightly firm to the bite and made a perfect vessel with which to scoop up the excess sauce. I have to say that the photos of this dish really don't do it justice; the subtler colours are a bit lost in pictorial representation, but the flavour comes bouncing through in the mouth.
The Zucchini fries were piping hot in the middle and steam billowed out of them as I took my first bite, desperately blowing them in my mouth as their temperature took me a little off-guard! I was happy to discover that this vegetable hadn't been reduced to a soft mush despite having been cooked at clearly high heat, and its clean taste washed over my palate. The batter was so light it verged on Tempura and this was exactly what a fragile vegetable like Courgette needs, anything heavier would've weighed it down unnecessarily.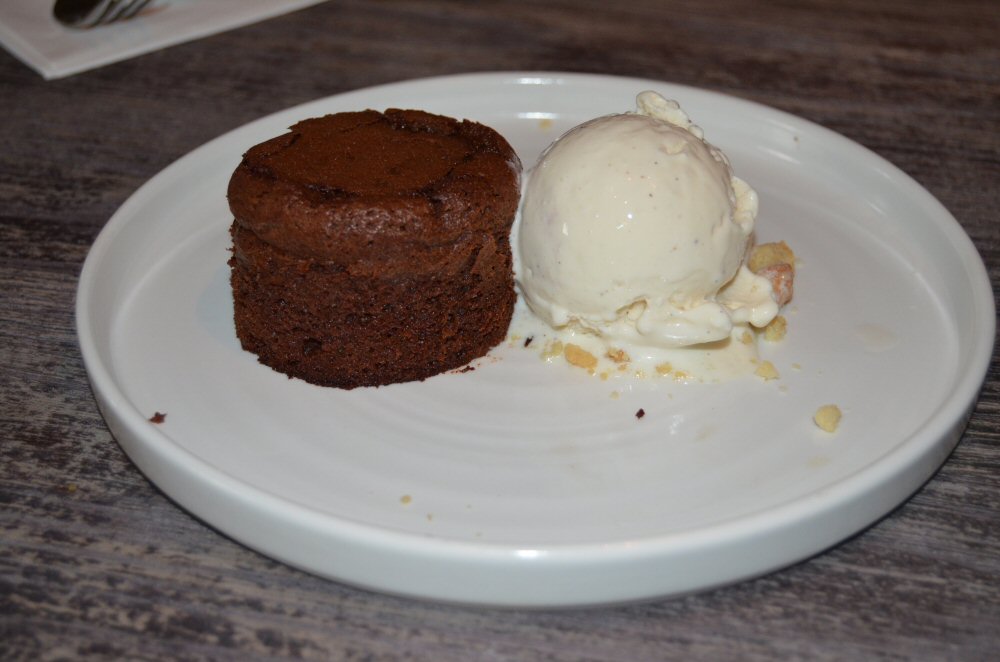 For dessert I fancied the Chocolate Fondant (it does state a minimum of 10 minutes cooking time) priced at £5.95 and The Man had Caramelised Lemon Tart with Blackcurrant Sorbet, also £5.95. I was surprised therefore when my Fondant appeared after a mere 5 minute wait. I assume there can only be a couple of reasons for this: a) I got the order intended for another table (apologies if this is the case!) or, b)one of the serving team hadn't picked up one in time and it stayed on the pass, so I got given it as our order came through. Based on its texture, I will go with option 'b'. There was no denying the brilliance of its rich cocoa hit and it had a lovely light crust on the top, but it wasn't at all runny in the middle. The Fondant had definitely 'gone over' and was soft and gooey like a Brownie in its centre, which was delicious, but it certainly was not a Fondant. A superb Vanilla Ice cream was all that this intense dessert needed to set it off.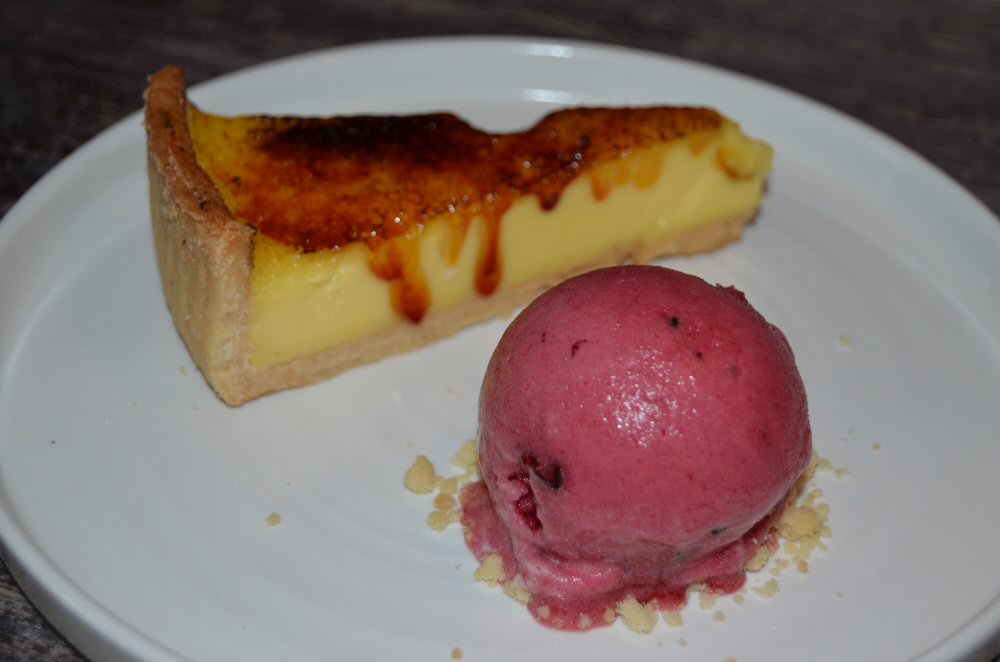 His Nibs described his Lemon Tart as "Crème Brulee-meets-Lemon Tart" thanks to its thin sugar crust that gave a wonderful crunch as it was thwacked by the spoon. The zesty, sharp Lemon layer was absolutely sublime in its face-scrunching ability. Given the blistering heat of the day, this was just the thing to enjoy in its citrus freshness and The Man said he could imagine he was eating this on a Mediterranean bistro terrace. The Blackcurrant Sorbet was determined not to be outdone by the Lemon and was just as vibrant in its fruity zing: face-scrunch time, part two! This was a fantastic pairing of flavours and textures that provided the perfect conclusion to the meal.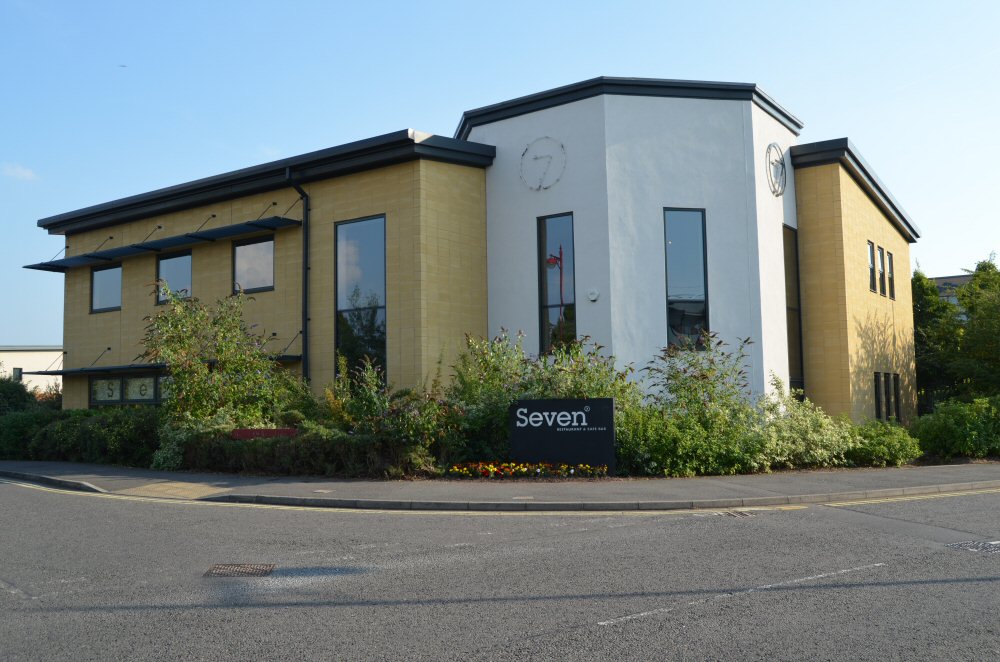 A couple of rich, rounded black coffees brought our time at Seven Restaurant and Cafe Bar to a close and it was time to face the heat again. Hot Wings happily given to this great Pride Park located venue; the surroundings, service and food were all marvellous.

Opening hours are: Monday-Saturday 9am-11pm and Sunday 9am-5pm (last orders).
No incentive was provided to visit this venue
read more