Eat Out To Help Out At Barringtons, Darley Dale
---
Published On Thursday 20 Aug 2020 by Sticky Beak
See Recent Dining Out Reviews | See All Recent Reviews


His Nibs and I have been supporting local venues as they participate in the governments 'eat out to help out' scheme – why wouldn't we take advantage of an (up to) £10 discount per person on food and soft drinks?! On this occasion we decided to visit Barringtons at Darley Dale, a place we've often driven past but never ventured into. Currently, the car park spaces are given over to outdoor tables and seating so we parked on one of the side streets and walked up: actually, that reminds me to say that you need to be careful not to park in the Whitworth Centre (or make sure you buy a ticket if you do)!
Thanks to it being an El Scorchio evening, it goes without saying that the outdoor areas were ram-a-lam-a-ding-donged with folk enjoying the gorgeous weather. We splodged a dollop of hand sanitiser on our mitts (handily located at the entrance) and made our way inside where we were greeted warmly by one of the serving team. Our table was close by and the others in this room were all very nicely spaced out; a track-n-trace slip was also on the table waiting for us to fill out, which we duly did.




Barringtons has a couple of dining areas and the one we were in was definitely the louder of the two. We don't mind hearing the chatter of kids early evening, but if it really isn't your thing then request a table in the quieter side when you book a table. This old building has stunningly high ceilings and fancy cornicing and is currently decorated with a warm Mustard shade on the walls, with stormy blues and slate grey as accent colours. The tables are sturdy solid wood numbers partnered by good comfy seats.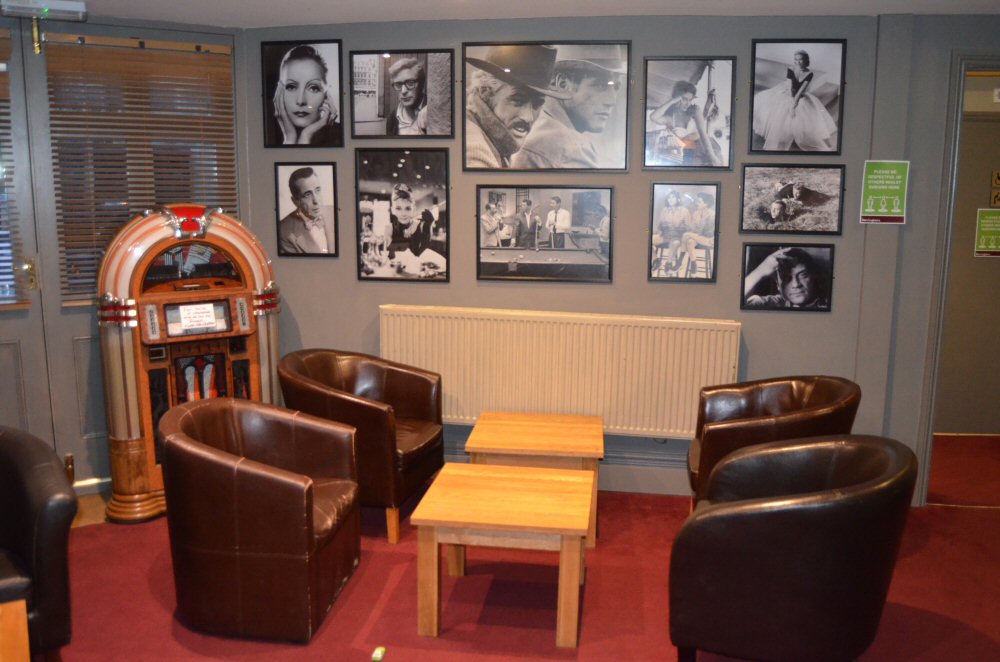 Our drinks were brought over to us and we took the opportunity to order our food at the same time: Prawn Cocktail (£5.50) and Chicken Liver Pâté (£4.95) to start, followed by the Minted Lamb Hanging Skewer (£14.95) and BBQ Ribs (£12.50) for mains.

We didn't have long to wait for our starters and both of us were nice and hungry so we tucked straight in. My Prawn Cocktail was served on an oblong platter with the Marie Rose sauce-coated Prawns nestling on a bed of Mixed Leaves.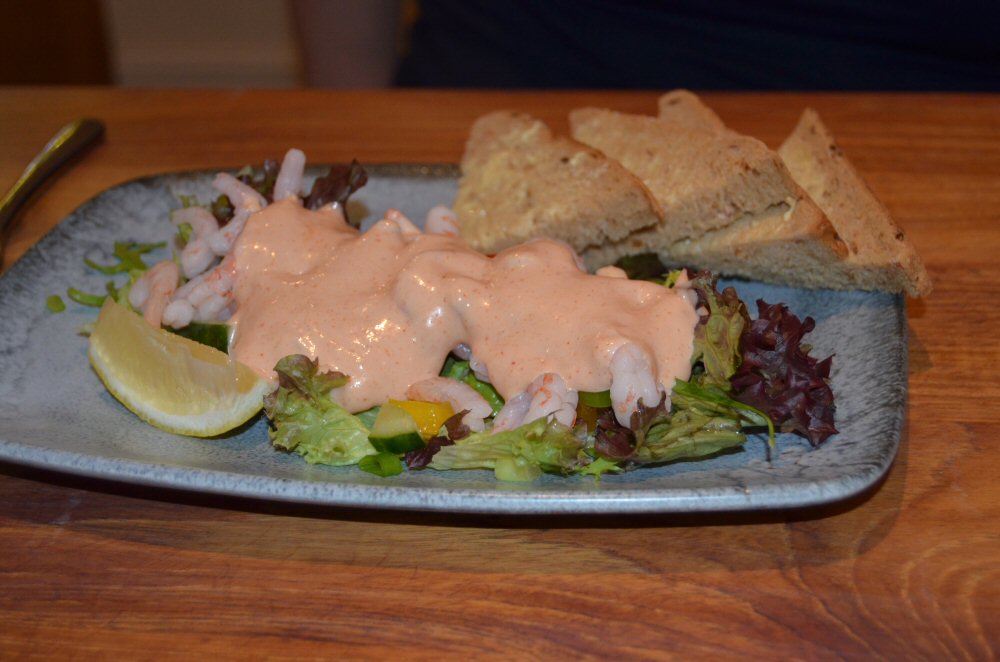 The prawns themselves were beautifully plump and juicy and were smothered with a good amount of the zingy Bloody Mary-pimped sauce. As well as the salad leaves there were halved Cherry Tomatoes, Cucumber quarters, sliced Spring Onions and slices of Red and Yellow Peppers to crunch on; needless to say they all got doused in the delicious sauce too. Soft, springy Granary bread was ready-buttered and cut into dainty triangles to dunk into the sauce or be used to make open mini sandwiches if desired and a fresh Lemon wedge was added as a last presentational flourish.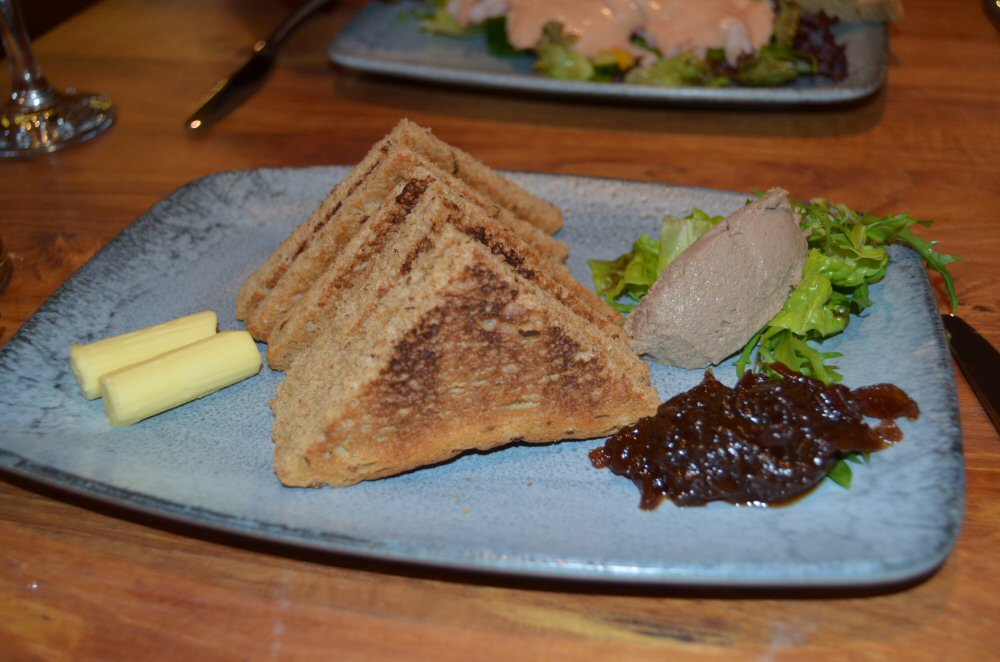 The Man Bird had chosen the Chicken Liver Pâté and was enjoying its gorgeously rich flavour. It wasn't overly coarse in texture but wasn't completely smooth either, so there was little bit of structure to it when he bit into it. At first glance it didn't look the most generous portion in all honesty, but a little certainly went a long way to satisfy the appetite due to its richness; sometimes less is more, and it was definitely the case here. The granary bread had been toasted to a lovely shade of golden toffee and cut into triangles before being stood up on the plate, and a couple of 'logs' of butter were resting at the side of them waiting to be used (or not, in this instance). A generous amount of thick, sticky Onion Marmalade was also on the plate and The Man loved its taste: nicely tangy and not too sweet – a perfect balance of flavours.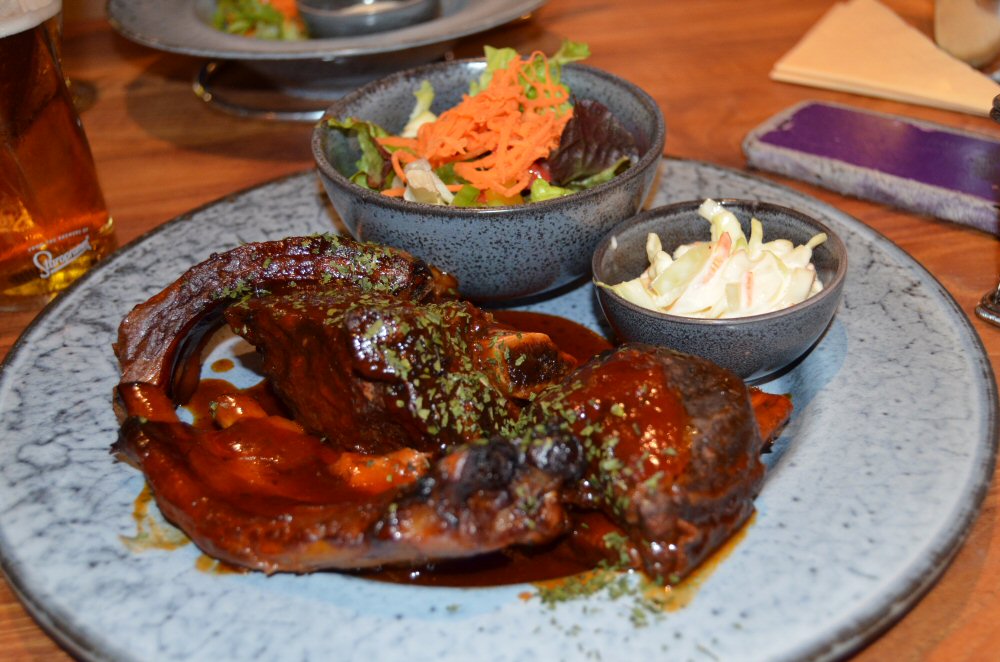 His Nibs had a refresher in the 'read the menu properly' lesson when his BBQ Ribs arrived; as well as the Pork ribs he was expecting, there was also a rack of short-rib Beef nestling on the plate beside them! No shortage of meat to be munching away on here then, fella! Both meats were really tender and just fell away from the bone at the merest hint of pressure from the cutlery. In the mouth they took no chewing at all, melting smoothly on the tongue and the BBQ sauce that covered them was superbly sweet-but-tangy with a gentle smokiness to it. Beautifully thick, golden toned homemade chips were presented in one of those dinky 'frying baskets' and their soft, earthy tasting inners were surrounded by lightly crispy, salted outers that weren't at all greasy. Chunky, creamy coleslaw was in a separate little pot and a nicely proportioned side salad of Mixed leaves, Peppers, Spring Onion, Cherry Tomatoes and Cucumber had been gently tossed in Vinaigrette.




The Man Bird wasn't the only one of us that was being tested; my reflexes proved to still be lightning fast as I swooped to save my red wine spilling as the server caught the glass as she was placing my hanging skewer down on the table! Whilst I didn't manage to stop a couple of drops hitting His Nibs' shirt, I did prevent the camera and entire table being a sea of Malbec – what a waste that would've been. The lady couldn't apologise enough (not a problem, accidents happen) and before I knew it a new glass appeared, so no faulting the customer service here.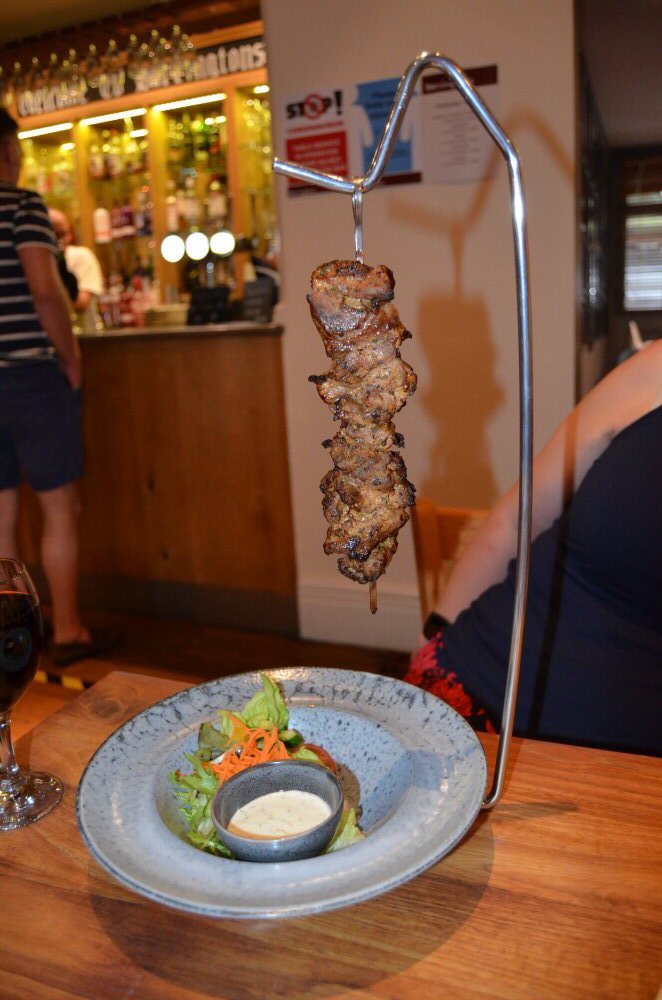 My Minted Lamb skewer looked (and smelled) mouth-wateringly good and I immediately set to work releasing the quintet of large chunks from their impalement and putting them onto the plate. The Lamb was nicely minty but not overly so; just enough to balance the two tastes. I was enjoying the taste and tenderness of the meat in my mouth and the Tzatziki dip was a deliciously herby and refreshing accompaniment. I had the same dressed salad on my plate as The Man Bird (not his, although I did end up having most of his too!) and savoured the coolness of the crisp components.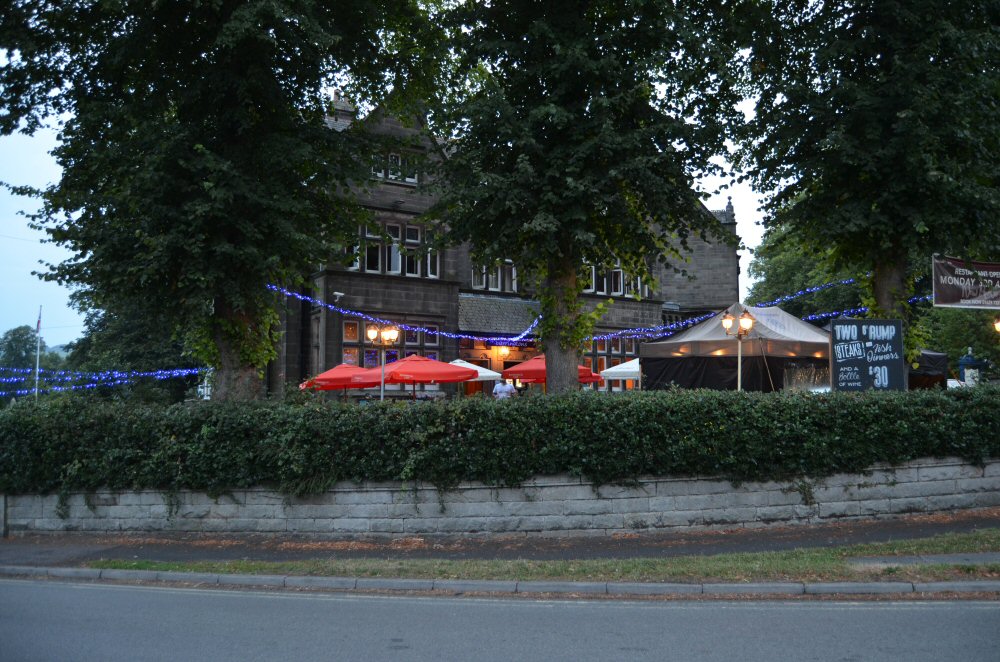 We were going to have dessert originally, but found that we just hadn't got room for it! Saying that, we had thoroughly enjoyed every mouthful that we had eaten, so Hot Wings awarded to this Darley Dale venue.

Although the food service times are 6-8pm Monday-Wednesday, 6-9pm Thursday-Friday and 1-9pm on Saturday and Sunday, the times are subject to change without notice so please call ahead. Due to this lovely venue being available for private hire I would 100% recommend that you ring ahead and reserve a table and check that it is going to be open to the public when you want to visit.
No incentive was provided to visit this venue
read more