Afternoon Tea At The New Bath Hotel And SPA, Matlock Bath
---
Published On Sunday 16 Aug 2020 by Sticky Beak
See Recent Dining Out Reviews | See All Recent Reviews


What's better than a whammy? A double whammy, obviously! Finally Mummy Bird and I were getting to celebrate Mothers Day with Afternoon Tea (better late than never!), but even better was the fact that The Man Bird had found a super Groupon deal to purchase it with.
The Man and I had visited the New Bath Hotel and Spa previously for the blog, reviewing the restaurant there; we'd had a lovely time, so purchasing the Groupon voucher for Afternoon Tea was a pretty savvy investment we figured. We got to the venue a little earlier than we anticipated thanks to the roads not being as busy with tourists; cheers for that Covid-19 – not!! No surprises then that the parking at the venue was quieter than usual and we managed to bag a spot near to the entrance.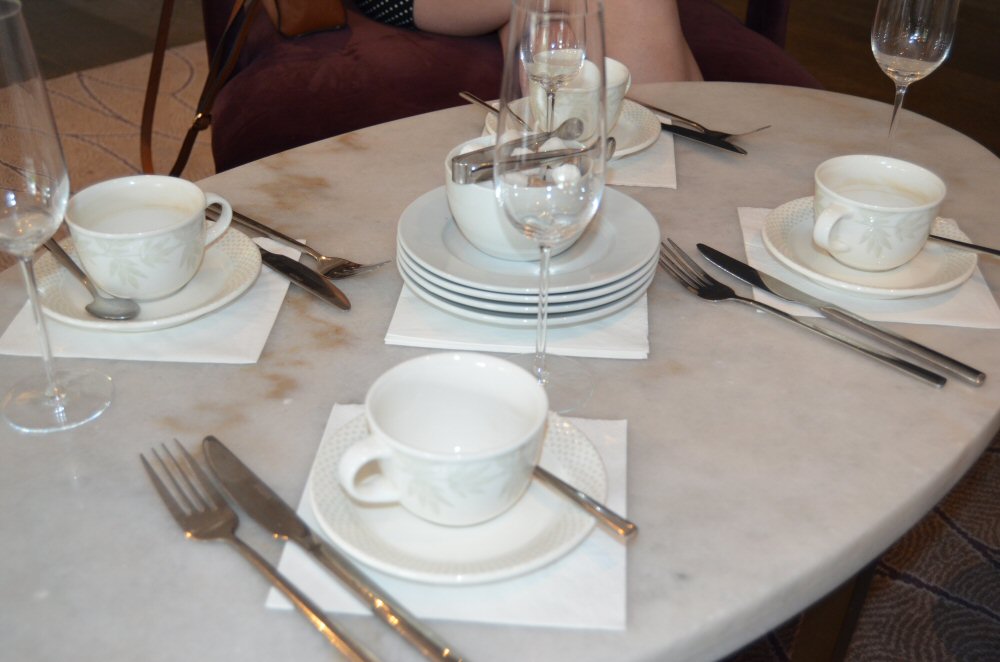 Hand sanitiser is at the entrance, so we all had a good squirt of that as we went up to reception, following the social distance floor stickers. A lovely lady confirmed our booking and showed us through to the drawing room where a spacious oval table had been laid out for us. Mummy Bird and Chickadee got themselves settled in a couple of low, wide burgundy velvet chairs so His Nibs and I perched on the mid-blue velvet sofa opposite them.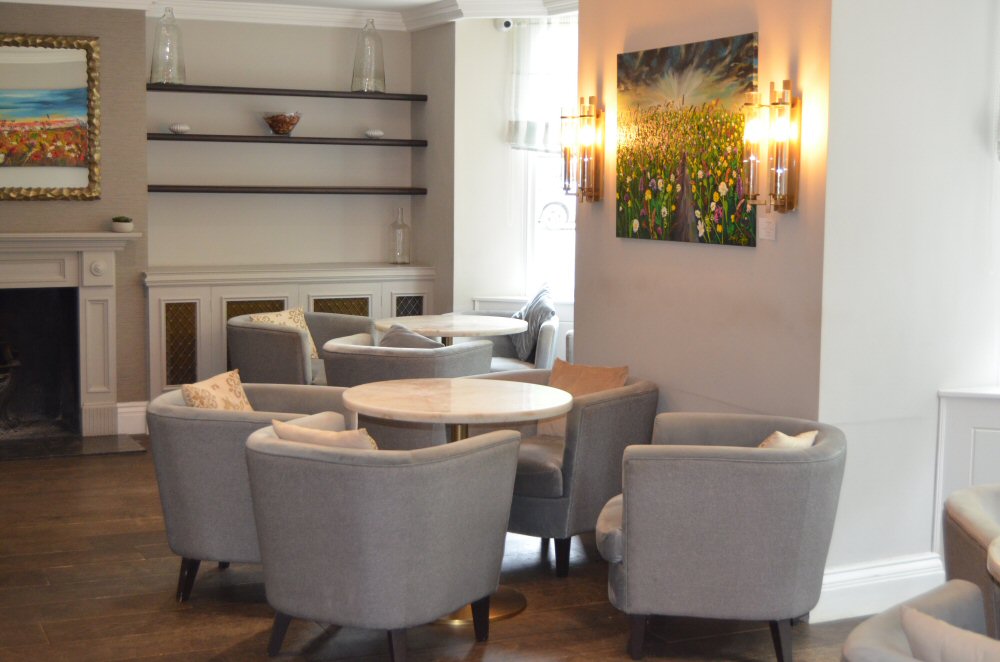 Whilst I was admiring the sash windows, ornate mirrors and high ceilings, a dapper young man came to take our tea and coffee orders and said that our stands would be out shortly. China cups and saucers, matching plates, shiny cutlery, champagne flutes and napkins were all neatly placed on the table and we were soon pouring tea from pots into the cups and His Nibs was helping himself to freshly ground coffee from a shiny metal Cafetiere. Several small jugs of milk appeared as if by magic, stealthily put there by a member of the New Bath Hotel and Spa team.

Due to it being a long-overdue celebration, we'd decided to indulge a little more and have a bottle of Prosecco with our Afternoon Tea. For those of you who fancy following suit, you'll be pleased to hear that it is a purse-friendly £18 for the whole bottle and it's a beautifully balanced Prosecco too.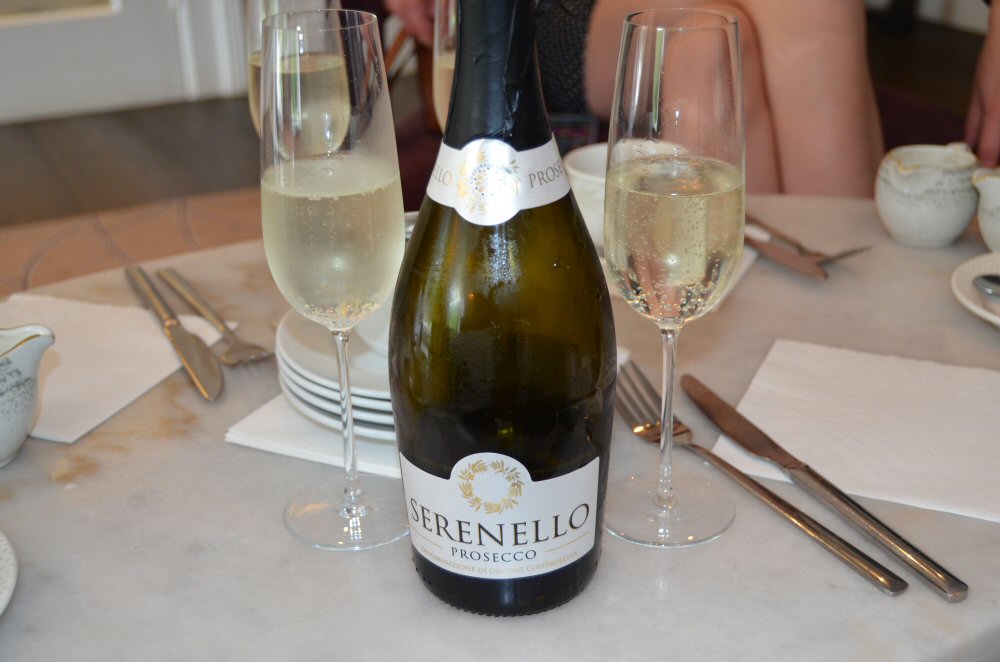 The lovely young man brought out our tea stand for us and we all oooh'd and aahh'd over the sight. On the bottom tier was a selection of finger sandwiches: Salmon and Cream Cheese, Cheese Savoury and Cucumber, and Egg Mayonnaise – all on a mix of white and brown bread. Mummy Bird and I just adore Salmon so we made a bee-line for those morsels first. The team at the New Bath Hotel and Spa in Matlock Bath certainly don't skimp on the amount of Salmon they put inside their finger sandwiches, and our greedy little mouths were certainly amply filled. Salmon has a gentle fragrant flavour and soft, slightly oily texture to it which makes it a great partner for cream cheese as both of them coat the mouth nicely when bitten into.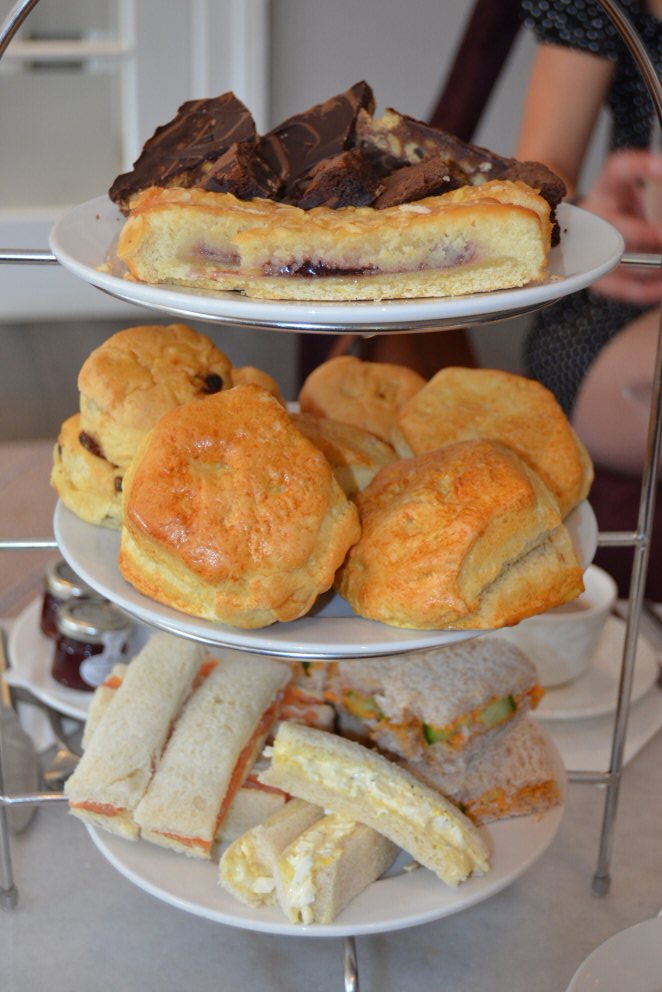 His Nibs was busying himself with the Cheese savoury and Cucumber number and was very impressed by it. At first glance, none of us could work out what it was; it had a hue not a million miles away from tinned Salmon, but obviously it wasn't going to be that due to Salmon already being in another sandwich, and there were visible cubes of Cucumber apparent (another classic partner of Salmon). After the first bite, all became apparent: this was a great take on Cheese Savoury, with plenty of flavour and texture to enjoy.

Chickadee had immersed herself in the oozy pleasure of a well-filled white finger sandwich, bursting with creamy Egg Mayonnaise. The soft, springy bread was perfect for containing the finely chopped, Mayonnaise-pimped egg. These temptations should come with a health warning though :may ooze out and cause you to lick your fingers.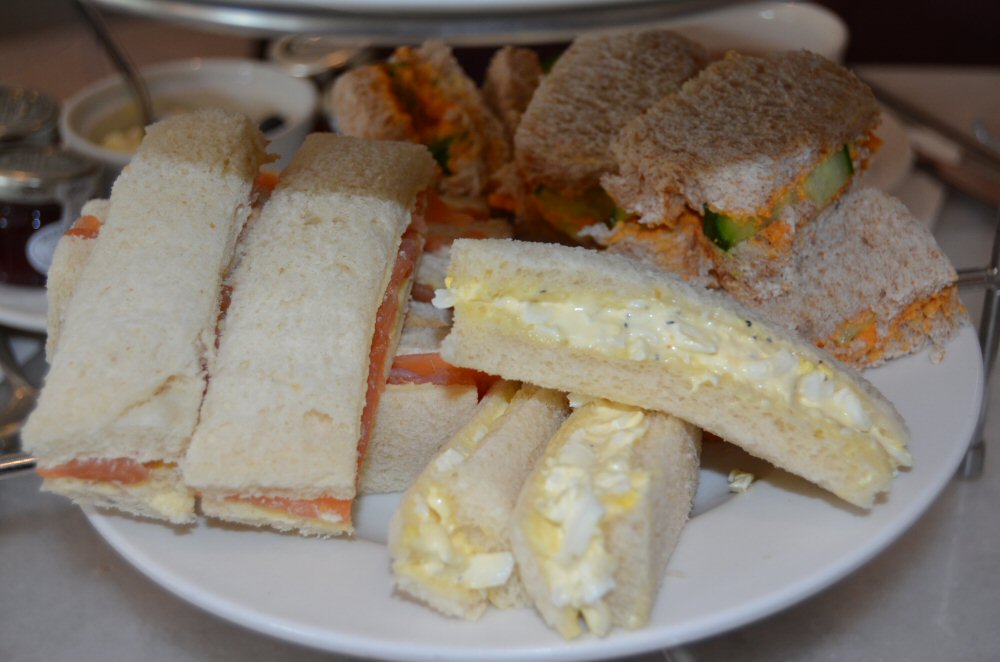 We ordered some more Tea at this point and proceeded to cut into the warm, plain scones, inhaling their comforting aroma as we did so. There was a generous dish of clotted cream with a separate little spoon and the team bade us to ask for more if we needed it; Strawberry jam came in individual little glass jars that popped nicely when opened. In our Flock there is no right or wrong way when it comes to the "jam before cream?" debate and some of us spread the cream on the scone first, whilst others set about swirling the jam on. The end result was the same: a lovely light creamy, jammy treat that we all loved, thanks to the texture of the scone itself.




As well as the plain scones on the middle tier of the Afternoon Tea stand, there were some lovely fruit scones too whose juicy currants were peeking at various points on the outer of the rounds. These were lovely and warm still, like their plain cousins, and had that perfect light-but-substantial texture that any self-respecting scone has. I always feel a twinge of jealousy towards those folk that can make the perfect scone; mine always turn out one of two ways: so close in texture that they'd make WMD that Messrs. Blair and Bush could truly weep over, or so light that they annoying crumble at the merest whiff of a knife.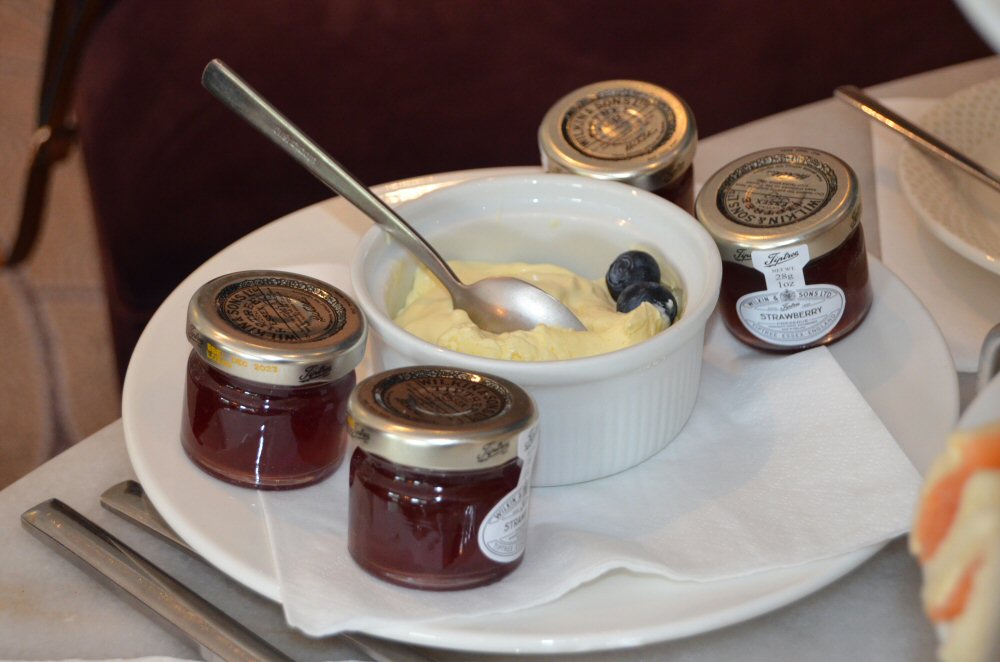 The top tier housed the indulgent (aka naughty!) treats: chocolate-covered Tiffin and Chocolate Brownie squares, although by this point we didn't think we'd be able to finish them all! I reached over for a triangle of Tiffin, rewarded by a lovely crunch when I bit into it that came from the pieces of nut housed within. The combination of biscuit, chocolate, fruit and nuts really does cover all the bases when it comes to taste and texture in my opinion and I loved this. My Chick and His Nibs go nuts for a gooey, indulgent Brownie and this one was hitting the bulls' eye with its rich cocoa notes and soft, unctuous centre.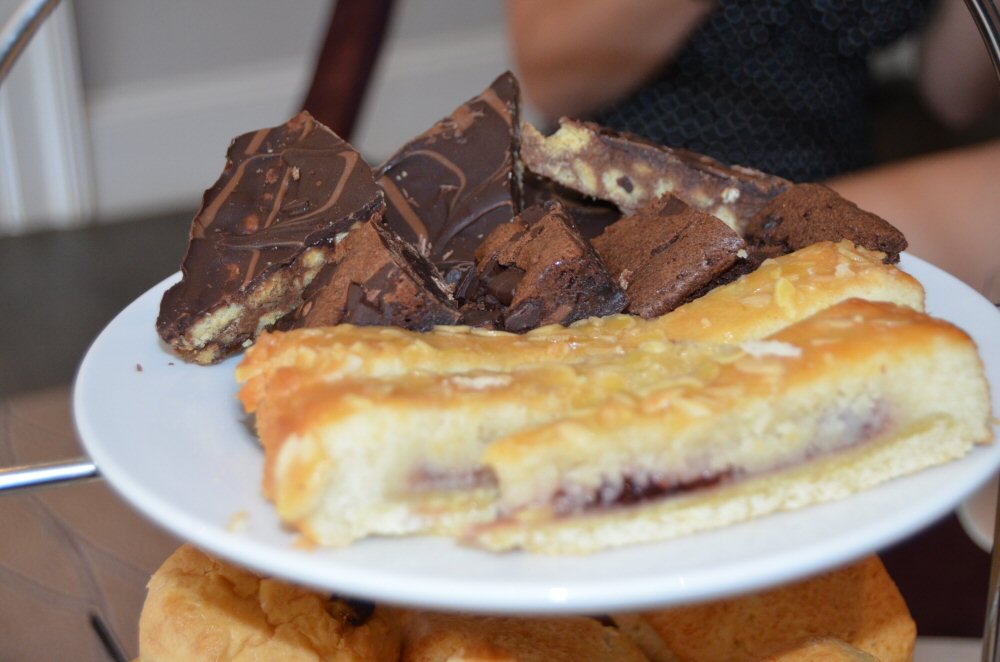 Despite our best efforts, we hadn't managed to finish every last crumb. Not to worry though, the lovely team packaged up the remaining bits for us and popped them in a bag for us to take home and enjoy later. Being the marvellous daughter that I am (!), I let Mummy Bird take them back to have for supper with my Daddy Bird later that evening.

The original price for the Afternoon Tea for four people was £59.80 (under £15 each, so still good value), but we'd managed to snag it for a mere £38 on Groupon! Either way, I would've awarded Hot Wings for it, but I do love me a bargain – don't we all?. Afternoon Tea is available Mon-Sun 2-5pm at the New Bath Hotel and Spa in Matlock Bath and is available for those 18 years or older.
Click here to see the GroupOn Deal
No incentive was provided to visit this venue
read more